In the Sims 4, there is no such thing as a bad hair day — your sim's hair always looks gorgeous and flawless!
But your beautiful sims can look even more perfect with our lovely list of all the best CC hair that we gathered for you.
Yes, here you will find only the best examples of the sims community's creative gifts embodied in these incredible hairstyles.
Best Sims 4 Hair Mods and CC
35. Sweet Male Hairstyle

This Sweet Male Hairstyle is a short, textured hair mod that is reminiscent K-Pop boys.
The cool K-Pop boy hairstyles are becoming some of the most popular hairstyles among young men today.
It is a stylish and trendy cut that can be worn on both casual and formal occasions.
The best thing about the K-Pop boy look is that it is straightforward to style.
All your Sim will need is a good hair gel or pomade, and they can quickly achieve the perfect look. Thanks to modders, Sims 4 hair can keep up with modern trends.
Whether you are going for a sophisticated look or a more casual look, the cool K-Pop boy hairstyle is a perfect choice.
34. Beard Z31

This beard is a tight, trim set of dark facial hair for your male Sims.
A well-groomed beard is the mark of a confident man. It shows that you take pride in your appearance and that you are not afraid to be different.
When styled correctly, a beard can add an air of sophistication and sexiness to your Sims men. The key to a great beard is all in the details.
This Sims 4 facial hair mod is a clean, carefully designed beard that will make your female Sims swoon.
33. Mila Eyebrows

The Mila Eyebrows pack is a Sims 4 hair mod that adds several elegant sets of thin fashion brows.
There's no question that well-styled eyebrows are critical to any top model's, or Sim's, look. After all, they help to frame the face and make features pop. But why are they so important?
For one, well-groomed eyebrows give a polished and put-together look that is essential for any high-fashion shoot.
If brows are unruly or poorly shaped, it can take away from the overall look of your Sim. In addition, well-styled eyebrows can help to accentuate bone structure and create a more striking effect.
You can have mod folders packed with the best clothing mods when you create a Sim, but if the face and brows aren't right, it is a waste of effort.
Ultimately, well-styled eyebrows are simply part of the package when it comes to playing the sims with beauty looks in mind.
32. The Jonathan Hairstyle

A well-groomed man is a sight to behold. And while there are many different styles that can be considered attractive, we believe that a bushier hairstyle has a certain je ne sais quoi that is hard to resist.
For one, it conveys a sense of soft ruggedness. A man with a full head of hair appears strong like he can take on the world while still having some alluring femininity.
Additionally, a bushier style is often associated with creative types – think artists, musicians, and writers.
This adds an element of intrigue, making the man seem more mysterious and alluring.
There is not a wide selection of lovely long hairs for male sims; when you find a good one like the Jonathan Hairstyle, it's worth a try.
31. Zevie Hairstyle

Some of the trendiest hairstyles around combine braids with straight hair, which looks amazing!
The braids add texture and interest, while the straight hair keeps the look polished and chic.
This style is perfect for any Sim that players want to stand out without looking too over the top.
The Zevie Hairstyle mod is a classic example of this versatile braided-straight combination look.
30. Amy Hairstyle

This hairstyle has an elegant crown of braids with wavy hair that will give your Sims lives some elegance and low-key style.
The Amy hairstyle is absolutely stunning. The single braid crowning the head is a gorgeous touch, and the sleek, beachy waves cascading down are simply beautiful.
This look is perfect for summertime, or really any time you want your Sims to feel a bit more glamorous.
It's definitely a style that will turn heads and get you compliments.
29. Phantom Beard

Nothing upgrades a male Sim's look like a thick beard.
A thick beard can add a touch of rugged Handsomeness to any man's appearance. It's a style that has been popular for centuries, and it's easy to see why.
A well-groomed beard gives a Sim an air of authority and sophistication, making him appear both Strong and knowledgeable.
Additionally, a thick beard can help to accentuate a man's features, giving him a more masculine look.
We think this is one of the best Sims mods when it comes to custom content for men in the game.
28. Princess Hairstyle

Who says that Sims can't wear red carpet hairstyles in their daily digital lives?
This Princess Hairstyle consists of a bump of volume with carefully coiffed, soft curls winding down the neck.
It looks like this is perfect for any lady Sim's mood. Your elegant female Sims can look great whether they're swimming, operating the stove, or at a formal event.
A simple, youthful cut is never a bad choice.
27. Lizzo Hairstyle

It's about damn time! Fans of the iconic music star Lizzo should download this mod right away.
This hairstyle emulates the singer's long, clean braids that are accented with metallic details.
To top the look off, there are precisely slicked baby hairs framing the face.
Some of our favorite pieces of hair CC for the Sims 4 are those that let us enjoy our favorite celebrities' fashions.
Top your favorite Sim with this hair, and we guarantee they will be feeling good as hell.
26. Elegante Updo

A movie star walk is always a head-turner. They look like they just stepped out of a high fashion magazine with their sleek updo and loose bun.
The overall look is very polished and neatly done. The hair updo is usually created with a lot of volume at the crown area and swept back away from the face.
This gives the face a more chiseled look and also reveals the movie star's beautiful features.
Make your Sims look like stars!
25. Ginerva Hairstyle

There's something about long, flowing hair that just looks classic and beautiful.
Maybe it's the way it cascades down the back or the way it moves when the head is turned. Whatever the reason, long hair is always a popular choice for women.
And there's no denying that it can look absolutely stunning on a female Sim.
Whether she's wearing it loose, like in the Ginerva style or in a stylish updo, long hair is guaranteed to turn heads and get hearts racing.
Plus, it's the perfect way to show off her feminine side. So if you're looking for a hairstyle that will make your Sim look her best, be sure to go with long and flowing locks.
You won't be disappointed!
24. Fantasy Retexture of Hair

It's 2022; unnatural hair colors have become entirely normal.
The Fantasy Retexture of Hair mod for Sims 4 lets your Sims express themselves with over ten eye-popping color combos.
Drastic color schemes like these can lend a million different vibes to a single hairstyle. Something that looks lovely in plain black might look dazzlingly punk in blue, red, and purple.
There are endless combinations with these blends of hues and thousands of custom hair content for The Sims 4.
23. Adanna Hair

The Kardashians are known for their signature thick, flowing hair. Kim and Khloe's hair is always perfectly styled and looks effortlessly chic.
Their hairstyles are often copied by fans and followers all over the world. What many people don't realize is that achieving this look is not as easy as it seems.
The Kardashians have a team of stylists who help them to achieve their signature style. They use high-quality hair extensions and products to create their party-ready looks.
Thankfully, your Sims only need a simple download to get the same look. The Adanna Hairstyle is a gorgeous hair mod that reminds us of the famous fam.
22. Scallop Hair
This custom hairstyle for Sims 4 gives your ladies a dewy, fairy tale look with pigtails.
If you're looking for a fairy tale hairstyle with an extra touch of magic, then you can't go wrong with two long, bouncy pigtails.
This style is playful and youthful yet still elegant enough for a special occasion. Scallop Hair is a whimsical and romantic hairstyle that will make your Sim feel like the belle of the ball.
So go ahead and give it a try – you're sure to fall in love with this enchanting look.
21. Blair Hairstyle

The Blair Hairstyle is a simple look inspired by Blair Waldorf from Gossip Girl.
Are any other Gossip Girl fans out there? Blair is the original queen bee.
Her style, wit, and ruthlessness made her the most powerful, privileged princess in Manhattan.
Even your female Sims want to be like her, just like Jenny did.
This style sports the iconic headband look with simple, straight sections that frame the face.
There isn't time for intricate styling that would impede a socialite's day-to-day schedule of scheming, shopping, and dramatics.
20. Mady Hairstyle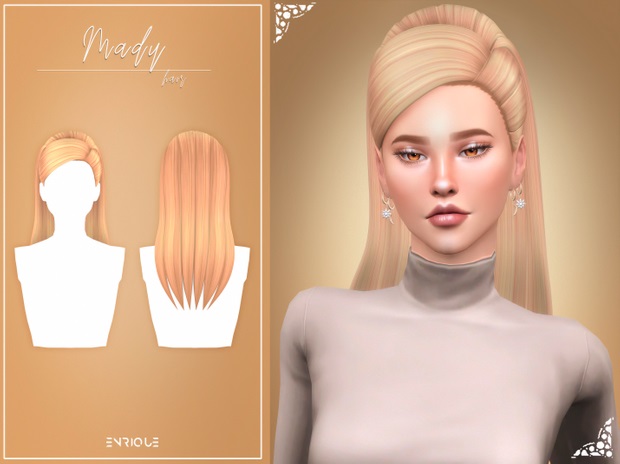 Starting strong with some maxis match masterpiece. This simple and exquisite hairstyle is one of those hairs that looks perfect with jeans and crocs or a full glam ball gown.
It is a very neat design that can be used on every lady from teen to elders. The hair is fully compatible with the base game, and it is adapted to work with hats.
The Mady Hairstyle has eighteen beautiful swatches for your blonds, brunettes, reds, and fun colored sims.
19. Lewis Hair

Another awesome maxis match hair, but this time it is for brave gentlemen that look for some more grungy hairstyles.
This long men's hairstyle can be used on a whole range of different sims: you can imagine it on the aspiring musician, on a historical figure, on a fairytale prince, or on a tech guru.
It is some messy hairstyle that has a lot of charm and makes male sim look more masculine and sexier. This is a total maxis match, so all the male sims will look great with it.
18. Dee Hair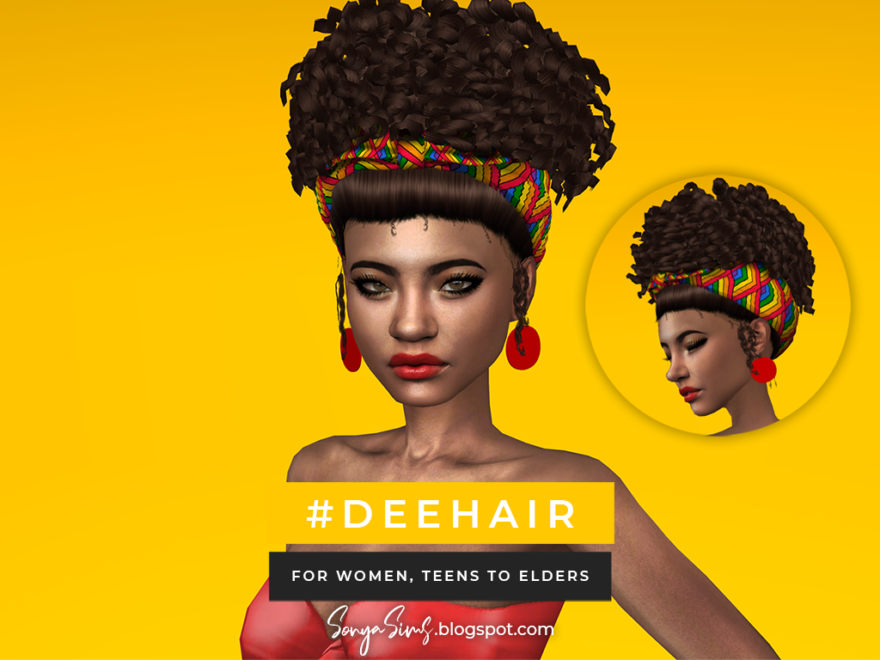 Awesome curly hairstyle made with love for everyone who wants theirsims to rock those curls on their heads.
The hair has tons of swatches from pure blonds to hot brunettes. Also, the headband can be changed too!
This is an entirely new mesh, and the hair can be used on female sims from teens and up. You can even wear headpieces with this hairstyle.
Oh, what a luxury to have access to the CC that beautiful.
17. Ella Hair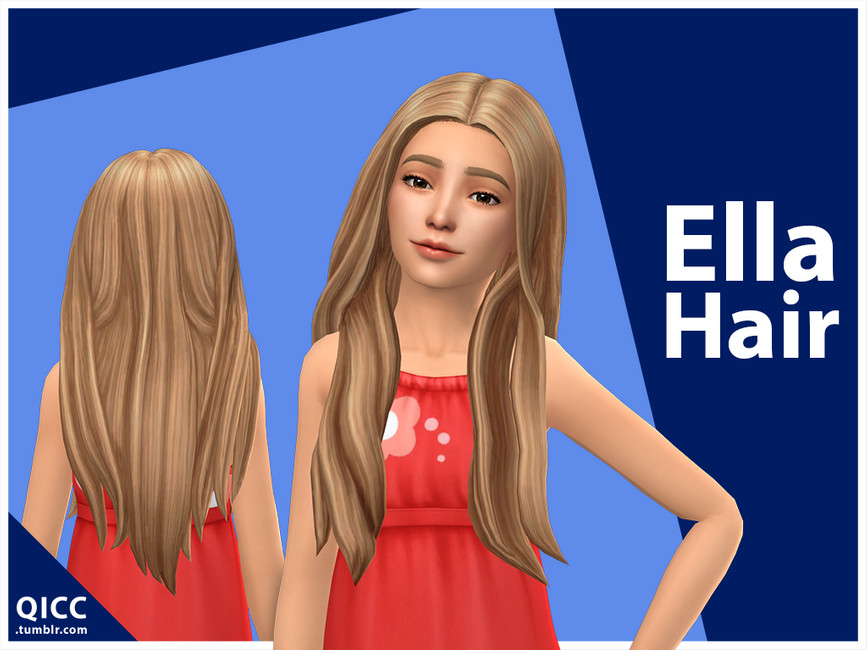 The perfect hairstyle for the little princess. Do your sims have a beautiful baby girl that is too cute for standard hairstyles?
Well, you came to the right place, cause we now have an astonishing Ella Hair that will make your sims gasp.
Excellent maxis match hair has a sweet texture and very neat detailing, and perfect length.
The hairstyle is base game compatible and has nine EA swatches. The design is very cute, and it fits perfectly with your little sims' girls!
16. Wings-TZ0926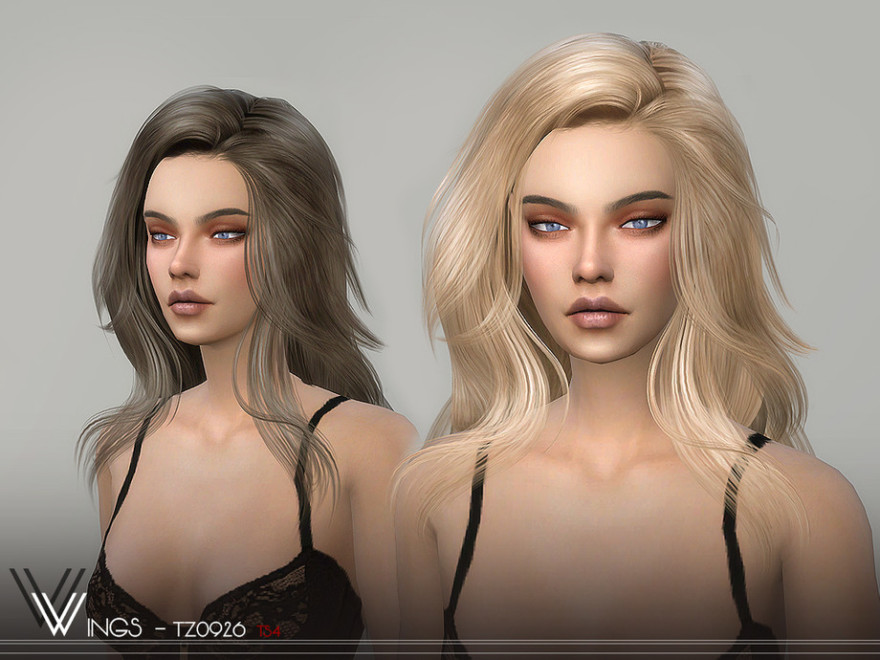 A bit unusual name for a CC hair, but wait until you see it! This Wings Hairstyle is very popular among the simmers who adore alpha custom content because of its gorgeous look.
You cannot believe it, but there is no sim girl that looks bad with this hair. It just fits all of them!
The hair has classic recolors of the alpha CC: some of them are more brightand some more pastel or dusty. There are a whole twenty of them available for this hairstyle, so you've got quite a choice!
15. Inka Hair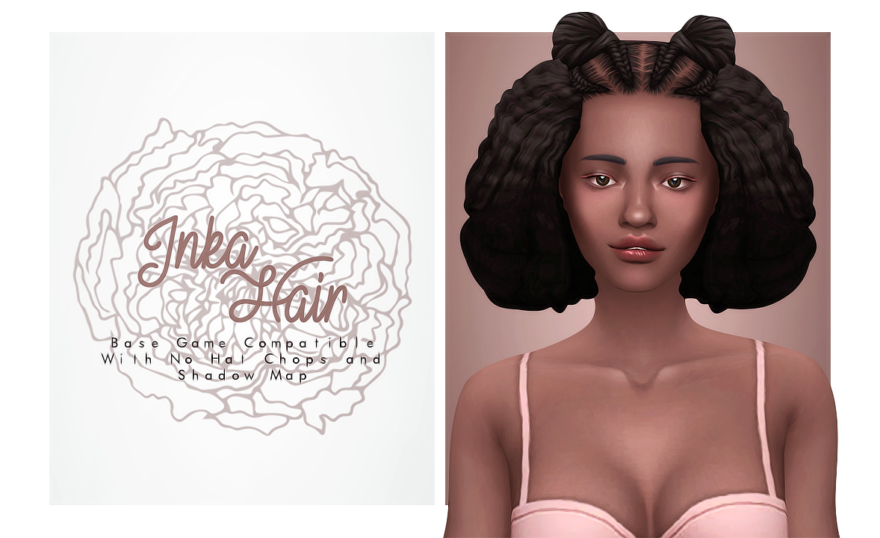 Excellent maxis match natural hair with beautiful flowy curls. The hair is big, but it looks very neat and elegant.
The braids on the top of the head look very nice and detailed, but totally in maxis match style.
It is one of the best examples of beautiful hairs for the darker sims that look very cute and elegant.
Unfortunately, you cannot wear hats with this hair, but on the other hand, why would you want to hide such cute hair under a hat?
The Inka hair can be used in the base game, and you get eighteen EA swatches with it. With this variety, you definitely will find a color that you will love!
14. Supernova, Amanda, and Sonia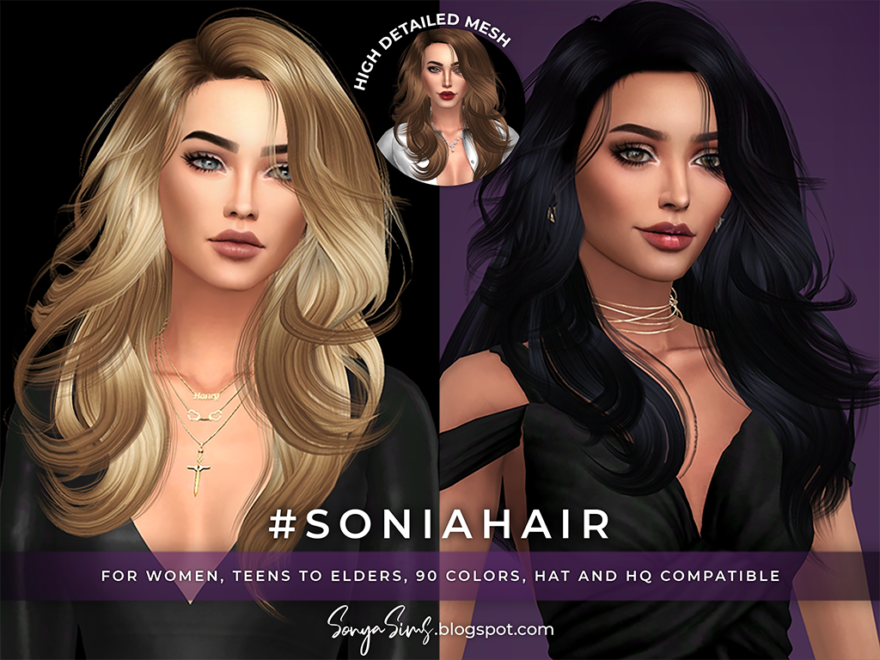 Let's take a look at some more unorthodox hairstyles. Three very different styles but equally stunning and perfect for every bold sim girl or boy!
The Supernova hair is a short pixie-like hairstyle with separate detailed locks. The hair comes with ninety recolors with all possible swatches you can imagine.
The best part of Supernova is that it can be used both on male and female sims.
The Sonia hairstyle is a glamorous one from the bunch. Long and wavy hair with a high detailed mesh looks like heaven on every sim. We wish we've had hair like this in real life!
The Amanda hairstyle was made for every sweet girl that loves simple but elegant hairdos that look perfect on every occasion.
And here it is: cute bow and beautiful waves look amazing on all your female sims!
13. Esmeralda Hair Set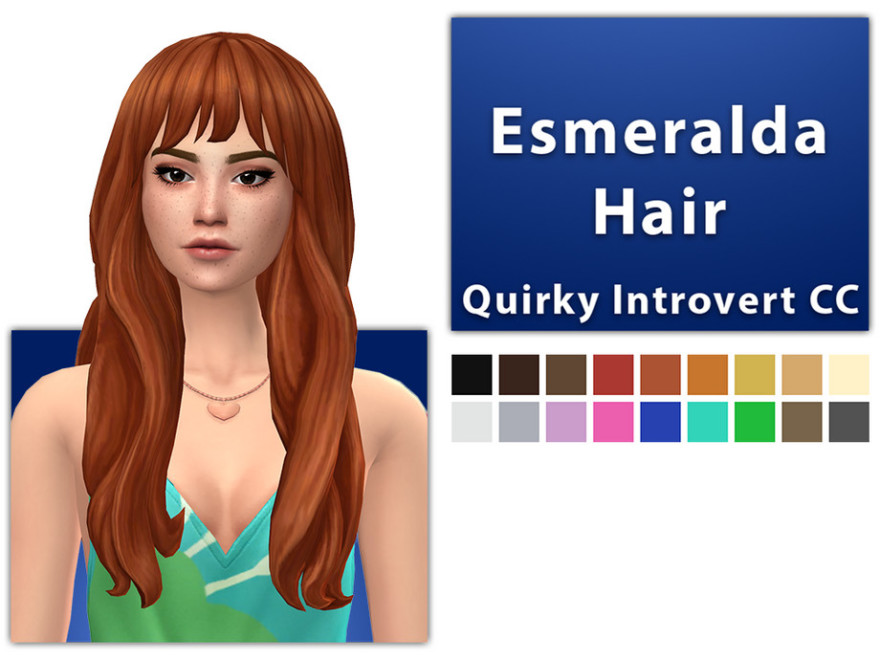 Fantastic maxis match hair set for female sims. The Esmeralda Set is a perfect base game-compatible long hairstyle made by an awesome Quirky Introvert.
Yeah, we can imagine a quiet, shy, and calm sim with this hair on.
The set has eighteen EA swatches and fits every sim girl from the child to the elder life stage.
You can also put any hat you want on this gorgeous hairstyle because it is fully hat compatible.
12. Stealthic – Like Lust Male Hair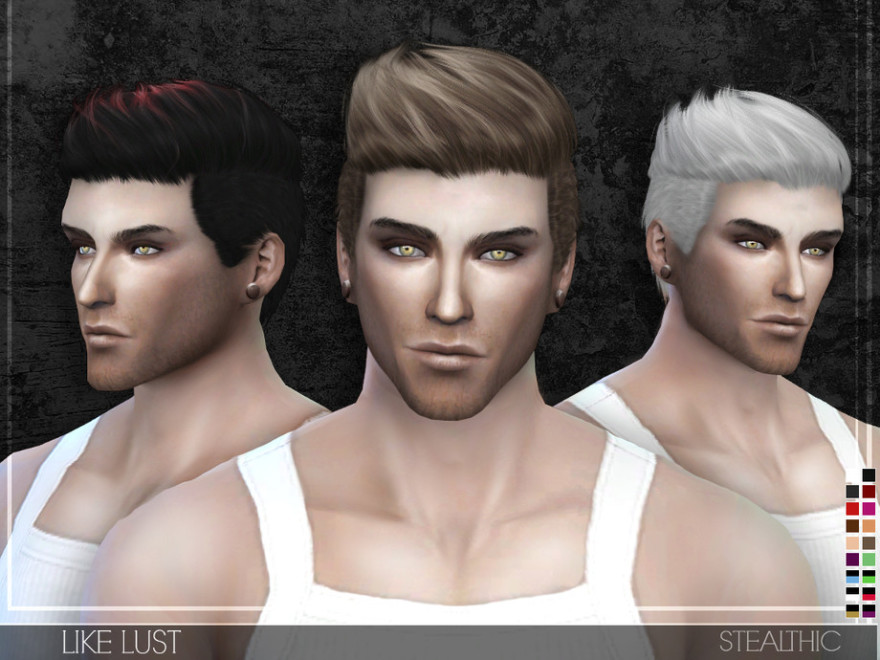 A little more sexy hairstyle for your male sims. The fashion-forward and extremely attractive hairstyle that can win the hearts of all sims' women in the Willow Creek and Oasis Springs.
Though this hairstyle looks like a striking example of the alpha CC, we do like it in our regular game.
There's just something about beautiful detailing and a very alive look of this hair that makes you want to use it all the time!
The Stealthic hairstyle has eighteen swatches, including six Ombres, and it can be used with hats.
11. Marcel Hair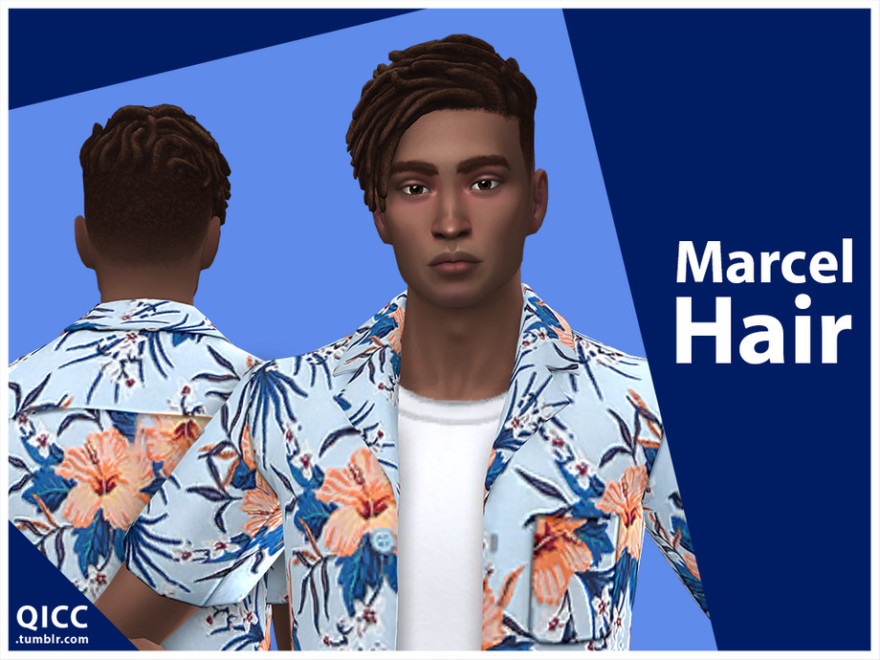 A maxis match short hair with stylish dreadlocks on the top. The Marcel hair is one of those styles that fits every male sim from a broke student to a president of the mega-corporation.
It is an absolutely gorgeous example of a maxis match hair that deserved all the love it has got.
The hairstyle is base game compatible and can be rocked by your teens, adults, and elders. Enjoy beautiful EA swatches and choose the one for your next new favorite sim!
10. Watson Hairstyle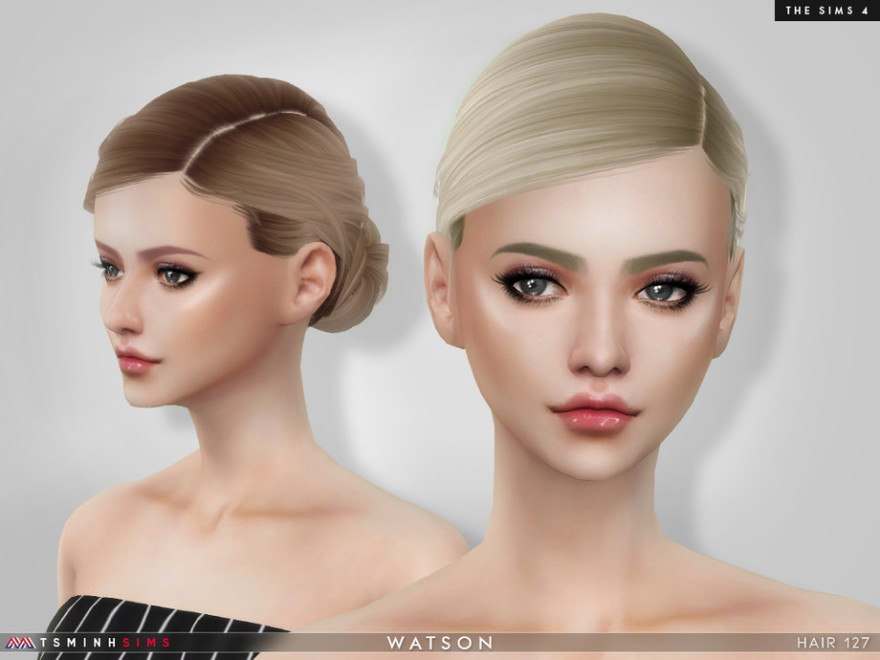 Well, this is a hairstyle that can fit a queen! A low tidy hairdo with a beautiful twenty recolors in natural colors.
This is a perfect hairstyle for wedding ensembles, prom outfits, and just huge parties. It is a very formal hairstyle that looks very lovely on young adult sims.
There is some vibe of innocence in the Watson hairstyle, so maybe this hair may perfectly fit sweet and kind family-oriented sims. The hair has HQ texture and has custom and normal shadow maps.
9. Wings-OS0214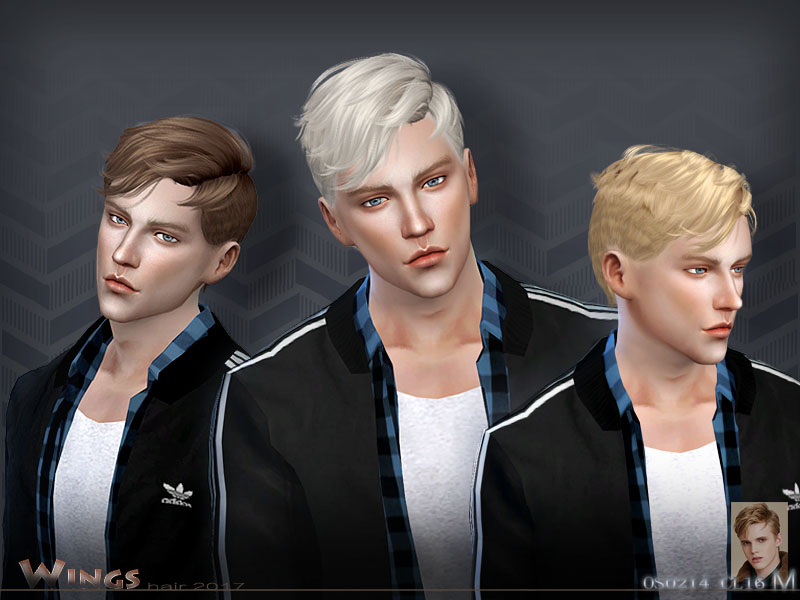 Another spectacular creation from the Wingssims! Very cute hairstyle for your male sims that was published in 2017 but still looks cool and modern as hell.
Inspiration for this hairstyle was taken from a real-life model, and that is why the hair looks so realistic.
The mesh has many details, and you can even see every single one of the hairs on the sim's head. It looks like it has some active motion, even though the hair does not move.
The hair had beautiful sixteen swatches to fit every sim in the world. You can wear hats with this hair, and it will look even cuter.
8. Kijiko's Shaggy Long Hair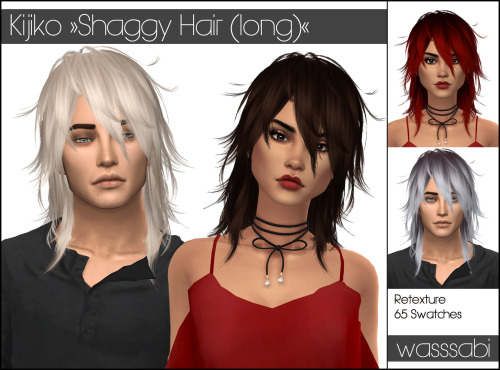 Amazing hairstyle for some messy sims to wear! The Kijiko's Shaggy Long Hair has a beautiful charm of the young and free-spirited sims that couldn't care less about their hair. And they still look like a cover model!
In our opinion, this particular set can be a good bridge between maxis match and alpha CC, and be suitable for every type of gameplay you use.
The set has two variations of the hair: for males and for females. The hairs have impressive sixty-five swatches for you to spend hours choosing the right one. Good luck!
7. Belen Hairstyle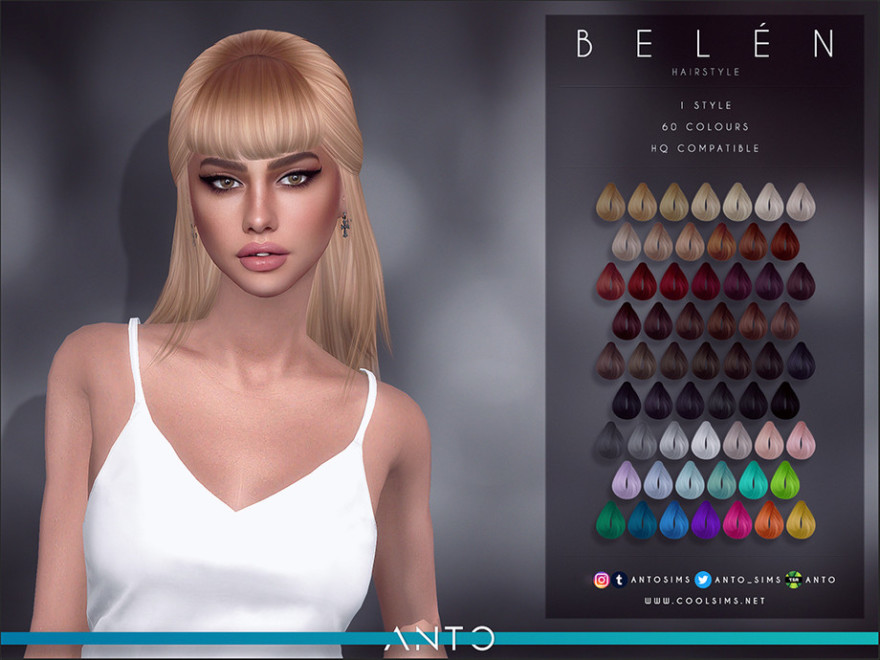 Well, it is some good HQ compatible alpha CC! Simple elegance can be a synonym to this gorgeous example of fantastic CC made by the famous custom content creator Anto.
It is the hair for important occasions and for sims who cannot look less than perfect.
You can choose the best hair color from the spectacular sixty swatches. They vary from natural tones to lovely pastels and vivid neons.
It is also one of those rare hairs with good bangs that can look perfect and modern on almost every sim's face.
6. Audrey Hair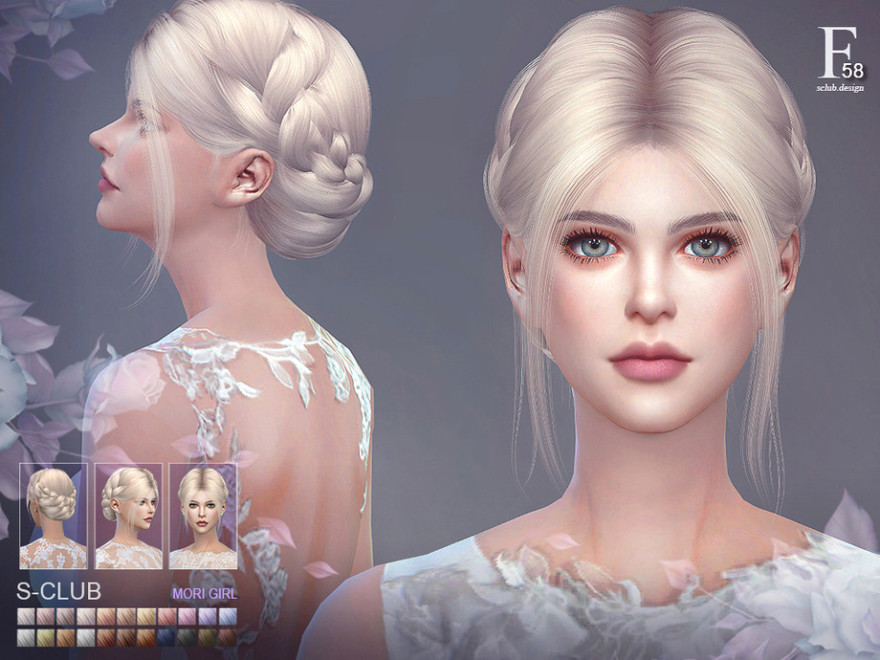 Some of the best we left for a dessert. In the creator's own words, it is a "fairy updo" that catches all the eyes in the room.
The simplicity and sophistication of the look combine here with an untimely elegance.
A big plain braid on the head's back with some locks around the face — a very simple style. But why does it make sims look so beautiful?
Undoubtedly, this hairstyle is perfect for blushing brides on their most important day because we think that this updo is that special.
5. Illusions Cornelia Hair

This hairstyle is similar to the Adriana hairstyle in that it is carefully tussled and messy while offering in-depth texture.
Since this is also part of the same CC pack, you will find this hair CC option alongside the Adriana hairstyle, but this is another great option if you want a messy look but with longer locks.
This hair mod was styled to perfectly frame any Sims face and is also able to be worn with hats.
Because of how simple this hairstyle is, it can be worn in a variety of themes, including modern, fantasy, and any kind of alternative fashion you want your Sim to wear.
4. Illusions Adriana Hair

Not all guys have short hair, and this CC provides a great middle-ground for Sims who want medium lengths and who want more volume.
This mod is wavy and lusciously colored, which is perfect for Sim creators of all kinds as this hair also works for both male and female Sims.
This hair was also designed so that you can create a two-tone colorway for Sims ranging from teen to elder.
So, if you're a player who enjoys a more alt look or more of a carefree messy-haired Sim, then this mod is a great option to add to your CC folder.
3. Miracle-noelle Hair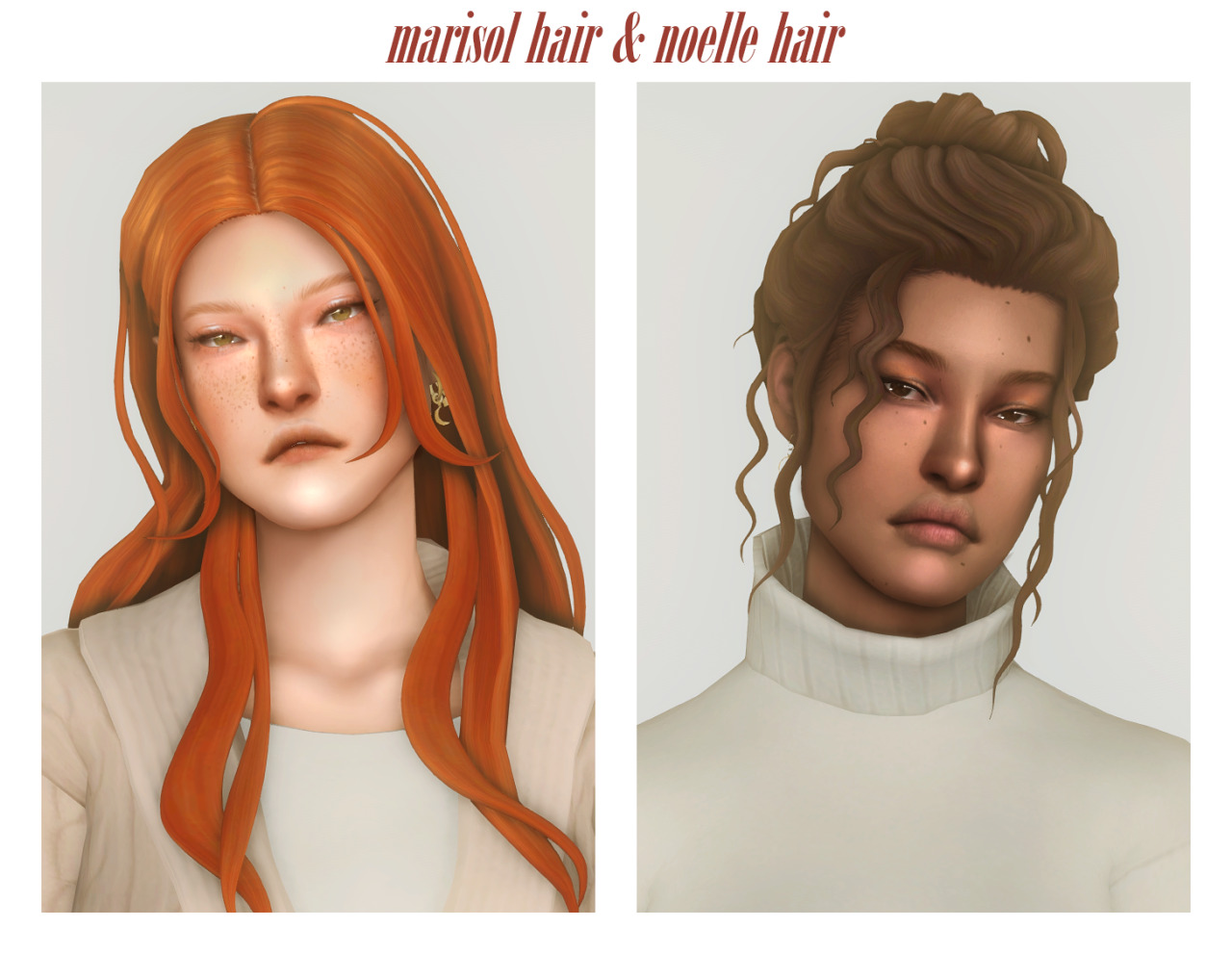 This hair mod is favored by players who like a classy updo or messy bun, but this CC provides a modern vibe for a Little Women meets modern times.
This hairstyle is more natural in its' waves and colorway as well, as it's wonderfully textured, unlike base-game bun hairstyles.
This mod hairstyle is a feature in a package of CC that includes more hairstyles and clothing, but you can also choose to download the hairstyle by itself.
This hair mod works for both male, and female Sims does come in more colors and works for Sims between the age ranges of teens to the elderly.
2. Ainhoa Hairstyle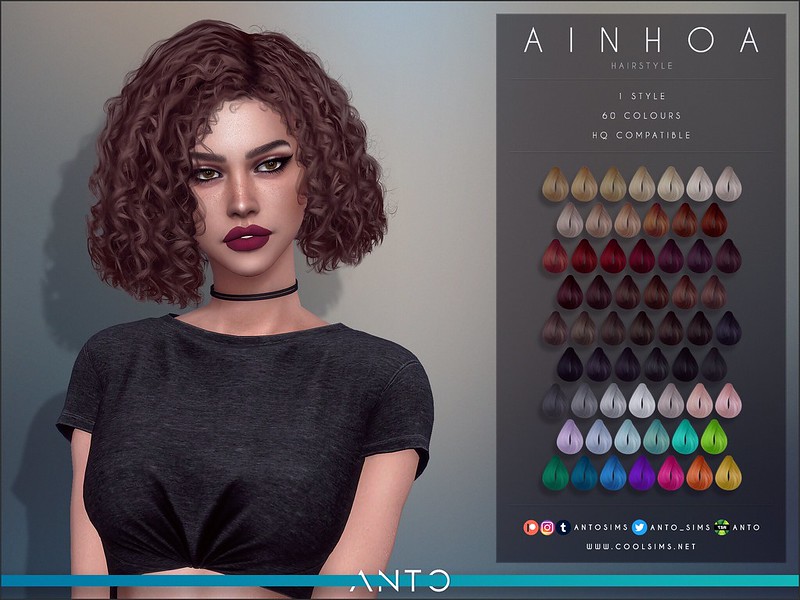 Created by Anto, this is another great textured hair option for those who want to capture more of their likeness in their Sim.
The attention to detail with the curly texture is only the tip of the iceberg, as this hairstyle also comes in a wide variety of color options.
This hairstyle is useable for characters from toddlers to the elderly, so any Sim can have short curly hair with 60 colors to choose from!
And these colors aren't limited to naturals either, as the mod comes with a wide array ranging from black to silver but also includes vibrant neons and soft pastels.
1. Bonnie Hair

Bonnie Hair provides a great textured hair choice for users.
This CC is a great option because the base game doesn't have good textured hair, let alone hair that looks realistically curly or wavy.
The CC creator, Grimcookies, created this hairstyle, and this hairstyle is a great addition to your Sims game for its cute appeal and summer-fun fit.
If you like to design Sims with a more child-like or fun personality, then this is a hairstyle mod to have in your character creation arsenal! Lastly, this hairstyle is also useable for Sims aged from teen to elderly.
You might also be interested in: