Japan is a unique country with beautiful landscapes, a fascinating culture, and long dramatic history.
Many of the Sims 4 players ask the sims team to make a world or a pack inspired by The Land Of The Rising Sun.
Until that day come, we gathered the beautiful list of Japanese CC creations made by an incredible sims community. Let's see them and create our own Sims 4 Japanese stories!
Best Sims 4 Japanese CC
15. Kanzashi-style Hair Ornaments Set

This Kanzashi-style Hair Ornaments set comes with four different options: Kozue, Misaki, Sachiko, and Chiyo. Each option can be positioned three ways on your Sim's head and is found under the Hat category.
Kozue has two versions of flowers with 40 color options. Misaki has 30 color options with two stick colors. Sachiko comes in eight metallic colors, with the option of gemstones or no gemstones.
Chiyo comes in four colors for the comb and 11 colors for the flowers.
No traditional Japanese-style Sim is complete without these hair accessories!
14. No Sin MI Kimono! Part V
For your female Sims, you can dress them up in this beautiful set of No sin mi Kimono! Set. This set includes three categories: solid, mix, and printed.
The solid color set includes 11 colors, including every color in the rainbow! The mixed kimono set includes eight colorways, with a three of the options including stripes.
The printed set in this CC pack includes 16 different versions, each featuring beautiful traditional-style patterns.
In order for this CC pack to work, you also need to download the original mesh.
13. No Sin MI Kimono! Part Ii

Don't worry, the No sin mi Kimono set is also available for male Sims!
This version of the CC comes in two categories: solid and patterned. The solid category comes in ten colors, including every color in the rainbow, brown, grey, and black.
The patterned section has seven colorways and patterns in shades of blues, greens, and black.
Similar to the female version of this mod, the patterns featured on the kimono are close to real-life traditional kimono.
Now your Japanese Sim family can look cohesive with matching kimono sets!
12. Edible Sushi
If you want an at-home sushi option, then this Edible Sushi option is for you! This CC can be found in the Miscellaneous Appliance section of Build mode.
The Edible Sushi CC comes with alternate-colored wooden trays and three different options for sushi.
There is also an additional option dedicated to soy sauce and wasabi, although this is strictly a décor item.
Each sushi option also comes in various colorways. This CC easily allows you to open restaurant that offers sushi as a dish outside of the Sushi Restaurant CC.
11. Slice of Life Set
Your Sim's house wouldn't be complete without this Slice of Life CC set. This CC pack features furniture and décor items, including a kotatsu, low table, stool, vase, and a fish lamp.
This CC pack is also compatible with not only Sims 4 but Sims 3 as well! In order for this pack to function in Sims 4, you will need the Snowy Escape pack.
The kotatsu is perfect for keeping your Sims warm in the winter and also comes in three colorways.
The low table comes in three colorways: oak, black, and orange. The stool is available in eight colorways and also look like they are made out of different materials, including wood and wicker.
For décor, there is a traditional wooden fish lamp and a vase that comes in seven colors.
10. Asian Adventures Mod
Let us start with something truly unique! The Asian Adventures mod can make something unbelievable with your Sims 4 game.
We can only imagine how many hours and effort were put into this fantastic creation!
Basically, the mod allows you to turn the Forgotten Hollow (the one that came into the game with Vampires Game Pack) into the Asian inspired city Sakura Hills!
But what exactly this mod will do? First of all, your world will get a completely new foliage: all the trees and plants will now be beautiful pink sakura!
The world will get another map and icon, and the fog will be removed.
The world looks like a beautiful Japanese city with all new gates and fences around the world.
The last very cool feature of this mod is that you can turn this place into the destination world for your sim to have vacations in the Sakura Hills!
9. Japan Dining Set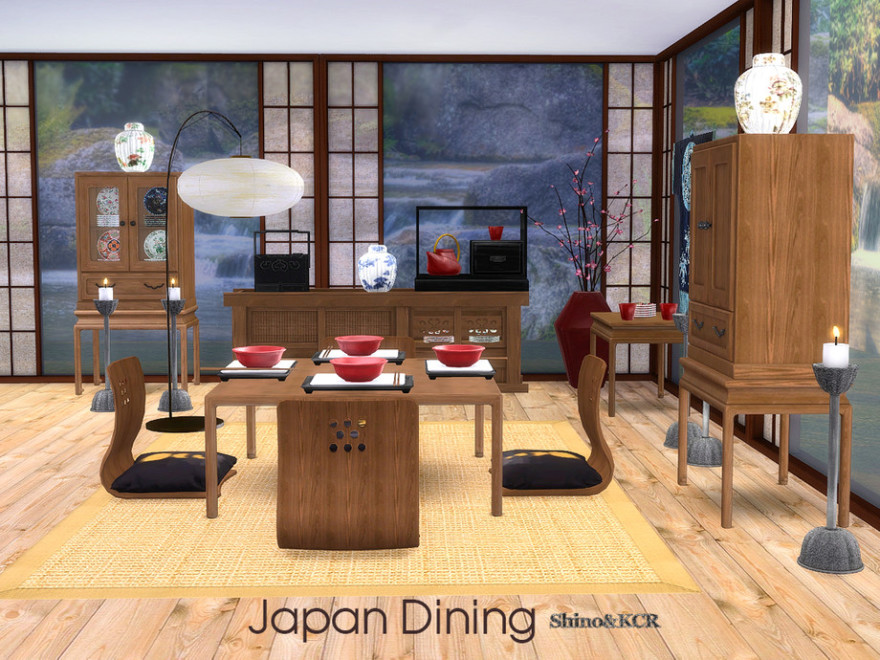 Dinners with family are one of the best parts of every human's and sim's lives. Of course, you need the proper furniture to have a nice meal with your loved ones!
The Japan Dining set offers you to recreate an authentic Japanese style dining room in the house of your sim and finally have a grand meal there.
Seventeen very artistic creations will catch your breath when you see them!
Antique decorative vase, plates, box, dining table and chairs, ceiling lamps, and candles: this set just speaks to the deepest feelings in our hearts!
8. Sushi Restaurant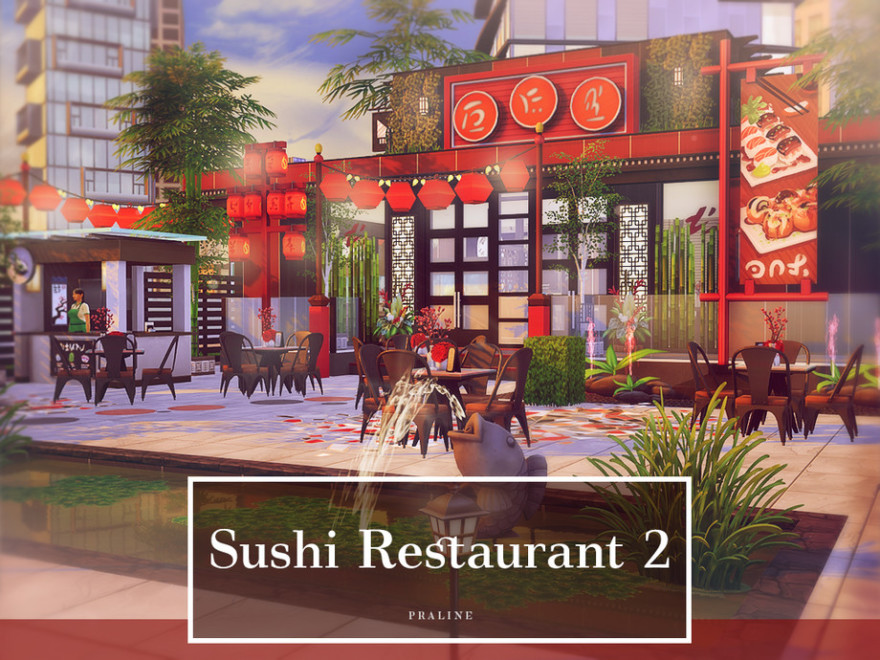 OMG! There are no words to describe how beautiful, detailed, and astonishing this build is!
Creator Pralinesims is very famous among the simmers, and it is not the first time when we've got something this great from her.
The Sushi Restaurant is the place for sims who love to indulge themselves with unique Japanese dishes and have a great time with their significant others and family.
You will not believe how many little things and details in this build for you to explore.
7. Japanese Convenience Store Set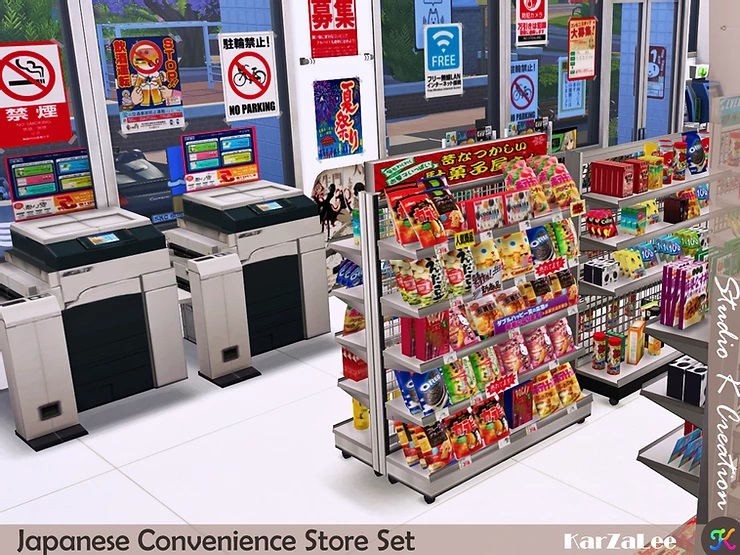 Convenience stores are a big part of modern Japanese culture.
You can even say that one of the first significant places you probably visit in Japan would be a convenience store.
That's why beautiful creator Karzalee made this fantastic set happen. In this set, you will find new storage racks in three different swatches, copy machines, and various snacks to put on the racks.
Another amazing part of this set is its store stickers.
Those tiny details add a lot of depth into your gameplay, so this set, along with the Asian Adventures mod, can be perfect for the addicted-to-Japan simmers.
6. Express Way Set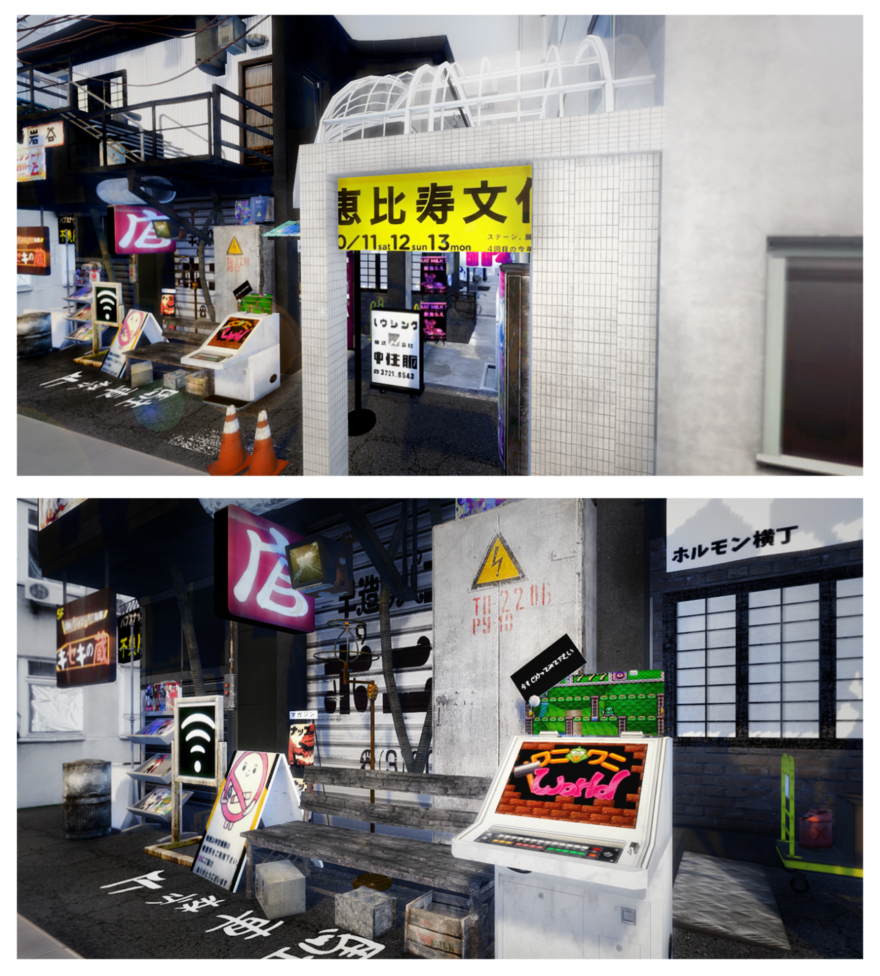 It is the biggest set of CC objects we have ever seen! The Express Way set of CC items offers the player many different CC content inspired by the Japanese cities' streets.
Yes, they do not look very pretty (but life does not too!), so the set is more suitable for realistic gameplay lovers.
There's a lot of neon signs, glass jars, pushcart, fan, jewelry, boxes, beer cases, etc. in this set.
You should definitely find some time and explore this eight-part download if its style speaks to you.
6. Japanese Traditional Clothing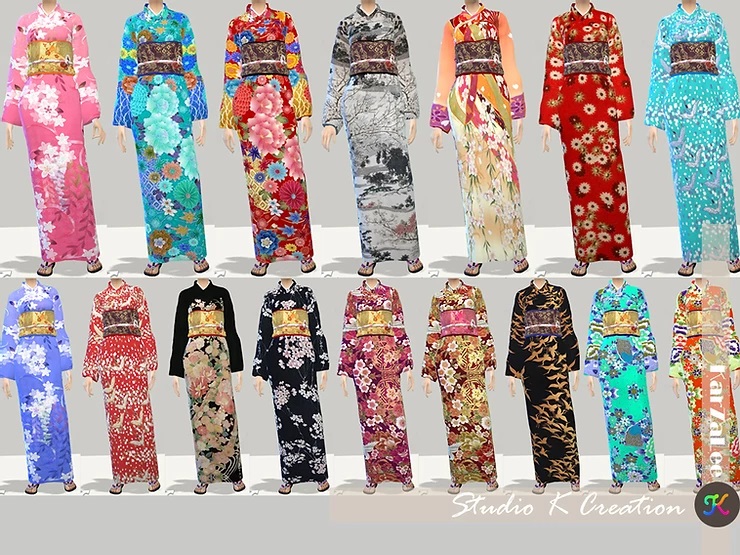 Japanese traditional clothing is very beautiful and colorful, and your sims should not miss them!
We prepared for you two CC sets for women and men because every sim deserves to have a smashing traditional Japanese outfit!
The kimono set for females consists of two types of outfits: with ordinary sleeves and very long ones.
Both kimonos have tons of swatches and patterns, which will be beautiful on all your sims!
The male's outfit that we want to share with you is a Japanese retro student costume. The costume has six swatches and looks traditional as hell!
4. Geisha Makeup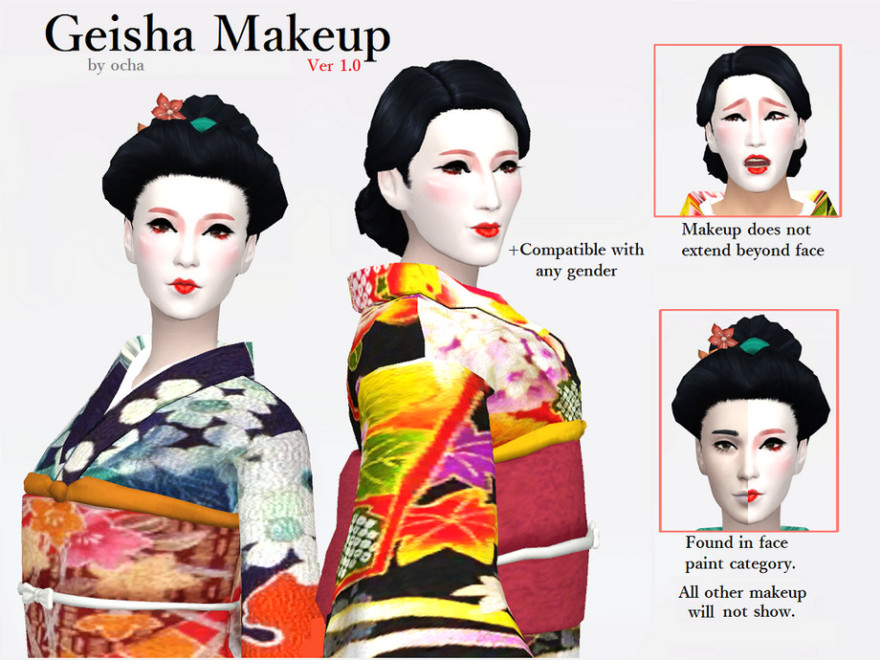 Geishas are the beauty and mystery of Japan. They are so gracious and handsome that you cannot stop looking at them once you see one.
We think that the most stunning part of the Geisha's appearance must be her flawless makeup.
That's why we offer you to download this beautiful Geisha's facepaint makeup into your game!
This facepaint compatible with every gender, so feel free to use this awesome creation the way you like it.
3. Japan Bathroom
An authentic Japanese bathroom with proper simplistic esthetics will perfectly fit into your Asian inspired house!
This part of the Japan series contains twelve objects, including a bathtub with wooden details, a sink with a matching table, a soap sender, a wooden rug, trays for towels, and many more fantastic creations.
Well, this is just a bathroom set to die for!
2. Japanese Decoration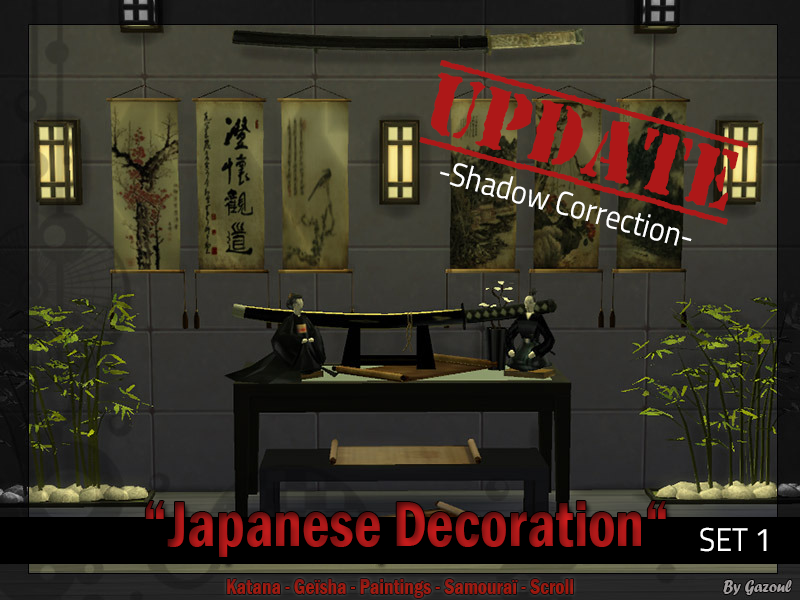 This set has a special place in our hearts. You can make one glance on the objects of Japanese Decorations set, and it is instant love.
With this gorgeous collection, you will get wonderful wall hangings with traditional hieroglyphs and images, little bonsai trees, different katanas, and figurines. Also, there's a stunning wall fan with sakura on it in this set.
All these objects will help you make the right Japanese home for your sims and create the best life for them!
1. Japan Bedroom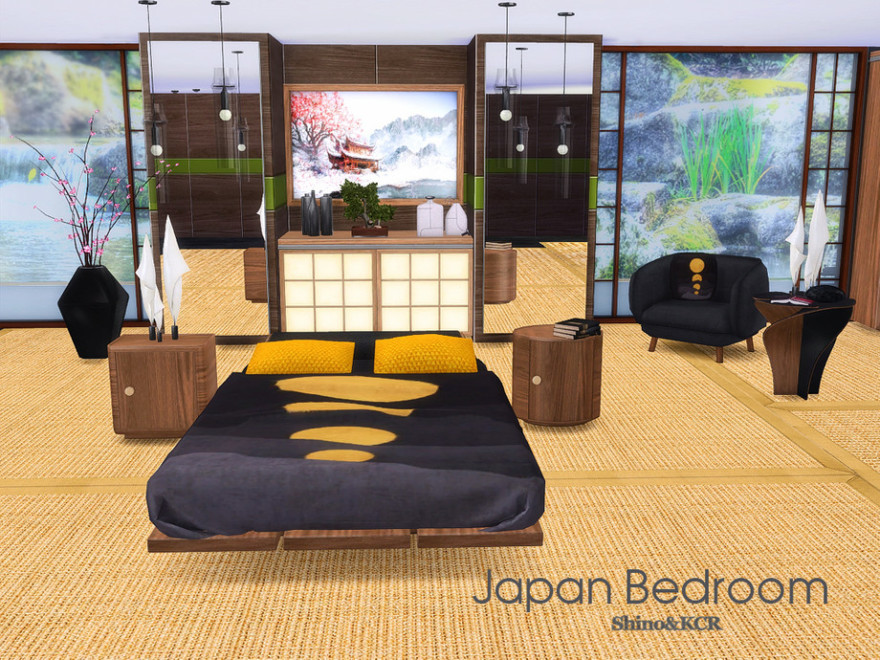 It is the last part of the Japan series by ShinoKCR that we include in this list. The Japan Bedroom is simple and unbelievably beautiful.
Stunning double bed with vibrant beddings, two wooden side tables, an armoire dresser, and traditional painted screens is all you need in your bedroom to make it like a true Japanese boudoir.
The set has plenty of swatches, and it will become one of your best additions to the game once you download it.
You might also be interested in the following: