The art of Japanese cartoons, anime has one of the biggest followings in the world. The Sims 4 can be a very diverse game, but the game is largely lacking in content and gameplay in this area.
But, CC creators heard our desperate calling and made a lot of amazing CC objects, accessories, and CAS things for our joy. In this list, we gathered twenty-one best custom creations for anime simmers, and we hope you enjoy it as we did.
Best Sims 4 Anime CC
Sailor Moon Wall

This Sims 4 anime CC adds three styles of wallpapers to your Sims 4 game, each featuring the heroic Sailor Moon herself in a pose on her iconic crescent moon.
Sailor Moon is a classic anime about a teenage girl who is given the power to become a superhero.
She uses her powers to fight evil and protect the world from harm. The series is famous for its strong female characters and fun, action-packed storylines.
She's the world's most famous magical girl, and now she can bring her magic to your Sims' home with these beautiful patterns.
Each style is unique and eye-catching, sure to add some extra Usagi personality to any room.
Shinigami Masks

These masks are perfect for giving your Sims an intimidating look that is sure to strike fear into the hearts of their enemies.
The Shinigami Masks are anime-inspired and made of studded leather and feature spikes that give them a truly dangerous appearance.
Additionally, the masks come in a variety of colors, so you can find the perfect one to match your Sim's personality.
With these masks, your Sims will be as threatening as a Death God from the Death Note anime series.
Detective Conan Poster Set

The Detective Conan Poster Set is the perfect way to show your love for the anime classic! This mod adds 16 high-quality posters to The Sims 4, all based on the Detective Conan anime series.
With vibrant colors and sharp lines, these posters in the CC set bring the protagonists' charm to any room in your Sim's house. But that's not all!
The poster also comes with four unique frames, so it can suit any interior design philosophy.
You just can't find anime style like this in the base game.
Joker Mask

Joker is known for being a powerful and charismatic figure, and his mask is the perfect way to add that touch of mystery and intrigue to your Sims.
Persona 5 features stylish and sleek fashion that is perfect for any modern young adult. The main characters all have their own unique looks.
With this mod, you'll be able to add a touch of Persona 5 style to your Sims 4 game.
Whether you're looking to create a powerful and alluring Joker character or just want to add a bit of fun and whimsy to your game, this mod is for you.
Hatsune Miku Long Sleeve Shirt

Any fan of the virtual pop star will turn heads when they wear this flashy shirt out. In fact, Hatsune Miku and your Sims have a lot in common.
They're both just bundles of code made for entertaining you!
The shirt features one of two vibrant prints of Hatsune Miku, with her iconic blue twin tails standing out against the fabric of the garment.
Sims can choose from either pretty pink or sunny yellow for the base of this fandom shirt.
Sometimes you need a comfy, casual option but still want to represent one of your favorite incorporeal stars!
Naruto Hairs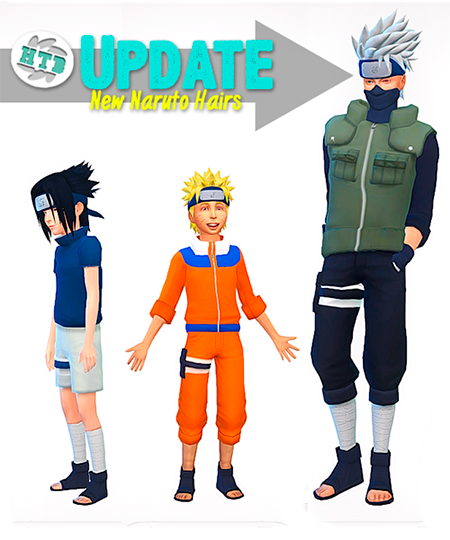 This amazing set of hairs is dedicated to one of the most exciting and famous anime shows, Naruto. The creator was able to create a happy medium between a cartoonish style of anime and a specific style of Maxis pieces.
In this set, you will get a lot of options to choose from: first of all, it is Naruto's hair for kids and teens to elders.
Secondly, you get the Sasake and Kakashi hairs too! You can also download bandanas if you like (of course, you are! We understand that they are probably even cooler than hairstyles!).
Recreate Naruto for your city or just a fangirl or boy. You are the law and the hero in this story.
Shitennou Costumes
Recreating Sailor Moon's world is an excellent choice for your anime gameplay in the Sims 4. CC creators made a lot of cool things on this topic, including this Shitennou costume!
This set is very intriguing and has a lot of details true fans of Sailor Moon will enjoy to find.
You can discover not only outfits in the package but also Kunzite's, Zoisite's, Nephrite's, and Jadeite's hairstyles too! Also, an amazing cape can be added as an accessory or be removed if you want to.
Oh, what a fun time in The Sims 4 awaits for us with this set.
Pokémon Pack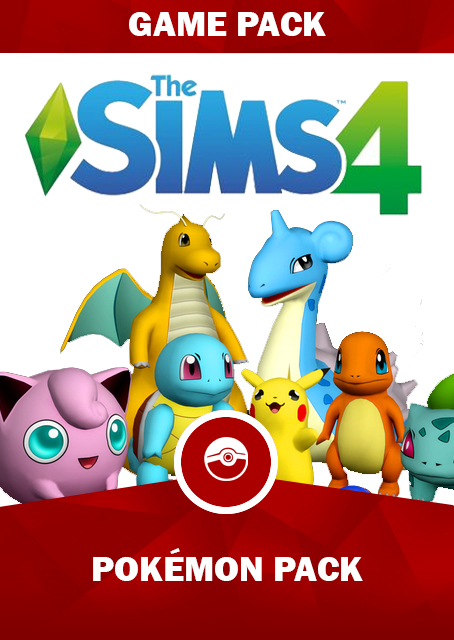 Gonna catch them all! Well, this is just your faith, right? But what to do if your sim shares your love for pocket monsters, but you don't have them in your Sims worlds?
In this case, shout out to the creator on the website BlueeGames for creating a marvelous Pokemon pack!
All the one hundred and fifty objects of this set are toys, but there is so much of them that you cannot be disappointed. Here you can find not only Pickachu and Bulbasaur, but Squirtle, Charizard, Charmeleon, and many more!
What an amazing way to incorporate little pocket monsters into your Sims game!
Sailor Moon Crystal Clothes Pack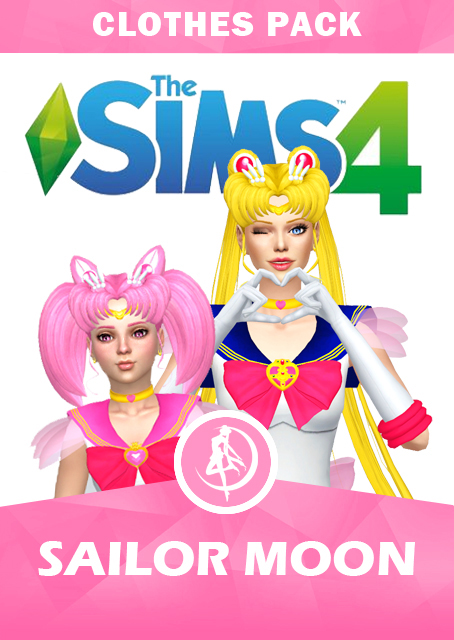 We offer you to consider downloading this beautiful Sailor Moon set in the name of the Moon! My oh my, your sims will be so stylish and fangirly at the same time!
The set consists of thirteen gorgeous tank top swatches dedicated to different aspects of the Sailor Moon world.
Here you can choose between different colors, styles, and even characters (personally, I always loved Sailor Mars more than Sailor Moon, but shush!).
This is maybe a small addition, but you can pay a real honor to your favorite anime characters in your Sims game with this set.
Naruto-inspired Ninja Career

Now let's talk about living like Naruto in your Sims 4 game! Your sim spends all his time on the boring 9 to 5, Monday to Friday business job and hates himself? Does it sound familiar to you?
Do not worry: now it all will change with the brand new Naruto-inspired ninja career.
From now, you are a hero! This is a standard rabbit-hole career, and you will have a day-to-day job of saving the world, healing others, or many more things, depending on the path you will choose.
Soraka's Outfit
Soraka is the League of Legends character, whose outfit, in our opinion, will be a fantastic addition to your regular anime gameplay.
The supernatural component of the outfit, with spot-on accessories, are so cool you cannot believe it!
The outfit is a perfect balance between alpha CC and maxis match content, so you can introduce it in any sims game. Gorgeous detailing and 3D textures: what's not to like?
Anime Cas Background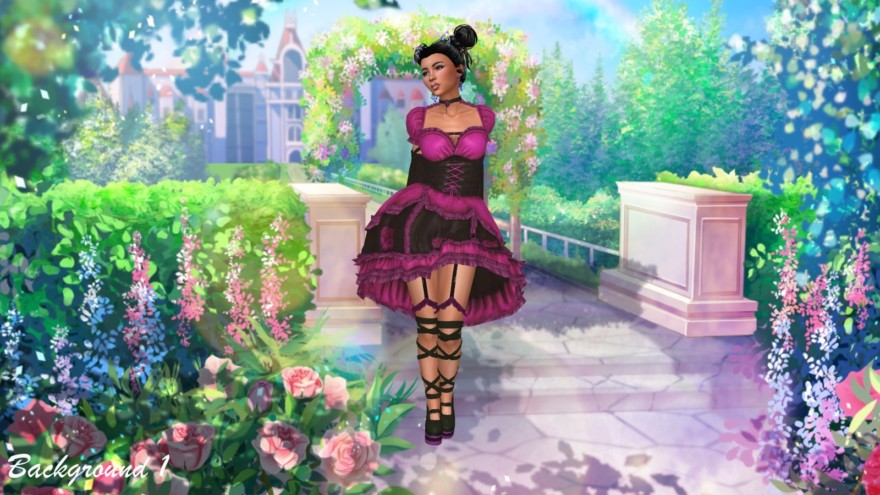 We are not going to lie, current The Sims 4 CAS background cannot be more boring. It was styled as a room in previous games, and here we have only a green wall.
That is so uninspiring! But we've come to help you and introduce custom CAS backgrounds dedicated to anime.
There are nine stunning backgrounds that feature beautiful nature, Japanese streets, flowers, houses, etc. in this set. You can choose every single one and make a rotation cycle, or stick to the best for you.
Wish your creativity a bit of good luck!
Anime Style Eyes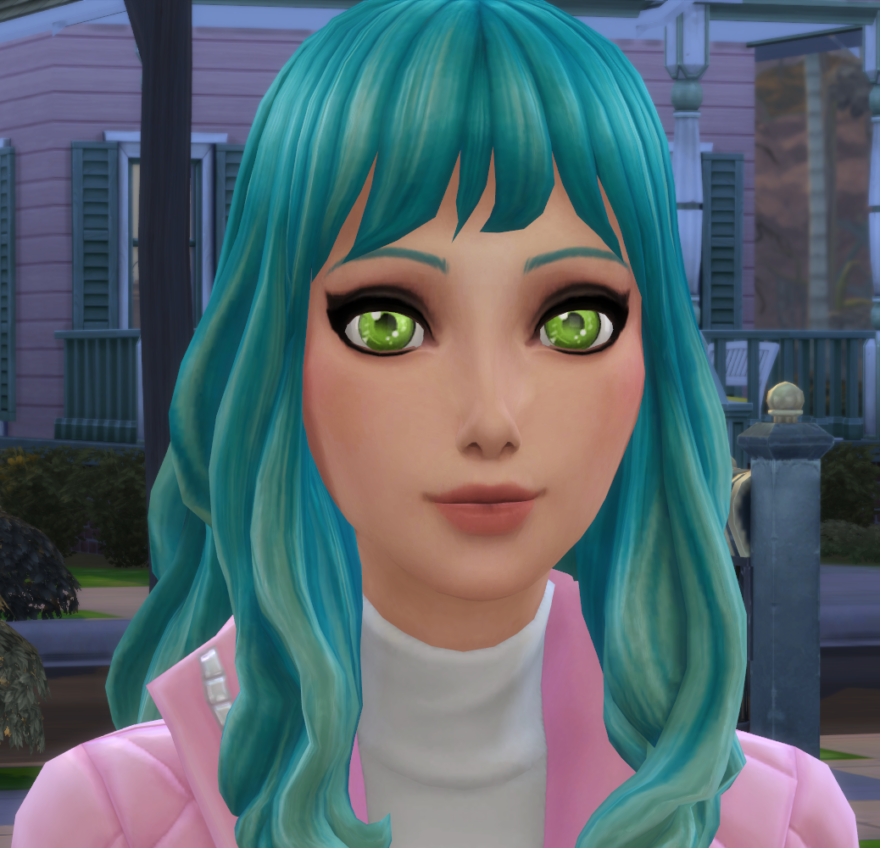 There is a particular style in anime that rewards good and kind characters with beautiful big bright eyes. Now you can have them in your Sims 4!
This set of Anime style eyes offers you twelve different colors of eyes with large, kinda watery pupils.
These are recolors you can find in the Face Paint section, in the makeup part of CAS. We think it is just perfect because if your sim decides to quit its anime personality, his eyes will be a-okay.
Three Anime Tattoos From Bleach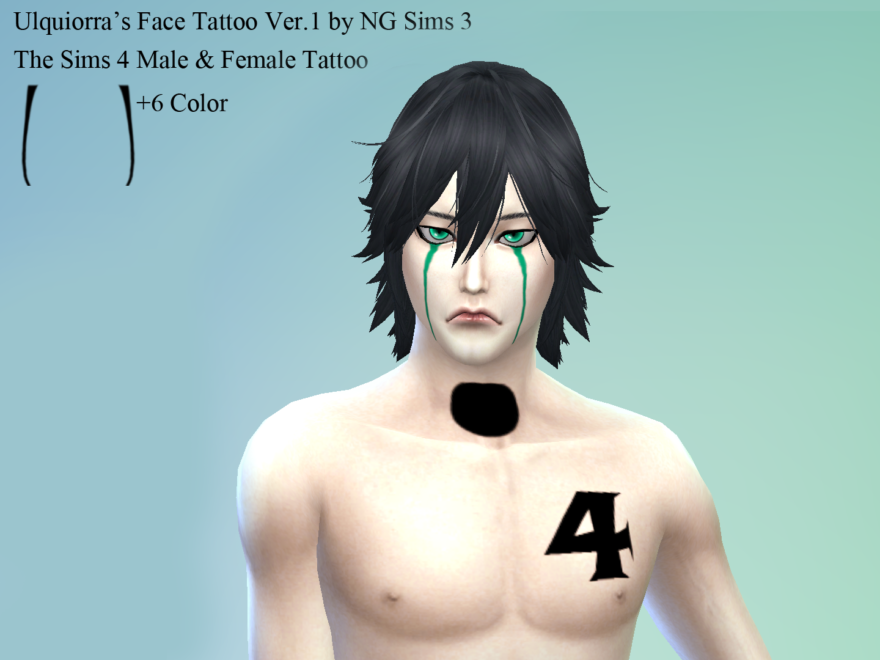 Bleach is one of the best and famous anime and manga series in the world. No wonder that so gorgeous face and body tattoos of Ulquiorra were created by dedicated Bleach and Sims fans.
In this set, you will find six recolors for the face tattoo, including versions for males and females. Also, the set has a hole in his neck tattoo and 4 on the chest.
Team Kiki and Totoro Posters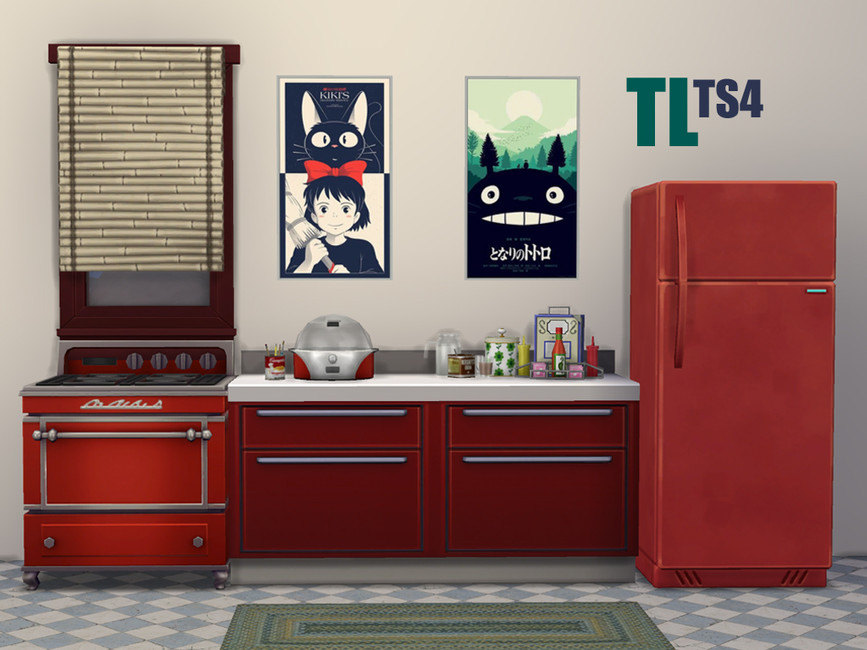 Your friendly neighborhood Totoro is now not only in your thoughts and dreams but on the walls of your sim's home. Or maybe Kiki's Delivery Service is more your kind of thing?
We present to you these beautiful wall posters dedicated to awesome anime masterpieces, known by every fan.
These posters are a perfect addition to your lovely living-room or sweet bedroom, or even a study room if this is your cup of tea.
Pokemodby Leljas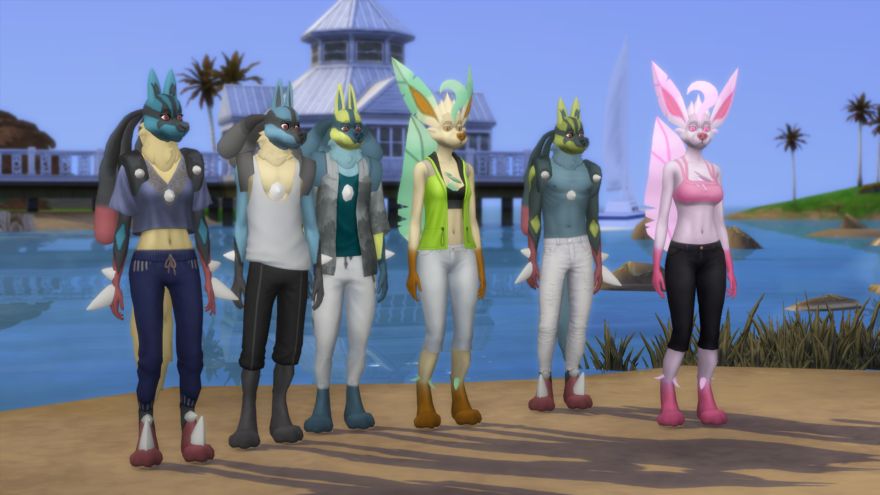 Having Pokemon toys or style sims in your game is already cool enough, but what about making a sim a pokemon? Yes, that is not a joke!
With the Pokemod, you get a chance to play your sim life not just as boring and ordinary Bob Pancake, but as Lucario, Leafeon, or Mega Lucario!
This mod creates a full skin overlay for female and male sims. It is just too good to be true, but here's the best part: your little child can wear a full-body egg outfit to pop up as a teen pokemon when the time comes. Isn't it awesome?
Gajeel Set

Iron dragon slayer Gajeel from Fairy Tale by Hiro Mashima now can be added in every Sims 4 safe on all its glory. The famous and very talented creator Natalia Auditore made this beautiful set real for all Gajeel's admirers.
The set includes his gorgeous spiky hair, full-body outfit, the especial tattoo, and metal acc marks.
The creation is very well done with love for the anime and The Sims 4 style, so it is not weird that fans of the anime were ecstatic to see this CC set.
Amaoodayaka Short Bob Hair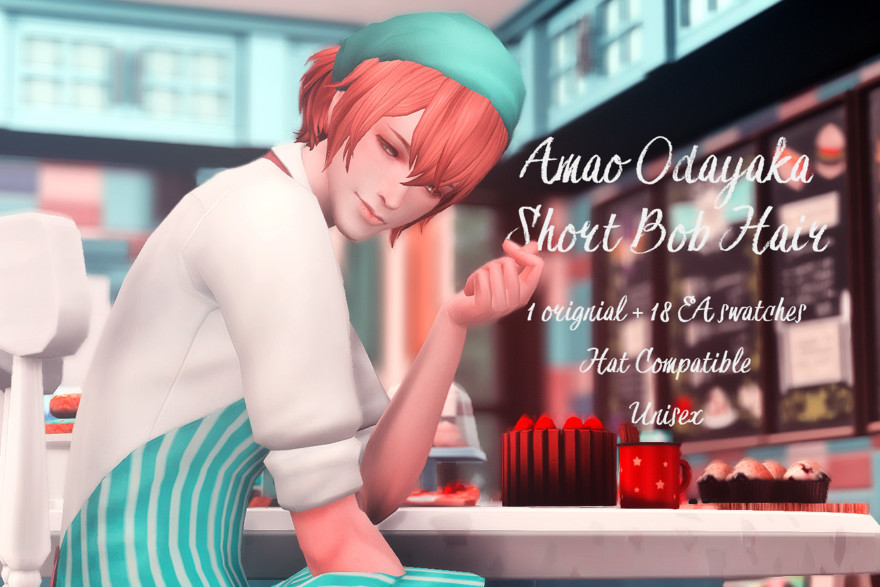 There was a joke in the Yandere Simulator, and now we have his hair! AmaoOdayaka maybe is a non-canon character of this video game, but he is awesome as hell.
Short hair with cute bangs and a little kerchief on the head is a perfect combination for your restaurant in The Sims 4 or a sim with a love for baking.
The set includes twelve hair swatches and can be worn both by male and female sims.
Millefiore Uniform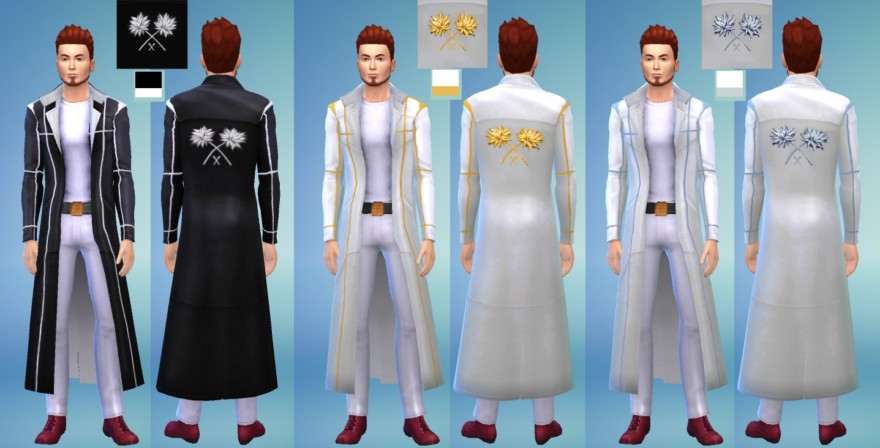 The most powerful mafia family in the Reborn anime universe has to have its reincarnation in The Sims 4! The distinguished Millefiore Uniform with a highly recognizable emblem on the long jacket is just stunning.
The creator tried to make it as similar to the anime as he can, and oh, boy, he managed to do so.
We highly recommend you to download this amazing outfit and play a sweet gangsta story or a romance with your sims. Be our guest!
Akuma Mask
This object did not come to us from any particular anime, but you should look at it anyway. The amazing Akuma Mask has a gorgeous punk-rock style with its fabulous spikes, and it is perfect for your anime sims!
Finish your look with this needed accessory and make your anime sim glow with his dark power or light shine.
The set has astonishing sixty recolors, so take your time when you will have to choose the right mask to put on your sim.
Dw Alice Dress

This dress is an excellent choice for role-playing or cosplaying as an anime character. Sweet little details of the outfit were inspired by the Alice Through the Looking Glass story.
You can dress your female sims from teens to elders is this fantastic piece and make them pretty as hell!
The dress can be styled for a villain or romantic, but mischievous sim in your save, and you will make some mess with them, won't you?
Akademi Girls' Uniform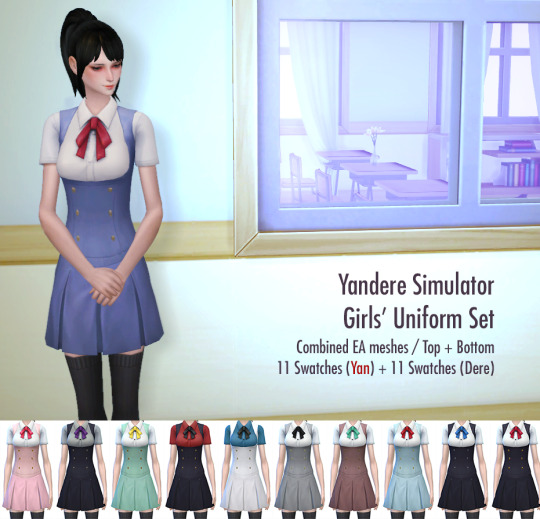 Here we go again with a Yandere simulator. Your life here is concentrated around the young school girl who goes to the Akademi High School, so it is only fair to add its uniform into our favorite life simulation game, The Sims 4!
This amazing set consists of two separate clothing pieces: sweet skirt and top, which have twelve beautiful swatches. All recolors are pastel and can be smoothly incorporated into your regular Sims 4 gameplay.
This is a perfect set not only for anime lovers but just for ordinary dynasty gameplay. You can use this gorgeous uniform for your sims to mimic private school outfits if this is your desire.
Anime Blush

Let's talk about makeup, shall we? Anime characters have a very specific type of blush, not very welcomed by real people or The Sims 4 characters.
But it is an essential part of the look if you like playing with the anime sims in the game.
This set of anime blushes have two styles and four recolors. Just imagine how cute and gorgeous your sweet anime cosplayers or manga characters will look with the blush like this.
Do not hesitate — download this beautiful set to make your new cuties.
Miscellaneous Readable Manga Books

You should not be the only person who enjoys manga and anime in The Sims 4. This awesome creator made a huge step towards incorporating this Japanese art into the game: from now, your sims can read a full stack of manga comics in their spare time.
Let your sim discover what was wrong with the Light in the Death Note. Show him how to find a balance between power and might in Naruto. Allow him to explore a post-apocalyptic world in Attack of Titans.
And there's so much more: Fullmetal Alchemist, Tokyo Ghoul, One-Punch Man, Bleach, Dragon Ball, etc.
The mangas can be purchased along with other books on the internet or by clicking on a bookshelf. We can only wish that your sim will enjoy these stories as much as we did!
Usagi Tsukino Anime Poses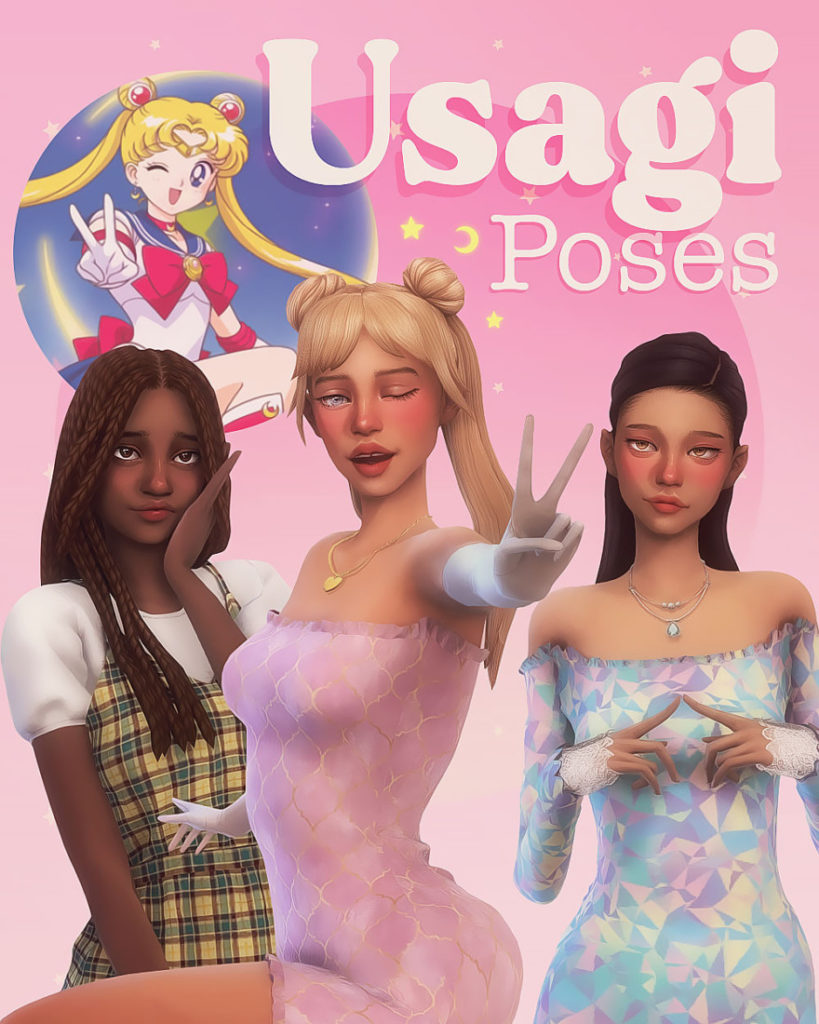 The Sims 4 is particularly famous for its CAS and privilege to create any sim you want. That is why a big part of simmers like to create beautiful screenshots or even comics and photostories with their sims.
In this kind of art, new poses for your sims are your best friends!
Thanks to beautiful creator Miiko, now we can add six brand new anime poses for your new stylish photoshoots. Those poses are very familiar for every anime admirer and, of course, will be a great addition to your game.
They were inspired by the Usagi Tsukino from a Sailor Moon, but we see a lot of usage from them, outside of the Sailor Moon's lore.
Miku Hair Set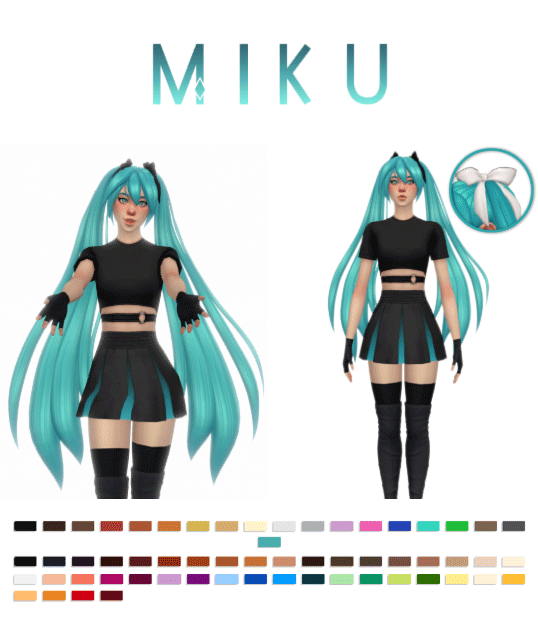 A good hairstyle is key to a great costume. Anime characters in The Sims 4 do not have proper hair, so CC creators made their best attempt and made just a gorgeous set of beautiful anime-inspired hairstyles for your sims.
The Miku Hair set includes three new meshes of various ponytails.
They all have different lengths and can be complemented with a cute bow that you will find in head accessories. The set is so special because of an abundance of swatches: eighteen standard EA and forty puppy crow ones.
Yes, you will have a lot of options to choose from.
My Hero Academia Gym Uniform

Who hasn't seen this sleek uniform before? The My Hero Academia Gym Uniform is a great outfit for when your Sim is pumping iron at the gym.
This CC is also perfect for when you want to recreate your favorite My Hero Academia characters as Sims! You can't very well complete a great recreation without the appropriate outfits.
The MHA gym uniform CC is a spot-on replica of the show's uniform and comes as a full-body outfit. However, what makes this CC a bit more fun is that it also comes in nine other colorways, including pink, yellow, bright blue, and white, to name a few.
Yaiba Costume Set

Almost any anime fan has heard of (and most likely seen) Demon Slayer, and this Yaiba Costume Set is a great addition to any fan's Sim game. This custom content was created by McLayneSims and features a variety of pants and shirts.
Included in this CC pack are seven pants designs, nine short designs, and seven more shirt designs that have long sleeves.
Since this CC isn't created to be full-body outfit restricted, you can dress your Sim entirely how you want with the pieces you want, which is great for those who like to create original Demon Slayer characters.
While this Yaiba Costume Set shows only male characters, don't fret because there is a female version as well.
Sailor Moon Posters Set

Sometimes, clothing and makeup CC isn't enough when you want to show your love for a show. This Sailor Moon Posters Set is perfect for Sailor Moon fans who play The Sims.
This pack features three sets of posters, each with amazing detail. Combined, all three sets provide 16 different poster swatches.
Set one features posters that focus on Usagi. Set two features five of the Sailor Scouts, including Venus, Mars, Mercury, Jupiter, and Moon. Set three features Tuxedo Mask, Black Lady, and Sailor Pluto.
These posters are of great quality, as well! All of the characters are clearly visible with a surprising amount of detail.
Diabolik Manor

Whether you watched the anime or played the original visual novel, this Diabolik Manor CC is an amazing building to add to the game's pre-made building choices. This gigantic mansion is surrounded by hedges and includes two floors and every type of room your Sim could possibly need.
This manor is a pretty close replica of the anime's beautiful house, which is fitting for all of the beautiful vampire Sims that would want to live in it. Paired with additional vampire mods and CC, the Diabolik Manor is one CC that you want in your game.
You might also be interested in: