In the Sims 4, we've got the opportunity to style our sims as detailed as we want for the first time in the franchise. It also relates to an abundance of shoe options in the base game and expansions. But there is no such thing as too much when we talk about shoes!
Here we made a list with all the gorgeous CC shoes you can add to your game right now.
Best Sims 4 CC Shoes
18. Hand Embroidered Converse

If you or someone you knew worse Converse growing up, or even today, you might have noticed how customized they can be! So, you can do the same with this Hand Embroidered Converse CC!
This shoe CC is inclusive of all Sims, both male and female, from Toddler to Adult. There are 30 swatches to choose from for solid and patterned Converse and eight swatches for the embroidered shoes.
The embroidered designs feature plants, flowers, and animals and come in black, white, mint, beige, and brown.
This CC pack can be a really fun and cute addition to any Sims game, and it's a great fit if your Sim is the artsy type!
17. No Mercy Boots

Having a good pair of platform boots in your Sim wardrobe can come in handy any time you want to look a bit rough around the edges.
These No Mercy Boots come in 20 color swatches and are divided into two categories: dark solid colors and brighter solid and patterned colors.
This shoe CC is base game compatible and come in two lengths too: calf-length and ankle-length.
The dark solid colors include purple, blue, red, yellow, green, and more. The brighter colors include neon pink, neon yellow, orange, white, and more. You also have the choice between paint splatter print, cow print, and camo print.
16. Furry Long Boots

When it's the middle of winter, and you want some cute winter boots for your Sim, which pair of base game boots do you reach for? Well, time to download this pair of Furry Long Boots for ultimate cuteness!
This pair of calf-length boots have wedge heels and a fur-lined top with pom-poms attached to the sides.
These boots come in 13 colors, and the promo photo features the boots in yellow, pink, and light brown. The texture of the fur on the lining and the pom-poms are also quite detailed, and the boots appear to share the same texture as suede.
15. Basic Slip-on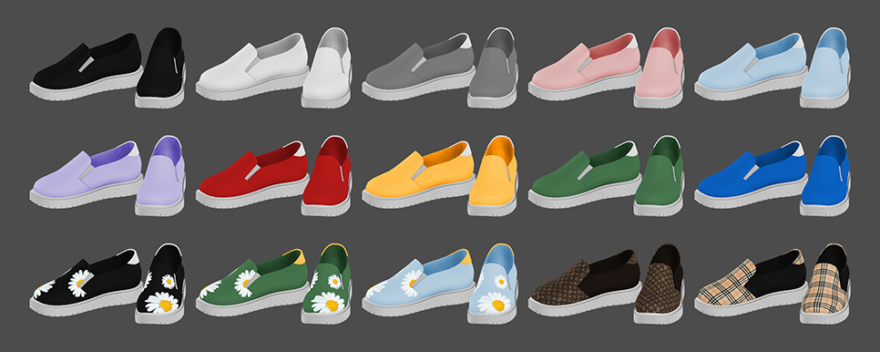 Gorgeous! Just gorgeous simple slip-on shoes are an everyday option for stylish and cool sims or simple gals that value comfort. Highly-detailed mesh with beautiful swatches is a dream come true for every alpha CC lover.
Our favorite swatches of these fabulous shoes are ones with the daisies, Burberry-like, and bright yellow. It is impossible to find an outfit not suitable for these wonderful shoes.
14. Glitter Shoes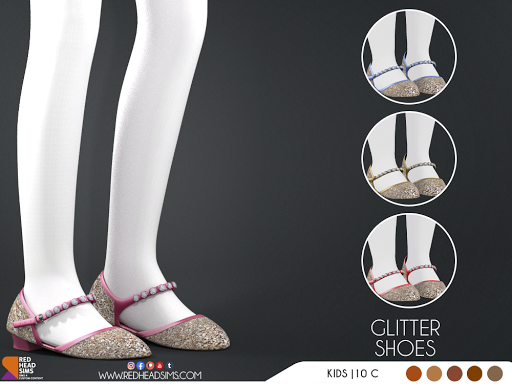 The kid's shoe department in The Sims 4 has a decent variety of everyday and formal options. But, the game lacks in some exciting examples for your sweet baby to rock inеруь.
These amazing glitter shoes were created to excite your sweet baby girl and turn regular outfits into something very special. You can even wear them to school: who will forbid you if they are so fabulous?
The shoes are available in ten different swatches with all subtle colors. There are sweet beads on the shoe's straps that complete the charming appearance of this footwear. The glitter shoes are available for female sims: toddlers and children.
13. Christian Louboutin Pigalle Follies Pumps

Every fashionista knows who Christian Louboutin is in the shoe world. He is one of the best footwear designers and creators of the iconic shoes for television, musical performances, and regular red-carpet events.
Seeing in the Sims 4 classic Louboutin's shoes is a true pleasure for every fashion adorer. Those slim lines and iconic red sole are to die for, and, of course, your sim ladies will be so excited to wear them!
This particular Pigalle Follies looks so stunning and so haute couture that your sim can gain confidence only with one glance on them.
The last cool thing about this masterpiece is they are maxis-match CC so that those shoes will blend into your gameplay just perfectly.
12. Dolce&Gabbana Keira Sandals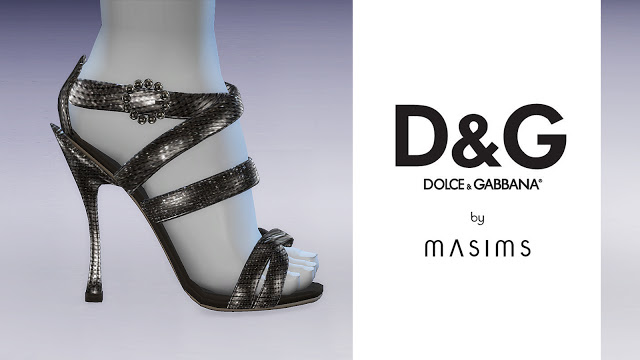 Those sandals are killing us! You cannot believe that something so beautiful and rare can now exist in the world of Sims 4.
Dolce&Gabbana Keira Sandals will look heavenly on your fierce business lady or hard-working style influencer. Nancy Landgraab secretly dreams about them, but she just won't dare!
Amazing dark grey color with a slight reflection or even a glimpse of glow makes these shoes perfect for casual, work, and formal outfits.
We can see that shoes are made from snake leather because of its specific texture. Oh, what a treasure your sims can now wear on their legs!
11. Christy Flats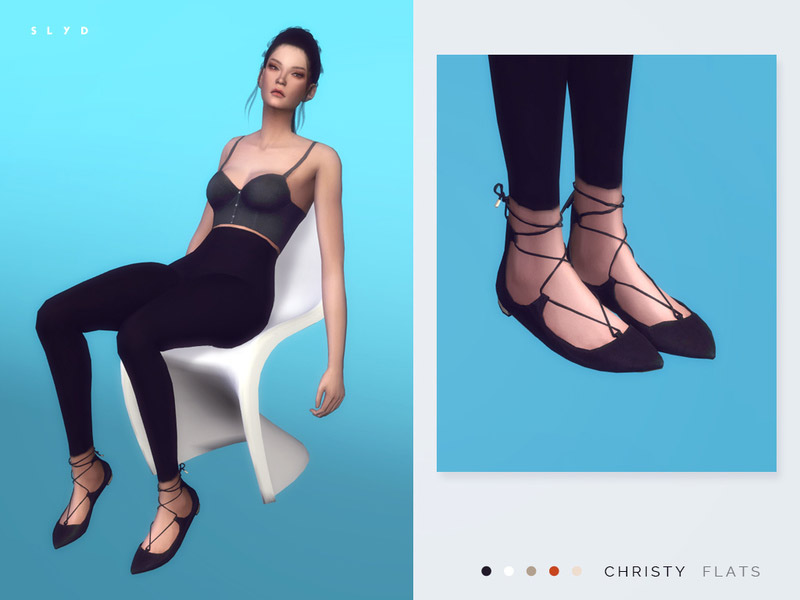 This one is for comfort lovers! Not every sim is made the same, and sometimes ladies want to have some cute, but comfortable shoes to wear even in the Sims 4.
Adorable Christy flats are not your regular boring ballet shoes. Gorgeous lace-up ties accentuate thin ankles and make them look even thinner and delicate. The flats have strong metal heels, which make them look even cuter!
The shoes have five simple swatches in all major colors, including a nice beige and orange one. And the last thing about its style.
The flats look like they are straight out of fashion plates from the early 1810s, so you can use them in your historical recreations of the Regency era in the Sims 4!
10. Suede Formal Boots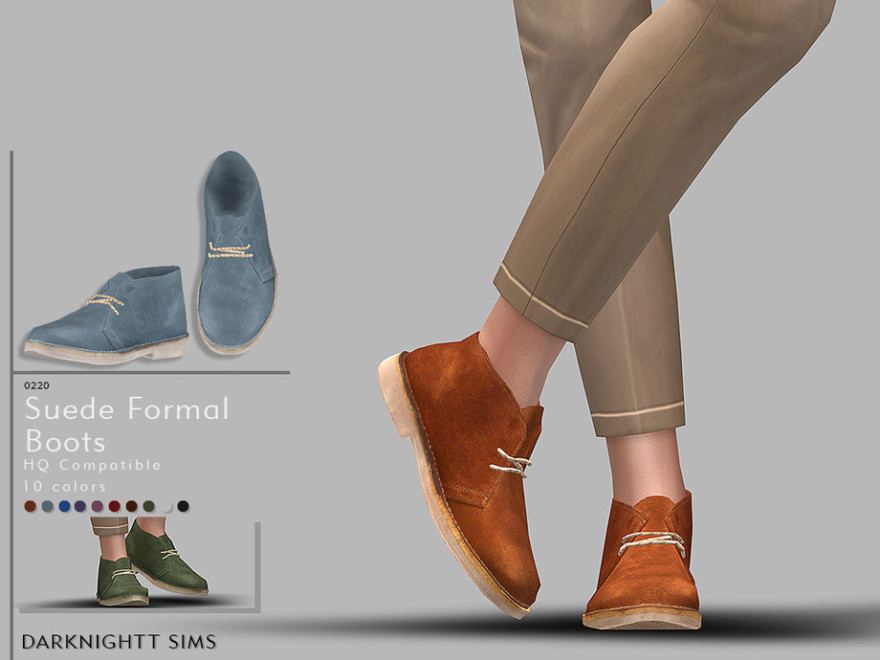 Men deserve cool footwear too! These fantastic suede shoes are a classic of man's fashion. Almost every man, and now sim, should wear these shoes at some point in his life.
As we mentioned earlier, these boots are classic, so they never go out of style, and they look adorable with almost every outfit you can imagine.
These particular man's boots are available in ten amazing swatches from simple black to fun tan. They are perfectly HQ compatible and will look great with all maxis creations in your game.
9. Jw Sandals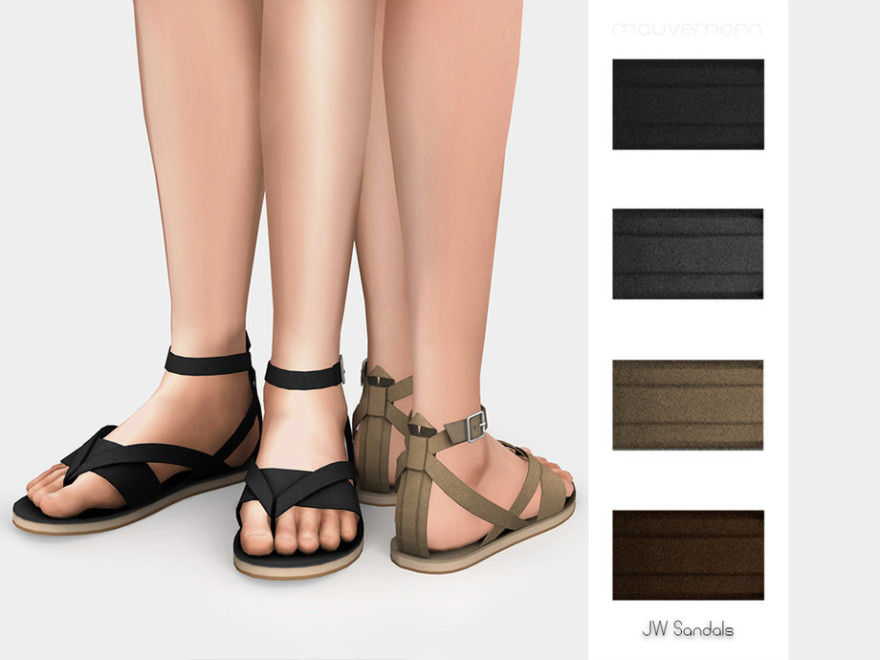 Speaking of masterpieces. Sometimes simple designs look a lot more expensive and beautiful than very extra and fashionable ones. In this case, these JW sandals just win all the fashion prizes on our list.
The very laconic and simple design was a beautiful decision, and now these sandals can be worn almost everywhere! They will be great on the beach in Sulani, in the karaoke-club in San Myshuno, or in the bar in Windenburg.
The sandals have six nice swatches (all leather), and anyone can wear them from teens to elders.
8. Converse All Star Sneakers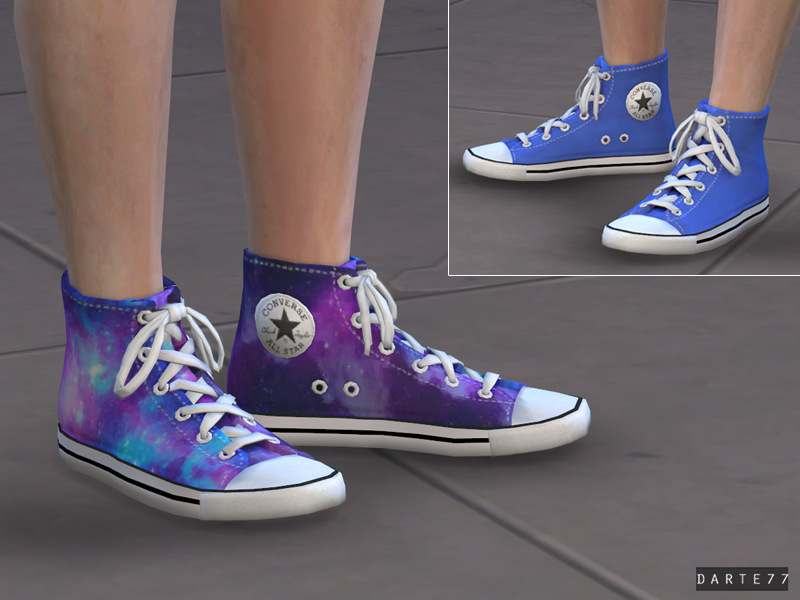 Punk-rock legend and favorite shoes of every teenager, the All-Star Converse, will be a wonderful addition to your Sims 4 game. This particular example is high-top shoes created for your male sims.
Converse sneakers will fit perfectly for your aspiring musician or a tech guru. Every sim can find the color he likes because the creator made a whole fourteen amazing swatches of these sneakers!
Do not get us wrong, we don't think that Converse All Star Sneakers are perfect for every outfit, but we believe our sims do think so!
7. Madlen Rimini Boots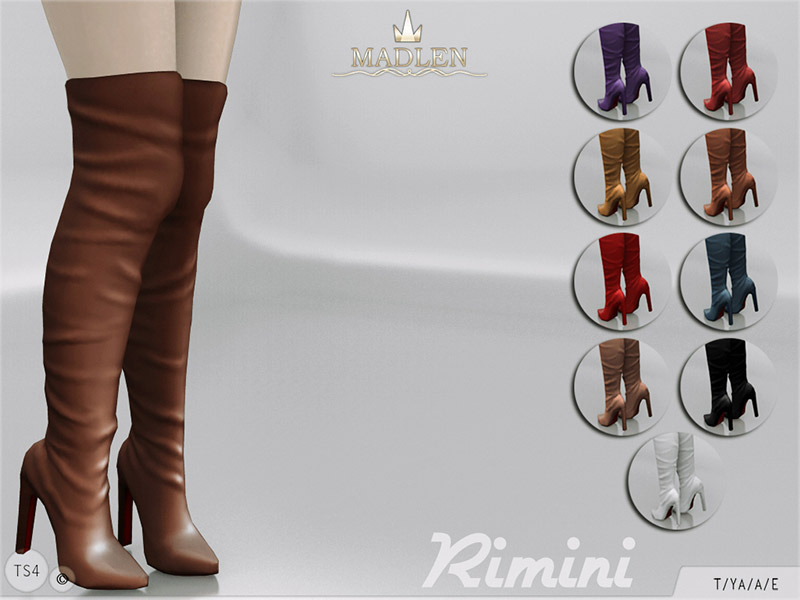 These boots were made for walking! Long and gorgeous, these knee-high boots are the leather fantasy of all sim girls. Its undeniable elegance complements the sexy look of the footwear. You cannot underestimate the female sim in these shoes!
The Madlen Rimini boots were created for skirts, skinny jeans, and leggings, so they are not compatible with some game pants. But who will ever want to hide such a beauty?
The boots have ten recolors, so you can easily put together a fabulous outfit using them.
6. Nicki Sandals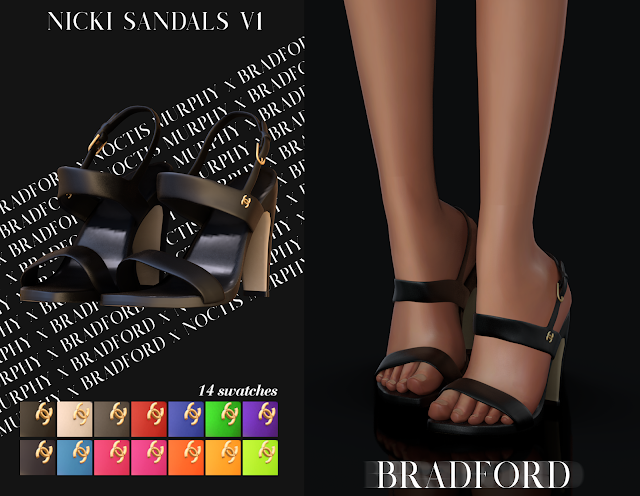 These 90's inspired Chanel shoes were created by a beautiful creator Murphy Sims. The Nicki sandals in the game look almost identical to real ones, but now we have fourteen swatches, including fun and neon ones!
The creator made them fully HQ compatible and in two separate versions: with and without slider.
Those sandals will also be disallowed for random, so only your sims will wear this exclusive masterpiece. The shoes are available for female sims from teens to elders.
5. Teddy Leather Shoes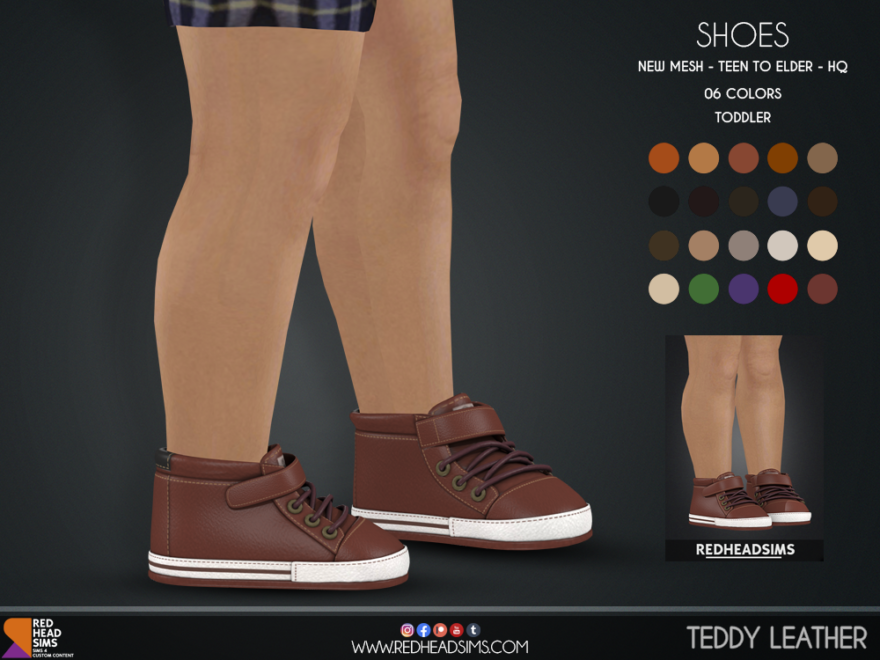 An adorable pair for your little guys! These lovely Teddy Leather shoes were made to add more stylish options for male kids and toddlers.
New modern mesh and gorgeous detailing make these shoes a must-have in your game. It does not matter if you prefer alpha cc or maxis match — those booties will look perfect with any outfit.
But there's more! This beautiful footwear has shiny leather and suede options so that you can use these shoes for formal outfits.
What can be more adorable than your little baby in his big boy leather shoes?
4. Slyd's Charlene Shoes

This pair is for history lovers in the Sims 4. Astonishing, gorgeous, beautiful! This stylish Charlene shoe is a retro-inspired wonder that came from CC heavens to us, ordinary simmers.
These shoes will be a fantastic accessory for the '30s and '50s inspired outfits. There are many bright recolors of this Charlenes, so go make some smashing outfits with them!
The shoes are fully compatible with the base game, and they are maxis-match cc creation.
3. Shoes Mini Pack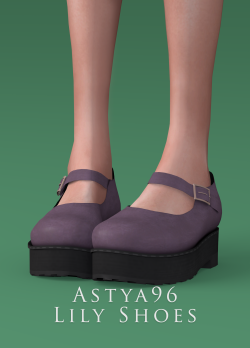 This cute mini pack consists of two fabulous pairs of shoes that are breathtakingly beautiful. It is not your regular flats but gorgeous platform sandals.
We think that your teens will fall in love with these shoes faster than with a new hot rock band!
The Lily and The Valerie shoes in the pack both have twenty swatches and can be worn by females from teens to elders. You can download slider and non-slider versions (in case if you use shoe sliders).
2. Marisol Boots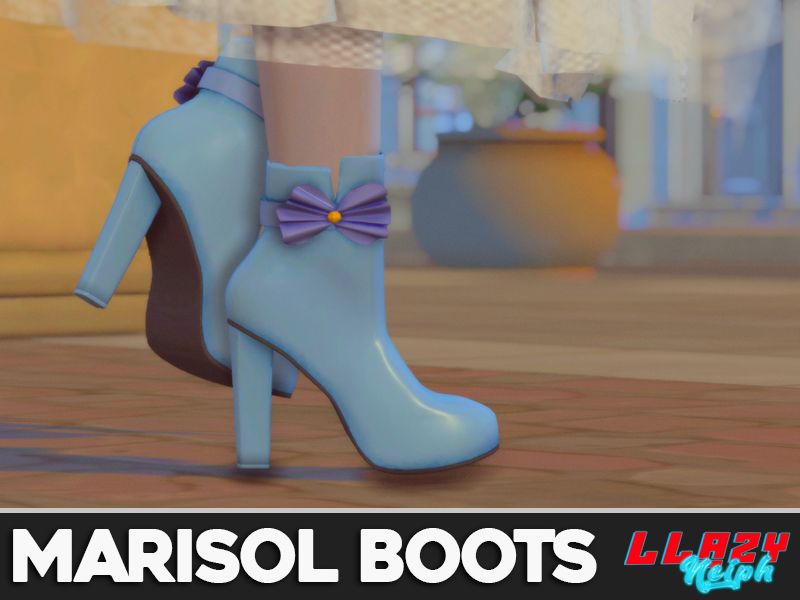 All fashionistas in the Sims 4 gasped once they'd seen these heaven-sent boots. Astonishingly beautiful and quite a unique pair is something all the simmers always wanted in their game.
The Marisol boots have a highly detailed side bow with a little bead in the center, making them look both adorable and fabulous.
The shoes have only two recolors, but we can forgive the creator for that because even one swatch of these boots is everything.
It is a very obvious alpha cc content, but you can try to make these shoes work with regular maxis clothing. After all, different styles can create something non-orthodox and very fashionable if you dare to try them together!
1. Leif Stilettos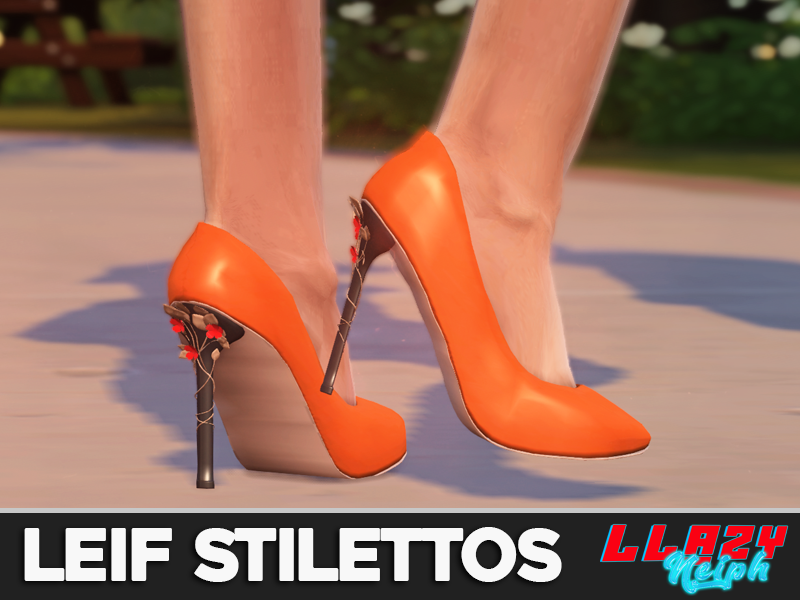 That is the next level of detailing! These fantastic heels are something from the other world. The Leif Stilettos was created to make your sim's life sparkle.
The stilettos are available in two recolors (black and orange) and have an amazing leaf design wrapping the heel. You can let your sim wear these shoes to work and to go out, and she will feel fabulous all day long!
Even Carrie Bradshaw did not have such a beautiful pair, and it says something!
You might also be interested in: