Darkest Dungeon is a fun, dark, and gritty dungeon crawler. It has one of the most unique features of all, which are the quirks and stresses, which can either hinder or strengthen a character.
One of the reasons why Darkest Dungeon is so popular is its simplicity, where it's really hard to survive, even if the gameplay is easy.
I can still remember the amount of time I had to put in the game to just run around the levels because there are things that I've missed (I'm a completionist), but then again, it's really hard to do so because of the complexity of the dungeon's mechanics.
Anyway, we're gonna be talking about the top 15 Darkest Dungeon Mods, so keep reading if you wanna spice up your vanilla gameplay.
Best Darkest Dungeons Mods
18. True Heroes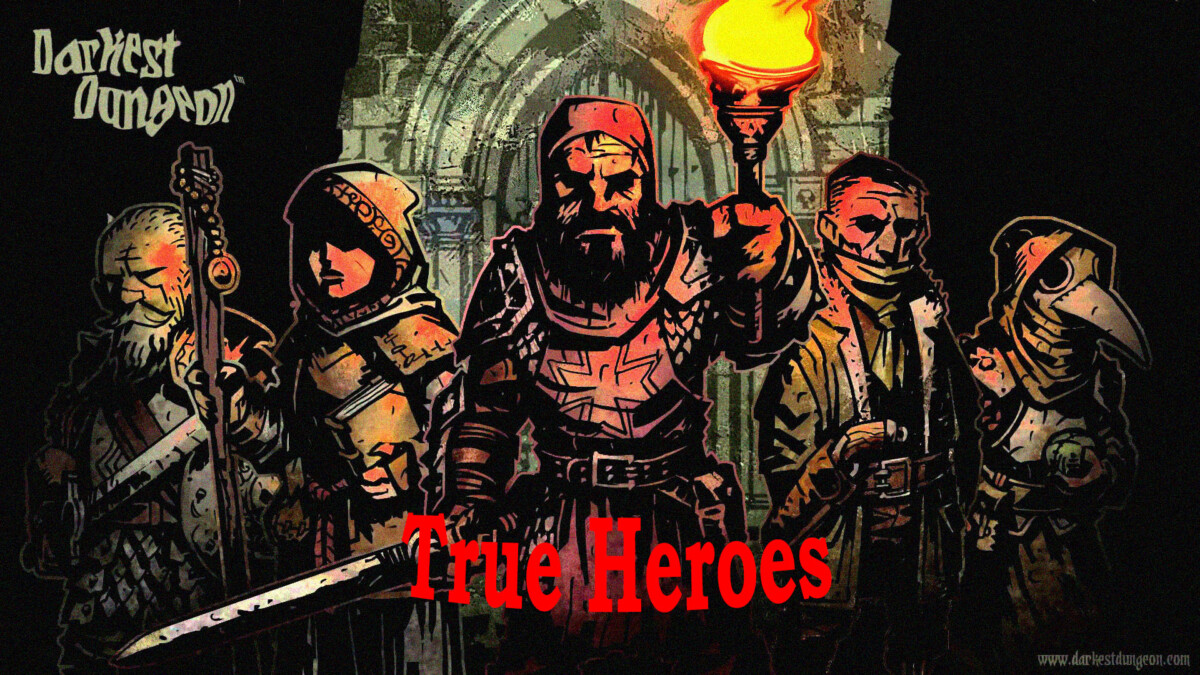 Almost any dungeon crawler game can be a bit difficult, but with the True Heroes mod, you won't struggle as much!
The True Heroes mod rebalances the hero classes, allowing players to enjoy their game more as the modified version rewards strategy versus luck in the vanilla version.
These adjustments include an increase in resistances, health points, dodge bonuses, damage points, critical hits, and speed.
The mod also adds progressive damage as well as modifies the target zones of some skills.
17. Roster Size Increase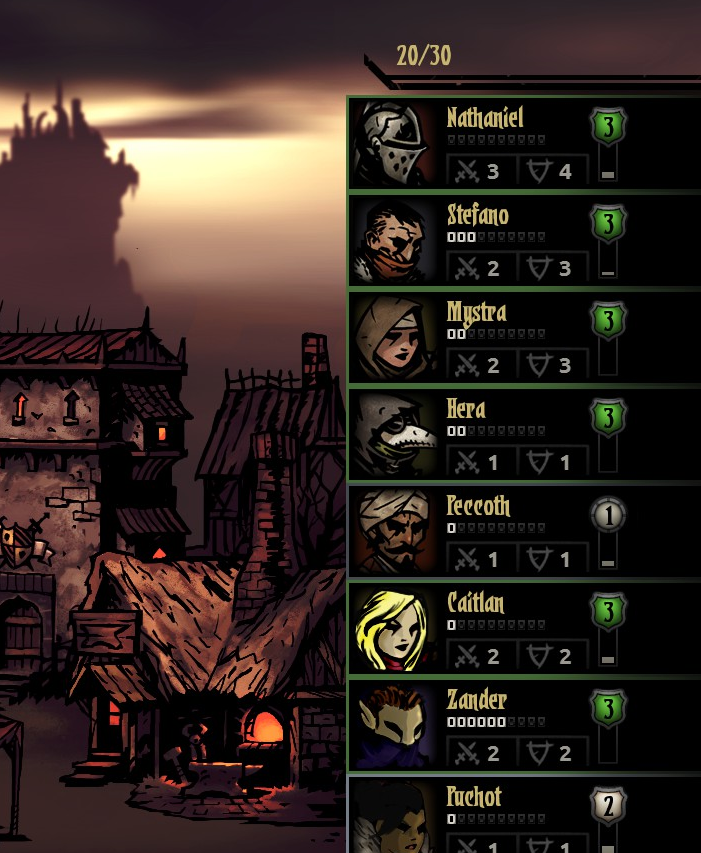 The more, the better, at least, especially when you want more heroes in your party!
The Roster Size Increase mod does as it says, and the standard default setting is 28 heroes, or 30 on the Stygian difficulty, but this mod allows a great increase.
This is great for decreasing difficulty, as heroes die permanently, so you'll have larger teams with more backup.
16. Holy Healing Water

One of the biggest frustrations of playing Darkest Dungeon is how difficult it is to heal your party. Because of the random generation involved, buffs are hit and miss in each playthrough.
However, the Holy Healing Water mod adjusts this by making the game more forgiving and adding a healing buff to holy water. So, your party can heal as well as still receive the holy water's resistance boosters!
This mod comes in three versions to accommodate how you like to balance your game. Each version determines how much health the item restores to your party.
15. Stacking Inventory

Stacking Inventory is a mod that turns the values for several items for it to be able to be stacked and so it doesn't need to eat up your inventory.
I like this mod because it's very helpful if you're running around with items that you need to use for later and saving up items that will help your fights in the future.
It's very simple to use and will actually help you have the optimal gameplay in the game. I mean, why wouldn't you want to have extra items not eating your inventory slot, right?
14. Geralt Skins

Look, when you're playing a dark fantasy dungeon crawler, you need to have the best slayer in the game, and that's what this mod will do.
Geralt from Witcher will have another quest, and that is to eliminate the freaks of the dungeon.
It will turn your regular Bounty Hunter into the sexy bastard Geraltis. Pretty good for a mod, even with limited animations.
13. Faster Combat

It is what it is. The Faster Combat mod will transform your boring and slow grind into something that's bearable.
When you're hundred of hours into the game, and you're slowly getting tired of the repetitive gameplay (which is obvious, it's a roguelike game), you will actually get tired of the game itself, especially during the times where your character is total stress luggage, and it is dragging your group down.
Faster Combat will cut some parts of the attack animation by half and have your gameplay sped up slightly.
12. Level Restrictions Removed
Level Restrictions are what's keeping your champs from doing something stupid.
It's like a friendly gate that will keep you from harm, but it will turn your game into something randomized with this mod on your game.
Your end-tier champs will have more freedom and can go anywhere they wanna go.
However, the same thing goes with your lowbies as they're gonna muster up the courage to die in the most unforgiving way possible.
The best thing about this mod is that it will change your gameplay into something unpredictable, even if the choices are just A or B.
11. Unofficial Palette Expansion

Not everyone has been given equal love in this game, as some of the classes are being outclassed solely for having a little bit of fashion sense in them, especially with the palette coloring.
Unofficial Palette Expansion will give this one thing the developers missed for everyone.
Now you can die in various clothing colors since your characters are gonna have their different palette for each class they have.
10. 100 Hero Cap

100 Hero Capacity is a very simple mod that will increase your party's roster size to a hundred.
I mean, it's good to have multiple heroes that will help you with your journey, especially if the first few died due to their silliness or their own faults (your faults), this mod would come in handy.
For people like me, who also love to duplicate champs and build, this is highly recommended to be installed.
9. Deus Vult

Reclaim the holy land and install Deus Vult mod for your Crusader class and turn him/her into a powerful servant of God, now in the most fashionable way ever. Look, man, this mod is very simple.
You've read the previous sentence, but lemme just ask you this? Do you really want to settle with the boring vanilla default of the Crusader? No, right?
Then grab this mod already. You're gonna miss out on this one and you'll fail to recapture Jerusalem.
8. Bloodborne Highwayman

And speaking of fashion, this Highwayman skin will definitely bring out the best in your closet. If you've played enough Bloodborne, I'm pretty sure you're gonna be missing this skin.
For the most part, Darkest Dungeon is similar in one way or another to Bloodborne, except that it's a solo run for Bloodborne, and it's not turn-based.
Anyway, grab this Bloodborne skin for your Highwayman and make every highwa—I mean dungeon to hell for your enemies.
7. Expanded Town Events

A small addition to the lackluster town events, this mod aims to achieve an optimal experience and a bit more of a challenge into the town events' stale atmosphere.
This mod currently has 18 missions, and they're quite fun, in my opinion. Get Expanded Town Events now and maybe you'll never have to go down the dungeons yourself, maybe.
6. Cultist Trinkets

Ah yes, the trinkets of the weirdos. This is astrology for the pagans and atheists.
But anyway, this mod aims to bring to your gameplay the addition of Cultist Trinkets and the expanded overview of the cults in the game.
You can upgrade your lore understanding of them, and you can even unlock a few of them from the people who're committing forbidden acts.
5. Trinkets – 5 + Inventory – 24

What do the numbers mean, Mason? Well, it's simple, really. This mod will allow your characters to equip 5 trinkets, now with the addition of 24 inventory slots.
Does this seem unbalanced to you? Well, yeah, it's an imbalance because it was made that way.
But the reason for this is fairly balanced, you're gonna go to a dungeon ill-equipped, and you expect that it's a fair game? Well, no. It's not.
Don't be a masochist and install this mod to make your life easier.
4. Moonlit Dungeon

Moonlit Dungeon is a mod that will bring 5 new enemy types and will literally torture the living hell outta you.
I gotta say, this is one of the most polished mods I've installed so far and probably one of the most fun since the challenging aspect they put into the game isn't something that will put me down in a few hits or two.
But this mod will definitely bring the best and the worst out of you.
3. Journal Compatibility Fix

Again, from MLD's creator, going toe is back again with another good mod that will fix most of the bugs when using the journal, especially with using multiple mods in the game in place.
This mostly fixes the present bugs when using the journal from other mods with their own journal entries.
This also allows you to bypass the bugs from uninstalling mods and not ruining your saves.
2. Mld Ruins Compatibility Patch for Level 2 and 4
This patchwill allow the monsters added from the Moonlit Dungeon mod to appear in level 2 (Adventurer) and level 4 (Master) dungeons and have a variety of enemy types to encounter. This is a good mod to add if you're looking for a challenge.
1. Pitch Black Dungeon

This mod is a complete overhaul of the game that will turn your vanilla gameplay into a more hardcore one.
Of course, this wasn't made for newbies, but for veterans as well.
Test your wits and mettle, that of which you'll regret immediately once you've installed this mod, coz bloody hell, this mod will be something akin to Demon's Souls (or something similar.
PBD also balances the game's mechanics, especially the loot and the encounter system. It's a good addition for a game with so many unfair mechanics and imbalances.
Final Thoughts
Darkest Dungeons is a really good game. I absolutely recommend this game to anyone, especially those people who managed to play a lot of Bloodborne and Souls content.
They are mostly targeted towards those people who enjoy a good beating and it's a game beating the living crap outta them.
One of the good thing about mods listed here is that it never really disrupts the game and a few bugs are only present since the mods themselves act as fixes and patches that the developers failed to address.
You might also be interested in: