When it comes to custom content for our sims, the options are limitless. From various hairstyles, outfits, and mods to choose from, it's as if no Sim should ever look alike. I mean, that is, if you're a girl.
Unfortunately, our lovely gentlemen get left out. Let's face it, the in-game options aren't enough, and all the guys end up looking like slightly different versions of each other.
Not fair! Men deserve to have plenty of options too. So guess what, I took the time to make a list of my favorite male CC.
Why blend in when your Mister Sim should stand out?!
Best Sims 4 Male CC
Men's Jeans Print

Looking for a pair of jeans that will make your Sim stand out from the rest? Sims 4 clothing CC creators for the Sims 4 have got you covered with these printed men's jeans.
These stylish white jeans are perfect for making a statement, and the colorful print on the lower legs is sure to turn heads. Printed jeans bring a dash of 90s streetwear into the 2020s.
Whether you're dressing up for a night out or just wanting to add some personality to everyday looks, these jeans are a must-have.
So don't wait any longer; grab a pair for your favorite Sims 4 man!
Olwen Top

Introducing the Olwen Top, a stylish piece of custom clothing for the Sims 4!
This dapper top features a plaid vest over a white button-up shirt, giving your Sim a look that is both fashionable and refined.
The Olwen Top is just the thing for any formal occasion or simply for adding a touch of class to your Sim's everyday outfit.
With its impeccable style and attention to detail, the Olwen Top is sure to become one of your favorite pieces of cc clothing.
Aqua Shorts

Having trouble finding the je ne sais quoi addition to your Sims 4 males' summer swimwear wardrobe? Check out these comfy Aqua Shorts!
Don't let your Sim get caught at the beach as the only guy wearing a base game swimsuit.
Made from a light ocean-blue fabric, these shorts are ideal for a day spent at the beach or pool.
They feature a white rope built-in belt for a touch of nautical flair. From a tropical vacation to a night in the backyard pool, these custom content shorts are sure to keep them cool and comfortable all summer long.
K-pop Male Long Hairstyle

A sleek and trendy male hair CC inspired by the biggest Korean pop music stars is sure to give your Sim a cool and trendy look.
With 26 different colors to choose from, you can find the exact shade to match your Sim's personality.
For a subtle change or a bold new coiffed 'do, the soft flowing locks of the K-Pop Male Long Hairstyle are suited for any simulated guy who wants to stand out from the crowd.
If you're looking for a fun and fashionable new haircut for your male Sims, be sure to download this K-Pop Male Long Hairstyle today!
Boy Blouse Hsy Redux

The Boy Blouse HSY Redux is a unique find for any fashion-savvy Sim.
This cc pack of loose-fitting blouses comes with a variety of eye-catching patterns, amazing for making an impact.
They have a slight crop top vibe, showing a little midriff below a string tie above the waist.
For those Sims that are looking to add some casual softness to their everyday ensembles, these blouses are sure to do the trick.
Make sure you have the High School Years expansion for the Sims 4 base game.
Handsome Top

This Handsome Top is a custom piece of Sims 4 CC clothing that is sure to turn the heads of every Sim in the neighborhood.
The well-tailored and alluring button-up shirt reveals a strong, muscled appearance with a hint of chest hair and comes in 13 colors to match any outfit. Best of all, no gym time is needed!
Made with a new custom mesh for maximum detail and in-game appearance, Handsome Top is the perfect addition to any would-be heartthrob Sim's closet.
It may be a PC game, but handsome men are serious business, even if it's just The Sims 4.
Leather Zipper Pants

Introducing your new Sims style obsession – the Zipper Leather Pants! One can never have too many shiny leather or form-fitting pieces, right?
These gorgeous deep burgundy pants are made from premium quality simulation leather and feature a flashy silver zipper that's guaranteed to catch some stares.
They're great for edgier biker getups or the perfect flamboyant nightclub outfits. We'd pair these with tank tops for the pinnacle of party boy looks.
Sheerly Beloved Shirt

This garment is one of the most fashion-forward and special Sims 4 male CC finds.
For anyone that's been out to a club in the last five years, you've seen these exact tops in real life a dozen times.
Check out the Sheerly Beloved Shirt! This must-have piece is made from a sheer, see-through black material that reveals the Sim's skin beneath, creating a one-of-a-kind look.
Whether you wear it on its own or layered with other pieces, the Sheerly Beloved Shirt is sure to make a statement.
So go ahead and show off your sense of style – your Sims will thank you for it!
Lester Beard N22

If you're looking for the perfect facial hair to complement your Sims' style, your search is over with the Lester Beard N22.
This well-trimmed beard and moustache combo delivers the best of a goatee and a precisely lined beard in a single, chic facial hair look.
The Lester Beard fits seamlessly into a rugged, manly look or a more polished, high-class aesthetic; it is sure to add just the right touch.
What are you waiting for? Download this top-tier facial hair CC for your Sims ASAP!
Pajama Bottoms

These soft, cozy pajama bottoms are perfect for discerning Sims planning on lounging around the house or getting a good night's sleep. Who knew pajamas could be stylish, too?
They come in four different custom swatches, so you can choose the perfect pair to match your Sims' bedrooms.
Ending just before the ankle, these pants have a more fashionable vibe than other more common sleepwear items.
Sims 4 players often neglect their Sims' bedtime clothes; don't forget to customize every nook of your life simulation with CC clothes like this!
Rainbow Pride Trunks

These skimpy but eye-catching swim trunks are the perfect way to show your pride in style!
The Rainbow Pride Trunks CC pack comes in three different colors – white, black, or grey – and features a bright and colorful rainbow print that will turn every head at all those celebratory June pool parties.
No matter who your Sims love, showing some pride colors is always a good bet in the summertime! Pride attire is for anyone and everyone; join the party!
Retro Ruffle Tuxedo Shirt

Dress clothes that hit the perfect medium between soft, classy, and masculine are hard to find in real life and The Sims 4. The delightful Retro Ruffle Tuxedo Shirt is the answer!
This custom-content shirt is the key to looking formal but appropriately flashy. If you're a little more daring, your Sim can rock this with jeans for an avant-garde daytime flourish, too!
It comes in four different colors – lilac, deep purple, white, and grey – giving it more versatility in a wide range of complete outfits.
The front strip of buttons is accented with a delicate ruffle down the entire length, and a bold bow tie is a perfect cherry on top of this couture sundae.
Linen Henley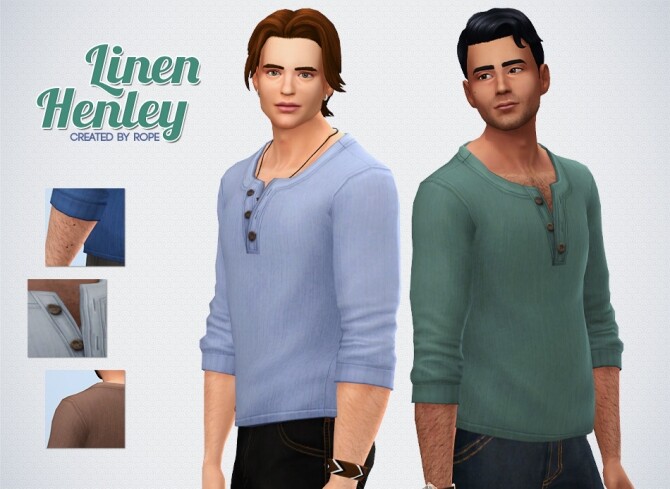 It may seem like a simple shirt, but this straight-cut linen shirt with band collar, classic button placket, and long sleeves is definitely an essential wardrobe piece.
Created by Simsontherope this look has 25 different colors to choose from! So don't worry about having limited color options.
I doubt anyone else will be wearing the same shirt, but in case you run into someone who is, at least it won't be in the same color.
Pajama Set Am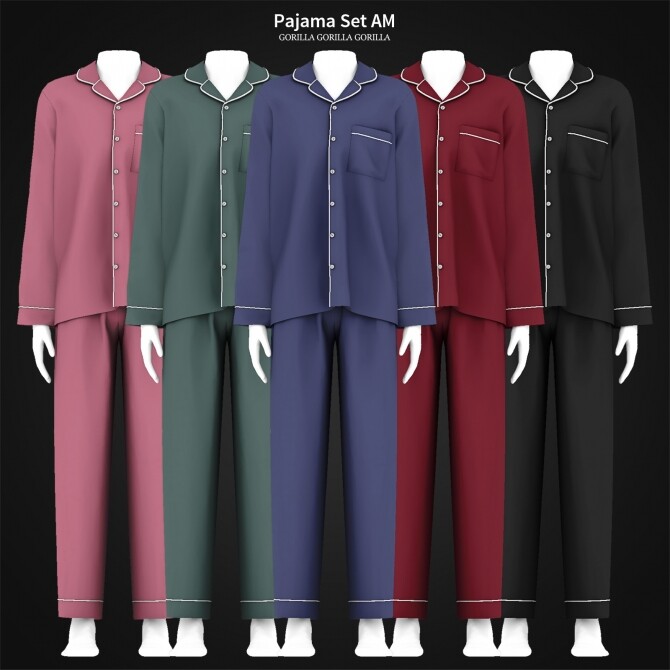 Are lovely silk pajama sets were only for women?
This matching top and bottoms pajama set, which comes in 20 different colors designed by Gorilla are a must-have.
The ladies already have this option in-game, so it's only fair that men get one too! Why not wear matching pajamas on your honeymoon?! Or if you're a single Sim, this pajama set will have you looking like a boss at home.
Who says you need to only look good when you go out?
Kk Sweatshirts 02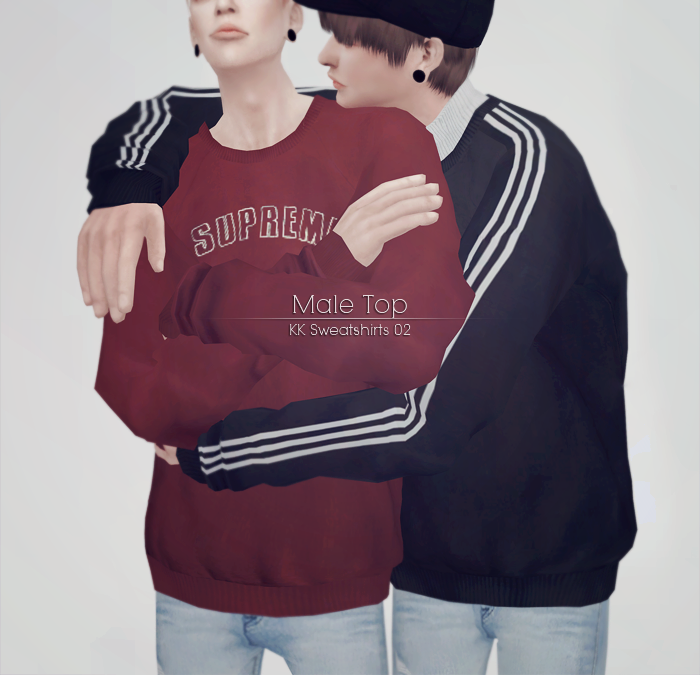 No offense, however, we all can agree that when it comes to sweaters, the in-game options for men look like they were knitted by a blind seamstress.
I mean, come on… for those of you that have teen sims or better yet, if you have The Sims 4: Discover University pack, you are going to want these sweaters!
Which one of us didn't spend all of our college life in a comfy sweatshirt as we dragged your feet to class? These sweatshirts created by KK come in 15 colors with two kinds of Mesh: type A, which has a turtleneck or type B with no turtleneck under.
I promise you'll be the coolest guy on campus!
Yoyo Let Loose Pants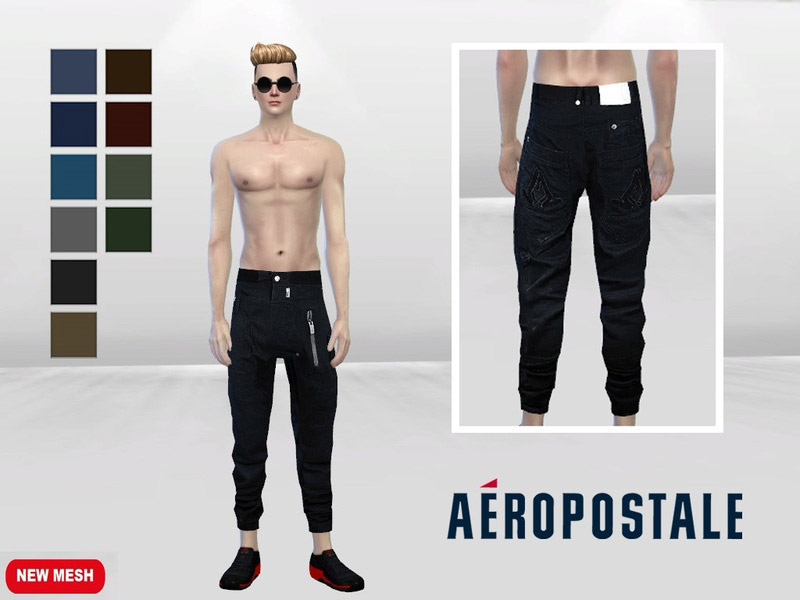 Working out at the gym, going for a stroll, hanging out with friends? Instead of throwing on the usual jeans, why not switch things up?
I highly recommend these pants by Mclaynesims. They come in 10 different colors and have intricate detail on the back. The side zipper looks very nice, try pairing this with a nice white button-down or a t-shirt will totally have you looking like eye candy.
Slim Fit Slacks

Whether your Sim is getting ready for a date or needs some formal wear for work, these are some of the nicest slacks I have ever seen.
With 13 colors to choose from, designer KK does not disappoint. These slacks create a striking silhouette and flatter every leg -line, while subtle accents to compliment any occasion. Why not wear these as an everyday look?
Ladies love a well-dressed man!
Slim Fit Turtleneck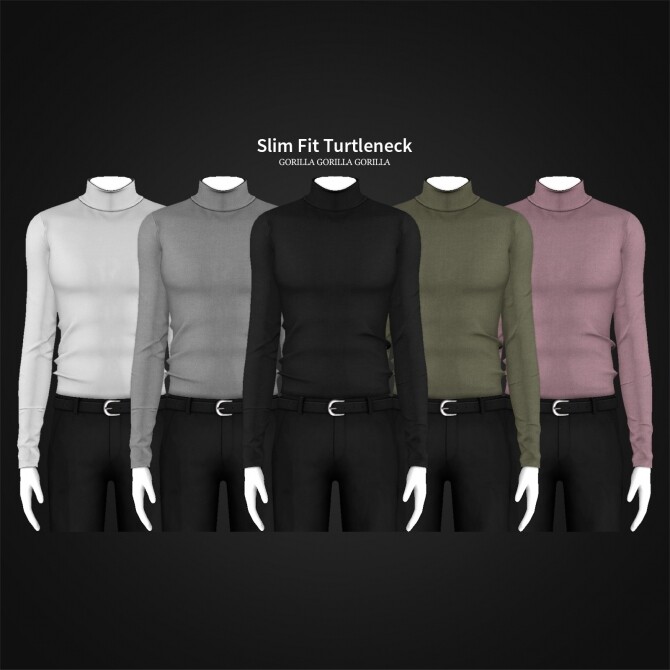 Nowadays, many people are interested in Korean fashion. For my k-drama lovers out there, I am sure the following scene isn't new to you.
The one where the guy goes to rescue the girl from her horrible blind date and shows up in a stunning suit wearing a turtleneck.
I have never thought suits would look good with a turtleneck, that is until I began watching Korean dramas. Let me tell you, a turtleneck not only elongates you but can make a simple Joe look like a model.
Gorilla created slim fit turtlenecks in 5 colors, so why not pair them with the slim fit slacks from KK, and you got yourself a runway-ready sim.
Tuck in Shirts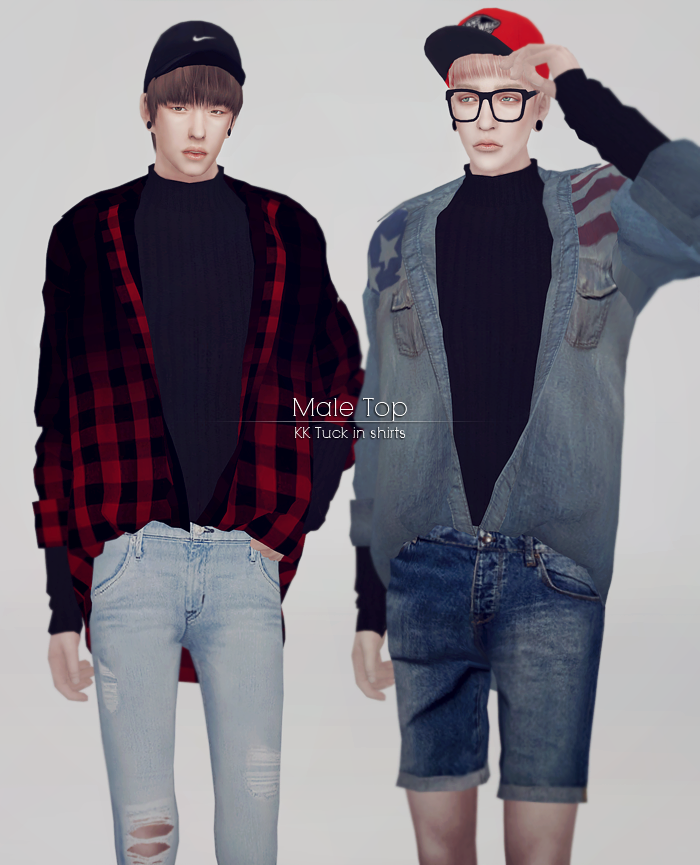 When it comes to makeup, hairstyles, and fashion, let's give credit where it's due, Kpop has taken over the scene.
KK's tuck in shirts come in 12 colors and seem very BTS inspired (who wouldn't want a boyfriend from that awesome Kpop group!) There is even a female version of these shirts.
So, if you're a couple, why not get a matching pair? Or just wear this for a cool rocker look, a date, or even a concert.
You'll look FIRE!
Sherpa Denim Trucker Jacket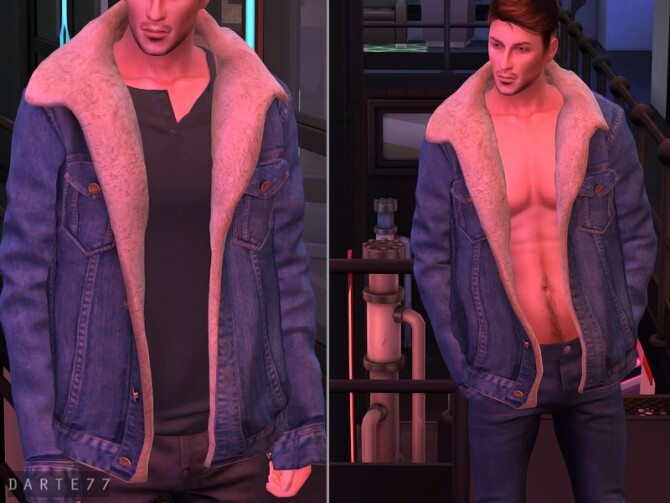 You can never go wrong with Denim.
Denim is easy to wear with anything; however, the limited in-game options for male denim jackets is saddening. That is why I rummaged through the CC world until finding the best denim jacket for you gentlemen out there.
This Sherpa Trucker Jacket Male Acc by Darte77 has a very Levi's vibe to it. Pair it with a simple white t-shirt or turtleneck, your mister Sim will look quite dashing.
Daddy Collection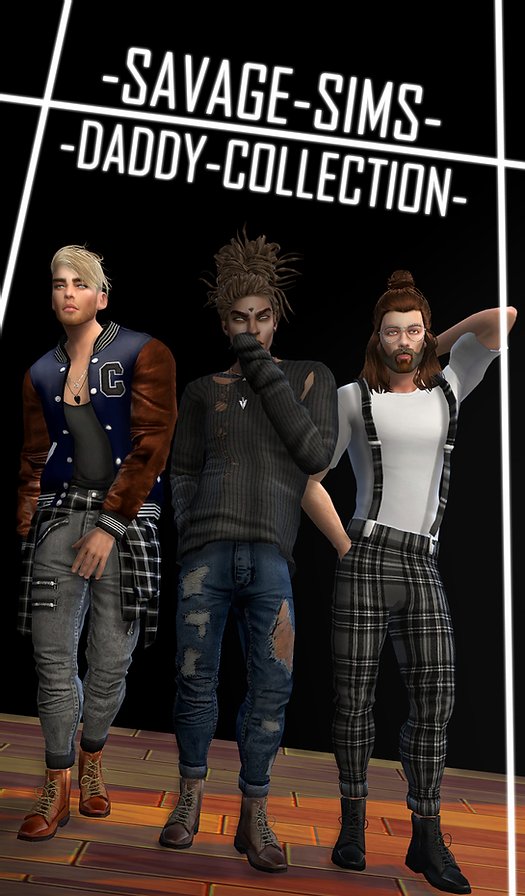 Not everyone has time to search or download individual pieces of CC content for their Sim. Understandable. Wouldn't it be nice to just have pieces put together for you? Well, after much searching, I found just the thing for you!
Savage Sims has a Daddy collection that comes with 7 total items: Bomber Jacket, Daddy Jeans, Ankle Boots, Sweater, Tank, Aviators, and Suspenders.
This is a great way to quickly jazz up your male wardrobe without having to look far.
TS4 Male Hat Collection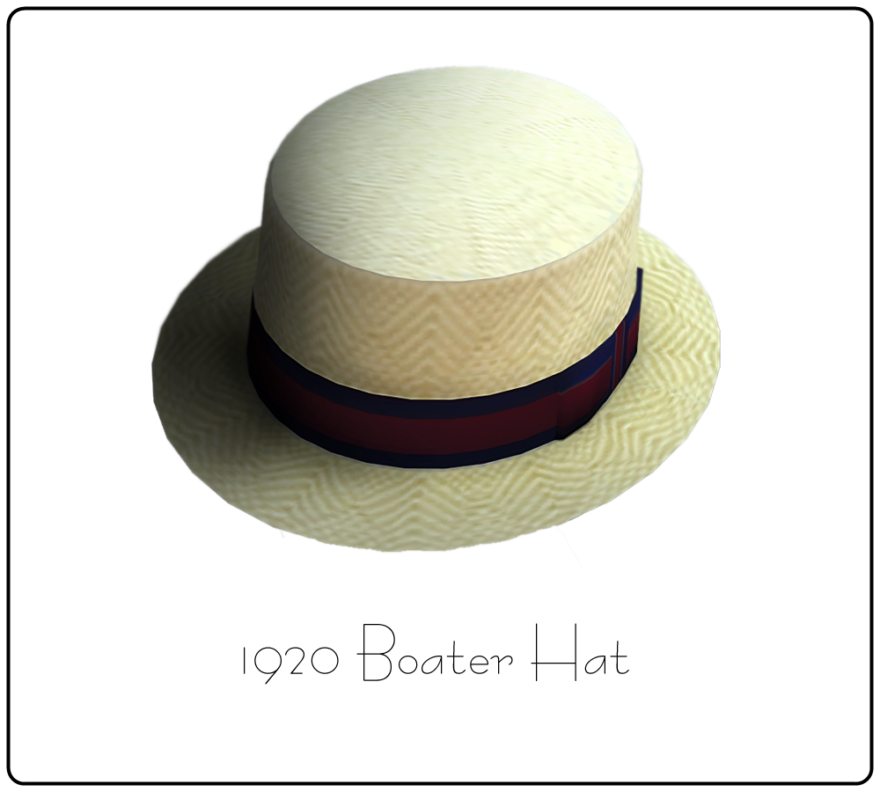 Other than beanies and caps, what other in-game hat options do our male sims have? None.
A hat can really set you apart. Imagine you're throwing a party on a yacht? I suggest wearing a white suit and loafers, and a must need accessory is a hat.
Is your Sim is in the entertainment world? Wearing a flashy outfit to MC a show (not bad). Now, add a hat, and you got your man looking fresh and memorable.
These hats created by Lonelyboy are fun and stylish. They include a 1920 Boater Hat, Fedora Hat Shape No.1 (unisex), Fedora Hat Shape No.2, Floppy Hat, and Tyrolean Hat. Have fun jazzing up your outfits!
Pixicat High Converse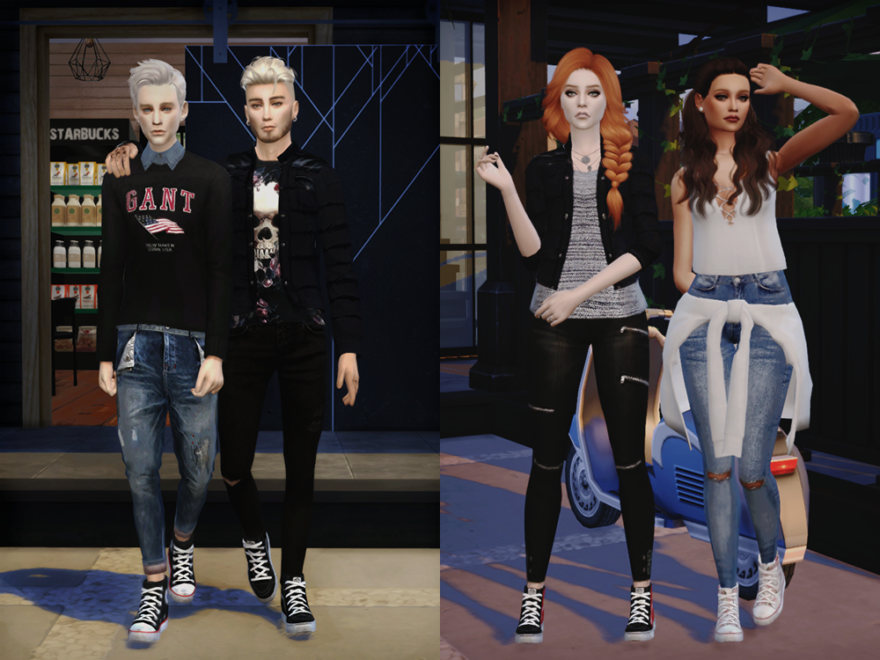 Converse never goes out of fashion. These classic Chucks are made for standing out. They've got the iconic look you know and love.
Created by DDaeng, these Chucks come in ten different colors, so match them with your furniture or whatever accessories you are wearing! If you have a toddler at home, you can also download the toddler version.
Wouldn't that be cute son and dad wearing matching Chucks!?
Wings Hair Male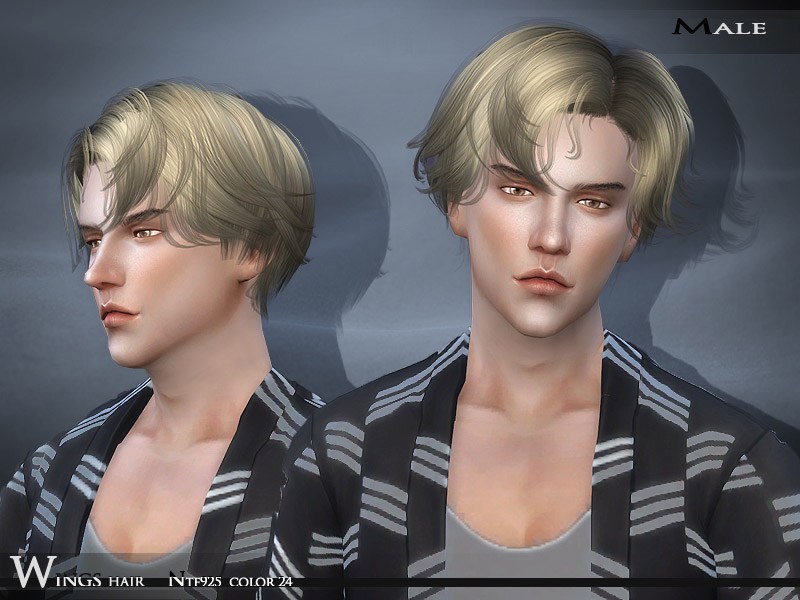 Who doesn't love that floppy boy band hairstyle?
This look designed by wingssims, comes in 24 different colors and gives off summer beach vibes. I love a lot of wingssims creations, so I was really glad to see something even for our male sims.
It's a very simple look with soft waves. It's very versatile and can dress up any casual outfit.
If you have the Dine Out expansion pack sport this look to impress your romantic interest. Success guaranteed!
Beard N30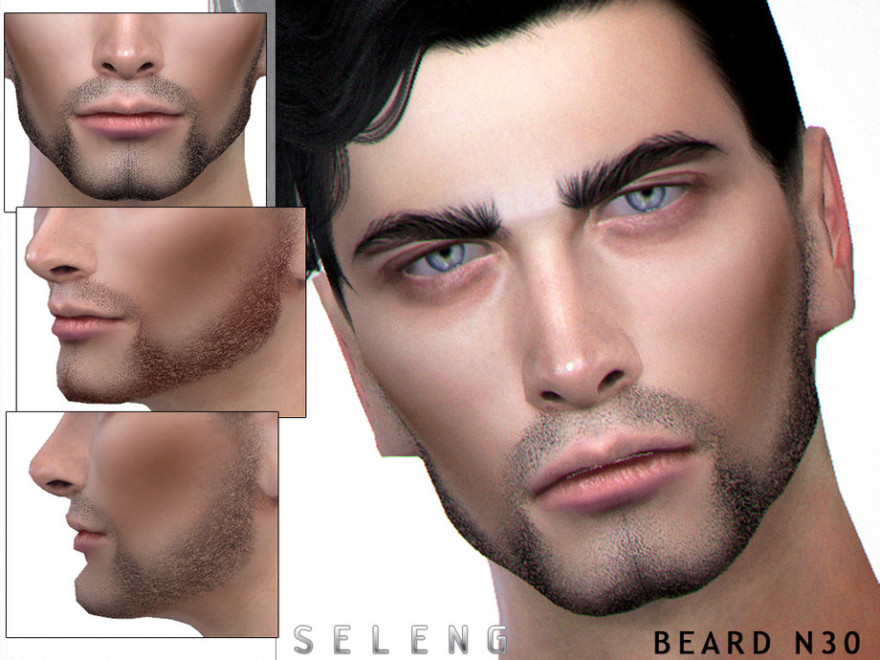 To be totally honest, I am not a big fan of facial hair, but I will never say no to a beautiful man with a nice clean cut beard. This beard created by Seleng comes in ten colors, so don't worry about your beard not matching your hair.
It works for teens, adults, and elders. If you want to sport that young rebellious teen look or be a George Clooney like Casanova, I suggest getting this item!
Moles N2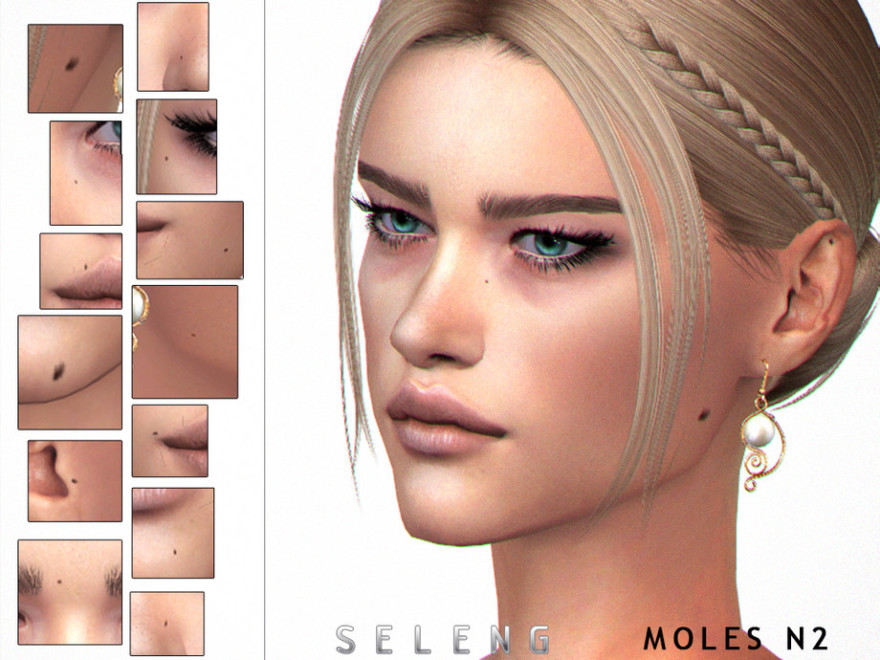 We can all recall Marilyn Monroe's dark mole on her chin. It's an iconic beauty mark. Who says men can't have beauty marks?
These moles designed by Seleng are compatible with both male and female Sims.
Moles are very personal, the placement of them really distinguishes one. Therefore, give your Sims more options of having one to multiple moles.
They are called beauty marks for a reason!
Eyebags N3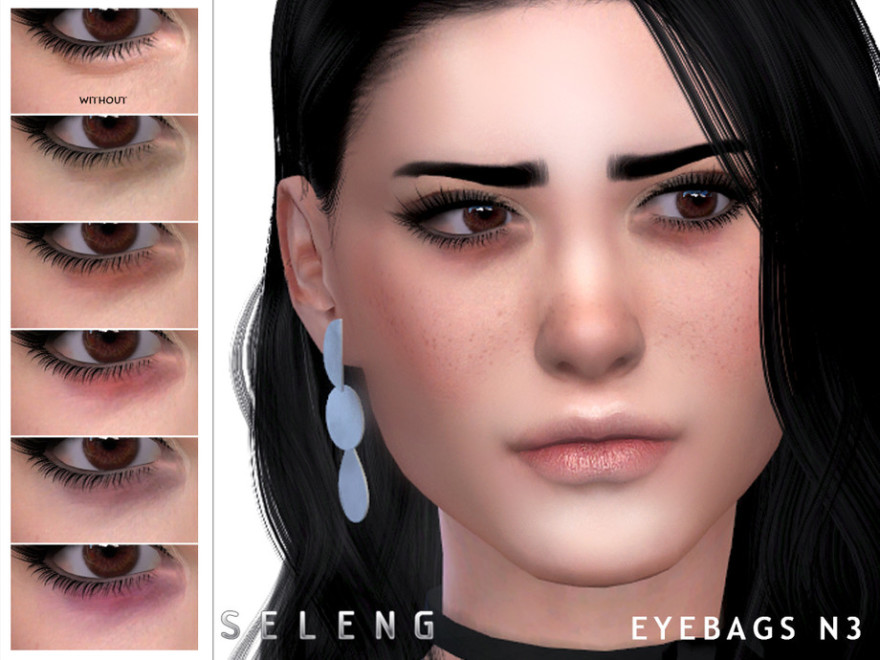 Once again, Seleng has created some unique custom content. Eye-bags, both for males and females that come in 13 swatches.
You may be wondering, why on earth would someone want eye-bags? But if you haven't been up to date, apparently, the new hottest guy on the market is Timothée Chalamet.
His defining features? Deep-set eyes and yes…his dark circles.
Dark circles give men a mysterious vibe. Pair them with a leather jacket, and you'll definitely be the cool, mysterious man ladies want to get to know!
Sebastian Hair

This hairstyle is a suave short option for male sims that is textured to silky perfection. This CC is a great option for any sim that you want to have a more romantic or casual professional hairstyle.
The creator made a point to leave no extra stray hairs floating around, which makes for a clean look. Sebastian Hair CC is also available for sims from teen to elder and is available in all colors included in the base game.
If you want to add a hat, you can as well! However, this CC has been disabled for the game's randomizer feature in character creation.
Riley Hair
Now, this is a hairstyle that gives off the appeal of the short to long look without being a mullet. Want your male sims to have a stylized half up and down look? Well, now you can with this Riley Hair CC!
This hairstyle perfectly frames any face and would be a great combination for players who have the Vampire pack.
This hair reaches the top of the shoulders and has a bun in the back, with subtle "bangs" that sweep alongside both sides of the face. This CC can be used for sims from teens to elders and also utilizes Maxis Match.
Ultimate Earring Collection

This certainly is an ultimate collection of earrings compared to what's available in the base game! And since Sims 4 allows players to pick clothing and accessories regardless of gender identity, any sim can use all earrings.
This Ultimate Earring Collection includes 255 earrings to choose from, featuring silver, gold, and various fun shapes and sets.
This pack is split into three zip files and works great for sims of all styles, including punk, alternative, preppy, classy, and so on.
The base game choices for earrings for men are slim, so this CC pack is great for players who need their sim to have some kind of earring to complete any look!
Final Thoughts
We don't all have time to search for custom content, let alone for male sims that seem to get the short end of the stick. So check out these CC's! I promise you won't be disappointed!
You might also be interested in: