Admit it, the reason why most of us play Sims is that we'd like an escape from real life.
The neighborhoods of Newcrest and Oasis Springs seem like such happy and serene places to settle in—and with the expansion packs, there's, even more, to do and discover!
For the more adventurous of the bunch, they've rolled out StangerVille and Outdoor Retreat (ahh, who doesn't enjoy the lushness of Granite Falls?)
If you just wanna have stress-free gameplay, you can get the super satisfying and relaxing Spa Day and Island Living game packs. Whatever our tastes and preferences, there's sure to be a pack to match them.
But no matter how EA creators try their best with these packs, let me speak for all of us by saying that we're still not satisfied.
Luckily, fan cc creators have heard our cries and have churned out fantastic CC packs that cater to our wants and needs. The cherry on top? They do it all for FREE.
So, here's a compilation of the most fabulous CC packs available for free and easy download. Prepare yourself and your disk space, because you're definitely gonna want to have them all!
Best Sims 4 CC Packs
32. Maxis Match Eyebrow Pack

If you're anything like us, you love spending hours upon hours making your Sims the best-looking they can be. And one of the most important features of any Sim's face is their eyebrows.
This mod includes different eyebrow textures and colors to choose from, so you can perfectly match your Sim's look.
Whether you want them to have a natural look or something more dramatic, there's a color and texture for you.
Plus, they'll look great no matter what other makeup or hairstyle you choose for your Sim.
So if you're looking to add some extra polish to your Sims' faces, be sure to download the Maxis Match Eyebrow Pack!
31. Boss Pose Pack

The idea behind power posing is that by striking certain poses, you can instill yourself with confidence and power.
The Boss Pose Pack for The Sims 4 is a great mod for players who want to feel powerful and masculine.
The poses in the pack radiate boss energy, and they're perfect for anyone who wants to feel like they're in charge.
It doesn't matter if your Sims are self-inserts or brand new characters; giving them a little dose of boss energy with the poses in this Sims 4 CC pack is worthwhile.
30. Christmas Eyeliner Pack

The Christmas Eyeliner Pack is one of the best Sims 4 CC packs for those looking for holiday cheer.
The wide range of festive styles and colors that you can choose from is perfect for creating a look that is truly unique and eye-catching.
This is a huge collection of festive eyeliner designs that your female Sims can wear to holiday parties or on a regular winter day.
There are so many different patterns, and they all look really pretty on your Sims, from a simple red swoop to a candy cane pattern.
This pack is a must-have for anyone who loves to dress up their Sims for the holidays.
29. Michael Jackson Shirts Pack

Throughout the many decades since his debut, Michael Jackson has remained one of the most iconic and influential figures in music.
The artist's incredible talent and dynamic stage presence made him a superstar in his own right.
The Michael Jackson Shirts Pack includes several different shirts that celebrate the iconic popstar, Michael Jackson.
They are all high-quality and feature unique designs that will make your Sims look their best. Any MJ fan needs these in their Sims 4 CC closet.
28. Halloween Pack

This CC pack adds new, spooky makeup looks to the game, perfect for Halloween.
The makeup is flashy and stunning, and it really helps players get into the spirit of the holiday.
The pack contains eye makeup, lipsticks, and even face paints that are all perfect for October 31st.
Players will love being able to dress up their Sims in creepy costumes and give them amazing makeup to match.
The Halloween Pack is a great way to get into the Halloween spirit and have some fun while playing The Sims 4.
27. Allura Skin

At the heart of glowing skin lies a healthy, balanced diet.
By eating plenty of fruits, vegetables, and other antioxidant-rich foods, you can nourish your skin from the inside out and help to keep it looking its best.
Your Sims are lucky; all they need to do is for you to download this set of textures.
Allura Skin is a must-have for anyone who wants to give their Sims a more realistic and polished look.
The textures are incredibly detailed, and they add a level of realism that's sorely lacking in the base game. There are few CC creators who nail this level of quality.
Allura Skin is simply one of the best Sims CC packs for one of the most important foundations of your Sims' appearances.
26. Jules Decor Pack

This next CC pack is the answer to your room decorating prayers.
If you're looking to add a touch of style and sophistication to your bedroom, then trendy bedroom decor is the way to go.
With a variety of eye-catching home accents, textiles, and accessories available, it's easy to create a space for your Sims that looks great and reflects your or their unique sense of style.
The Jules Decor Pack adds tons of new furniture to the game, specifically for the bedroom.
There are lots of fun and funky patterns to choose from, as well as sleek modern designs.
This pack is custom-made for anyone who wants to add a bit of personality and flash to their Sim's bedroom.
25. Athletic Caps

The Athletic Caps CC Pack for The Sims 4 adds twelve new hats to the game, each with a unique and flashy pattern.
Sweet caps are a stylish and practical accessory for both men and women.
They have a classic, timeless quality in the world of streetwear that never goes out of fashion, making them the perfect choice to add an elegant finishing touch to any outfit.
They're perfect for giving your Sim an edge on the street, and the cool words printed on them are sure to turn heads.
It doesn't matter if you're looking for a fresh new look or just want to add some extra personality to your Sim; these caps are a great choice.
24. Pregnancy Poses

This mod gives pregnant Sims a new set of poses to choose from. Pregnancy photos are a wonderful way to capture this special moment in a woman's life.
These poses make her look more relaxed and radiant, like a mother-to-be.
They're really helpful for taking pictures or videos of your pregnant Sim, and they just make the game look nicer overall.
If your Sim is expecting, you don't have time to waste! Get this CC pack downloaded so you can capture these memories before you have a baby Sim to worry about.
23. Basic Carpeting Pack

The Basic Carpeting CC Pack contains 12 different patterns for your Sims to choose from.
This is a great mod for players who want to change up the look of their Sims' floors without having to put in too much serious design thought.
The patterns are all basic and very versatile, so they can be used in any type of home, in any room.
Fancy carpet has its place, but if a room is already an inch from perfect, balancing the look around a new, complicated carpet can be a headache that undoes the hard work you already put into your Sims' home.
22. Breakfast Decorative Set

There's nothing better than starting the day with a good, hearty breakfast, even if you're a Sim in The Sims 4.
Not only does it replenish energy levels after a long night of sleep, but it's also an excellent opportunity to decorate your house with a variety of Sims CC.
This Breakfast Decorative Set is a great pack for players that want to add more kitchen essentials to their game.
This set includes dozens of new items, including a tea kettle, a soap dispenser, and a spice rack.
These objects can really help players create the perfect breakfast kitchen scene in their game. Plus, the set is totally free to download, so there's no reason not to give it a try!
21. Toddler Skirt Pack

Liven up your toddler Sim's wardrobe with this array of lovely skirts! Sim parents are always on the lookout for cute and stylish toddler fashion.
Luckily, there is no shortage of trendy options out there. You're sure to find something that suits your digital child.
There are lots of different patterns and colors to choose from in this pack of skirts, so your little one can look stylish no matter what they're doing.
After all, girls really do run the world!
20. Seamless Concrete Masonry Walls

Grab the Seamless Concrete Masonry Wall Pack if you are looking to add some luxury and modernity to your Sims' homes.
The four different gleaming stone patterns included in this pack will do just that!
Not only do they look great, but they are also very versatile, meaning they can be used in a variety of different ways to fit the style and theme of your home.
Stone walls are seeing a resurgence in modern home design.
These sturdy barriers provide both aesthetic appeal and practical function, making them ideal for creating an eye-catching focal point or enhancing privacy and security.
19. Bed Chat Animations

These Sims 4 Bed Chat Animations are fun and flirty custom animations that will make your Sims look natural while they talk to each other.
Sitting down for a relaxed chat with a good friend is one of the best ways to unwind and recharge.
Whether they're chilling on the bed together or face timing, these animations will make your Sims' conversations more realistic and enjoyable. Plus, they look really cute!
18. Greasy Goods

If it's one thing that is missing from the Sims 4 that would improve realism is the existence of fast food!
The Greasy Goods stuff pack is a must-have for all Sim players who want more realistic businesses in their game.
This CC pack is inspired by McDonald's and features many new technological tools, such as e-order touch screens in the eatery.
This stuff pack comes loads with 69 items for the Build/Buy section, and the kitchen items are even animated with sound for realism.
The promo photos showcase a modern and sleek-looking fast-food place with a black, brown, red, and yellow color scheme and decorations.
17. Futura Living

Mid-century modern furniture and décor resurfaced in popularity in recent years and if you're looking for a pack that fits that aesthetic, then download the Future Living CC pack!
The Futura Living pack includes everything a mid-century living room and house could need, including seating, a room divider, a round fireplace, and additional décor and lighting.
Most of the items come in a wide range of colors, including the sofas and chairs that come in 16 to 32 colorways. This pack is also base game compatible, so all Sim players can enjoy their freshly redecorated living and dining rooms!
16. Happily Ever After

With the release of the new wedding content from Maxis, you might want to download even more wedding content with the Happily Ever After CC pack.
This CC pack includes everything a wedding and reception could need, including tables, chairs, the wedding arch, runner, and even landscaping tiles for outdoor weddings.
Decorate your wedding space with the multiple décor items included as well, such as lanterns, confetti-filled balloons, hanging lights, and more.
This CC pack comes in a variety of colors, too, including pink, blue, red, yellow, green, purple, and champagne.
15. Pokemon Kid Bedroom, Study, and Toys by Nynaevedesign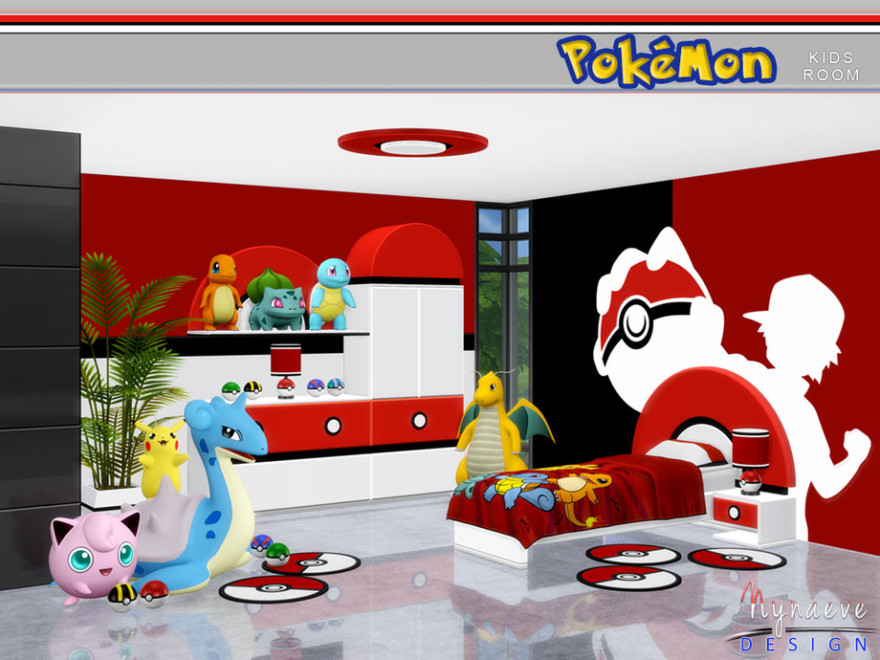 Is this not a childhood dream come true?
Pokemon is a nostalgic game for most of us. I'm sure, at some point in our lives, we wanted to be a Pokemon trainer, with the cute Pikachu as our best friend.
While sadly, that's not going to happen anytime soon, these furniture and toy sets by NynaEveDesigns will allow you to live out your Pokemon dreams through your Sim.
This set is so creatively done that it makes me want to have a purely Pokemon room for my Sim.
Pika! That means download here, here, and here.
14. Practical Magic by Magnolian Farewell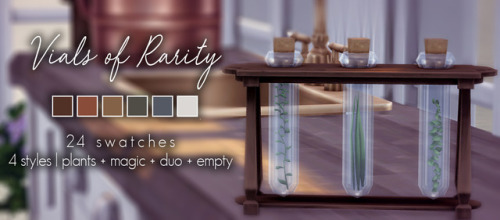 For those with the Realm of Magic or Outdoor Retreat extensions, this CC packby Magnolian Farewell is perfect for you. It features beautiful herbs, charts, and other witchy knick-knacks in various colors.
Gaining the Herbalism skill or learning a new spell has never been more glamorous with this CC!
Check it out here.
13. Modern Living CC Stuff by Illogical Sims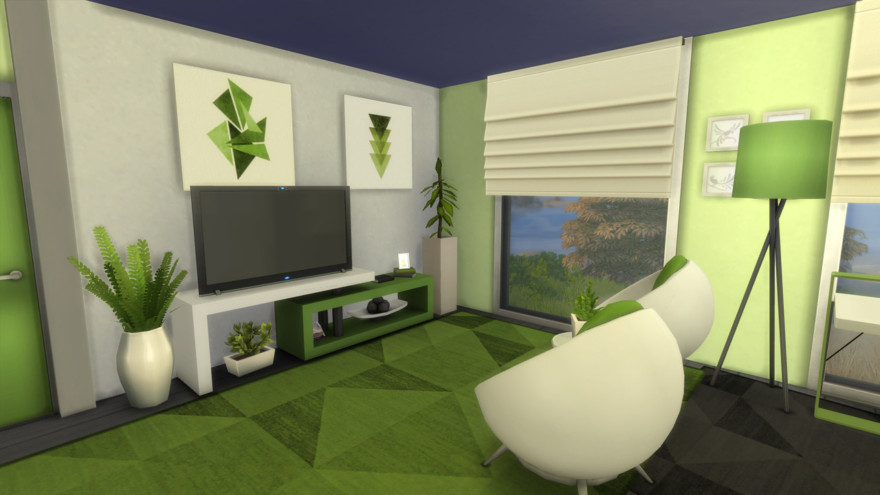 This pack by Illogical Sims is for the Sim who loves sleek and modern-looking furniture.
There are 13 different objects in this pack, and each of them has at least five color swatches. Great styling with so many color options, this CC is definitely worth your download.
Download here.
12. Country Bumpkin Stuff Pack by Trixel Creative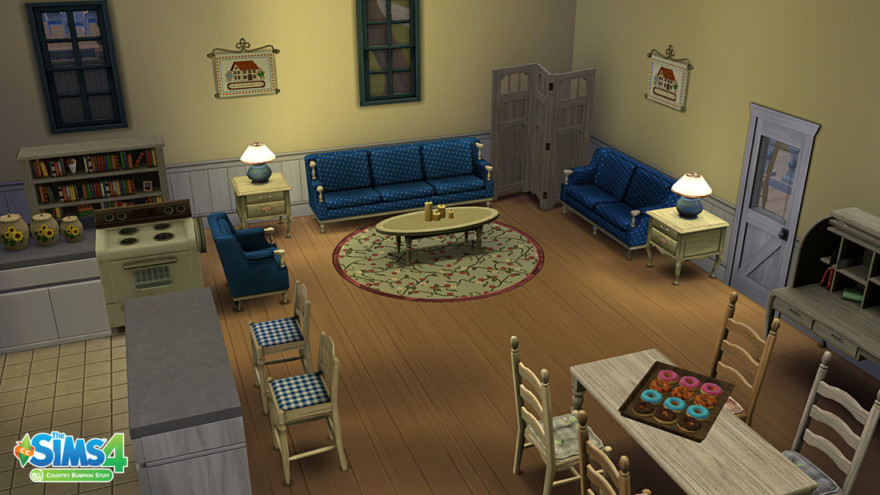 Get your cowboy hat and boots on when you roll out Trixel Creative's Country Bumpkin Stuff Pack! The rustic bookshelves, tables, and many other furniture included here will surely give your country house sweet Ol' Alabama vibes.
If your Sim is stationed in Oasis Springs, this furniture would fit right in his or her house. Glam it up and download the pack here.
11. Preschool Stuff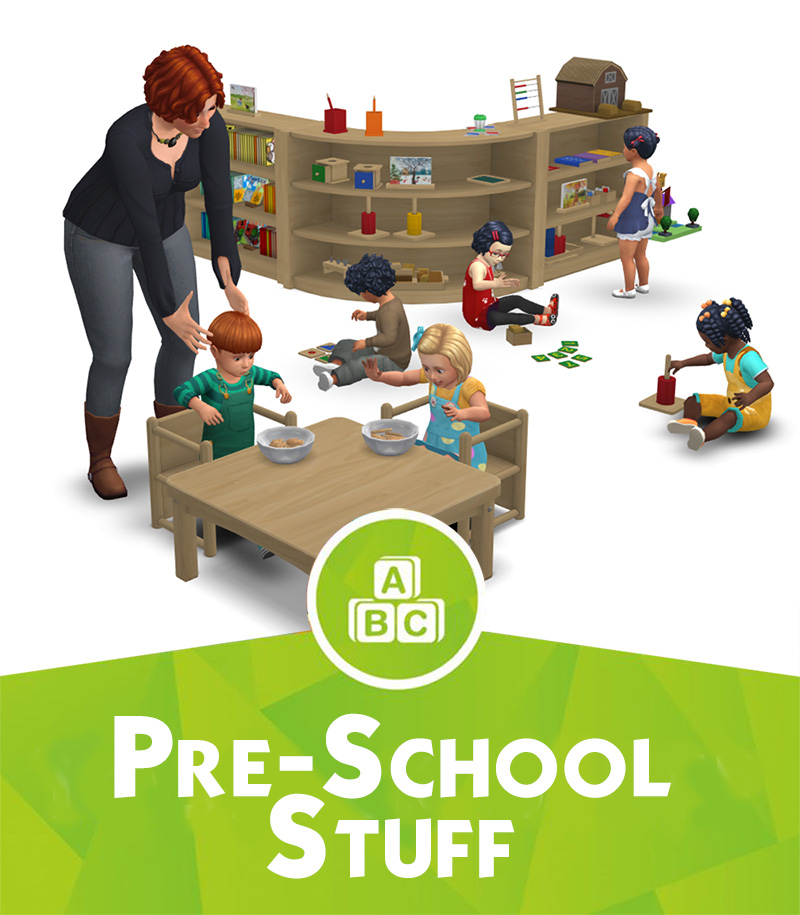 Have you ever dreamed of building your own preschool? Then this comprehensive furniture pack is a great choice for you.
The best part is that the toys in this pack are interactive, which means the little tots can play to their hearts' content with toys such as building blocks, puzzles, castles, and so much more.
Your school will be the best-stocked, most educationally fun building ever to exist in the neighborhood, and all the moms will want a reservation here!
Check out the cute items here.
10. Simkea Pack by Illogical Sims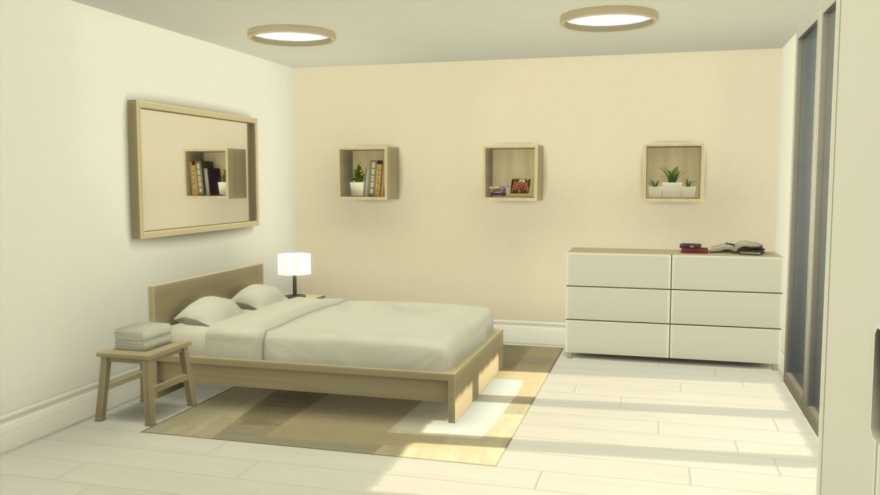 There's Ikea in almost every town and corner of the world, and naturally, the Sims world has got to have a branch too.
This pack, like the real Ikea, is a one-stop-shop for your aesthetic furniture needs.
Boasting over 45 different items from desks to electronics to bathroom counters, this pack is a must if you're looking to redecorate your Sim's home.
Shop at Simkea here.
9. Minimalist Bedroom Stuff by Illogical Sims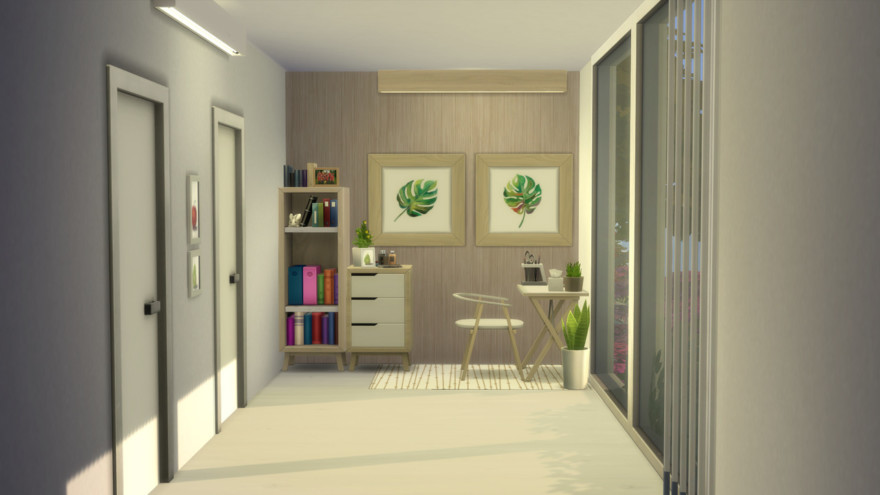 With the advent of the KonMari method, lots of people have started hankering for a decluttered living. So for them, that's minimalist in all aspects—even the furniture.
Luckily, Illogical Sims has gotten on board the trend and has designed for our Sims a minimalist bedroom and study set. Teak wood, clean lines…I wish this set was real!
8. The World Is Mine Movie Villain Pack by Xenos Artefact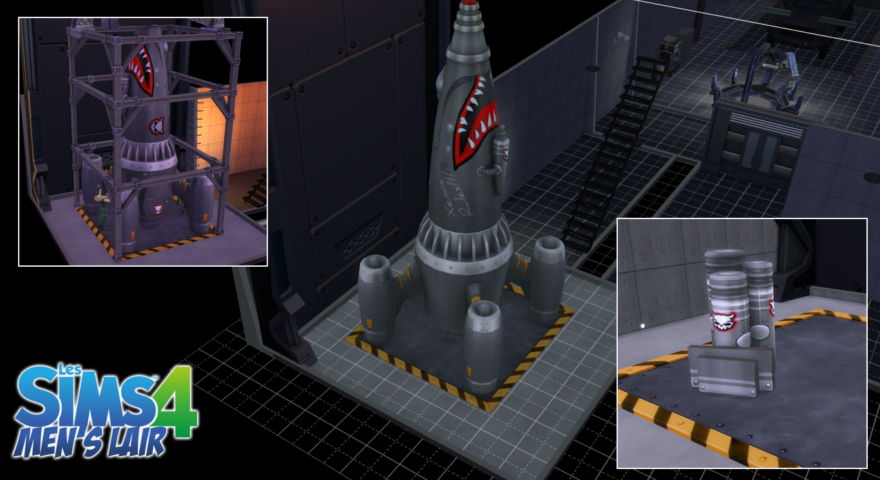 This pack has got to have the most random CC items I've ever encountered, but in that sense, they're super cool and interesting, especially if your Sim has the Evil trait.
With the rockets and tanks and…everything else here, you can build the scariest of lairs, and no one will ever dare cross your path except probably your fellow villains and creeps residing in StrangerVille.
Build your very own villain lair by downloading the pack here.
7. Into Music Stuff Pack by Necrodogmtsands4s

The in-game instruments are honestly a bore. Sims 1 to 4, we only get the piano, violin, guitar, and drums.
Now, this pack from Necrodogmtsands4s is for the real virtuosos out there! Your Sim can finally play the sax and kalimba, and many others.
Like the base game instruments, you can take this out of your inventory and play in public places to get 'em tips.
Check out the other cool instruments in the pack and download them here.
6. Custom Food List by Icemunmun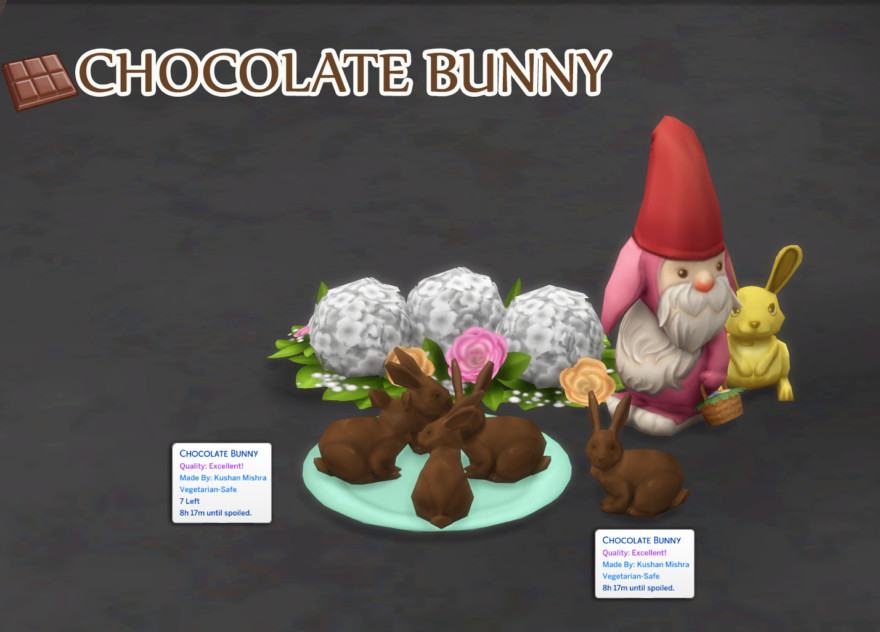 Being a world-class chef has never been this easy! Now, your Sim can cook and serve even more food with this Custom Food pack by Icemunmun.
This pack adds a new interaction to your Sim's fridge and stove, which allows your Sim to whip up cool dishes like biryani, red velvet lava cake, moussaka.
If you have the Get to Work expansion, this pack will make your restaurant dishes even more glamorous!
5. Pufferhead Stuff Pack by Mly's Inventory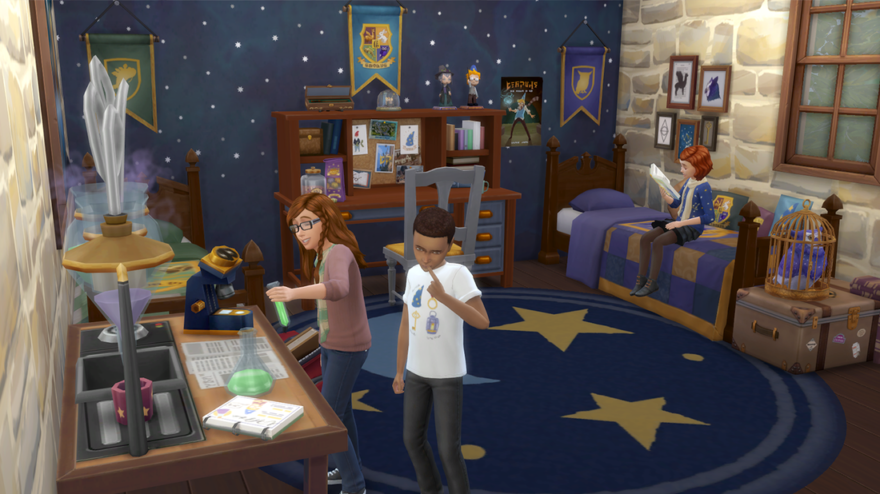 This stuff pack revolves around the bestselling series Henry Puffer, the Sim Who Lived, loved by children and adult Sims alike!
If you're part of the Harry Potter generation, then you surely get the hype. We just have to have the merch, from clothes to posters.
The pack, beyond decorations, includes—wait for it…readable books! That's right, your bookworm Sim will be over the moon if you get to extend his or her library with the books in this pack.
Add some magic to your Sim by downloading the pack here.
4. Pandaria Stuff Pack by Garrison Architects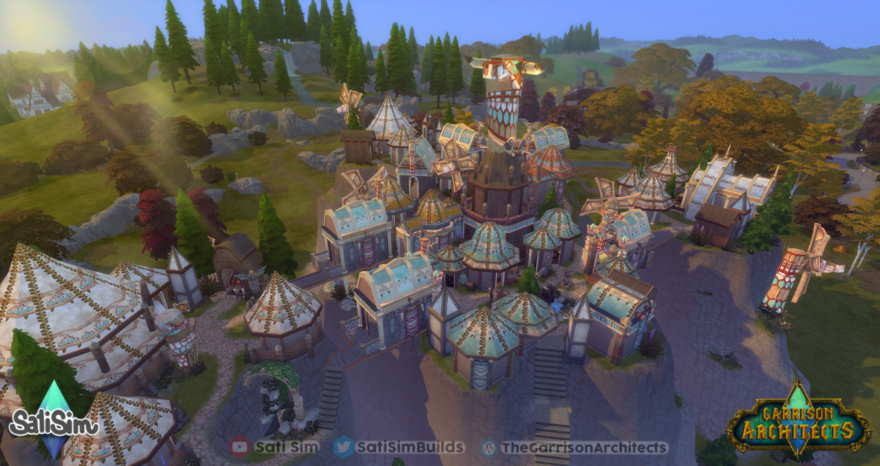 Garrison Architect's Pandaria Stuff Pack is a stunning architecture custom content full of oriental details, such as pagodas and gongs and wells, which you only see at the best-sacred temples sites around Asia.
With 162 items (yup, you read that correctly), this pack will allow you to create a new entire world that could give Evergreen Harbor and Sulani a run for their money.
See the items and even matching downloadable lots and builds here.
3. Stellar Stuff by the Plumbob Tea Society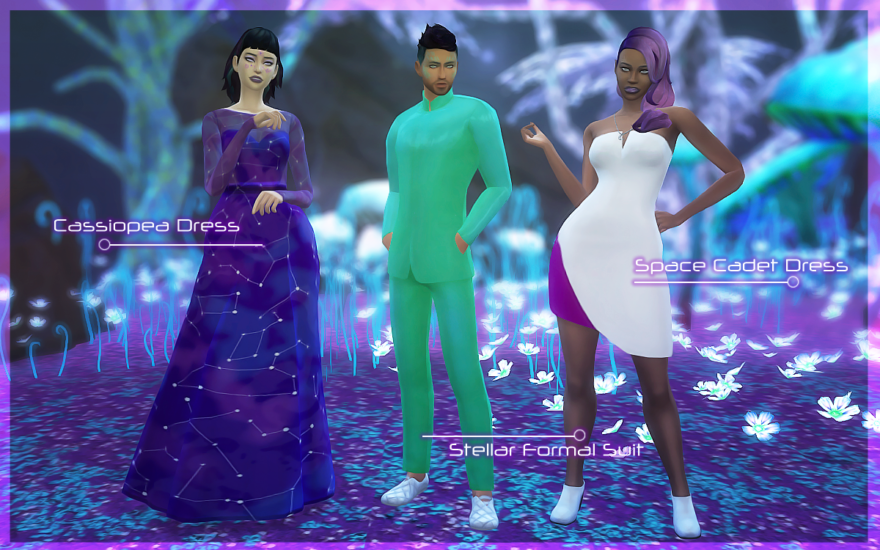 This cool Stellar stuff pack by The Plumbob Tea Society is definitely its name—stellar! All its 127 items are in line with the overall futuristic galactic theme, and they're making me wanna live in the secret Sixam world.
The best part? The pack comes with its own Moon Laboratory and Home lot, already furnished with glowing crystals and space paraphernalia. How awesome is that!
Discover even more of the pack's quirky stuff by checking out the pack here.
2. Cottage Garden Stuff by the Plumbob Tea Society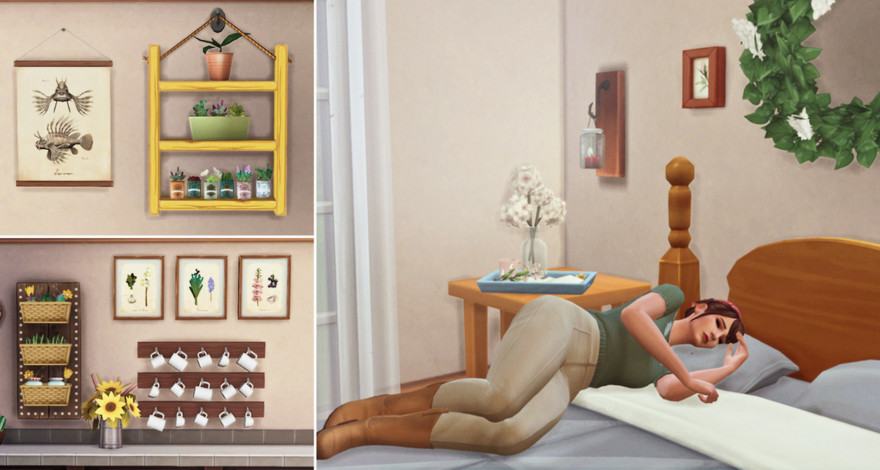 Most of us have surely dreamed of escaping the city life and just live easy in a sweet cottage full of roses, just like Cameron Diaz in The Holiday. Well, if you can't do so just now, this Cottage Garden pack is the second-best thing to that!
This pack has everything: from hair to dresses to watering cans to furniture, even to custom Sim poses. Now your Sim is ready to run away to the countryside you've always dreamed of.
Build your Sim's rustic cottage life with the pack downloadable through this link.
1. Halloween Town by Simdoughnut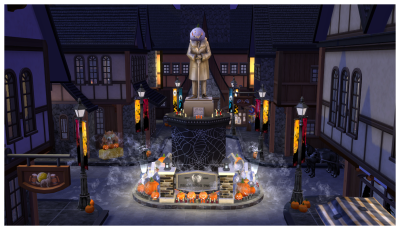 Step into the surreal world of Halloween Town when you download this outstanding CC pack from SimDoughnut.
This pack not only has taverns, potion shops, and towers, it has lore as well: Halloween Town used to be a quiet little town within the Willow Creek woods when suddenly its residents started mysteriously missing one-by-one.
On Halloween evening, the town met its fate, and everything in it vanished into thin air.
If you haven't figured it out by now, this pack isn't just downloadable stuff content—it's a full-on town, which you can eventually expand into a custom world. And with that backstory, who wouldn't want to?
Interested yet? Download this pack here and let your Sim experience the eerie magic of the Halloween Town, but a word of warning, just maybe don't stay too long.
Final Thoughts
And there you have it, the 15 best Sims 4 CC packs available for free (read: absolutely free) download to amp up your Sim gameplay. I hope you enjoyed running through the list and have already picked out which packs to download. Happy Simming!
You might also be interested in: