If you love the Pose Player Mod, keep reading! There are so many poses and pose packs going around, and that's why we are bringing you our Top 15 Sims 4 Pose Packs! Check them out below.
Best Sims 4 Poses and Pose Packs CC
18. Sitting and Talking Pose Collection

When your Sim is conversing at the dinner table or when sitting in public, their reactions to some of the topics aren't often realistic.
But this Sitting and Talking Post Collection adds more emotions to the conversation.
This post collection includes 40 poses spread throughout four pose packs and four emotions. There is a pose pack for each of these emotions: happy, sad, angry, and neutral.
This pose pack is designed specifically to be used at a dining table when sitting on a chair, as the Sim's arms will interact with the table at times, such as resting their arms in front of them or setting their elbows on the table.
17. Sweet Couple Poses

Sometimes all Sim players want is more interaction and lovey moments between their Sim and their partner.
When you're looking to take cute screenshots of your Sim couple, using this Sweet Couple Poses pack will make taking photos easier.
This pack includes three poses, all of which have one partner standing behind the other with their arms around them. One pose has one partner kissing the other on the cheek and the other holding their arm.
This is great for all types of occasions, including prom night, Valentine's Day, or date night for your Sims!
16. No Mood Pose Pack

When your Sim is taken care of but not benefiting from any moodlets at the time, they will display the feeling of "Fine" but still have a smile on their face.
Obviously, in real life, this isn't exactly realistic, so the No Mood Pose Pack alters this with five different poses.
The promo photo features a Sim laying and sitting in bed, on the couch, and in front a computer with no facial expression.
This makes your Sim look more realistic as it looks like they are engrossed in what they are doing or lost in thought.
15. Times of Friends Pose Pack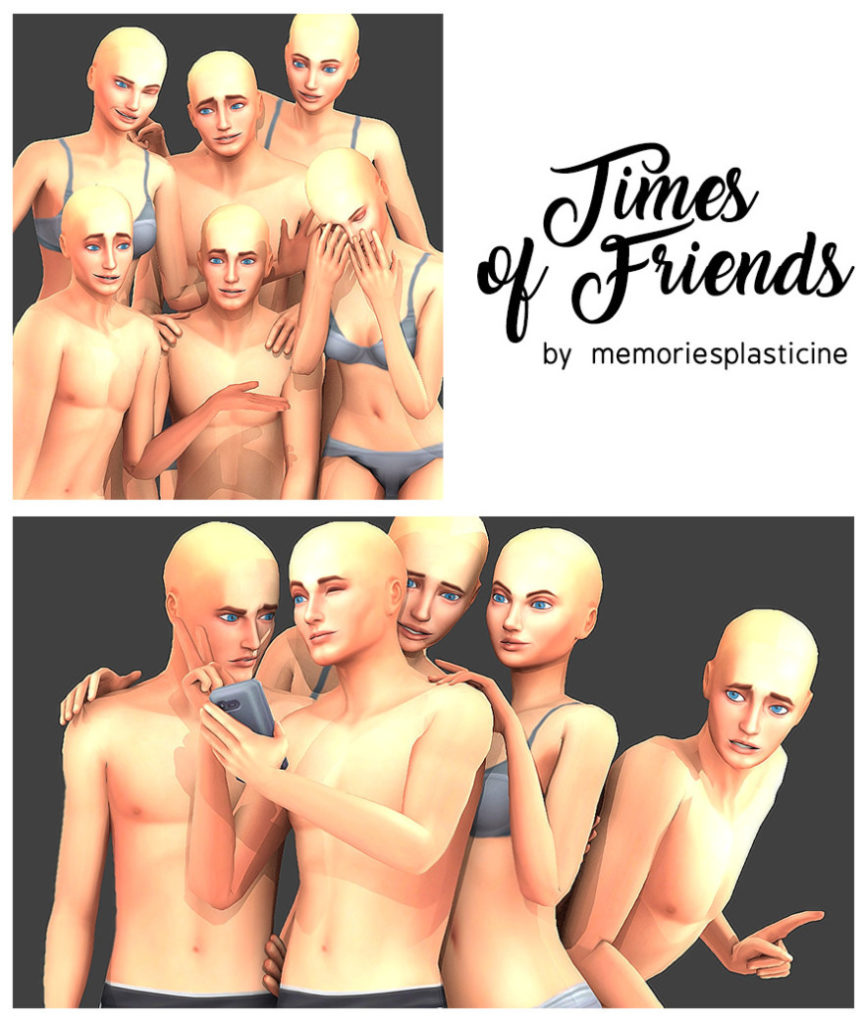 Friends are the family you choose, and with this awesome pose pack, you will be able to take some snaps with your best friends and treasure them forever!
The pack includes a group selfie and a portrait. You will need 5-6 sims for the poses, and an accessory phone for the selfie! You can get it here.
14. Bathtub Poses!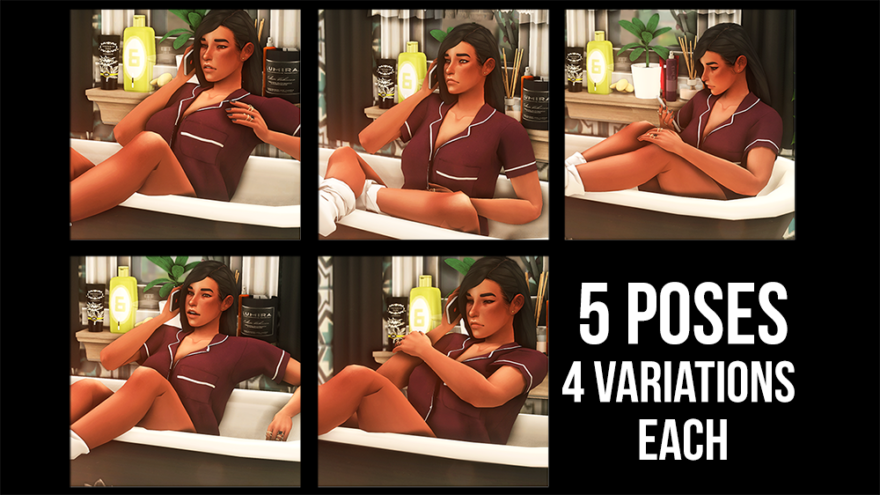 Hard day at work? Feeling a little stressed? Or just in the mood for a cool photoshoot? This pack got you! 5 beautiful bathtub poses with 4 different facial expressions.
All you need is a phone accessory for some of them, and you're all set! You can also get it for plus sizes! Download it here.
13. Besties! Poses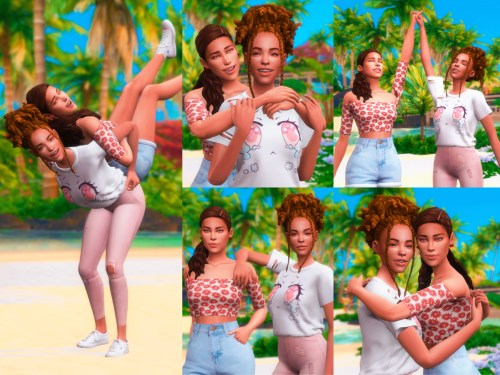 With this beautiful and funny pose pack, you can get some great snaps with your best friend! Have fun together and take your cameras with you, you won't regret it!
The pack includes 5 goofy in-game poses, and you can get it here.
12. Keep Me Close Pose Pack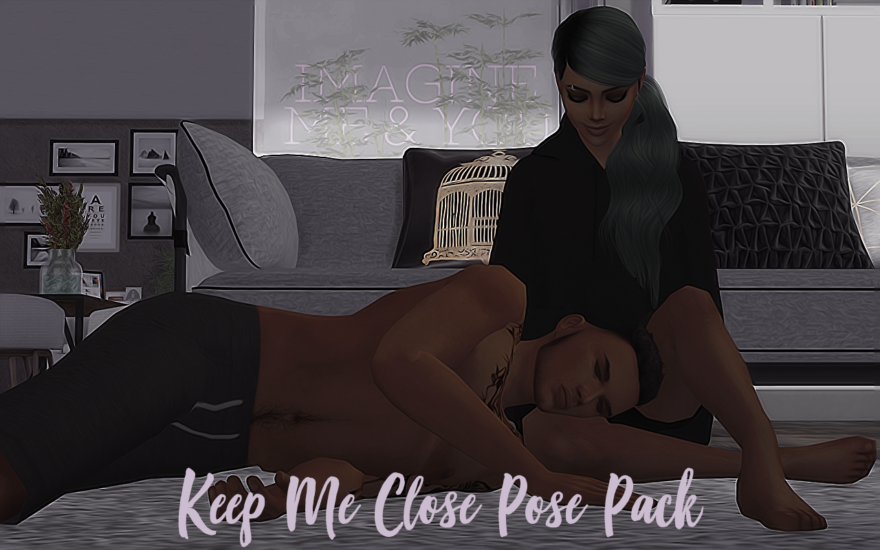 This pack is perfect for storytelling. Either if you're playing video games with your lover, just chilling together, or having some sad, dark moment… this is it.
It includes 10 couple poses, and you don't need many accessories for them, just a game controller that you will find in the link! Download it here and get those shots.
11. Walking and Talking Pose Pack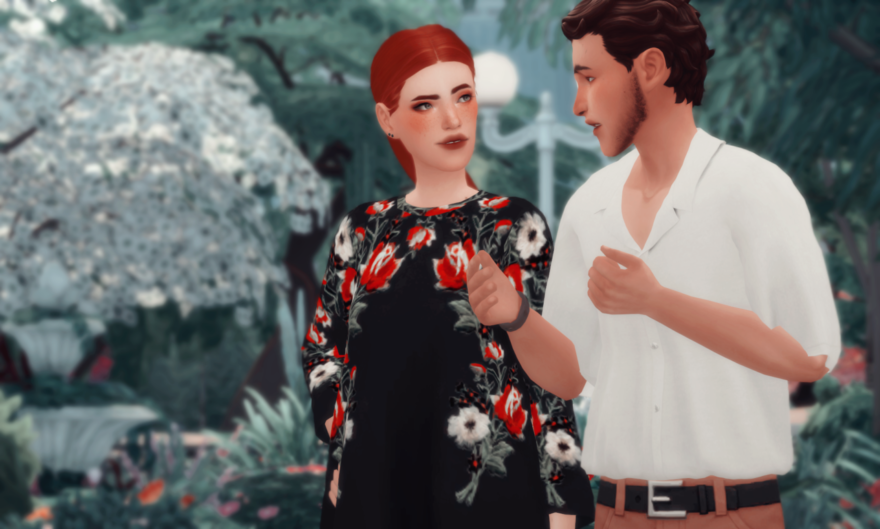 Take a walk with your child, best friend, or lover! This in-game pose pack is perfect for candid shots of your Sims walking and having a nice conversation.
It includes several poses for 2 Sims of different sizes and ages. Get it here and start posing.
10. Mom's Pose Pack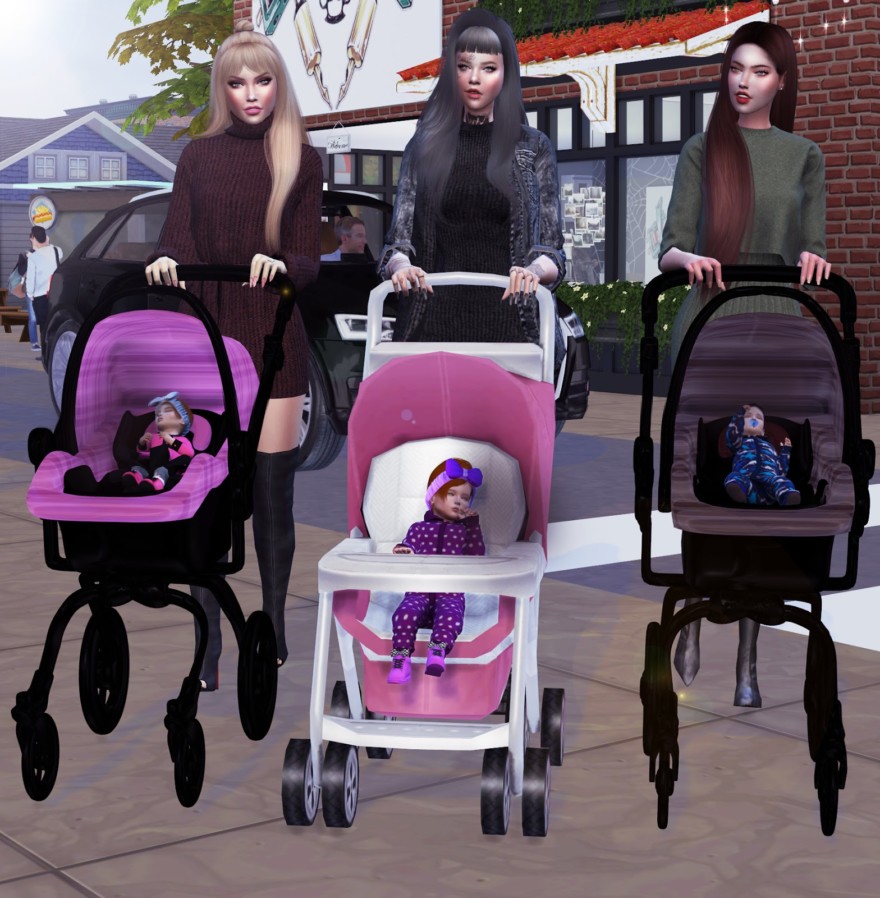 Going for a nice stroll with your baby? Get the Mom's pose pack and take some amazing shots of your Sim and her baby!
The pack includes 3 different poses for 3 adults, 2 newborn babies, and a small baby.
Consider that you will also need a baby comfort and carrier, as well as some height, presets before using the poses. Get everything here.
9. Random Couple 4 Pose Pack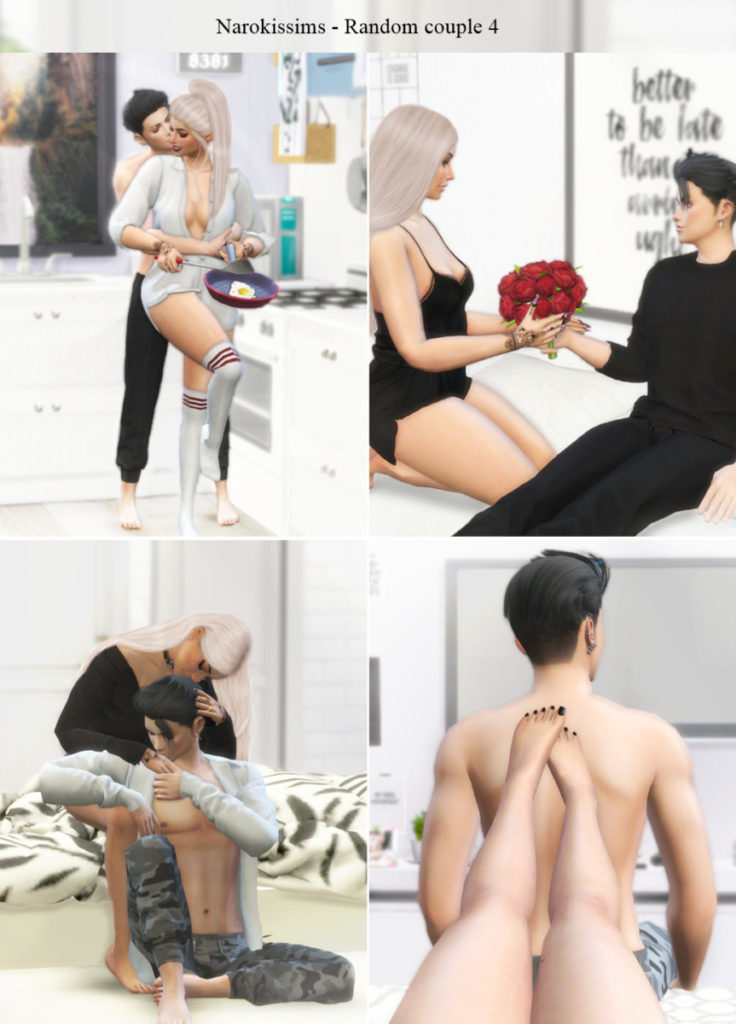 If you want to take some Instagram worthy pics with your bae, this is the perfect pack for you! Making breakfast together, kissing, and chilling in bed, it includes 4 romantic couple poses that will fit perfectly in your Simstagram.
You will also need a frying pan, spatula, and bouquet for some of the poses. Get them here.
8. Not So Simple Poses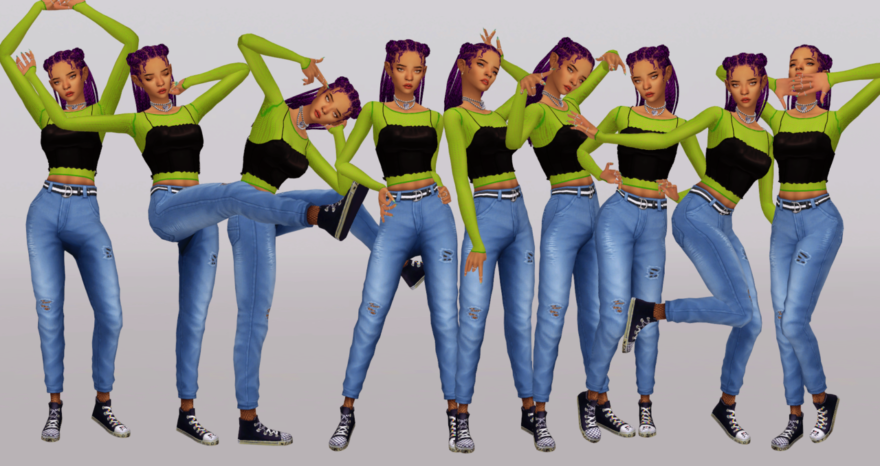 If you want your Sim to feel super cool, this pack is the one. It includes a variety of cool and weird poses to have some fun with, both standing and sitting.
It was made for a female Sim, so it might not suit all males. You can use it in-game or with the Materialistic CAS Trait! Get it here and take some cool shots.
7. Bored in Bed Poses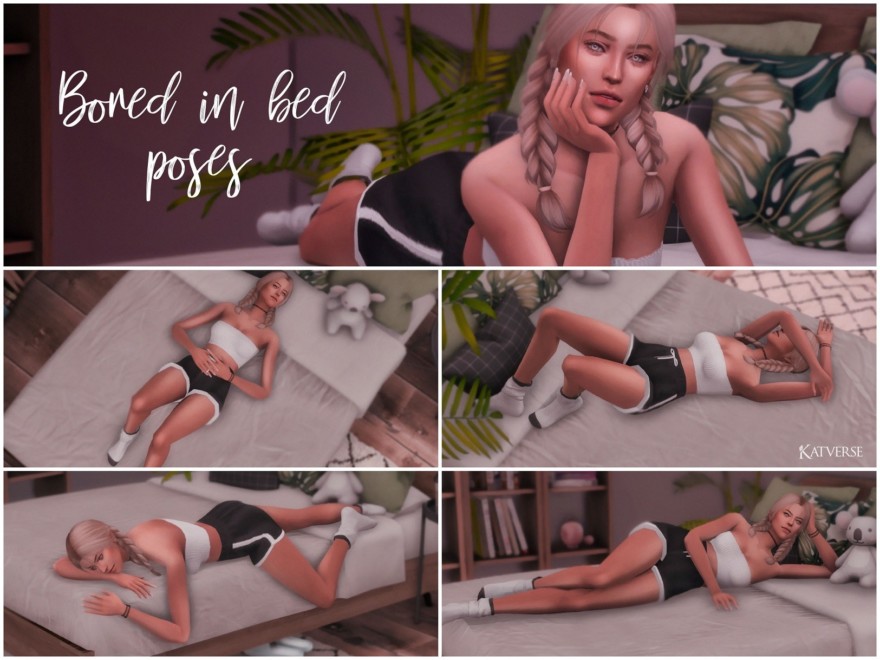 Who hasn't laid in bed with anything to do at all? Your Sim is no exception, and this pack will prove it. It includes a total of 5 poses and the all in one option!
So, take your bored Sim and have some fun playing with these wonderful poses in bed! Don't forget to take some pictures! Download it here.
6. Pride! Poses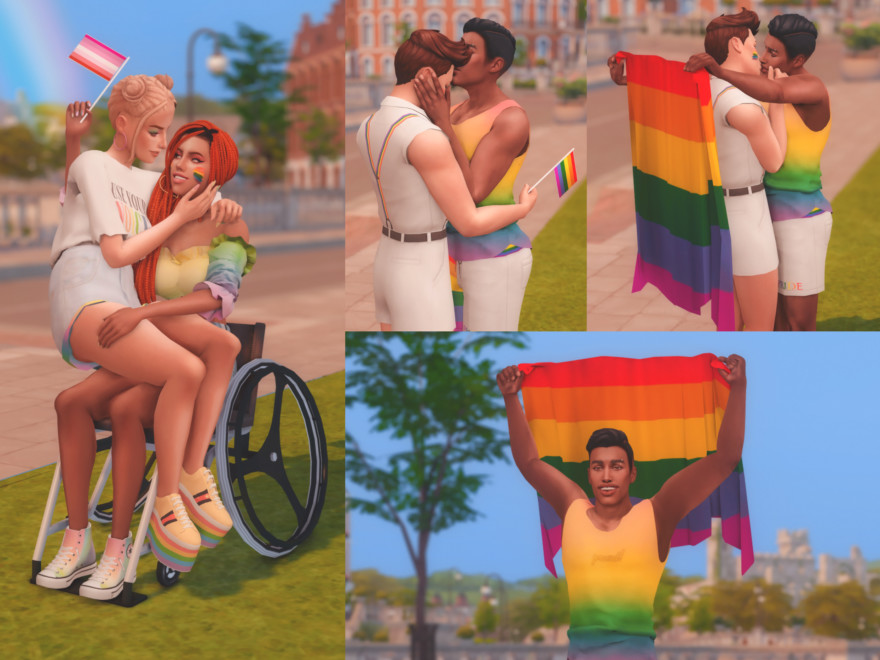 This amazing pose pack by katverse was released, especially for pride month, and we love it! Get that pride flag and your lover, and take some amazing snaps with these cool poses!
It includes 4 poses total, and you will need some extra accessories for some of them, including the LGBTQ+ Flag and a wheelchair! You can find everything in this link.
5. Posing With Your Car! Pose Pack
Did your Sim get a new car and want to show off a little? Then you can get this pack and take some amazing shots with the car! Flex in front of your Sim's new baby and make all your friends jealous!
The pack includes 5 poses total and the all in one option! All you need is your proud Sim and a beautiful car! Download it here.
4. I Do! Poses

We can hear wedding bells! If your Sims are getting married and you want them to have the best day of their lives, this pack is perfect for you! It includes a total of 11 poses: group photos, couple photos, single photos, everything!
You will need some accessories like a wedding bouquet, a ring, and a basket! Download it here and treasure your Sims' wedding day forever.
3. Pregnancy Selfies! Poses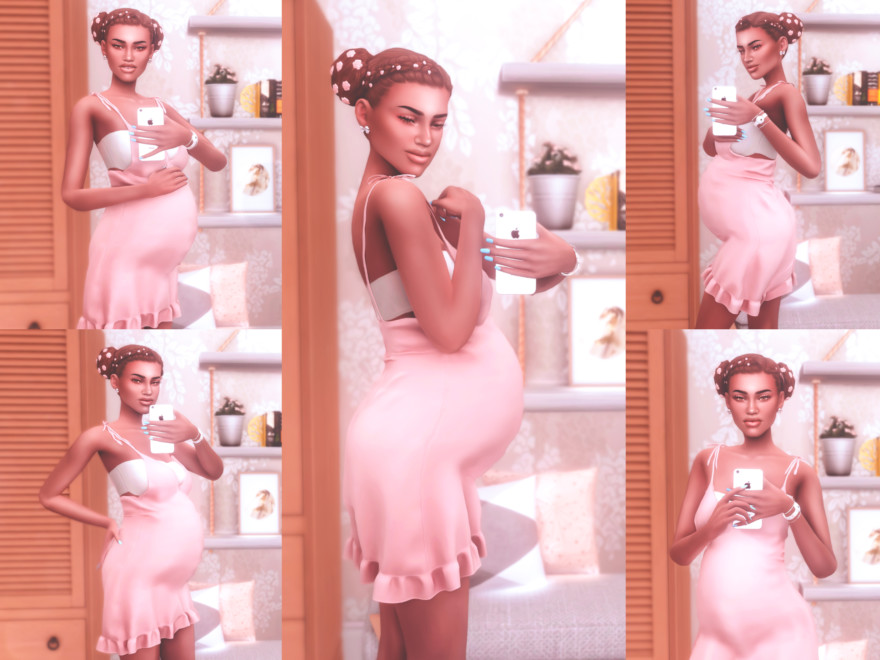 Pregnancy is a unique moment in your Sims life, and it's worth documenting!
With this wonderful pack you will be able to get your Sim to pose for some mirror selfies to post on the gram! It includes 5 poses total, and it can be used in-game or with the Perfections CAS trait! Get it here.
2. Sunny Days
We all need some family time, and your Sims do too. With this pose pack, you will be able to have some fun with your Sims while they enjoy a pool day together and ma some great family memories.
The pack includes a total of 5 poses for adults and a toddler! Get it here and take some lovely shots.
1. Mom and Toddler

Kids grow up fast, and your Sims want to treasure their childhood moments forever to show them when they become adults. With this lovely in-game pack, you will be able to get some beautiful shots of your Sim and her toddler together.
It includes 6 different poses. Get it here and have some fun.
Final Thoughts
Okay, so what are you waiting for? Download all these wonderful packs and start making your Sims pose! Don't forget to take some cool shots!
You might also be interested in: