Have you noticed how animated food looks so much better than real food most of the time? Anime creators take food so seriously that cooking has established its own genre in Japanese media.
So if you love both anime and food — oh, who are we kidding, who doesn't? — we've got some recommendations that could satisfy your cravings for good.
Here are 25 of the best cooking anime ranked from the appetizing, the delicious, all the way to the exquisite.
Best Cooking Anime Ranked
25. Cooking With the Valkyries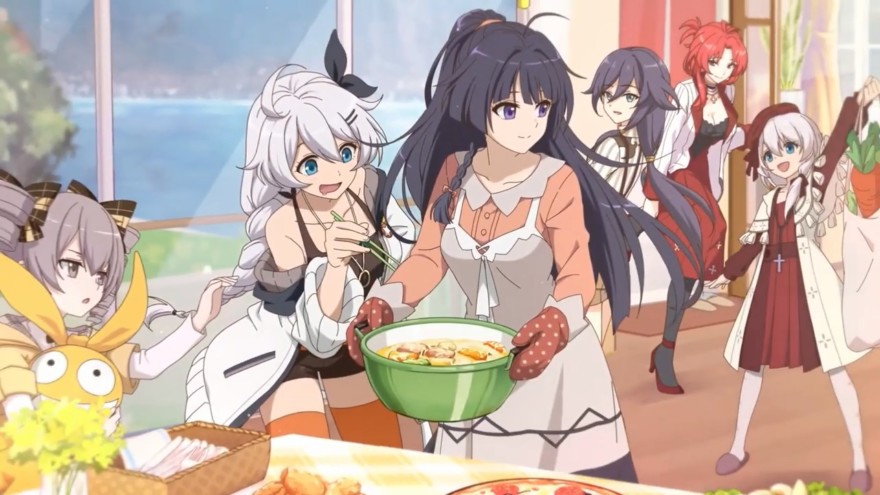 If you're familiar with the game Honkai Impact 3rd, then the characters in this anime will no longer be new to you.
In fact, not a lot of people appreciate the fact that this series seems to be nothing but a spinoff of the game, but there is one thing that makes cooking with the Valkyries worthy of a spot on this list: the recipes.
Every 6-minute episode ends with an actual recipe you can follow for a nice but simple meal. If you're hoping to learn how to cook for yourself, this is a good place to start learning.
24. JK Meshi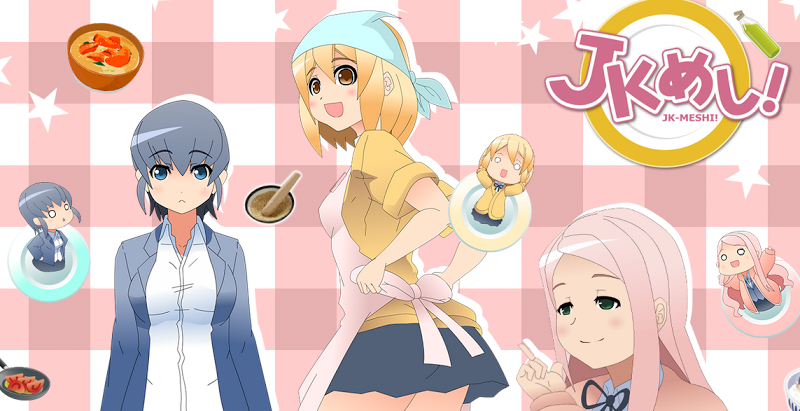 Just like the previous one, JK Meshi will not ask much investment from you. It's a quick series with short episodes and a rather simple premise: just a bunch of high school girls learning to cook for themselves.
You'll come for the appetizing food, but you'll walk away from each episode with new kitchen knowledge, such as tricks on how to preserve the flavor of meat and how to keep vegetables fresh for a longer time.
23. Poco's Udon World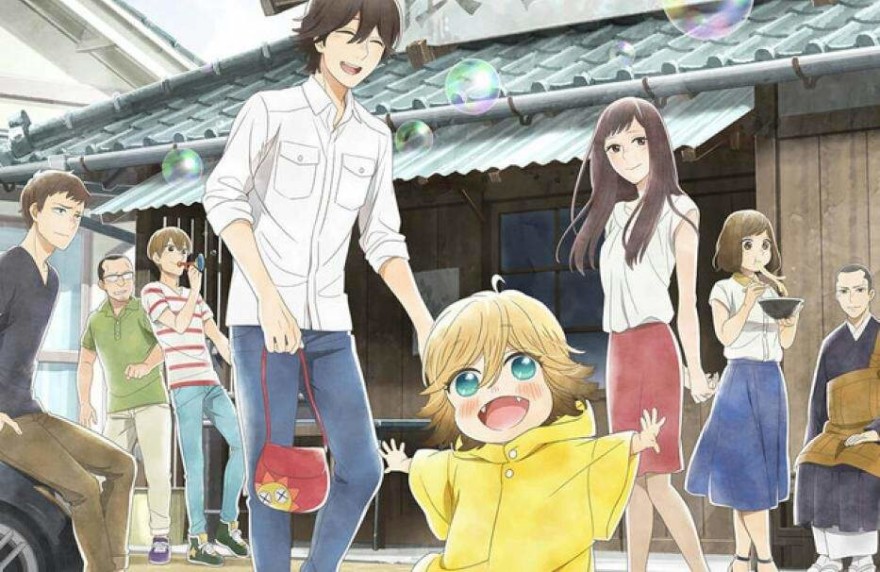 Most of the anime in this list have the magical capability to make your mouth water, but Poco's Udon World will make your eyes watery, too.
Souta Tawara's journey from his job as a web designer in a busy city all the way to their family-owned udon restaurant in the slow-paced province will definitely make you shed a few tears.
It's a slice of life show for anyone who appreciates good udon and life lessons one can only learn when one learns to slow down.
22. Ramen Lover Koizumi San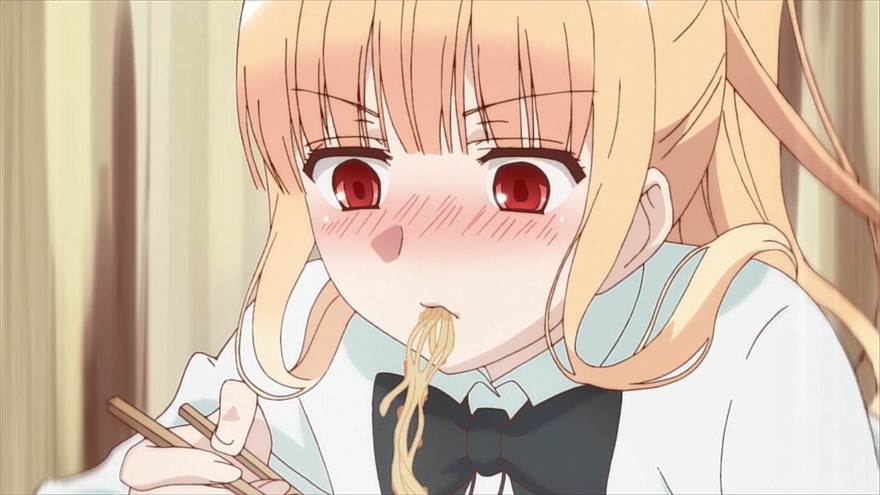 Gorgeous high schooler Koizumi has only one goal in mind: to find the best ramen in the world.
There's no contest: this show provides the best visual illustration of the world-famous ramen. It looks better than any ramen does in real life.
Side effects of this show include a strong urge to do what Koizumi did; scour every Japanese restaurant that serves ramen just to find the best one.
21. Dagashi Kashi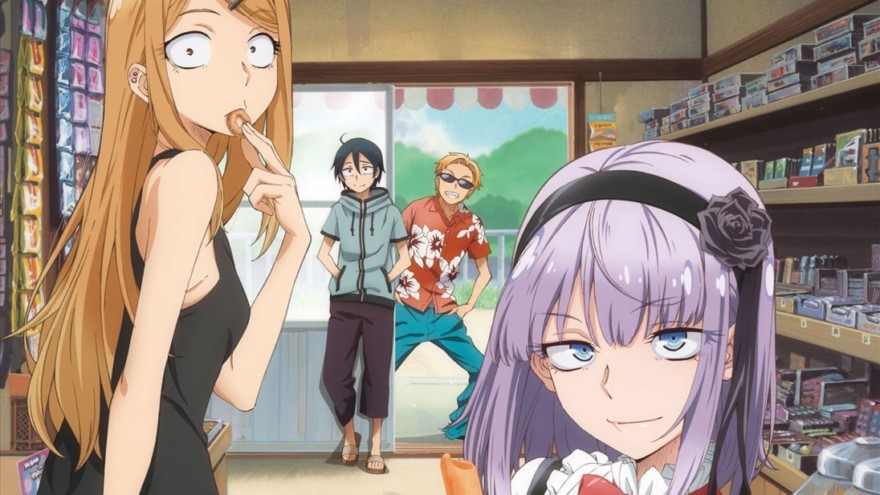 If you're not a fan of ramen or any of the huge, hot meals usually featured in cooking anime, then Dagashi Kashi might interest you.
It's very enticing for anyone who has a sweet tooth because dagashi means candy in Japanese. This anime is about a girl who was forced to run his family business — a candy shop.
You might think you already know everything there is to know about candy, but sweet child, the things this show will teach you will make you go: *chef's kiss*
20. Sweetness and Lightning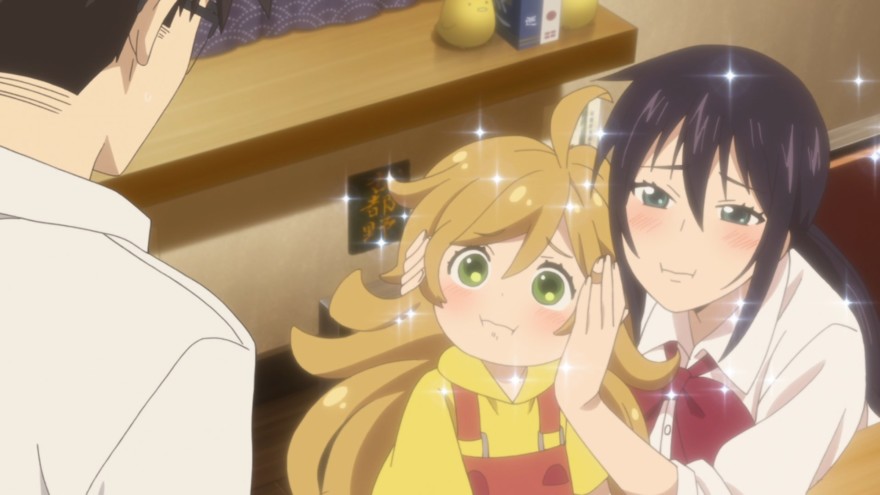 Few things in life are more endearing than a clumsy dad trying to navigate the unchartered waters of the kitchen for his beloved daughter.
But when teacher Kouhei Inuzaka lost his wife, this is exactly what he had to deal with in order to keep her daughter Tsumugi alive. He never learned how to cook and is not a big eater himself, so he's grateful when one of his students expressed willingness to help him out.
This show is incredibly heartbreaking at times and might be the only show on this list that your dad will enjoy watching with you.
19. Silver Spoon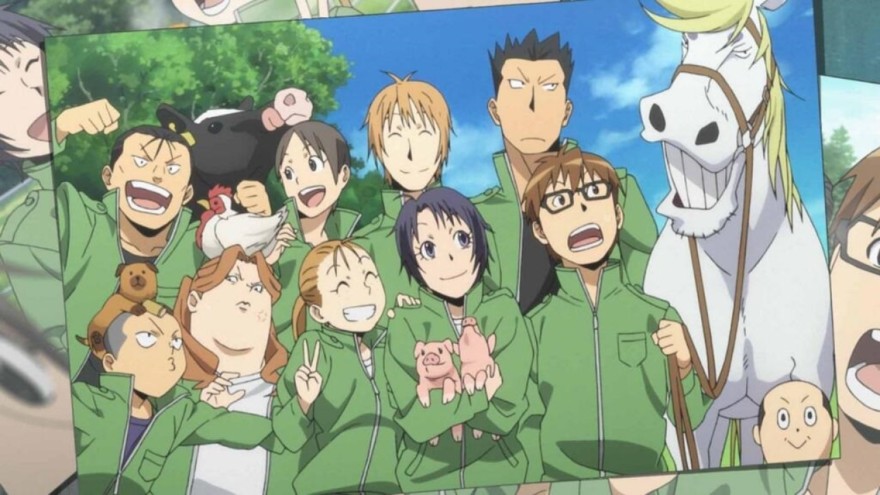 Most cooking anime in and out of this list focuses on the process of turning raw food into oozing-with-goodness meals.
But Silver Spoon takes things farther back by exploring the agriculture and farming that makes all our favorite meals possible.
It's utterly fascinating and will definitely give you a new-found appreciation for the farmers who raise cattle and poultry, and even for the butchers who do the dirty work so we can have all the A-grade meat we can ever need.
18. Isekai Shokudou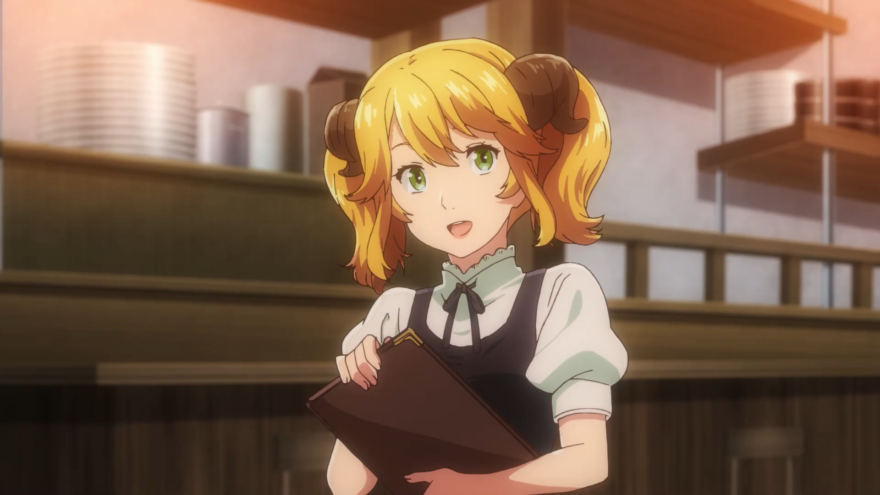 Cooking and horror just don't seem to mix very well, at least not until you've seen Isekai Shokudou.
Western Restaurant Nekoya is so famous for its exquisite menu, it's such a shame the place is closed on Saturdays when students don't have school and most parents are not working.
Here's a little secret though: the eatery is not actually closed on Saturdays. It just won't cater to most of us, unless you're a dragon or an elf or a mage or a fairy from another world.
If you are, well then, see you there on the weekend?
17. Wakako-zake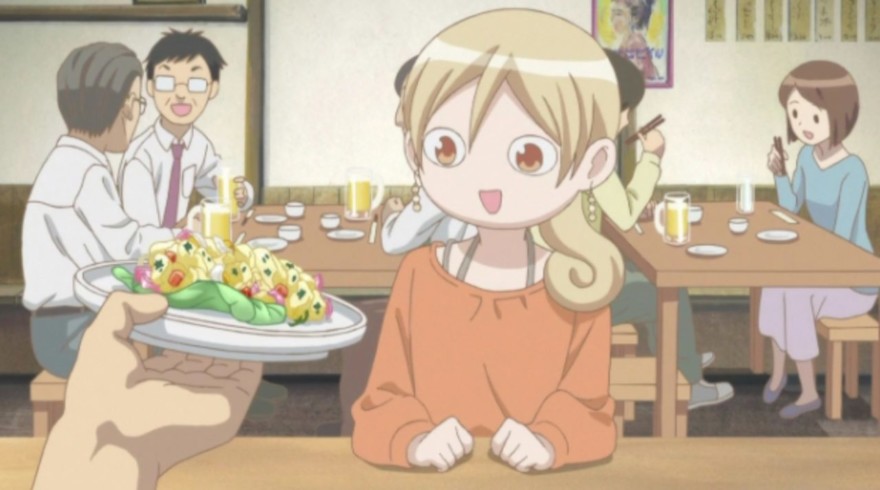 Each episode of this anime lasts for a full two minutes, but trust me, that's all the introduction you need for all the best Japanese meals, beverages, and desserts to last you a lifetime.
Do you enjoy watching mukbang? This anime is just like that, except much cuter.
The art style takes some getting used to, but honestly, who doesn't want to accompany a woman with wanderlust and taste for good food pairings?
This show is peaceful, funny, and heartwarming, watching it almost feels like a hug after a long day.
16. Isekai Izakaya: Koto Aitheria No Izakaya Nobu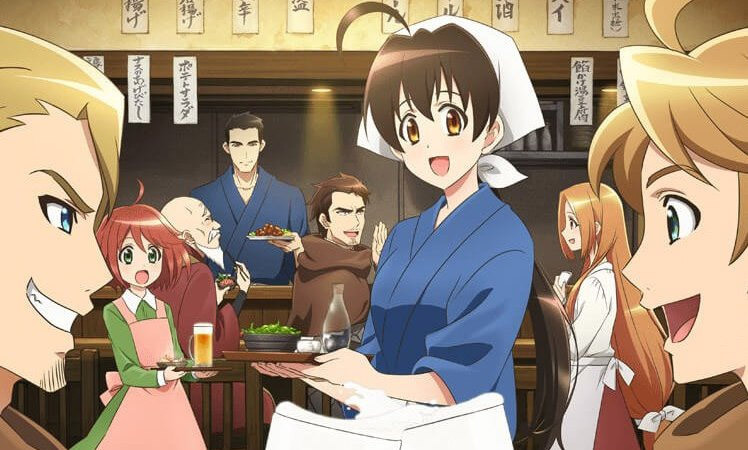 This anime has a super interesting plot, featuring a modern Japanese pub that's magically transported to the medieval era.
The chefs, although they have to serve local patrons from a bygone time, can still run back to their own time to score materials and ingredients.
As if all this is not fascinating enough, the last few minutes of the show is reserved for one person who either (1) reviews the food shown in the episode or (2) teaches alternative ways to cook the food featured in the episode.
It's like the cooking channel, but with a lot more drama and even better food plating.
15. Muteki Kanban Musume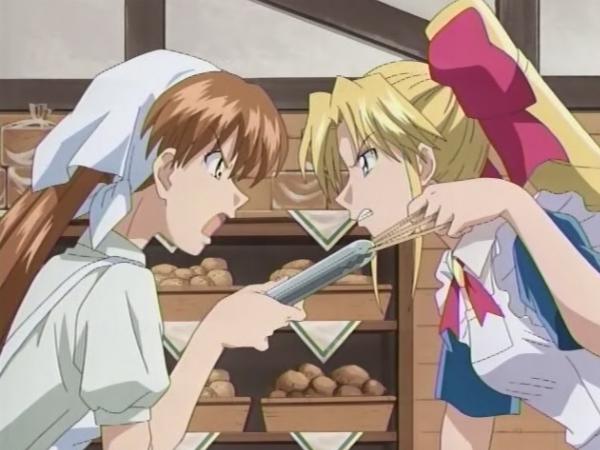 To be honest, this is not the show to watch if you legit want to learn all about Japanese food. But it's very good for those who want to expand their horizons a little bit.
The protagonist, a chaotic but lovable 20-year-old, is actually the poster girl for her mother's Chinese Ramen Restaurant.
There are a lot of good tips to pick up in this show if you're after the whole Asian culinary experience. You just have to power through the slow-paced first few episodes — the latter half of the series is totally worth it.
14. Cooking Papa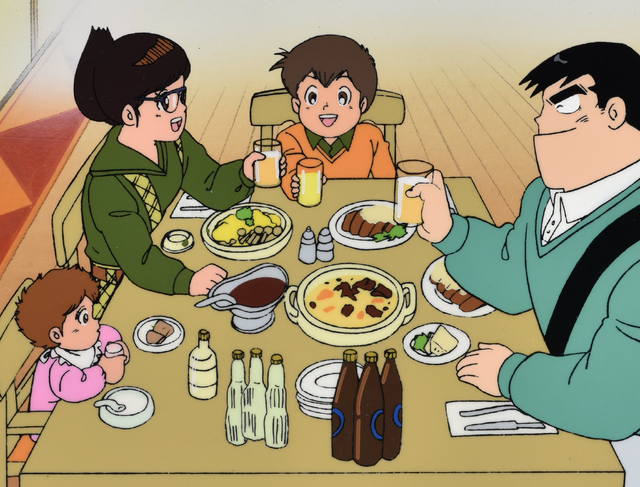 This show deserves a good spot on this list for one thing: it's a pioneer. Released in 1992, the anime follows the quintessential businessman who secretly loves to go home and cook for his family.
It's lighthearted and funny without much heavy drama, but the cooking skills you will learn after watching all the episodes can make you a pretty awesome home cook.
Warning: you might fall in love with the first few episodes so much that you end up wishing the show would never, ever end.
Luckily, it's not easy to run out of episodes, since this is actually the longest-running show on the list so far, with an incredible total of 151 eps.
13. Watashi No Italian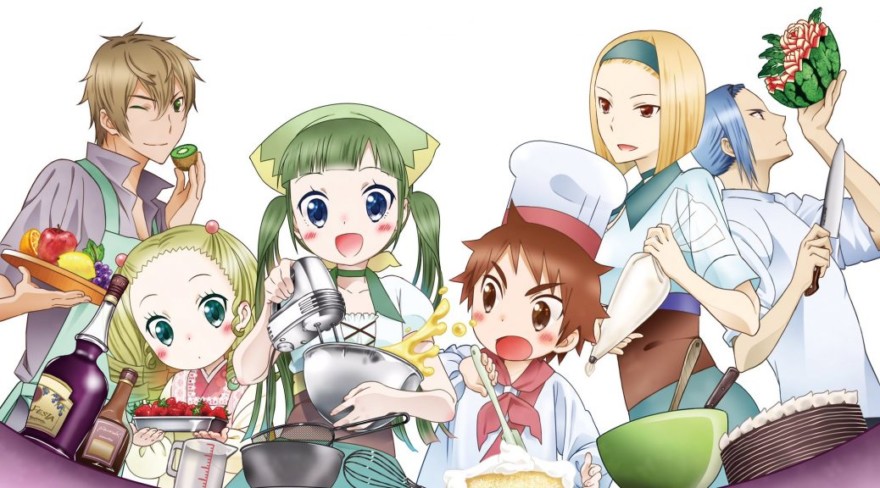 Italians make the best food in the world, no doubt, and this anime showcases the best of the best by following Morina Nanase, a part-time waitress at Trattoria Festa.
Because of the sheer quality of the animation, this show could have clinched a higher spot on this list if not for its pacing issues.
There are boring episodes that feel like hours long, while others are jam packed with action you can barely keep up.
12. Bartender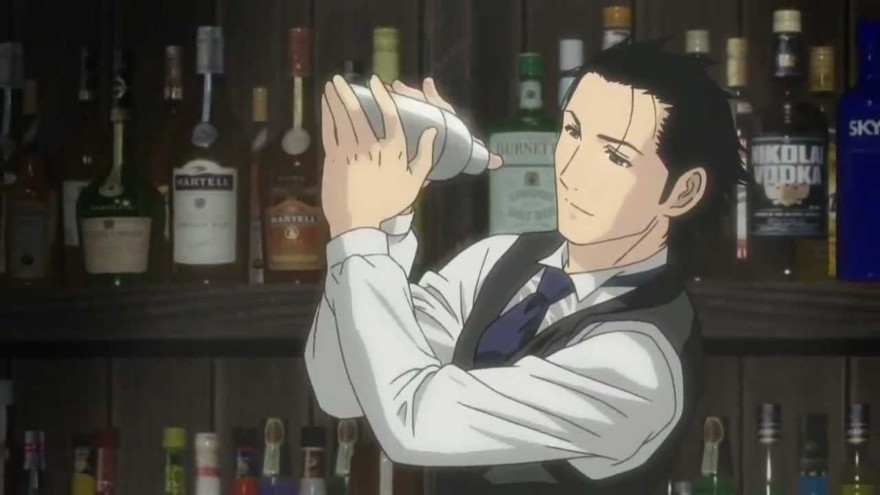 For us, culinary anime isn't just about scrumptious food but also refreshing beverages. The anime Bartender takes this up a notch on its self-reflective take on the profession of being a bartender and his relationships with his patrons.
It explores the notion of a bar becoming a place of escape and self-reflection, which ultimately only a glass of liquor can provide.
This anime would have been on a much higher place on this list if only it focused a bit more on the drinks than the people who need to drink them in Eden Hall.
In retrospect, you can only do so much to talk about alcoholic beverages in an anime, so I believe it served its purpose.
11. Ristorante Paradiso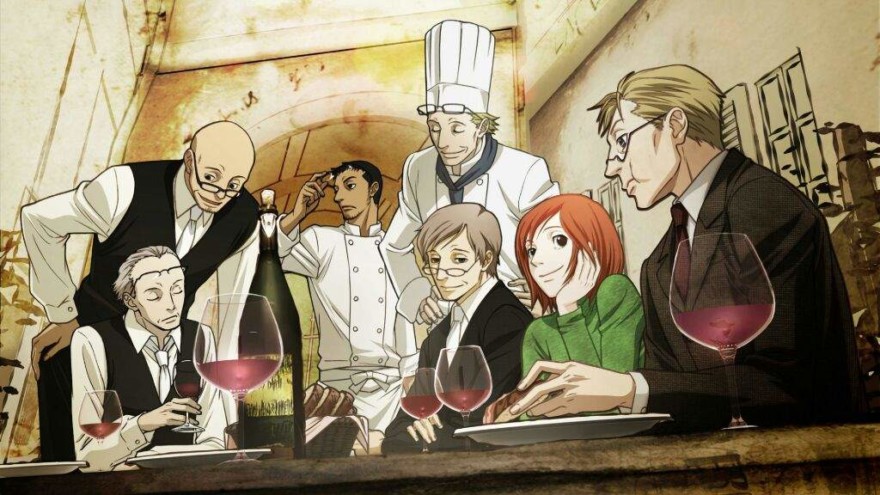 Ristorante Paradiso certainly has a lot to offer for an anime about delicious food. Set in Rome, the anime narrates the journey of Nicoletta as she discovers the truth about her mother through the Casetta dell'Orso Restaurant.
Obviously, one of the strengths of the anime is its fascination with Italian Cuisine, but the anime strikes a perfect balance between food and how the characters relate to each other with its superb storytelling.
10. Ben-to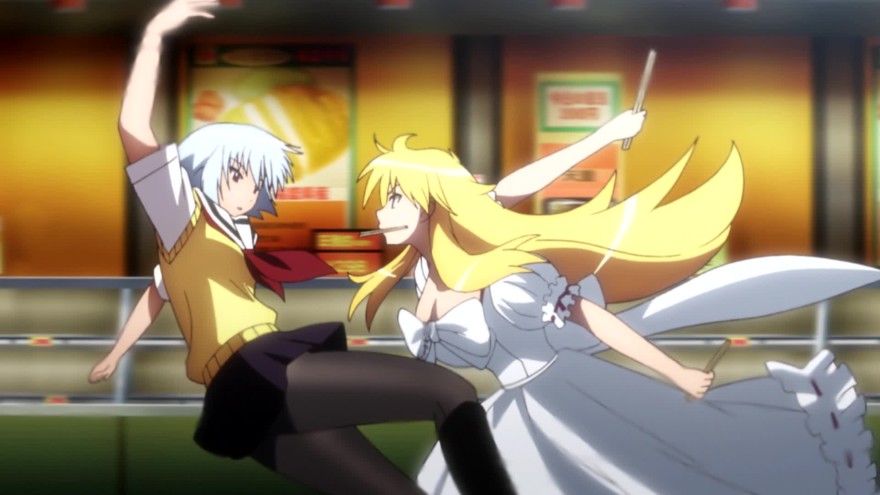 A supermarket becomes a battlefield as the store owners put almost expired bento boxes on sale. You Satou, a regular high schooler learns this the hard way as he unknowingly joins in the fray.
After witnessing the events, You Satou decides to wholeheartedly jump in the middle of the fight.
Fortunately for him, an upperclassman named Sen Yarizui decides to take him under her wing and let her join the Half-Priced Food Lovers Club.
If you've ever experienced having to fight for every morsel of food at least once in your life, then this is something you must definitely watch.
9. Moyashimon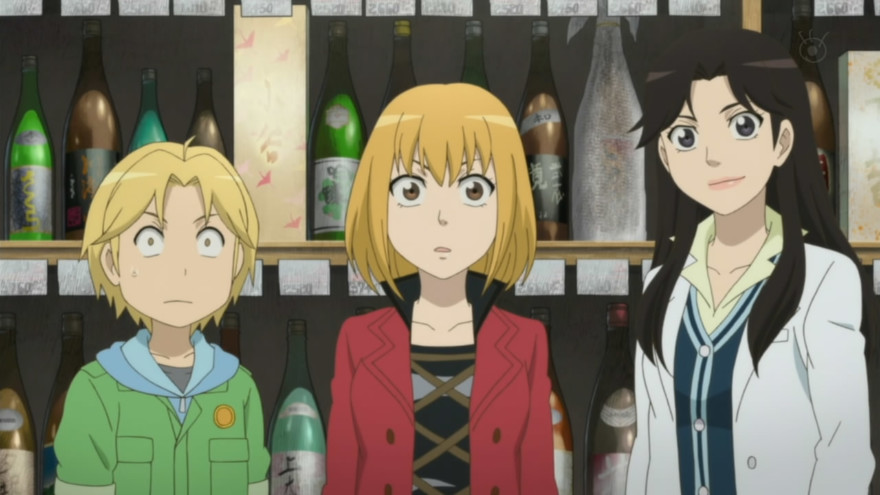 Moyashimon is all about the story of college freshman Tadayasu Sawaki who has this unique ability to see all kinds of microorganisms from those causing infections to those allowing food to shine even further.
This is the reason why Moyashimon deserves a high spot on this list: It discusses how some microorganisms contribute to making mouthwatering food.
If you're a Food Technologist, a Microbiologist, or simply interested in food science, then this anime might be just what you're looking for.
8. Chuuka Ichiban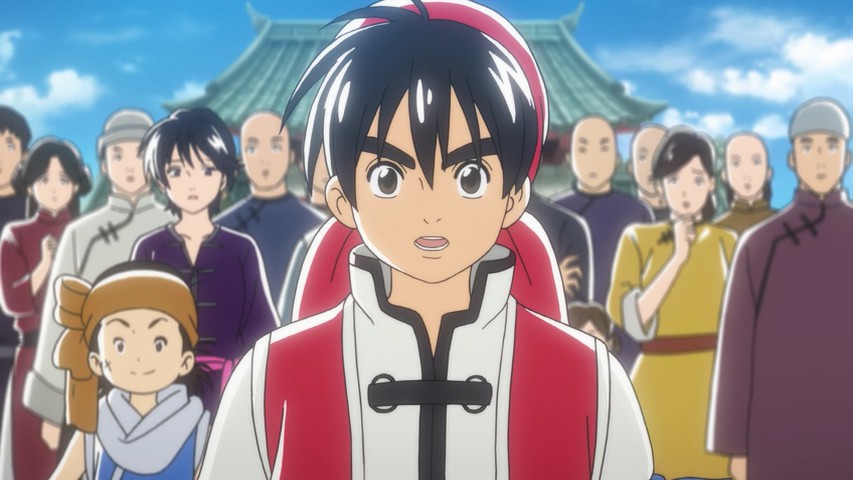 Chuuka Ichiban takes you to 19th Century China, which was dubbed as the Era of Cooking Wars. It zooms in on the story of Liu Mao Xing and his journey to becoming a Master Chef, just like his late mother's restaurant.
Mao's mother was given the title 'Fairy of Cuisine' when she was still alive, presumably due to her superb cooking skills.
His adventure led him to meet new friends and searching for legendary cooking items that helped him in his quest to become as great as his mother.
The manga was so good that it got a second anime adaptation in 2019. So what are you waiting for?
7. Toriko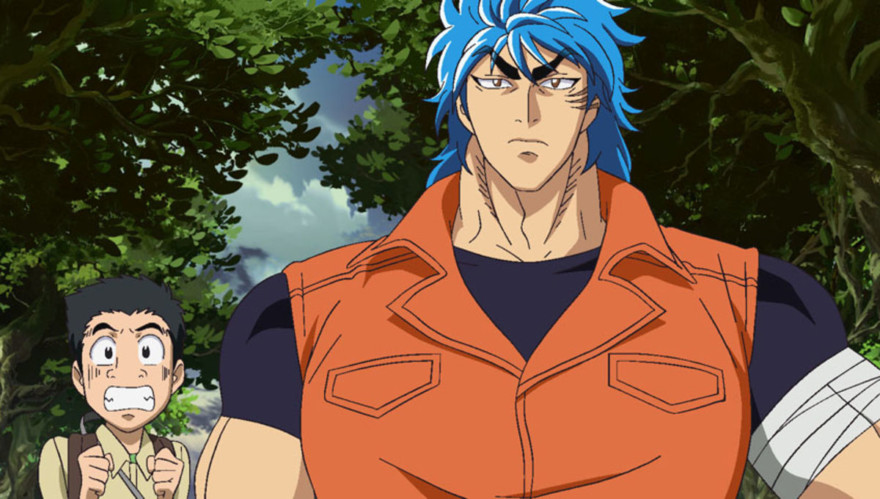 If you are a fan of One Piece, then this cooking anime might strike your fancy. Why? Well, the first episode of Toriko is already a crossover of the popular pirate adventure series.
And to be honest, it really has a lot of similarities with One Piece in terms of setting and basic plot points.
Toriko is a gourmet hunter who is hellbent in discovering the very best ingredients in the world to be able to complete his Full Course Menu of Life. He plans to accomplish this with the help of Komatsu, a 5-star hotel caliber chef.
But as expected, it will not be easy for our heroes because a treacherous path lies ahead, especially since he is looking for the holy ingredient called GOD for his own Full Course Menu.
6. Mister Ajikko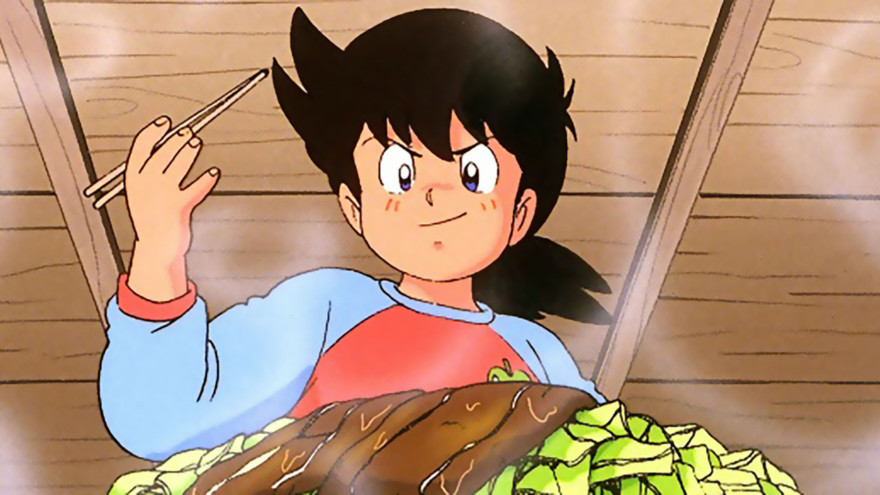 Mister Ajikko is high on this list for one reason: It is believed to be the very first cooking anime ever created.
It was released in 1987, at the time when action and magical anime were a thing. So you could say that in a way, every other anime on this list owes something to mister Ajikko.
But what is it all about? Well, it's about famous Food Critic Genjirou Murata discovering a young boy named Youichi Ajiyoshi, aka Mister Ajikko, who's cooking prowess is unlike no other.
Murata then decides to bring Mister Ajikko with him to the world of professional cooking.
However, not everyone is as convinced that the kid is truly something. You'd have to watch the series to find out what happens next.
5. Koufuku Graffiti
In Japan, it is traditionally taught that women must be great cooks in order to become a husband. Now, this wasn't a problem for Ryo Machiko, who could whip up a masterpiece in the kitchen every single time.
That's until Machiko's grandma died, and she is left alone.
Now, Machiko can still serve great looking food, but the taste is no longer the same. To find out how she was able to overcome this and why it belongs to the fifth spot of the list, better start watching it now.
4. Amaama to Inazuma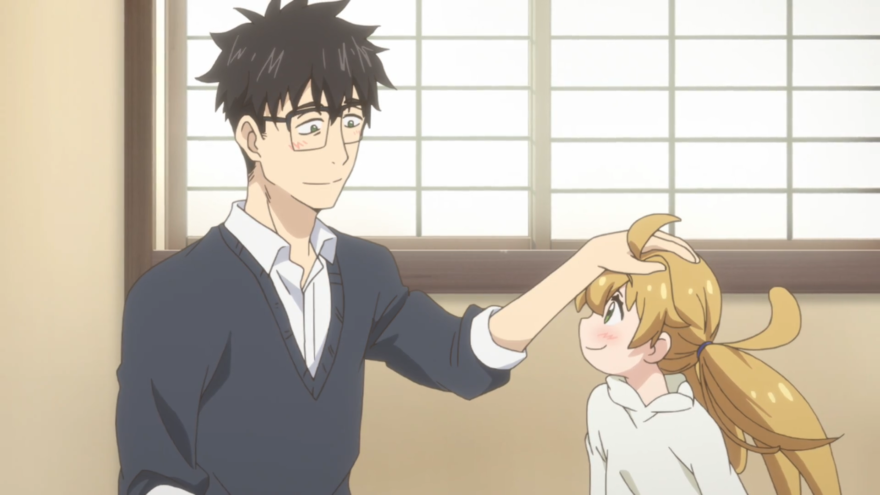 This anime touched the hearts of many, and if you give it a chance, it certainly will make you feel things, too.
Amaama to Inazuma tells the story of Kohei Inuzuka, who becomes the lone parent to Tsumugi after the passing of his wife.
Now in order to give his beloved daughter proper food and nutrition, Inuzuka, who is a teacher by trade, turns to one of his students for guidance.
3. Yakitate Japan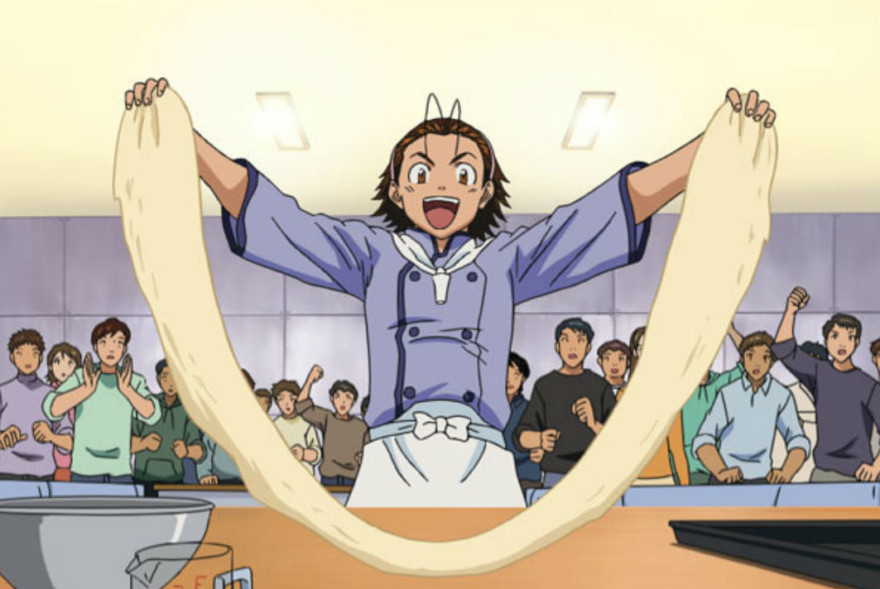 Have you ever tasted bread so good it transported you straight to heaven? Well, such brave absurdity is the bread and butter of this show — pun intended. This show was an instant classic. It's like the Naruto of cooking anime.
The protagonist, 16-year-old Kazuma Azuma, wonders why there's German bread, Italian bread, and French bread, but not Japanese bread.
He will not stop until his country gets proper representation in the world's bakeries, even if it takes him hundreds of tries and countless versions of the 'Ja-pan.' That's his not-so-subtle name for his Japanese bread prototypes.
2. Yume-iro Patissiere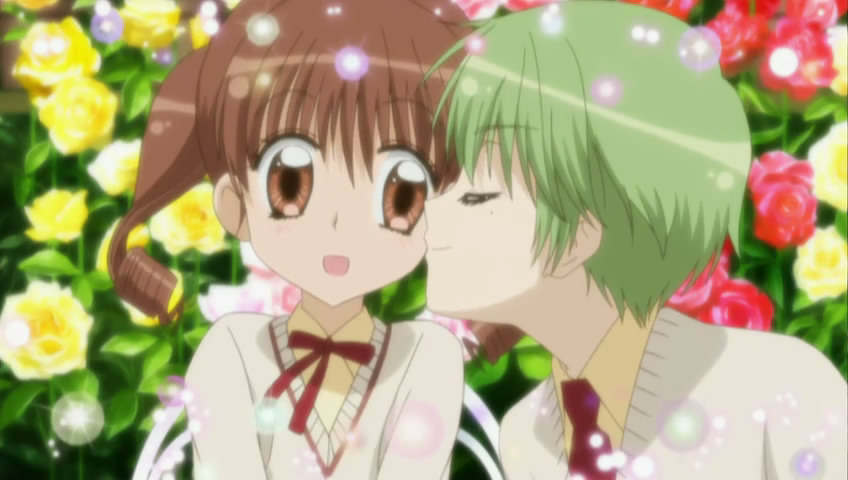 Honestly, for me, Yakitate Ja-pan and Yume-iro Patisserie have a lot in common. However, Ichigo Amano tops Kazuma Azuma's story by a wee bit because Amano is not really a prodigy with Solar Hands.
She's just a regular girl who is head over heels with cakes, and that's the only thing she's ever good at.
Luckily, she meets Henri-sensei, who put to good use Amano's great sense of taste for cakes, and he enrolls her at the St. Marie Academy to learn how to become a patisserie.
1. Shokugeki No Soma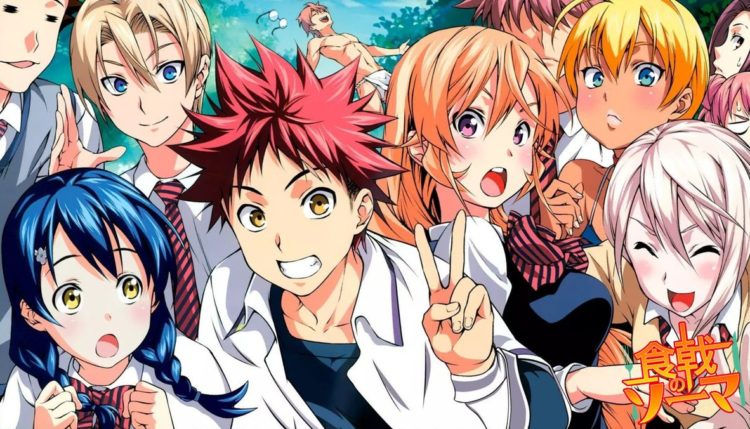 And of course, the undisputed top cooking anime is still Shokugeki no Soma.
It is the perfect mix of everything that makes food great and a storyline that makes you hungry for more. It follows the story of Yukihira Soma as the new student in Totsuki Academy, an elite school for culinary geniuses.
As a common restaurant owner, Soma is usually belittled by his schoolmates, who come from a prestigious restaurant owning families. But they soon learn that Soma is not just an ordinary boy.
If you haven't watched it yet, do yourself a favor. Trust me, it's worth every second.
Final Thoughts
This wraps up our list of the best cooking-themed anime that you should add to your watch list.
Word to the wise, though, make sure your fridge is stocked up well enough before you watch any of the anime on this list, as these are sure to make your mouth water — and your heart flutter.
You might also be interested in: