When you feel like you want to dress up nicely for the day but don't want to go too overboard, why not whip out a pretty, eye-catching off-shouldered shirt?
They give you such a fun and casual look but still make you stand out as the cutest of the bunch. Not to mention, they add a dash of sultry look depending on how low and off-the-shoulder the top is. So if you want to grab a date…*wink wink* you know what to wear.
As it's been such a hot fashion trend for the longest time, so it makes sense that there are hundreds of awesome CC's out there by so many creative custom creators. But if you're looking for the perfect one, don't fret—I've sorted through all of them to give you the 15 prettiest off-shoulder tops available to download for Sims 4…and all free!
Yep, you heard it, right ladies, not a single simoleon will be spent, and you can get ALL of these with a quick download. What could be a better bargain than this?
So, keep reading to discover the best of what the Sims 4 CC world has to offer.
Best Off-shoulder Tops CC for Sims 4
15. Sweater and Plaid Skirt by Black Lily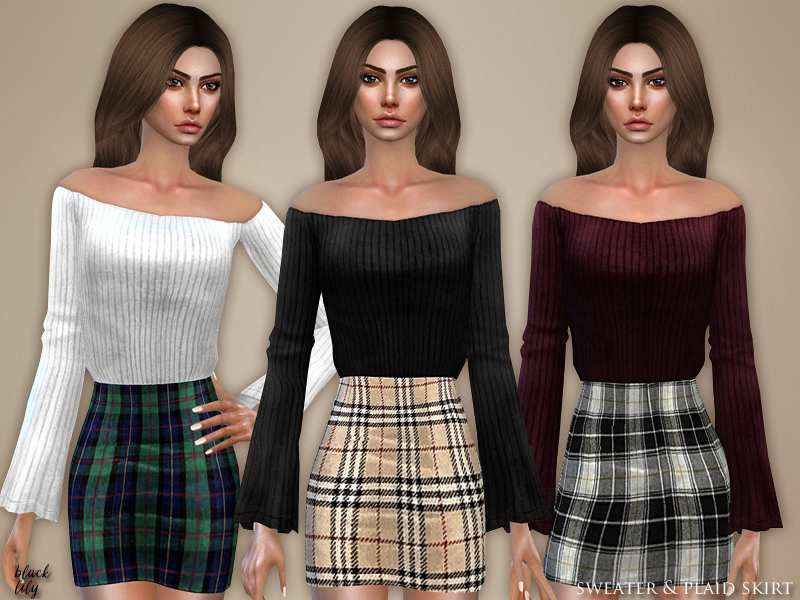 Let's start the list strong with these items by Black Lily.
The sweater top is a solid-colored off-shoulder ribbed top that matches super well with the plaid miniskirt included the pack.
This pairing will look so cute as a Fall look for your Sim—so if you have the Seasons Pack, this is a good outfit to have in your Sim's wardrobe.
14. My My My Top by CHRISTOPHER067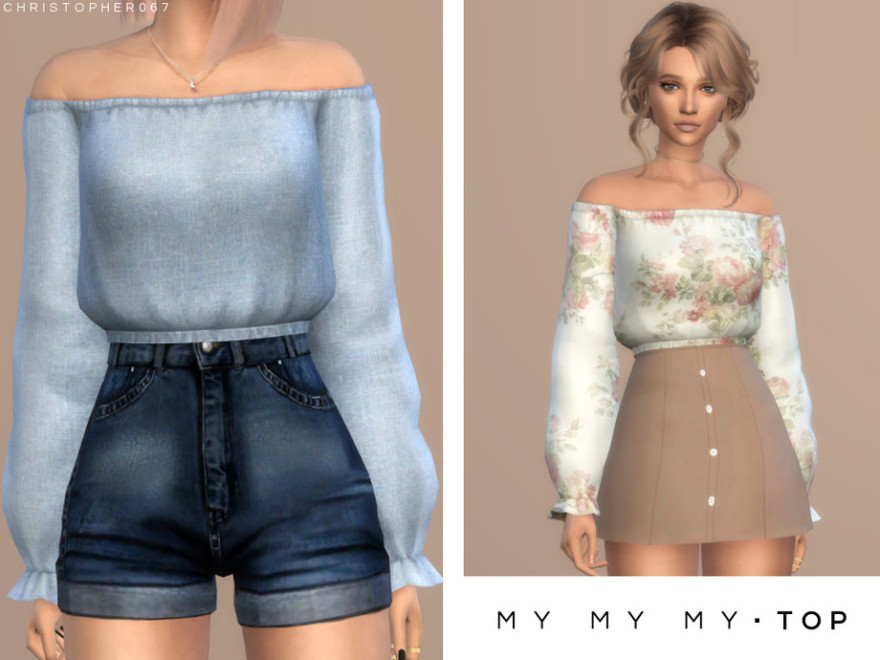 This cute long-sleeved off-shoulder top comes in 61 different colors and 5 patterns, plus 3 denim prints! What more can you ask for?
Put on a high-waisted skirt when you wear this shirt, and you'll make everyone know that you're the neighborhood darling with great fashion sense.
13. Temptress Top by CHRISTOPHER067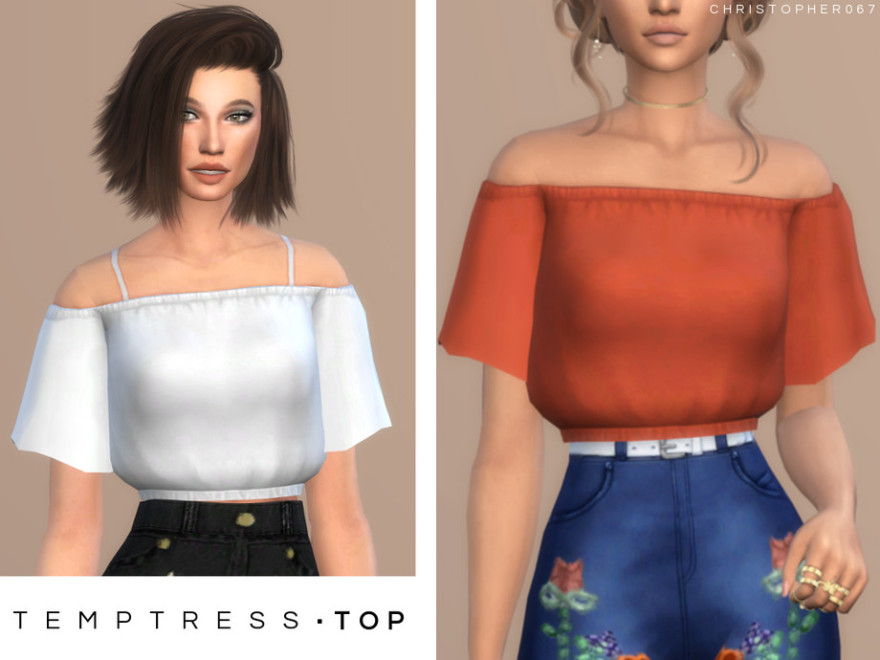 Here's another classic off-shoulder top for your Sim. With flowy sleeves and a sweet neckline, the Temptress Top is the right choice for a casual day out with your friends or your club.
Wherever your group decides to hang—be it Magnolia Promenade, Granite Falls, or Oasis Springs—you'll definitely fit right in.
12. Off-the-Shoulder Top by Chloemmm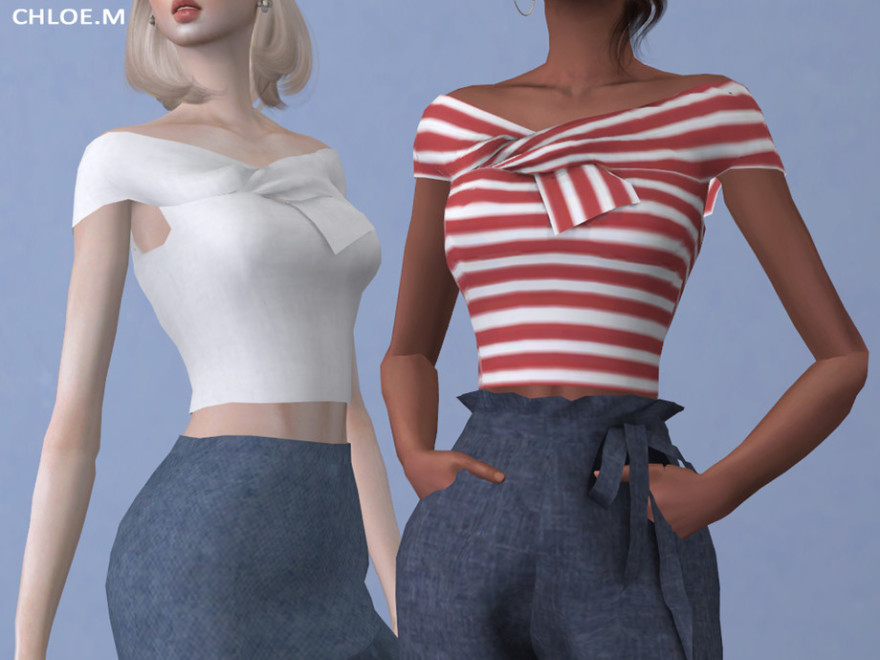 Do the usual off-shoulder tops bore you and your Sim?
Well, here's one for you! This top by ChloeMMM is a great choice for those who are opting for a unique look. There's a cool, eye-catching bow detail in front, plus it comes in 7 different colors and patterns.
11. Franco Top by CHRISTOPHER067
Frills? Of course!
This Franco top is a simple but cute cropped, off-shouldered top for your Sim. This is the kind of top you throw on for a lazy weekend lunch or errand. Or even for a stake-out at the library.
With the 40 colors included in this pack, you'll never get tired wearing this.
10. Ribbed Knit Lounge Set by Dgandy
Even for your loungewear, an off-shoulder top is a wise choice.
Take this lounge set—yes, a set, so you won't have to worry about bottoms!—for example. It looks so comfy, stylish, and sexy all at the same time. How's that for multi-functional?
9. Summer Rose off Shoulder Blouse by Marigold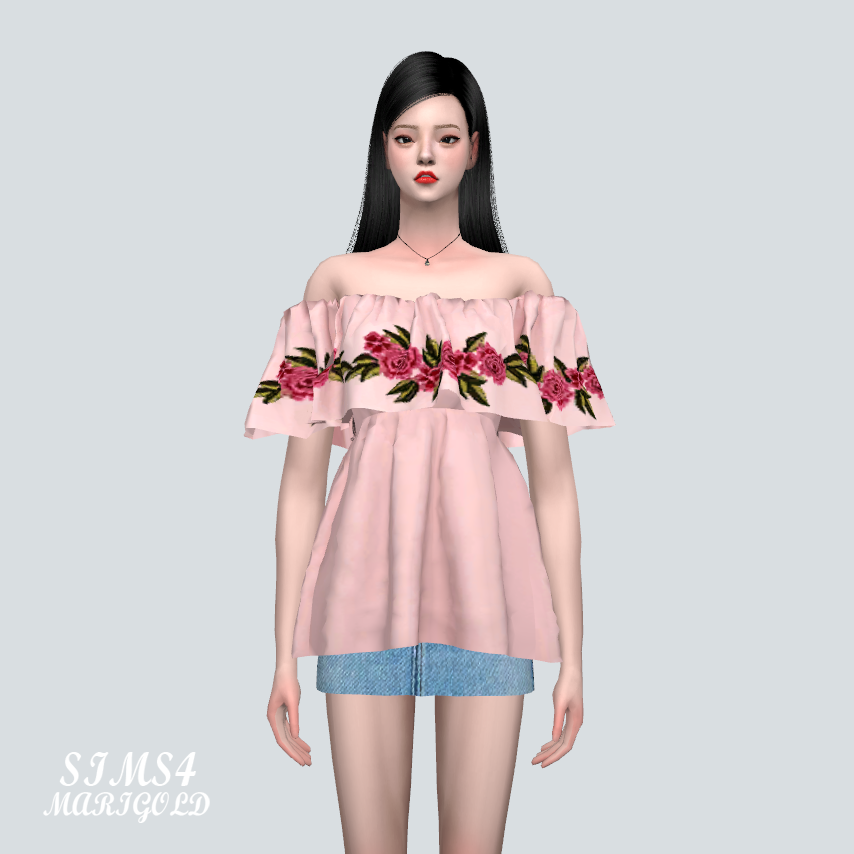 A loose, sweet-colored, off-shoulder blouse is what you need to keep the summer heat at bay.
And with Marigold's Summer Rose Top, your Sim will be fashionable while still staying cool (literally) for summer! Wear this loose or tucked-in, and you'll be a vision.
8. Melli (Frilly off Shoulder Top) By Simply Simming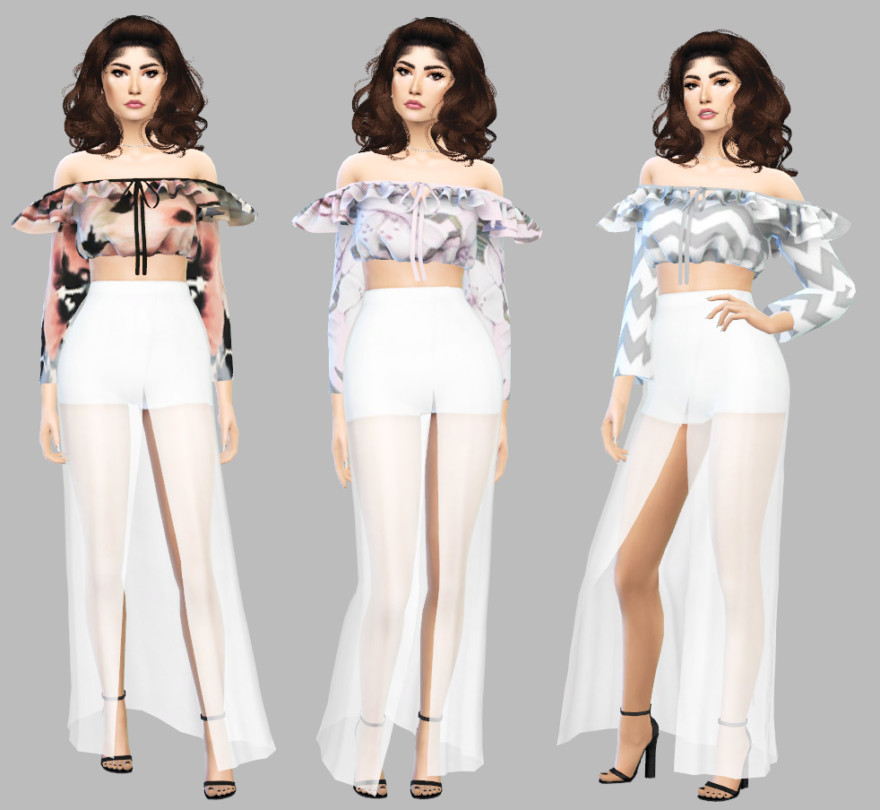 For the 8th spot, don't you think we should level up our game?
So I introduce… Simply Simming's Melli top, with all its fabulous frills! It's a long-sleeved tube top, which has 30 colors and 12 pretty patterns. You can pair this with any bottoms and still turn heads wherever you may go.
7. Lace-up Knit Off-shoulder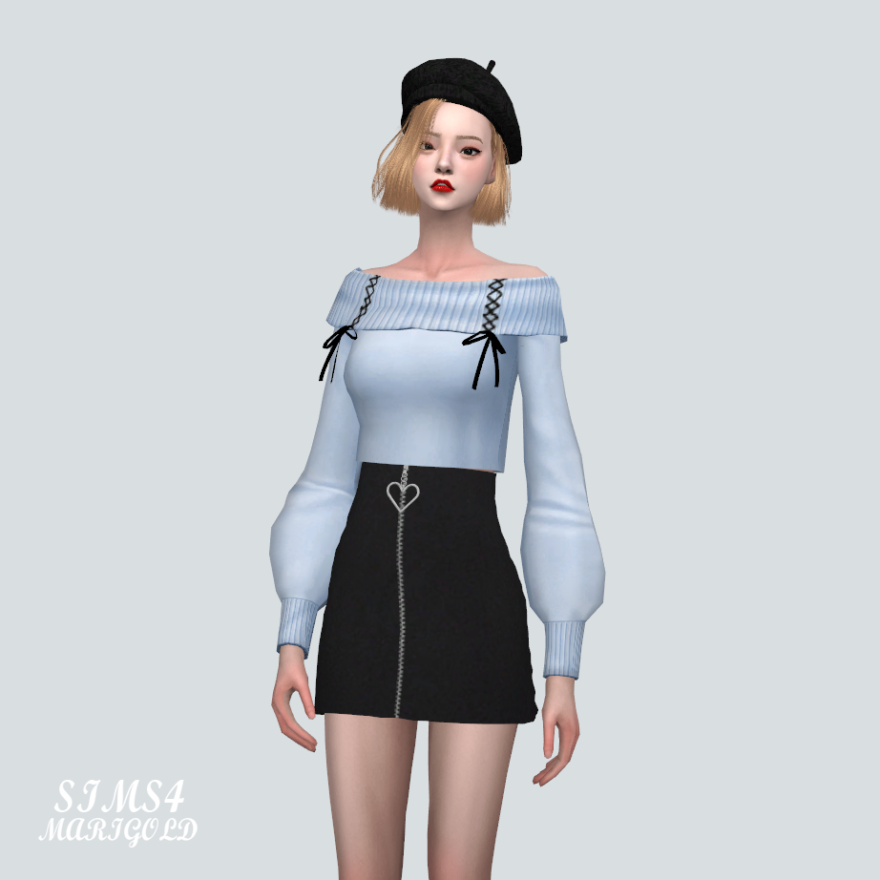 This Lace-Up Knit Off-Shoulder top by Marigold proves that the off-shoulder trend is for all seasons, even winter!
This will keep you toasty and stylish for all your holiday parties, for sure.
6. Off-the-Shoulder Crop Top by Chloemmm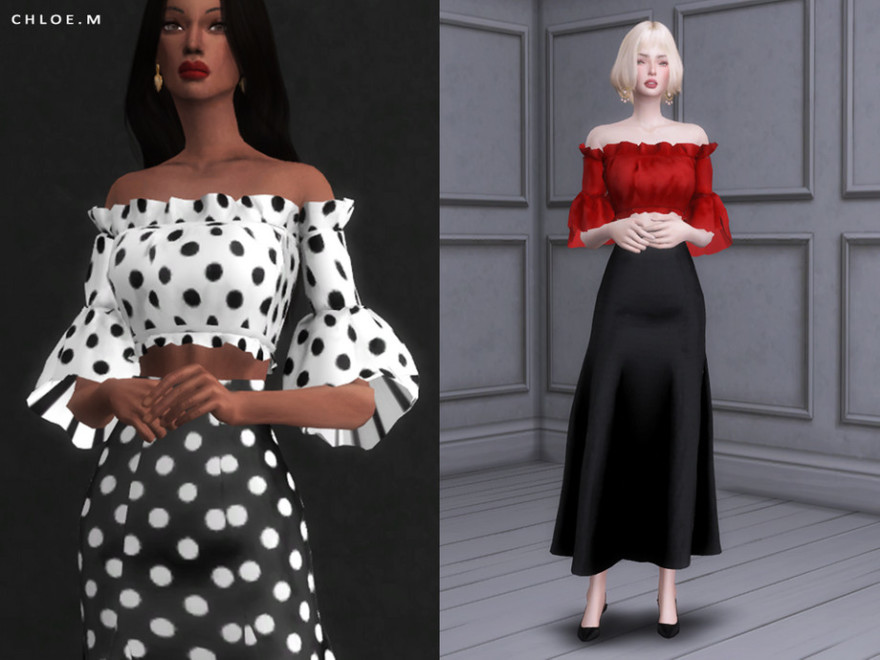 CEO-worthy off-shoulder tops? You get that with this pretty CC by ChloeMMM. When you're the boss, no one will dare say that you can't wear an off-shoulder top to work.
Wear this with a long and expensive-looking A-line skirt, and you'll look the part of a successful career Sim!
5. Off the Shoulder Shirt by Slyd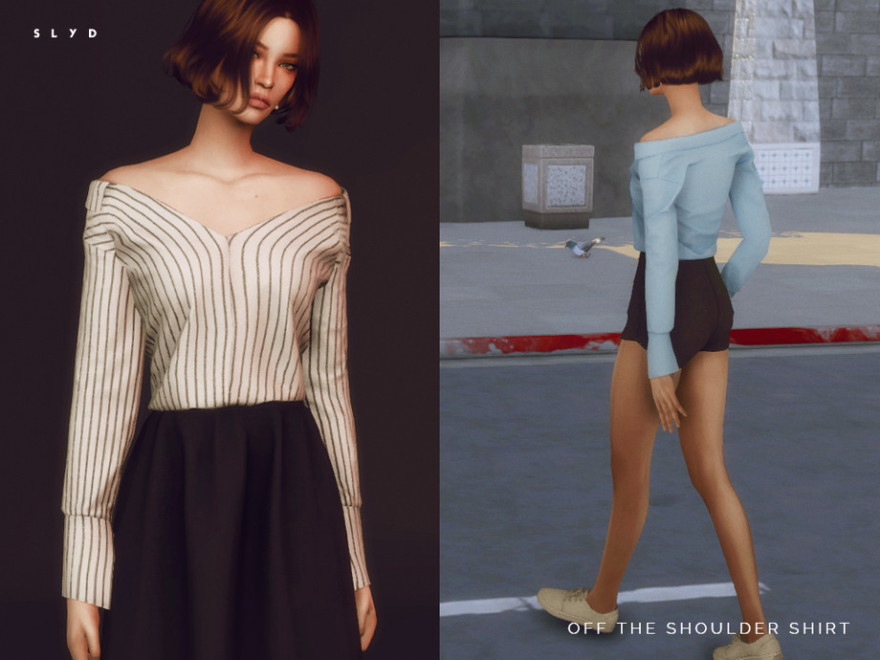 A sexy, laid back shirt lands on this list. This is something one of those Korean lead actresses in TV dramas wears.
This looks so stylish and yet so comfy, and you can wear it anywhere.
4. Slinky Ruched Long Sleeve Crop Top by Bill Sims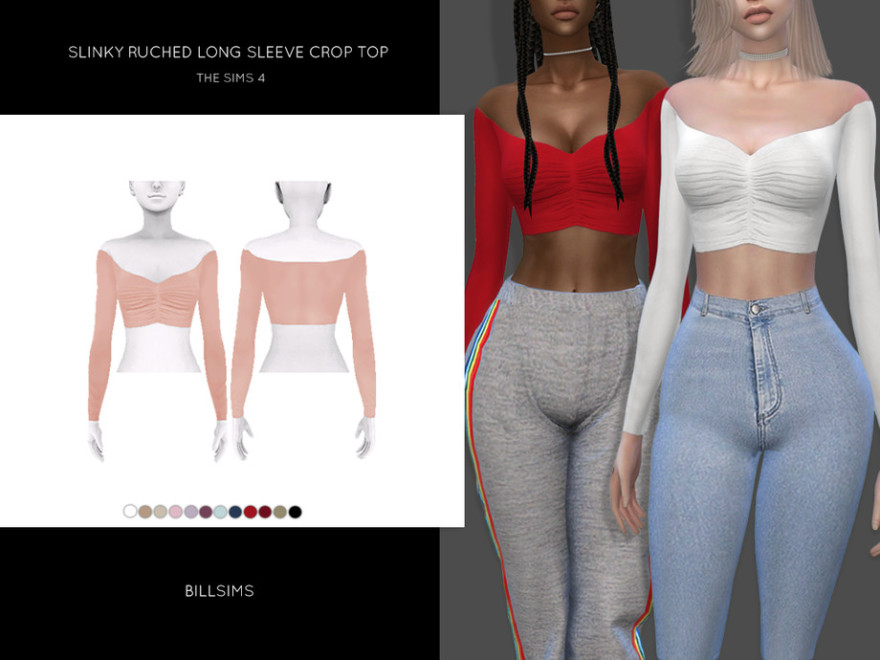 This off-shoulder top is for the Sim who wants to take sexy all the way.
The very low V-neckline is sure to grab the attention of the finest hotties in any neighborhood. Plus, the long sleeves make your Sim's arms look slender.
For a successful lunch or dinner date, this is one of the best tops you can ever wear!
3. Bohemia Top by Chloemmm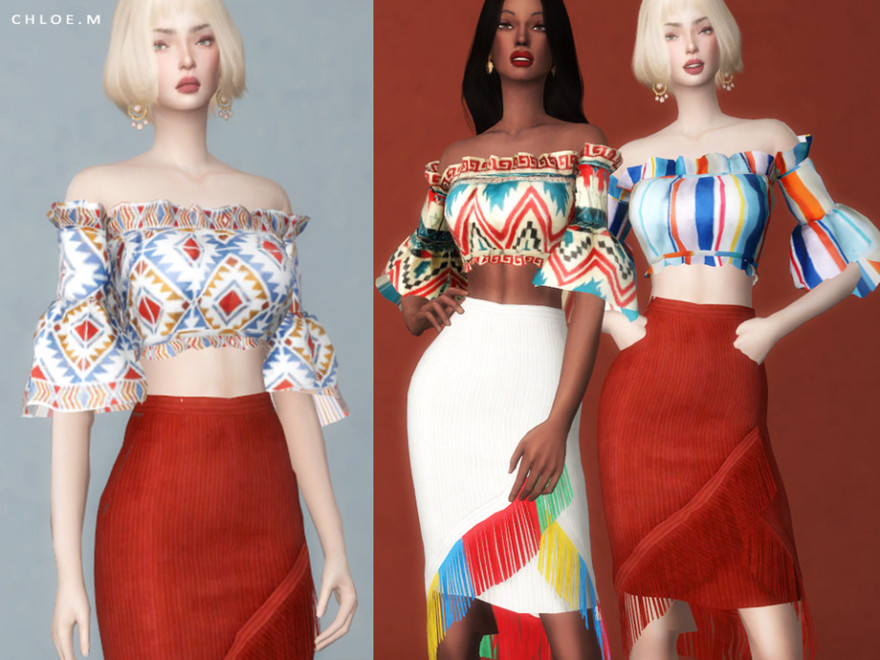 You'll get so many great one-of-a-kind prints from this Bohemia Top CC pack by ChloeMMM, so you should definitely download this!
Don't forget to pack this in your suitcase when you go on a vacation in Sulani. Which one? Why, all of them—wear one with a skirt on Monday, another with flowy loose pants in Tuesday, and so forth.
2. Flossy Top by CHRISTOPHER067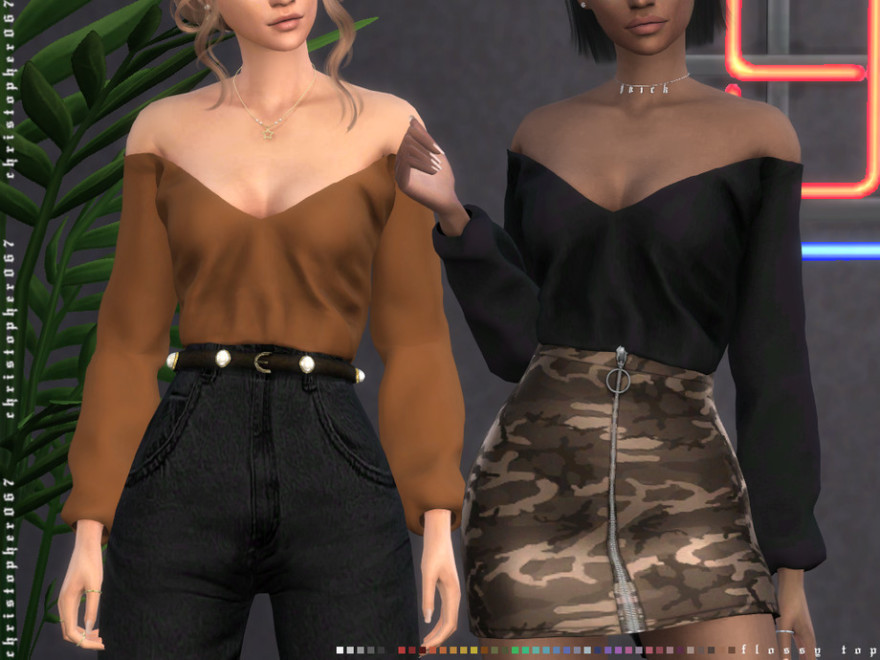 G-L-A-M-O-R-OUS.
You'd give Fergie a run for her money with this bougie top by Christopher067. Its silky fabric makes the top look expensive and realistic, plus the long neckline just oozes glamour.
This could even be great for formal parties, just wear a matching long silk or velvet skirt. And throw in 'em big sparkling jewelry—just w-o-w.
1. Spring Lovely off Shoulder Crop Blouse by Marigold
Springtime is the time for fashion designers to roll out their new collections.
And this Spring Lovely Off Shoulder Crop Blouse by Marigold looks exactly like a piece out of couture catalogs!
This top gives you frills and ribbons and ruffles. And what's more, it has long puffy sleeves that add such a soft but unique vibe to your overall outfit.
This is one of the few tops that literally go with anything. But if you asked me, pair this with a long, white lace skirt with a thin beige coat. Pretty, right?
Final Thoughts
So that's it for the 15 prettiest off-shoulder tops available for free download for Sims 4. Did you get excited about all the fantastic options?
Well, what are you waiting for—head on to the links and download them at once! You surely won't regret it.
You might also be interested in: