We love watching anime because they can make us feel a plethora of emotions.
There are shows to watch when you need to cry it out, while other series exist to excite you with fight scenes and romantic scenes that will make your heart pound.
However, if you just want to feel good vibes and start your day with a smile, these happy anime girls can help you feel so good.
Best Happy Anime Girls
15. Mikuru Asahina (The Melancholy of Haruhi Suzumiya)
I know, I know… the title of this anime doesn't sound too happy, but it's actually a fun show that features Mikuru, a time-traveler from the future.
Her bright personality and optimism are contagious, even though she's keeping a lot of classified secrets and information.
In fact, it adds a lot of fun when she's trying to evade questions about what she knows of the future!
14. Mio Naganohara (Nichijou)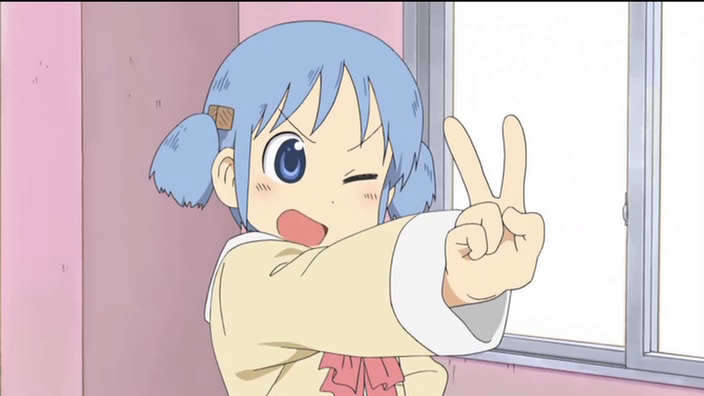 This cheerful young girl is very easy to love and adore because of her cute appearance and bubbly personality.
She harbors a crush and often draws very graphic images of ecchiyaoi featuring the guy she likes.
She is an excellent student but a highly temperamental girl who always throws tantrums when she doesn't get her way.
Instead of feeling annoyed, though, you would surely find her childish antics lovable.
13. Ginshu (Children of the Whales)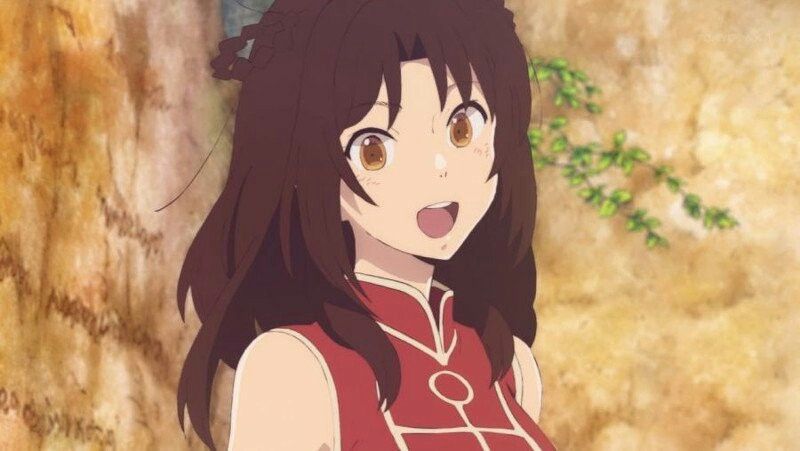 You won't get to see much of Ginshu in the Whales story's Children since she's just a supporting character. But despite her minimal appearances, Ginshu leaves a mark on viewers because of her fun personality.
She's one of the Vigilante's at Mud Whale, who takes it upon themselves to protect the village from outside attacks.
The only downside to her character is that she wasn't given much attention so much so that the mangaka does not really flesh her out.
But she has so much potential to be so much more than a girl who makes a lot of jokes, so hopefully, we get to know more about her in the future.
12. Tomo Takino (Azumanga Daioh)

No one can deny that Tomo Takino has what it takes to be called a happy anime girl because she's pretty optimistic.
But some people actually think she's too optimistic that it becomes pretty annoying and comes off as obnoxious.
However, we can't deny that Tomo's loud personality fits really well with the rest of the quirky girls from the unnamed girl's high school.
11. Hajime Shinoda (New Game!)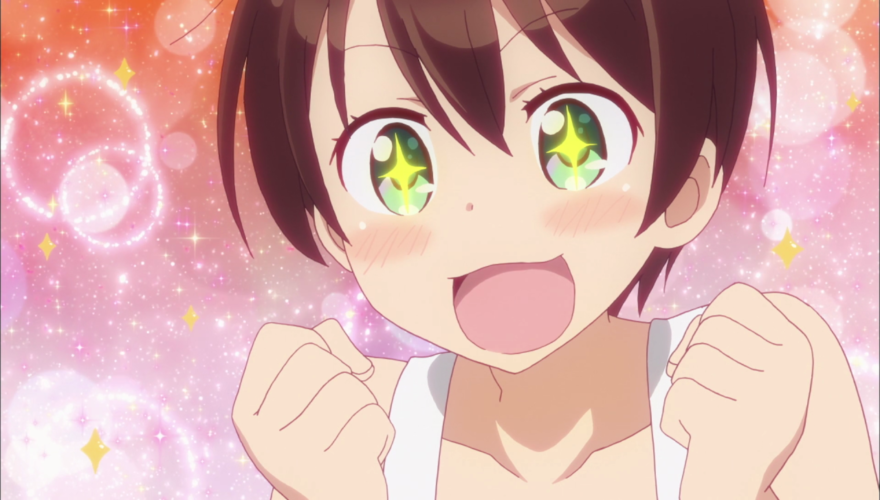 Hajime Shinoda isn't as much of an optimistic chick just like the rest of the girls on this list, But she certainly fits the bill with her over-the-top energy that is incomparable to the rest of her workmates in Eagle Jump.
Hajime's coolest thing is probably the fact that she's an otaku just like you and me (I mean, why else would you read this article, am I right?).
And she's unafraid to show it! In fact, she even has this weird spending habit of buying every merch that she could get her hands on. Doesn't she sound familiar to you guys?
10. Mei Hatsume (My Hero Academia)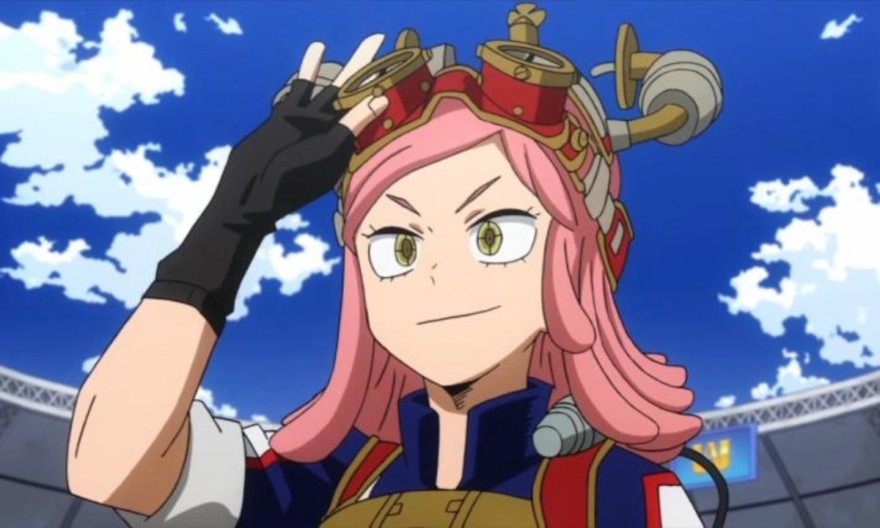 Mei Hatsume is the mad scientist type of My Hero Academia. She's smart, pretty much intimidating, but most of all, she loves the fact that her gadgets, aka her super cute babies, could do well and support even the best heroes.
Mei's optimism, regardless of the situation, is pretty contagious and somewhat scary, which makes her a good teammate and a pretty frightening opponent (although with Deku, she seems to have both effects on him at any point in time).
9. Kirino Chiba (Bamboo Blade)

Happy girls are usually the heart of a group because of their positive outlook in life. And the same holds true for Kirino Chiba, who is the captain of the Kendo Club.
Apart from her outgoing personality and awesome kendo skills, Kirino is also one of her class's top students.
But just to let you know, Kirino isn't the only fun people you should look out for in Bamboo Blade! You should just start watching the show (if you haven't done it yet) for you to find out.
8. Popura Taneshima (Working!!!)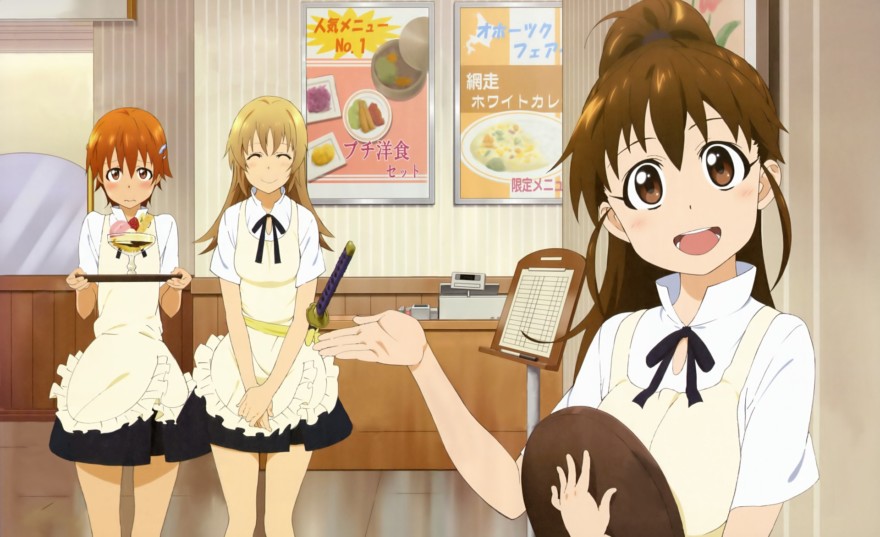 Popura Taneshima is usually bubbly. She's friendly, fun, and pretty cute, too! However, there is one thing that makes her tick, though.
That's the fact that she's a very petite girl! She's so small that despite the fact that she's a 17-year-old high school student, most people (customers and workers alike) tend to regard her as a middle schooler!
This irritates her so much that she does everything in her power to grow a little bit taller.
Fortunately enough for her, she actually gets what she desires by the end of the series, although it's not really as much as you would think.
7. Naru Kotoishi (Barakamon)

Happy anime girls don't need to be teens or those with more expressive bodies. They can be cute and cuddly toddlers, just like NaruKotoishi from Barakamon. She usually causes trouble for her grandfather and Handa.
Naru is the leader of the group of grade-schoolers that were on a mission to pester Handa and keep him happy at the same time.
The anime itself is pretty much a slice of life with reality depicted in a pretty normal way. So it's no wonder Naru creeps her way into our hearts with her childish grin and innocence.
6. Anne "Hanako" Hanakoizumi (Anne Happy)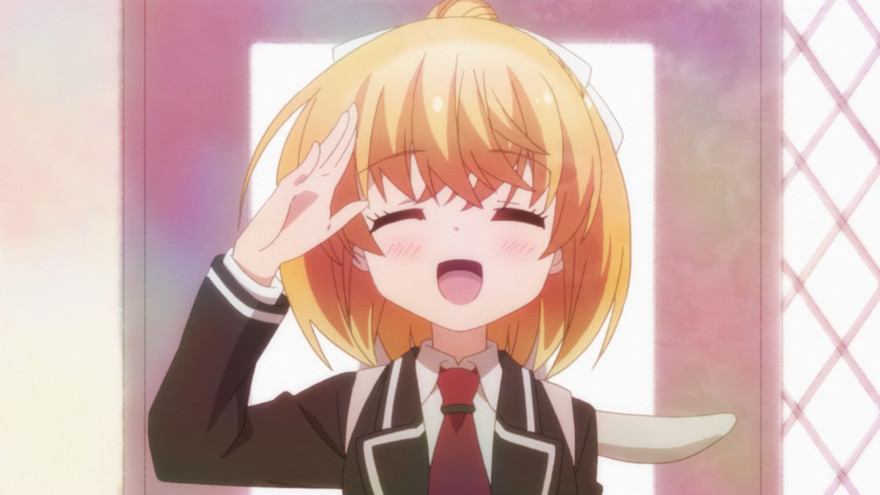 Yup, even the title of this anime can bring you instant good vibes. Her big eyes are always smiling, and she manages to stay happy and optimistic despite her terrible luck.
For instance, she remains sweet and affectionate towards animals of all kinds, although she almost always gets attacked by them.
If you feel like you can't be happy when things don't go your way, all you need is a dose of Anne Happy to be on your merry way.
5. Neptune (Hyperdimension Neptunia)

There are four goddesses in HyperdimensionNeptunia, but Neptune is the most carefree and careless one. She is just like a toddler, playful, and uncaring of people's personal spaces.
She normally tackles, tickles, and hugs her friends despite their many protests, which makes her such a wonder of being around. There's just no way you can ever feel sad with silly Neptune around.
4. Hana Fountainstand (Hanayamata)

This energetic schoolgirl is obsessed with dancing, so much so that she sometimes puts herself in danger while dancing in unsafe places.
Even though she sometimes annoys her peers with her over-the-top attitude, she never fails to make her friends feel loved and cared for all because she's ever-ready to help them at a moment's notice.
Hana is a true friend who will never fail to make you smile.
3. Kongou (Kantai Collection)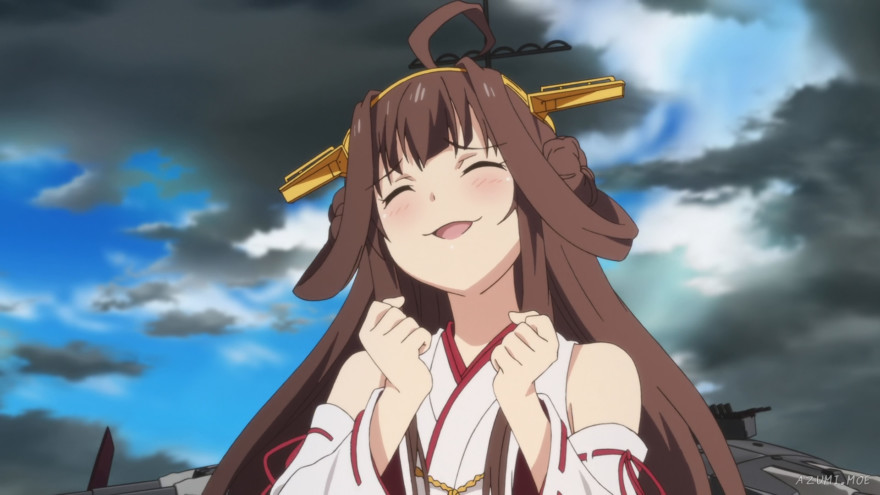 If you've never met a battlecruiser who loves to do good and spread the love even when she's firing at enemies, well, there's always a first time for everything.
Kongou's battlecry is quite literally, "Burning love!" Hopefully, that's enough to convince you that Kongou brings nothing but good vibes. Sure, a little destruction too, but mostly good vibes.
2. Umaru and Taihei (Himouto Umaru-chan)

Umaru Doma is the quintessential high school girl who excels in all she does, especially at school. However, the moment she steps inside their home, she transforms completely. No, she doesn't become a werewolf or a vampire — just a good, old-fashioned slob.
When she dons her hamster hoodie/onesie at home, she loses all semblance of being an academic achiever and turns into a lazy, junk food-gobbling weeb who leaves all house chores to her responsible older brother, Taihei.
The siblings frequently fight, but they both love the other to death.
Watching them try to survive each day without biting off each other's heads translates into endless hours of fun and happiness. You'd surely relate on so many levels if you grew up with brothers and sisters at home.
1. Yui Hirasawa (K-on)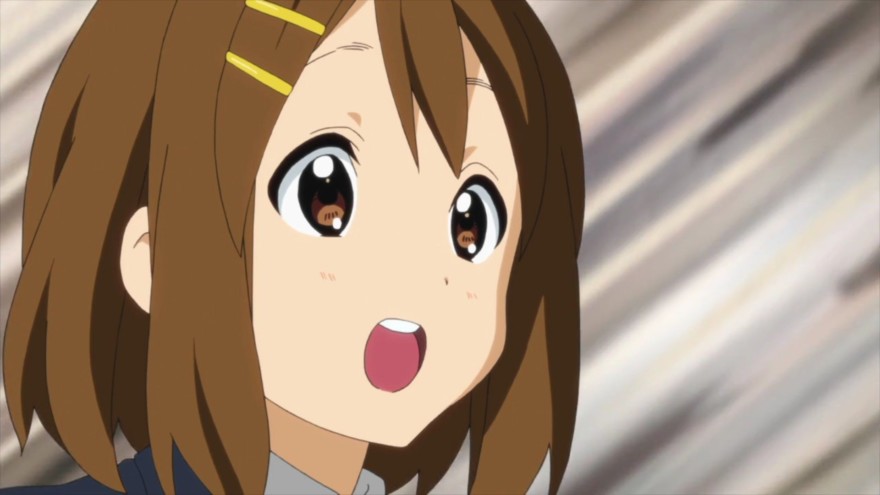 Of course, the only person that deserves to be on the top spot of the best happy anime girls is Yui Hirasawa, the main character of K-On.
She's bubbly, energetic, and gets everyone hooked with her smile! Her happy-go-lucky personality almost always gets her into trouble (just like how she joined the Light Music Club without any prior experience with any musical instrument whatsoever).
But it's this optimism that allows her to be a shining beacon of hope to her clubmates and even to us, the audience.
I just can't help but smile every time this girl does something out of the ordinary but in a cute and fun way. And I believe that's the best part about a happy anime girl.
Final Thoughts
Animators usually add happy anime girls to give a breath of fresh air to an otherwise dull story. They can make a difference and sometimes push the story to greater heights.
They can also inspire not just the characters but the viewers to be more optimistic in life, even while facing the hardest situations.
You might also be interested in: