After spending hours going over different clothing and body CCs, you must not forget one of the most important parts of a Sim, the face.
Of course, along the face comes tattoos, piercings, different eyes, lips, makeup, and all that jazz, but here we'll focus on the eyeliner. There is nearly just as much choice for this alone as there is with the rest of the Sim.
Covering Simple highlights to looks to build your whole Sim off, here are the top 10 best eyeliner custom content.
Best Sims 4 Eyeliner CC
10. Female Child Eyeliner Set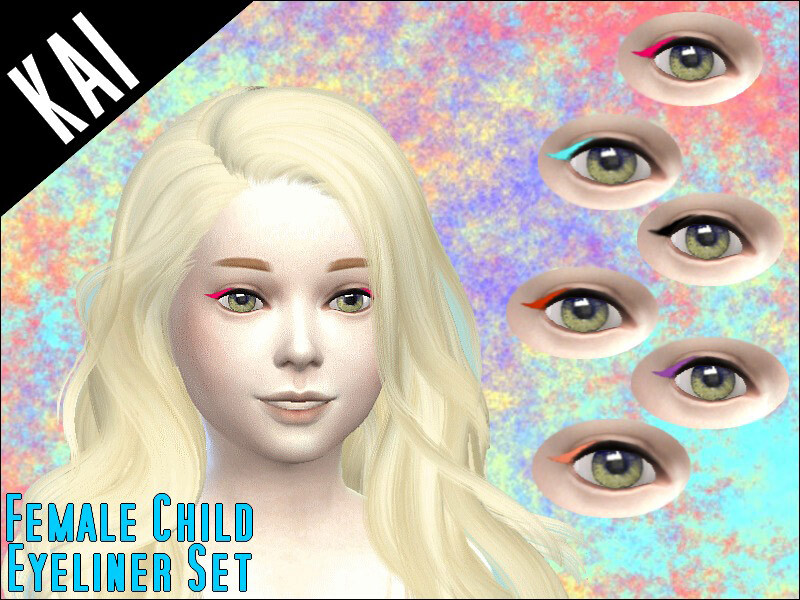 A small but noticeable eyeliner adding a little bit of flair to the ends of the eyes, Female Child Eyeliner Set gives a bit more expression when it comes to child Sims. It comes in 6 different colors, with black being the popular one for starters.
Other colors like blue, pink, green, and more are great choices for those looking to explore a bit more of their personality. Whatever you choose, this eyeliner CC is the perfect starter kit for anyone.
9. Gpme M Liner CC1

GPME M Liner CC1 is Simple in its appearance, but with the right eyes, the softness provided from this eyeliner draws attention without being invasive. You may not have realized, but it is a very Simple eyeliner for males to add just a bit more emphasis on their eyes.
So if you haven't used eyeliner in real life, perhaps this is the right opportunity to channel your inner self and get your fleek on.
8. The Perfect Night – Drag Queen Eyeliner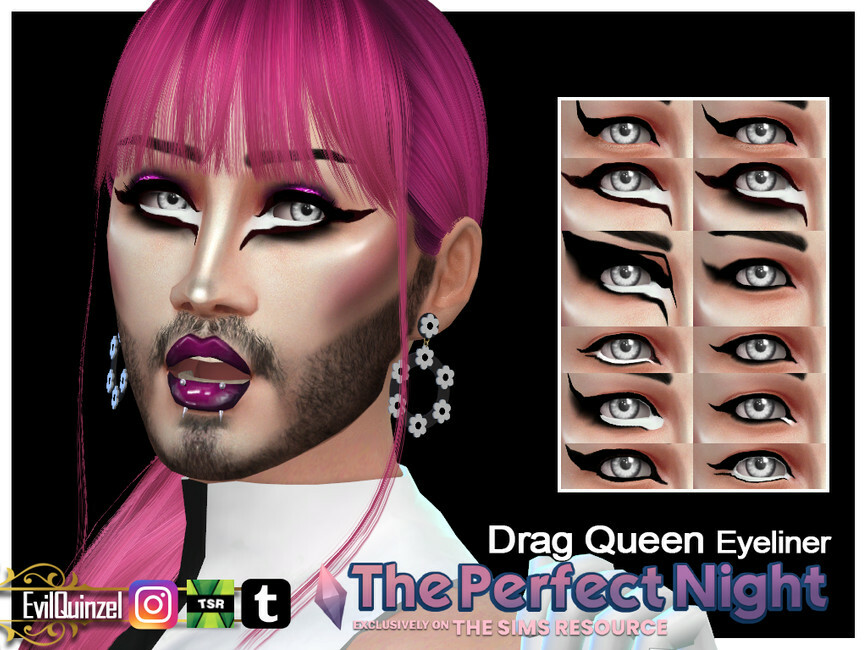 Now for something completely different and scandalous, The Perfect Night – Drag Queen Eyeliner. Instead of the soft not so interesting sort of eyeliner most male Sims get, this is perfect for a drag queen.
It has the more classic large, very sharp, and striking eyeliner along with more Simple and subdued looks. You can express yourself and your Sim's personality using this set of eyeliners.
And if you enjoyed the look on your male Sims, you're not limited to just them. The CC works on both male and female Sims allowing them to use 12 different versions.
7. Volume Express Mascara

If you like the look of more regular eyeliners but maybe wanted a bit more puff, then normal Volume Express Mascara agrees. Not really having any fancy shapes or designs, volume express mascara instead goes with a lash for days.
Having a very thick eyelash does make it a bit harder to match with a Sim, but it pushes you to get a louder outfit to match. This is for those who are bold and fearless.
6. Evan Eyeliner N85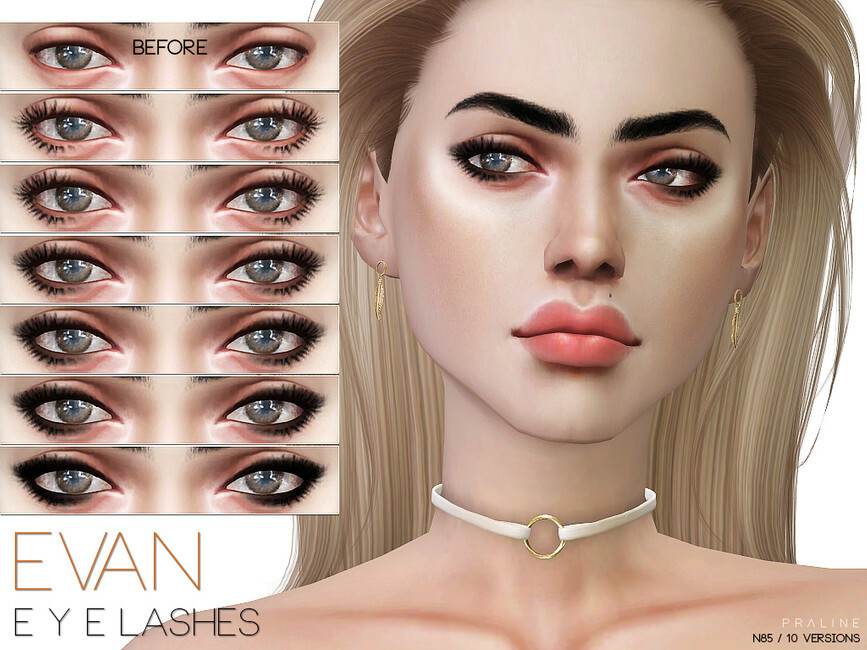 Evan Eyeliner N85 offers a very classic look with 7 different variations. Although these variations revolve around the thickness of the eyeliner, the style itself is right in between the barely noticeable and sharper designs.
From a slight puff up of the eyelashes to a nice thick amount that highlights the eyes, this is a complete package. You're definitely spoiled for choice with which Sims you can use it on, from really confident to just wanting to look a little prettier than usual.
5. Fairy Eyeliner

Providing an interesting pattern in white, Fairy Eyeliner would go well on a darker Sim. This eyeliner won't go on a Sim that looks fair or towards the pinkish side, but it'll look fabulous for those that are a bit darker.
It'll even work well for Sims, who prefer to wear heavy makeup, just enough to make the white on the eyeliner pop.
You can even mix this CC with fairy makeup CC and create a magical Sim that leaves people in awe of their beauty.
4. Subtle Mascara N24

Sort of like the GPME M Liner CC1, but for female Sims, Subtle Mascara N24 gives the "I want my eyes to stand out" look without actually doing much. It adds just a touch of one of the 10 different colors to the lower eyelash giving it a very soft and barely noticeable look.
The CC lets you add a bit of detail to a Sim that would normally avoid wearing makeup. This is a very subtle way to add just a little bit of makeup, however, it does wonders.
3. Neon Eyeliner N33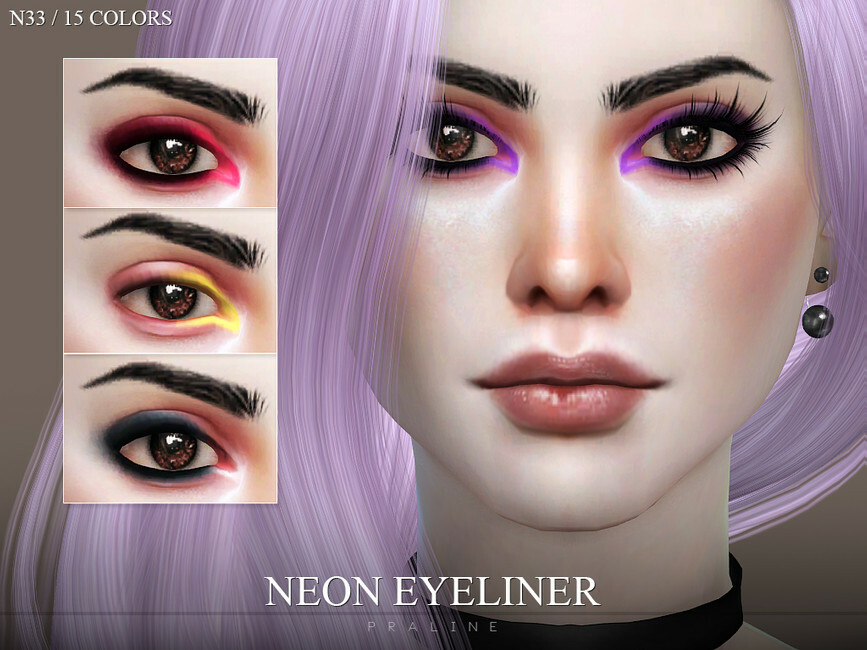 Neon Eyeliner N33 is for moments when you want a bit more color in your eyeliner with good variation. It comes in 5 different colors, purple, pink, yellow, black, and white.
Beyond that, there are versions with pronounced eyelashes and without it and also the vibrant color option with a smoky variation.
Knowing there are so many options to explore, you can go all out; have an elegant smoky version that goes well with a red dress for a dinner date or a Simple flick for a quick grocery shopping trip to town.
2. Katja Eyeliner

Want to give a Sim a more goth or emo look? Well, Katja Eyeliner does just that by having a sharp red design eyeliner protruding from the ends and bottom. It gives off a very striking appearance.
You may want to check some of the other works of MaruChanBe, but we ended up choosing this as it stood out a lot. The rest of her work follows a Similar look, but some being less bright in the colors, with most of the focus remaining on the female Sims.
1. Monarch Eyeliner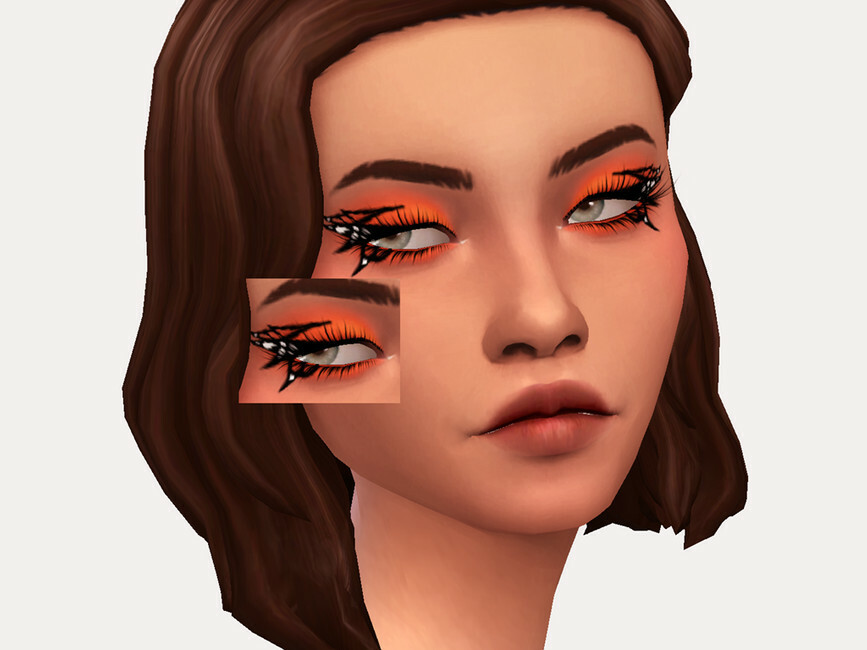 Now compared to the other eyeliners available, this stands out the most as it'll go well with an otherwordly Sim or one from a pretend royal family. As the name suggests, Monarch Eyeliner has a monarch butterfly for its design, being very bold and very visible.
For any flashy Sims or any more fantastical and magical Sims, this should fit right in with the rest of their aesthetic. Neatly fitting in with even non-specific themed outfits as the monarch butterfly's pattern just looks great.
You might also be interested in the following: