If you're bored with the vanilla setting of the game where it puts in the blended seeds possible, why not try getting one of your best adventures in the best seeds possible.
This guide will help you find the top 12 best Minecraft seeds and the best of the best seeds to kickstart your awesome adventure.
Best Minecraft Seeds
12. Zombie Village
Seed Code: 1956807938
Zombie Village is a seed that will have you spawn in a zombie village.
It's really satisfying to spawn next to a zombie village in the middle of nowhere. Now, if you're looking for some action, this seed will definitely be a fit for you.
Be careful, though, once you spawn here, you might not get out alive, so be sure that before you do a raid by yourself, you have good enough weapons and armor, and make sure they're enchanted. That being said, check out our enchantments list for swords for the best enchantments.
11. Floating Village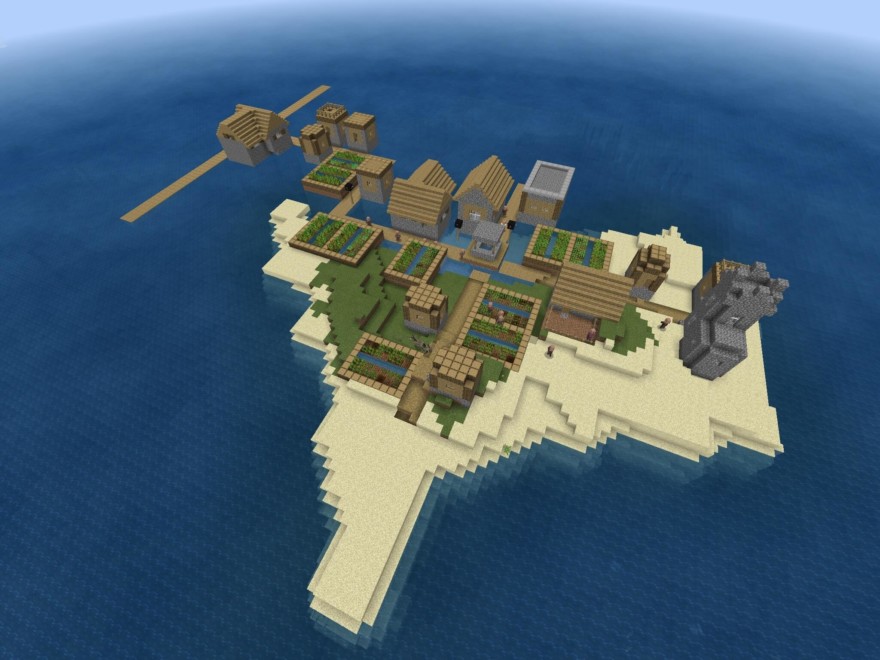 Seed Code: 237634118
This floating village seed was created by marabell and one of the most beautiful island villages I've ever seen.
Not only does this sea village give you the sense of the ocean beauty, but it also helps you with its scenic vibe, even if this island is in the middle of nowhere.
Think of it as living in Hawaii or any Pacific Island. This is perfect if you want to experience the watery life of Minecraft.
10. Cool Mansion and Shipwreck
Seed Code: -736121172
This unique mix of a modern house and a shipwreck ruin is a very good seed, and it's available for PS4 users.
One of the good things about this mansion is its vibe, especially if you have a luxurious shipwreck ruin as your house design.
Quite eccentric, if you ask me, but the mix works so well, and it's really fun to get this on your first spawn as your base of operations.
9. Panda Spotting
Seed Code: 57558375
This seed is the best way to relax and see the beauty of Minecraft's randomly generated nature.
But to spice it up, the pandaspotting seed is a good addition if you want more greeneries in life, this is happily provided to you.
You can spot pandas well and have fun with them. Just don't try to kill them or anything that will harm them. Coz you never know what might happen if you hurt fictional animals.
8. Minecraft Island
Seed Code: -573947210
This aesthetically pleasing seed will take you to the wonderful remote island where there's more than just the beauty it exudes, but there's a lot more to it.
In this island lies a buried treasure chest with so many riches inside you'll beat Jeff Bezos for being the richest man on Earth.
Anyway, this is available on Java and Mac edition, so getting to experience this amazing seed wouldn't be much of a farfetched dream.
7. Easy Mine Shafts Under Villages
Seed Code: 94454061
This ground-breakingseed is a combination of beautiful biomes and terrific riches underneath the villages.
A mineshaft that's long-abandoned will let you experience a once in a lifetime adventure by allowing you to get rich and, at the same time, explore its natural beauty.
This seed is divided into 5 sectors: the spawn point, an active and large mineshaft, a lively village, and a humongous mineshaft that tells the stories of its ruins by the looks of it.
Really fun seed, and recommended to check it out.
6. Mushroom Field
Seed Code: 64093444
This booming mushroom field is a beauty of its own. This mushroom field is home to a lot of mooshrooms and tons upon tons of mycelium.
The best thing this seed can offer is the addition of a really hefty and rich shipwreck that's been around for a couple of months now since its discovery.
I think this seed shines really well if you're up for some eccentric treasure hunting.
5. 2X Buried Treasure Map
Seed Code: 3125395
This treasure hunting seed will definitely get your gears up because of the element of treasure hunting added into it.
But the fun part isn't just because you're getting a lot of treasure from the shipwrecked ships that are here.
It's the added adventure of getting a series of treasure from the treasure maps you'll from those treasure ships you've already looted.
The good thing about this is it's a treasure-hunting series that I think a lot of people will love.
4. Island in Iceberg Valley
Seed Code: -1086590626
If you wanna experience the chilly winds of the North, this is your best bet. This seed will spawn you in the middle of what seems like an iceberg alley.
Although if you think about it, a lush island shouldn't really exist in a valley of ice due to thermodynamics and all of that law of heat energy balancing, it does.
And it's beautiful, I'm not really ranting or anything. You should really check it out because the island is amazing, especially if you make a castle or a treehouse out of it.
3. Ice Spikes and Polar Bears
Seed Code: 2223210
This is for the bros and gals that were disappointed by the ending of the season finale of Game of Thrones. This seed will take you to the set of the best ice biomes so far.
This exquisite seed will allow you to experience the cold winter of the North by taking your adventure further into it and letting you interact with various northern creatures like polar bears and wolves.
A really fun game seed, and you're not losing much because of its scenic appeal.
2. The Empty Island
Seed Code:3366408241916580461
One of the best I've seen so far, this island is empty and really needs a lot of engineering and architectural work, but does it really need one? I think not.
This island, though empty, shares its uniqueness and eccentricity for simply being empty while being full. What that means is up to you.
Meditating on that island gave me some sort of power to make vague statements.
1. Underwater Temple
Seed Code:-5181140359215069925
This underwater temple is undiscovered beauty that is drenched in the sea's natural beauty, and it's up for us to see what's inside this buried treasure under the ocean.
The underwater temple is the perfect example of the beauty that you have to dive through to see.
And for what it's worth, it's really amazing and scenic.
The Subnautica vibes are strong, and speaking of Subnautica, you'd really want to check our mod listing for Subnautica, which will further improve your overall gameplay experience.
Final Thoughts
I'm really more of a mods guy than a seed guy, but oftentimes, I try to get into the vanilla version to enjoy what the game has to offer and its purpose to not be sullied by my adventurous soul.
I hope this list makes it easy for you to choose the best seeds that will make your adventure a bit fun that it already is. Check out our other listicles for more.
You might also be interested in: