I think we can all agree that while the Vanilla version is already good enough, there are some ways that we can pump up the numbers, especially with the number of mods out there.
And when it comes to making your game atmospheric, it's important to note that making your game more immersive and realistic can really make your gameplay experience worth your while.
What you're gonna be looking for in this is the Best Minecraft Shaders. They're not arranged in any specific order, but we've numbered them up to make ease of access.
Best Minecraft Shaders
20. Complementary Shaders

Looking for a great shader that doesn't take up a lot of storage space?
The Complementary Shaders pack is a great choice! This shader pack completely transforms your Minecraft world into a dreamy landscape in every biome.
With this shader, the lighting is diffused throughout the in-game day, foliage is more realistic and textured, and lighting effects have been improved for various blocks, textures, and objects.
Complementary Shaders is compatible with Minecraft versions up to 1.19.2 works fast and smoothly for a flawless experience.
19. Lagless Shaders

This is another great option for players who need something to improve their frame rate or who have a low-end computer with high-end shaders installed.
Lagless Shaders helps to boost the performance of other shaders that may be causing your computer and game to slow down.
You also won't have to switch between which shaders you're using, so your game will always benefit from this shader.
Lagless Shaders is available for Minecraft versions up to 1.19 and is a must-have to ensure smooth gameplay.
18. Naelego'Scel Shaders

Among all of the Minecraft fans in the world, there is bound to be a handful that also love comic books or the style of them. So, this shader is for you!
Naelego'sCel Shaders takes the world of Minecraft and transforms it into a cel-shaded comic book style. This shader features thick black lining and flatter coloring, similar to that of old-style comics.
Naelego'sCel Shaders are compatible with Minecraft versions to up 1.19 and don't cost your game anything in terms of speed and efficiency.
17. Stracciatella Shader

Looking for more control in how your Minecraft world looks but don't want the shader to do all of the work for you?
Stracciatella Shader offers the control settings you want with customizable LUTs. With this shader, you can control the fog, the sun and moon, and the sky.
You can change how the fog appears and for how long, change the angle of both the sun and moon, for example.
You can also control how much light there is and the thickness of rain puddles. Stracciatella Shader simply offers controls in vanilla Minecraft and is a nice subtle shader to have.
16. Vanilla Plus

This incredibly good shader will turn your regular vanilla into a vanilla deluxe edition masterpiece.
There's a lot of major changes when it comes to the lighting effects and the shadow details when faced with a light source, which is pretty evident in the shaders.
You'll want to compare that vanilla version to this plus version, and the former will be completely obliterated.
The raining atmosphere and the water texture and animation are what's this shader excel best in contrast with the vanilla version.
15. Nostalgia

This shader is all about bringing the nostalgic weather into the game. What it does is pretty similar to what a hazy memory does, it's a bit foggy when looking at a far distance.
It works very well with an RTX GPU, but you really don't want to spend so many dollars just to experience the goodness of this mod.
The interior lighting in this shader is quite something since it's one of the most realistic versions of it that I've ever seen.
It's really good, but the foggy light can be a bit of an annoyance, but that's just my personal opinion.
The rain and the water textures of these shaders are the cherries on top. Definitely worth checking out.
14. Oceano

Oceano is a shader that retains the elements of the game's alpha vibe.
It's not really one of the best picks for me, especially for the interior and the rain part because of its brightness.
However, where it shines best is during the night, as well as its water textures.
When this mod is installed, and you wait until the night, you'll really get a good grasp of its beauty because of the contrast in details of the blocks and the lighting, which makes it feel like you're playing Assassin's Creed IV: Black Flag.
13. Project Luma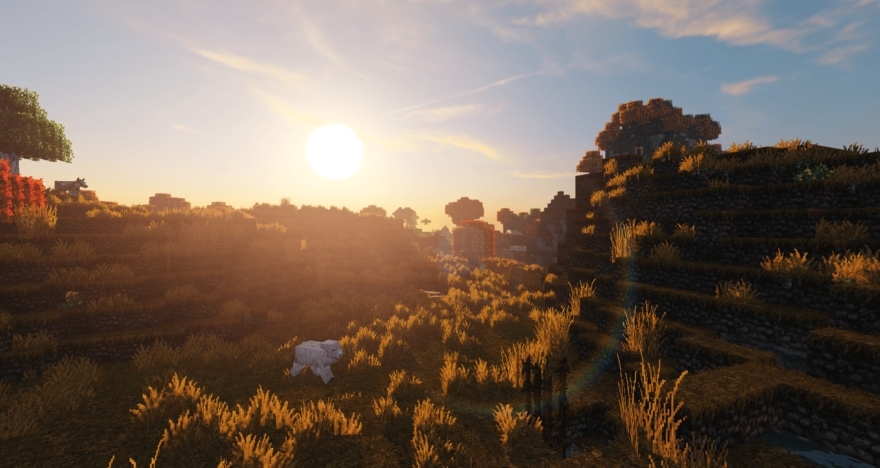 This project is one of those you'll really enjoy a shader content. Project LUMA turns your vanilla Minecraft into something that's both aesthetically pleasing to look at and, at the same time, quite realistic in a lot of aspects.
LUMA shines the most is its refined and master-crafted textures and the photorealistic details, which is really thorough throughout the showcase, especially during the day and at night.
I really love this shader because the water's color is almost realistic enough for a video game shader. It's really worth checking out.
12. Bsl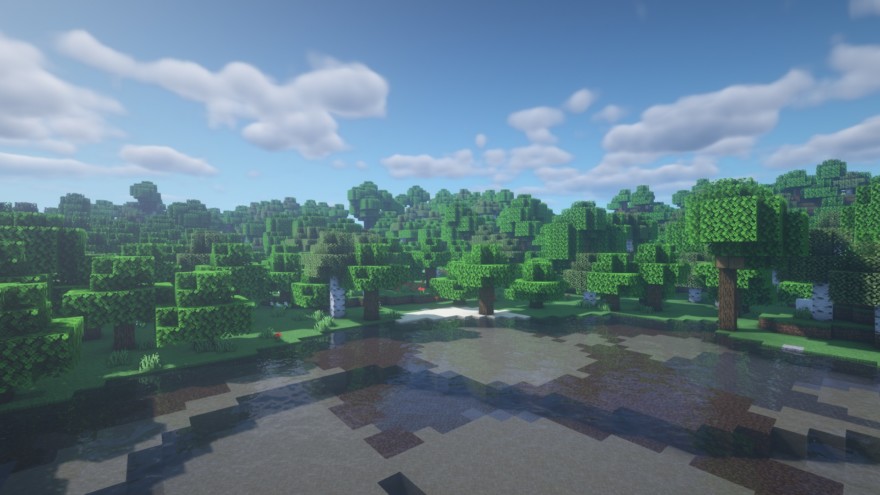 BSL is an incredibly good and photorealistic shaders pack for Minecraft that boasts an upgraded version of the Vanilla Plus when walking around.
This mod excels very well with its features at night. The contrast of light sources, the shadow detail, and the overall atmosphere during the night is what makes this shader worth installing.
I think one of the best features of this shader is its water coloration and clarity. I think it has one of the most realistic watercolors and transparency, especially when blended with dirt or other underwater materials.
11. Kuda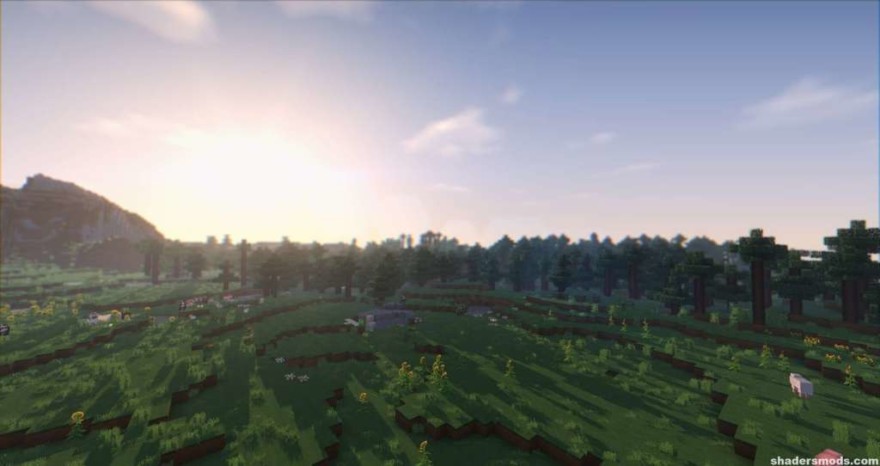 For the most part, I think Kuda is the best when it comes to retaining the post-alpha vibe while introducing elements of the pixels from Terraria.
During my playthrough with this shader, it's pretty obvious that it's a really good shader.
The good thing about this shader is the refinement of the colors. The colors sit very well, and the contrast they have with each other, like, for example, flowers to crops, is pretty significant and noticeable.
10. Seus Ptgi

The best that I could sum up PTGI is the number of atmospheric effects you'll experience from just walking around is what makes this shader really good.
One of the things PTGI boasts is the realistic take on the water textures and details.
I think one of the most amazing features of this shader isn't the water itself, but the contrast with light and shadow during the day, which is pretty noticeable once you start cranking up the knots for your PC.
9. RRE36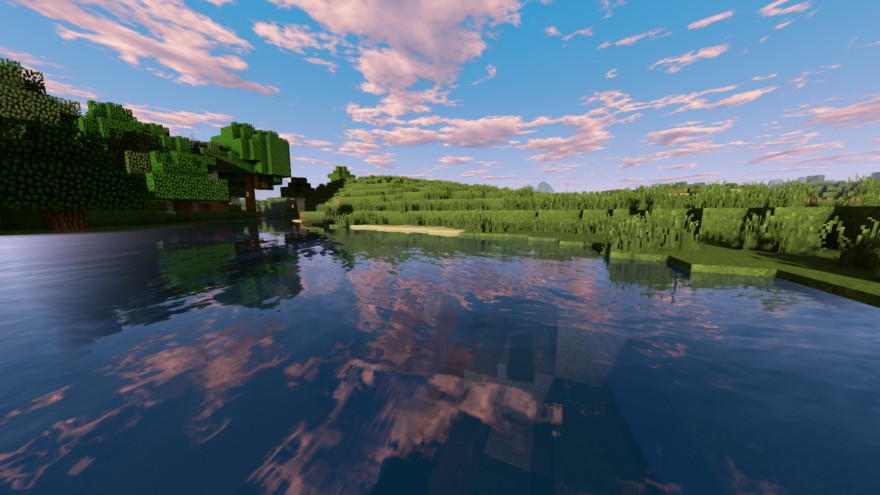 RRe36 is an artsy and well-crafted shader for Minecraft. The feeling I get from using this shader is that it gives off the same vibe as the Minecraft posters in a DVD or the digital copy itself.
It's like getting into the game design studio and playing with colors.
This shader is really fantastic because of the colors made on the colors to make it more vibrant while complimenting the realistic light and shadows.
8. Voyager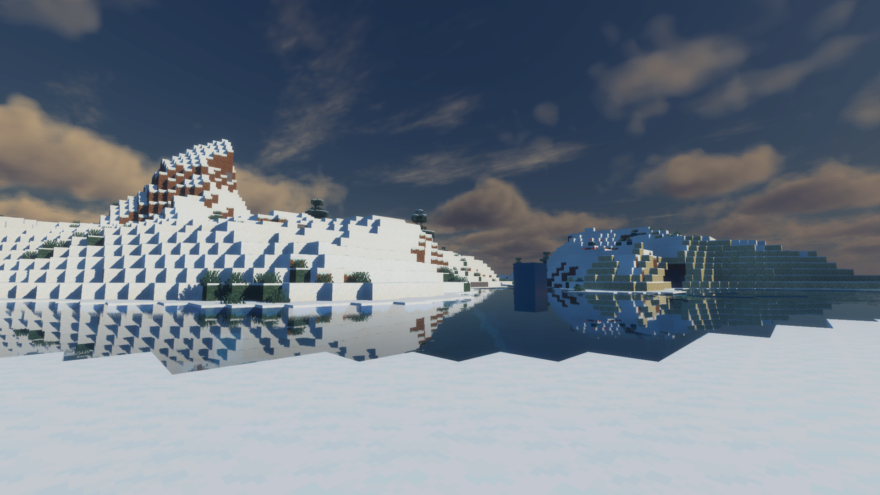 Voyager is one of those high-end shaders that you really wouldn't get much out of it if you're using a potato PC.
This shader is one of the top tiers, especially in terms of water details and textures.
The shadow underneath every block makes everything below it dark enough to cast realism on it.
I think it's very underrated how good its light scattering and shadow details are, but as far as I'm concerned, this won't end well if your specs are not on the high-end side.
7. Seus Renewed
I think this shader hits the right spot by mixing the realistic graphical detail with the video game-intended graphics.
One of the few things I've noticed from this shader is that the shadows are extremely well-detailed and blend incredibly well with the environment, especially with a bright light source.
It's criminally underrated how this mod is getting a little attention, trying this out won't really hurt you one bit. The water texture can be a bit murky, though.
6. Sonic Ether's Ultra Shaders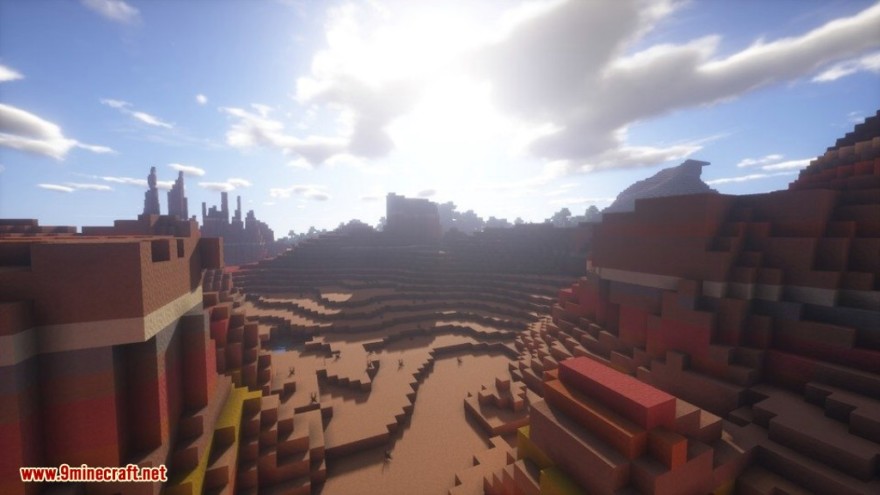 Use this shader only if you have a buffed up PC. This ultrarealistic shader is a complete overhaul of all of the base version's graphical details, and one that's completely noticeable is a large number of minor details.
Like for example, light sources here have various impacts, depending on the state of the environment and its weather.
Honestly, it's a really good shader, but I don't really recommend using it unless you want your PC to explode.
5. Crankerman's Tme Shaders
The major goal of this shader is to add several post-processing effects to the game to refine it into a really good AAA title.
There's a lot of noticeable upgrades in this shader, and one of the best additions is probably the shadow's response to objects.
The shadow in this shader even curves depending on an object's position from your field of vision, for example, a corner.
The light reflection and the refraction in the sunlight, both in the water and behind the clouds, is extremely well done.
Honestly, there's a lot of technical stuff added into it, just get it and see it for yourself.
4. Chocapic V8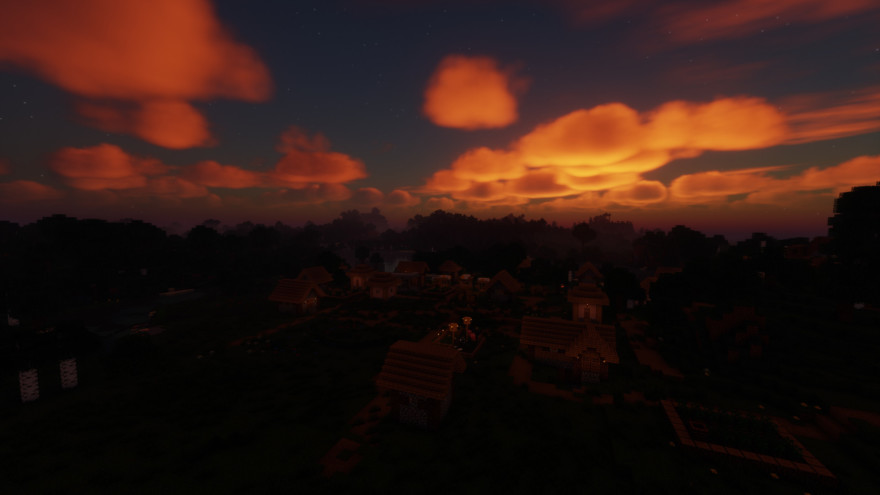 A lot of packs are based on this shader, Chocapic13's shaders are the godfather of shaders, as one might say.
This shader is a GOAT solely for being one of the foundations of most of the shaders mentioned here, and it's a really well-refined shader, especially when you're just exploring.
I've mentioned a lot of details from the previous ones in this list, and they're also available in these shaders.
3. Triloton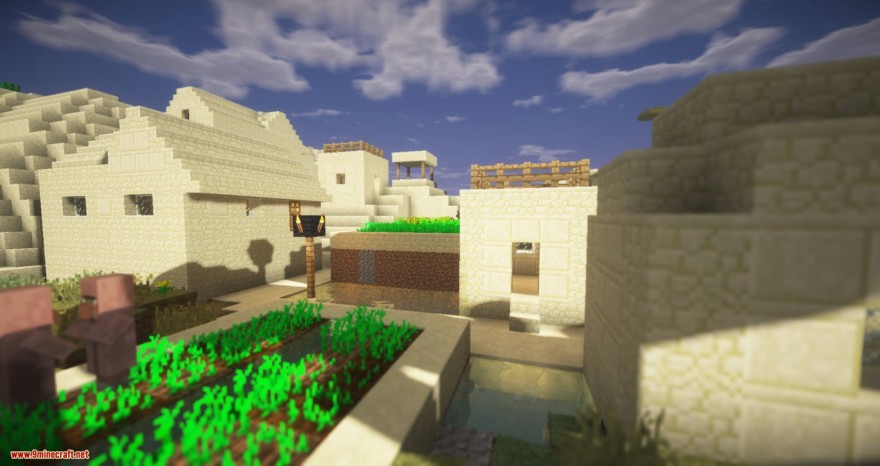 This pack is known for its great light and shadow contrasting effects. It's been getting a lot of updates. The pack itself changes a lot of vanilla features like the color of light and water.
There's also an overhaul on the colors on when and where they should be bright or dark.
It's a really good improvement since it makes the game more atmospheric and realistic to play with.
There's also a flare for the sun and moon, making a little bit brighter than the original version. The fog effect is noticeable when it's raining, so it's a good addition to it.
2. Continuum
This shader features global illumination or light scattering, which makes Continuum an undeniably perfect pair for high-resolution packs and textures, praised a lot amongst high-end Minecraft players.
The soft shadows in this shader are of the highest quality, and the skyboxes are breathtaking.
There are also 3D light shafts. Oh, did I mention that the clouds are also in 3D?
There's also a high-quality wave-particle light refraction and a lot of other features that you'll be missing out once you immerse yourself into it.
1. Sildurs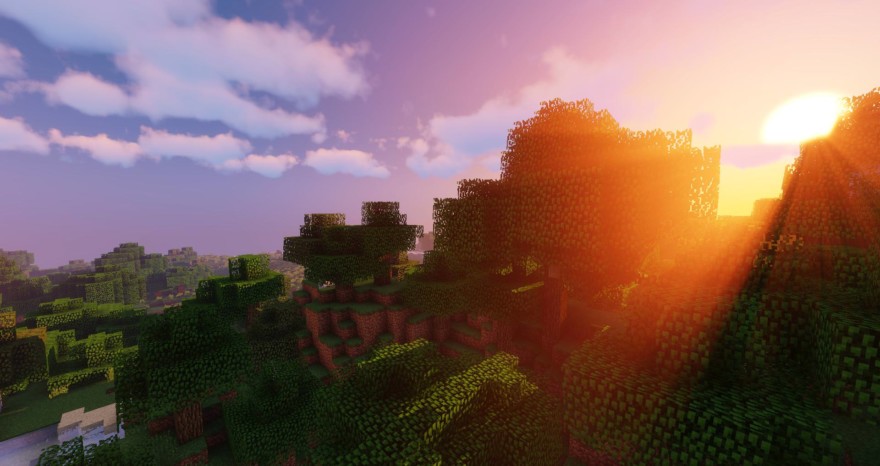 Sildurs is a shader that was once an extension of the shader of Optifine, and it's incredibly well-detailed for a standalone.
This shader adds a heavy dose of ambient occlusion, volumetric lighting, cell-shaded textures, and the underground in this game will become a lot better, all because of the augmented light torches emit.
It's very realistic, and you guys should try it out.
Final Thoughts
I'm a really big fan of shaders and mods. I'm currently using a laptop, an Acer Predator Helios 300, and to be honest, even for a really expensive laptop with a nice build and all, it still manages to exude a lot of heat, generating from these graphics-intensive shaders.
Remember to use Optifine, so it'll be easier for you to add these wonderful shaders. Be sure to check out our other listicles for more!
You might also be interested in: