We all know that there are seemingly endless hairstyle options for the ladies of The Sims, but what about for our more masculine friends?
Everyone needs a go-to look, but it's always great to have a couple of options to choose from when it's time to spice up the everyday appearance.
For all of your Sims 4 male hairstyle needs, here's a list of the top 15 best Sims 4 male hair ideas and hairstyles so the men in your game can look just as great as the women.
Best Sims 4 Male Hair Ideas and Hairstyles
18. Barbaroza Male Hair

Throwing your hair into a bun, whether you are female or male, is an easy way to keep the hair out of the way.
The Barbaroza male hair CC allows your male Sim to have long hair without necessarily looking like it.
There are two versions: one with wispy strands and one without. The hairline featured in the promo picture is actually a separate download, but the hair looks great regardless.
This hair CC comesin six colors, including ranges of orange and brown. The shine and strand count featured in this CC is outstanding, too.
You can also find this hairstyle in a female version!
17. Montrose Hairstyle

Hair diversity is important in video games, and this Montrose hairstyle CC is a perfect addition!
The Montrose's hair features nicely textured dreads that are swopped back, over the top of your Sim's head, with shoulder-length dreads on both sides.
The hairline is clean but realistic, which shows that the creator took their time making this CC.
This hair CC comes in 24 color swatches and is base game compatible, so no specific DLC packs are required. And this hairstyle is also hat compatible!
16. HAIR18 Quartz

While this hairstyle is available for all genders in Sims 4, it is a great option for male Sims. There are not a lot of long hair options in the base game, but Hair18 Quartz is a voluminous ponytail that looks stunning on male Sims.
With semi-long bangs parted in the middle, the front of the hair frames the face beautifully. The ponytail reaches to between the Sim's shoulder blades with a tie that matches the hair color.
This hair CC comes in the 24 colors featured in the base game, as well as being base game compatible. This hairstyle is also hat compatible.
15. Playdate Hair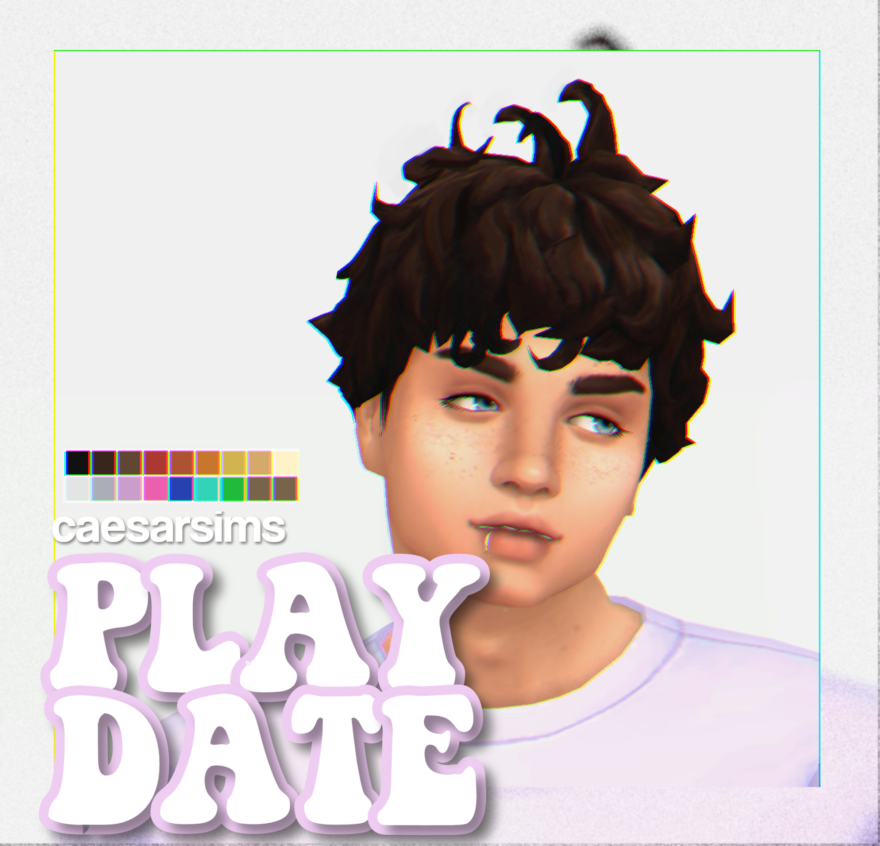 Just because you're trying to find a new style for your male Sim's hair doesn't mean it has to be anything fancy, especially if that doesn't fit their personality in the first place.
For all of the Sims that prefer being a homebody, enjoy the lazy look, or are too busy to care what their hair really looks like, then the Playdate Hair might be just what you're looking for!
This messy hairstyle combines the perfect mixture of putting a little bit of effort in but not spending hours in front of the mirror, trying to get that perfect style.
Not too long and not too short either, this hairstyle is sure to be your male Sim's new signature look!
14. Remy
Coming back to the surface for trendy hairstyles are styles that look a whole lot like this one, they're reminiscent of old school emo haircuts, but they've taken on a more mature tone, just like the kids that once worn them.
Remy is a great option, especially for the younger male Sims in your household. Like the thumbnail, consider pairing this with a casual beanie to bring everything together.
The beauty of these types of styles is that they work well for both casual looks and can be easily cleaned up to work with outfits intended for a more formal setting.
Either way, as long as you've got the Remy hair by your side, you can't go wrong.
13. Jazz Riff

Jazz Riff is the perfect hairstyle for male Sims who have a free spirit. It's as relaxed as they are, with the perfect amount of length and texture to keep things just like they are, interesting and exciting.
Something great about these types of styles is that they never go out of style!
Sims of any age group can be found wearing something like this, whether they're a teenage boy navigating the high school hallways or an adult who just landed his dream job.
Once you've downloaded Jazz Riff, you'll want to use it on anyone that you can.
12. Wilfred

Male hairstyles definitely don't need to be kept short, and sometimes the mid-length options simply aren't long enough.
That's where a style like Wilfred comes in. A well kept, side-parted, longer male hairstyle, what could go wrong?
What makes this hairstyle even better is that it's another one that comes with a million possibilities.
Longer hair is usually associated with a more alternative style, but it can also look great for refined, academic styles, as well as laid back and casual as well!
If you wanted more options, this male hair is compatible with hats, so you can switch things up to your heart's content.
11. Cris Hair Kids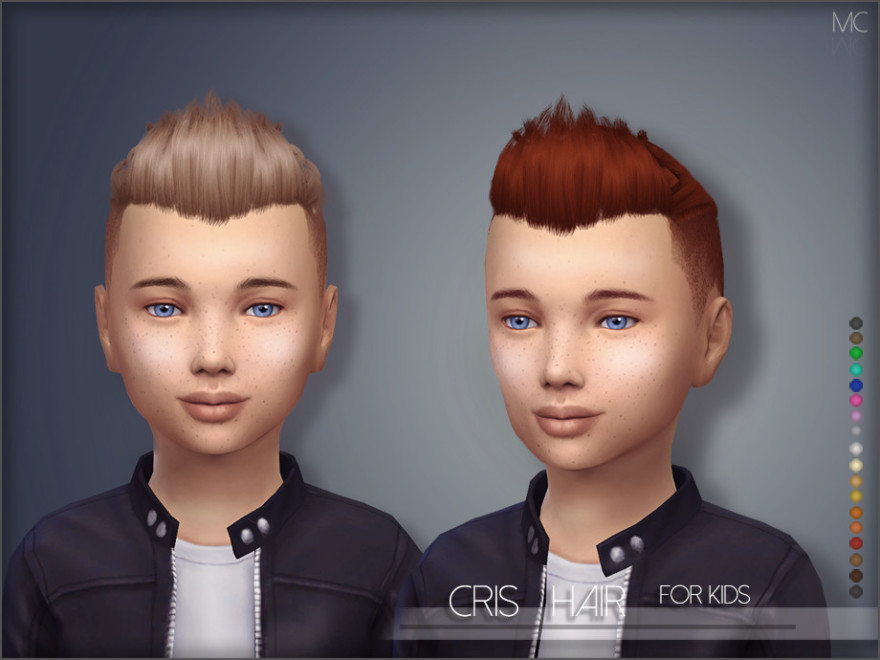 Even the younger guys need to be included when we talk about which male hairstyles are the best, and Cris Hair Kids certainly delivers everything we want and more.
What stands out the most about this hair is that it's reminiscent of what young boys would have been found styling their hair like back in the early 2000's- who doesn't love a good throwback?
Short and spiky with a subtle fade on the sides has the perfect combination of what a lot of us grew up with mixed with some of the best trends of the day.
Plus, a spiked up hair cut without all the trouble of messing with hair gel? Yes, please!
10. Alfred

From the same set that featured the Wilfred hairstyle we saw before, introducing Alfred!
Alfred is a lot like some of the messy, relaxed styles that we've already come across, but what makes this one stand out is the volume that it brings to the table.
No more do you have to worry about your man walking around with flat, lifeless hair!
With the perfect amount of bang to be swept to the side and not get in your Sims way, they'll be able to style their locks like this no matter what the day brings to them.
Not to mention the subtle stray hair sticking up in the back is the icing on the cake in terms of looks that seem like they didn't have to put that much effort into looking this good.
9. Rhys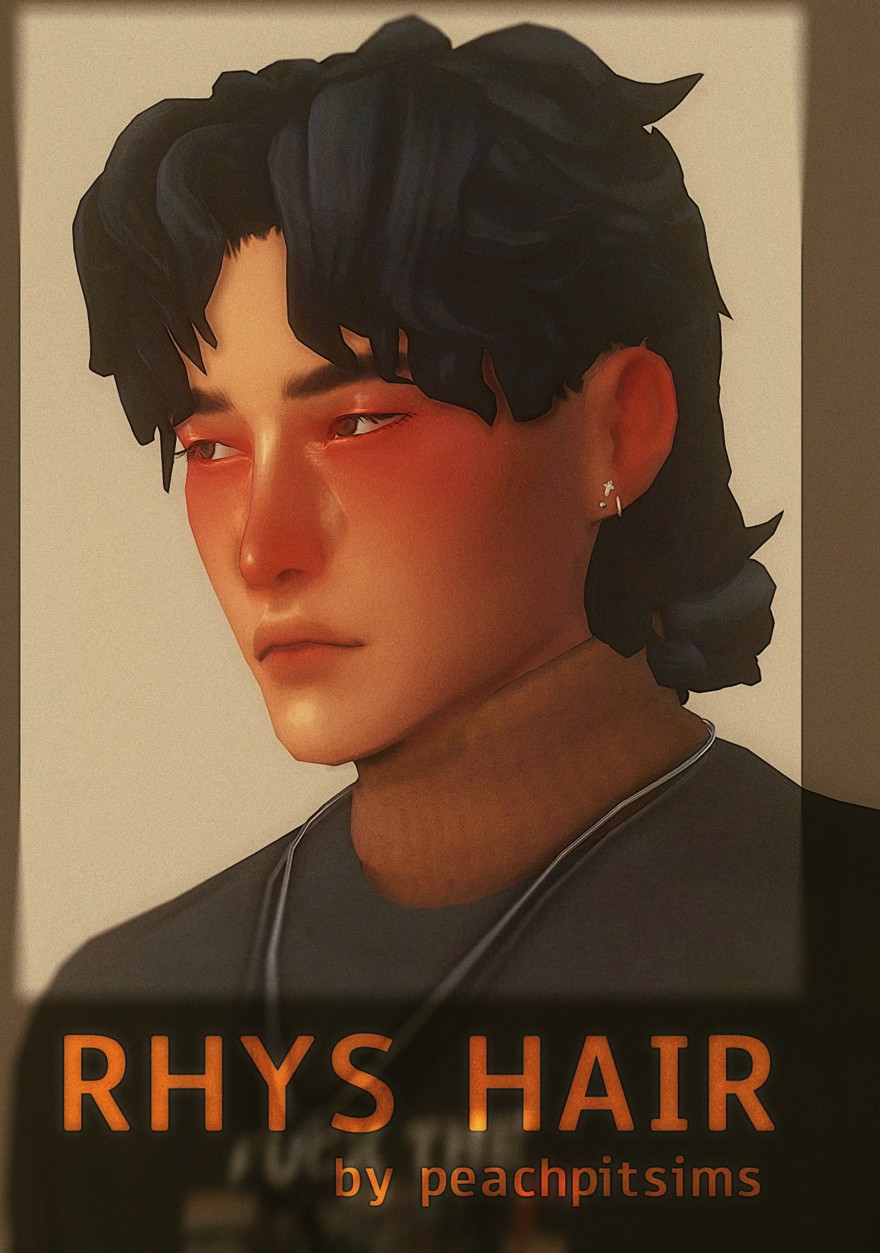 Not every style needs to be super modern and trendy. Some of us prefer looks from the past, vintage hairstyles that show off how unique and innovative your Sim is with how they choose to express themselves.
A classic mullet styled haircut is a great way to describe what Rhys looks like. And don't you worry, we promise this isn't the nerdy-looking mullet you're probably thinking of.
Instead, Rhys is layered in such a way that makes it a great choice for all of your male Sims when trying to choose how they should wear their hair.
Plus, it has the right amount of volume and thickness to make it look like they regularly condition their hair, and we all love a boy who's into self-care.
8. Taurus King

It's time for your male Sims to embrace their curls! With this short cut, curly hairstyle, they're sure to look great while embracing the natural bounce of their hair.
Having curly hair automatically makes the style vibrant and full of life, even if the cut is more traditional!
Taurus King is a great option for Sims who want to show off what their hair can do all by itself.
And a bonus to this style is that it comes with the base options for color provided by the game and special colors that have been made by the creator!
Curly hair and their own unique color- it doesn't get much better than that.
7. My Hero Academia Hair

For all fans of this anime, you'll be able to give your male Sims looks from some of your favorite characters!
You can choose from Todoroki, Shinsuo, Aizawa, or Deku as you decide which style fits your Sim best or even use one of each to create a household of Sims from My Hero.
Not really a fan of the show, but I still like how these styles look? No problem! Just because they were created with specific characters in mind doesn't mean that you have to like them for that reason.
Customize the color, add an accessory, and make it your own with all of your male Sims!
6. Vibrant Recolors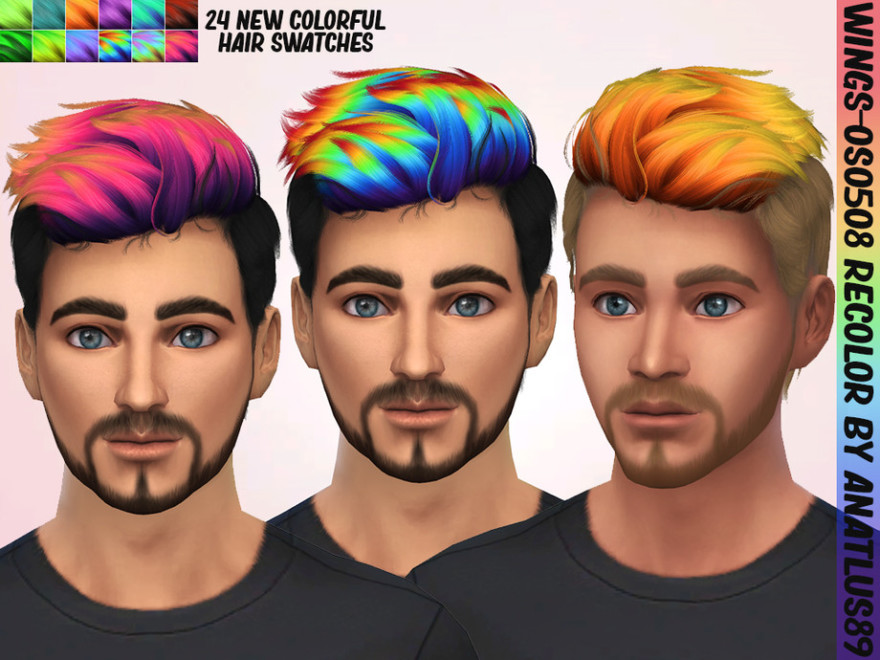 What sets this hairstyle apart from the rest is all the different color options you can choose from. And no, I don't just mean one all-over color. I'm talking about a mix of Vibrant Recolors that are sure to make your Sim really stand out.
Whether you've got your heart set on something rainbow, hair that looks like roaring flames, or an enchanting combination of blues and purples, this option has got your back.
You'll be amazed at how fun it can be to play around with how your Sim dyes their hair.
5. Everett
Remember kids, say no to hairstyles that are one-dimensional and boring.
Always choose the one that's full of layers and textures to prevent your male Sim from looking like every other guy that lives on the block.
Not to mention a side-swept look that your Sim effortlessly achieves by pushing their hair back throughout the day, and totally not because of the custom content you used on them.
Everett delivers all of the above, and that's why it's such a great option for your Sims.
4. Hermes
Hermes is the type of style you would give your Sim that wants to look like it took them a long time to achieve the look.
All things style, high maintenance, and elegance- if this describes your Sim, then they're practically made for this hair!
Your male Sim will look like they're ready for their next photoshoot with hair that's just as perfect as their personality is.
3. Male Hair Mix

I get it, you're a busy person. You don't have time to individually download a bunch of hairstyles, but you need options for all of the events your Sims will have to go to.
That's why we have Male Hair Mix, your go-to place for anything and everything male hairstyles.
Choose between long, short, curly, wavy, and everything in between- you're sure to find exactly what you're looking for.
2. Anto's Echo Clarified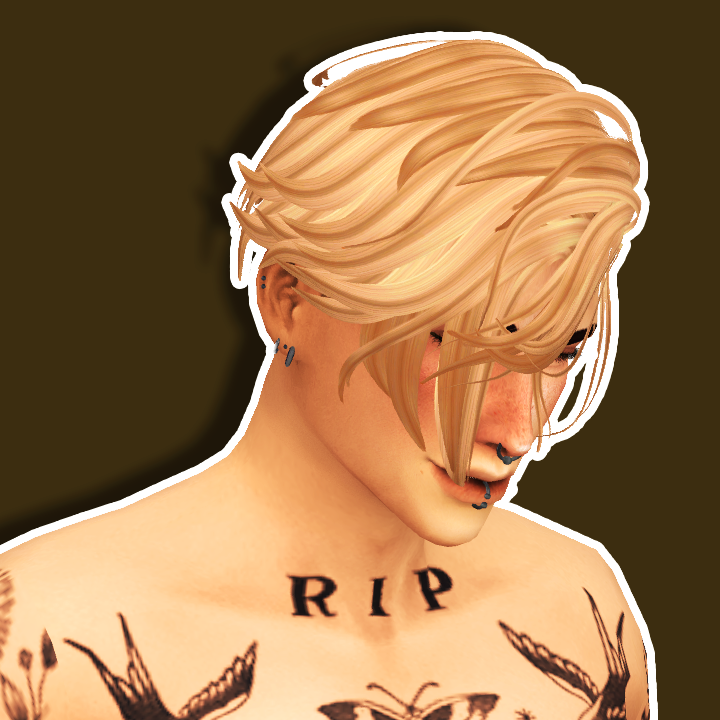 This is the perfect style for your Sims that want a little edge with how they dress. A two-toned, multilayered, swept look is just what they need to achieve this.
Anto's Echo Clarified will help you achieve whatever alternative style you're looking for, whether it be the traditional bad boy or sad boy, all are welcomed with hair like this.
1. Seven Sims Hair Dump
Still, want to have multiple styles in the same place, but don't want such an overwhelming amount to choose from? This Tumblr user has got you covered.
With looks for men such as Justin, Cute Flip, and Wavy, this post gives everything you'll need to get the look you have in mind.
From the boy next door, the quiet kid, and the attractive nerd, each hair can help deliver a specific aesthetic as you dress them up. Don't settle for lame hair. Use the custom content that's been gifted to you!
You might also be interested in: