With the latest The Mandalorian premiering season, everyone's been talking about Star Wars yet again. And who could blame them? There's a lot to love about the franchise combining space adventure with action and complex character arcs.
Even for Sims players, we have a lot to rave about Star Wars, too, because who could forget the Star Wars expansion pack?
For casual fans and those who dedicate their lives to this series, whether it be on-screen or in the printed word, it's always a great feeling when you can incorporate what you're passionate about into the Sims.
That's why today we'll be talking about the top 15 best Sims 4 Star Wars cc and mods!
Best Sims 4 Star Wars CC and Mods
18. Star Wars Stuff Modpack

When Maxis released their Star Wars DLC pack, there was quite the debate around it. However, if you are a fan of Star Wars and the Sims, this fan-made stuff pack is for you!
The Star Wars Stuff pack is loaded with a range of items for your Sim's home, in addition to items that you can interact with and gain access to with additional DLC packs.
In this pack, you will find items for the bathroom, kitchen, living room, and many posters and rugs. There are also interactable items, including guitars, a workbench, a microphone, and yoga mats.
Some items will require additional DLC packs for the base game, though.
17. Star Wars Art Collection

Want to showcase your love for Star Wars but in a more artsy way? This Star Wars Art Collection CC pack is perfect for you and your Sim's house.
This CC pack includes four sets of six posters, each featuring different characters and places in the Star Wars franchise.
The first set features the characters' silhouettes. The second set features Darth Vader and some locations, the third set focuses on battle scenes, and the last set features main characters from the original movies.
Framed posters are common in most homes for proud geeks, and this is a great addition to your Sim's house!
16. Star Wars Christmas Sweaters

Show off your Star Wars fan pride during the holiday season with these Star Wars Christmas Sweaters CC!
This CC pack includes three sweaters, one for men, one for women, and one for kids. Your entire Sim family can be dressed for an intergalactic journey every time it gets chilly outside, with a choice of four designs.
The four designs include Darth Vader and the storm troopers, R2D2 and BB-8, and the Death Star. Styled just like traditional ugly Christmas sweaters, this CC pack is anything but ugly!
15. Stormtrooper Bust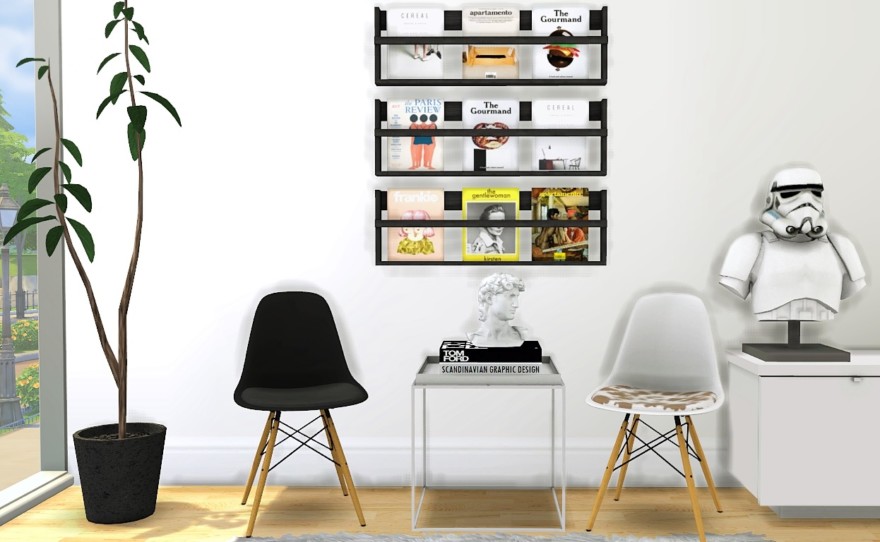 Most of us dream about being rich enough to afford a fancy bust in our houses.
They look so elegant, reminiscent of ages like Ancient Greece, and are a great way to add a statement art piece to anyone's collection. So, think all of that, but this one has a Star Wars twist.
Nerdy meets sophisticated with this Stormtrooper Bust. At first glance, guests in your Sims house may think that it's just another snobby art piece, but when they take a closer look, they'll be impressed that you could find a piece of merch that looks so mature!
14. Star Wars Rugs

I've always struggled in the past with finding a balance between incorporating the things I love into my decor and making it look like I'm an adult with taste. It's hard to find that balance, but it's one of the most satisfying feelings when you do.
With pieces like the Star Wars Rugs, you can make even the most subtle pieces in your Sims home Star Wars themed.
Inspired by actual rugs you can find online, these come in 20 swatches that all have rather neutral color palettes, making them the perfect option for just about any room.
13. Mandalorian Helmets

Perfect to finish up your Star Wars themed character, a casual cosplay, or even for a costume party, these Mandalorian Helmets can be used for just about anything you have in mind when it comes to Star Wars in The Sims!
This collection of helmets come with 5 swatches to choose from, including helmets for humans, Tholothian, and even Togruta, so you can play around and switch it up every time you use this piece of custom content or potentially create a household full of characters.
12. Padme Dress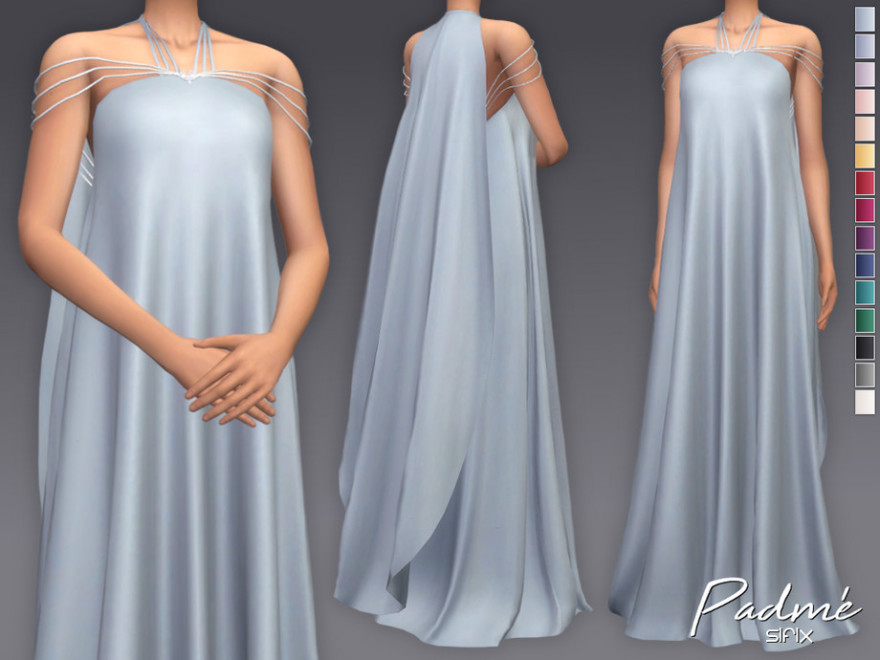 Speaking of dressing up your Sims like your favorite characters from the Star Wars universe, we have the Padme Dress.
What I like about this dress the most is the fact that it's so simple and elegant, even those who aren't big fans of the series could pull it off!
Or, if you want to have a subtly inspired outfit, you can wear this out on the town, and if other Sims aren't looking too close, they'll never know who exactly you're trying to replicate.
11. Kids Unisex Star Wars T-shirts

Even your kids can get in on all of the Star Wars fun in the Sims with their new Unisex Star Wars T-Shirts.
Just about every kid likes to sport their favorite characters and media on their outfits as they show all the kids in school just how good their taste is, and we'd have to agree with them, it's pretty great.
These t-shirts come in two designs, one with a movie poster design to it and the other featuring a floral outline of Darth Vaders face.
Kid-friendly, yet still gets the point across that their parents started them early.
10. Star Wars Tattoo V1

Not every tattoo that your Sim gets has to have some deep backstory about how it's a tribute to their grandmother's sister's pet dog or something.
Tattoos can be for whatever they want them to be about, and that includes symbols from their favorite movies of all time.
With the Star Wars Tattoo V1 set, you can send your Sim off to the tattoo shop to add some ink that's inspired by, you guessed it, Star Wars.
With 11 different tattoos to choose from all over their body, you'll have to make a very difficult decision- just one tattoo on their arm, or should your Sim be covered head to toe in Star Wars ink?
9. Star Wars Bedding Set

Whether it's for your kids or your own Sim, you may find yourself thinking that there's a lot more potential for decorating your bedroom than what you already have.
You could put up a couple of posters, maybe find an action figure or two to put on the shelves- or you could go all out and get the Star Wars Bedding Set.
That's right, character themed bedding is back and better than ever! Revisit a childhood room you may have had (or wanted), or achieve the Star Ward bedroom of your dreams in The Sims with this as the finishing piece.
8. Star Wars Shirts for Men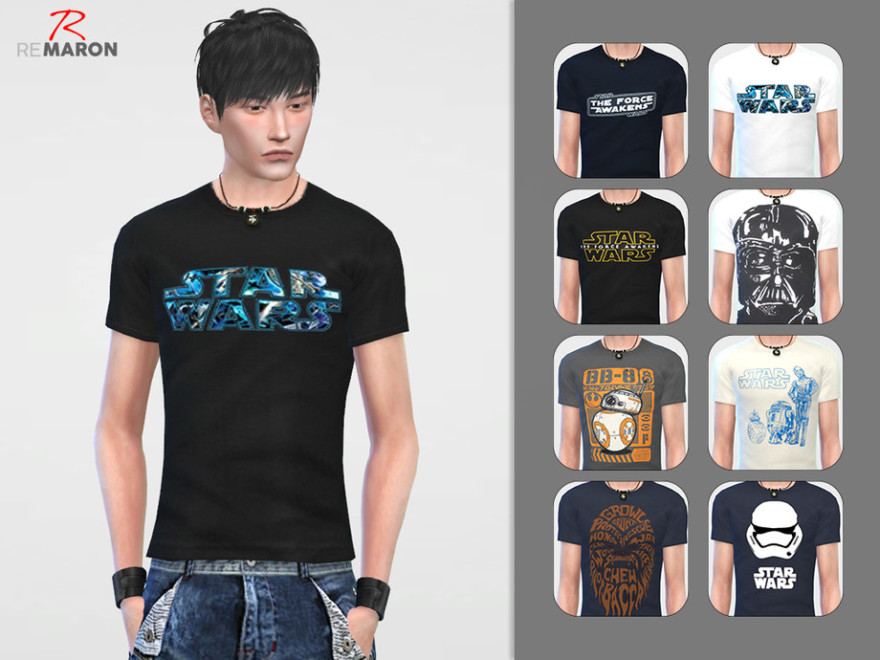 We've already talked about giving your kids a couple of graphic tees to wear, but what about for the rest of the household? Shouldn't they have a couple of shirts they can wear, too? With Star Wars Shirts for Men, they can!
In this set of shirts, there are 8 shirts for you to choose from, and different colors for shirts' styles. And remember, just because the title says they're for men doesn't mean they are- women can wear them, as well.
7. Qnie Toddler & Child Star Wars Aayla & Maul Hat

This is a great costume option for the younger Sims in your household, hats for their favorite characters in Star Wars.
They don't have to commit to wearing the entire costume if they don't want to, which makes this perfect for simpler occasions like going to school or to a friend's house, where wearing an entire costume may not be so appropriate.
Hats in this collection can be for either toddlers or children, so no Sim is too young to start dressing up!
6. R2d2 & C3po

If the Stormtrooper bust wasn't enough for your taste, these are a couple more pieces that will make your curated collection of Star Wars memorabilia even more exciting- R2D2 & C3PO.
What makes these figures even better than the others is that they're big, we're talking life-sized statues of two characters from the beloved franchise.
They're versatile, too, because is there really a place in the house where these wouldn't belong?
Put them in your living room by the fireplace, by the front entrance to your house, or even in the garden where they could serve as makeshift scarecrows.
5. Star Wars Bedroom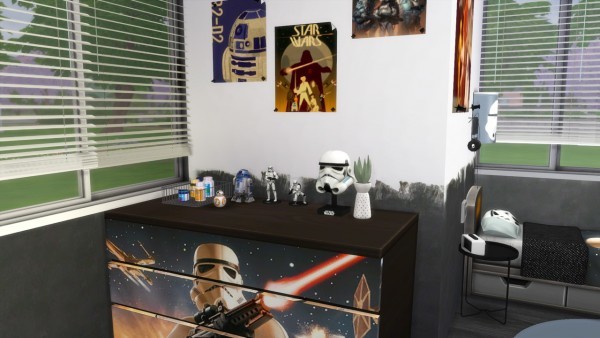 If the Star Wars bedding wasn't enough to satisfy your craving, and you're the go big or go home type of person, then you might be interested in taking a look at the Star Wars Bedroom.
That's right, an entire bedroom with a Star Wars theme, perfect for children and preteens that want to have the coolest room out of all their friends.
From minimalist posters on the wall to light fixtures, rugs, and even a barely noticeable picture of a Stormtrooper in the trash can, it has everything a fan could want surrounding them while they're relaxing in their part of the house.
And, of course, it has its own bedding, too.
4. Rey Hair

Rey's Hair from Star Wars: The Force Awakens is such an iconic look that it had to be included in this list, especially when it's a style that we can easily give to our Sims thanks to custom content.
What better way to pay tribute to your favorite series than by giving your character's hair inspired by the movie, or even to make a cosplay look as perfect as possible than by using their hair?
3. Eternal Throne

One last piece to add to the extravagant figures and statues that you've accumulated in your custom content folder is the Eternal Throne.
This set doesn't just include the throne itself, but also two spires to go along with it to make the most regal area in your Sims house become a reality.
These thrones are available for your Sim to actually take a seat in, and the chair comes with 5 swatches while the spires come in two length sizes.
Is it just me, or would this be a way cooler way to watch tv than just sitting on the couch?
2. Jedi Knight Pose Pack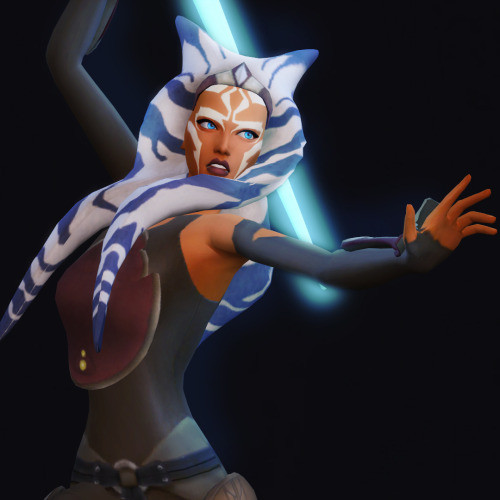 Animating Sims is just as fun as decorating the spaces they live in and changing up the way they look.
With the Jedi Knight Pose Pack, you can change the way your Sims move around to match poses found in the movies. All you'll need is a Light Saber and a cool outfit!
1. From a Far Galaxy Stuff Pack

Your go-to place to get everything and anything you need Star Wars related for The Sims!
The From A Far Galaxy Stuff Pack comes with 18 objects that are essential for any fan to have in their house, including a mailbox, chess set, and even pictures that change in real-time!
Don't worry about having to download a bunch of individual things to create the perfect space, it's all in one place.
You might also be interested in: