Jewelry is one of the best accessories you can give to your Sim to complete their outfit, everyone knows this. But, an even easier way to add jewelry to their everyday look is to give your Sim a piercing!
Without the hassle of having to go to a shop and deal with the anxieties over needles, you can give your Sim as many piercings as you want with the help of custom content.
For every part of their face, their ears, and everything in between with endless styles, designs, and colors to choose from, today we're going to be going over the top 30 best Sims 4 Piercings cc and mods!
Best Sims 4 Piercings CC
33. Heart Septum

Not all piercings have to make your Sim look tough. Instead, you can use this Heart Septum piercing CC to add a touch of cuteness to your Sim's face!
This piercing CC comes in 7 color swatches, including gold, white, black, and pink, among others. The heart is large enough to be easily noticeable from a distance while not looking disproportionate to your Sim's face.
This CC is disabled for randomization in the character creation menu, so you will need to locate it under the accessories menu.
32. Firebird Nose Chain

Nothing is more eye-catching than a nose chain piercing. You get the combination of an ear piercing and a nose piercing!
The LeahLilith Firebird Nose Chain CC features a septum nose ring that is finely detailed with a flower-like design. From the septum nose ring, a thin chain leads to your Sim's ear, where a large moon earring dangles.
This CC comes in three colors: silver, gold, and metallic black. This piercing CC is a great option for players who want to create a witchy Sim or any Sim that has an interest in the cosmos!
31. Duo Belly Piercing Female

If your Sim is often more in crop tops than not, then this piercing CC is a great option for you! There are many belly piercing CC in the Sim creator community, but the Duo Belly Piercing Female CC features two belly piercings as one piercing.
The Duo Belly Piercing features four visible balls and looks like your Sim has two belly piercings, one on top and one on bottom. This CC comes in 20 different colors and is usable by teen to elder age Sims.
This CC is only for female Sims, but the promo photo does feature a version for male Sims that you can locate and download.
30. Erinni Ear Piercings

Let's start off simple- ear piercings. One of the reasons they're so popular is that they're not as noticeable as other piercings may be, they can be tucked behind your Sims hair and only be seen once in a while.
Plus, you get the added bonus of being able to wear long, dangly earrings, which isn't as practical on other parts of the body.
Erinni Ear Piercings is a collection of subtle yet beautiful pieces of jewelry for your Sims pierced ears. Of course, there are options for the earlobes, but additionally, there's the option to give your Sim an industrial or even a small cuff.
They're available in different metal options, too!
29. Simple Stud Set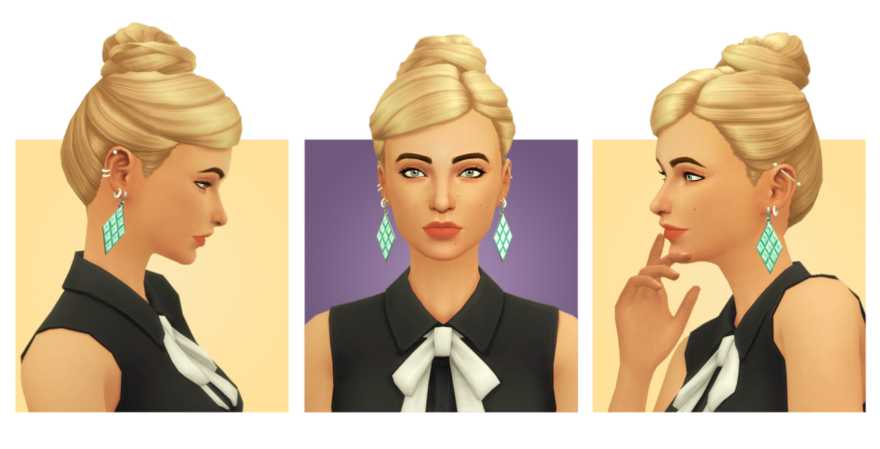 Another classic set of earrings for your Sims who aren't totally ready to commit to a facial piercing is the Simple Stud Set.
This one keeps things basic, no dangly earrings to get caught in their hair, nothing too extravagant or over the top, but adds enough shine to their look to get the job done.
I love this set so much because there are multiple ear piercings that come included, like an industrial and a Daith piercing. This way, you can bulk up on their ears without having to look for multiple files to download.
These come in six metal options and can choose from studs and small hoops.
28. Tempo Plug Collection

While traditional earrings are definitely more common, they're not the only type of ear piercing out there!
A lot of people like the gauged look that plugs offer, and if you think they would suit your Sim a lot more than a pair of plain hoops, then you've come to the right place.
The Tempo Plug Collection by PralineSims comes in five sizes, ranging from extra small to extra large, and four colors for each size. Their simple, solid design makes them a great choice to play around with style and works well with any outfit for any occasion!
27. Unisex Nose Piercings V2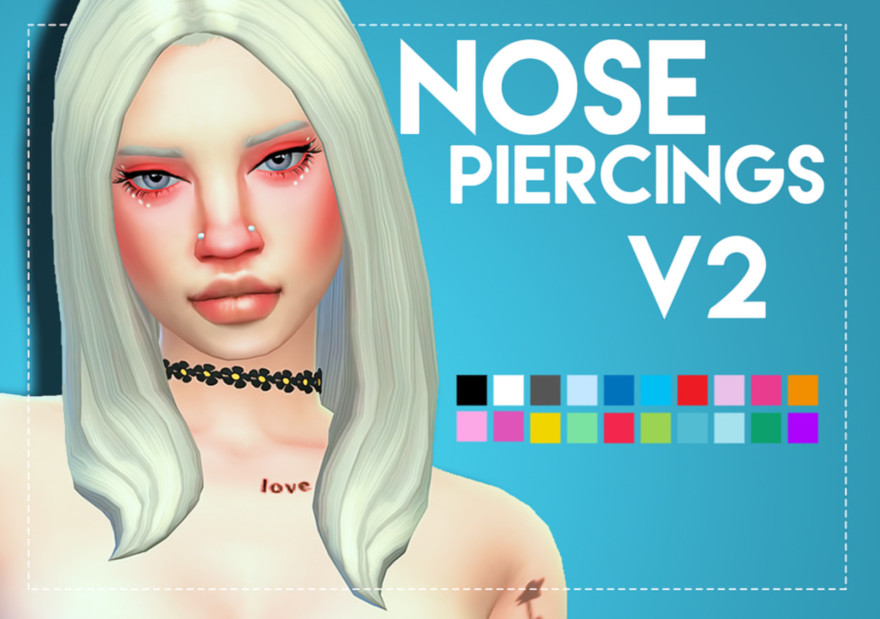 Unisex Nose Piercing V2 is a classic nose ring option for your Sims. They're not too gaudy with extra jewels or rings.
Instead, they're two small studs that go on either side, making them a little bit different than regular nose piercings while not being too extra.
However, if you are looking to give your Sims face something else to go along with these, they are compatible with certain styles of septum rings by the same creator.
If you were torn between a nose piercing and a septum, now you don't have to decide- why not both? And if that wasn't enough, they come in 20 swatches instead of your typical metal options.
26. Unisex Nose Piercings

If you thought that having two nose piercings seemed a little excessive, but you still want something to dress up your Sims nose, Unisex Nose Piercings may be the route for you to take.
As you may have guessed, it's a singular nose piercing that comes in the same swatches and styles as before, and they have 4 sizes to choose from.
25. Five Year Septum Ring

A great option for Sims who don't like big, excessive jewelry on their face or even prefer the minimalist look when it comes to how they style themselves, the Five Year Septum Ring, cleverly named by the creator after five years of making custom content, is dainty and subtle for all of your septum ring needs.
You'll be able to choose between four color swatches when you decide which one compliments your Sim best, and better yet, it's categorized as a left nose accessory, so it won't get in the way of other piercings or random accessories you want to add to the finished product.
24. Royal Teardrop Septum Ring

Like the last piercing we looked at, the Royal Teardrop Septum Ring is another creation by user PickyPikachu that comes in four color swatches and is also categorized as a left nose accessory same benefits as the ring above.
What separates this one from its predecessor, though, is all in the design.
We've seen a lot of safe options for piercings so far, but if you got it pierced in the first place, why not show it off?
This septum ring comes in a beautiful teardrop shape, complimenting the natural shape of your Sims lips, all while adding some extra sparkle. While it may not be super crazy and over the top, it's not basic either!
23. Lemon Metal Ring Piercing

When picking out the perfect set of earrings for your Sim, it can be pretty tempting to stick to what's been tried and true.
A pair of hoops, maybe something dangly with rhinestones, or a cute design. But choosing something out of the box makes your Sim stand out and lets them embrace who they really are.
Lemon Metal Ring Piercing is a perfect example of how the earrings you choose can set the mood.
This unique design connects the middle of the ear and the bottom of the earlobe with a chain, adding extra pieces of said chain at each connecting point that dangle.
These would look great on your Sims who have a punk look or any similar alternative style that they feel comfortable wearing. It's time to mix things up!
22. Unisex (Small) Medusa Piercing

Getting a Medusa piercing became pretty popular a couple of years ago, and it's still a style that's loved by many.
Especially for those who love the makeup industry and find themselves gravitating towards new and exciting lip products, Medusa Piercings like this one brings attention to one of the most important parts of your Sims face- their lips!
This piercing comes with 20 swatches and is called small for a reason. With that being said, keep in mind it might not fit well with all your Sims face shapes!
21. Belly Button Rings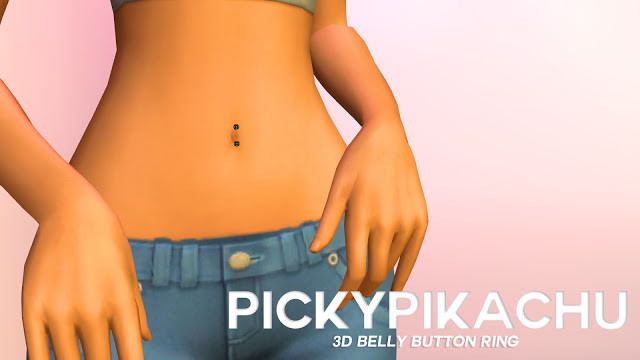 When I think of Belly Button Rings, I instantly think of the Y2K aesthetic and how they were once an accessory that you could find a lot of girls rocking with their low rise jeans and crop tops.
Thankfully, that's not the only style they're seen in! Whatever aesthetic speaks to your Sim, you can probably incorporate a belly ring, and it'll look like it's meant to be there.
Additionally, with this belly button ring, both the top and the bottom look like they're pierced, so your Sim can get the most out of giving their naval some bling.
20. Dahlia Bites

Dahlia Bites like these ones aren't seen too often, which is great if you want your Sim to have a style that's different from the rest.
Unlike most other mouth piercings, these sit in the corners of your Sims mouth and rest so perfectly there that if you give your Sim the right color, you might not even notice it that much, but don't worry, they're there.
They're sure to give your Sim something to smile about.
19. Smiley Piercing

Speaking of giving your Sim something to smile about, we have the Smiley Piercing!
These piercings go inside of your Sims mouth, similar to a tongue ring, but instead, they go right behind the top ring and are revealed when your Sim, well, smiles! Or does anything that involves them moving their mouth, for that matter.
18. Kali Earrings

Kali Earrings lets your Sims wear multiple hoops in one ear instead of having a bunch of studs to choose from. And I don't mean small hoops that cling to the side of their ears either. I mean dangly hoops!
With this set, you can add up to four hoops on one ear, each with its own design of charm that hangs off the bottom.
Give your Sims three new hoops to wear! Choose between gold, pink, and silver for their choice of metal, and the rest will fall into place as you style outfit after outfit around these adorable earrings.
17. Unisex (Big) Medusa Piercing

If you liked the Medusa piercing from before, but you've got concerns around the "small" aspect, then the Unisex (Big) Medusa Piercing might be the solution to your piercing problems.
For those that the other one didn't fit, this one will come in to save the day so all Sims of all face shapes can have the same opportunities for the rings that they want on their face.
And don't worry, everything is the same as the other one, so you'll get the exact same thing out of your new face ring that those with the small version had.
16. Unisex Monroe Piercing

Marilyn Monroe- an icon for all things Hollywood, fashion, and glamor most known for her starring roles in the films she was featured in, as well as the mole above her lip.
She was probably one of the first people seen with a mole on her face that made people think, "Man, I wish I was born with that!" And while your Sim may not have been born that way, they can get a piercing that mimics the same thing.
The Unisex Monroe Piercing does exactly that, it'll give the illusion of a metal mole above your Sims lip. Like other content from this creator, it comes in 20 swatches, some of them making the piercing look like the real deal!
15. Bridge Piercing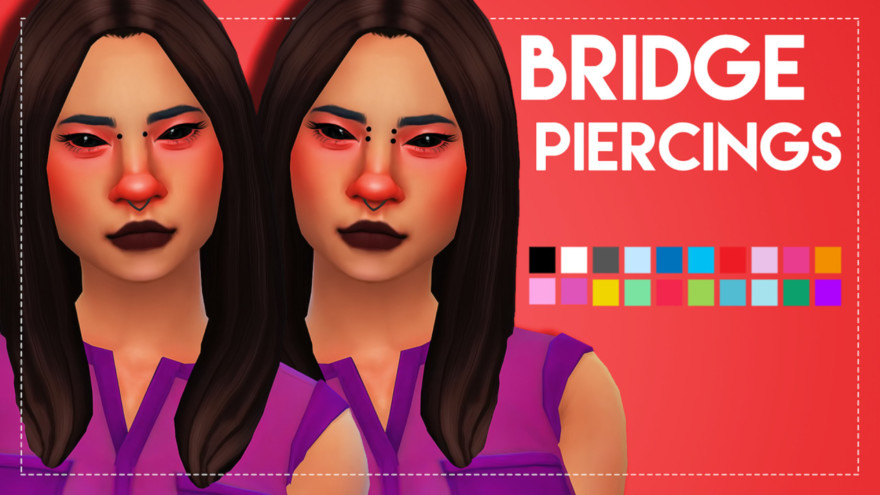 When a lot of us think about nose piercings, we think about the typical studs and hoops on the side, or maybe even something more like a septum piercing.
But the reality is that nose piercings come in many shapes and styles that are completely different from those!
One of those, of course, is a Bridge Piercing. As it implies, it's found on the bridge of the nose and is perfect for any edgy Sim that has an itch for a new piercing. Instead of being two studs on the side, this one lays across the nose, a great statement piercing!
14. Groove Cheek Piercings

Pierce everything on your Sims face- even their cheeks! The Groove Cheek Piercings fit perfectly in your Sims dimples, which is amazing if they may not have very prominent dimples in the first place.
But, they would look just as great if their dimples are defined, too. Basically, these are cute small studs to decorate any Sim.
These cheek piercings come in 15 colors for you to choose from, all varying shades of metals, so they look as high quality as they are adorable.
13. Dolphin Bites

If you're anything like me, you may have seen the title of these and thought, "What even are Dolopin Bites?" Well, they're small piercings, a set of two, that goes under your lip instead of over! And, if I'm honest, I can't get over how cute they look.
They give your Sims look a pouty look, so they can achieve that style without having to add lipgloss. Speaking of lip products, they're sure to make any lip makeup pop.
12. Bridle Piercing Set

The Bridle Piercing Set comes with everything you need to decorate your Sims nose in one place. Want a standard stud? You got it. Maybe add a septum ring? Go for it.
Top it all off with a bridge piercing? No problem! In total, this set comes with 26 swatches for different piercing styles, types, and colors for the jewelry itself. Your Sims nose will never be boring again!
11. Helix Feather Piercing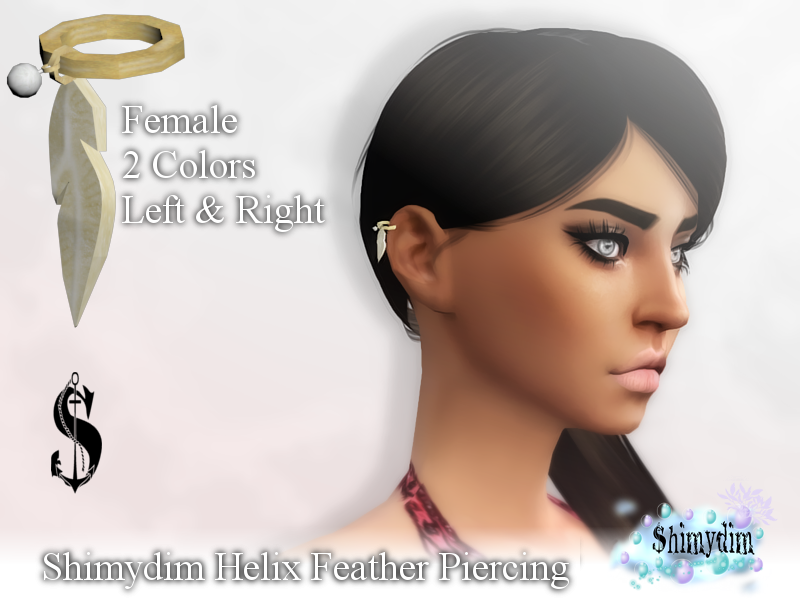 As you can tell, the Helix piercing is sometimes also known as a cartilage piercing because of the placement of the ear the piercing is on. One of the most popular styles for this type of piercing is a cuff, which is exactly what the Helix Feather Piercing is.
It comes with two colors to choose from and can be placed on either the right or the left ear.
10. Anti Eyebrow Piercing Set

The Anti Eyebrow Piercing Set is a unique style of piercing that, instead of being above the eye on the eyebrow, it's below the eye altogether.
They come in three colors and can place up to two of them under your Sim's eye at a time. Eyebrow piercings are overrated anyways, team anti eyebrow!
9. Lip Ring

So far, we've talked about a lot of rings that go all over your lips, above, below, even off to the side sometimes. But what about actual lip rings? Where's the love for those? Right here!
This Lip Ring set comes with three colors to choose from, so it's a little basic, but it gets the classic lip ring job done.
8. Chill Set

Chill Set looks like a collection of clothing pieces that don't have a place on this list on the surface. However, it comes with one of the cutest sets of earrings I think I've ever seen, and it had to be included.
A set of three earrings with a starry theme to them make them the perfect delicate set of jewelry for your Sims ears.
It comes with one small hoop, one dangly star, and one studded star, perfect for girly Sims, Sims who love astrology and anything to do with stars, and just about anyone in between.
7. Sugar Owl's Star Septum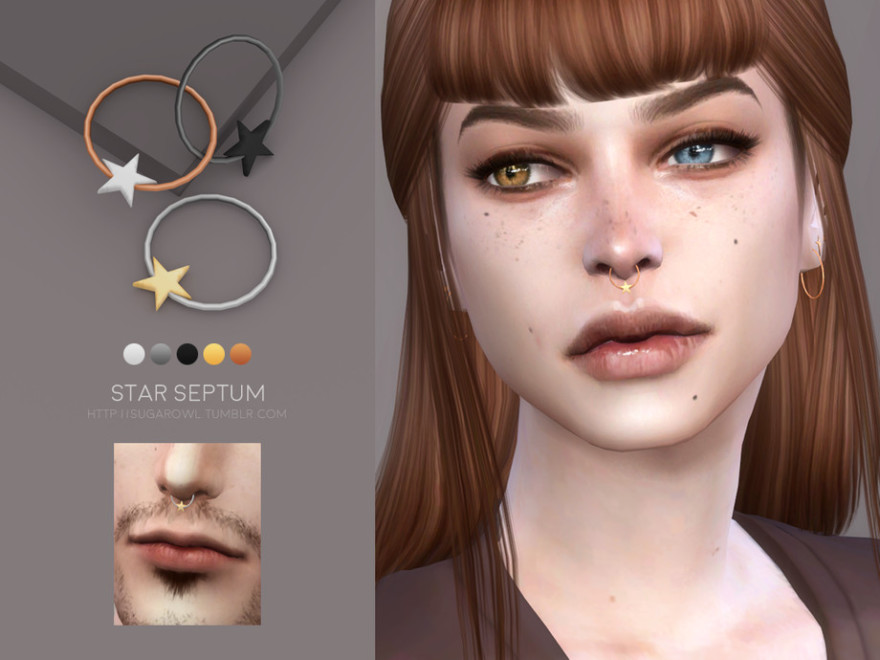 To match your new star earrings you just added to your collection from the Chill Set, add the Sugar Owl's Star Septum to your Sims piercings!
A small dainty star to go under your nose, this septum ring compliments all faces and adds subtle shine in 5 colors so you can mix and match with the other piercings your Sim has.
6. Obsession Lip Chain Piercings

If the industrial look is your thing, then your Sim will love wearing this Obsession Lip Chain Piercing! It combines all the benefits of having both a nose piercing and an ear-piercing, and connects the two to get one finished product.
You can choose between different amounts of connecting chains, and even whether you would prefer silver or gold.
5. Angel Earrings

Another set of multiple earrings when just one isn't enough. Angel Earrings all come with a heavenly design like angel wings, hearts, and arrows, which makes these perfect for Valentine's Day coming up.
If your Sim is getting ready for their V-Day date and wants to make sure all of their piercings are properly decorated, then look no further.
4. Set of 3 Facial Piercings

Can't decide which facial piercing your Sim should get? The Set of 3 Facial Piercings comes with an eyebrow piercing, a nose ring, and even one under their lip so every inch of their face can get some attention.
They may all be simple studs, but they're a great way to play around with what looks best on their face.
3. Pearl Piercing Set

The Pear Piercing Set is great for two reasons. First is most obvious, the piercings are pearls, which is much different than the traditional metal or colored plastic that is usually found for piercings.
Second, there are so many placements to choose from! Ears, nose, the middle of the lip, and even a bindi for those who would want one on their Sim for cultural purposes. Either way you choose to use it, it'll look as elegant as a piercing should.
2. Set Piercing No 1

I think one of the reasons that this deserves an honorable mention for being one of the best piercings for The Sims 4 is because of the variety that this set has to offer.
Sure, there have been some that come with 2 or 3 different placements, but set has a whole 5 types of piercings, all of them unique!
Some of these piercings included are angel bites, Dahlia, and the cheek, so if you're looking for one of these lesser-known piercings, you have some options to choose from.
1. Double Ring Piercing Set

The Double Ring Piercing Set adds an extra ring for your Sims nose and faces piercings, with a twist. Instead of being two normal rings lying side by side, they go criss-cross, making an X shape, which is definitely a style that we wish we see more often.
You might also be interested in: