It's the little things that matter most! If you think about it, in your own living space, you probably have a bunch of little things around the room that make it come to life, expressions of who you are, and the things that you love the most.
The same should go for your Sims rooms, an easy way to make a room feel more attractive is by adding clutter wherever you can!
Paper towels for the kitchen, a soap pump for the bathroom, maybe a small vase in your living room- these can all help dress the house up and really make it feel like home.
To make decorating your Sims house easier, here's a collection of the top 20 best Sims 4 Clutter CC and mods.
Best Sims 4 Clutter CC and Mods
33. Moving in Stuff

This Sims 4 clutter CC ads a ton of items you'd find around the house if you were just moving in.
There are cardboard boxes, paint buckets, and ladders included in the set, which can be used to decorate your Sims' home in a way that reflects where they're at in their life journey.
The Amazon logo on some of the boxes really makes this mod feel real.
Whether they're a recent college graduate who's just moving into their first place or a seasoned homeowner who's downsizing, this mod will help you to create a realistic and lived-in space for your Sims.
31. Blue Aesthetic Set

This mod contains a mountain of different blue pieces of clutter for your Sims to use in their homes!
When it comes to art and design, the concept of monochromatic aesthetics is one of the most enduring and elegant principles around.
Not only does this add some great new visuals to the game, but it also gives you more options when decorating.
Monochromatic color stories are very trendy in home decor right now, too.
Custom content like this is great for the game because they give players more control over how their homes look.
Your Sims' spaces will have so much character when they're filled with blue cutlery, food, and more.
Your Sims will be saying, "da ba dee da ba die" in no time.
30. Sabine Bathroom Set

When it comes to decorating your bathroom, there are a number of different options to consider. For many people, the first step is to select a style that reflects their personal taste.
The Sabine Bathroom Set is a must-have for any Sims 4 player looking to add a touch of class to their bathroom through trendy clutter.
For anyone that loves shopping at Home Goods in real life, you'll recognize some of this stuff.
This set comes with a variety of beautiful furniture and accessories that will help you take up counter space and create a relaxed, contemporary look in your bathroom.
The Sabine Bathroom Set is perfect for Sims who want to update their bathroom without having to take big design risks.
29. Anthracite Set

Part of being productive is a stylish and calming workspace. A well-designed desk setup is crucial for maximizing productivity.
It's essential to create a space that is practical yet also inspires creativity and focus.
The Anthracite Set is perfect for any high school or college student Sim.
It includes desk clutter to help your sims get organized and stay on track.
There are art-reference statuettes, character knickknacks, and clean desk lamps to give your sims a boost of inspiration.
The clutter in this CC pack will set your Sims up for success in life and aesthetics.
Honestly, we wish some of these fixtures were available for sale in the real world.
28. Garage Pack

Looking for some new and greasy clutter to add to your Sims 4 garage? Look no further than this Garage Clutter pack!
It includes all the tires, oil cans, and other assorted junk you'd expect to find in a mechanic's shop or garage.
This clutter is perfect for adding realism to your game, and it can be used to create custom scenes or props.
Maybe your Sim is a mechanic or a casual gearhead, or maybe you're decorating a grungy scene for photos and a particular look.
No matter the case, this pack is full of everything you'd need to say, "Wow, this is a garage!"
27. Decorative Clutter

It can be hard to find that perfect pack of Sims 4 custom content that nails a particularly weird, eclectic, and retro vibe.
This Sims 4 CC set is a great addition to your game if you're looking for something to add unique energy and panache to your Sims' spaces.
This set includes 17 items, such as crushed cans, old teddy bears, and a little scarecrow, that will do just that.
These objects are weird and unique, which makes your Sim's home or office stand out from the rest. They're also high-quality, so they look great in any setting.
26. Clutter Anywhere

We're not sure why you'd want this, but more options are never a bad thing. Why not put a toaster on your porch?
This pack gives players appliance models from the Sim's kitchen that are able to be placed absolutely anywhere in their world.
No longer will your Sims have to be restricted to the kitchen when it comes to using appliances – you can now have them cook in the living room or do the dishes in the bedroom!
Have…fun?
25. Farmhouse Clutter

Rustic farmhouse is a popular interior design concept.
Farmhouse Clutter is the perfect addition for anyone looking to add a touch of country chic to their game.
The pack comes with a variety of distressing paintings, wooden furniture, and green plants that all scream "farmhouse."
The pack is great for anyone who wants to add a touch of character to their game or who is just looking for some new pieces to spice up their home.
In addition, the Farmhouse Clutter pack is great for adding some realism to your game.
With realistic objects like these, you can really create the feeling of being in a cozy farmhouse right in your Sim's own home.
24. Crafting Room Clutter

The Crafting Room Clutter CC pack is custom-made for any Sim who loves to craft.
It contains a variety of items that are perfect for the crafting room, including scissors, containers for little materials, pens and markers, storage shelves, and more.
This pack is a great way to customize your Sim's crafting room and make it perfect for their needs.
Whoever created this pack knows how real-life crafting nuts stock their workspace, and it shows. Sims 4 players that love to make crafts will recognize most of these items right away.
23. Breakfast Clutter

Waking up to the smell of fresh coffee, pastries, and other joys of breakfast is a great feeling that even Sims like.
The Breakfast Clutter CC offers a wide variety of various breakfast items to create a more realistic spread of breakfast choices and kitchen utensils.
This CC pack includes cereal boxes, baked goods including crescent rolls and bagels with cream cheese, fresh fruit, and a large variety of appliances and tools.
You can decorate the counters with juicers, coffee pots, tea kettles, toasters, bowls, and mugs as well.
22. Antique Stacks

Sometimes multiple bookshelves and a library in your Sim's home aren't enough to showcase the true bookworm that they are.
The Antique Stacks includes stacks of books, open books, and bunches of books to help create an academic's true literary dream.
The Open Lexicon featured in this CC set takes pages from witchy and mystical books, creating an air of mysticism and wonder, available in 20 swatches.
The Buncha Books also comes in six swatches to create a wide array of scattered book patterns.
21. Storage Squared Cubby Inserts

Let's be honest for a minute and admit that most of us have junk drawers. It's natural for clutter to accumulate in random places, but sometimes even Sims need organized clutter.
These Storage Squared Cubby Inserts are a great clutter CC because it creates the lived-in feeling without sending your Sim into a cleaning frenzy.
With these cubby boxes, you can mix and match with inserts to create bundles of items that your Sim might have stashed just in case, but without leaving your home feeling too cluttered.
20. Nintendo Switch Lite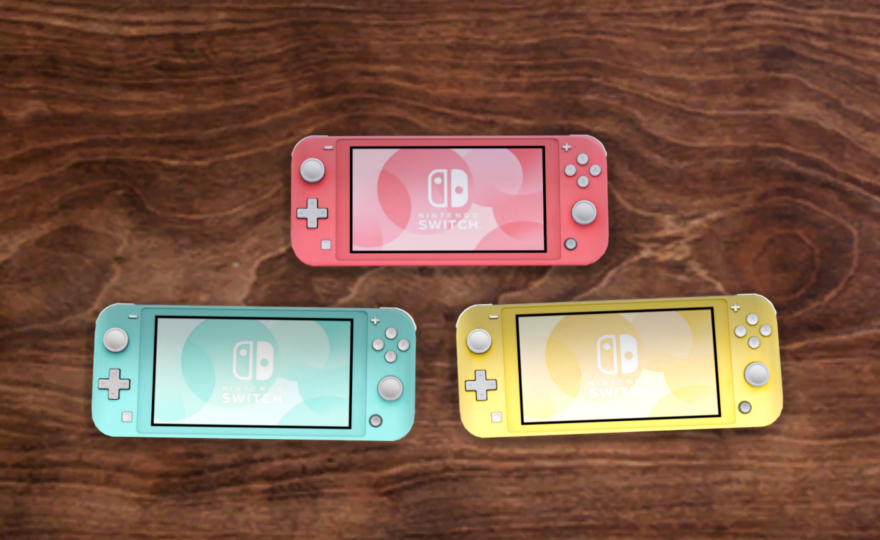 As much as I love the Sims, I have to admit it, I don't think I could live without my switch. With so many amazing games and a convenient, handheld way to play video games, there's too much to love, and that's why bringing that into The Sims is a must for me.
Whether it's for a Sims gaming room, a decoration in their bedroom, or it's left out on the coffee table after a long day of playing your favorite Nintendo game, this Nintendo Switch Lite is a great choice.
It won't take up too much space, but it stands out enough to let everyone know what one of your favorite consoles is!
19. Bath and Body Works Candles

Candles are one of the easiest ways to make any space feel a little cozier. Bathrooms, bedrooms, offices- anywhere!
And everybody knows that if you want to treat yourself to a really nice candle, you head over to Bath and Body Works. Now, your Sims can treat themselves, too!
With this collection, your Sim will look like they got themselves a nice haul of their Autumn scents collection, and there are so many candles to choose from, you could decorate every room in the house and never repeat the same candle.
18. Annie Bathroom Set

Bathrooms don't get nearly enough attention. They may not be the most glamorous room in the house, but if your Sim enjoys long baths and spending a lot of time freshening up, then it is going to need a little something special to reach its full potential.
The Annie Bathroom Set has a rustic charm like no other. Light brown tones mixed with beautiful pale blues will help your Sims bathroom become the ultimate place for relaxation.
Some clutter you'll find here include a potted eucalyptus plant, towels to hang on the walls, and even multiple soaps for everything that needs a good cleaning!
17. Geode Shells
Who knew rocks could be so cool? Gems, crystals, and everything in between are a great way to add a pop of color into the smallest of spaces, all while catching the light of the sun, making them look even more beautiful than before.
These Geode Shells are the perfect piece of clutter for any Sim who's into nature, calls themselves a witch, or even if they just like shiny things!
There's no right or wrong reason to start a geode collection, so you can have fun going through the various color and shape options that this set has to offer.
16. Art Side of Life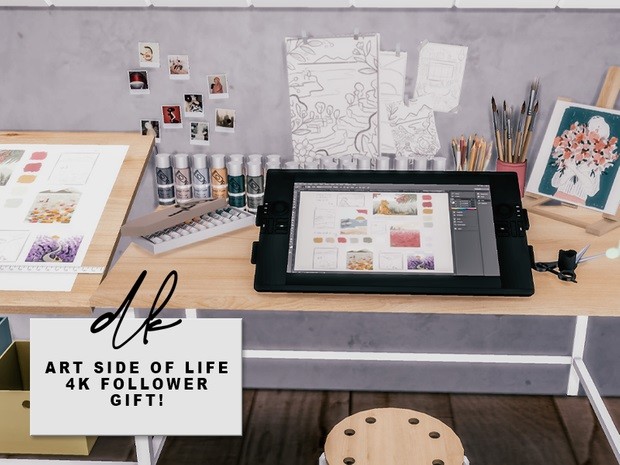 Artsy Sims are one of the most beloved Sims in the game. They have endless amounts of creativity, and it shows when they go to cash in on their most recent masterpieces.
We've already been given things like canvases and tarps with paint splatters on them to spice up their workspaces, but we already know that's not going to cut it.
Introducing the Art Side of Life. This collection comes with just about everything your Sim needs to express themselves with the arts.
Acrylic paints, a tablet for digital art, pencils, and even a variety of small easels are just the tip of the iceberg in terms of what this clutter set has to offer!
15. Wilma Decor

Wilma Decor is perfect for either your kitchen or your dining room, a way to make your guests feel invited whenever there's some sort of event going on in your Sims home.
The stoneware looks sophisticated and chic, as well as spoons and vases to match, set the stage for the perfect dinner party.
14. Coffee Set

Just about everyone loves a good cup of coffee in the morning, so why not make a cozy coffee station for your sims?
This Coffee Set has just about everything you need to make sure they have the right brand and the right strength of coffee to give your Sims a great start to the morning.
Choose from different off-brand Starbucks coffee products like bottled Frappuccinos and regular coffee grounds. Putting it next to your coffee pot and maybe a few mugs for decoration, and you're on your way to having your own coffee bar!
13. Lush Products

Even more, to set the stage for your Sims bathroom- all of their favorite products from Lush to keep them feeling fresh and smelling great!
This collection of Lush Products includes some of the store's best products, including shower gels, lotions, and their toothy tabs for when their teeth need a little extra love.
Each product comes with multiple varieties, so you can find your favorite scents and gift them to your Sims. After all, everyone needs something special for bath night!
12. Farmers Market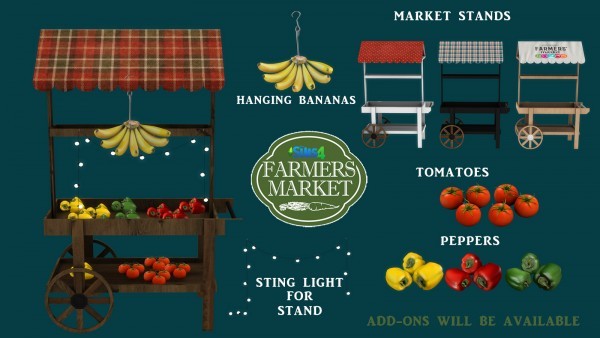 This collection is great for two reasons, you can either set this up in your Sims home so they can see all of the things they've grown themselves to the people of their neighborhood.
You could also use this somewhere like your towns park to make a lovely farmers market for everyone, even your Sim, to shop at when they're looking for a farm to table food.
Farmers market gives you a couple of options to choose from as far as stalls go and decorative produce to liven up the variety you have. If you don't want to commit to actually running a stand, you could use the fresh fruit and veggies to decorate your kitchen, too.
11. Mares Pantry

We put a lot of time and thought into the part of the kitchen where the preparation happens, but what about the storage parts?
A kitchen doesn't look right if it doesn't have food and ingredients to use for your Sims to actually cook the food- it's time for you to add in a pantry.
Mares Pantry has just about everything you need to have a pantry that's so organized, it's satisfying. Shelves filled with milk bottles, canned goods, and spices keep all of your Sims essentials on display, with easy access for them to find. The collection even comes with a wine rack to make their house extra fancy!
10. Ice Cream Cups

What's better on a hot summer day than a refreshing scoop of ice cream?
Whether your Sims are enjoying this frozen treat in the comfort of their own home or they've gone out into the town to get dessert, you can make the whole experience feel more authentic by adding some Ice Cream Cups clutter.
8 swatches with different flavors, cup designs, and some sprinkles on top. All that's missing from this is the cherry on top.
9. Kitchen Objects

In my opinion, the kitchen is the most fun place to add clutter objects. All of the small things like spice racks, mugs for your Sims coffee, and paper towel holders make it feel more like the kitchen I have at home, and a lot of other Sims feel the same way.
Plus, cooking in a decked out kitchen makes the experience more fun for everyone,
This collection of kitchen clutter comes with 9 objects, including fancier glass bottles to hold your spices, a basket full of onions, and containers for oil and vinegar. All of the pieces in this collection have a simplistic, minimalist feel to them, so they'll go well with any Sims home.
8. Housework Clutter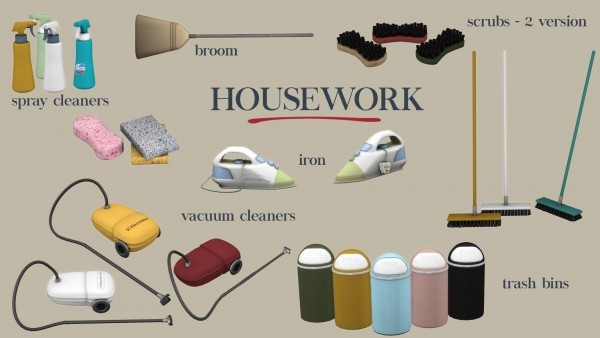 Spring is coming around the corner, and you know what that means, it's time to give your house a well deserved deep clean!
Sims don't rely on too many small tools and cleaners to keep their spaces looking well kept, but having brooms and dustpans hanging on the wall lets those around them know that they keep their home in good condition.
Housework Clutter is perfect for Sims who love everything being neat and tidy, have just bought their first starter home, and are trying to prove to everyone (and themselves) they're responsible enough to keep up with the responsibility, or even Sims that simply need a little extra something to fill up empty space.
7. Decor Shoes

We're all pretty familiar with the infamous shoe rack that comes in the clutter section of The Sims 4. I always find myself placing it by the front door, is that just me? Either way, I like having my Sims shoes on display, but let's face it, using the same shoes every time gets boring.
For your Sims wardrobe, by the door, or anywhere else, they may have a pair of heels lying around, Decor Shoes comes in 8 swatches of high heels to choose from. I mean, really, who only owns one pair of shoes?
6. Wine & Champaign PT1

Only the fanciest bottles of wine for your Sims home, this collection of clutter Wine & Champaign bottles works not only as a way to show off your Sims superior tastes in adult beverages but can also work as decor for their dining room or bar area.
No more cheap, tasteless wines for your dinner parties, your Sim's serving top shelf to their guests!
5. Healing Stones
If you liked the look of the geodes from before, but maybe you're looking for something smaller scale, perhaps for a small shelf or on a desk, those might not be what you hand in mind. Instead, why not try adding some Healing Stones around your Sims house?
Instead of being jagged and untouched, these are smooth and could easily fit in the palm of their hand, and make having a large collection more realistic.
In this set, there are 9 stones to choose form, including moonstone, adventurine, and crystal quartz for variety in color and, if you're into it, healing properties to keep your Sim spiritually protected.
4. Franxius Office Decorations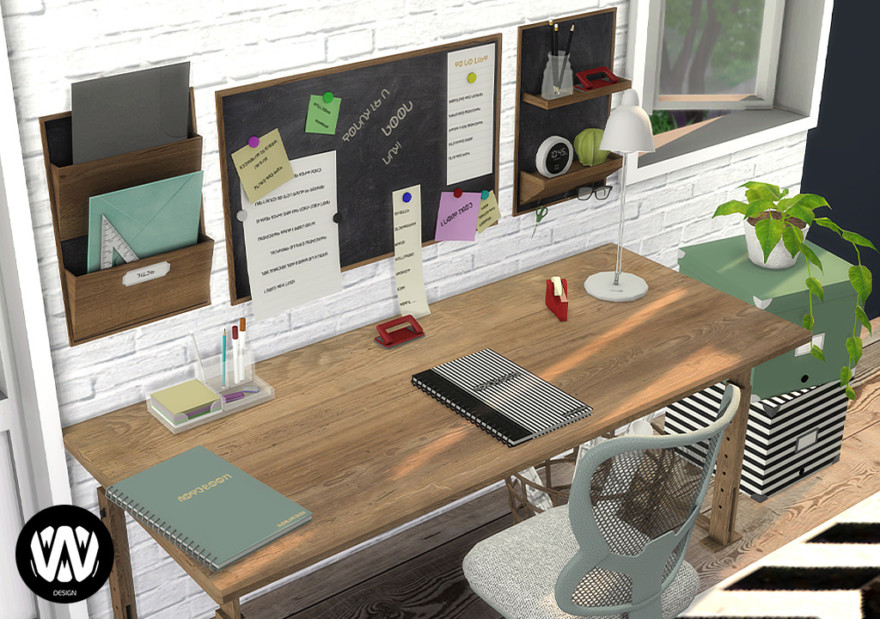 Not every workspace is as creative as an art studio. For our left-brained Sims, they may have a job from home that makes them work on their computer with numbers or has them filling out paperwork after they've left their job for the day. If that's the case, they might need some things from the Franxius Office Decorations collection.
This collection is sophisticated, attractive, and practical. With subtle colors for all of their office supplies, including a pale green and various shades of beige, they're not too boring, but they don't look like they belong to a kid, either. The perfect vibe for any working Sims office space.
3. Nicole's Fav CC Collection- August Edition

In this rustic meets boho collection, there are a variety of items to choose from that can be used in just about any room you can think of.
A chair with a blanket draped over it, vases with leafy greens, and even a cutting board with fresh baked blueberry muffins- Nicole's Fav CC Collection truly has it all!
This collection is a little different than the ones we've seen before. Instead of all the things being in one file to be added to your game, each item has its own download link. This way, you'll only get the things you want and not have extra cc you won't use taking up space!
2. Witchy Things V1

Calling all Sim witches! This is the set of clutter for you, complete with a selenite wand, smudging tools, and a pack of tarot cards, Witchy Things V1 comes with everything they're going to need for a good spiritual cleansing session.
Take a deep breath, grab a cup of tea, and let them relax with a tarot reading.
1. IKEA Inspired Kitchen Set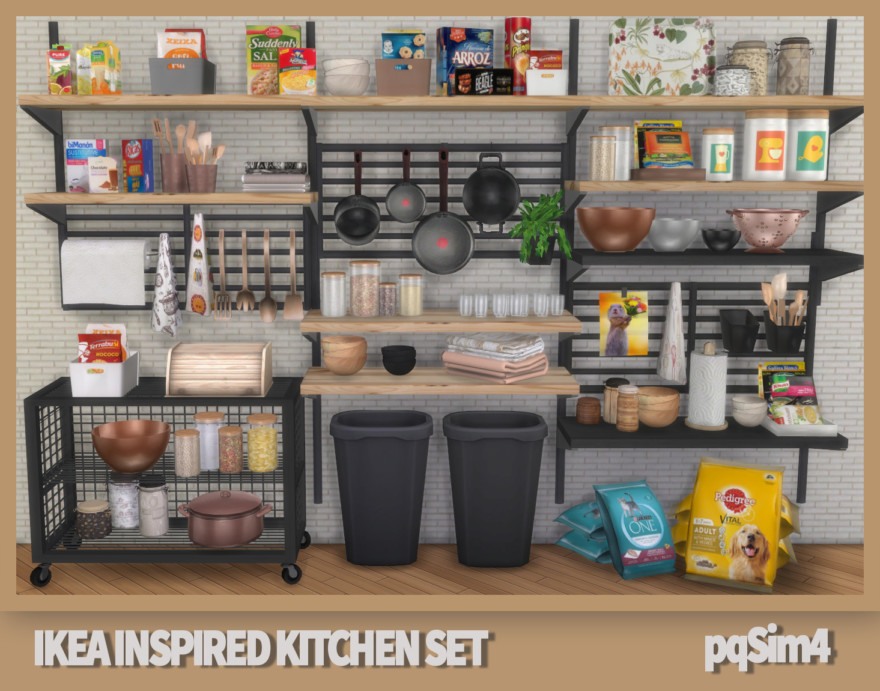 Ikea Inspired Kitchen Set is everything you need to make your kitchen feel as homey and realistic as possible, with maybe a few extras thrown in there like bags of pet food for good measure.
Spice bottles, cooking tools, trash cans, and even some junk food for a midnight snack, all tied together with some simple shelves and racks to line all of your Sims things in one organized place!
You might also be interested in: