Valhalla's predecessor, Assassin's creed odyssey, was released in 2018 and received positive reviews for being one of the greatest in the series.
Although ambitious, the game aims to deliver a different yet superb take on the story, combat, characters, and scope.
Some might feel a bit off here and there (with the leveling system and a few more hiccups), and therefore our list of the top 15 best assassin's creed odyssey mods will have you rejoice as you enjoy the game like never before.
Best Assassin's Creed Odyssey Mods
18. Myrrine Customizer

Mother of Kassandra and Alexios, Myrrine, is a character that the player has to find throughout the story. However, some players may still want her to resemble either playable character after downloading other mods.
That's where the Myrrine Customizer mod comes in! With this customization mod, the player can change Myrrine's hairstyle, the color of her hair and eyes, her skin tone, and her outfit.
In order for this mod to work, you will need Forger, then drop the mod file into the ForgerPatches directory. And if you ever want to reverse the changes you've made, simply untick the mod boxes in Forger.
17. Kassandra Enhanced Muscle Definition

One problem in video game development today is the lack of muscles for female characters. Kassandra is a tough lady who would definitely have toned muscles, so this Kassandra Enhanced Muscle Definition mod is here to fix this.
This mod is straightforward, as it will redefine the lines of Kassandra's muscles throughout her entire body.
The most noticeable difference is in her abdomen, with a clear-cut six-pack, but her shoulder, arms, and legs are also heavily toned.
In order for this mod to work, you will need at least the 2.8 version of Forger Patch Manager.
16. All Legendary Items Unlocked

In any video game that has a secret Ultimate weapon or easter eggs, players are familiar with how much of a chore they can be to obtain. Which is part of the reason that cheat codes exist!
In Assassin's Creed Odyssey, obtaining all legendary items is one thing that most players want fixed in future titles, but with the All Legendary Items Unlocked mod, you can enjoy all legendary items now.
This mod comes with a step-by-step guide in the form of a YouTube video for convenience as well. With the many legendary items in the game, this mod/cheat is worth the several hours saved.
15. Level 1 Kassandra With 500.000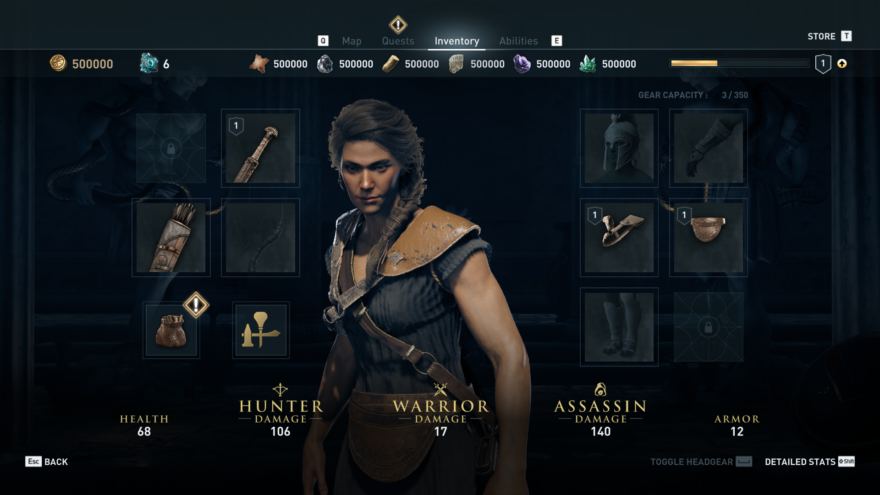 You need resources to upgrade your equipment, weapons or even buy things from merchants.
Although starting a game with unlimited resources can speed things up, many feel that it ruins the entire experience of playing the game for the first time.
But to each their own right? With level 1 Kassandra with 500,000, you start the game with 500,000 each of every resource allowing you to breeze through any situation just like the anime "Balance: Unlimited."
With so many resources in your pocket, the world is in your hands. Make the best of it.
14. AC Odyssey Tweak Pack

Although great, the game is far from perfect, and some might even feel that some aspects of the game can cause unnecessary hiccups.
AC odyssey tweak pack makes all the minor ups and downs in the game smooth, allowing gamers to have smooth gameplay.
You can now mount without the speed restriction, improve the loot multiplier, manipulate your and your enemies XP, HP, and damage multipliers. There is even a reduced bounty cooldown, which is great if you hate waiting for too long.
13. Younger Alexios

Alexios might be strong and confident, but he looks too old to jump around buildings and vandalize through the markets. Younger alexios works on the shaded texture and makes Alexios' main character look young.
Having a younger player as MC can easily fit around the game's storyline. Have Alexios looking younger with body customization where gamers can change hair, skin, and other textures.
12. Player Armor Extra Customization

Apparently, clothing accessories and fashion is a thing among games and gamers alike.
Many of us cannot get behind the idea of the hideous pants worn by Alexios and Kassandra. Simply change the outfits according to your needs by getting player armor extra customization.
The mod increases the level of customization by giving 23 options for gamers to choose from.
Players can now add or remove capes, change outfits, bring in new designs, and more. Bring a bit of style to the old fashioned assassin's creed odyssey.
11. Valhalla Inspired Warpaints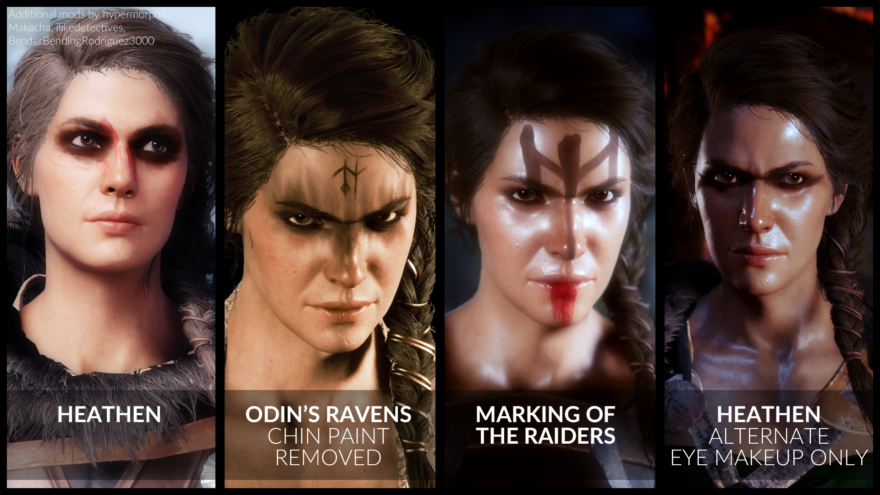 Just like how war cries are known to spread fear on the battleground, so do warpaints.
Valhalla had warpaints on the characters and if you're looking for that in the older version of assassin's creed that is Odyssey, then get valhalla inspired warpaints.
Raise the level of aggression and fear with face warpaints as your player dashes through enemies and obstacles. Look fierce and composed as the warpaints give you a whole new identity.
10. Effects and Interface Customization

HUDs are great for looking at quick stats or other important information; however, sometimes, a cluttered HUD can be a huge distraction.
In Assassin's Creed Odyssey, HUDs have additional effects that some may not stand behind, and for that, you need to get effects and interface customization.
Players can now remove effects like enemy proximity, warning circle effects, warning flash effects, heavy attack warning sparks, and more from the game.
This can reduce the annoyance you may face and lead to a better gaming experience.
9. Invisible Bow and Spear

Sometimes too much is not that attractive, and that is why the minimalist trend has scaled across the world. Many gamers prefer that their characters in the game also have minimalistic.
Currently, bulky bow and quivers can feel like they're a bit too much to have around all the items, and therefore invisible bow and spear were born.
Have a minimalistic look with the bows and spears turning invisible. No more cluttered look on your character's back as you leap from one place to the other. You are, however, required to have a forger mod to be able to use this.
8. Vividfx Redux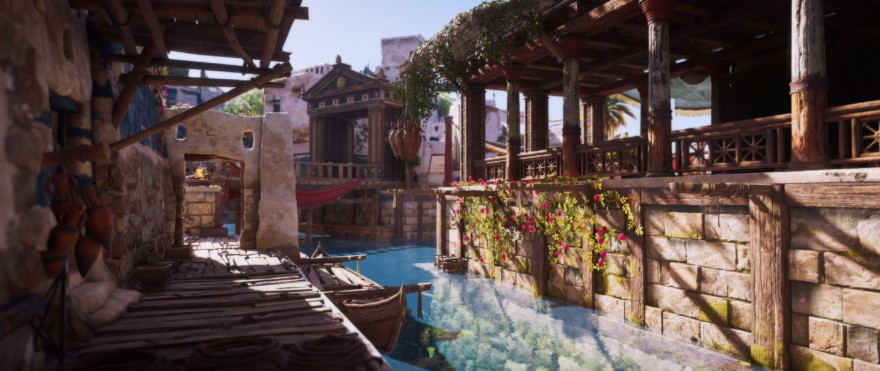 The game has some stunning views, and a bit of graphical enhancement can really improve the immersive experience that it has to offer. VividFX redux increases sharpness and vibrance while improving the field of view.
You can also improve colors by simply adjusting the color slider according to your needs. With better visuals, experience Assassin's creed like never before.
7. Different Skin Tones for Kassandra

Many gamers prefer altering the original characters in the game to resemble their looks in real life or looks that they admire. Different skin tones for Kassandra allows you to do just that.
Many might feel Kassandra's skin is too light or dark, thus impacting how they feel about playing Kassandra.
Now be able to customize Kassandra's skin tone with 5 different customization options. Play Kassandra just the way you like visualizing her. For us, a bit of tan works best but hey, whatever floats your boat.
6. Ace Visual Overhaul Collection

Enjoy better visuals and cinematic experiences in your game? Look no further, Ace visual overhaul collection is the mod for you.
You can improve little things like enhance colors making it more vivid, realistic reshades, and adding cinematic visuals.
Overhaul your gameplay with superb visuals that will have you wanting more. The game does not really need much of a visual overhaul.
However, this mod will entice those that are looking for something extra when it comes to visual. Sharpness and colors will ensure that the visuals stand out.
5. Kassandra Wonder Woman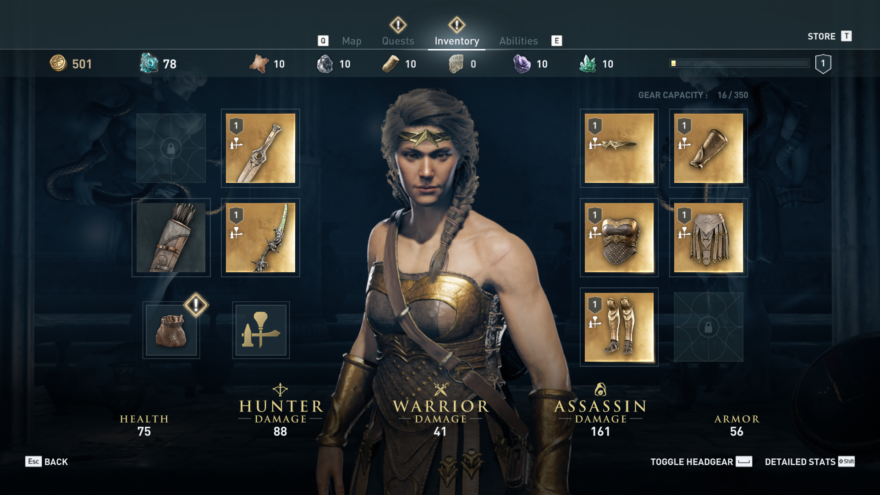 Kassandra is fiery in her armor costume but wouldn't it be better if she was dressed more gracefully yet feisty, something like the wonder woman?
Get hold of an Amazon warrior set with a matching Siphos sword and Fang bow and have Kassandra dressed in those rather than those bulky armors and ornaments.
Specialized perks come along with the mod giving you the feeling that you're playing wonder woman rather than Kassandra.
4. Inventory Editor Update

Wanted to have the power to do anything with your inventory:? Inventory editor update allows gamers to do inventory modding and use boosters.
With this mod, gamers can edit or swap their inventory, mod perks, boost vehicle quests, boost XP, and more.
Don't feel left out when your friends talk about the cool inventory they have or how quickly they went from one level of XP to the other.
You can have the same as well or even more, but don't tell them you're a big fan of inventory editor update.
3. Customizable Eye Color

If you're not looking for an advanced customization mod and simply want a bit of character change like changing their eye color, customizable eye color is the mod.
There are over 25 eye colors for you to choose from if you're looking to alter Alexios or Kassandra's eye color.
Stand out with green eyes or feel exotic with crispy blue shades or even go for red if that's something you're into. Hey, a bit of change never hurt anyone.
2. Realistic Reshade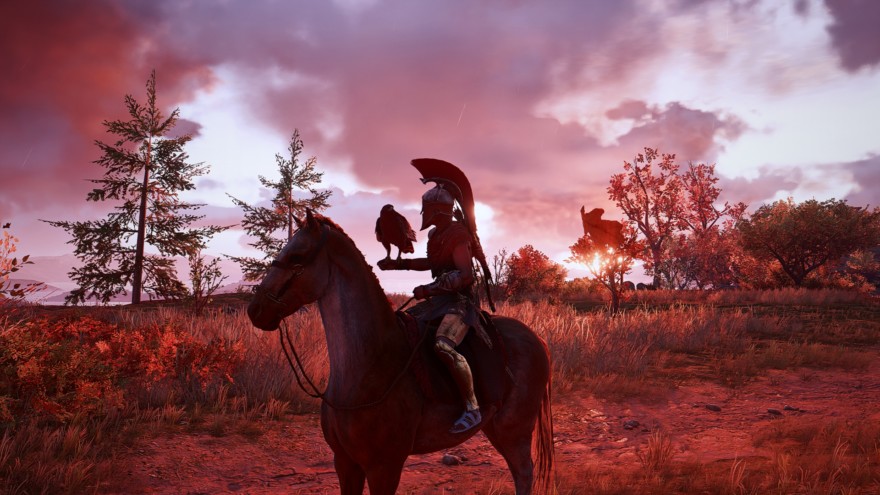 What's the list without a couple of visual mods. The realistic reshade mod makes visual changes without affecting performance too much.
The mod adds a sharpening picture making the colors pop out while focusing on improved performance.
Many visual mods come with a sacrifice, PC power consumption that pushes your GPU to the max.
However, the realistic reshade has a better performance to visual ratio allowing many gamers to experience high definition graphics without having to allocate too much PC resources.
1. Forger Path Manager

Like any game mods, you need to be experienced enough to know how to install or update mods.
However, some games work well with mod managers, and in this case, forger path manager will be your tool to salvation (a better gameplay experience).
Having this mod can help you install all other mods effortlessly without having to follow individual instructions that come with every mod.
You might also be interested in: