The eyes are the window to the soul, and eyelashes are a perfect curtain that makes your eyes pop and mesmerize everyone around.
In the world of The Sims 4, we have a lot of eyelash options among CC content, but there are so many of them that you can easily be lost!
We looked and found the best CC eyelashes for your sims on the web, both alpha and maxis match, to help you with this problem. Download and enjoy!
Best Sims 4 Eyelashes CC
Colored Mascara

When it comes to makeup, nothing has the power to instantly transform your female Sims' looks like a couple of swipes of colored mascara.
The vibrant pigments in this eyelash CC add pops of color and drama to the eyes, lending any ensemble an instant upgrade.
So whether you prefer a bold cobalt blue or a softer bronzed shade, or even an avant-garde purple, colored mascara can take a look to the next level.
Not only do the mascaras add some extra color to your Sims' lives, but they also serve an important purpose in the game.
Mascara can help you make your Sims appear more awake and alert, which is perfect if you need them to look their best for a job interview or an important meeting.
This is one of the more unique Sims 4 eyelash CC packs; definitely a must-have.
Xxl Seductive Eyeliner With Lashes

The eyeliner and mascara in this CC eyelashes pack give your Sims a dark and seductive look that can be perfect for high fashion or grunge couture.
The liner is thick and dramatic, while the mascara is volumizing and lengthening. Both products are long-wearing and smudge-resistant, so your Sims can rock this look all night long.
A clean complexion and sleek hair perfectly complement an intense or smoldering dark-eye look, bringing out the beauty of this striking style while also letting it stand out on its own.
Dramatic Eyelashes V2
Eyelashes are a small but essential part of our appearance. They play a key role in framing and enhancing the eyes and can subtly add drama to our facial expressions.
These CC eyelashes are high quality and have a very clean and classic look that will give your Sims a more polished appearance.
This mod is great for the game because it adds some much-needed clean variety to the available eyelashes, and it can really help your Sims achieve a no-makeup makeup look with these deceptively natural lashes.
3D Princess Eyelashes

Even though we all know that the Disney princesses are just fictional characters, we can't help but be entranced by their classic style and makeup.
The 3D Princess Eyelashes brings a novel Disney movie-inspired look to your Sims' eyes, making them look more beautiful and special.
The lashes look great when used with any eye color or skin tone. They're perfect for any occasion, whether you're going to a party or just spending a day at home.
These lashes are a great addition to the game; these animation-inspired 3D lashes are unlike any custom content we've seen.
3D Eyelashes V2 (Any Gender/Age)

Eyelashes are an essential feature of the face, adding beauty and definition to the eyes. Whether on a man or woman, young or old, eyelashes play an important role in enhancing one's appearance.
3D Lashes V2 adds a classic, feminine eyelash style to Sims of any age or gender.
These CC lashes look good on male, female, and toddler sims, having a softening effect to their face.
WM Eyelashes 201802

There are many dramatic lash CC options for Sims 4, but what about subtle, natural lashes? This eyelash collection provides two versions that look elegant with or without additions like eyeshadow.
These WM Eyelashes 201802 are great for players who want as close to a natural, subtle appearance for their sim as possible. You can add an eyeshadow CC to create a subtle yet sultry appearance for an additional boost in appearance.
This eyelash CC is perfect for any date night or professional outing for a sim you want or need to look as classy as possible.
Ethereal Lashes N27

No creature of the night or supernatural sim is complete without a matching pair of whimsical eyelashes. This CC provides just the lashes your sim needs to complete their immortal look.
In this Ethereal Lashes N27 pack, there are 10 versions of these lashes, all of which come in two colors: black and soft brown. Sims of all ages and genders can use these beautiful lashes.
This CC pack is perfect for those who want to create beautiful aliens, fairies, vampires, and so on. Each version of these lashes is arched gently enough to provide the sims' eyes with elegant arches and accents.
Full Exposure Eyelashes

On the opposite side of the lash spectrum, this CC is here for you when you need a bold lash that really pops.
Would you believe that these Full Exposure Eyelashes are actually eyeliner designed to look like incredibly thick lashes? So, to find them, check the eyeliner in the makeup section.
These lashes are fanned out perfectly so that you can see each individual lash that frames the eyes beautifully.
Whether you want a bold look for the bars and clubs or need a bold lash for the sim you designed to look like a glammed-up doll, this CC is necessary to have just in case.
Ruby 3D Lashes

Having evenly spread-out eyelashes is difficult to achieve, so that's why your sim can use this CC to get slender lashes in an instant! Ruby 3D lashes come in four versions and in four colors: black, dark brown, light brown, and white.
Each version has a different amount of lash on the top and bottom of the eye, each winged gently out to accent the curve of your sims' eyes. This CC pack captures what lashes look like with freshly applied mascara.
This CC is a great option for those who want on CC pack that can fit any situation.
3D Lashes Version 2 by Kijiko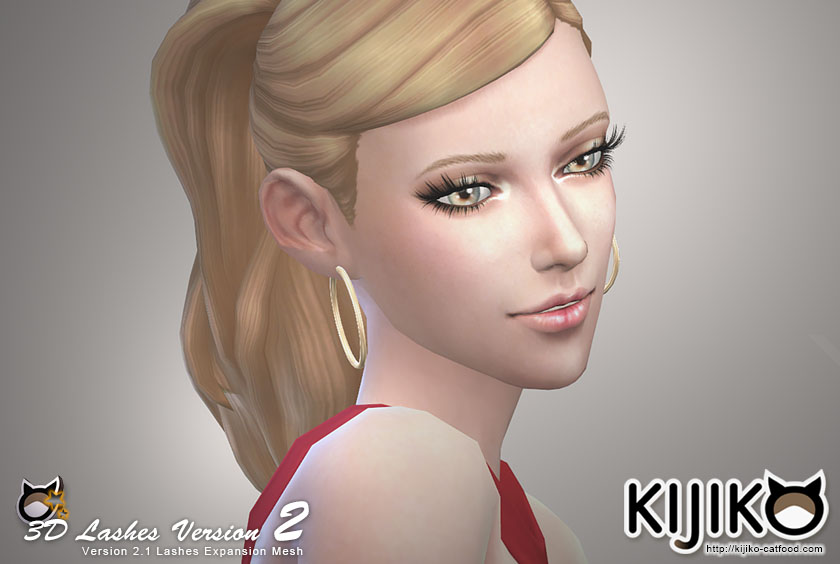 Smooth and curvy alpha CC lashes for elegant sim girls/boys and heart-breakers rolled into one. But do not think that you get only one eyelash pair here — it is a whole set that consists of forty-five different eyelashes for you to choose from. What a lashalicious set!
This set can cover all your eyelash needs from short and simplistic styles for males to long extraordinary for female sims. You can style them for young and shy ladies and for strong adult men. Yes, this is the set for a true eyelash lover!
Maxis Match Eyelashes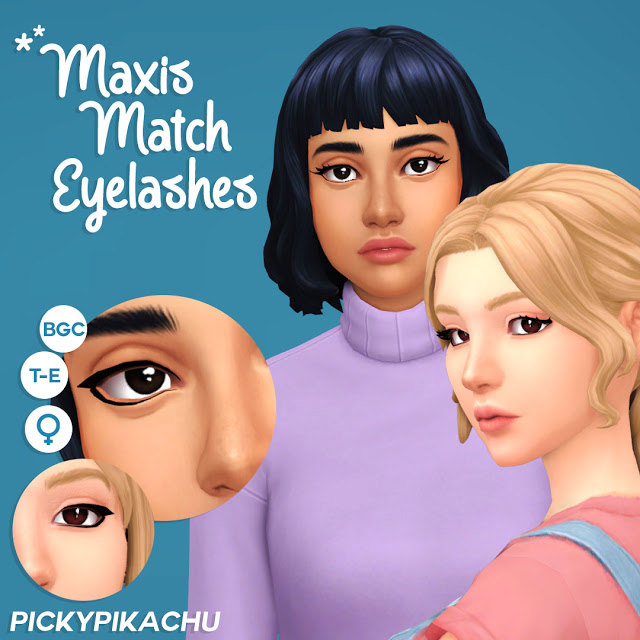 The classics, the unique and fabulous Maxis Match eyelashes for all simmers who enjoy our favorite game's fantastic style and don't want to change it! Just add a little sparkle, but nothing more.
This set of eyelashes has two versions: Norma lashes and Jade lashes. Both variants have an authentic Sims 4 style that looks gorgeous on your female sims and makes your girls look even more feminine and beautiful.
Each style has eight natural color swatches and two options: only top lash or top and bottom eyelashes. That's a good thing for the customization!
Daily Eyelashes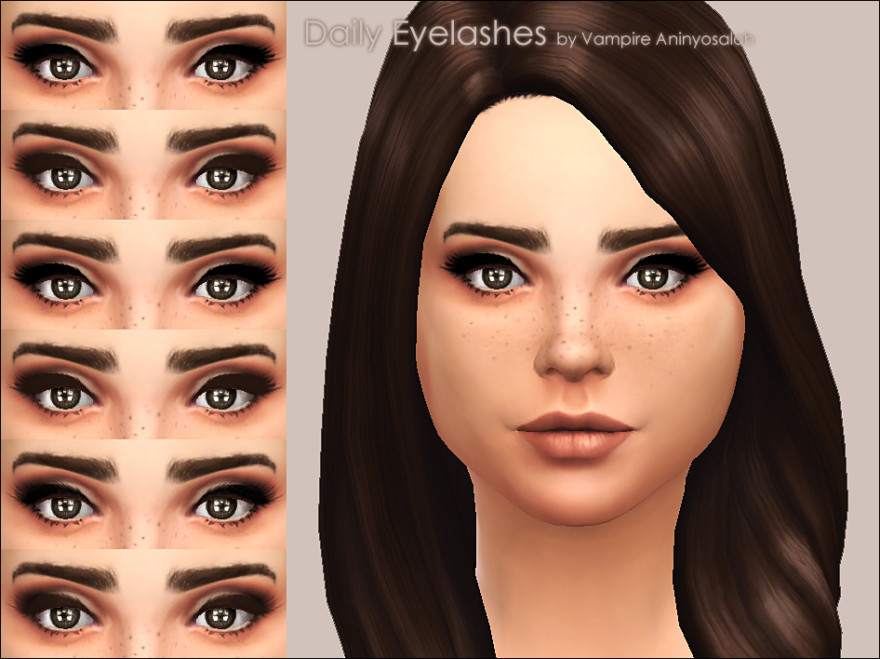 Just a simple day-to-day lashes with a little bit more drama than usual, but good enough for a boring day in Dewey, Cheatem & Howe Incorporated as an Office Assistant.
The lashes both work for female and male sims and have six natural recolors to fit every skintone and fashion style. The lashes are non-default so that you can add them as a skin detail (situated in the face paint category on CAS).
S-club WM TS4 Eyelashes 201710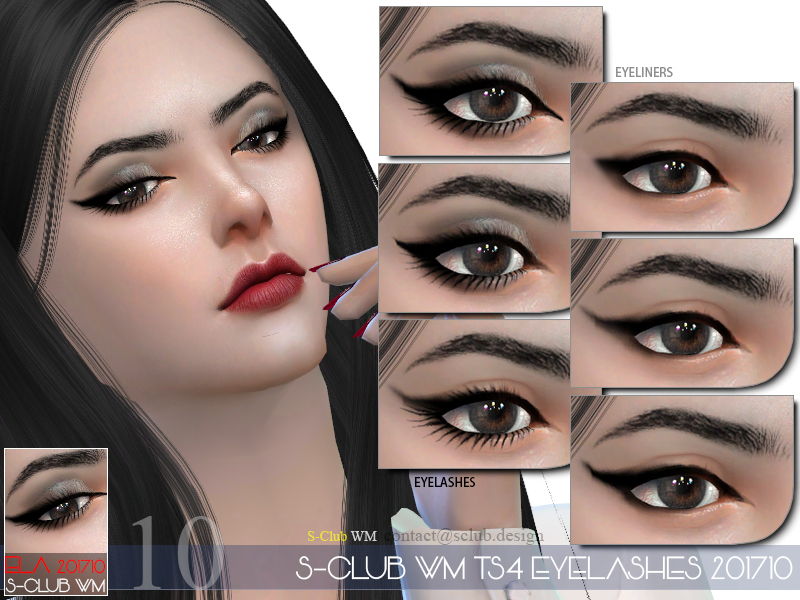 Sounds like robot lashes, but no, it is a set of gorgeous eyelashes for your sim girls. Very delicate and simple-looking, but with a big potential to become your favorite set of lashes for your female sims!
The set has six different swatches for you: three of them are eyelashes with an eyeliner, and three are just eyeliner. These lashes and eyeliner have different styles, from a full cat-eye to a delicate wing for everyday use.
The best thing about these eyelashes is that they flatter many eye shapes, and every sim looks beautiful with these lashes on.
TS4 05 Eyelashes by Glaza

Oh, that's a crazy set of lashes we've got for you! The 05 set by Glaza (it means eyes in Russian, by the way) has colorful lashes! That's right: blue, pink, red, white, and rainbow lashes for your sims!
Yeah, you can find in this set some natural-looking brown or black lashes, but boom! Here you have all the colors and styles you can imagine in this one fabulous set.
They are not just recolors — some lashes are partly colored, some have every other lash colored, and some of them have multiple colors!
Mmsims Eyelash V4 Set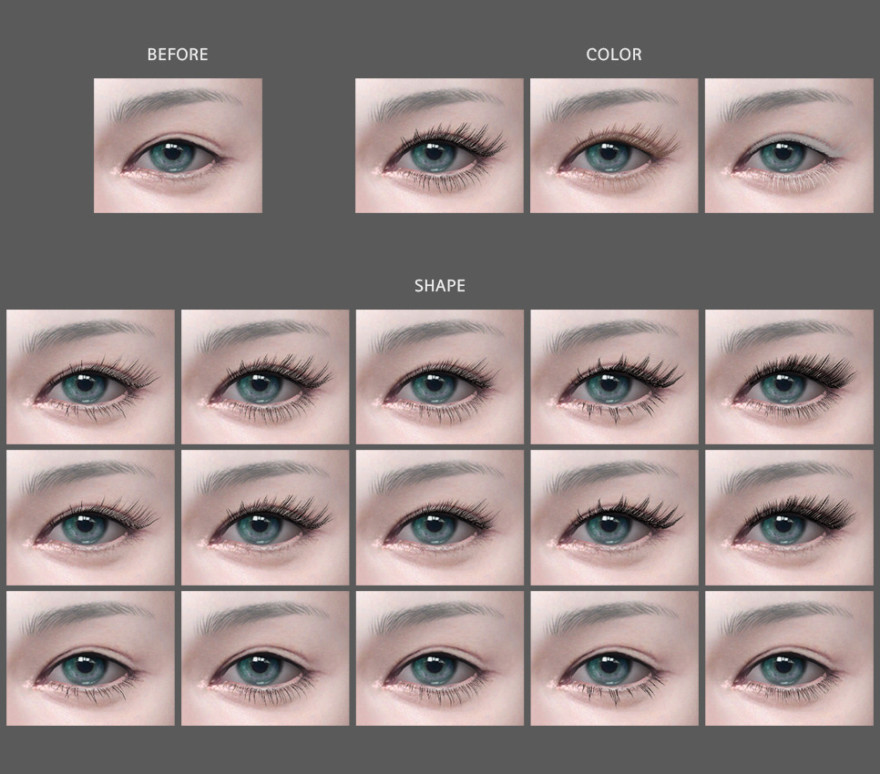 Like a feather of a dove, like a wing of a swan, those delicate eyelashes look like the thinnest and most gentle lashes you can imagine on your sim.
This level of tenderness on your sim's eyes makes the girl look like the most elegant human in the world. And very beautiful too!
The set is massive: here you can download different styles and shapes that have tons of recolors. The set's lashes can be very simple and dramatic, but every one of them looks incredibly delicate and gorgeous.
S-club WM TS4 Eyelashes 201709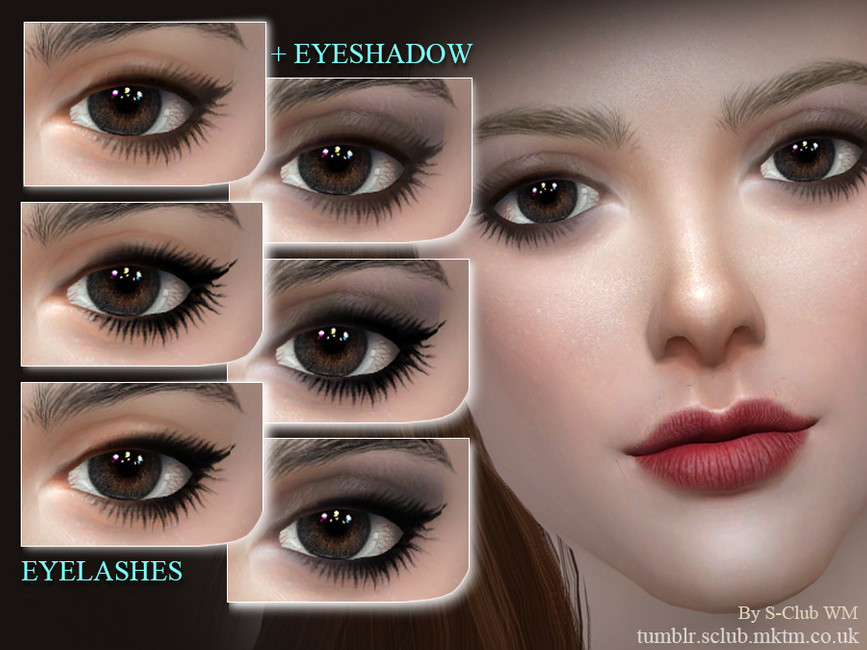 Here are the other fabulous lashes for sim ladies that like to be seen but not foreseen because of their eyelashes. These look perfect on more round eyes because they make them even more round and very dolly looking.
The set has three different styles of eyelashes — from very wearable to dramatic lashes.
You can also find all the lashes in this set paired with smokey eyeshadow to complete the look. You can use this variant for evening looks for your sim and make her look even more fabulous!
Eyelashes NB02 by Mqsims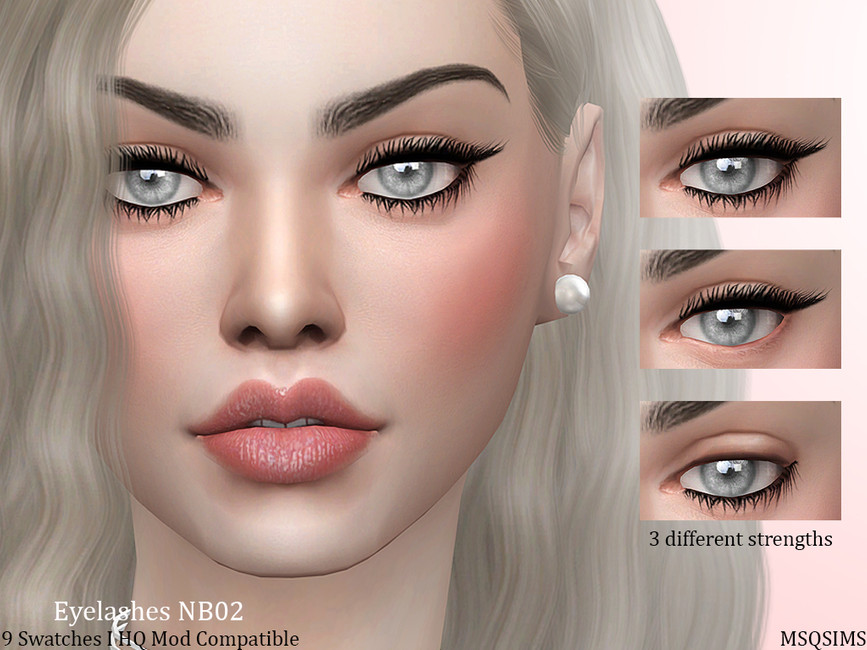 One of the star eyelashes on this list, the lashes give your sim's eyes that seductive and languid look that drives every sim man crazy. It is the lashes for Femme Fatales that want to be disguised by the lashes and look innocent when the girl needs that.
It is the lashes for Scarlett O'Hara, for a brave and feminine sim with a lot of mysteries behind her eyes.
The lashes have three color variations and nine swatches. It is an alpha CC, and the set is fully HQ Mod compatible.
3D Lashes by Dreamgirl

The 3D lashes are a set of full glam and Instagram worthy eyelashes that every beauty guru would like to try on. Different lengths and styles create endless opportunities to use these lashes in your game. But they are not for a shy girl, for sure.
All lashes in this set are long and unique and have different styles. You can choose some more natural-looking long variants or some cool, almost fantasy, and spiky lashes.
The lashes can be used as false eyelashes, and you can find them in the Glasses category in CAS. It is a very useful feature because this way, you will be able to change the style of lashes whenever you want.
Skin Detail Lash Pack N01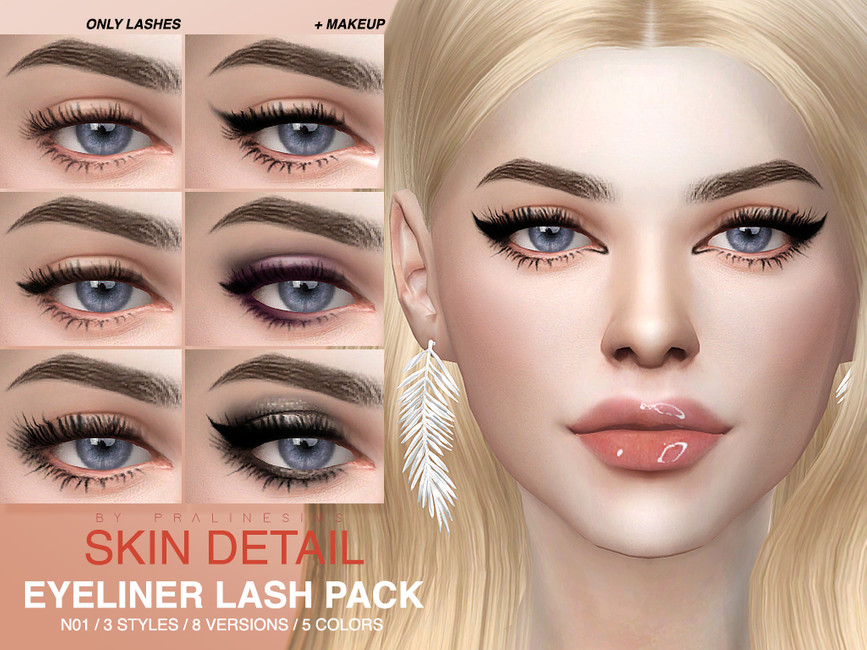 This set offers a lot more than just eyelashes, but the lash part of it is definitely worthy of including it in this great list.
Here you can find an abundance of the lashes' variations — more than forty swatches! They can be used on females and males from teens to elders.
The pack's style is more on the natural side, but you can definitely find some options for your evening makeup lovers among the sims. Especially because these lashes all look incredible with the custom and in-game makeup.
TS4 04 Eyelashes by Glaza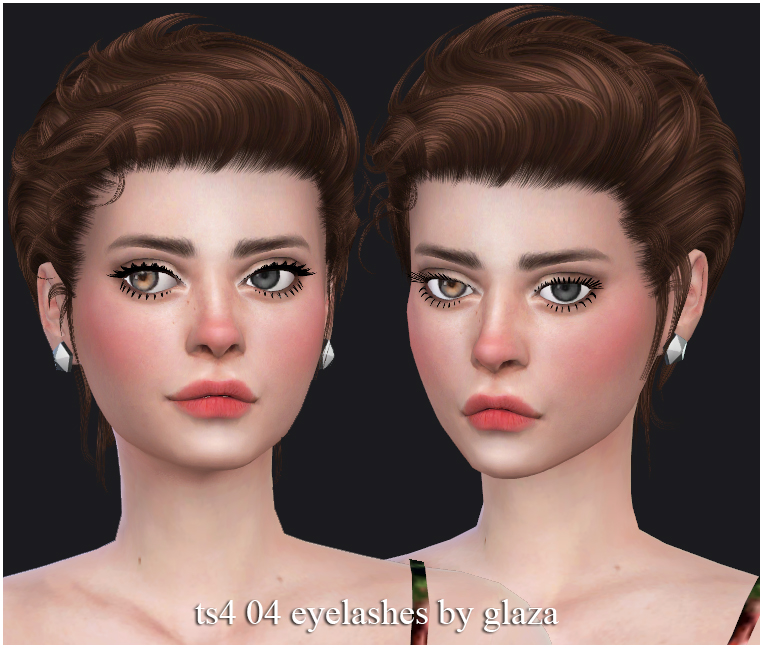 Another treasure by a talented creator Glaza. The set consists of forty-two fabulous lashes that can be considered a strong bridge between Maxis Match and Alpha CC.
Some of the lashes can look amazing with every EA creation, but some of them look straight-up alpha content. Nevertheless, they all look gorgeous.
These all lashes are more natural-looking, and you can find here some straight, curvy, thick, and thin eyelashes. You will get pretty much every kind of natural lash you can in this set.
Also, this set is located under Glasses, so you can add them to your default one to accentuate the real lashes.
Bobur Eyelashes 19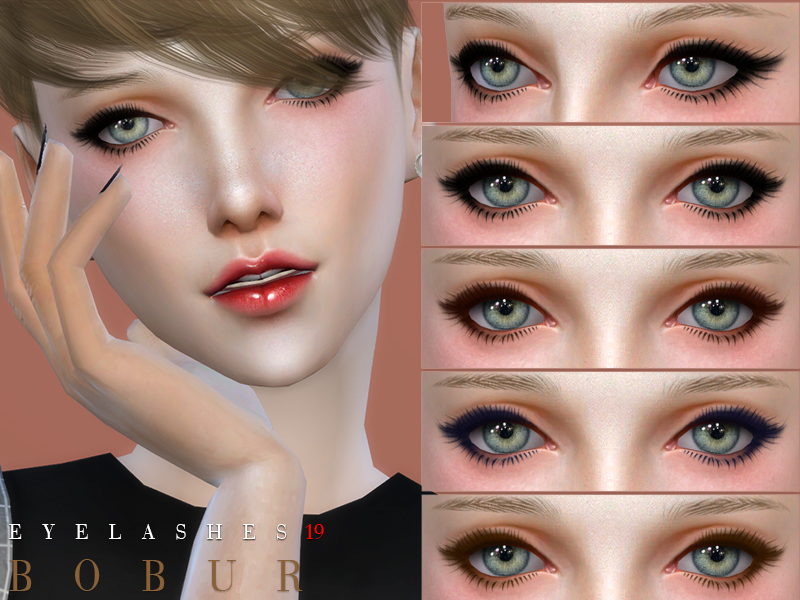 Oh, these lashes hit us in our hearts with its somewhat enigmatic and sultry look. It is an epitome of a cat-eye in the form of eyelashes and eyeliner, and this set can be seductive as hell.
Your sim girl now looks like a true Femme Fatal, but with more glamour and sophistication. What's not to like?
The eyelashes have a decent variety of eight recolors, and all of them have very subtle and muted but fun colors. It is an alpha CC content, but we tested the lashes on the maxis match sims, and we think that they look more than stunning!
Sapphire 3D Eyelashes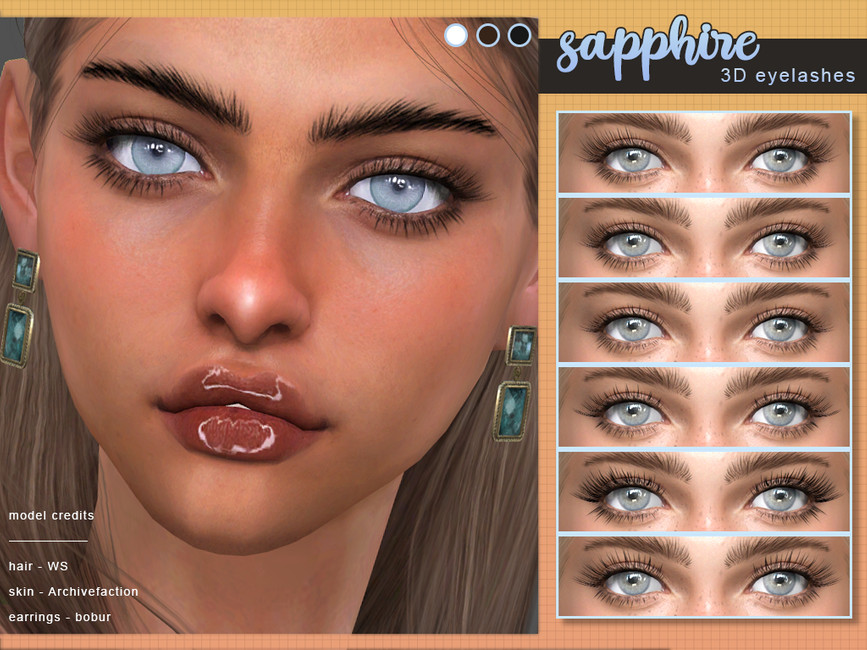 Talking about the glam! And not just your regular red-carpet glam, but the one where your sim looks like a model with her natural beauty glowing from inside of her.
The Sapphire 3D Eyelashes has six options in three different shades, and it is a new mesh for the game.
They look so tender and natural, but they have a beautiful curl and incredible length. These are made for eyes to mesmerize, and these lashes are not ashamed of it.
Leahlillith Hollywood Lashes

Did anybody order lashes that deserve to be on the Queen of Hollywood? Here you have it!
The incredible set of astonishing lashes that bring out the inner huntress from every sim woman. This sim will be the one that you cannot escape from.
The lashes are Alpha CC, and they have a twenty-one swatch in total. Every swatch has a different style and length of lashes, but all of them will be very flattering on your sim.
We wonder, does Dina Caliente know about these lashes? They surely will help her to seduce Mortimer!
Easy Design 3D Eyelashes

And here's one for the maxis match. The wonderful set for female and male sims in an eternal EA's style.
Here you can see some natural looks and some more extravagant ones. The lashes can be long or short, curly or straight, thin or thick — everything to make unique sims.
The lashes here are non-default, and you can use top and bottom lashes separately. You can find these lashes under the ring section in CAS.
Maggie Eyelashes and Eyeliner №94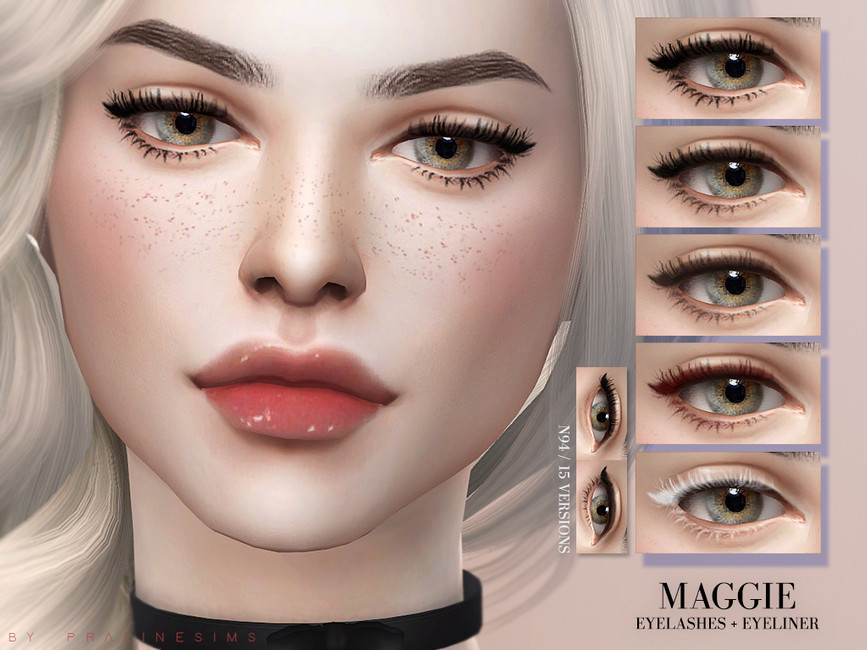 The sweet eyelashes for your angelic sims in The Sims 4. It is universally flattering lashes that look great on every kind of eye shape and skin tone. You can make a lot of gorgeous sims using these lashes.
The lashes have fifteen different versions and come with fabulous eyeliner on the top lid that accentuates the eyes' shape.
Also, there is a set of recolors for these lashes from frosty white to dark red, for more edgy sims. You can also use colorful lashes on your occult sims that try to be more human-like.
Male Eyelashes 02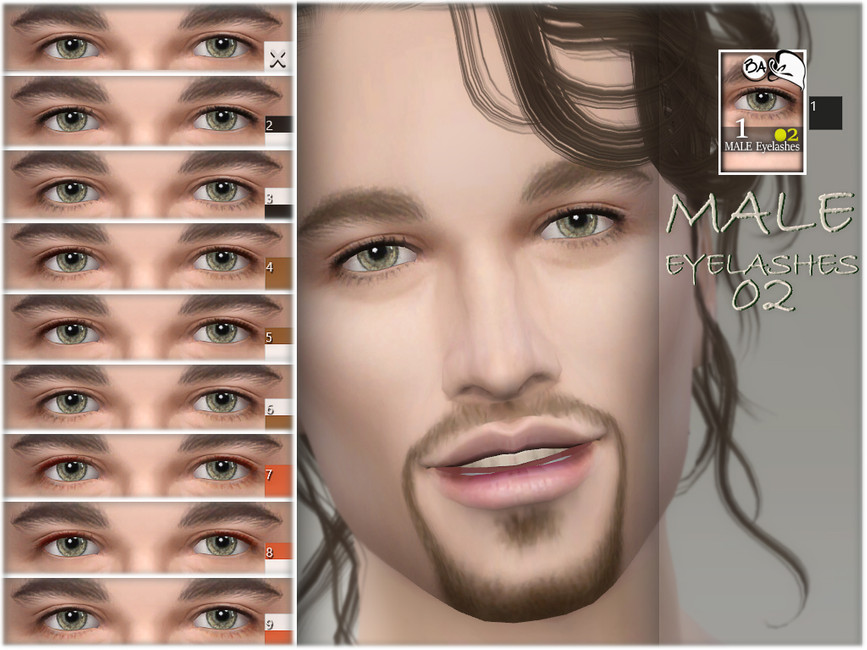 This set is for your male sims only. Minimalistic eyelashes that look very fitting and surprisingly good even on more maxis match sims.
The lashes are simple and cute, look great on every male, and have nine different variations that include three swatches and three styles of the lashes. It sounds like a win-win situation for us!
TS4 18 New Mesh Eyelashes by Glaza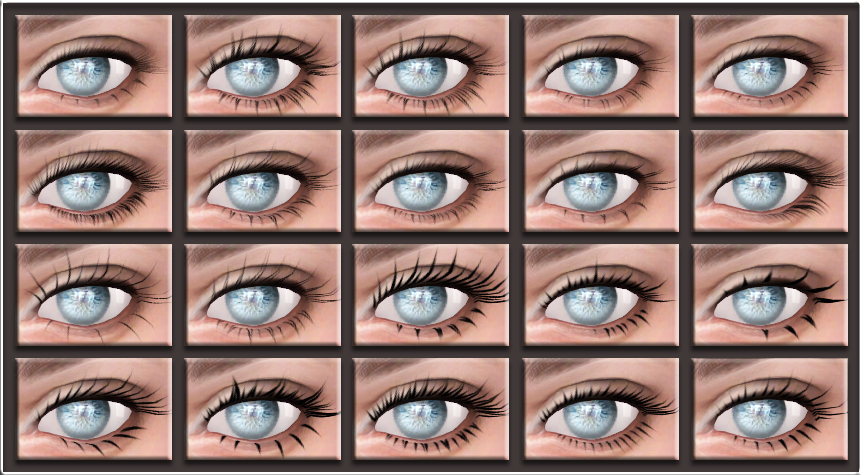 Your sim girl will be thrilled when she puts on these amazing eyelashes! All of them are different but wearable and suitable for a vampire queen of darkness and a shy librarian. A diverse pack, we may say!
Eighteen swatches that vary from simple natural short lashes and to wild and some fantasy looking ones. These lashes can definitely be used on your anime sims since all of them will make the sim's eyes look rounder and more innocent.
But, with a proper girl, these lashes can look like the most seductive thing in the world. And you can totally put them on your charming ward, someone like our sweet girl Nina. She will find a proper use for them!
Bobur Eyelashes 20
These lashes are something that was made for the simmers who adore simplistic looks, different from over-the-top Instagram lashes (fabulous, though). It is a dream creation for your female sims with kind souls and beautiful big eyes.
The set is fully HQ compatible and has eight natural recolors. It is a unique set of lashes that look a little unearthly, maybe starry, and absolutely astonishing.
You will love these lashes in your game, and all your sims will look like stars with these eyelashes on them.
Halloween 3D Eyelashes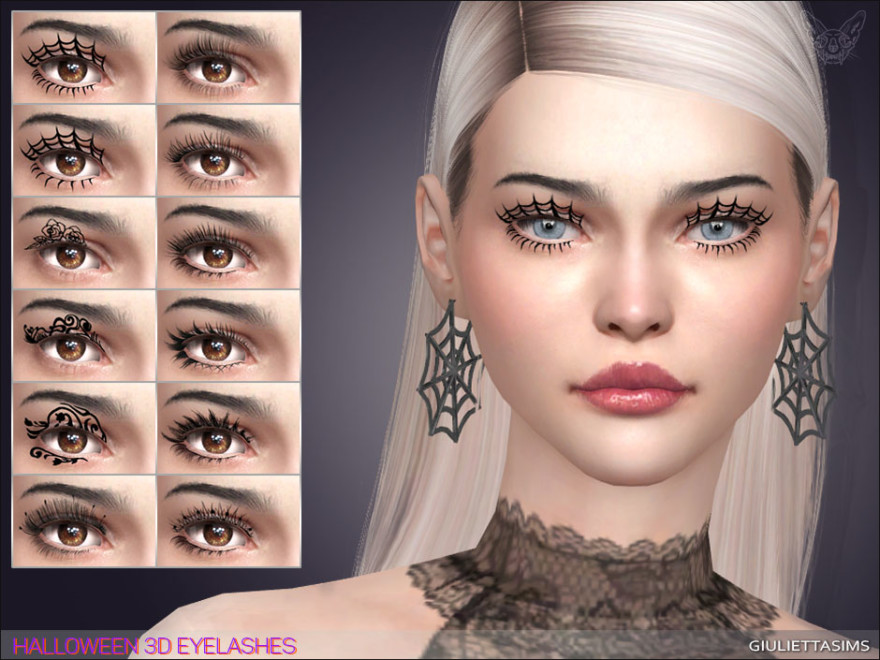 Fantasy lashes can transform every boring or not original Halloween look into something fabulous in a matter of seconds.
The Halloween 3D Eyelashes set presents to you a wide range of different unique styles that will fit any costume you choose.
Here we have some regular lashes for the harmless milkmaid, spider-web lashes for a devious Vampyra or Morticia, rose ones for a fairytale mistress of White Magic, and many more options for you to choose from.
The whole set consists of twelve swatches, five ordinary (but stunning) lashes, and five fantasy kinds with fabulous effects.
Female Eyelashes 06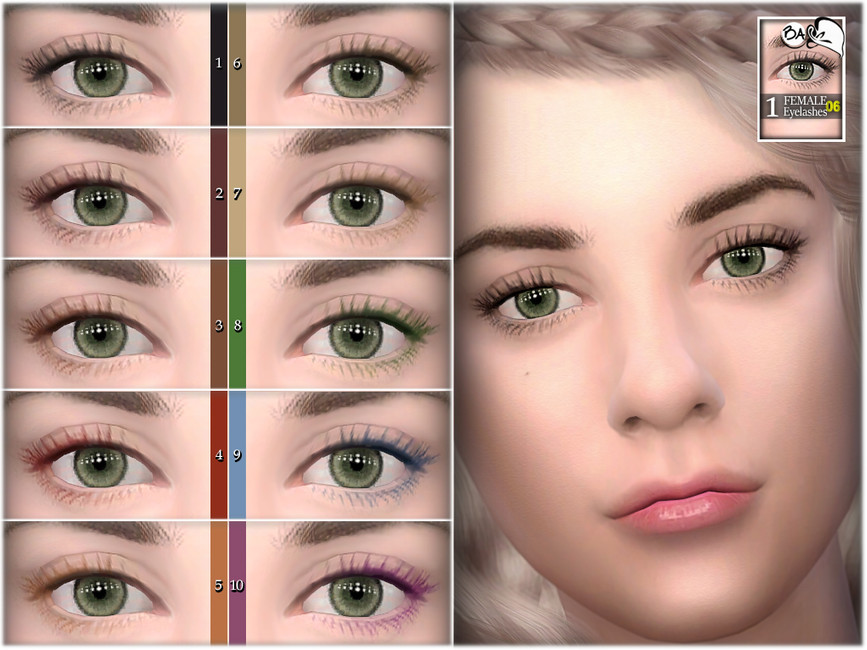 Just some modest eyelashes, but look how beautiful they are! This eyelash set consists of ten muted swatches of one of the most beautiful natural eyelashes we have ever seen.
The colorful ones look very mature and attractive, and you can put them even on your older sims!
The lashes look very sophisticated, and they can even be used in your medieval and other historical recreations in The Sims 4.
These eyelashes were made for your female sims, from children to elders. The lashes are a part of makeup, so you can easily remove them if they do not look good with your sim's look anymore.
You might also be interested in: