Since the first Fallout game title released (in 1997!), the franchise developed a massive following full of dedicated players and mod creators.
Combined with the amazing CC creators for TS4, you can bring Fallout to your Sims game with this list of custom content!
10. Fallout 4 Chems Decoration Pack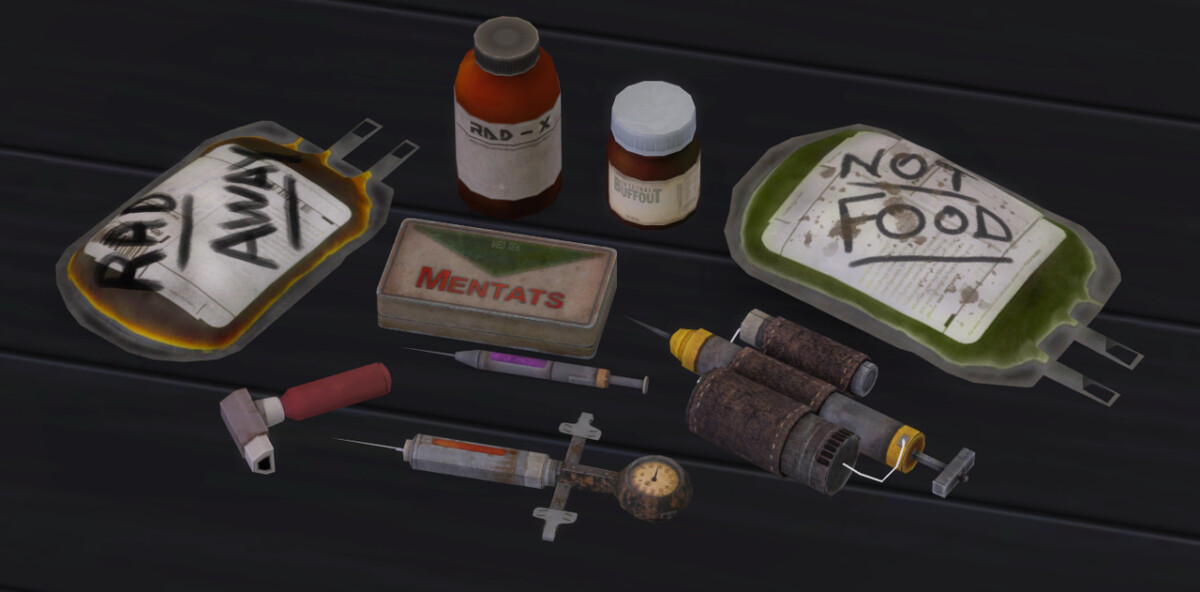 One aspect that makes the Fallout series more realistic is the use of chems. In a world ravaged by nuclear war and strange creatures, there are characters who need to keep the edge off.
Bring this gritty detail from Fallout to TS4 with the Fallout 4 Chems Decoration Pack.
This CC decoration pack includes items that resemble Jet, Buffout, Mentats, Psycho, a Stimpack, and multiple more.
Each item is careful detailed to resemble the real thing in Fallout, but no item in this pack goes over 500 polys. A small detail like chems will really bring a Fallout-inspired home or lot to life!
9. Fallout Playground Conversion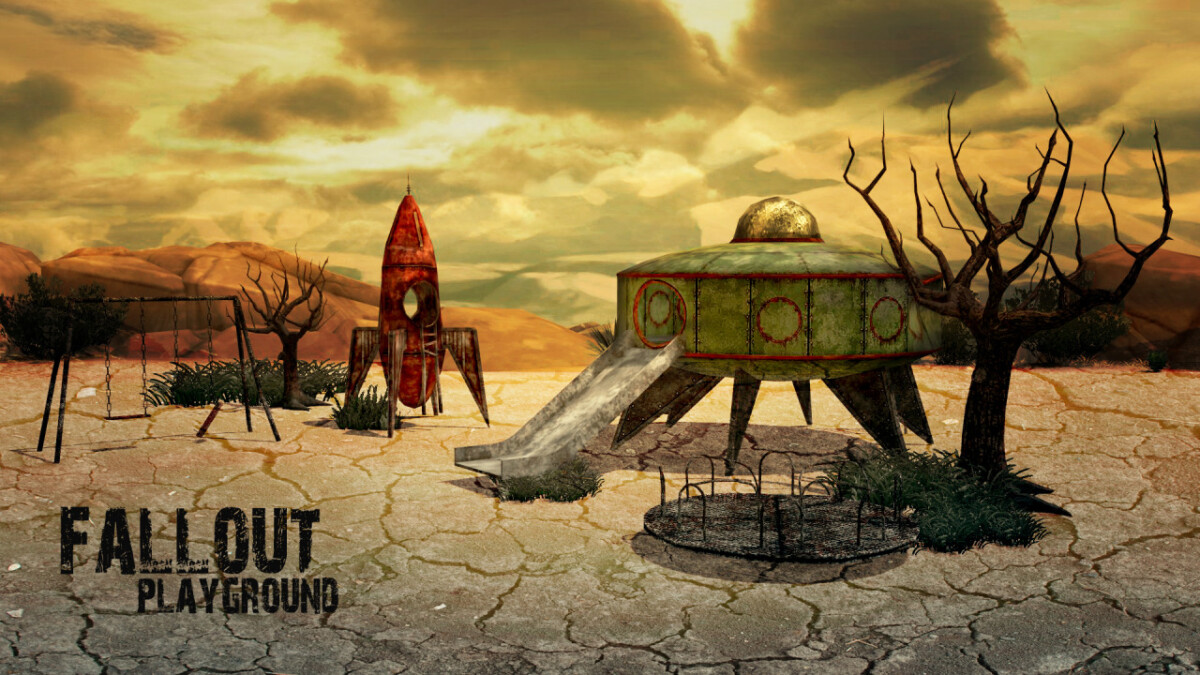 Fallout is comprised of many lots and details that truly make the world look like a bomb wiped out all life (or most of it!). You can start your replication of Fallout with the Fallout Playground Conversion.
The Fallout Playground Conversion mod includes all pieces necessary for a fully-equipped playground but looks as if it lived through extensive weather damage.
The playground includes structures that resemble spaceships, a swing set, and a merry-go-round that all have some decaying metal and rust.
This CC pack is the perfect addition when transforming Strangerville into a Fallout neighborhood.
8. Fallout 3 Vault Bedroom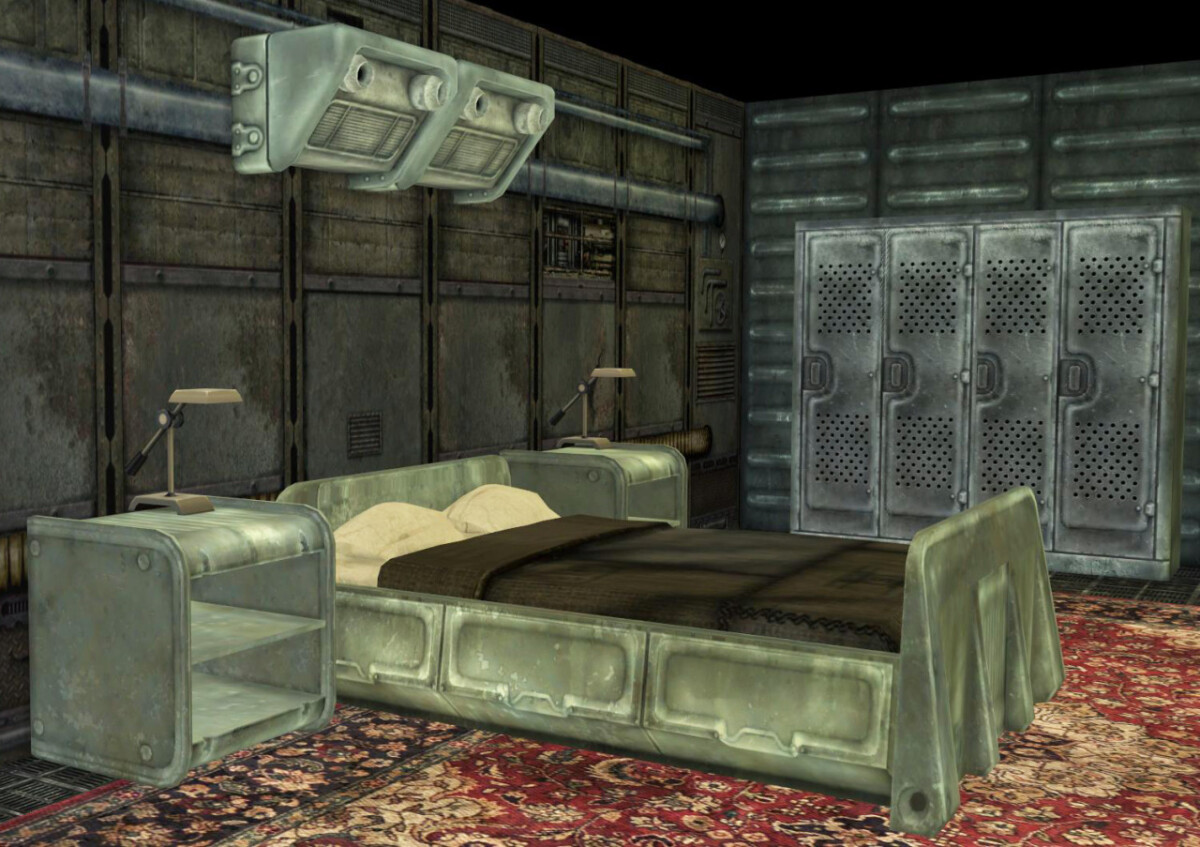 Fallout truly has some iconic interior pieces of furniture, including the industrial-style bedroom furniture you find all over the Wasteland.
Whether you want to recreate Fallout in The Sims 4 or you are just interested in creating an industrial home, the Fallout 3 Vault Bedroom is a great way to start.
The Fallout 3 Bedroom includes a bedroom, side tables, a desk with matching chairs, lockers, posterboard, a computer, and more.
The set also comes with wallpaper and flooring options to complete the room with full effects.
You will need to download a separate mattress in order for the bed to work and be customizable, which can be found on the download page.
7. Calipso Living Room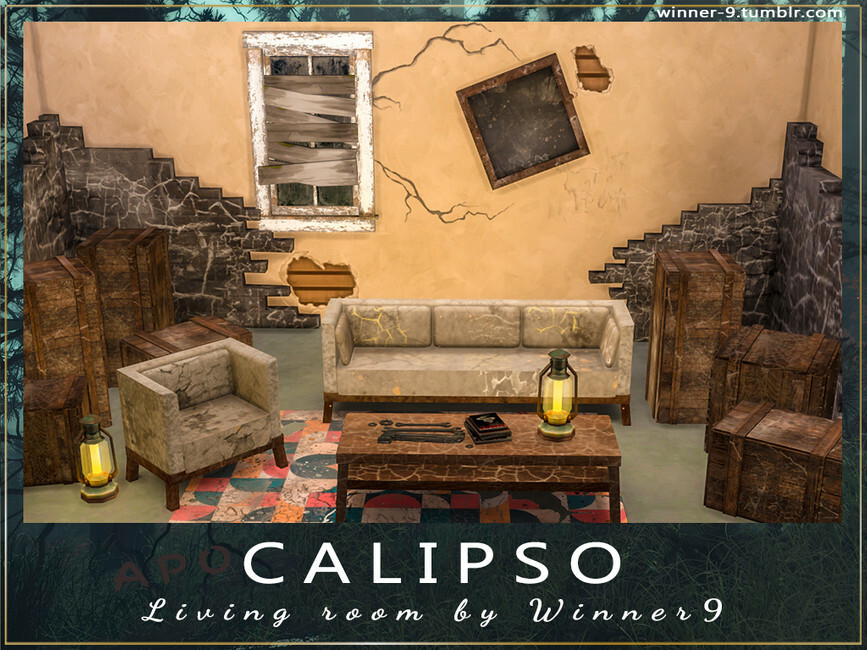 Next on the list of interior design CC is the living room. While most living rooms in Fallout don't look very comfortable, the same furniture in The Sims is different.
The Calipso Living Room set includes 12 items. In this set, you get a sofa, living room chair, coffee table, crates, a section of ruined wall, a dirty carpet, and stacked décor.
The sofa and living room chair both come with clear versions of themselves.
Both the sofa and chair also come with different patterns, so you don't have to live exclusively in ruins.
6. Fallout 4 Port-a-Diner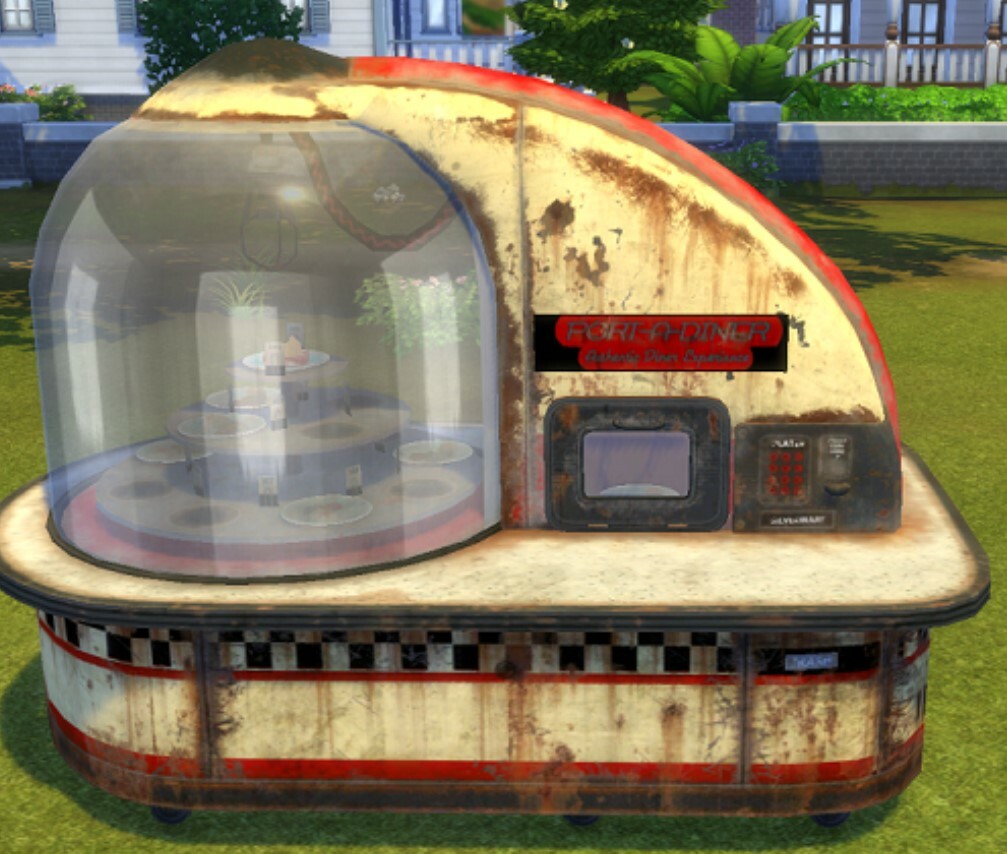 Were you disappointed to find out that none of the Port-a-Diners worked in Fallout? Well, in TS4, the Fallout 4 Port-a-Diner can be used like it was meant to be!
The Fallout 4 Port-a-Diner easily provides your Sim with food with its' automatic can hand and conveyor belt.
You can pick between the clean, before-nuclear version of the Port-a-Diner, or the after-nuclear, rusted version.
This is a great way to create a Fallout-inspired diner, but it would also look cool in a large kitchen. Either way, it's a must-have for Sims who host parties and need a good buffet-style machine.
5. Synth Eyes

Ghouls and Synths share one thing in common, and that's the constant prejudice they receive from survivors of the war in Fallout. However, they both have fascinating features that would look cool in The Sims 4!
The Synth Eyes CC pack, you can make your human Sims look more robotic or create your own version of Synths.
The Synth Eyes come with a set that is specific to human Sims and a version that is designed for non-human Sims.
The second version works for vampires and aliens. Each set comes in a few electric colors, including purple, yellow, green, red, blue, and white.
4. Forgotten Retreat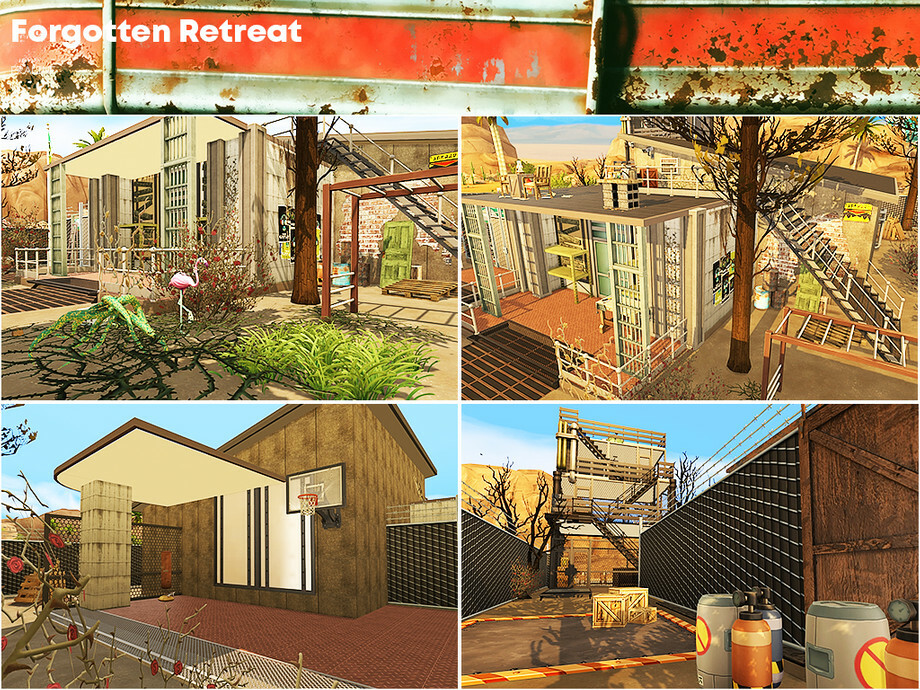 The first larger lot on this list is the Forgotten Retreat. This lot is full of boarded-up windows, mismatched furniture, and tons of metal features.
The Forgotten Retreat lot is perfect for a lone Sim, as it includes space for a bedroom, bathroom, living room, and come outdoor space as well. The furnished lot also includes a resting place on the roof.
If this same lot was in Fallout, it would be set up perfectly for hunkering down and being prepared to take out any trespassers or infected creatures that came your Sim's way.
3. Red Rocket Station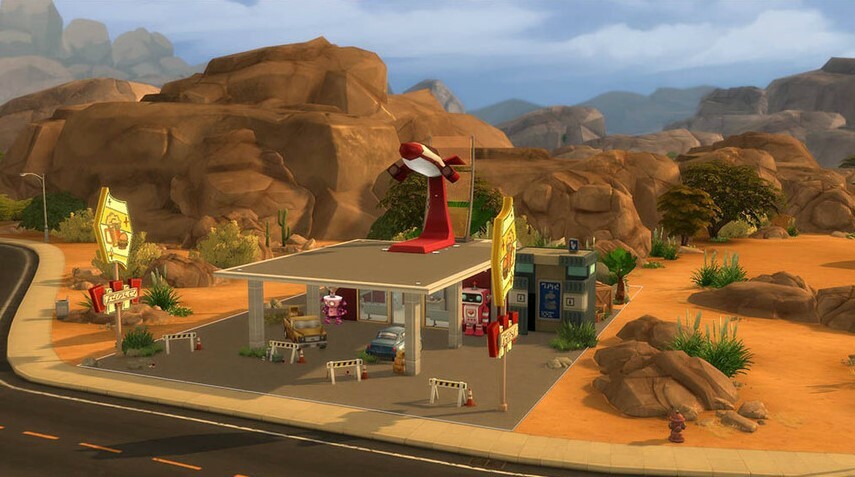 If you're familiar with Fallout 4, then you'd remember that the Red Rocket gas station is one of the first lots your character unlocks to customize and turn into a base.
However, you don't need to unlock it in The Sims when you can just download it and get immediate access. Setting up the Red Rocket Station to live in or turn into a business would be easier in TS4, too.
When fully furnished, this lot is set up to resemble a finished base of operations for the Lone Wanderer and their companions, complete with office and meeting area.
2. Vault Suits & Pip Boy 3000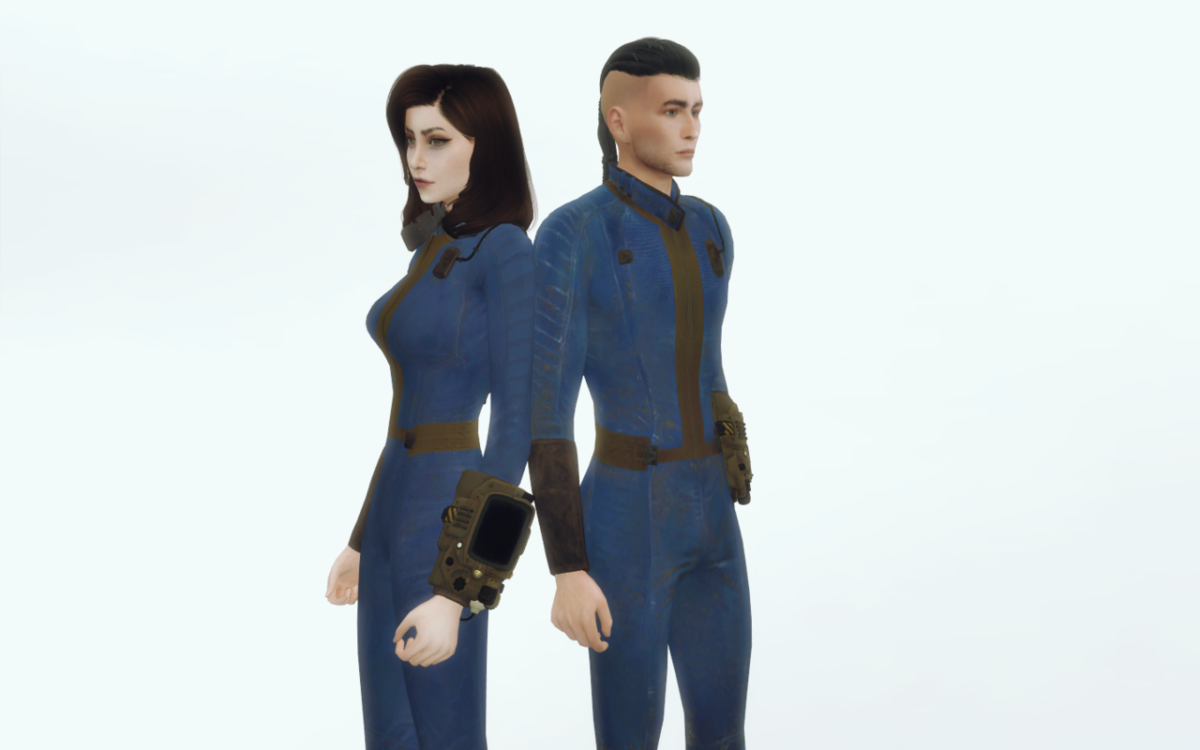 Although they aren't as a durable or skill-boosting as other armor, the Vault Suit is the most iconic piece of armor in the entire Fallout franchise.
There are vault suits for every vault in the game series, and you can dress up your Sim accordingly with Vault Suits and the Pip Boy 3000. The Pip Boy is another well-known piece of equipment in video games to date.
There is both a clean version and a dirty version of the vault suit, and you can choose between vault numbers 75, 81, 95, 101, 111, 114. The Pip Boy also has three screen options, including off, on, and dusty.
1. Fallout Shelter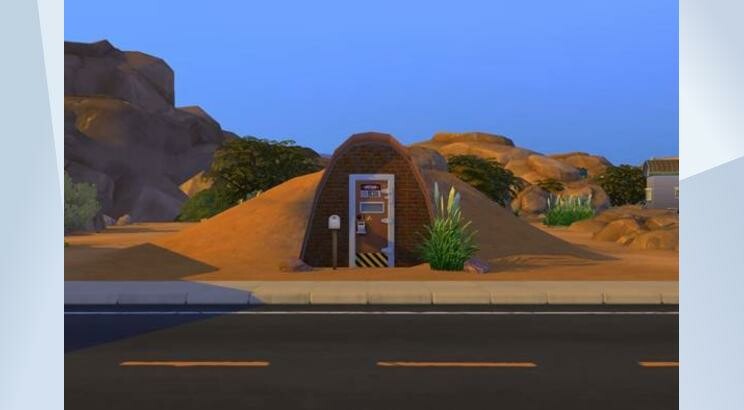 Shelters were a common household plan back in the 1950s, hence why fallout shelters and vaults exist in Fallout.
The Fallout Shelter might not look like a lot on the outside, but the inside is based on the mobile Fallout game. There are multiple floors in this build, which basically totals to being a Fallout-style mansion.
It includes a total of eight bedrooms, three bathrooms, and a multitude of other useful rooms that you would find in a fallout shelter, including an indoor garden and an indoor pool.
From the front entrance to the last room, there are four floors.