When a Sim becomes a parent, suddenly, there are an overabundance of new items needed, including a place for their newborn to sleep!
There are many baby Sim CC out there, especially cribs, so we've compiled a quick snapshot list of the best cribs for The Sims 4.
10. Heart Kids' Room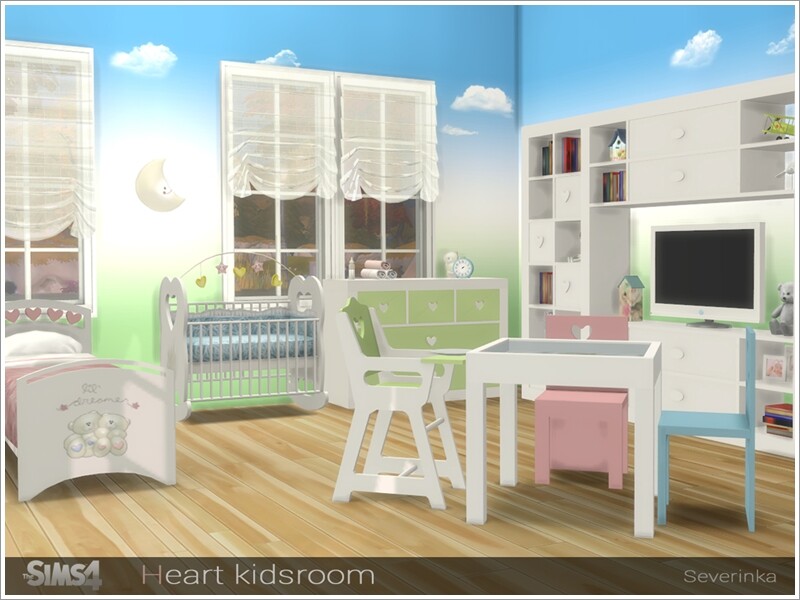 This beautiful CC set includes many pastel colors and a bright shade of white to welcome your Sims little one home in.
The Heart Kids Room includes an adorable crib, along with other items, to start creating the perfect nursery.
The Heart Kids Room crib features a white frame with heart-shaped tops and cutouts in the frame. Over the center of the crib is a mobile of stars and hearts.
This crib comes in three colors to match with the rest of the furniture, including blue, green, and pink. This makes the crib perfect for babies of all genders!
9. Victoria Nursery Baby Crib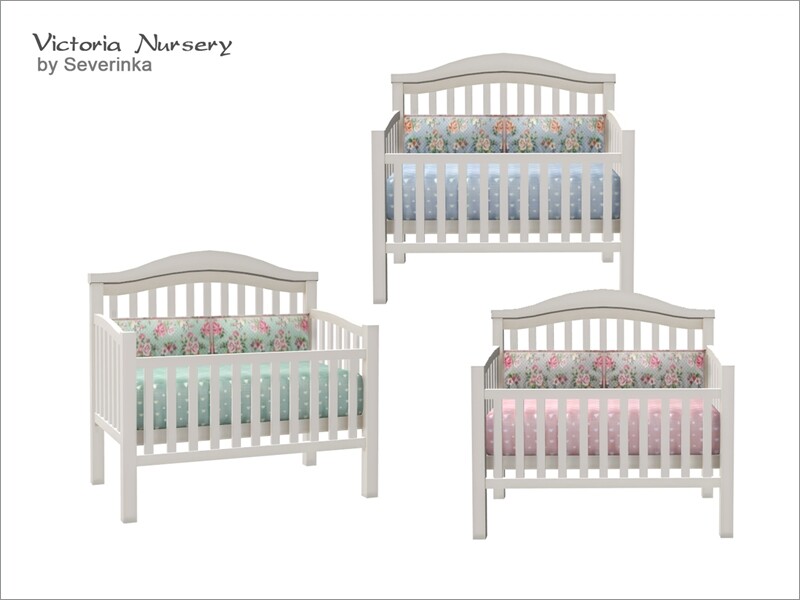 Looking for a crib that fits a more classic aesthetic? The Victoria Nursery Baby Crib is a perfect fit for those who want something floral and fitting for a Victorian-style home.
This crib is also a part of a larger set, the Victoria Nursery, which features polka-dots, floral patterns, and soft color schemes.
The rest of the set includes matching pieces, such as a changing table, a rocking horse, a dresser, and a chair.
The Victoria Nursery Baby Crib comes in three colors, including light blue, mint green, and light pink. Each crib includes both polka-dot and floral patterns, surrounded by a white frame.
8. Sweet Buddies Nursery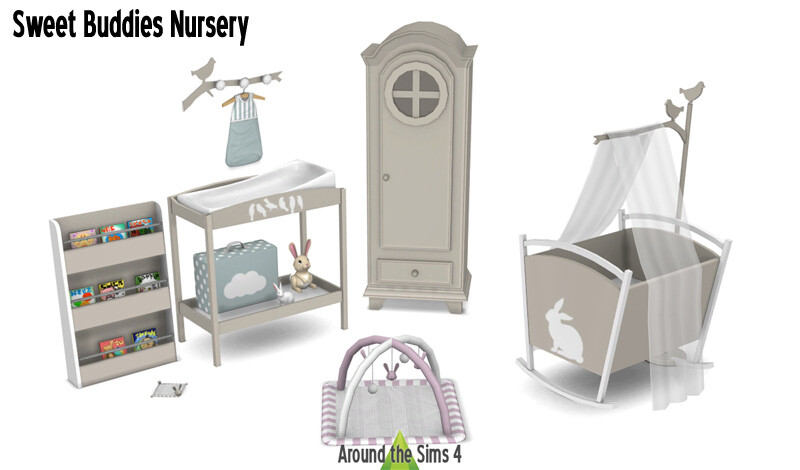 Ready for something truly pure and sweet but adorably neutral in color?
The Sweet Buddies Nursery is a wonderfully simplistic setup for every baby, with the use of a soft oatmeal tan color and cream and true whites.
The Sweet Babies Nursery comes with a stunning crib that is mostly solid color, a combination of oatmeal tan and bright white, but also features a cute bunny decal on the end.
Other pieces featured in this set include a dresser, book rack, changing table, and a toy for your Sims little one to play safely on the floor with.
7. Boho Crib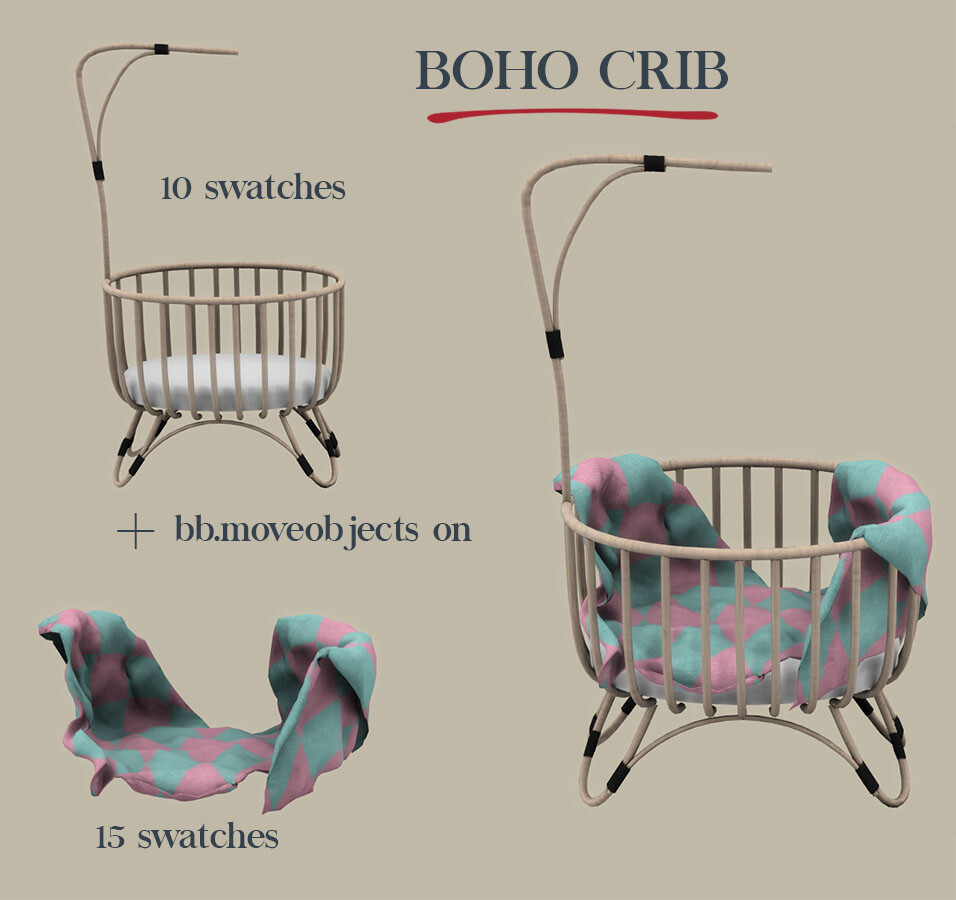 For the more adventurous and fun Sim parents and creators out there, the Boho Crib might be more of what you're looking for.
The Boho Crib is a simplistic basket-like crib that features a simple round bed for your Sims baby to sleep in. This crib has two separate items, including the crib bed and the crib blanket.
The crib bed comes in 10 color swatches, and the crib blanket comes in 15 color swatches.
The promo photo showcases the Boho Crib in a light tan color with a blanket that is a teal and pink color in a checker-like pattern.
6. Evelina Nursery Crib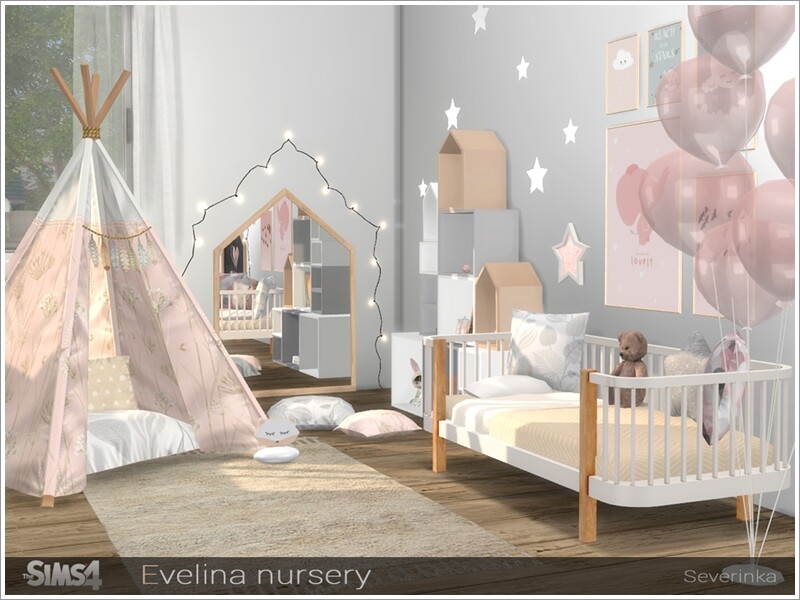 Almost everyone loves the now classic aesthetic of twinkle lights and warm neutral tones in a children's bedroom.
The Evelina Nursery Crib features a simple crib that is white and natural wood colors as an accent.
The Evelina Crib includes an adorable muted blue color crib mattress and a few pillows to make for a comfy and cute sleeping space for your Sims baby.
This crib needs a mod to make it usable, but the rest of the set is ready to use, including a matching toddler bed for when your newborn grows up.
This set also includes a play tent, rug, décor, mirror, storage, and more.
5. Laura Nursery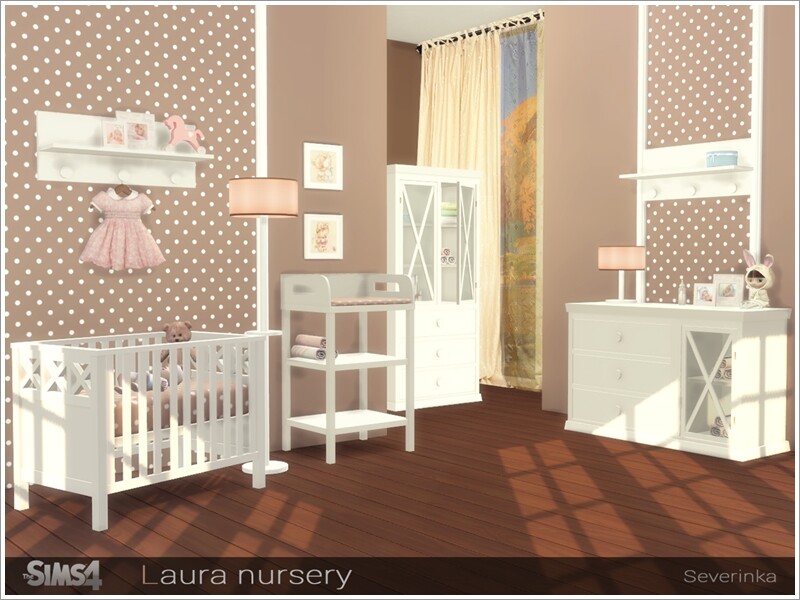 This next crib and nursery set is a perfect choice for those who want a cross between a farmhouse aesthetic and the contemporary style.
The Laura Nursery features a simple rectangular crib that comes in a few different colors, including white and light brown. The Laura Nursery set also comes with 12 other items.
The set includes cupboards, a changing table, wall shelves, lamps, paintings, and wall décor.
The entirety of this set is shown in a cute pink and beige color palette, making this the perfect crib and CC set for a baby girl!
4. Sydney Baby Crib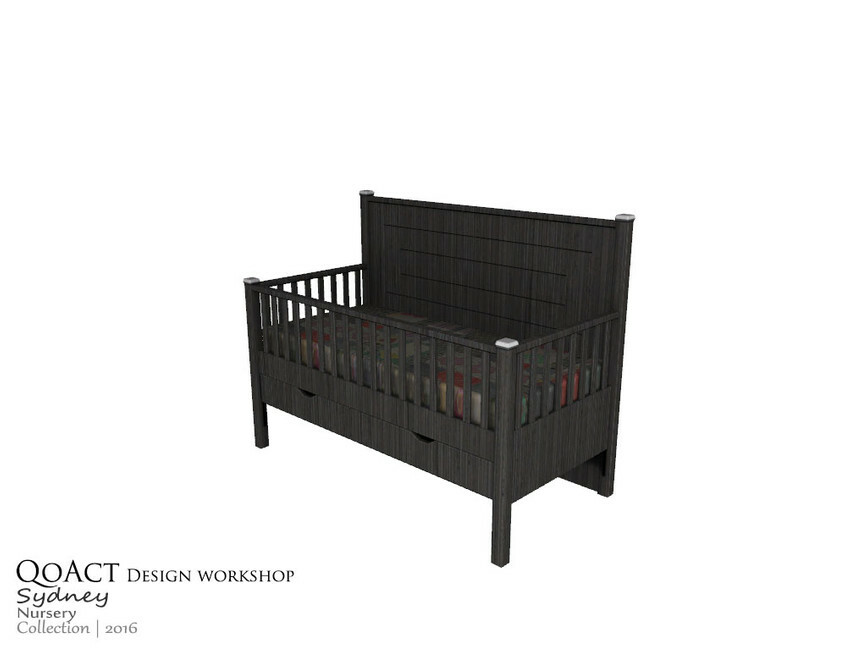 This is the perfect crib for Sims, who want something more sophisticated and simpler.
The Sydney Baby Crib is a simple wooden crib with one high side and one side with decorative storage underneath the bed.
The Sydney Baby Crib is also a part of a larger CC set called the Sydney Nursery. This CC set includes a modern approach to a baby room, including dark browns, metal accents, and geometric patterns.
This crib comes in three colors to match the other pieces, including a dark brown, light brown, and black. The light brown option has gray drawers instead of matching color drawers.
3. Helios Nursery Custom Set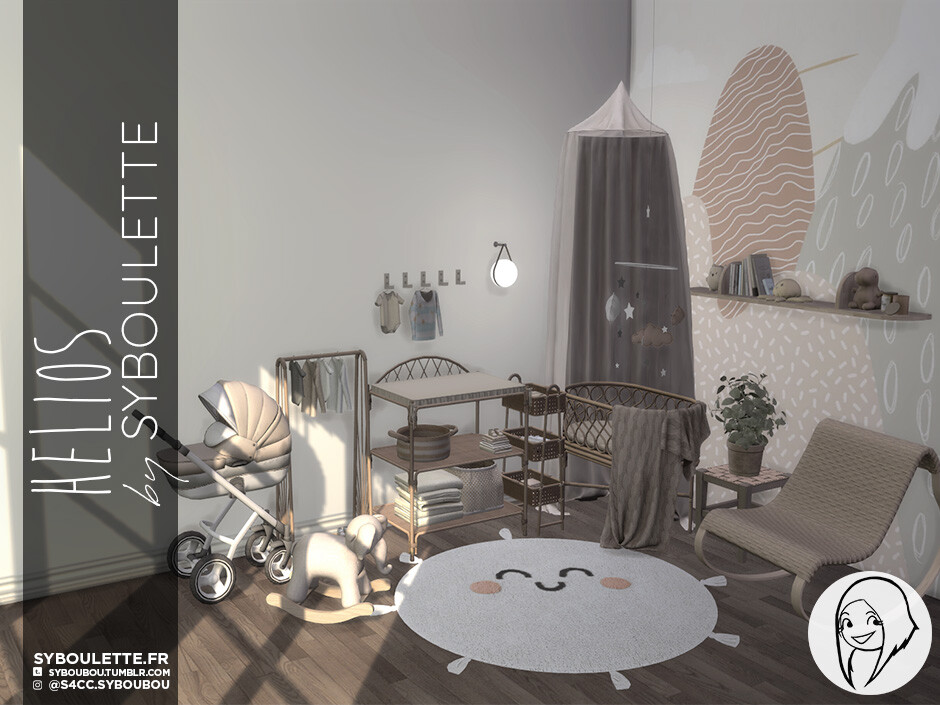 Another great option for a natural nursery is the Helios Nursery Custom Set.
This nursery CC set includes a simple backet-like crib with natural wicker-style weaving. A grey blanket also adds depth to the crib by hanging over the edge.
The rest of the set also features a lot of the same wicker style, including on the rocking chair and the changing table.
The rest of the set includes an adorable smiley face sun rug, a rocking horse, a baby carriage stroller, and a small rack of baby clothing.
The crib can also have a beautiful canopy hanging above it, along with the moon and star mobile.
2. Alice Nursery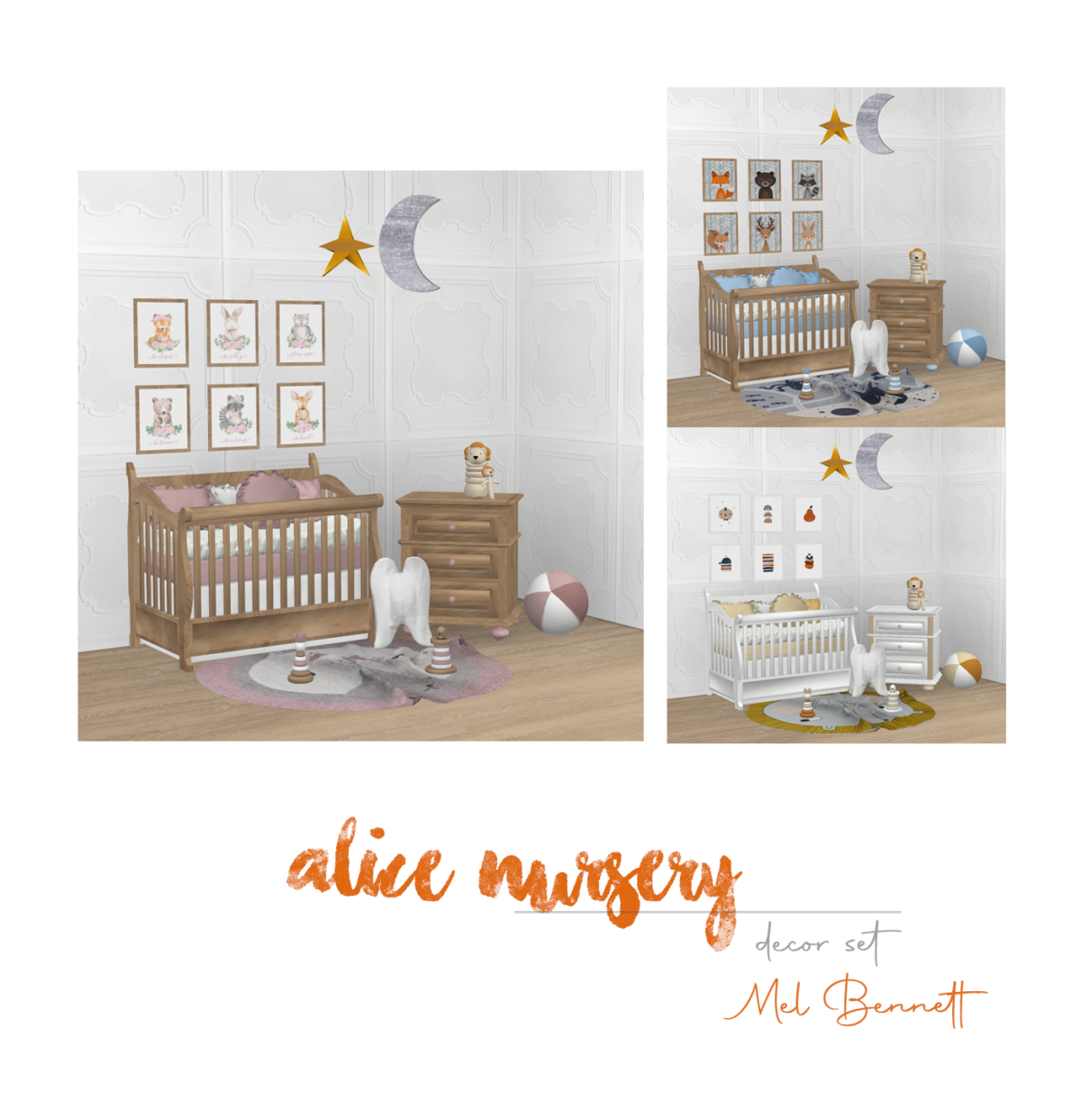 For lovers of Beatrix Potter or similar fairy-tale-like nursery set ups, the Alice Nursery has the crib and other CC for you!
The Alice Nursery crib is a solid wood crib that sits on directly on the floor, with tall sides.
There is a thick railing detail on the side where your Sims little one can greet their parents in the morning, ready to start their day!
Along with the crib, this nursery set includes wall art, toy décor, a rug, and a three-drawer dresser.
The crib, and other pieces, come in three color swatches, including pink, blue and yellow.
1. Aura Nursery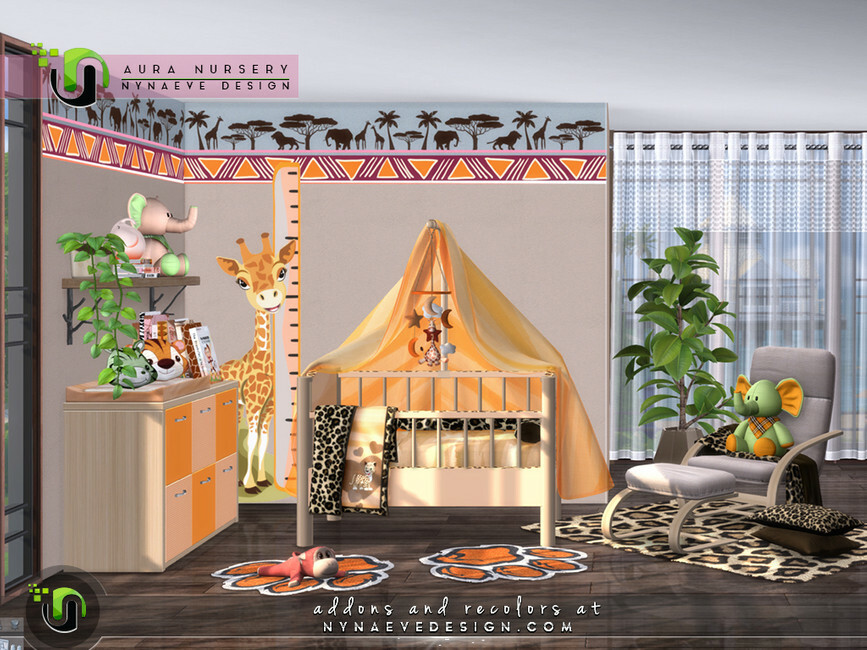 Time for a crib and CC set that screams with child-like fun and enthusiasm! The Aura Nursery has an aura of fun with the use of animal print and animal faces on everything.
The crib is the standard rectangular shape but features animal print on the inside with a matching blanket hanging over the railing.
The crib also comes with a canopy that drapes over the top and sides of the crib. You can also add a mobile to hang over your little one.
The rest of the nursery set includes bright green, orange, pink or blue accents, such as a giraffe wall-height ruler, stuffed animals, and plants to set up the perfect baby jungle.