The bed is the focus of any bedroom, so of course, your Sim needs the right bed for their room! We've compiled a list of the best custom content beds, making sure to include multiple themes
Best Sims 4 Bed CC
10. AC Inspiration Bed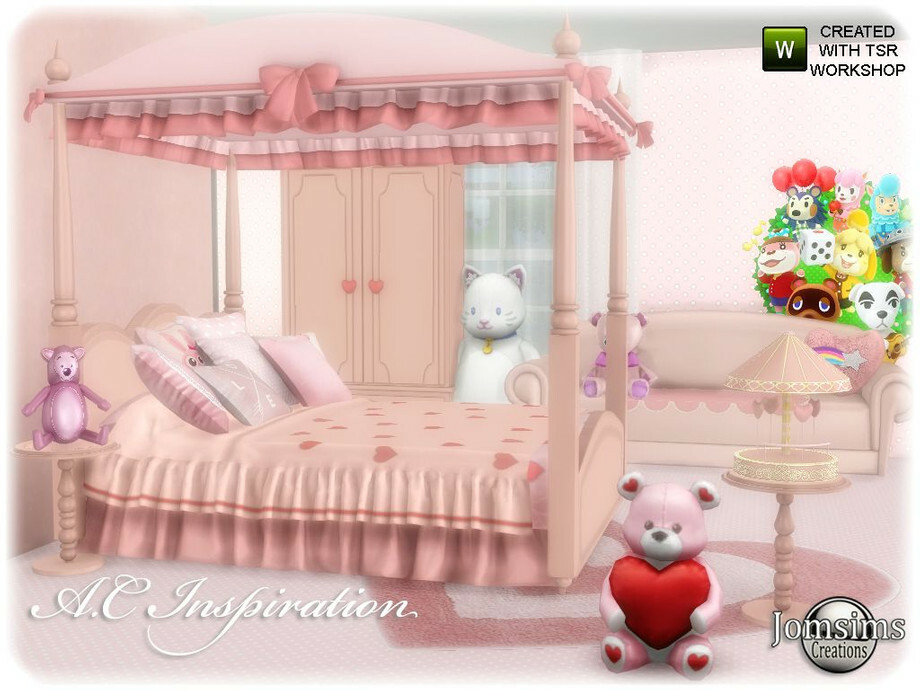 The AC Inspiration Bed is the perfect option for those looking for a cute bed with more classic details.
This bed features wooden spindles and framing that comes in four colors, including white, pink, brown, and tan.
The AC Inspiration Bed features pink bedding, including the sheets, blanket, and pillows.
On the blanket, a heart print can be easily seen. Any romantic Sim or Sim that loves cute things will love this bed!
This bed is also part of a larger set called the AC Inspiration Bedroom Set, which includes stuffed animals and other matching pink décor.
9. Bedroom Kalea Bed Double
Want something a bit more mid-modern century that can easily be cute or rugged? The Bedroom Kalea Bed Double is the right choice, then!
This bed features a long headboard that stretches beyond the width of the double bed, but it mimics the look of marble, which adds a sophisticated touch to your Sim's bedroom.
This bed comes in five colors, including rose pink, white, yellow, tan, and dark grey.
The Kalea Bed Double CC is also part of a larger collection called the Bedroom Kalea set, which includes plants, muted colors, and a simple style.
8. June 2021 Set Kids' Bedroom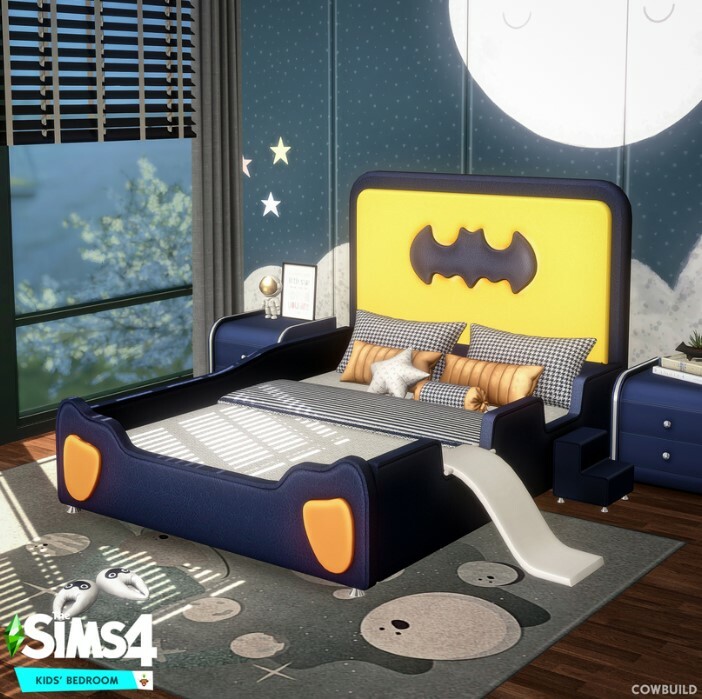 This first bedroom set for kids includes one of the cutest beds on this list! The June 2021 Set Kids' Bedroom includes a double bed for your young Sims that comes in eight swatches.
The swatches include two bears with faces, two mouse options, two bunny options, and two Batman-inspired options.
Both options for each come in two colorways, making sure to keep the options gender-neutral.
The rest of this set includes pillows, desks, books, lighting, rugs, and other décor to fill out the room.
Most of this set is neutral in color enough to also work with other base game children's room pieces.
7. Agata Bed
The detail on this bed is impressive! The Agata Bed is a double bed that features color-neutral bedding and a completely wooden bed frame.
What makes this bed CC option stand out, however, are the carving details on both the headboard and the footboard. Upon a closer look, the carvings share a similar appearance to flowers.
The wood grain texture on this CC bed is also stunning. The Agata Bed comes in four colors, white, light brown, dark brown, and black.
You can also download the rest of the set this bed is a part of, called the Agata Bedroom Furniture set.
6. Amola Double Bed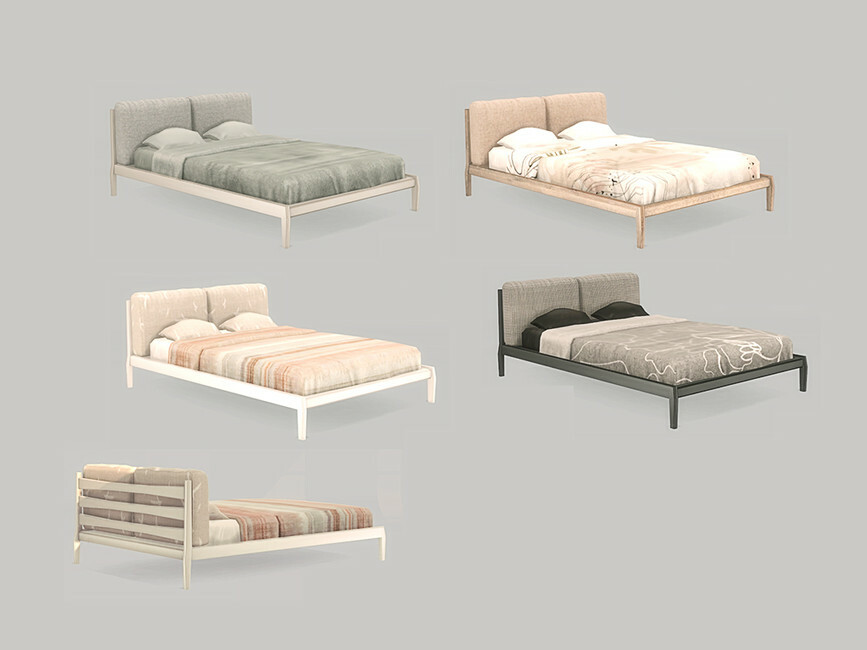 A good, simple bed option is this Amola Double Bed.
The Amola Double Bed features muted, earthy colors, making this a good option for those who want to create a spa-like sanctuary-style bedroom or who prefer the minimalist look.
The Amola Double Bed is a simple wooden frame with a headboard that is cushioned.
This bed CC also comes in five color and pattern swatches, including sage green, light pink, reddish-brown, tan, and grey.
No matter the direction of your bedroom, the Amola Double Bed is perfect for every Sim!
5. Hydrargyrum Retro Bed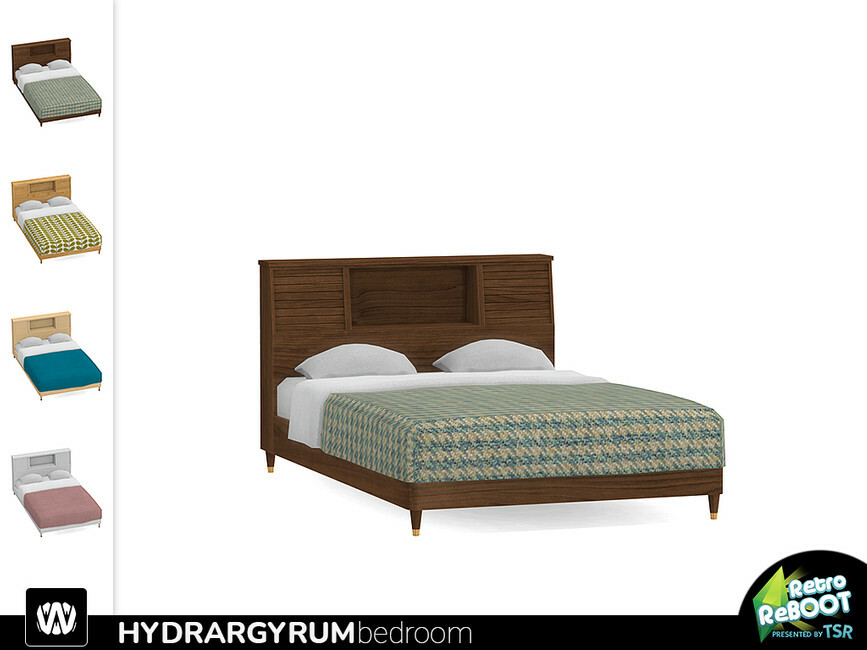 Let's travel back a little in time with the Hydragyrum Retro Bed! This retro-style double bed includes a wooden bed frame and headboard and four color and pattern swatches.
The color combinations for this bed CC include brown with green, yellow with green, tan with blue, and white with pink.
The headboard and frame are really what gives this bed the mid-modern century look, complete with metal legs on the bottom.
The Hydragyrum Retro Bed can also be downloaded with the rest of its matching set, the Retro ReBOOT Hydragyrum Bedroom.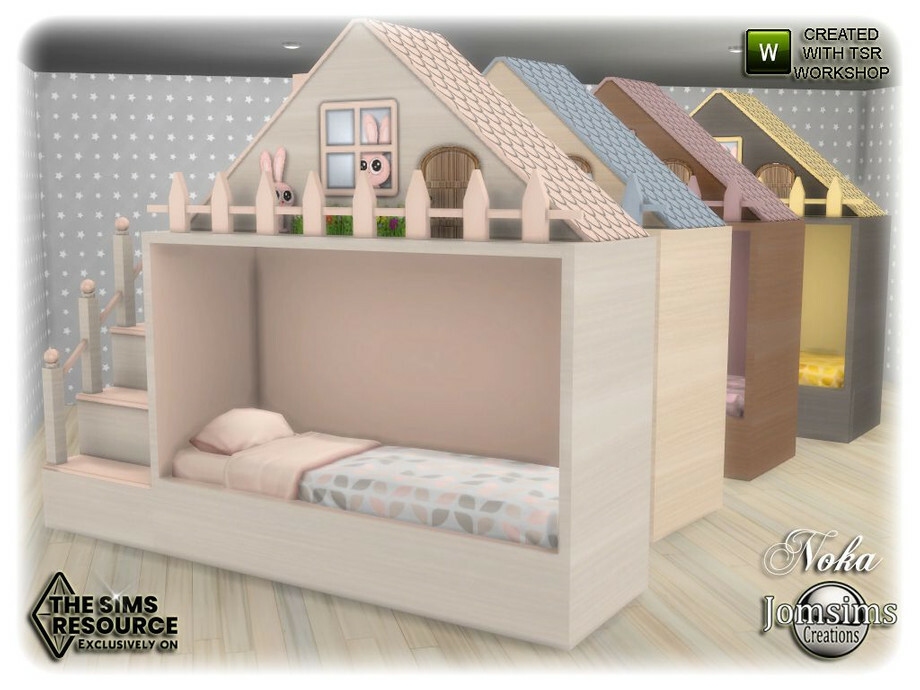 Another great kid's bed CC to download is this Noka Kids Bed!
The Noka Kids Bed is an adorable dollhouse styles single bed that includes stairs on the side for your Sim's little one to climb up to the platform above their bed.
This bed CC comes in four color combinations, including pink and ivory, brown and yellow, brown and pink, and oak and blue.
The Noka Kids Bed is also a part of a larger CC set called the Noka Kids Bedroom set. This includes a small table, chairs matching dressers, and many bunny décor items.
3. Nae Bed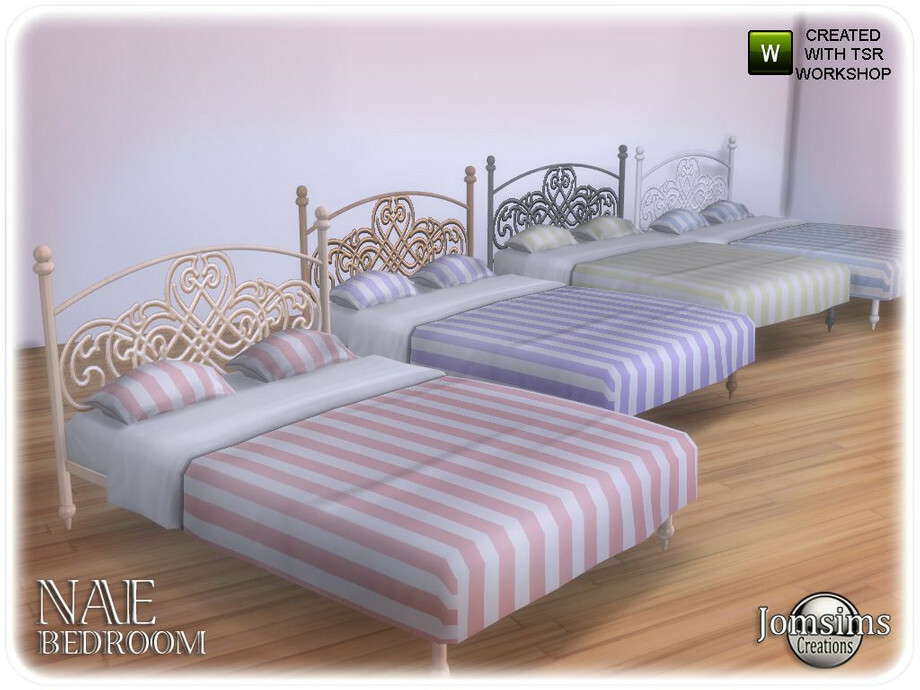 This next bed is the perfect choice for any Sim who wants to feel like they're sleeping in a fairytale or as Princess Barbie because the Nae Bed is whimsical in a classic way.
The metal bed features intricate detailing on the headboard, with simple spindles and feet. The bedding features a stripe pattern and solid white sheets.
There are four color combinations to choose from, including pink and gold, purple and gold, yellow and steel grey, and blue and white.
Don't forget about the rest of the set that matches this bed, called the Nae Bedroom!
2. Pauline Queen Sized Bed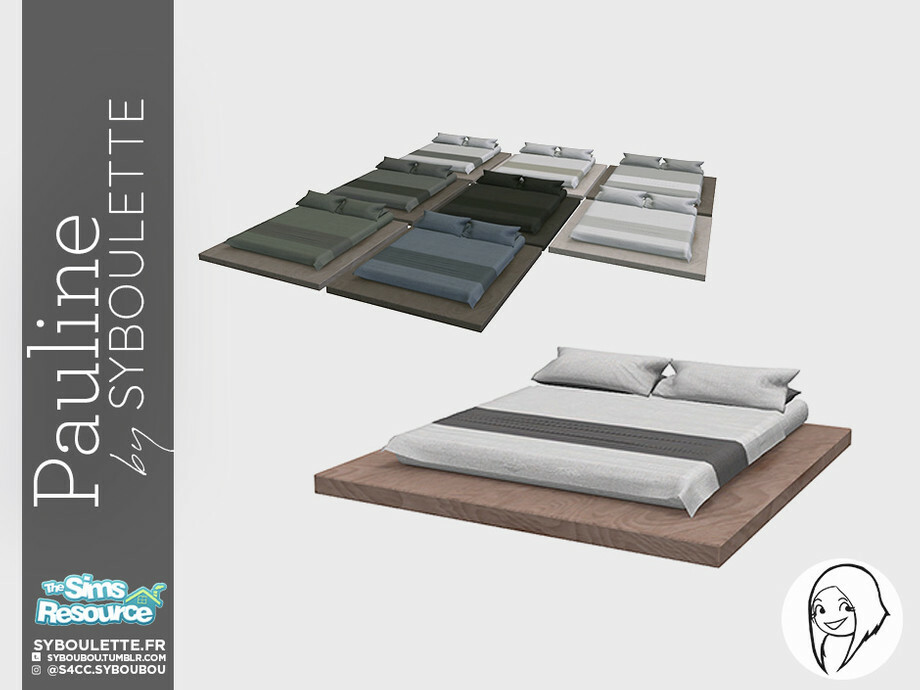 This bed CC is the most hyper-realistic option on this list, it's almost like looking at a real-life listing of a bed!
The Pauline Queen Sized Bed is a platform bed that rests completely on the floor of your Sim's bedroom. This is the perfect bed for players who want to create a Zen getaway for a bedroom.
The platform is made of wood, with the mattress featuring only solid colors, including four white options with different details, two shades of green, a dark blue, and black.
The rest of the matching set to this bed CC is equally simplistic and stunning.
1. Poseidon Bed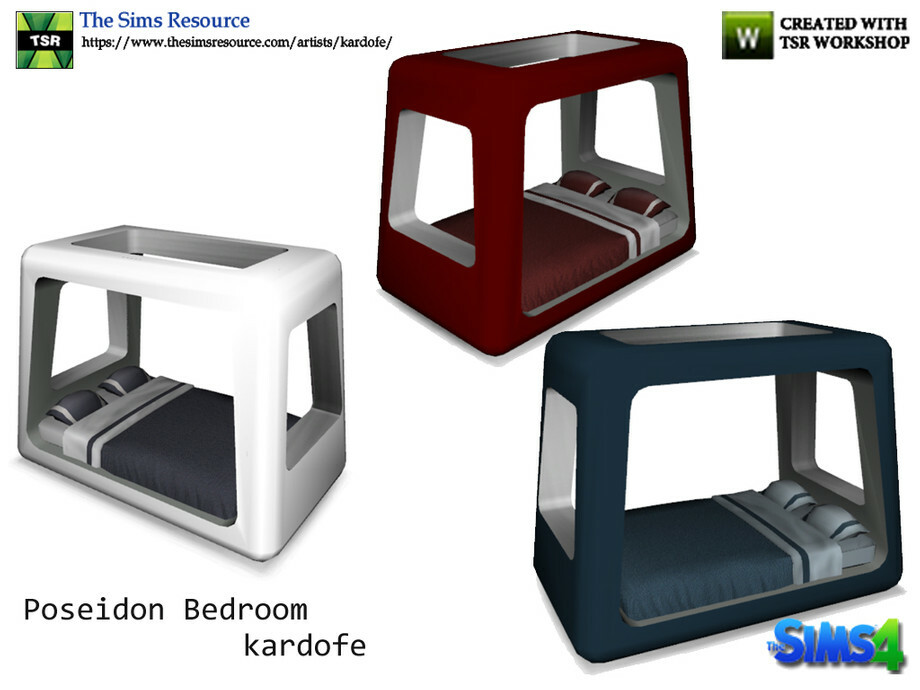 Instead of stepping back in time, let's travel farther with the Poseidon Bed! This futuristic-style bed looks like it would take up a lot of space, but your Sim will feel like they are sleeping in a spacecraft!
The Poseidon Bed is a double bed that is surrounded by a thick metal frame that includes openings on each side and in the "ceiling" of the bed.
This CC bed comes in three colors, including blue, red, and white. It is also a part of a larger CC set called the Poseidon Bedroom, which includes both bedroom and living room furniture pieces.
You might also be interested in the following: