Punk is a well-known subculture today that started in the 1980s in London. Back then, there were staple characteristics that made punks recognizable as well.
We've compiled a list of the top punk CC for The Sims 4 so that you can create your ideal punk Sim. Don't forget your studded jacket and stellar mohawk!
Best Sims 4 Punk CC
10. Punk Outfits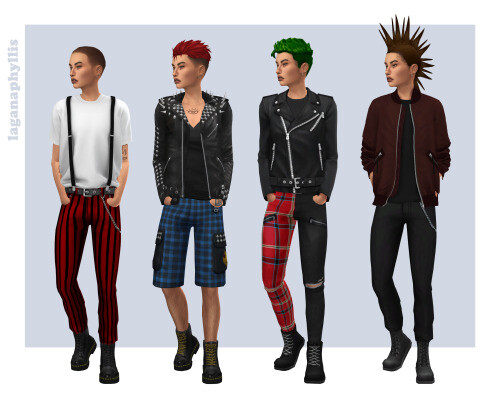 This CC set is a good starting point when building your Sim's punk-style wardrobe. The Punk Outfits CC set includes multiple tops, bottoms, shoes, and accessories to mix and match multiple punk outfits.
There is plenty of camouflage, plaid, fishnets, and denim to go around with this set. You can also choose between the multiple hairstyles featured in this set, including a mix of both long and short hairstyles, from shoulder length to mohawk style.
Overall, this is a great set for both casual and more traditional punk outfits!
9. Punk Living Room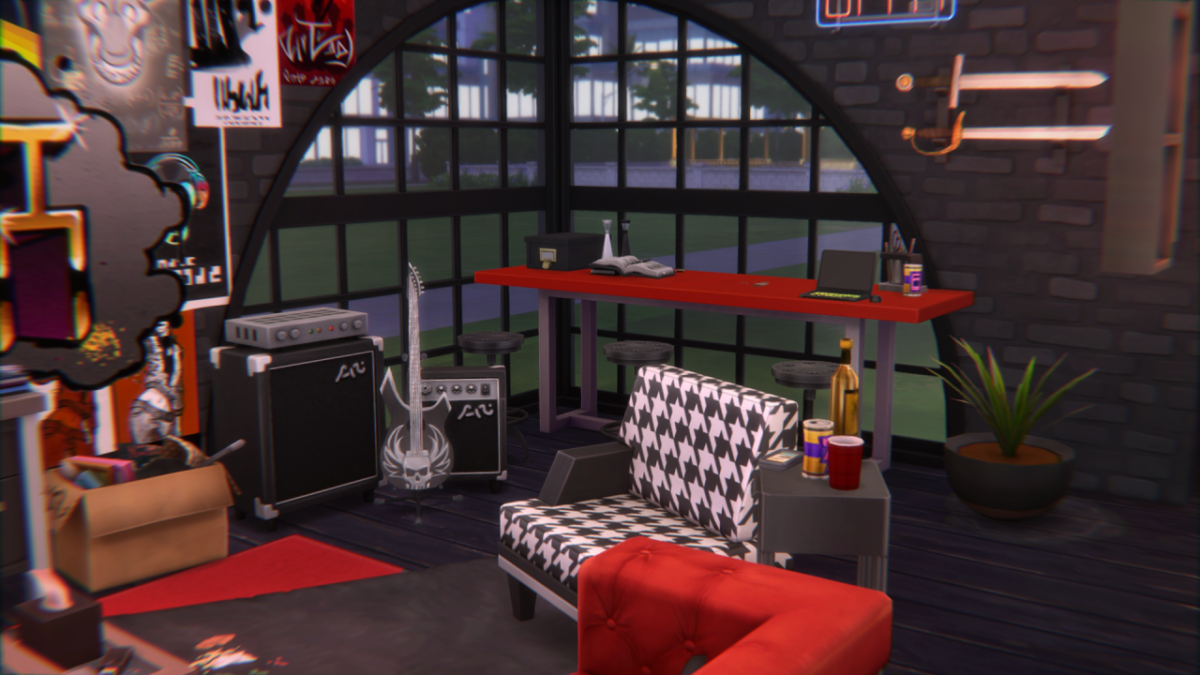 While the most identifiable parts of punk are the fashion and music, let's not forget that a punk Sim also needs a perfect living space.
The Punk Living Room, created by CatSaar, uses a lot of expansion packs, but the finished room is put together very well. This living features a lot of black and red, with the walls and floor black and grey and most of the furniture a bright red.
You'll also find musical instruments and accessories, boxes and bookshelves full of clutter, and multiple rugs decorating the room.
8. Punk Hair Starter Pack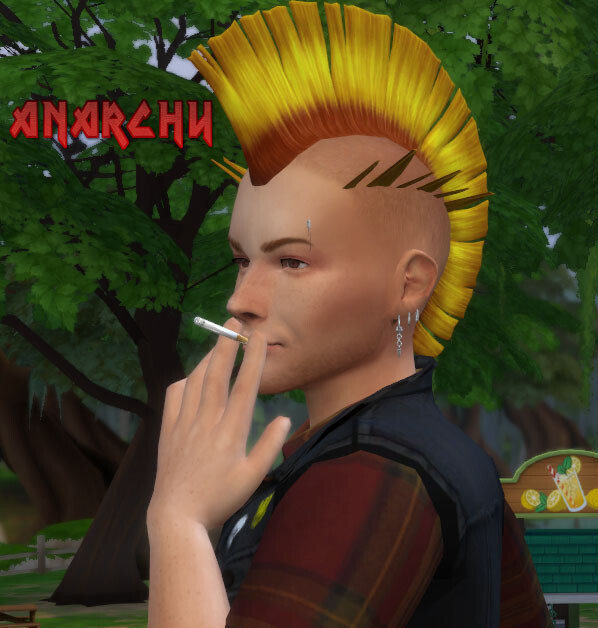 All these choices of clothing CC packs and hair to choose from can be overwhelming at first, so here's the Punk Hair Starter Pack! This CC pack only features three hairstyles, but they are classic punk hairstyles to have ready for use.
The three hairstyles are titled Oi!, Riot and Anarchy. The Oi! Hairstyle is a mostly shaved head with a set of bangs and two longer pieces of hair to frame the face.
The Riot hairstyle is a bihawk featuring two smaller mohawks on either side of the head. The last hairstyle, Anarchy, is a traditional mohawk.
7. Emily CC Finds Punk Outfits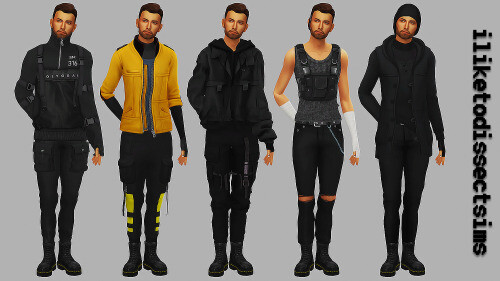 Another set of punk clothing CC provided by Emily CC Finds is a second great mix of tops, bottoms, hair, and shoes.
The Emily CC Finds Punk Outfits set includes clothing for both male and female Sims. The clothing included in this set fits more of the modern casual punk style, with plenty of solid colors and simple patterns.
One-half of the set caters to punks who want to fit the profile of a hacktivist, with a heavy emphasis on techwear characteristics, with a lot of dark colors and military influences.
6. Female Punk Outfits by Bad Taste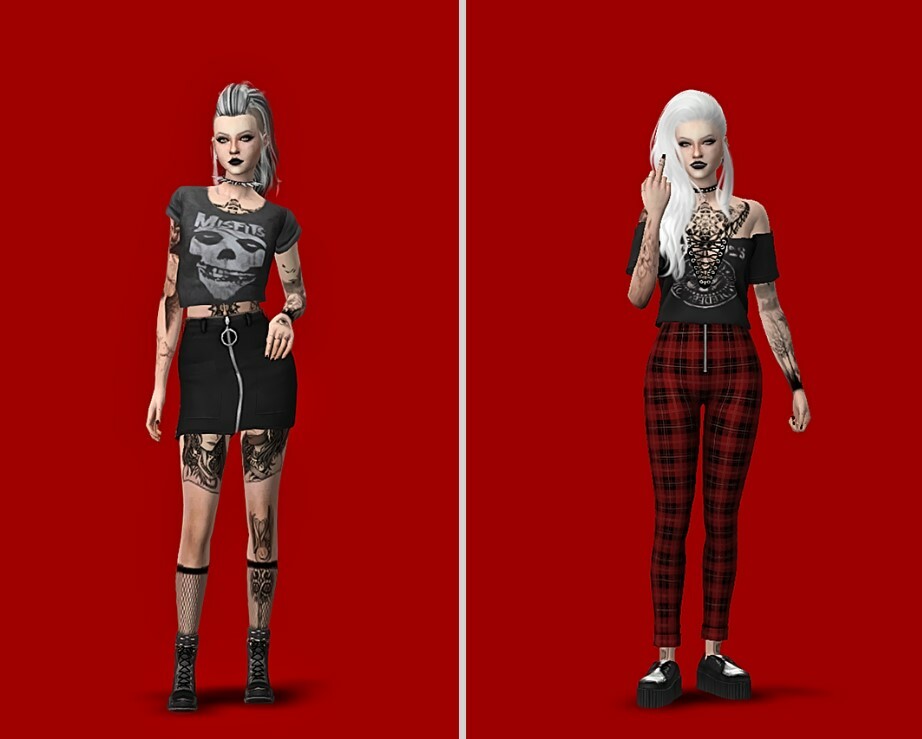 Here is a set that combines traditional punk influences with rockabilly and goth fashions. The Female Punk Outfits by Bad Taste includes six outfits in total.
Each item can be downloaded separately and mixed and matched with other items. A brief look at what comes in this CC pack includes a plaid skirt, plaid pants, cheetah print skirt, sweaters, ripped t-shirts, black jeans, and platform shoes.
There are also six hairstyles to use, most of which appear silver in the promo photos. Don't forget about the jewelry, including multiple necklaces, to accessorize with.
5. Rocks Not Dead Jacket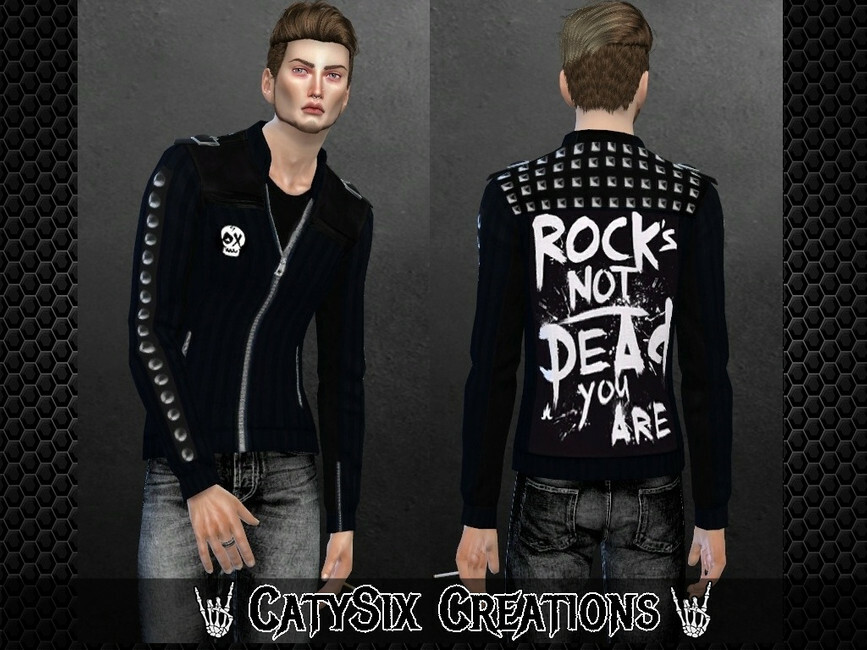 Having a trusty studded jacket is a staple in any punk's wardrobe. The Rocks Not Dead Jacket is featuring a black zip-up jacket that includes multiple studs lining the sleeves and shoulders.
A small skull detail is featured on the left side of the chest. On the back of the jacket, the slogan "Rocks Not Dead You Are" is written in spray-paint-like font. Resting on the shoulder are buckles, too.
This jacket is different from the traditional spike and stud-covered jacket that most see punks wearing, so this jacket could be worn with other types of alternative fashion, as well.
4. Psychobilly Jacket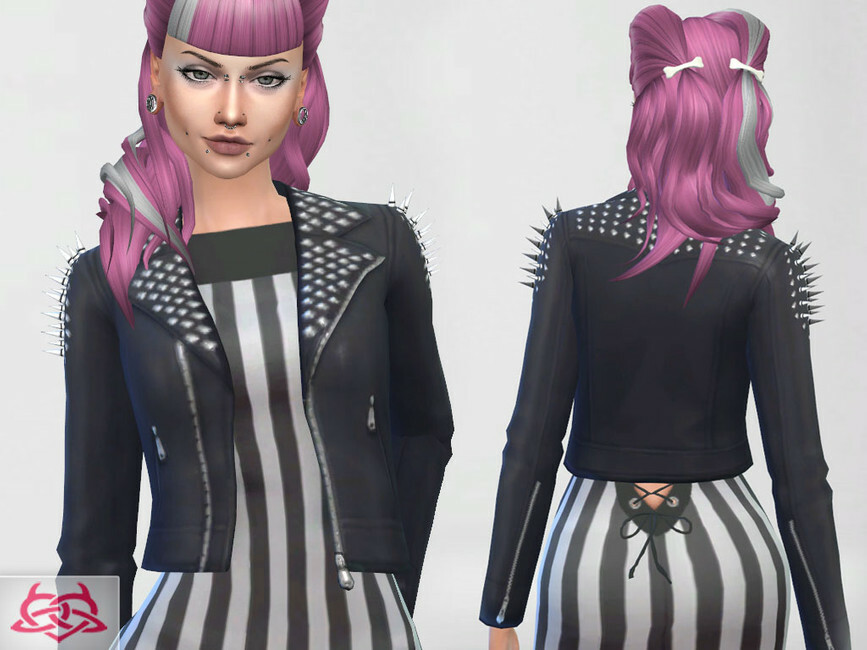 If you want a studded leather jacket that is flattering to any form, the Psychobilly Jacket is the perfect choice for you.
The Psychobilly Jacket is a waist-length leather jacket with full-length sleeves. The jacket is left unzipped, allowing your Sim to show off the rest of their outfit. The lapels of the jacket are covered top to bottom with studs.
The shoulders are covered with spikes that actually stick out and create a great sense of dimension to your Sim's finished outfit. You can find this jacket in the Bracelets of the Accessory section.
3. Leather Boots by Madlen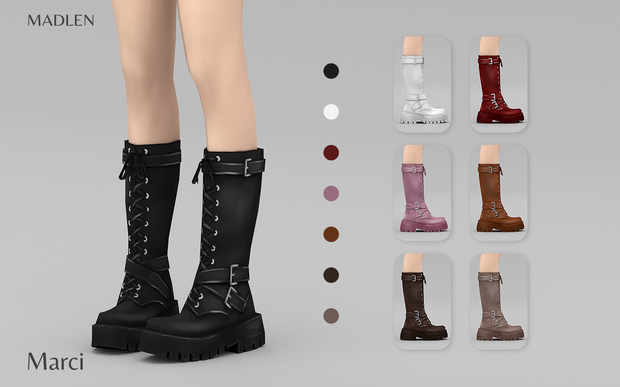 No punk is complete with their trusty pair of leather boots. While other items and packs on this list may include boots, none are like the Leather Boots by Madlen.
These leather boots are calf-length with a thick platform on the bottom. There are lacing details on the front of the boots, with buckles wrapping around the ankle and calf areas.
There are a total of seven colors, including black, pink, red, white, green, light, and dark brown. The color options make it easier to make an even more expressive punk outfit!
2. Punk Hijab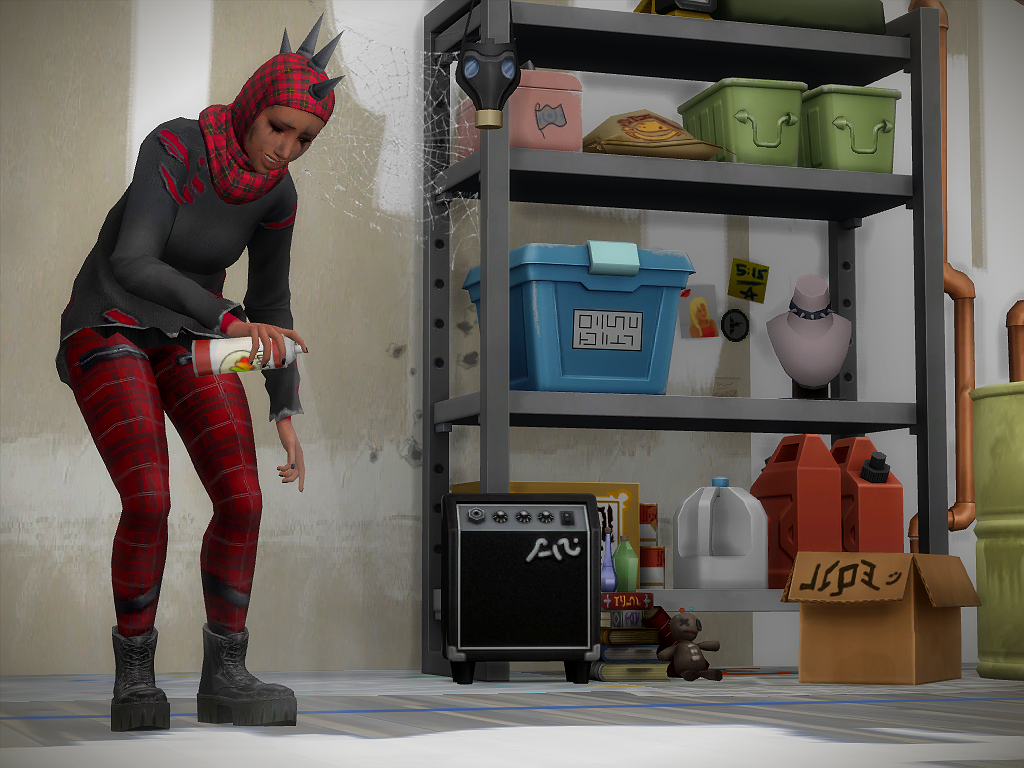 Part of being punk is to be inclusive, and the Sim's custom creation community is proud to provide! This Punk Hijab is quite the eye-catching piece, as it features a spike all along the top of it.
The spikes mimic a mohawk hairstyle and are paired with several colors and patterns you can choose from. There are five solid colors to choose from, including black, grey, purple, green, and red.
You can also choose from either red or yellow plaid, as well as a green camo pattern. The hijab is base game compatible and can be found in the Hat category of character customization.
1. Crust Punk Shorts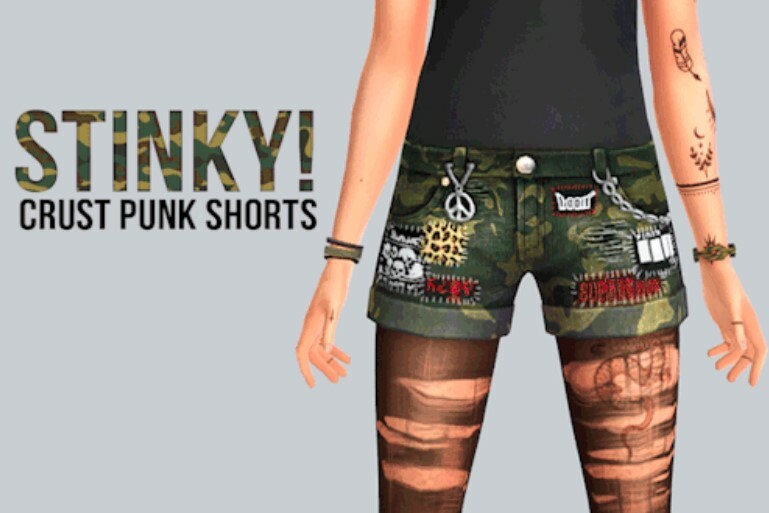 Crust pants are a must in crust punk, but sometimes it's just too hot to wear pants for your Sim. So, replace the pants with this pair of Crust Punk Shorts instead!
The Crust Punk Shorts come in a total 24 swatches, including solid black, green camouflage, and pink cheetah print, as shown in the promo photos. The shorts were designed for feminine frames, but they work for both male and female Sims.
These shorts are also usable for Sims from ages Teen to Elder. Paired with some ripped fishnet tights and some combat boots and your Sim is ready to stomp out into the street in summer-appropriate punk fashion.