Science fiction always brings the coolest inventions, plot twists, and character designs to media, including The Sims 4!
We've compiled a list of the top sci-fi and cyberpunk CC so that you can transform your Sims 4 neighborhood into the perfect place for humans and robots to co-exist and the scientists and cyborgs to thrive!
10. Death Stranding Set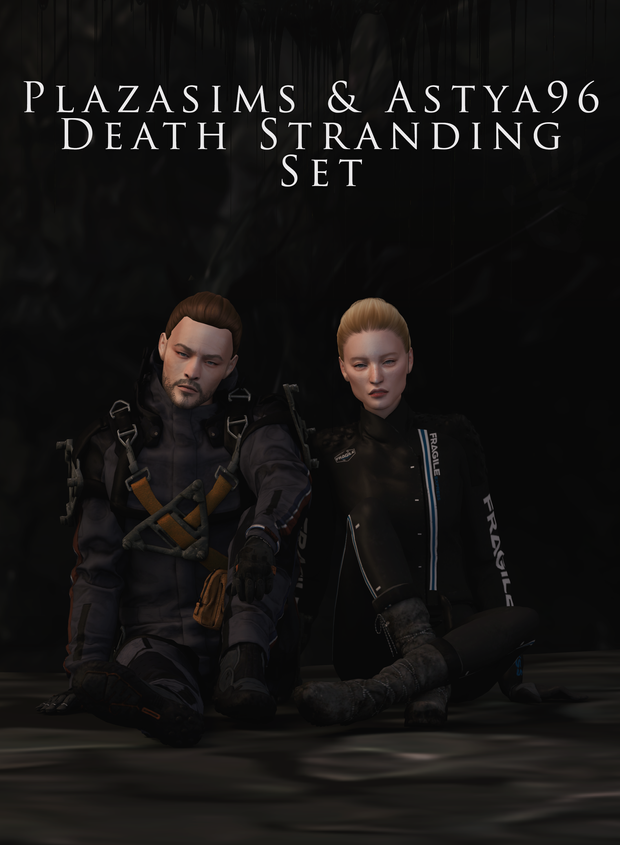 Whether you're a Death Stranding fan or have never heard of the game, this futuristic-style clothing collection is the perfect addition to your Sims 4 sci-fi world!
The Death Stranding Set shares a lot of characteristics of techwear, which often features a lot of black buckles, cargo pants, and other cool features.
Most of this set features jumpsuits and other outfits, as well as costumes for characters from the game! Overall, this is a must-have set for players who want to create an urban explorer or sci-fi scientist Sim.
9. Into the Future Metal Dress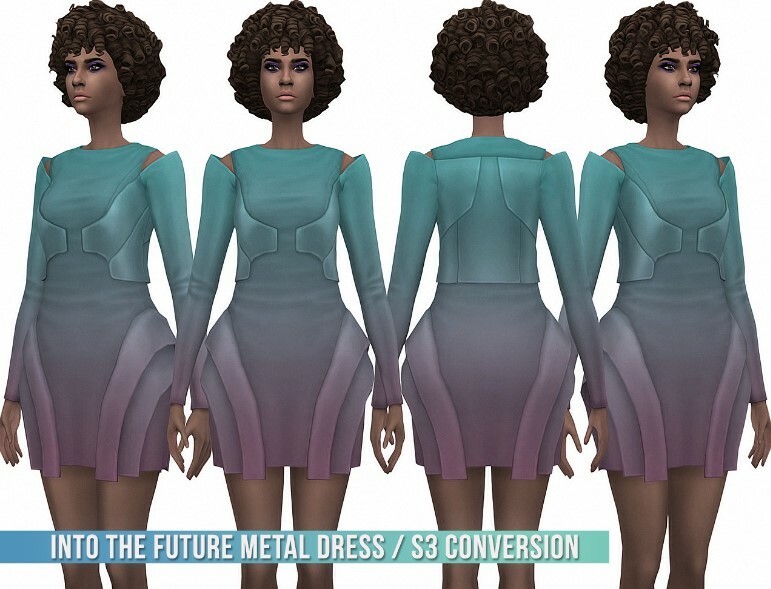 Need an outfit that screams sci-fi, but your Sim needs to go into the office? BustedPixels' Into the Future Metal Dress combines both!
This sci-fi dress CC is actually a piece that was converted from The Sims 3 and into a Sims 4 item.
The dress comes in 40 color swatches, which include 15 solid colors, 15 multi-color options, and 10 color block pattern options.
The Into the Future dress is base game compatible and is a full-body piece. Paired with a metallic pair of heels or boots will make your Sim look as if they drove into work with a UFO!
8. Tetra Cyberpunk Glasses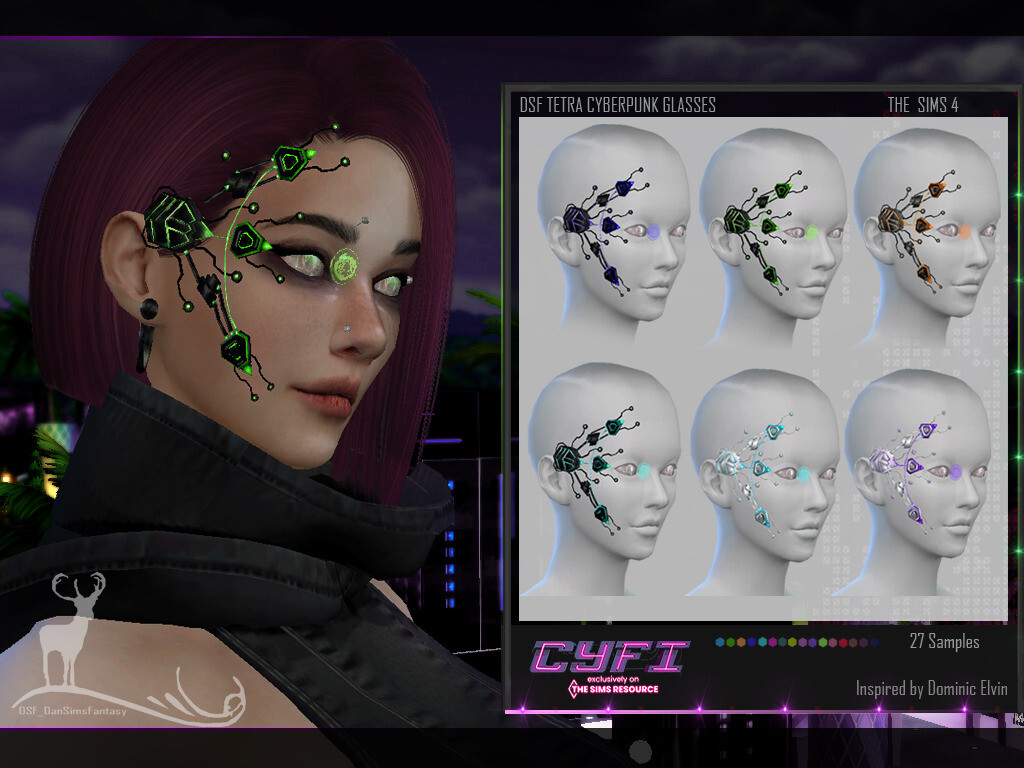 In almost every sci-fi movie or show today, there is at least one techy character who wears cool facial accessories.
Now, your Sim can be one of those characters with the Tetra Cyberpunk Glasses! These cool glasses rest on the side of your Sim's face, nestled alongside the front of their ear.
The glasses consist of three branches of wires that reach from the temple to the chin. There is also a retinal piece that sits just in front of your Sim's eye.
These glasses come in six colors as well, including green, blue, orange, purple, teal, and light blue.
7. Cyberpunk 2077 Quadra Car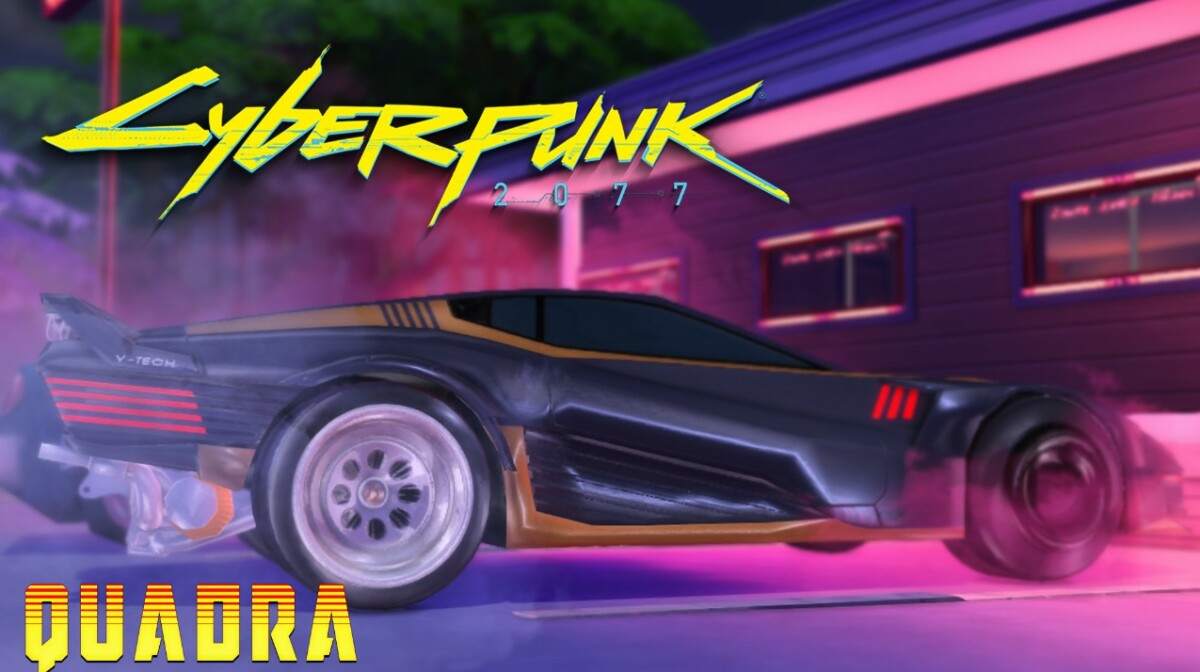 Cyberpunk 2077 really kick-started the cyberpunk and sci-fi world trends recently, so you can pay homage to the game title in TS4 with the Cyberpunk 2077 Quadra Car!
The Cyberpunk 2077 Quadra Car features stunning, real-life car details, including the muffler pipes and tail lights on the back of the vehicle.
Each detail was carefully crafted to match the vehicle, including making parts of the car glow!
Your Sim will look incredible and make heads turn while driving the Quadra. This car only comes in one colorway, which is black with burnt orange racing stripes.
6. Casual Set Sci-fi Clothing CC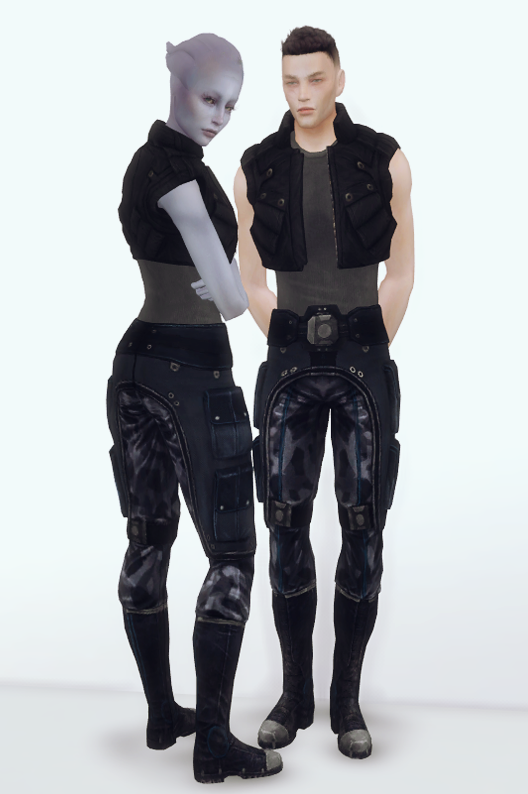 Another great clothing CC set based on a classic sci-fi video game title, Mass Effect! The Casual Set provides simple yet definitively dystopian clothing items.
This CC set includes a jumpsuit that can be worn by both female and male Sims, which features a cropped vest, tank top, cargo pants with hardware attached, and a slim pair of steel-toed boots.
The other outfits include a sleeveless top and matching pants with a pair of industrial-style boots. The last outfit includes a black and red jacket, black pants, and another pair of steel-toed boots.
5. Cyberpunk Set by Natalia-auditore
This is another CC piece that was converted from TS3 to TS4, which is the Cyberpunk Set! The Cyberpunk Set is an outfit that transforms most of your Sim's body into that of a cyborgs'.
In a sci-fi world, Sims having some kind of cybernetic enhancement or limb wouldn't be uncommon.
With this set, you can notice the robotic arms your Sim will have, which are also attached to a robotic torso.
The rest of the outfit includes multiple accessories, a leather vest top, and worn pants. Although, this set does not come with the boots pictured!
4. Dysfunction Chormatus Skin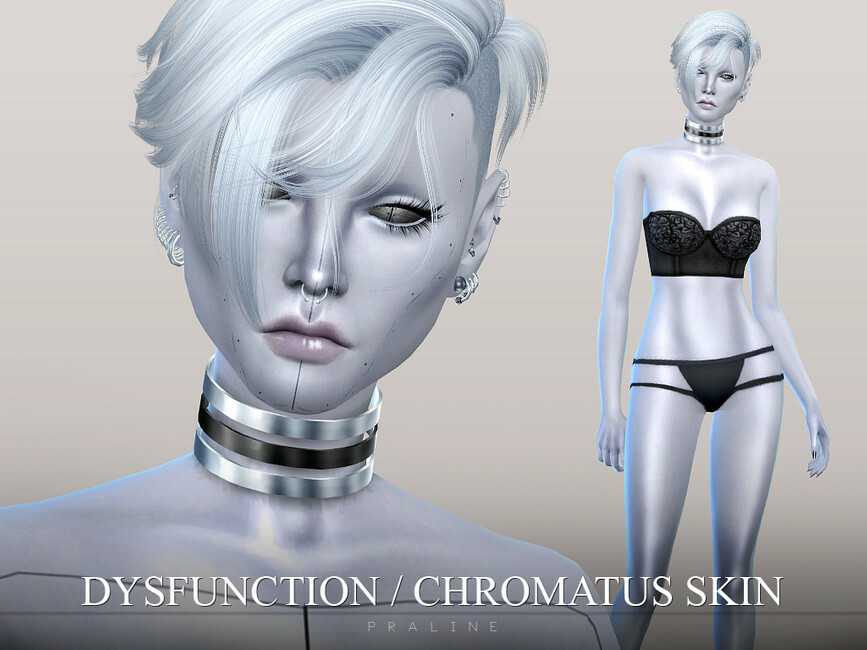 If having a robotic body isn't exactly what you're looking for, maybe this Dysfunction Chromatus Skin is!
The Dysfunction Chromatus Skin, made by Praline, is a stunning metallic skin texture that turns your Sim's normal human skin into a shiny sci-fi one.
This skin CC comes in five metallic colors, including a stunning silver featured in the promo photos.
This skin CC also comes with seam lines that make your Sim look like a mechanical creature designed in a mad scientists' lab! These seam line details are subtle, too, so they are not a cartoony addition.
3. Cyberpunk Accs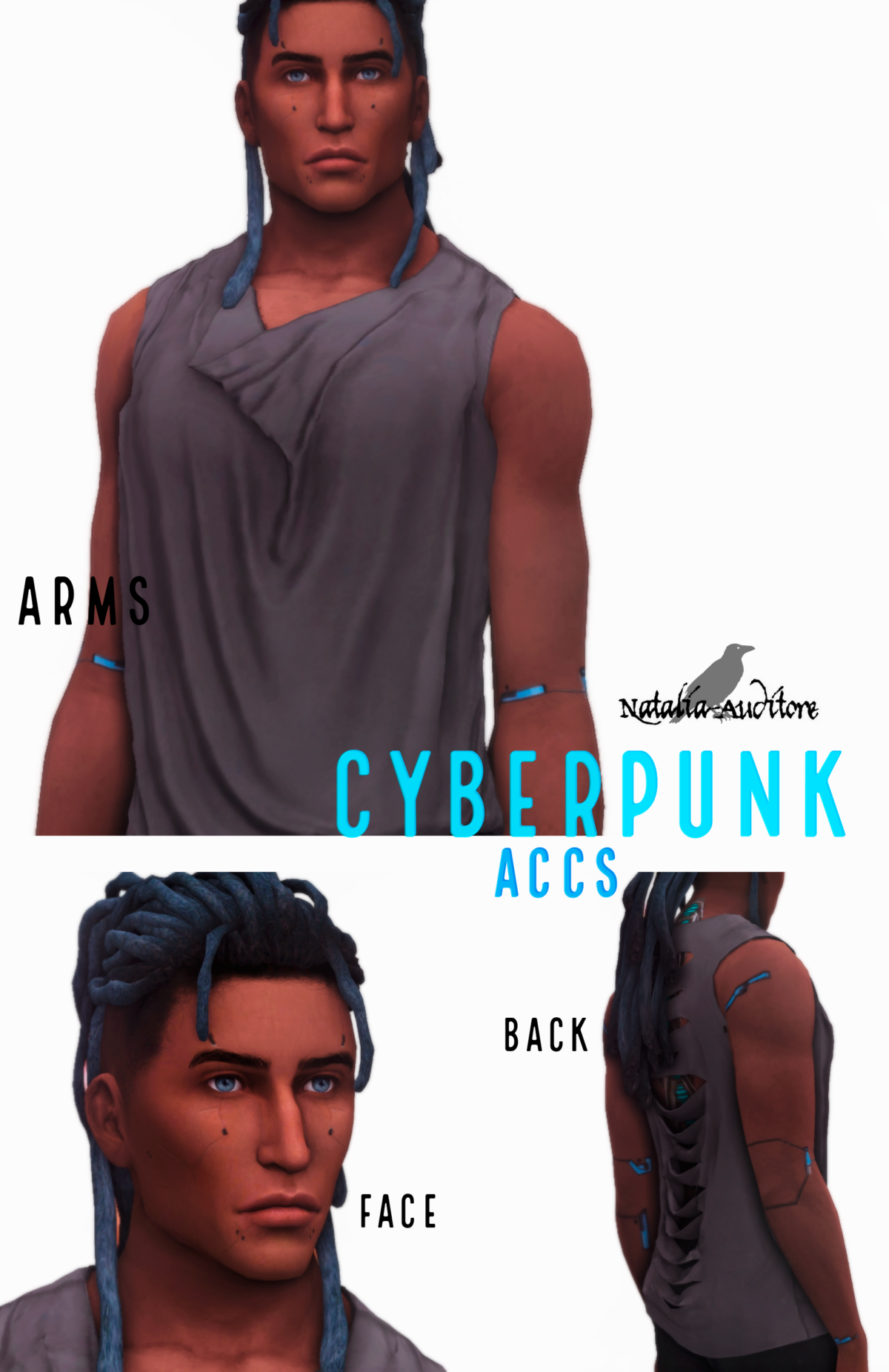 If smaller details to achieve the perfect modern sci-fi Sim creation is what you're after, then you need these Cyberpunk Accs!
The Cyberpunk Accs CC pack includes a multitude of skin details that you can add to your Sim's face and body.
These details are designed to resemble wires and cybernetic implants that have been fused into your Sim's skin as if they have a secret weapon or tool hidden beneath.
There are a total of 14 detail swatches included in this CC pack, including a mix of small details and large details.
2. The Nomad's Dump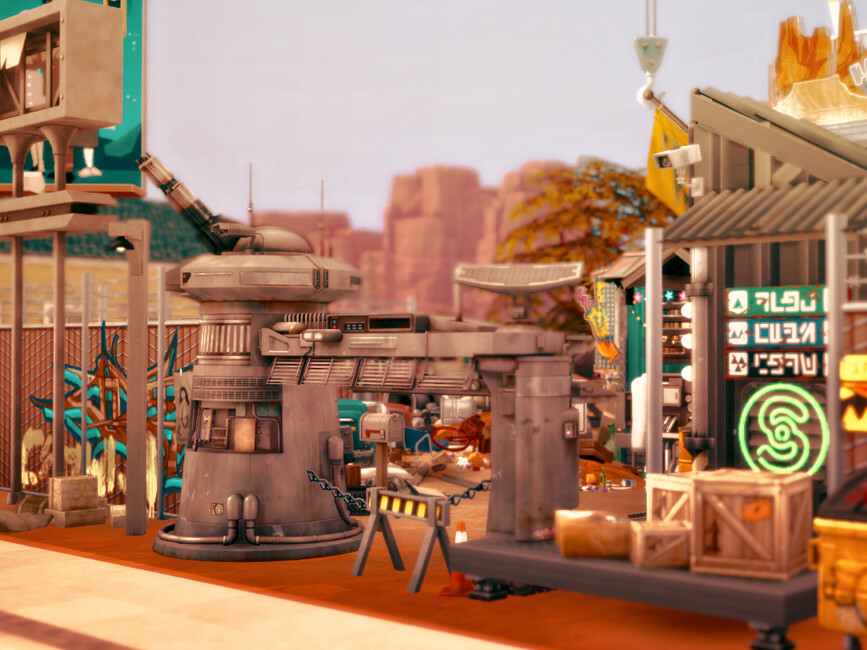 Ever wanted your Sims to live on a lot that combined habitable living space with a junkyard? Well, even if you haven't, The Noman's Dump is a cool dystopian sci-fi tinker's dream house!
The Nomad's Dump lot is inspired by Cyberpunk 2077 and the nomads who live outside of Night City's busy atmosphere.
Every detail was carefully chosen (and thrown around!) to create this bustling home of metal scraps and inspiration.
You'll find workstations, a bedroom, a kitchen, and other necessary rooms for your Sim to become a true nomad.
1. Into the Future Lot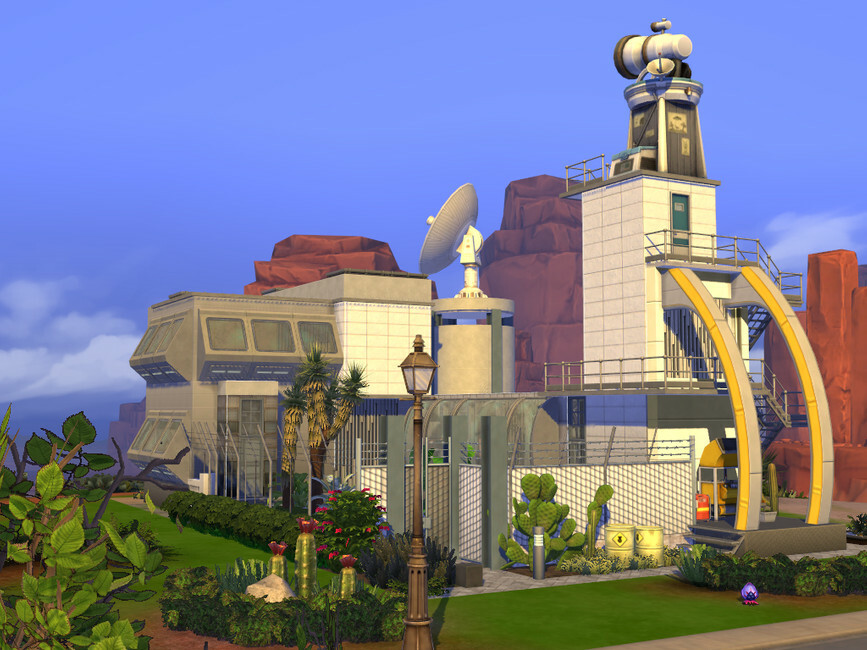 On the opposite side of living arrangements is the Into the Future Lot!
This high-tech lot is a perfect addition to start creating a sci-fi neighborhood, complete with suspicious barbed wiring fencing and metal construction.
This is quite a large lot, perfect for a small Sim family but equally as great for a single Sim household! There are glass tunnels that connect parts of the house with an observatory space on the second floor.
Don't forget the in-ground swimming pool just outside of the tunnel and the astronomer's quarters on the top floor, too!
You might also be interested in the following: