Weddings come in all themes and sizes, some more private and some that are bigger parties.
Most weddings have cake, which can be as extravagant as the venue and the bride's dress!
Give your Sim's the wedding they want and deserve by starting with choosing the perfect cake. We've compiled a list of the best wedding cake CC for TS4 here!
10. Edible Wedding Cake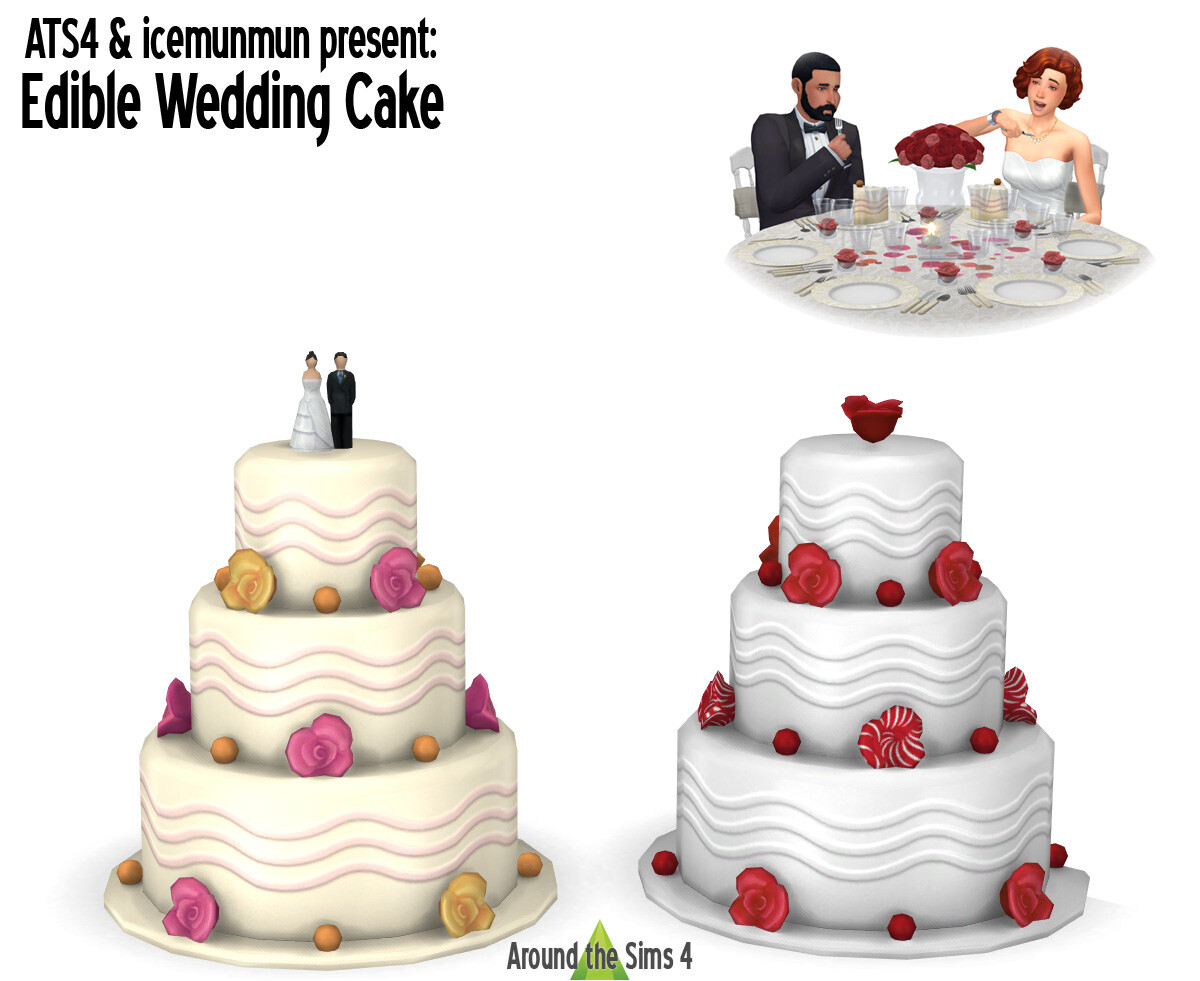 Most wedding cakes are depicted as the classic three-tier white cake. And that's exactly what the Edible Wedding Cake is!
The Edible Wedding Cake is a CC item that is more than a decorative object. Your Sims can get married, then actually take a slice of this beautiful cake.
The three tiers are decorated with flowers, and the cake comes in two color swatches.
You can choose from ivory with purple flowers or white with red flowers. There are also cake toppers you can download separately and set atop the cake!
9. Let's Just Get Married Pack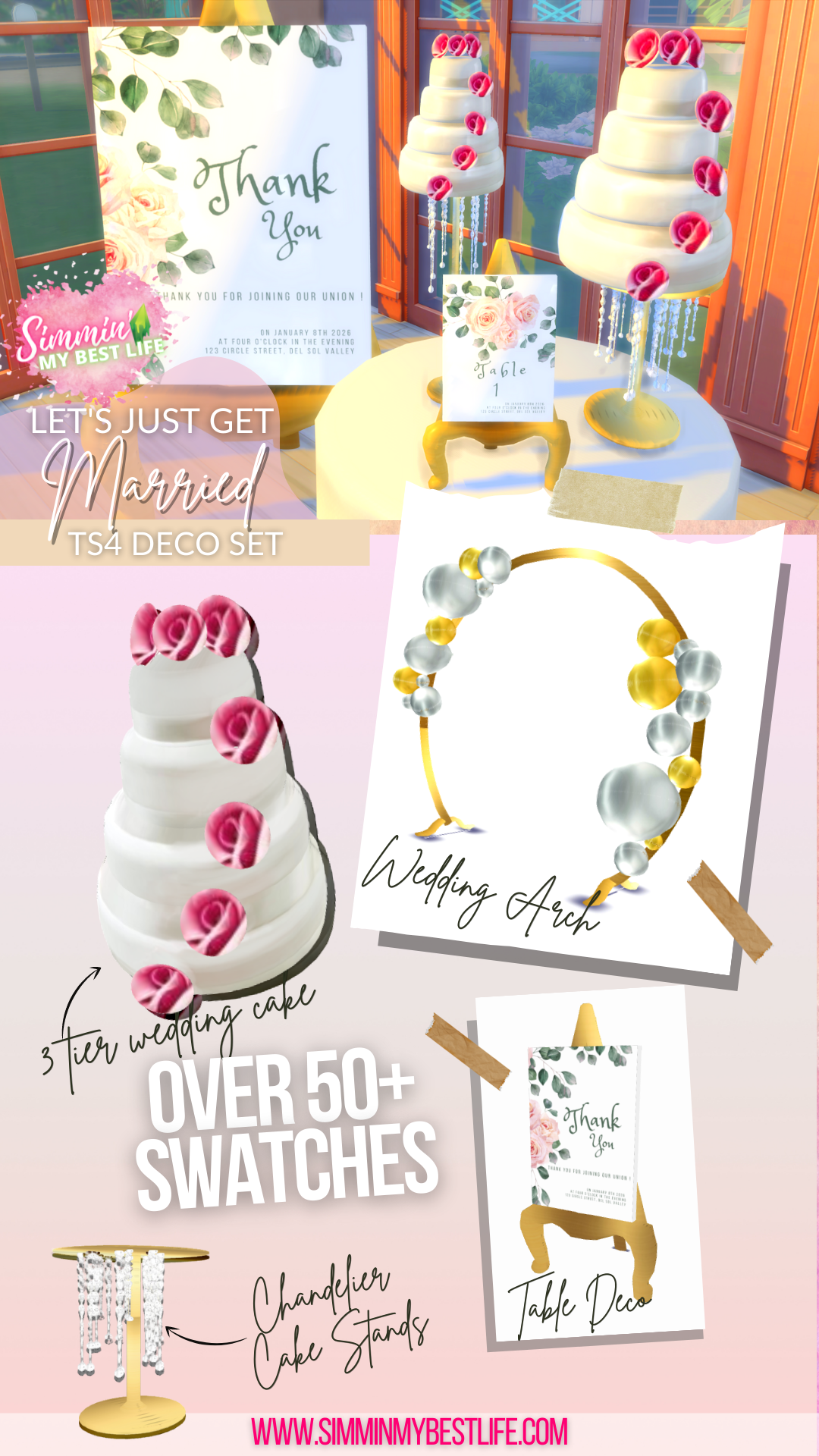 This next wedding cake is actually a part of a mini CC set called the Let's Just Get Married Pack.
This is the perfect set for Sims, who want to dive head first into the waters of marriage with little preparation time.
This set includes a simple four-tier wedding cake that is white with pink flowers lining the side and up to the top.
Along with the cake, there are also five other pieces included in this set, including a wedding arch, cake stands, dishware, and an easel that displays different messages to guests!
8. Lemon Blueberry Cake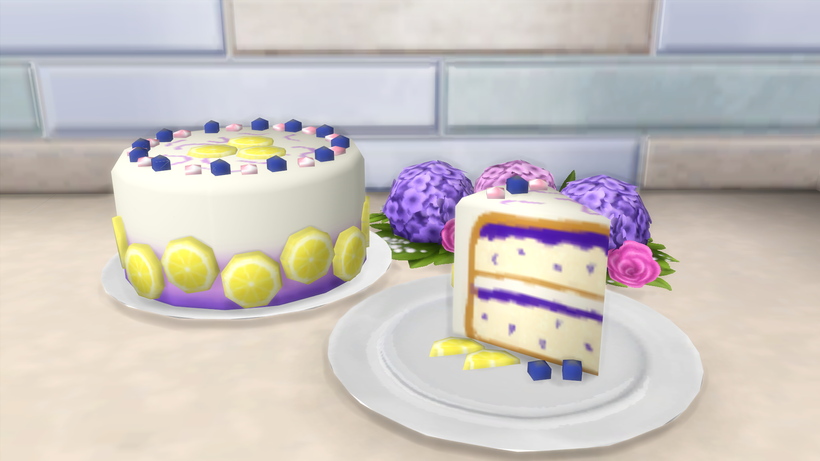 While this isn't labeled as a wedding cake, the Lemon Blueberry Cake is an adorable and refreshing cake option for any wedding or wedding celebration party.
The Lemon Blueberry Cake is a cake that your Sim can actually learn to bake instead of a decorative item you would buy.
Your Sim will need a cooking skill level of at least 4 in order to bake this cake.
This cake is also designed beautifully, with blueberries set on top and lemon slices lining the base of the cake.
When a slice is taken, you can also see the blueberry flavor speckled inside!
7. Red Velvet Naked Cake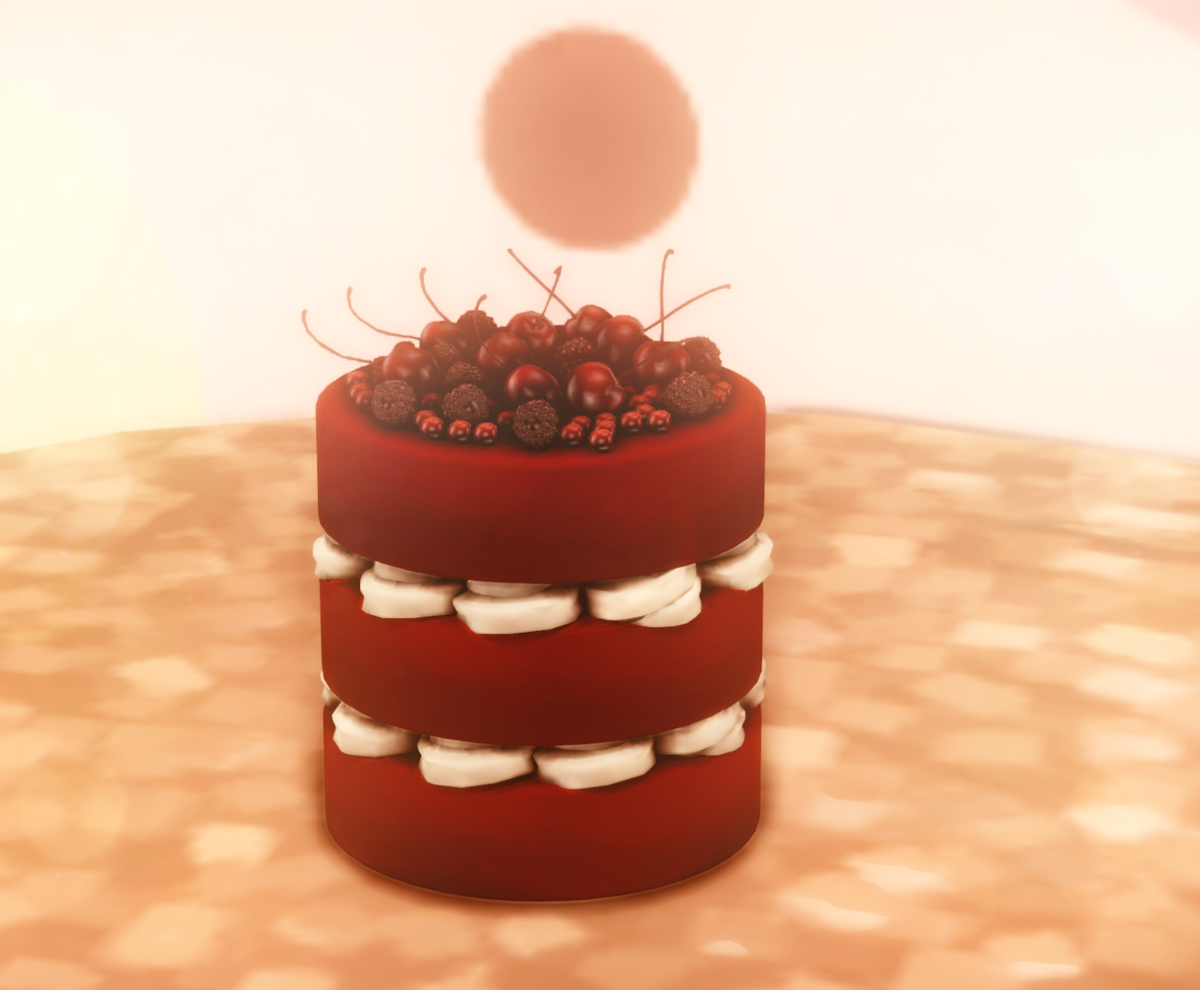 If you're a lover of more cake and less frosting, then the Red Velvet Naked Cake is the cake for you and your Sim!
Wedding cakes that have more exposed cake layers have grown in popularity, but most are vanilla with scares white frosting.
Instead, this cake comes in red velvet, dark chocolate, and vanilla options, each with frosting between every later and berries set on top.
The Red Velvet Naked Cake combines sugary goodness with sweetness of cherries and blackberries!
This cake would be a good option for weddings with darker themes.
6. Pink Rose Swirl Cake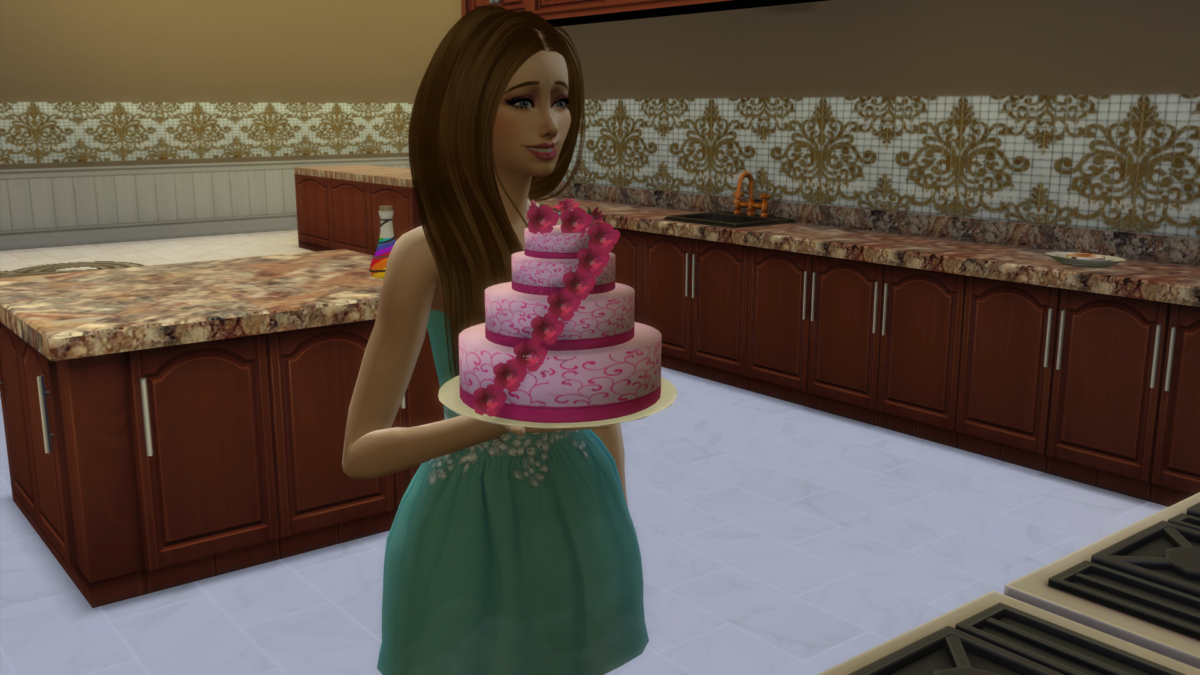 This adorable pink wedding cake is a versatile option that could be used for any special occasion that your Sim wants to celebrate.
The Pink Rose Swirl Cake is a four-tier cake that includes a swirling pattern on each layer, ribbon frosting lining the bottom, and pink flowers trailing up the side.
Your Sim needs to have level 1 in Gourmet Cooking, and in order for this cake to work, you will need to have the Get to Work DLC pack.
It doesn't cost any Simoleons for your Sim to make this cake, either.
5. Corpse Bride Themed Wedding Cake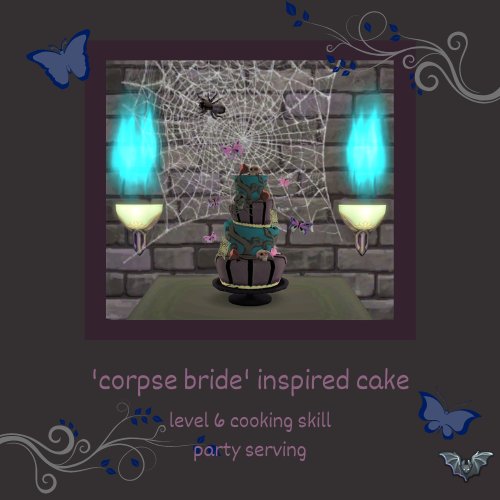 For the spooky Sim couples who are getting married or fans of the Tim Burton film, this wedding cake works for both!
The Corpse Bride Themed Wedding Cake is another cake CC that you can download and have your Sim bake.
This spooky wedding cake includes four tiers of alternating striped and dark turquoise, with skulls and swirls of tree branches decorating the tiers.
One cake serves eight Sims, and in order for your Sim to bake this cake, they will need to have a cooking skill level of at least 6.
4. Cakes Variety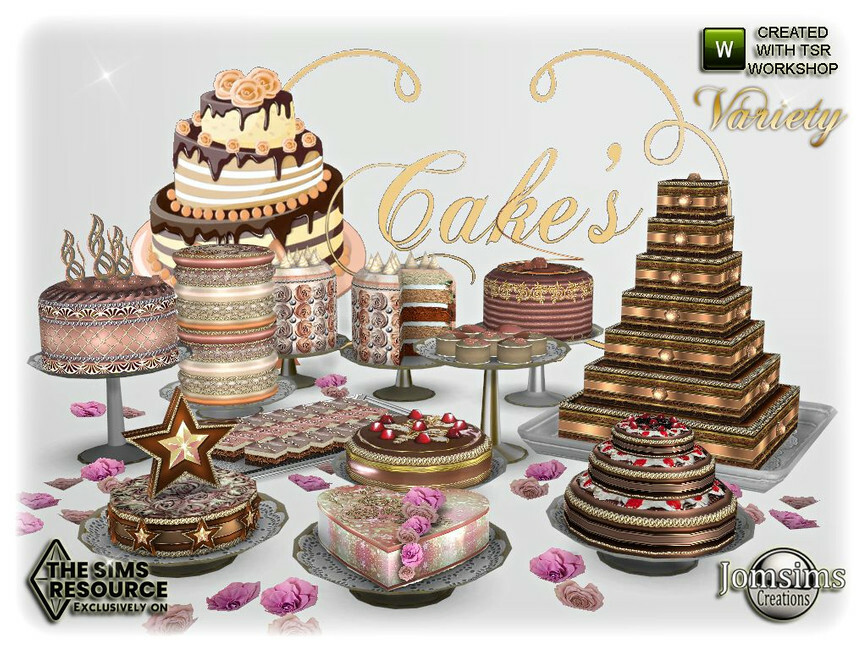 Need more than one size of cake for your Sim's wedding? Not a problem with the Cakes Variety wedding cake CC set!
The Cakes Variety pack includes 11 different cakes that come in four colors: purple, blue, pink, and peach/gold.
The size of the cakes ranges from a large seven-tier to a platter of small cakes and square desserts.
The designs of the cakes also vary greatly, including heart shapes, flowers, stars, and more.
The detailing on these cakes is all incredibly eye-catching, so your Sim's wedding cakes are sure to keep their eyes out for these cakes!
3. Wedding Cake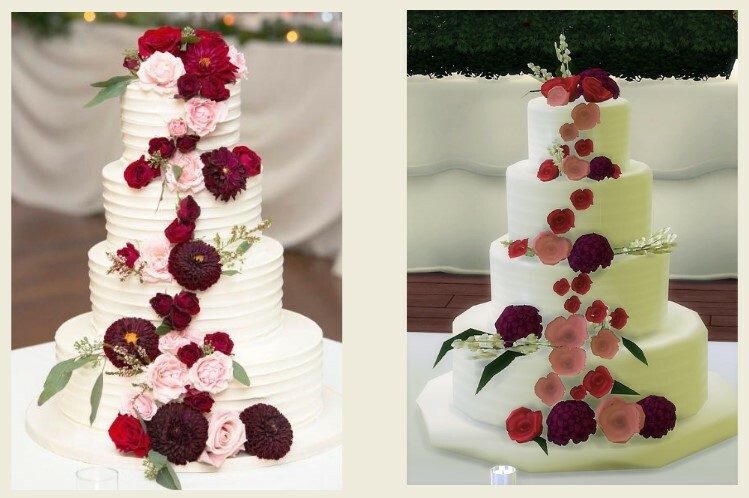 Here's another cake your Sim can bake but is actually labeled as a wedding cake! This Wedding Cake is a four-tier cake with white frosting and multi-colored flowers decorating the tiers.
In order for your Sim to prepare this beautiful wedding cake, they will need a Cooking skill level of 8. One of these cakes will serve up to eight Sims.
The colors of the flowers come in different variations, as well. The promo photos showcase the cake, include pink, purple and yellow flowers or with dark red, light red, and pink flowers.
2. Wedding Cakes for Get to Work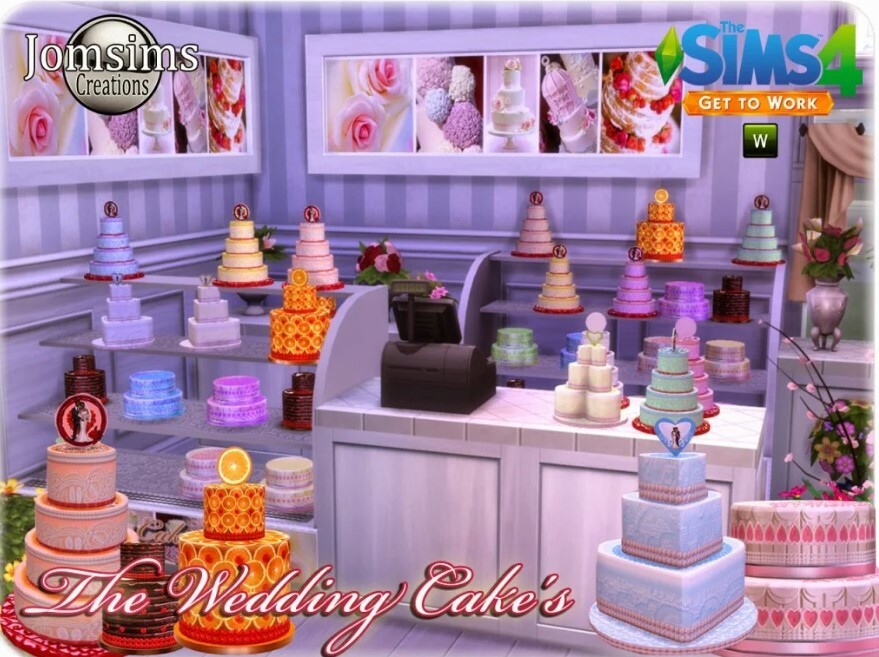 Interesting in having your Sim run a bakery that specializes in wedding cakes? Well, you can make that dream a reality with the Wedding Cakes for Get to Work pack!
As the name implies, you need the Get to Work DLC pack in order for this set to work, but once you do, you can include these five wedding cakes in your game.
Two cakes come with wedding cake toppers on them, while the other three don't, but all five are stunning in detail and color.
However, all the cakes included in this set are only decorative. But you can choose from two-tiered, three-tiered, and four-tiered options!
1. A Day To Remember Cake Collection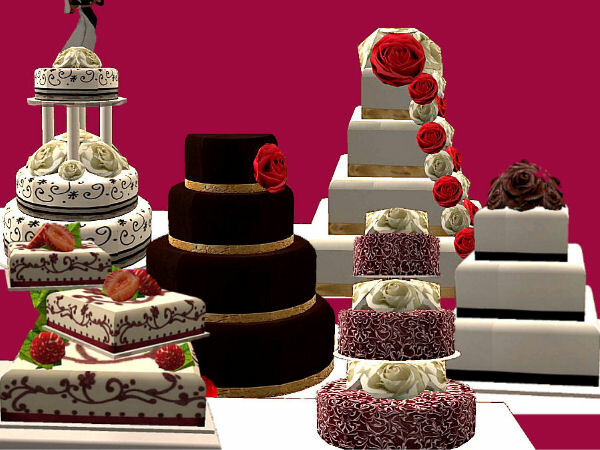 Another great set of wedding cakes is this A Day to Remember Cake Collection. The A Day to Remember Cake Collection includes six different cakes, including a variety of flavors.
All of the cakes in this collection are functional in game, so your Sim's can actually cut into them and eat them.
Each one is carefully designed, from simple white cakes to intricate designs on three of the six cakes.
You can choose from a swirl cake, three chocolate cakes, a strawberry cake, and a peaches and cream cake. Most of them also have flower decorations, with one cake with a wedding topper.
You might also be interested in the following: