Don't feel like hunting down every perfect piece to create the ideal Sim's bedroom? No worries! We've compiled a list of the best Bedroom CC and bedroom sets.
Whether you're looking for a Teen Sim or a Neat Sim who loves a minimalist style, there is a bedroom theme on this list for every Sim!
Best Sims 4 Bedroom CC
10. Francium Bedroom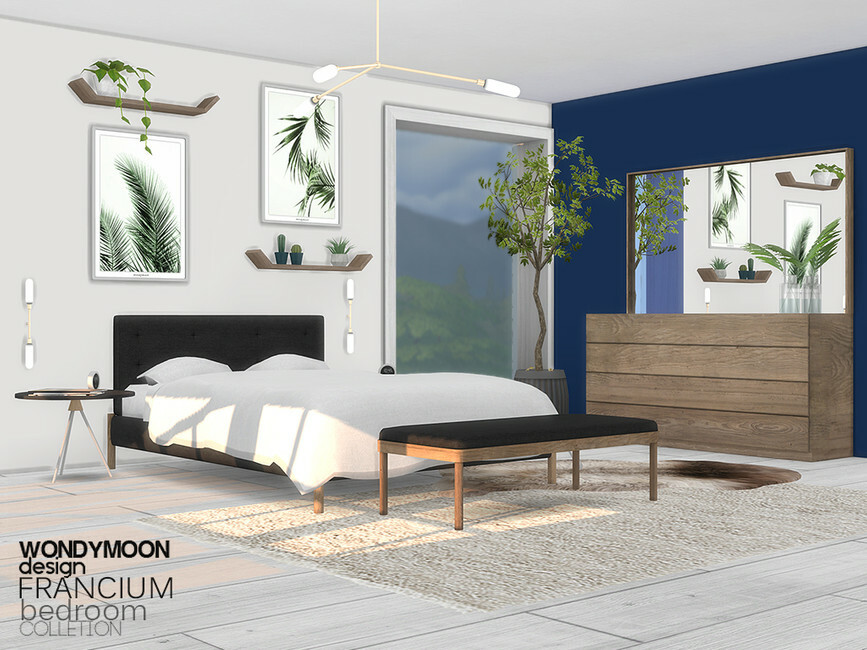 This bedroom CC is the perfect set for those who appreciate neutral colors and plants.
The Francium Bedroom is a bedroom CC set that comes with a bed, side tables, bench, dresser, light fixtures, and many plant-related items.
There are also wall items and décor, and some of the furniture comes in different colors. The bed, bench, and side table are shown to come in black and grey. In total, there are ten items in this set.
Because of its neutral color scheme, you can easily combine this set with others!
9. Alessa Bedroom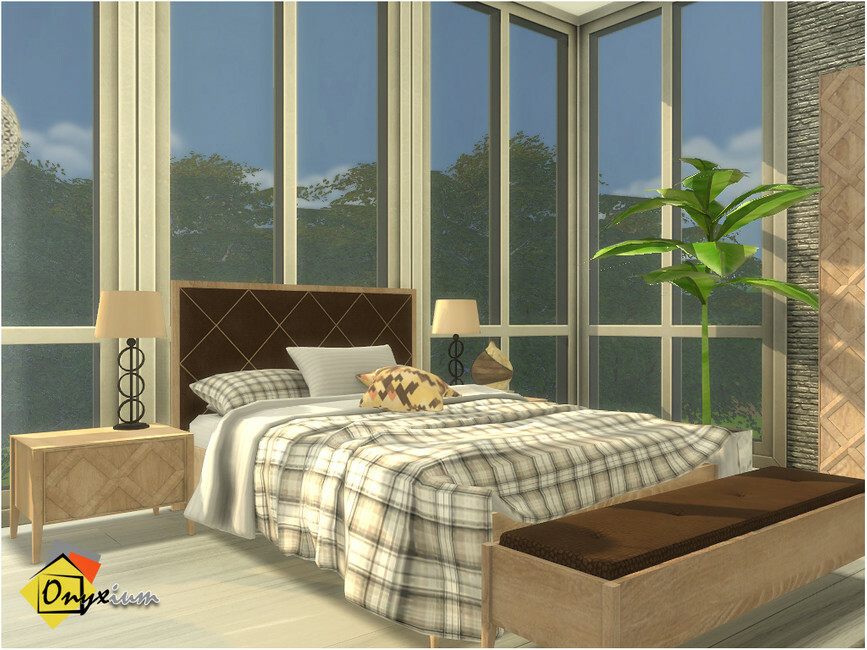 This next bedroom CC set still follows a neutral color scheme but adds a bit more flair with textures and patterns.
The Alessa Bedroom is a beautiful wooden set that incorporates subtle geometric patterns into the furniture.
The furniture is also simplistic, coming in solid colors, including three natural shades of wood.
The pieces included in this set include a bed, nightstand, dresser, wall mirror, bench, lamps and ceiling lights, plants, and more décor items.
The bed is one of the few pieces that include different patterns when you change the color, including both light and dark themes.
8. Alisha Bedroom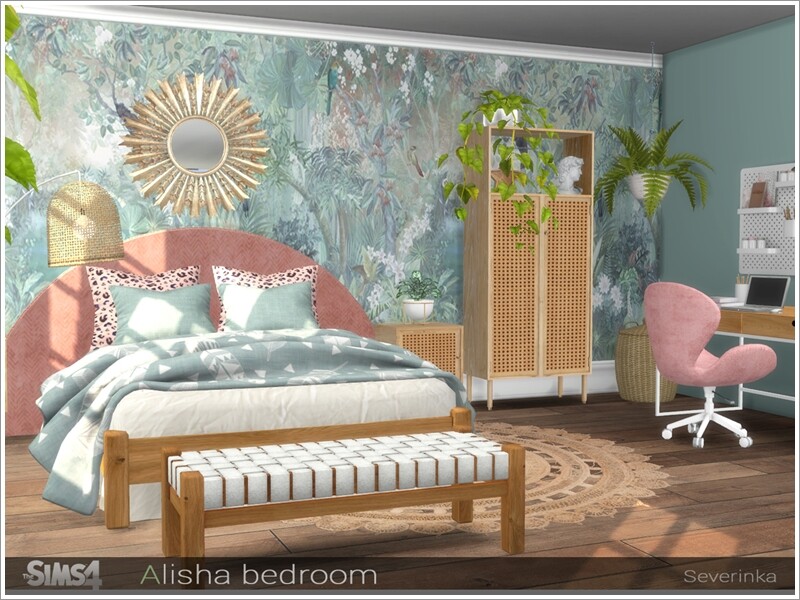 Moving on to a bedroom CC set that's a bit more eye-catching, the Alisha Bedroom is a mix of pastel colors, rich textures, and mid-modern century features.
The Alisha Bedroom includes everything you need, such as a bed, bench, nightstand, wardrobe, lamp, and dresser.
The set, in total, includes 11 items. If the pink headboard and teal bedding isn't your cup of tea, then you can also choose the more neutral color scheme.
The wallpaper included in this set is one of the best features, since they are incredibly detailed!
7. Monica Bedroom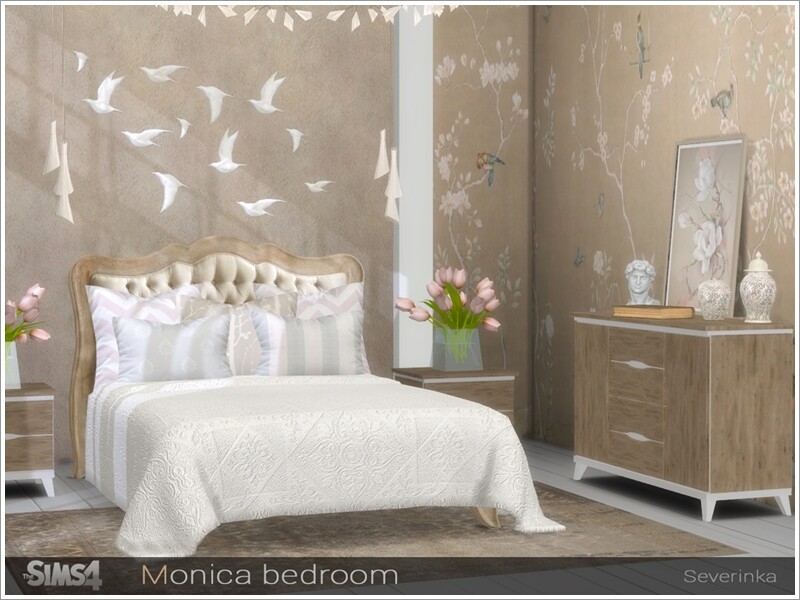 Want your Sim to feel as if they've stepped into a heavenly artist's room? The Monica Bedroom CC set is full of rich textures and imagery!
This bedroom CC set includes a Victorian bed with a quilted blanket so textured you'd swear it were real! There is also a chandelier, nightstand, flowers, decor, dresser, and more included.
The bedding is shown in two swatches, both of which have hyper-realistic quilted details. The wallpaper is a separate download, but it is worth it, too, to achieve the full effect!
6. Yslextius Adult Bedroom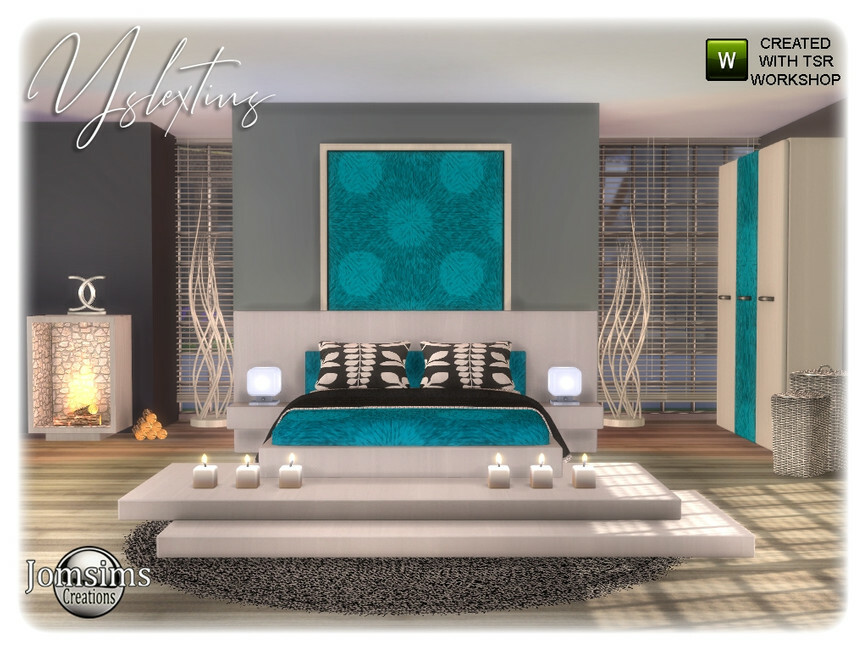 With this next bedroom CC set, this is the perfect mix between modern and "spa day."
The Yslextius Adult Bedroom is a luxurious bedroom set that includes the basic bedroom furniture, as well as some extras that make for a cozy room.
Included in this set is a bed, wardrobe, fireplace, wall art, and multiple décor items, such as sculptures and candles. Most items come in these colors: light brown, brown, black, white, and dark brown.
Each color choice also changes the patterns and accent colors, each making for a great way to decorate your adult Sim's bedroom.
5. LGBTQ+ Bedroom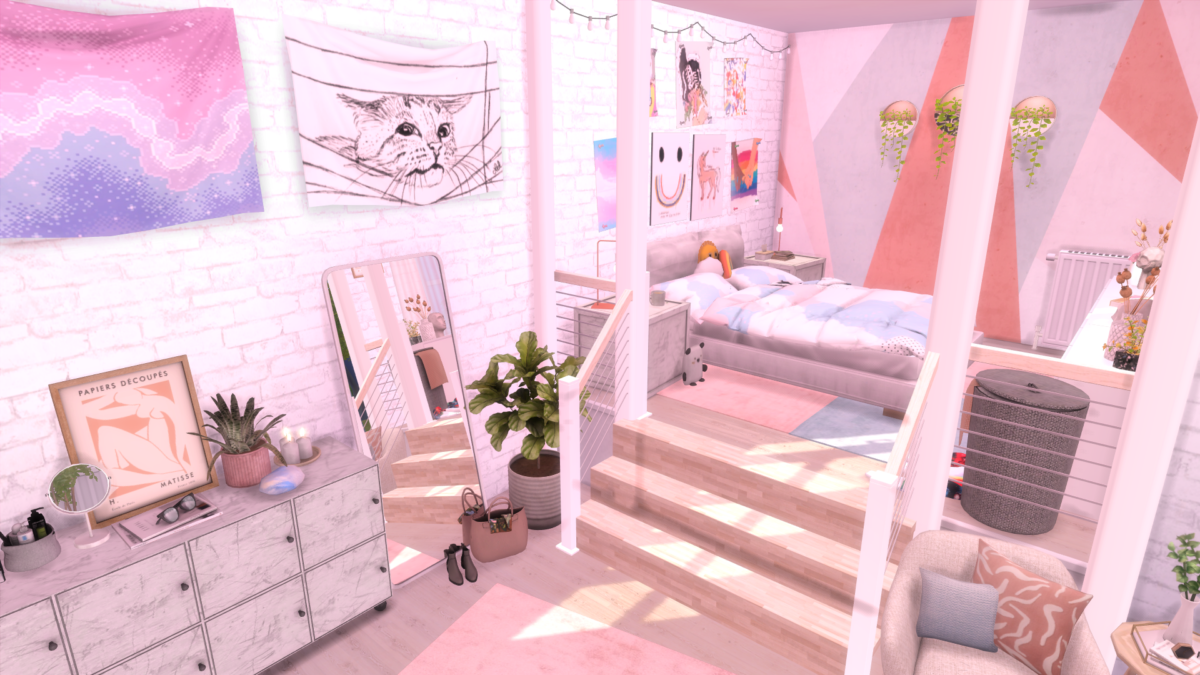 Nothing feels better than creating a space for your Sim where they can feel like their best and most authentic selves.
The LGBTQ+ Bedroom is a fun and well-decorated space designed around the colors of the Transgender flag.
This room includes a separate, designated area for your Sim's bed, as they need to climb a few steps to get into it.
It also only uses pieces from the base Sims 4 game, so you don't need any specific DLC packs to download this room!
Included in this room design are a bed, dresser, a mirror, a chair, and several décor items placed along the furniture and walls to create a wonderfully aesthetic room.
4. Pattern Pop Bedding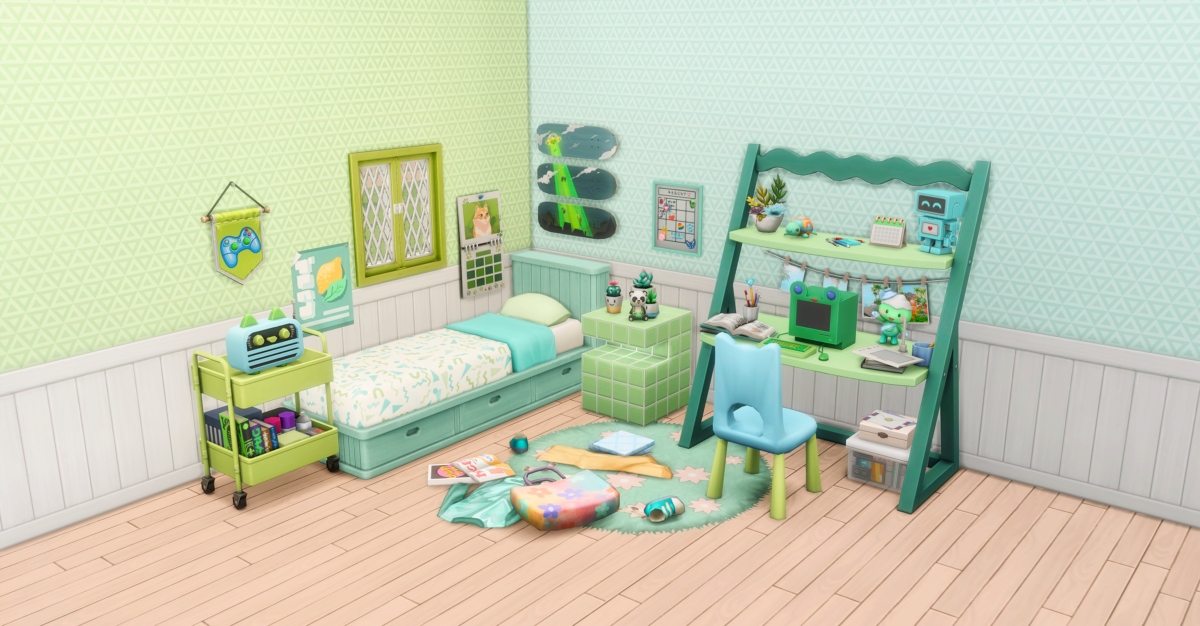 It's time to amp up the color with the Pattern Pop Bedding CC! The Pattern Pop Bedding is bold and colorful, featuring multiple versions of the same pattern to combine with other bedroom CC items.
The pattern in this set is heavily inspired by 80s and 90s fabric and interior design, including different geometric shapes in fun color schemes. In total, there are 32 swatches!
With this CC, you can transform any bed you want to include this fun bedding, fitting it in with the rest of your Sim's bedroom décor!
3. Luna Bedroom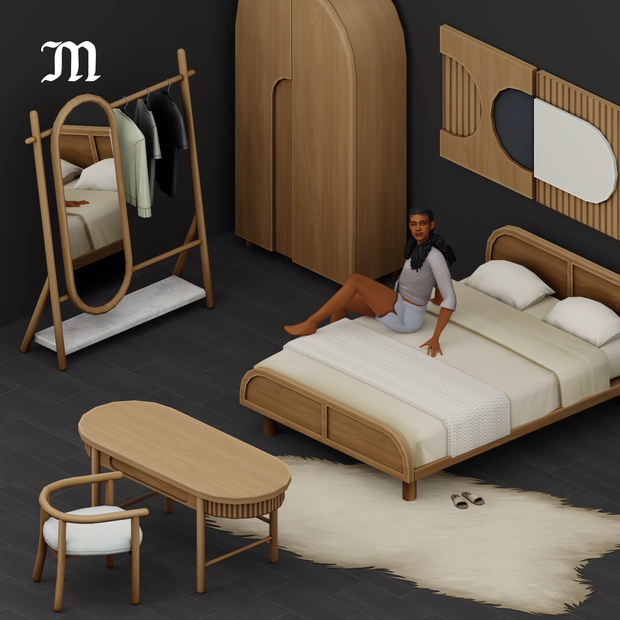 The Luna Bedroom is another neutral, minimalist style bedroom set, but instead of sharp edges, this set features more curves in its design.
The Luna Bedroom CC set includes a bed, table, chair, wardrobe, clothing rack and mirror, and more. In total, there are 9 items included in this set, most of which come in 8 color swatches.
The exceptions are the mirror and clothing rack with 24 swatches and the wall art with 16 swatches. For a simple design, the Luna Bedroom provides a set that is easy to decorate and fits into any home.
2. Bedroom Set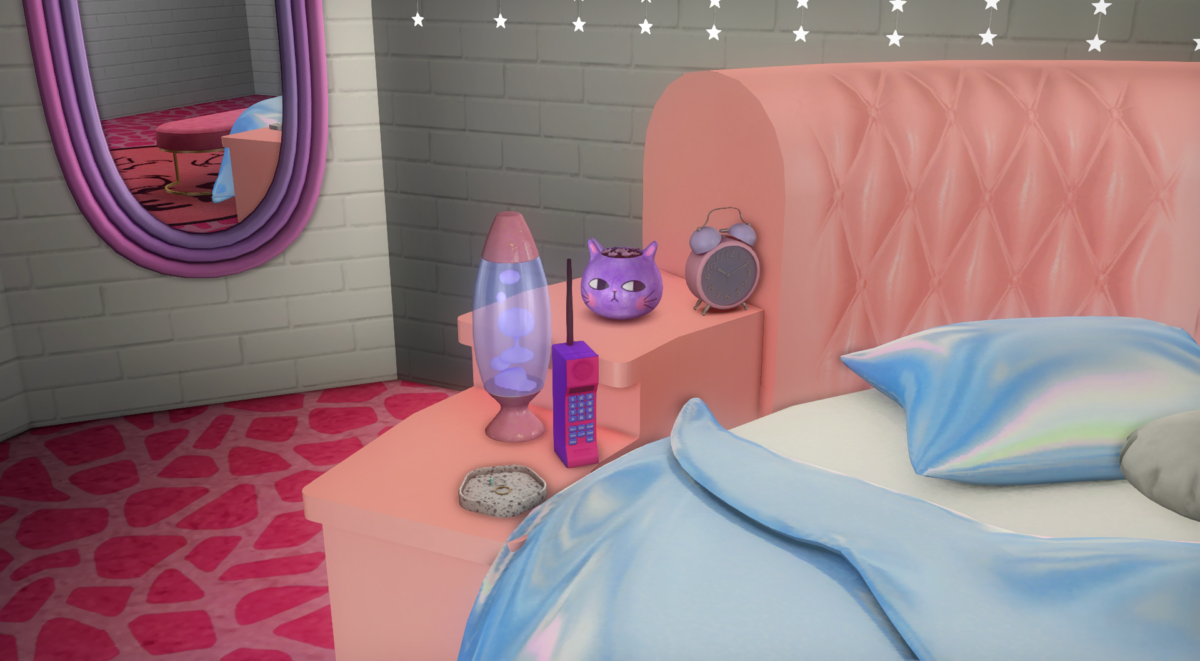 This is one of the more realistic-looking bedroom sets on this list. The Bedroom Set made by Mechtasims is a pastel and retro wave style combination that is sure to leave your Sim feeling relaxed in style.
This Bedroom Set includes a rounded bed with shiny blue bedding. There is also a bean bag chair, a small pink bench, a heart-shaped rug, and several more décor items that pull the room's aesthetic together.
The bean bag chair and tissue box TV are fully functional, and the round bed is semi-functional.
1. Sleek Slumber CC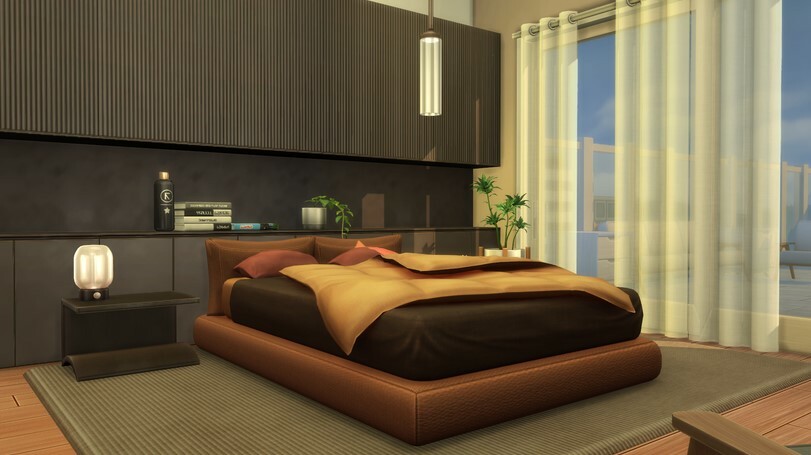 Looking for a bedroom that is more masculine? The Sleek Slumber CC bedroom set is the perfect choice because of its darker color choices and modern design.
This set includes rich colors that make the room feel cozy and welcoming to relax and sleep in, and all items are base-game compatible.
The platform bed, desk, chairs, light fixtures, art, and the rest featured in the promo photos are included in the set and come in color swatches, including white, black, green, shades of brown and tan, red, yellow, and pink.
You might also be interested in the following: