Well-defined, textured hair isn't unheard of in The Sims 4, but it isn't the most paid attention to, either.
So, customer content creators provide great options for download so that you can build your own personal catalog of black hair for your Sims!
We've curated this list of the best black hair CC currently available, courtesy of the TS4 CC community.
10. Kyra Curry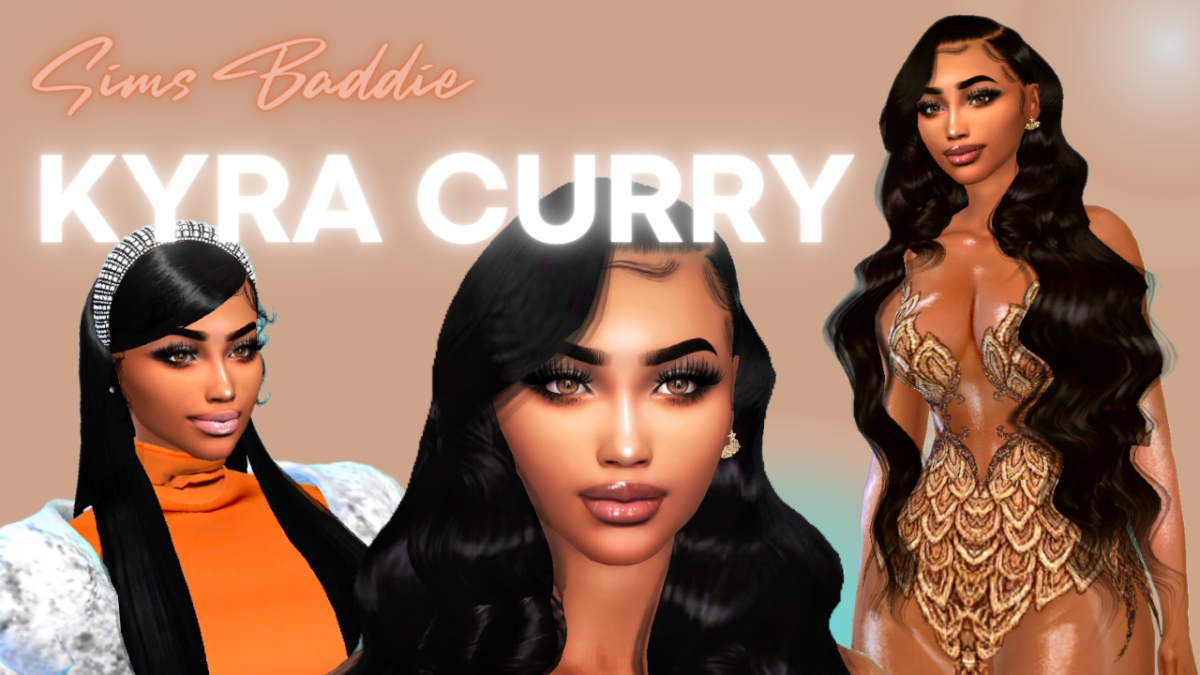 The Kyra Curry hair set is the perfect set for both up and down hairstyles. The Kyra Curry set includes multiple hairstyles, including both straight and curly variations.
Featured in the promo photo for this set are two long hairstyles, one straight and one curly. Both reach far past the chest on your Sim and include stunning shine details.
The curly version also includes baby hair details along the forehead and side of the face, while the straight hairstyle includes side-swept bangs.
All styles in this set are great for all occasions.
9. Kelani Braids for Kids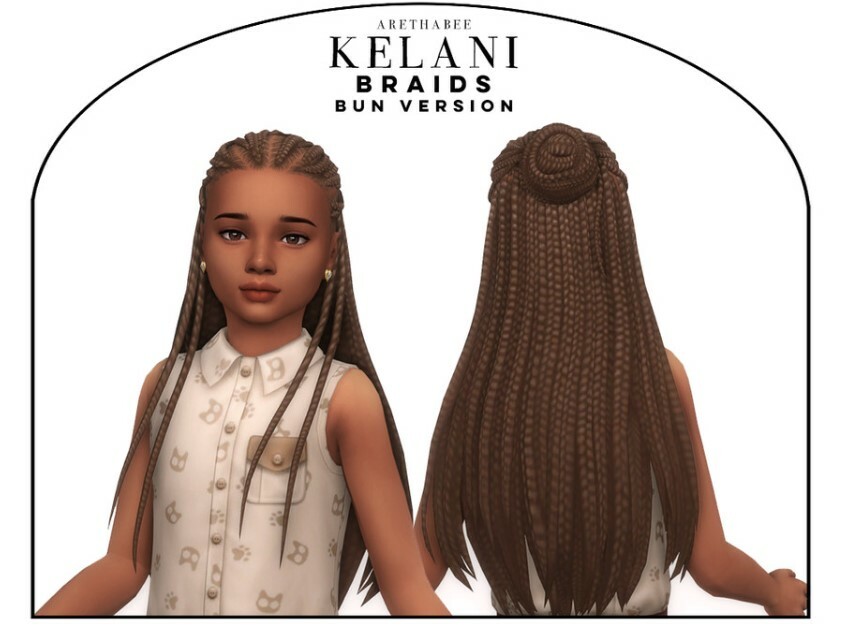 One of the best hairstyles for child Sims on this list is the Kelani Braids for Kids black hair CC.
This detailed hairstyle features braids close along the scalp, falling down the back of your Sim.
Every lock stands out on its own, especially in the braid bun on the back of the head.
This hairstyle comes in 15 colors, including the beautiful light shade of brown featured in the promo photo.
There is an adult version of this hairstyle as well so that your Sim and their child can match!
8. Black Honey Hair
Need something on the shorter side? No problem! The Black Honey Hair CC is a sharp and chic bob that frames your Sim's face nicely.
The asymmetric cut of this hairstyle adds a bit of edge, along with the two-tone color pallet, with white/grey streaks off setting the black color.
The greyish color can also be spotted underneath.
One side hangs farther in front, partially covering one side of your Sim's face, too.
This is a great hairstyle to have for those who love a modern cut that is also alternative chic.
7. Kenza Hairstyle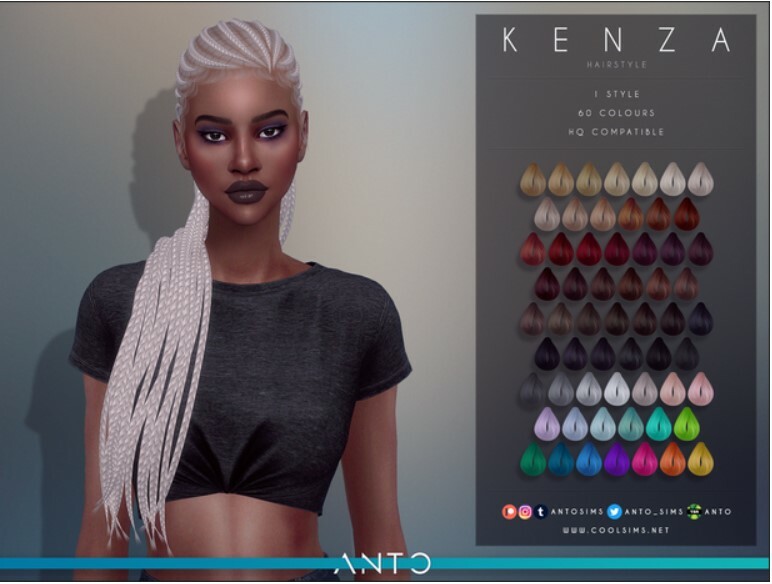 The Kenza Hairstyle is another great long hairstyle with well-defined braids.
The Kenza Hairstyle reaches past the chest, featuring a thick train of dreadlocks flowing over the shoulder.
When you look closely, you can see baby hairs along your Sim's hairline, with braiding close to their scalp.
The Kenza hairstyle comes in 60 colors, including multiple shades of blonde, brown, red, and black, but there are also multiple bold, fun colors.
This is a great hairstyle that is sure to add dimension to your Sim's appearance, making them more realistic and stand out more in the crowd.
6. Anto Irene
The Anto Irene is a stunning combination of long, curly, and braids. This hairstyle features an exposed forehead, with the hair pulled back and braided along the scalp.
From the scalp, long waves of curly braids flow down your Sim's back.
The Anto Irene hairstyle is one to make other Sims stop and stare, as it is bold in volume and dimension.
The Anto Irene comes in 60 colors, including shades of blonde, brown, black, and multiple fun, bold colors as well.
Earrings and the front of your Sim's outfit will also be fully visible with this hairstyle for maximum style exposure!
5. Mpho Hairstyle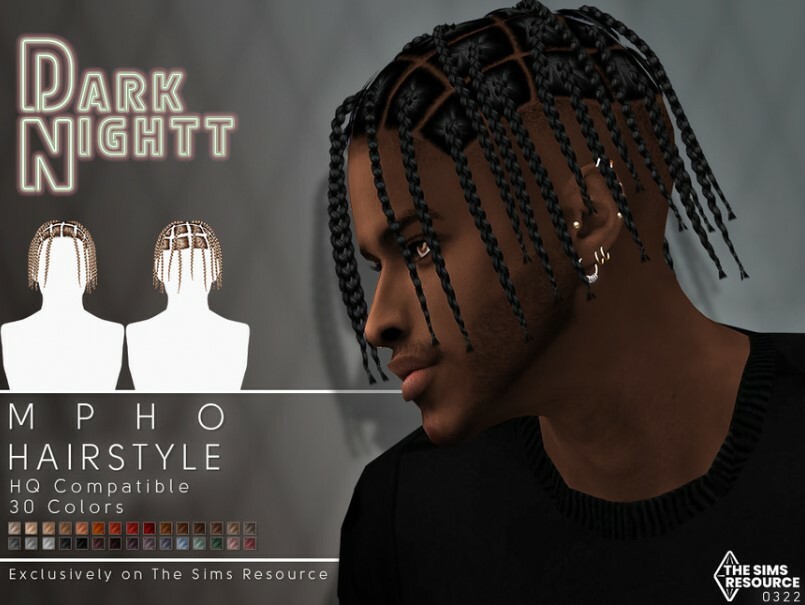 Can't forget about the guys! The Mpho Hairstyle includes braided and shaved features.
The braided portions fall just around the ear, varying in length slightly around the head.
The Mpho hairstyle is compatible with hats and designed for male Sims.
In total, you can choose from 30 colors for this hairstyle, with 20 being base colors and the other 10 being fantasy or unnatural colors.
The detailing for this CC hairstyle is stunning, including degrees of light exposure to capture the depth and realism of the individual braids.
4. Monique Hair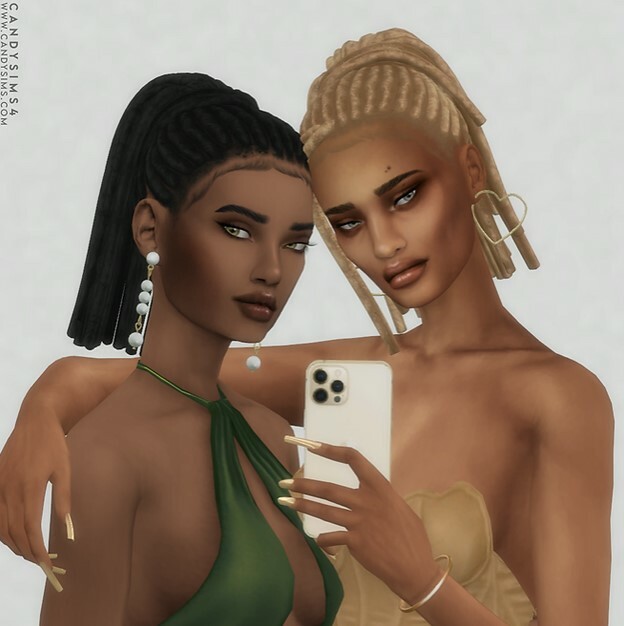 Dreadlocks in a ponytail are a must-have look for any Sims 4 player.
The Monique Hair is a single hairstyle that features braided locks tied up into a ponytail with bangs framing the forehead.
There are two different versions of this hairstyle, including one in EA base colors and one in colors chosen by the CC creator.
There are 24 colors for the EA version and 27 colors for the second option.
The Monique Hair is designed for female Sims from the ages of Teen to Elder. It can be found in Long Hair and Updo hair sections.
3. Jackie Hair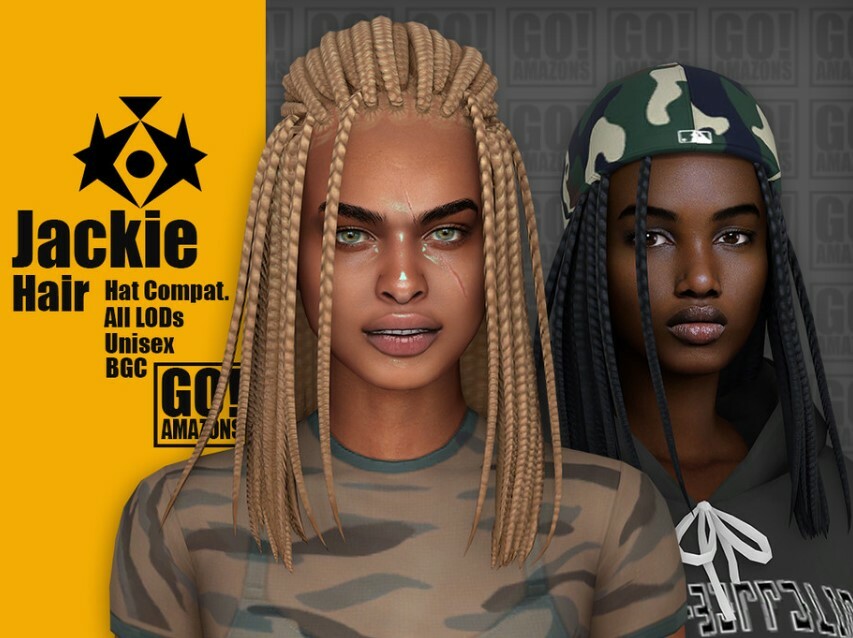 The Jackie Hair CC is a great unisex hairstyle choice on this list!
The Jackie Hair CC, designed by GoAmazons, is base game compatible and works for Sims between the ages of Teen to Elder.
This hairstyle is also hat compatible, but without a hat on, you can see the details of where the braids begin and each notch in the braids.
This hair CC comes in 26 EA color swatches, along with some additional options.
The Jackie Hair looks especially good with a hat equipped, so this is a must for Sims, who is known to wear them regularly!
2. Be Mine Hair Set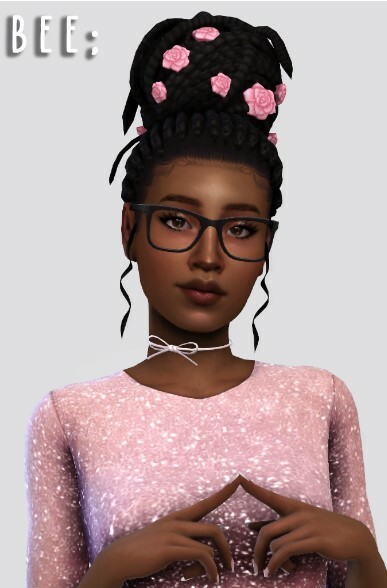 The Be Mine Hair Set includes two hairstyles, one short haircut, and a bun hairstyle.
The bun hairstyle included in this set is inspired by the classic beehive hairstyle with a twist.
The bun hairstyle also includes several pink flowers incorporated into the braided bun, which can be equipped or removed in the 'hats' category in character customization.
The other hairstyle included in the set is asymmetrical in cut, above shoulder length, and is also hat compatible.
This is an adorable braided bob that features many smaller braids which frame your Sim's face nicely.
1. Blissful Braid Collection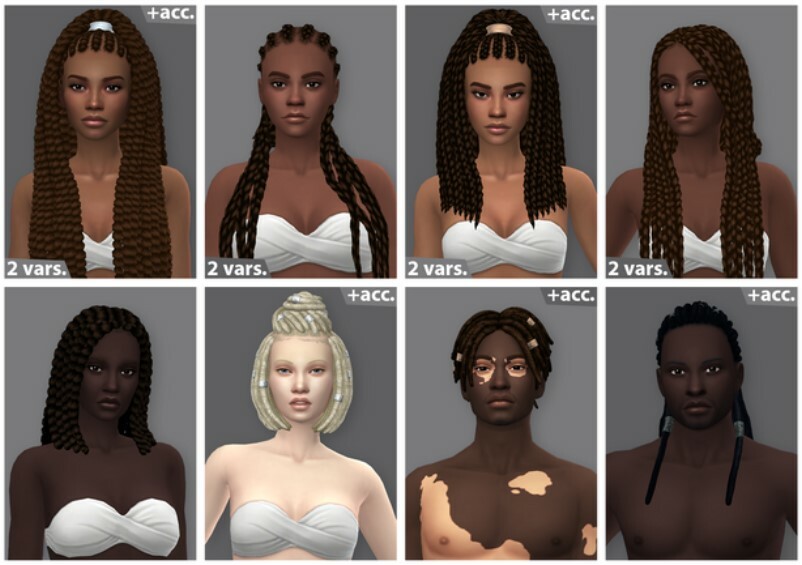 The Blissful Braid Collection includes eight different braided hairstyles. This is one of the best sets to download to instantly create a catalog of stunning black hairstyles.
Five of the eight hairstyles include hair beads to add to your Sim's braids. Four of the eight hairstyles also come in two variations.
In total, there are six hairstyles for female Sims and two for male Sims. All hairstyles are hat compatible and come in 24 EA color swatches.
Sims from the ages of Teen to Elder can use the styles included in this collection.
You might also be interested in the following: