Aliens were always a big part of the Sims lore. Just remember the mysterious story of Pollination Tech#9 Smith and his family from The Sims 2.
In the world of Sims 4, aliens returned to us with the Get to Work expansion pack, and we will soon get the chance to learn more about their extraterrestrial life with a new Sims 4 Star Wars game pack.
But for now, to bring up your alien gameplay to the next level, we present to you the ten best alien CC we found on the Web.
Best Sims 4 Alien CC
15. Haunted (Skin Recolor)

Aliens don't only have to look like a movie from the 1980s, wrinkly and green. Aliens can look however you want them to, and this Haunted Skin Recolor CC helps!
Featuring 77 swatches for all the variations, you can mix and match to create all types of alien aesthetics with this CC. The three variations you can change include the forearm, hands, and fingers.
This feature helps you to create flawless ombre effects. The Haunted CC can be found in the tattoo section of character customization, under the "Upper Back" subcategory.
All Sims, from teens to elders, can use this CC.
14. Holo Alien Eyes

After you've customized the skin of your alien Sim, you can use these Holo Alien Eyes to create a truly otherworldly Sim.
The Holo Alien Eyes include 18 new eyes that can also be passed down to Sim children. All of the eyes in this CC pack appear holographic with glimpses of rainbows in them.
Some eyes appear more as a solid orb of color, while others appear sparkly or to have stripes of color.
There are two download versions available, as well, with one being just the eyes, but you can download the second to receive custom mouths.
13. Cyber Girl Makeup

This makeup CC doesn't have to be used for aliens, but it definitely screams futuristic. The Cyber Girl Makeup CC pack features multiple patterned and electric-colored eyeshadows.
Most of the eyeshadow variations cover most of your Sim's face in some way, and all variations feature fun, cyber shapes, and color palettes.
Many of the variations feature white accents, but other colors include electric yellow, blue, pink, and purple.
Pairing these eye makeup options with the Holo Alien Eyes is one way to make your alien Sim easy to spot in all of the galaxy!
12. Space Invaders Outfit

If you're looking for a more traditional styled outfit to make your alien Sim as if they just walked off their UFO, then this Space Invaders Outfit is for you.
This outfit is skin-tight, as a true bodysuit would be, and is accented with hi-tech metal detailing. This outfit is available in 40 color swatches, with multiple neon colors for the ultimate pop!
Most of the base colors of this space jumpsuit is white and black, with grey and champagne as two other options.
The suit also comes pre-built with wedge-style boots, which really add to the overall appeal of this jumpsuit when they are highlighted with the neon color options.
11. Enhanced Aliens Mod

For the ultimate alien experience, you need this Enhanced Aliens Mod in your Sims game. With this mod, your Sim can feel more like an alien with new powers.
These new powers include mind control, bio-boost, and bio-drain.
These powers come with new interactions and responsibilities, such as ordering other Sims to clean and repair things and having to find ways to keep your Brain Power meter up.
Each action you use that requires Brain Power will drain your meter in varying amounts. Once your meter begins to get low, your Sim will experience a side effect similar to being very tired.
10. Stellar Stuff Pack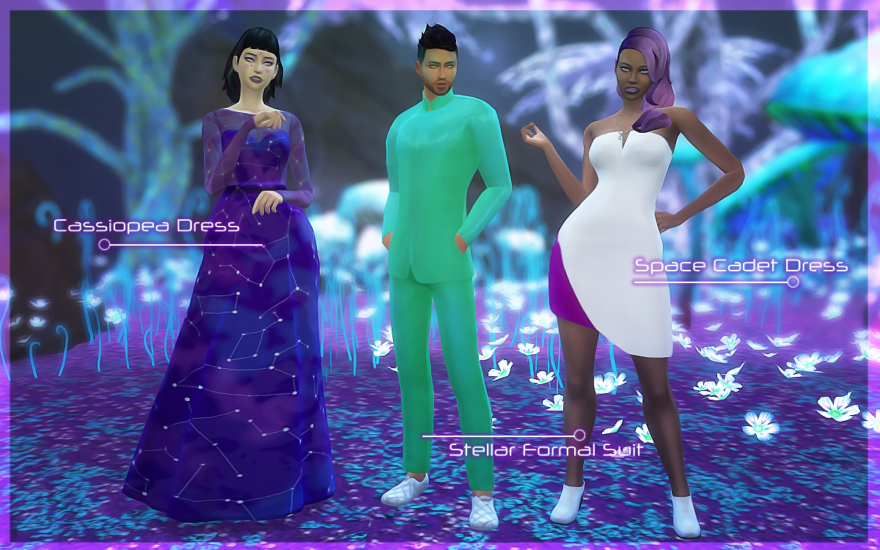 We are starting with something extra-cool! An extraordinary team of CC creators, The Plumbob Society, made Stellar Stuff Pack happen.
They created a lot of fantastic custom content packs to expand our gaming experience, but this pack looks like it is something that came to us right from outer space.
With an astonishing 127 objects dedicated to alien and space themes, we get a lot of beautiful build mode, buy mode, and CAS content. You will get stunning clothes for all ages (from children to elders) and an abundance of piercing and accessories.
You even will find new tattoos and make-up in this pack! This fantastic stuff pack is totally free, but you need some official expansions for every object to work correctly.
Nevertheless, it is a spot-on creation for every sci-fi or alien gameplay.
9. Star Base Set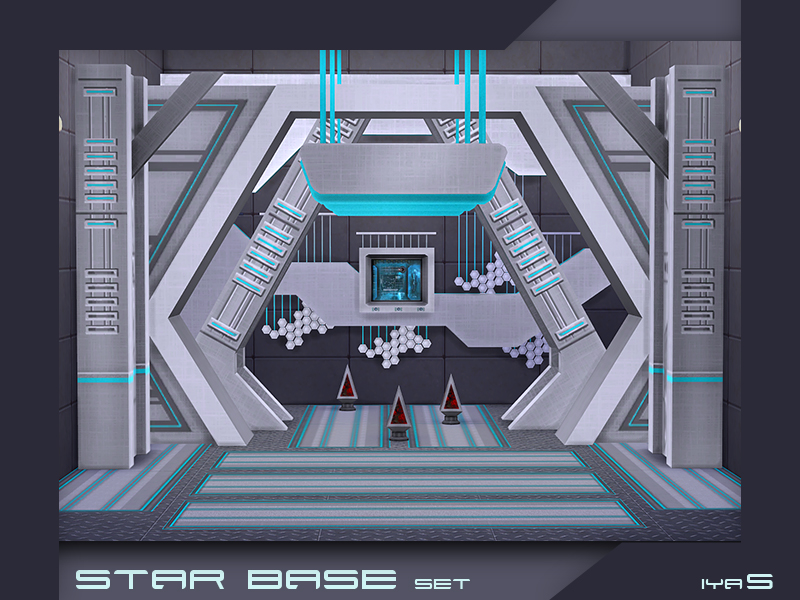 Make the most awesome space house with the Star Base Set! A wonderful set of the ten magnificent decorative objects and lamps, perfect for your next deep space home.
Here you will get ceiling lamps, table pieces, lovely futuristic rugs, a lot of wall panels, and other decors.
One of the coolest creations of this pack is undoubtedly wall monitors. They complete the look of a space station or extraterrestrial home, giving it a secret vibe.
Overall this pack can be beautifully blended into sci-fi gameplay and make a great part of the spy or fantasy builds.
8. Nautolan Tentacles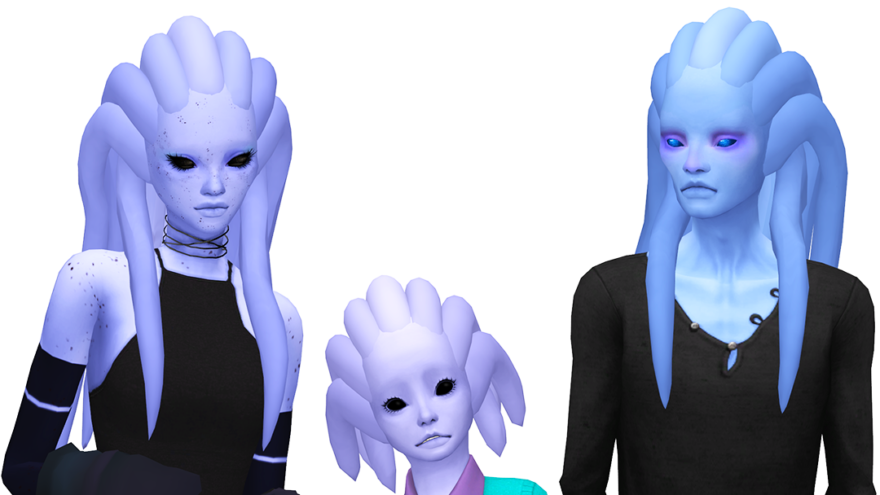 Gorgeous Nautolan tentacles finally are a part of The Sims 4! We do not know yet if they will be part of the upcoming Star Wars game pack, but thanks to CC creators, you can add this part of Nautolan's appearance into your game right now.
It is an amazing addition to The Sims, that help you create truly unique characters and unforgettable stories.
This pack also includes tentacles for toddlers (often forgotten by the game developers) to make them look exactly like their mammas and papas.
7. Taty Dolly Eyes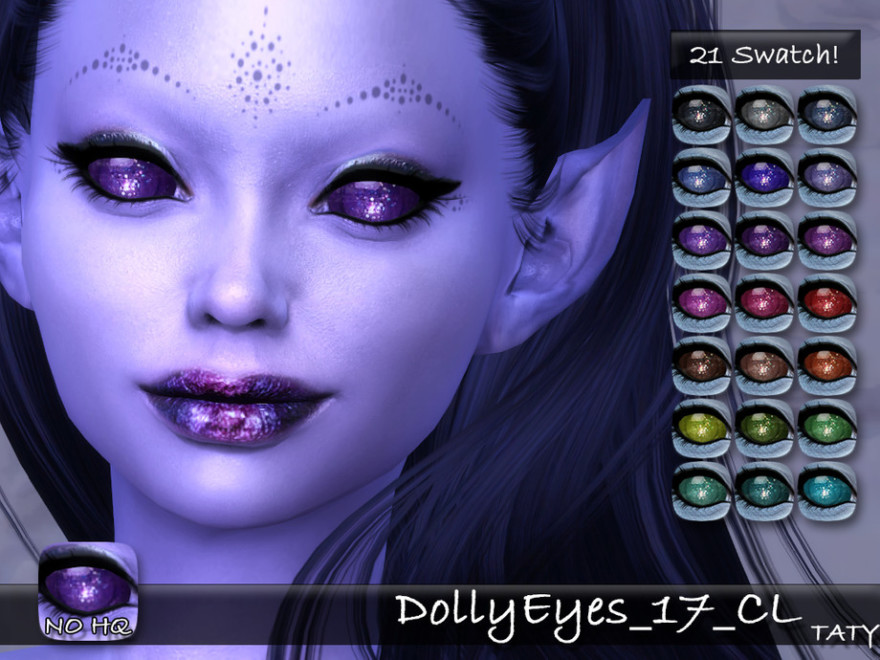 There is so much CC content for your sim's eyes that we could not choose the right one for a very long time. Of course, everybody has their own opinion, but we do find this Dolly Eyes set unearthly beautiful.
Those eyes will make your alien sim look a lot more realistic but still amazing. It's like the whole outer space is compressed in those extraordinary eyes!
The best part is that all the recolors have very nice and simple swatches, no crazy colors.
6. They Landed House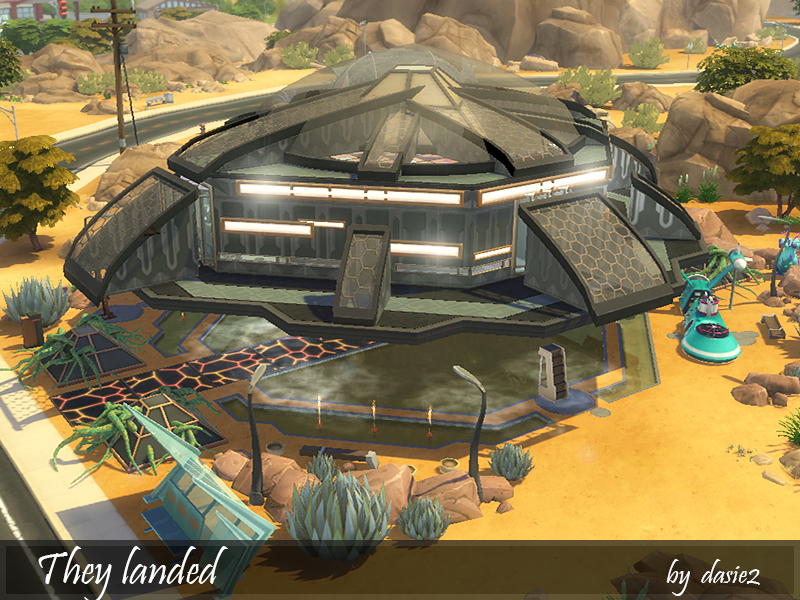 Let your sweet alien sims live in the home that looks like they've never left their Mother Planet. The most stunning futuristic house styled as a huge space ship can now be incorporated into your game.
They Landed house has everything your sims needs in life: big and nice kitchen, three bedrooms, two bathrooms, and the control room. In case your sims decide not to stay, you know.
The best part of this house is a fabulous garden with many secrets for you to explore. This build will bring you a lot of joy and quality time with your curious and mysterious sims.
5. Alien Grid and Web Body Set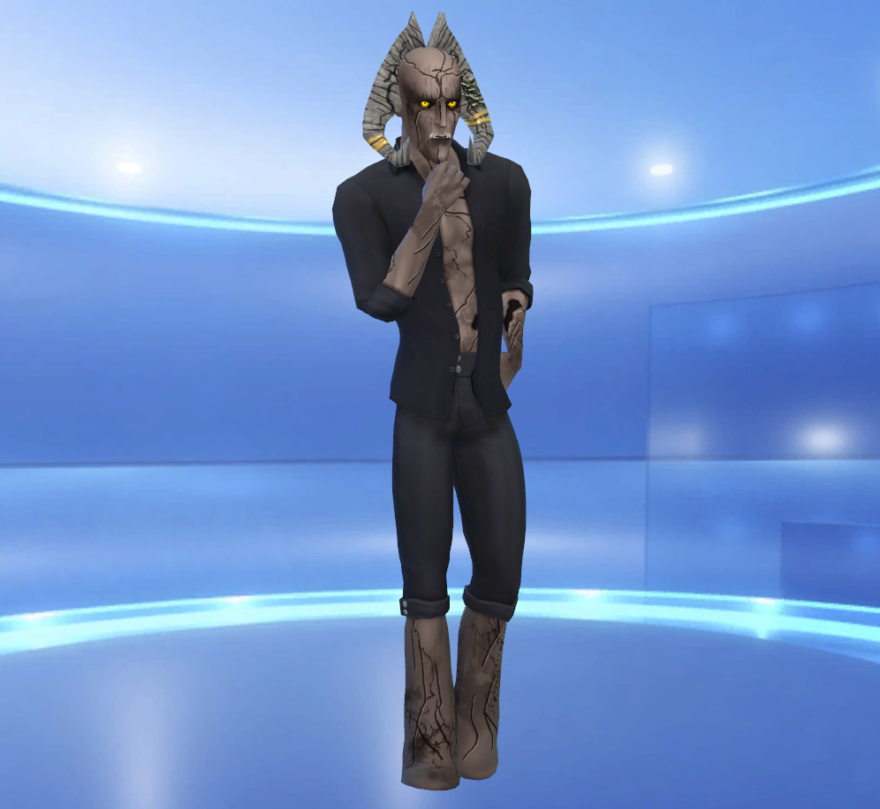 The unusual and unique appearance is not something you can easily create for such a loved and full of CC content game, like The Sims 4.
However, Zaneida, the creator of Alien Grid and Web Body, set made a one of a kind thing.
This transparent outfit perfectly fits in the post-apocalyptic space civilization gameplay with all types of aliens you can imagine.
You can see the spheres inside the outfit, which complement and repeat your chosen eye color.
4. Strange Alien Cyber-head

This one will be a great addition to your CC collection! Strange Alien Cyber is a cool hair that perfectly blends with alien skin tones, and it is now available for kids and toddlers too.
The creation is highly-detailed, has tons of recolors, and was surely made with love to alien sims.
You can use it for making different cool races of aliens or cyborgs. It will expand your gameplay for sure!
3. Base Game Alien Skintones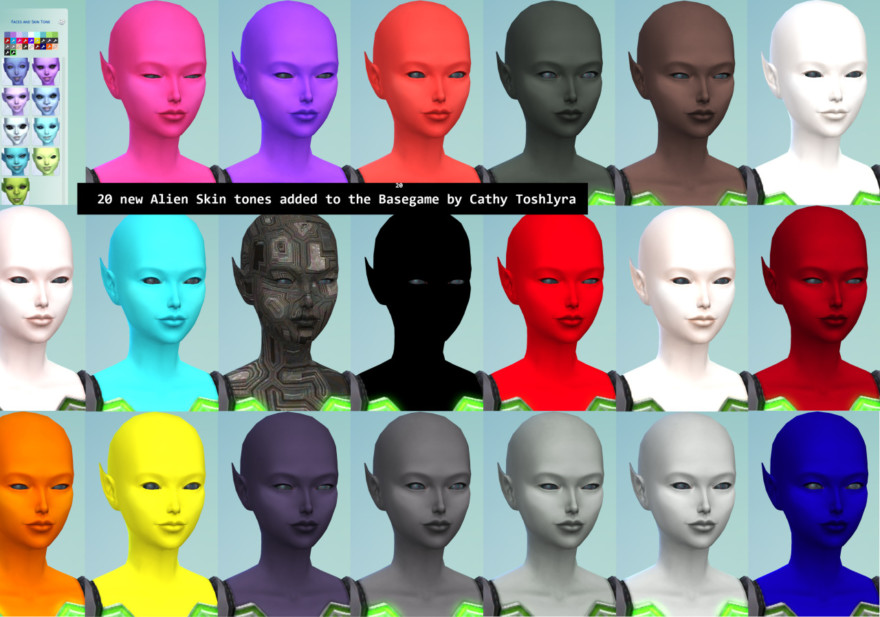 Aliens Beautiful Alien Skintones come in twenty recolors, allowing you to create any extraterrestrial being you want.
Those skin tones will provide you with great options to choose from: plain blue, white, and black or vibrant yellow and pink.
Make your alien sim red like fire or violet like a flower and do harm or good to the neighborhood. After all, it is your own story in The Sims.
2. Reptilian Body, Head, and Teeth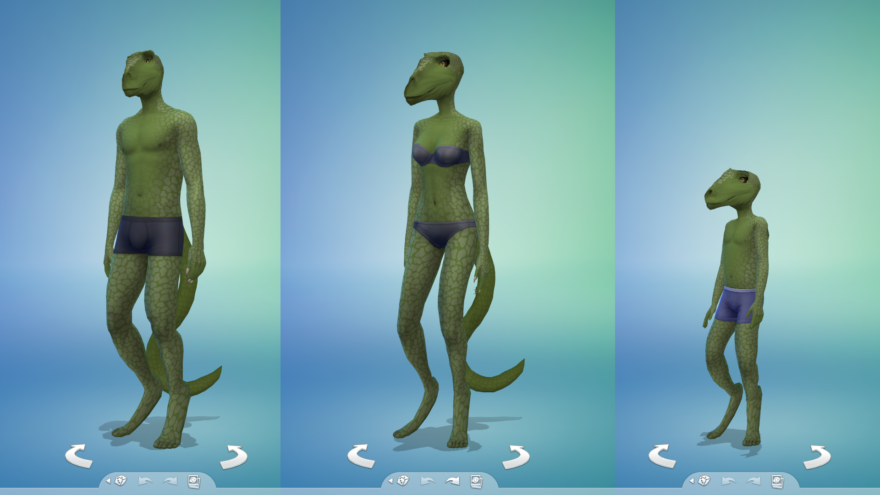 Have you heard about one of the biggest conspiracies known to humanity? That all of our leaders may be reptilians?
Well, it could be untrue in real life, but in The Sims 4, you now have the opportunity to create a reptile. And possibly force him to go into politics. Who knows!
This amazing Reptilian Body will bring a whole new look into your game, which is compatible with all occult races exciting in the game.
1. Alien Terrain Paints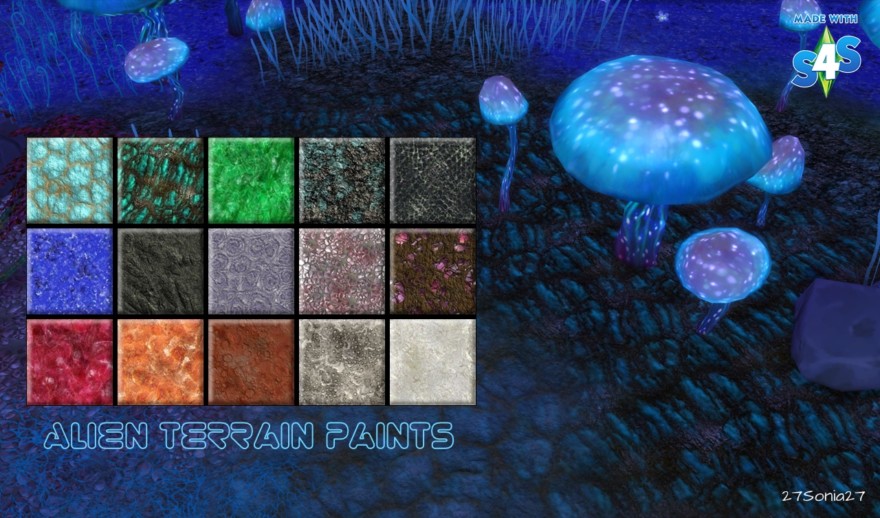 If you want to create a piece of another world on your home lot, we present you beautiful Alien Terrain Paints.
Fifteen swatches allow you to make a ground that was never seen on the sims planet before.
These terrain paints recreate the ground you can find on the Sixam, or maybe other planets, that sims have not been discovered yet.
The set also will be a perfect addition to your collection if you like creating fantasy lands.
Add some mystic flowers, mushrooms, or crystals, and you will get the ideal place for your alien to live.
You might also be interested in: