Pride Month takes place every year in our hearts and lives. During this month, the LGBTQ+ community celebrates the freedom to love and be loved.
Being an all-inclusive game, The Sims 4 gave us a free patch with It Gets Better Project, where we've got new clothes and objects dedicated to the pride theme.
Although those things are fantastic, it is never enough pride content in your game.
Today we prepared for you ten amazing CC creations to expand your LGBTQ+ aspect in the Sims 4, and we hope you will love it!
Best Sims 4 Pride CC
Pride Collection Stripped Tank Top

Every June, a new line of subtle and bold pride merch comes out, both in real life and in-game.
This Pride Collection Stripped Tank Top is one shirt to add to your Sim's wardrobe this pride season.
This shirt CC comes in two pride flag versions, in black and white, but is also available in ten solid colors with PRIDE written on the shirt straps.
This shirt is just one piece of the collection, too, designed by Darknightt.
This shirt is designed for male Sims, but any Sim can wear this shirt if you disable the "masculine" filter.
Pride! Flag Face Paint

Face paint is a subtle, easy way to showcase your pride, and looks really cute on your Sim's face!
These Pride! Flag Face Paint CC comes with eight flags, with three variations each.
The flags included in this CC are the rainbow, lesbian, bisexual, asexual, pansexual, transgender, nonbinary, and aromantic flags.
All flags can be placed on one or both sides of the face, on the cheeks vertically or horizontally.
Sims 4 Mod Pack Pride Month

Seeing the streets decorated with symbols of pride can be an uplifting experience in real life, so why not mimic that in your Sims game?
The Sims 4 Mod Pack Pride Month adds cosmetic changes to a few areas in the game, including Windenburg, San Myshuno, and Del Sol Valley.
Changes made to these areas include flags flying outside of buildings, signs found around the area, and banners hanging from light fixtures.
Although simple, this mod pack easily brings pride month more to life in-game.
Pride Wall Art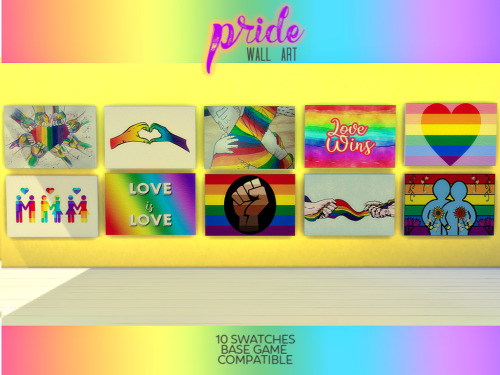 This set of gorgeous Pride wall art was created by the awesome Awkward Unicorn to recognize the improved situation of the LGBTQ+ groups all around the world.
There are ten swatches of wall pictures in the set. You will get different families, "Love is Love," "Love Wins," and other images to decorate your house or apartment.
It does not matter if your sim is a member of the LGBTQ+ community or not — all these wall decorations will be a beautiful touch in his or her home.
LGBT Mod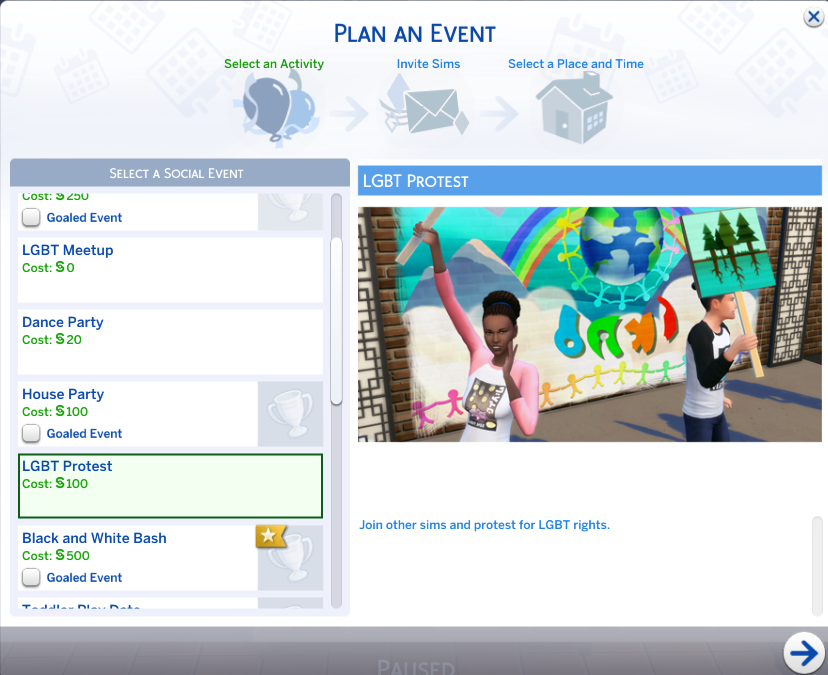 It is the most important mod that was created for the LGBTQ+ simmers and their simselves.
The LGBT mod allows your sim to open his or her potential to the fullest.
There's so much on the spectrum of human sexuality, and glorious creator PimpMySims4 tried to give us as much of it as possible in our Sims 4 game.
First of all, there are many new traits: Aromantic, Asexual, Bisexual, Gay, Lesbian, Pansexual, Non-Binary, Transgender, Drag Queen, or King.
Some of these traits will give the sim some special buffs, and interactions like Aromantic sim will never get flirty.
It is just the beginning of this mod, and the creator promises to add a lot more interactions later.
There are also new lot traits in this set: LGBT Hot Spot, Gay Hot Spot, and Lesbian Hot Spot.
Those traits give your lots an ability to spawn particular sims and make meeting new people easier. You can also use those traits to make a gay or lesbian bar if you want.
The next exciting feature of this mod is new holiday traditions and social events.
Now you can throw a Coming-out party for your sim where he can come out in front of his friends and family.
Another cool new social event is a Drag Show: you can win real money if your sim has a Drag Queen/King trait!
If you in the mood for something more official, arrange an LGBT Charity Gala and raise money for the great cause.
Coming Out Mod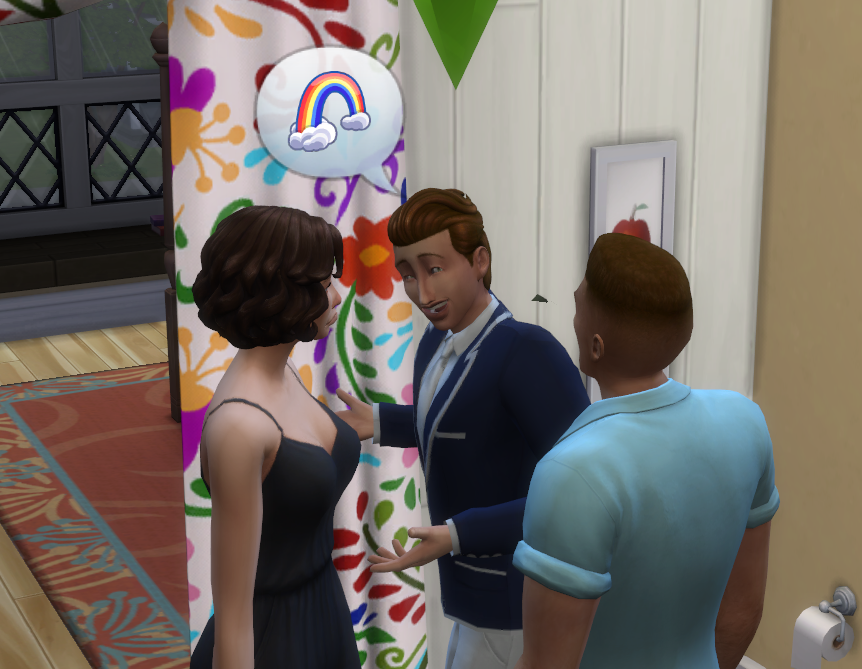 Separate from the previous one, this Coming Out mod adds a new interaction between sims. Now your lovely ward can come out as gay, bi, or transgender to other sims.
This interaction causes different outcomes depending on the other sim's reaction.
The sim who came out will get a sad, happy, confident, or angry buff for three days and later will be able to tell his or her coming out story.
It is a simple little mod that adds depth to your gameplay and can be used for storytelling.
Punk Pride Stuff Pack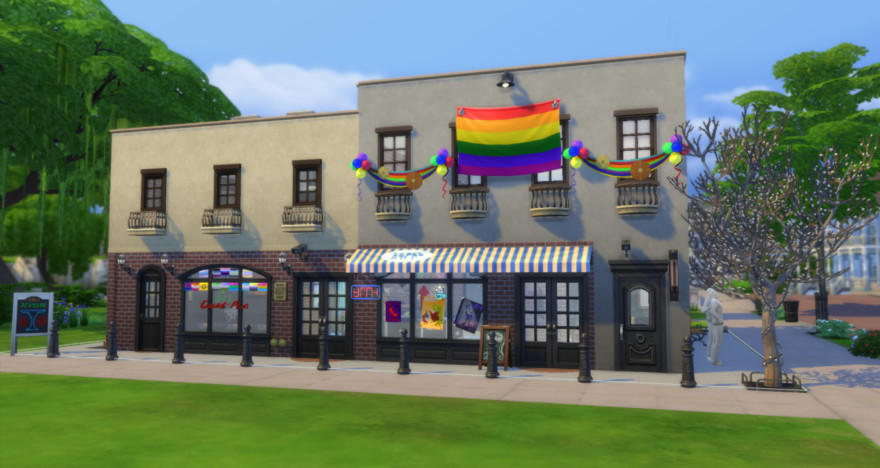 This pack combines two significant communities in the one glorious CC stuff pack: punks and LGBTQ+ people.
It is the grand pack of thirty-five objects dedicated to the pride theme and alternative flair.
New clothes, objects, graffiti art, and many more will help your sim embrace its personality and show a new, rock-star pride.
We think that this is an amazing pack for teen gameplay because teens in The Sims 4 will be glad to wear such cool outfits.
Pride Flags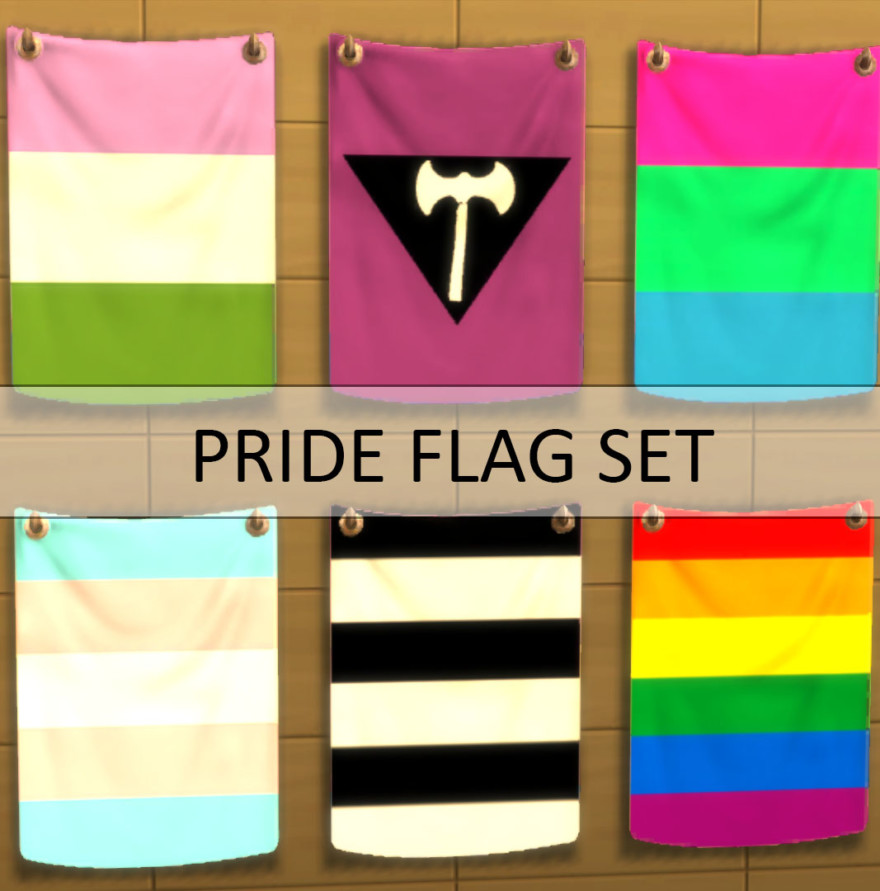 It can be one of the most important creations for the LGBTQ+ sims in the game. Pride flags represent sims` support and unity within the game.
Why we love this CC creation, in particular, you may ask. In this special Pride Flags set, you will find not only gorgeous rainbow flags.
The set also gives you Pansexual, Polysexual, Transgender, Intersexual, Asexual, and other flags dedicated to different groups on the sexuality spectrum.
It is a beautiful creation that allows your simmers to be who they are in our favorite game.
Pride Dragon Posters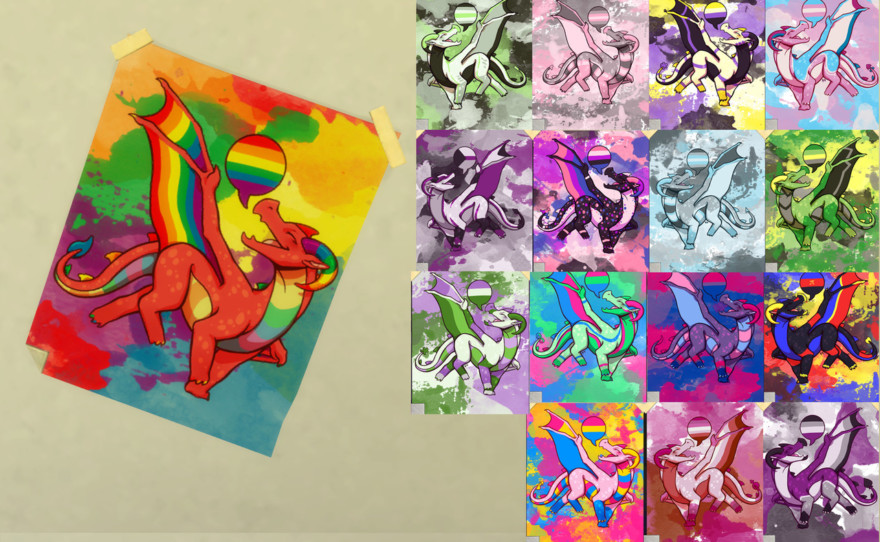 This creation we chose particularly for the fantasy simmers.
The supernatural aspect is really important in The Sims 4, so this wall art will be amazing in the houses of the LGBTQ+ witches, wizards, vampires, or even aliens!
Cute dragons represent different parts of the LGBTQ+ community with their colors.
The posters have sixteen swatches, and we are sure that you will find an ideal dragon to decorate your home in this set.
Pride T-shirts
Don't you love these fantastic t-shirts? Your beautiful sim can rock those topes that are available in sixteen swatches and support the game's pride movement.
They are cut, they are sweet, and they are fit perfectly to every sim. These fantastic pride t-shirts are available for your female and male Sims from teen to elder age.
Pride Makeup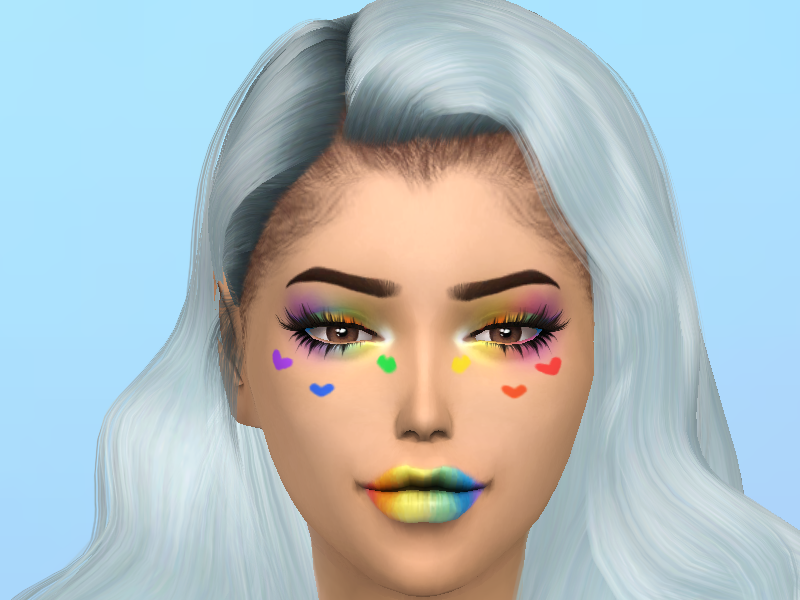 Gorgeous makeup for pride month is the essential thing!
If you and your sim are into makeup, we offer you to use this Pride Makeup set that includes lipstick, shadows, eyeliner, and face paint in a rainbow recolor.
Give your sim a touch of the celebration on his or her face and let every sim in your city participate in these fabulous festivities too!
Pride Bracelets

These Pride Bracelets are a recolor of a base game leather bracelet.
The beautiful creator made female and male versions, so every single sim can wear this simple accessory and embrace their sexual orientation.
There are sixteen recolors in this set, including options for Agender, Asexual, Demigirl and Demiboy, Genderfluid, Genderqueer, Polyamory sims, and many more.
Pride Underwear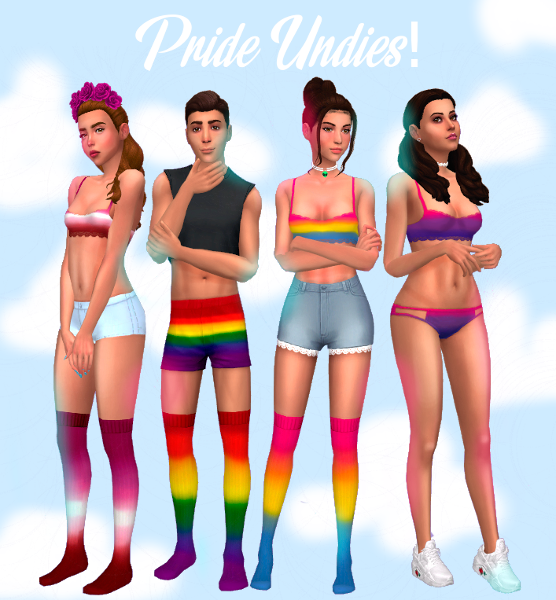 Maybe it is a weird choice, but we consider this Pride underwear set our favorite among the other clothing ones.
Your sim can now embrace his LGBTQ+ persona in every possible aspect.
Beautiful and comfortable, with lovely rainbow prints, these underwear pieces for males and females soon enough will become an integral part of your gameplay.
Do not hesitate! We know that your sim will love this gorgeous creation.
You might also be interested in: