The goth esthetic evolved from Victorian love and honor of death. It is a beautiful subculture that does not live in death, despite the popular opinion, but accepts it as a necessary part of life.
The Sims 4 shown some love to this movement (Goth family is a proof), but surely, we do not have enough objects in the game to let our sims show their gothic souls properly.
That's why we've managed to find the best goth CC creations for The Sims 4 for you to explore magical gothic culture in your game further.
Best Sims 4 Goth CC
15. Mael Gothic Shirt Male

Victorian-era clothing has been a staple of the Goth community for many years. This MAEL Gothic Shirt clothing CC is highly detailed and a great addition to your Goth male Sim's wardrobe.
This short comes in seven colors, including black, brown, and green. This clothing CC is long-sleeved, with a collar and sleeve ends that have filigree accents. The collar also has a Victorian-style ruffled section on the chest.
Along the sides are a pair of corseting laces, and with that, this is one extremely detailed shirt that is worth the download space!
14. Nida V.2 Goth Shrug Dress W/ Leg Garter

This clothing CC is a great addition for casual goth and cyberpunk Sims! The NIDA V.2 Goth Shrug Dress CC comes in five variations.
These variations don't change in color but do change in prints. The details on each variation primarily focus on anime-style prints featuring Japanese details.
The shrug dress is also designed with a black leather leg garter.
The leg garter reaches all the way down to the ankle of your Sim. The shrug dress is also long-sleeved, with a small window in the fabric on the chest.
13. Geki Male Goth/Industrial Shirt

This button-up shirt is a definite addition to have, as it's great for all sorts of occasions. The GEKI male Goth/Industrial shirt is long-sleeved, with a sharp collar that is V-shaped.
This shirt mixes elements of Goth and Industrial fashion styles, with leather accents, pockets with button closures, patches, and a "Lucky" skull decal on the back.
This shirt comes in five colors, including black and purple, and male Sims from teen to elder can wear this CC.
Whether you want an edgy casual look or go all out and accessorize this shirt, this shirt can be worn either way and look great!
12. The Remedy Shoes

Every Goth Sim needs a gothic trust pair of boots. Now, the base game and Vampire DLC actually come with a few shoe options that are great for Goth Sims, but these Remedy Shoes are the right mix of extra and platform.
The boots feature multiple straps of leather around the calf and foot, with a hefty platform at the bottom. There are chains that hang from the upper leather straps for additional curb appeal.
All Sims can wear these boots, from teen to elder. Choose from the 23 color options, including a range of bright and pastel shades, which is great for all types of Goths.
11. Byra Crop Sweater With Hood

Having a cropped sweater in your Sim's wardrobe is great for the cooler days, but this BYRA Crop Sweater with Hood meets the additional requirement of looking hauntingly fashionable.
This sweater is long-sleeved, with thumb holes for the hands, and is cropped just below the bust line with a hood that reaches to the middle of the back.
There are 10 variations of this hoodie, featuring occult and spooky designs, including moons, stars, bones, and more.
Female sims of teen to elder can wear this sweater. Pairing this sweater with more witchy accessories will give your Sim the gothic witch look. Perfect for when they live in a dark forest!
10. The Trad Goth Collection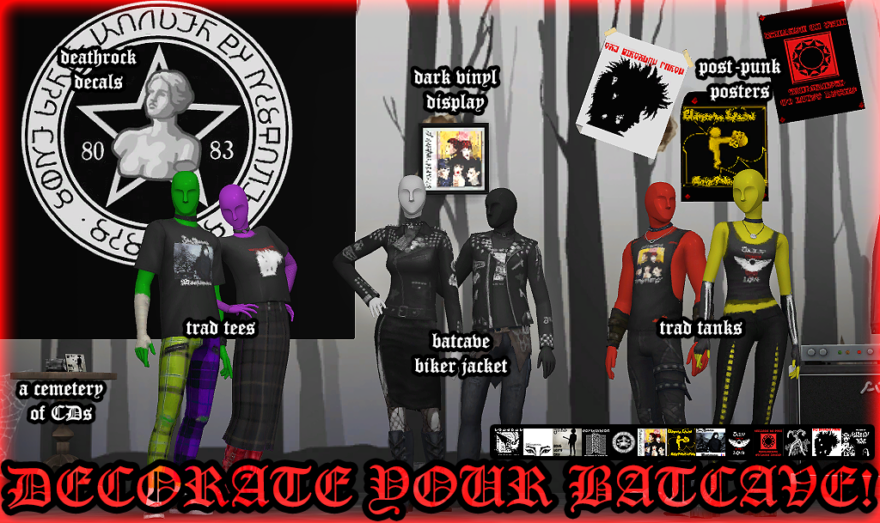 This collection is a point where the maxis match and our gothic souls meet.
The Trad Goth Collection adds new clothing for both females and males, objects for decorating your room, and spooky accessories to polish your sim's look. Everything in this collection is base game compatible.
You will get new awesome t-shirts with band logos, deathrock decals, tanks, jackets, post-punk posters, and various music decorations in this set. Explore your dark side of the soul with this astonishing collection for The Sims 4.
9. Wampyrica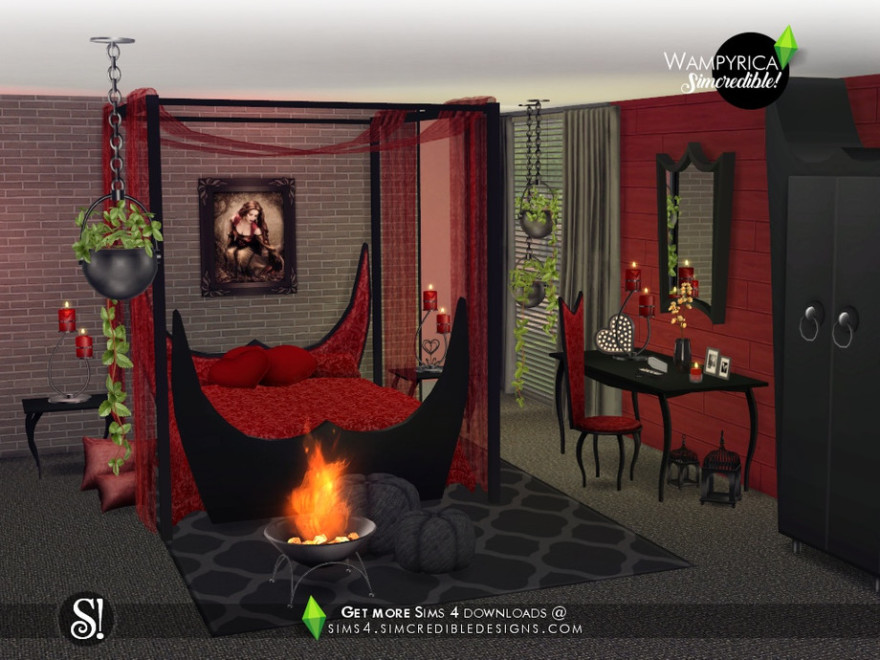 Oh, what a beautiful name this collection got! The Wampiryca bedroom set is an epitome of the gothic lifestyle. Dark and beautiful, the set has everything that your lovely sim's bedroom will ever need.
You can find here a fantastic bed with a delicate canopy, a sweet mirror with sharp edges, a decorative coffin, a set of dramatic pictures, gorgeous candle lights, and brocade beddings and pillows.
The Wampiryca set embodies dark Victorian style with a touch of the supernatural. It is the set for a special sim that loves Halloween all year round and not only in October.
8. Zara Midi Dress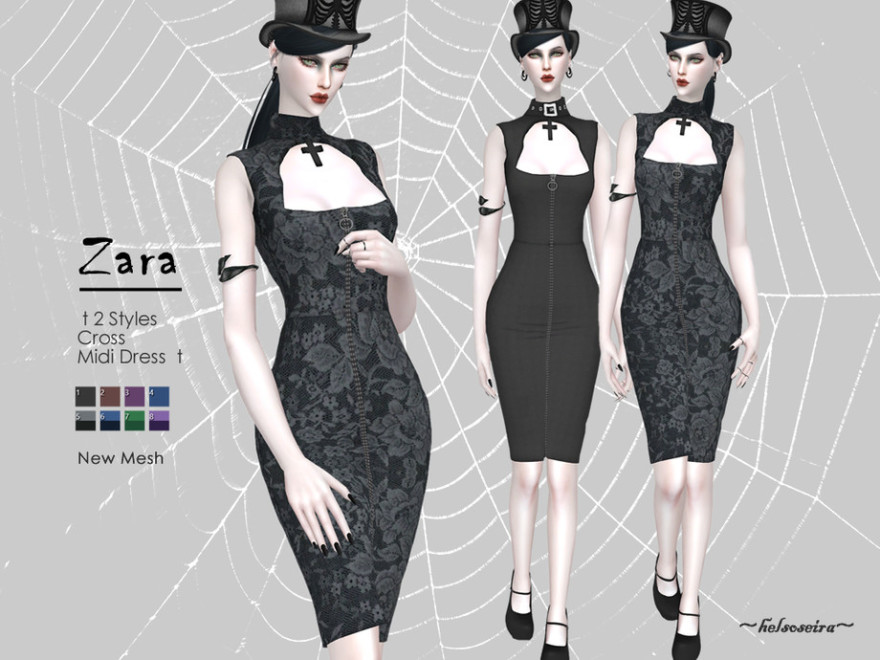 Sexy, enchanting, and simply stunning dress, created for unique sims. She is cold as marble and beautiful like a rose. In this Zara Midi dress, your sim will be simply irresistible.
The outfit has two styles: a simple one and a gorgeous lace one. The creator gives you an option to choose from eight different color swatches. All of them are very nice and dark recolors that perfectly fit gothic esthetics.
The most amazing thing about this dress is a black necklace with a cross.
This detail turns an ordinary outfit into an extraordinary one. Also, add this gorgeous hat as an accessory for your dress to finish the look.
7. Morticia Addams Dress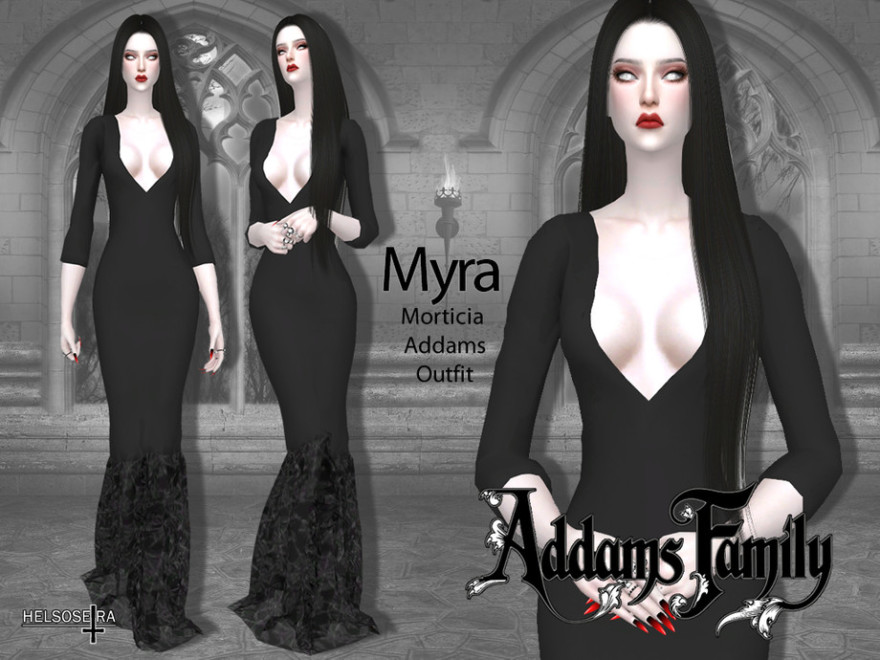 Morticia Addams is arguably one of the most iconic females in the gothic community. Along with Vampira and Elvira, Morticia represents the aesthetics and the lifestyle of the gothic community.
Fantasy kind, but still. Morticia's dress is a gorgeous and very sensual piece of clothing created for a true odd next-door girl.
The dress's look is fantastic: excellent slim fit, fishtail silhouette, very deep decolletage, and lacework all around the bottom of the dress. It is a drop-dead gorgeous outfit for a gothic femme-fatal.
6. The Hollows Mansion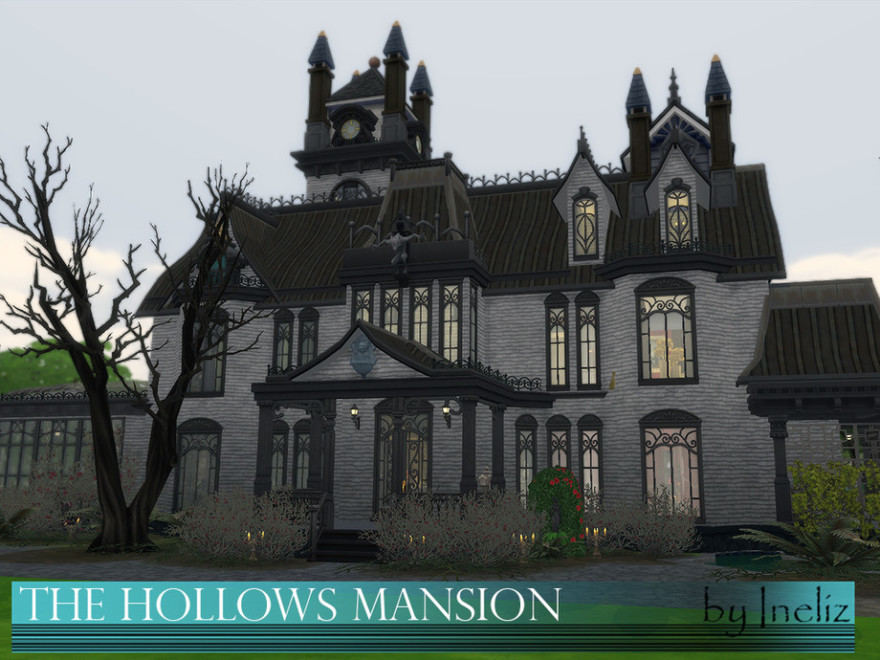 There's the right house for your goth sim! We can bet that even Mortimer and Bella would love to move to this astonishing palace. The Hollows Mansion is a family home with cursed traits, perfect for unregular, bizarre sims.
Not every sim can manage to live there, but oh, boy, this would be fun for anyone.
The build has a lot of exciting details for you to explore. Crystals, candles, and plants all over the place create a mystique atmosphere that catches your mind and doesn't let go.
The Hollows Mansion is perfect for adventurous sims who want to celebrate their gothic style.
5. Mystic Couples Pictures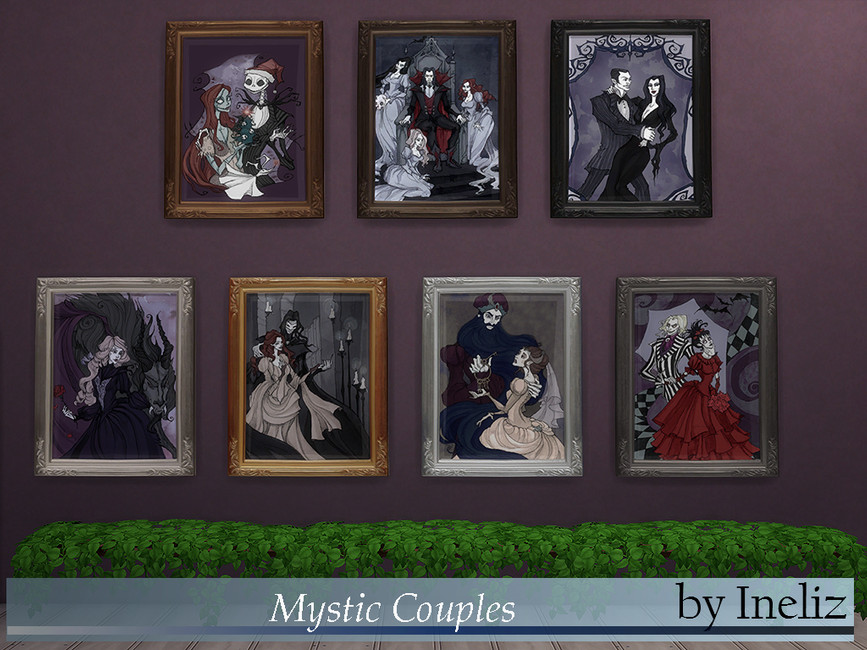 Even more decorations for your beautiful house! The Mystic Couples set is a collection of pictures that celebrate different supernatural couples from movies, animated films, and even musicals.
There's a classic power couple of mystical and gothic world — Morticia and Gomez Addams. The next picture shows you creepy Beauty and the Beast. Don't forget about Skeleton Jack and Sally from Nightmare before Christmas.
You can even decorate your room with Lord of Darkness Dracula and his brides or lovable Beetlejuice and Lydia. Last but not least, in the collection are chilling pictures of Bluebeard and his victim and the beautiful couple from the Phantom of the Opera.
All these paintings represent another side of love and relationships. It is modern Wuthering Heights, My Cousin Rachel, and other disturbing classics that make the blood run cold.
4. Body Tattoo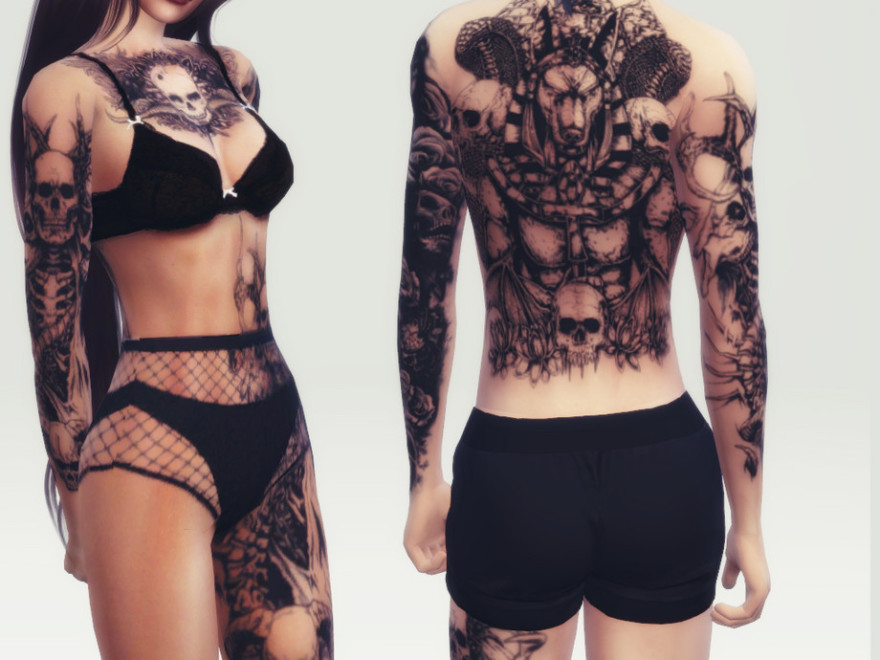 We definitely find that tattoos are the work of art. The only difference is that your own body is the canvas. We present beautiful female and male body tattoos for your goth sims that complement your ward's gothic appearance.
In the first version, the CC creator made a gorgeous set of skulls and different ornaments, completed with an image of someone like the Egyptian god of death, Seth, all over the spine.
In the second version of gothic tattoos, your sim will get beautiful floral ornaments. Gorgeous roses, geometric patterns, and lotuses fit the aesthetics of gothic sim and will definitely find the way to your sim's heart.
3. Moonlight Pictures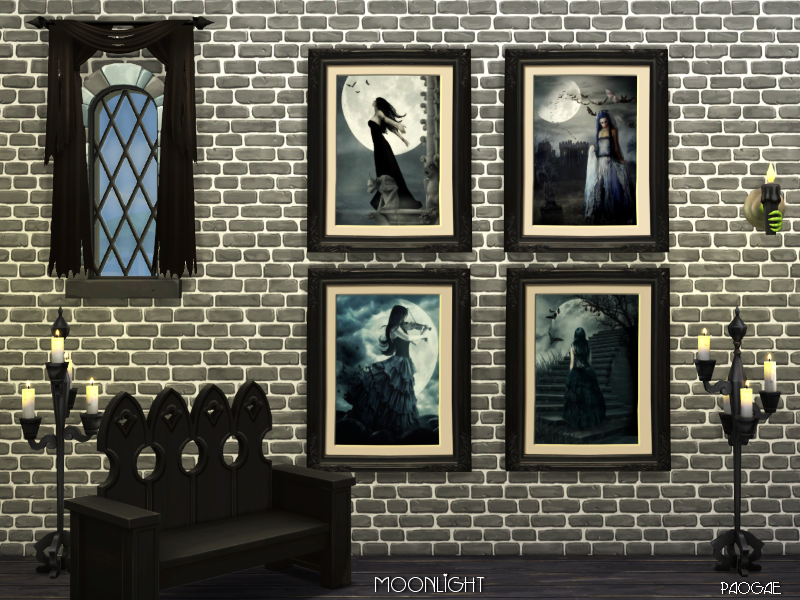 Mystical nightscapes inspired the creation of the Moonlight set. This set is a collection of delicate pictures of various awesome gothic women dancing, walking, and playing the violin under the full moon.
The collection consists of four standalone pictures in thick wooden frames.
Blue tones and the overall mysterious feel of the paintings create a calm atmosphere, and that's why these pictures are perfect for the bedroom. Don't you feel some Evanescence vibes from those paintings?
2. Gothic Decor Set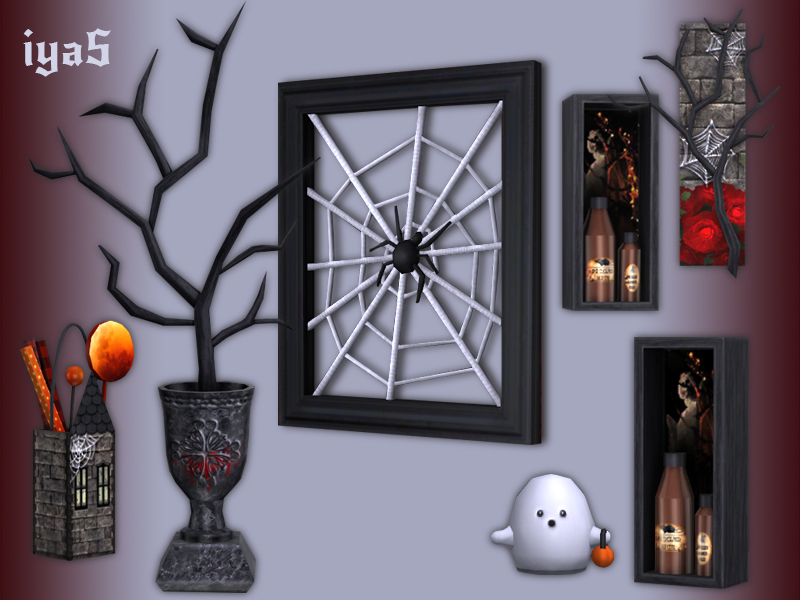 Amazing Goth Decor set is the treasure find for gothic simmers. The collection consists of seven fantastic objects suitable for a Halloween party, gothic mansion, or vampire castle. Spookalicious!
In the Goth Decor Set, you will get various wall lamps, burners, and ghost sculptures.
The hero object of the set is the framed web with a tiny spider in it. It is adorable, and you can add it to your kid's bedroom or nursery.
Overall the set has sweet gothic vibes, so if your sim kid started exploring his darker side, you can decorate his room with these objects and make one a very happy gothic fella.
1. Gravestones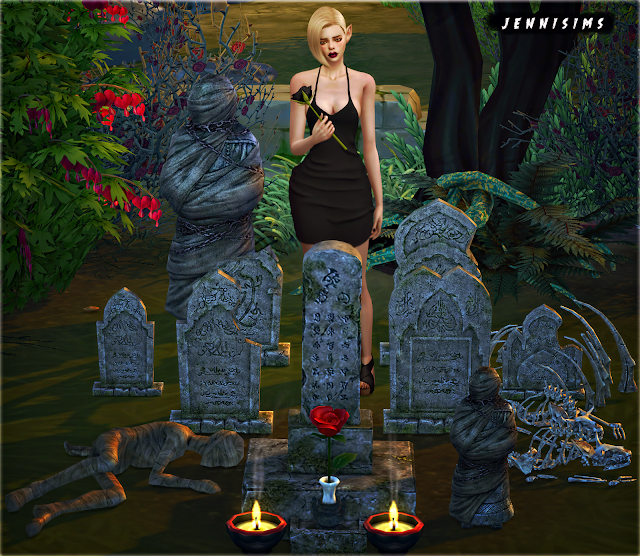 Not only your house but your garden should also have a gothic atmosphere too!
The collection of ancient gravestones, bones, and mummies for the garden is a final touch your rose bushes and lilies always needed.
The set is highly-detailed and has many objects in it and is totally free to download. With little trees, fog, and these sculptures, your house will become the most haunted mansion in the Forgotten Hollow.
You might also be interested in: