Our flawed universe lacks a lot of interesting occult characters that would be a perfect addition to this world.
Luckily, thanks to the awesome developers of The Sims 4, you can not only create a perfect simulation of your life but also build a world full of magical creatures.
Our list of best fantasy CC content compiled the best creations for your occult sims to shake up your game a little bit.
Best Sims 4 Fantasy CC
30. Shadowbat Face Paint

Are you looking to add a little extra excitement to your Halloween look this year? Meet Shadowbat, the perfect facial accessory for any witch, goth, or vamp Sim!
This unique fantasy cc for The Sims 4 paints on not only an alluring eye mask but also a tiny bat shape on the cheek – talk about making a statement!
lus, it comes in three dark but stylish colors. Shadowbat looks great with any hairstyle or skin tone. It will pair with a casual outfit or a fancy fantasy gown.
Style flourishes like this are always imbued with an air of wonder and mystery.
29. Rainbow Fantasy Walls

Rainbow Fantasy Walls is the perfect way to add a splash of color and personality to your Sims' home.
This wall pattern features a beautiful rainbow-hued floral pattern set against a dark black background for a look that is both dramatic and eye-catching.
Whether you're looking to add a touch of whimsy to your Sims' home or simply want to brighten things up, Sims 4 fantasy CC like these Rainbow walls are guaranteed to brighten up your world.
28. Fantasy Dress

This elegant dress is perfect for your female Sims who want to feel like a princess.
The transparent upper piece around the shoulders and beautiful sparkly fabric below the chest makes for a long, extravagant skirt that is sure to turn the head of any mythical creature or dashing sorcerer.
Your Sim could be attending a fancy ball or just stunting as the best-dressed at the club out for a night on the town; they'll be sure to steal the show in this one-of-a-kind dress.
27. Rhinestone Crystal Mask

This gorgeous Rhinestone Crystal Mask will have your Sims looking like ethereal butterflies! It's made with dozens of sparkling stones arranged in a fantastical butterfly pattern.
Your male or female Sim can attend the masquerade ball wearing yellow, black, diamond, or pink gems.
The coolest of the cool fantasy-loving Sims can wear this accessory to the grocery store if they're feeling bold enough.
Maybe it's the right accessory for you, too. No one said you couldn't get some fashion tips while playing the Sims 4.
As lovers of all things fantasy, we have always been drawn to the trendier aspects of the genre; this mask could be a real-life accessory someday, right?
26. Gert

Step into a fairytale with Gert, The Sims 4's latest house design.
Gert is full of stylish rooms with intricate wood details and charming decor.
Whether you're a hardcore fan of fantasy or just someone who enjoys taking in fantastical scenery every now and then, this mod is right for you.
It's the perfect Sims 4 fantasy mod to live out your fairytale life.
With spacious bedrooms and plenty of dynamic places to entertain, Gert is sure to make all your dreams and your Sims' dreams come true.
So don't wait any longer; make your home a fairy tale today with Gert.
25. Fantasy Retexture for Captivated Hair

The Fantasy Retexture of Captivated Hair is a pack of retextures that are perfect for adding a touch of rainbow fantasy to your look.
The Captivated hairstyle is already gorgeous, but with these multi-colored retextures, it becomes truly magical.
Take those luscious side-swept locks and make them shine.
There are dozens of combos of colors to choose from, so you can mix and match to find the perfect combination for you.
You can be searching for a wild look for your Sim or a moody blend of dark tones; either way, the Fantasy Retexture of Captivated Hair has got you covered.
24. Harmonia Set

These beautiful lingerie pieces are fit for a queen with their rich colors and luxurious details.
They look like they're made of the finest metals and jewels, and they're sure to make your Sim feel like a million bucks.
Your female Sims deserve to look expensive and refined. The Harmonia Set is perfect for your wily vixens or sultry princesses.
There are dozens of Sims 4 mods out there that aim to make your Sims look expensive; this is one of the best.
The world of fantasy has a seemingly endless array of colorful, whimsical designs to bring into your game that simply can't be found anywhere else.
23. Cervidae Arm Cuff
As the sun rises, its rays filter through the trees, shining on the delicate flowers that adorn the Cervidae Arm Cuff.
This enchanting piece is perfect for forest fairies, nymphs, deer maidens, and other supernatural creatures of the woods.
This CC embraces a sense of adventure and magic, with hints of folklore and mythology sprinkled on top.
The cuff features a beautiful floral design with tiny details that are simply mesmerizing.
It's made of high-quality magical wood and the rarest blooms, meaning it's built to frolic.
Whether your Sim is a forest fairy or a satyr, this accessory will bring their fantasy costume to the next level.
22. Aya Hairstyle

This Aya Hairstyle CC for The Sims 4 is a next-level look.
Its bewitching beauty features a high ponytail with long, beautiful strands that cascade down the head.
It's like if Ariana Grande were a fairy queen. Give your female Sims that superior vibe.
The Aya hairstyle goes perfectly with the fantasy dresses and accessories on this list; it will also suit your normal streetwear Sims styles and their modern formal looks, too.
21. Battle Mage Fantasy Eyeshadow
Your Sims 4 makeup kit is not complete without the Battle Mage Fantasy Eyeshadow set for The Sims 4.
This set of shimmering eyeshadows comes in more than ten colors, each with its own mystical powers of attraction.
The metallic pigments shine in this ethereal eyeshadow, adding a touch of magic to your aesthetic.
Channel your Sim's inner goddess or seek a touch of glamour in her every day; these shadows are sure to enchant.
So let your imagination run wild and explore the possibilities with Battle Mage Fantasy Eyeshadow.
20. Cervidae Scepter

The Cervidae Scepteris a beautifully crafted staff made of wood and vines.
It comes in several different shades, each one more magical than the last.
This staff is meant for the hands of a forest mage or Cervidae nymph. With it, they can command the very elements themselves or just look elegant and powerful.
The Cervidae Scepter is truly a work of art, and anyone who wields it will feel like they're the master of their own destiny. If you're looking for something special, be sure to check it out.
19. Triton Tail

Female Sims can't have all of the fun fantasy cc!
Finally, for the males comes Triton Tail: a powerful, beguiling but masculine merman tail for The Sims 4.
This blue-scaled tail has flashy details and colorful bits of flair that give it a complicated appearance.
But don't be fooled by its good looks – the Triton Tail is also packing some serious swimming power.
Mer-tails don't always look so intimidating. Pair this mod with a muscular, powerful Sim to see its true potential shine through the surface of the water.
18. Asleita Dress

The Asleita Dress for The Sims 4 is an amazing creation that will give your female Sim a boost in the jaw-dropping department.
This elegant dress is cut below the shoulder and around the upper chest, with a beautiful gold-trimmed belt of ribbon around the waist.
It comes in many colors, and each one looks even more expensive than the last.
Use the Asleita Dress to make a grand entrance for your Sim or to ensure they're the center of attention wherever they go.
17. Heterochromia

If you've ever wanted to give your Sims a little bit of extra personality, then the Heterochromia mod is perfect for you!
With this mod, you can give your Sims mismatched eye colors.
Not only does it add a touch of realism to your game, but it also lets you be creative with your Sims' looks.
Heterochromatic eyes are an uber-common feature of fantasy media and fan-made original characters.
From angel demons with white and black eyes or colorful self-inserts with neon irises, there's something incredibly interesting about two different eye colors in one person.
16. Swords Tattoos

This incredible tattoo design gives your Sim a powerful and mystical look, with a dragon wrapped around a sword.
This intricate tattoo pattern works on numerous different body parts on both male and female Sims, so you can customize it to match their personality and modesty perfectly.
Place it on the chest to make a huge statement, or conceal it on the thigh so only your Sim's friends know about it.
As more and more people discover the beauty of this enchanting aesthetic, it only seems to be growing in popularity.
We could easily imagine these tattoos on people in real life. It definitely wouldn'tbe the wildest tattoo out there.
15. Rogue: "The Sims Medieval" Outfit Conversion by Valhallan

Not a chainmail kind of Sim? No problem! With Rogue The Sims Medieval Outfit Conversion CC, you can dress your fantasy Sim in a strappy set of leather trousers, boots, and a shirt.
This outfit CC comes in seven color variations, as well. The hand bandage comes in a separate package file, by the way, so be sure to download both!
This outfit has also been enabled for all kinds of sims, including ages from teens to elders and all genders.
You'll find this outfit CC pack under the Full Body section, and this CC does disable shoes but does work with other accessories.
The separate bandage glove is available for both arms and can be equipped for both or either the left or right.
14. Malygos Crystal Set by Lunanelfeah

Every fantasy Sim needs a cool-looking lair or house, and this CC is a fantastical option for that!
With the Malygos Crystal Set, you can arrange your Sim's home to look like a supernatural abode that is infused with elemental magic.
The set includes five crystal variations that come in eight colors. The fifth crystal, unfortunately, doesn't come in different colors, but it's shaped like an egg in a brilliant otherworldly casing that illuminates blue-purplish light.
Also, in order to access the fifth crystal, you will need the "Get to Work" DLC. Then, you can find all five under the "Rocks and Statues" section in Building Mode.
13. Gossamer-fairy Stuff by Pyxis

Now, this is the set for you if you want Sims to look like fairies, unlike any others! This Gossamer-Fairy Stuff CC pack includes antennae and wings, insect-like eyes, glitter, and 17 new eye colors.
When paired with skin CC, or the in-game blue skin tone, you can transform your Sim into an interesting, whimsical fairy creature who is more alien-like rather than standard Tinkerbell.
The pack has been converted to allow Sims of all ages to be able to be dressed up as fairies, ranging from toddlers up to elders. Also, the makeup items have been made slider compatible.
12. Star Skin Skintones + Facepaint

This is a prime example of skin CC that is necessary if you want your fantasy Sim to look even more otherworldly.
This Star Skin Skintones + Facepaint CC features 18 new skin tones and four new face paint options that can make you Sim look as if they've been kissed by the cosmos themselves!
The skin tones are separated into two categories: Eclipse and Pluto. Eclipse skin tones are darker, featuring greens, grays, reds, and more.
The Pluto skin tone set includes brighter colors, such as pastel green, purple, blue, and pink.
You also have the choice of downloading two versions: one for all sims and the second for occult sims only.
11. Of the Earth by Pyxis
This CC is for those who want their Sim to look like a PlantSim all of the time or a more enhanced version of their PlantSim.
Of The Earth, CC pack includes four skin color schemes, Fresh, Wilt, Autumn, and Dark Green, as well as a new hairstyle and tattoo pattern.
Sims from teens to the elder can use this CC pack, and these skins can tan or burn in-game. The vine patterns and overlays can be found in the blush, facepaint, and tattoo categories.
Makeup and face paint items are slider compatible, and the skin tones have been enabled for spellcasters and mermaids.
10. Pufferhead Stuff Pack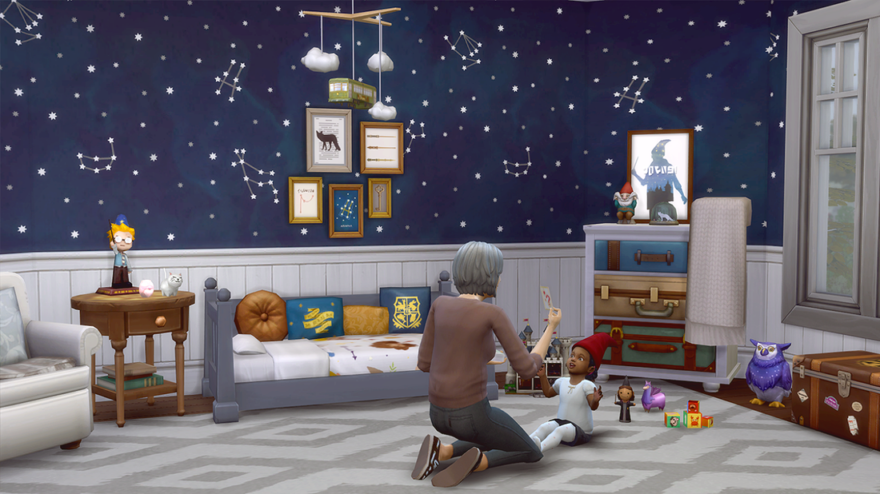 A game pack or an expansion dedicated to Harry Potter is a dream of a lot of simmers. But since The Sims world is not literally ours, the parody Potter pack would be an even better option.
Well, here it is: Pufferhead stuff pack is an incredible tribute to the Harry Potter franchise that was created around Henry Puffer, the most famous wizard in simlish literature.
In this pack, you will get an assortment of readable books, different decorations, and buyable objects for your Puffer-fan room. Choose your Harnocks house, grab a book, and be lost in Henry Puffer's wonderful world!
9. Egyptian God Anubis

This one of the most amazing creations in The Sims history: a costume of Anubis.
The full body-suit of Egypt's ancient God, who was a master of the underground world, death, and mummification. Something like an ancient Grim Reaper, you know.
The outfit has a lot of swatches so that you can adjust it according to your taste. We cannot tell you more about how high-quality and detailed this Anubis outfit looks.
The creator promises to add more Egyptian stuff into the game, so soon enough, you can turn Oasis Springs into a new home for old gods.
8. Centaurs

Another spectacular fantasy creation made by Natalia Auditore: female and male centaur outfits (although they are in the pants section in the CAS).
These costumes let you turn your sim into the real centaur (only nominally, but still counts!) and make your gameplay even more fascinating.
Have a forbidden romance story between a vampire and a female centaur, or an extraordinary tale about living in the woods.
This is your Sims life, and it will only be better with Natalia Auditore creations.
7. Dogs to Dragons Package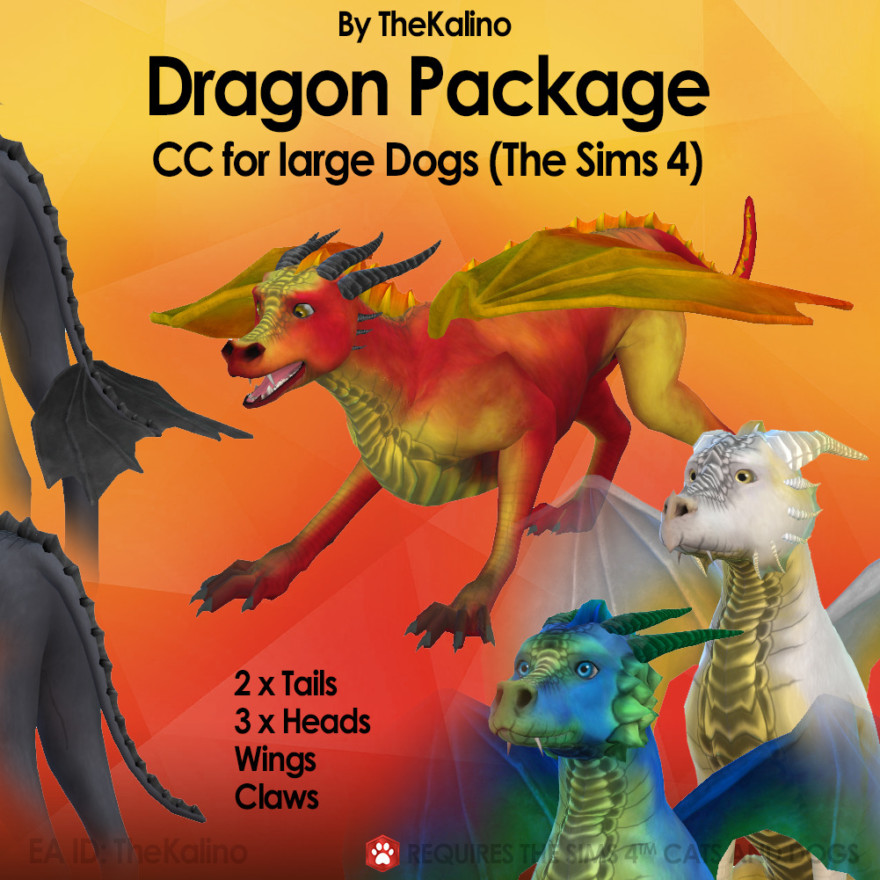 Who wants just a dog if you can get an awesome dragon! With a special Dragons Package, turn your favorite doggies into fantastical beastly dragons!
The set consists of three different heads, two tails, pair of wings, and terrific claws.
It is only an appearance, so your doggy-dragon will be like any other pet you have. But so much cooler!
This package is amazing for Game of Thrones fans, or simply for fantasy lovers. Do not hesitate: your baby dragon is waiting for you!
6. Portal to the Realm of Magic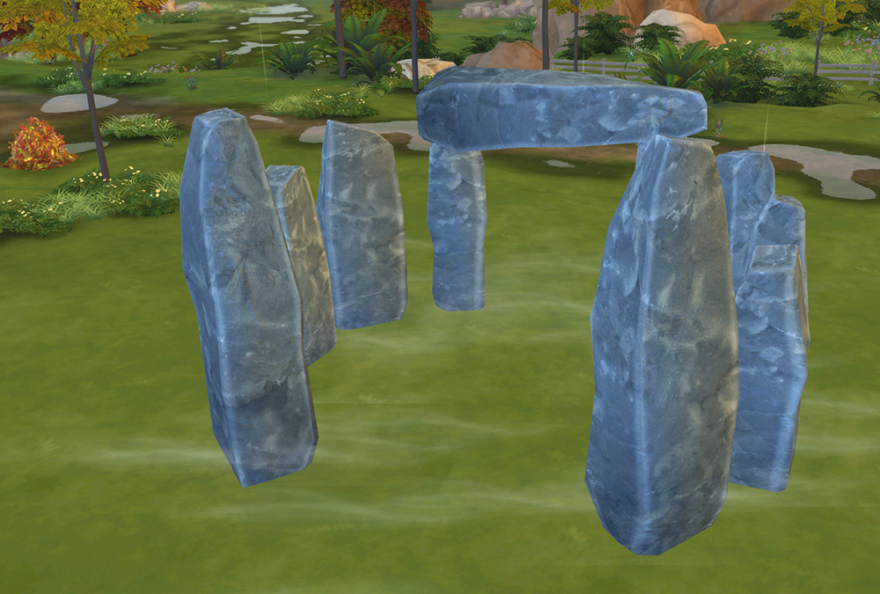 Last autumn, we got a new addition to our Sims family — the Realm of Magic game pack. With this pack, our sims got the opportunity to be mages and witches.
The beautiful portal in the new city of Glimmerbrook takes you to the mysterious world of Magic, where you can start your journey.
But what if you want to have 24-hour access to the magical world? We have an answer!
The new and beautiful set of Portals to the Realm will take you to another world with style.
The portal is available in two forms: a magical tree or a stone circle (Outlander vibes for sure). These portals are amazing for storytellers, Sims movie makers, etc.
5. Animated Wings Mod
Do we see something too beautiful to be true? Wonderful creator Merman Simmer made a mod that offers you to put animated wings on your sim!
You can dress your sim to be the mighty power of light or a scary tool of darkness with this mod.
Or just a mischievous being, if it pleases you. The wings have a lot of recolors to choose from, and they definitely will fit the feel you are looking for.
4. Draenei Horns Set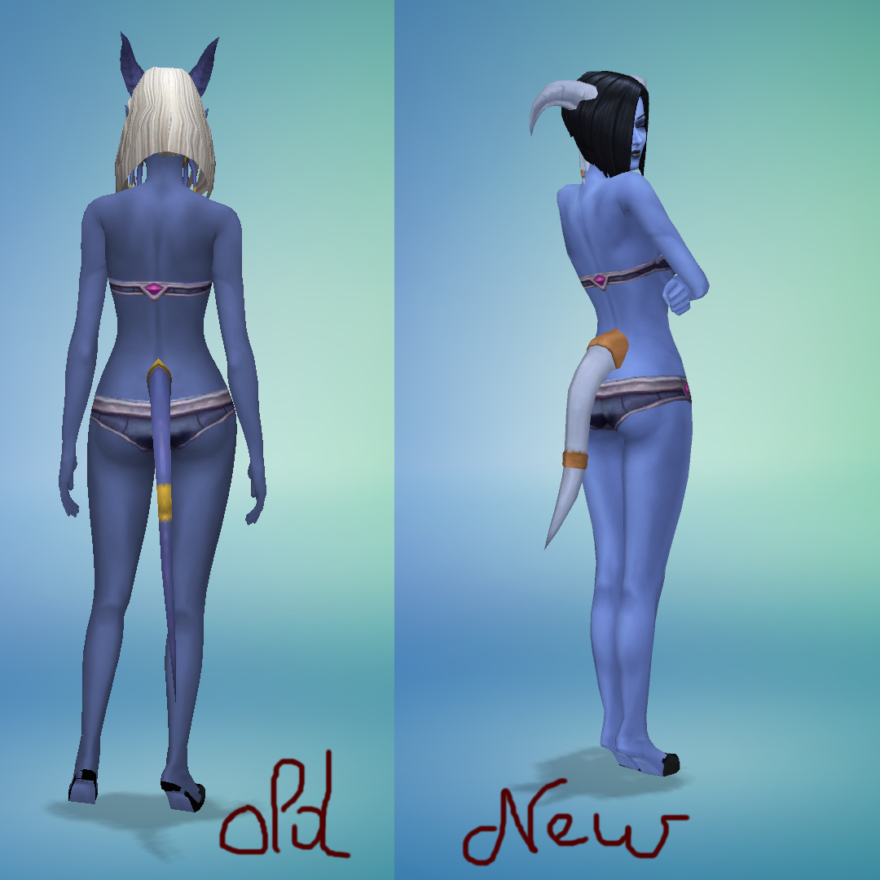 Wearing horns is a perfect way to emphasize the unusual nature of mythical or fairytale characters.
This Draenei set of horns provides you with many beautiful and realistic options (well, if horns were a real thing) for female sims.
The set also includes a tail, tendrils, hoofs, a couple of eye swatches, and a skin overlay. With this set, you can create many unique characters to fill up your magical sims' world.
3. Fantasy Skin Set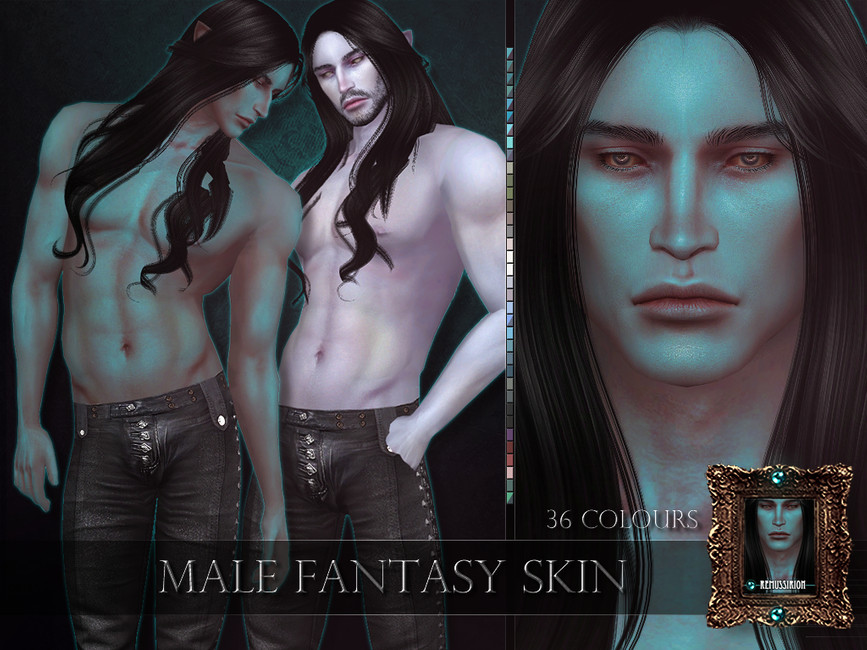 These incredible fantasy skin tones are the only ones you will need to create your occult sims.
Glowy and radiant, those skin tones can be the last needed touch for your dark siren, mermaid, vampire, elf, or wizard appearance.
The skin tones in this set look enchanting with soft swatches in a wide variety of shades. Seriously, they are just perfect. You can download fantasy skin tones for males and females separately.
2. Fantasy Forest Set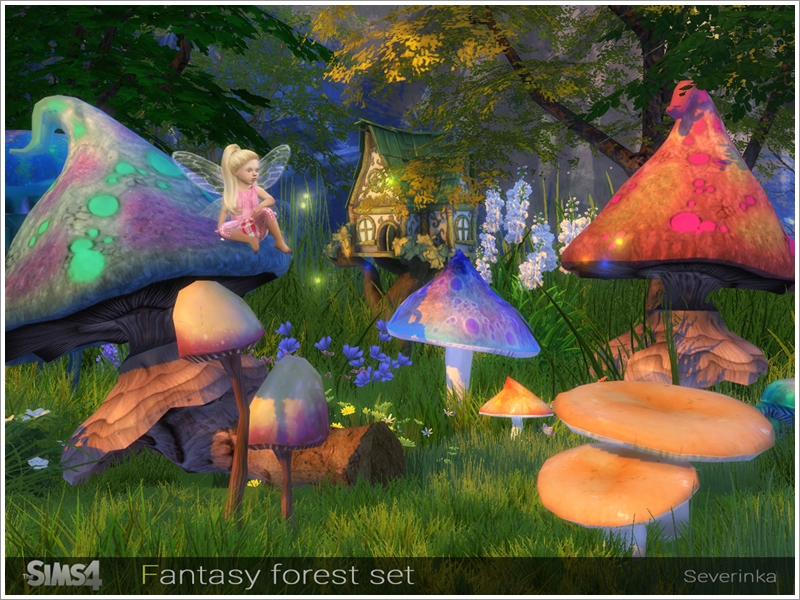 Your favorite occult sim deserves to live in the most enchanted place. Gorgeous Fantasy Forest set from Russian creator Severinka is like a present to all fantasy simmers.
Beautiful grass and shrooms entice you to visit their home and get lost among them. This set will be suitable for the home of a kind witch, sweet fairy, or magical siren.
The fairytale set consists of eleven objects (seven kinds of mushrooms and four kinds of grass) with a decent number of swatches to choose from.
1. Fantasy Ears Set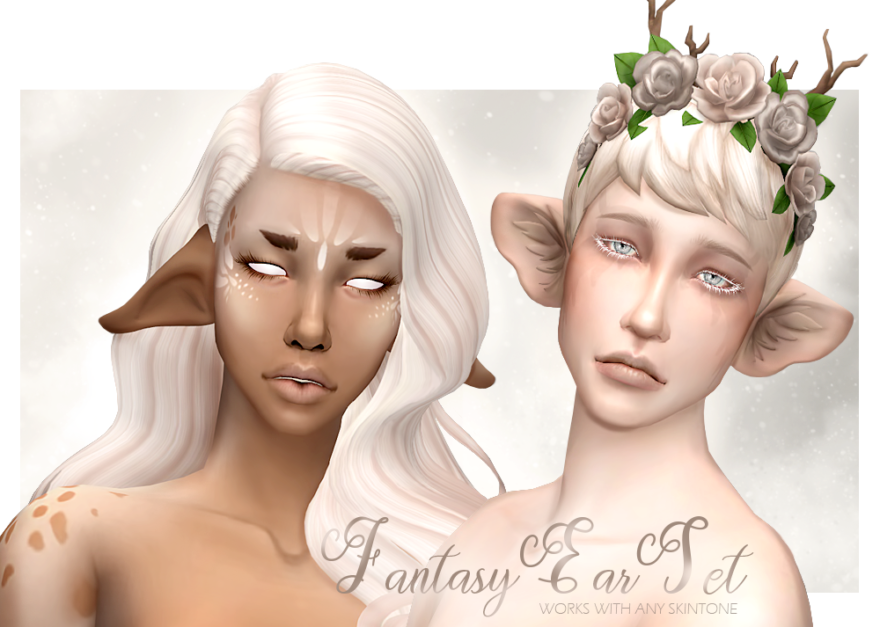 Without beautiful fairytale ears, your fantasy sim can look very boring. Well, that`s is indeed not right, so you should get this impressive set of the most fantastical ears for your sims.
In this set, you will find several options of ears to create an elf, satyr, fairy, or whoever you want.
Those ears work like accessories, so if your ward decides to quit his fantasy life, you can easily remove them.
The set adds a dash of magic to your regular gameplay without ruining everything: the creator removed them from Random, so your townies will not look crazy.
In addition, the ears perfectly blend with hair and work perfectly with all skin tones!
You might also be interested in: