Our flawed universe lacks a lot of interesting occult characters that would be a perfect addition to this world. Luckily, thanks to the awesome developers of The Sims 4, you can not only create a perfect simulation of your life but also build a world full of magical creatures.
Our list of top 10 best fantasy CC content compiled the best creations for your occult sims to shake up your game a little bit.
Best Sims 4 Fantasy CC
15. Rogue: "The Sims Medieval" Outfit Conversion by ValHallan

Not a chainmail kind of Sim? No problem! With Rogue The Sims Medieval Outfit Conversion CC, you can dress your fantasy Sim in a strappy set of leather trousers, boots, and a shirt.
This outfit CC comes in seven color variations, as well. The hand bandage comes in a separate package file, by the way, so be sure to download both! This outfit has also been enabled for all kinds of sims, including ages from teens to elders and all genders.
You'll find this outfit CC pack under the Full Body section, and this CC does disable shoes but does work with other accessories. The separate bandage glove is available for both arms and can be equipped for both or either the left or right.
14. Malygos Crystal Set by lunanelfeah

Every fantasy Sim needs a cool-looking lair or house, and this CC is a fantastical option for that! With the Malygos Crystal Set, you can arrange your Sim's home to look like a supernatural abode that is infused with elemental magic.
The set includes five crystal variations that come in eight colors. The fifth crystal, unfortunately, doesn't come in different colors, but it's shaped like an egg in a brilliant otherworldly casing that illuminates blue-purplish light.
Also, in order to access the fifth crystal, you will need the "Get to Work" DLC. Then, you can find all five under the "Rocks and Statues" section in Building Mode.
13. Gossamer-Fairy Stuff by Pyxis

Now, this is the set for you if you want Sims to look like fairies, unlike any others! This Gossamer-Fairy Stuff CC pack includes antennae and wings, insect-like eyes, glitter, and 17 new eye colors.
When paired with skin CC, or the in-game blue skin tone, you can transform your Sim into an interesting, whimsical fairy creature who is more alien-like rather than standard Tinkerbell.
The pack has been converted to allow Sims of all ages to be able to be dressed up as fairies, ranging from toddlers up to elders. Also, the makeup items have been made slider compatible.
12. Star Skin Skintones + Facepaint

This is a prime example of skin CC that is necessary if you want your fantasy Sim to look even more otherworldly.
This Star Skin Skintones + Facepaint CC features 18 new skin tones and four new face paint options that can make you Sim look as if they've been kissed by the cosmos themselves!
The skin tones are separated into two categories: Eclipse and Pluto. Eclipse skin tones are darker, featuring greens, grays, reds, and more. The Pluto skin tone set includes brighter colors, such as pastel green, purple, blue, and pink.
You also have the choice of downloading two versions: one for all sims and the second for occult sims only.
11. Of The Earth by Pyxis
This CC is for those who want their Sim to look like a PlantSim all of the time or a more enhanced version of their PlantSim. Of The Earth, CC pack includes four skin color schemes, Fresh, Wilt, Autumn, and Dark Green, as well as a new hairstyle and tattoo pattern.
Sims from teens to the elder can use this CC pack, and these skins can tan or burn in-game. The vine patterns and overlays can be found in the blush, facepaint, and tattoo categories.
Makeup and face paint items are slider compatible, and the skin tones have been enabled for spellcasters and mermaids.
10. Pufferhead Stuff Pack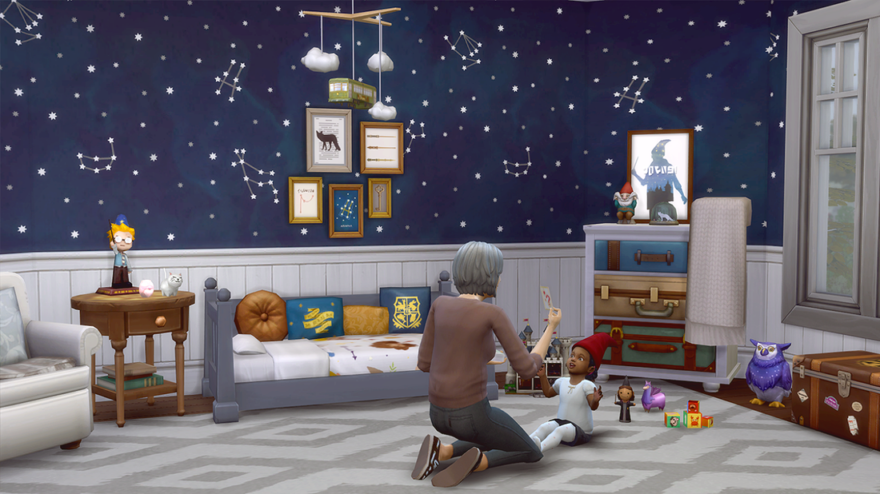 A game pack or an expansion dedicated to Harry Potter is a dream of a lot of simmers. But since The Sims world is not literally ours, the parody Potter pack would be an even better option.
Well, here it is: Pufferhead stuff pack is an incredible tribute to the Harry Potter franchise that was created around Henry Puffer, the most famous wizard in simlish literature.
In this pack, you will get an assortment of readable books, different decorations, and buyable objects for your Puffer-fan room. Choose your Harnocks house, grab a book, and be lost in Henry Puffer's wonderful world!
9. Egyptian God Anubis

This one of the most amazing creations in The Sims history: a costume of Anubis. The full body-suit of Egypt's ancient God, who was a master of the underground world, death, and mummification. Something like an ancient Grim Reaper, you know.
The outfit has a lot of swatches so that you can adjust it according to your taste. We cannot tell you more about how high-quality and detailed this Anubis outfit looks.
The creator promises to add more Egyptian stuff into the game, so soon enough, you can turn Oasis Springs into a new home for old gods.
8. Centaurs

Another spectacular fantasy creation made by Natalia Auditore: female and male centaur outfits (although they are in the pants section in the CAS).
These costumes let you turn your sim into the real centaur (only nominally, but still counts!) and make your gameplay even more fascinating.
Have a forbidden romance story between a vampire and a female centaur, or an extraordinary tale about living in the woods.
This is your Sims life, and it will only be better with Natalia Auditore creations.
7. Dogs to Dragons Package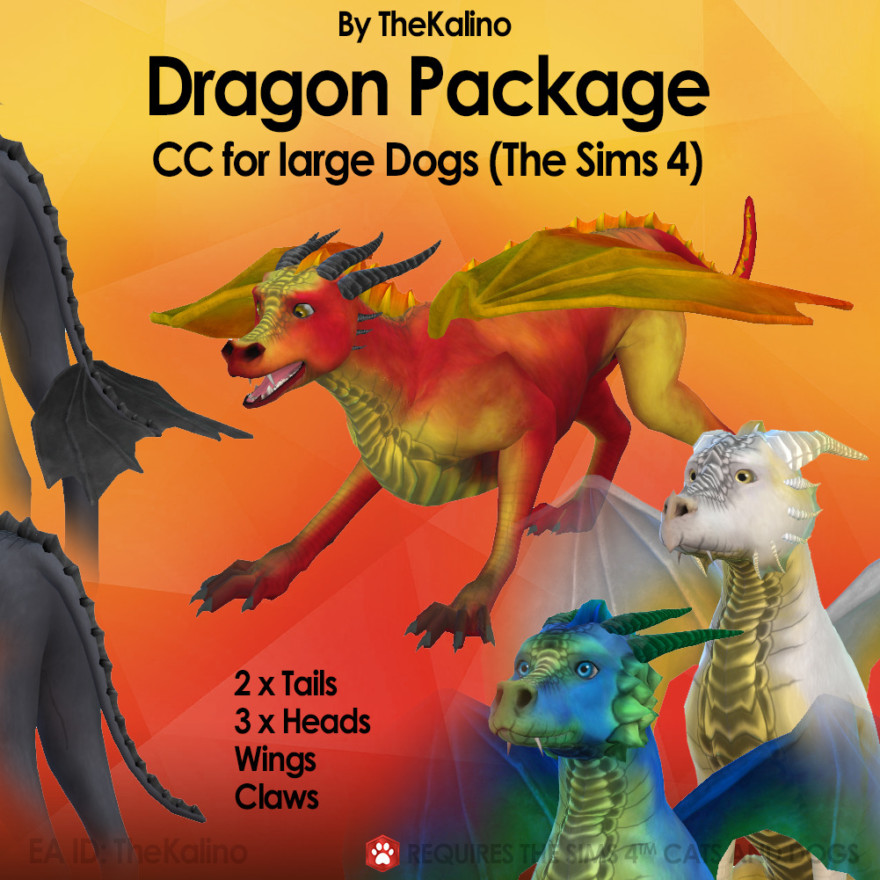 Who wants just a dog if you can get an awesome dragon! With a special Dragons Package, turn your favorite doggies into fantastical beastly dragons!
The set consists of three different heads, two tails, pair of wings, and terrific claws. It is only an appearance, so your doggy-dragon will be like any other pet you have. But so much cooler!
This package is amazing for Game of Thrones fans, or simply for fantasy lovers. Do not hesitate: your baby dragon is waiting for you!
6. Portal to The Realm of Magic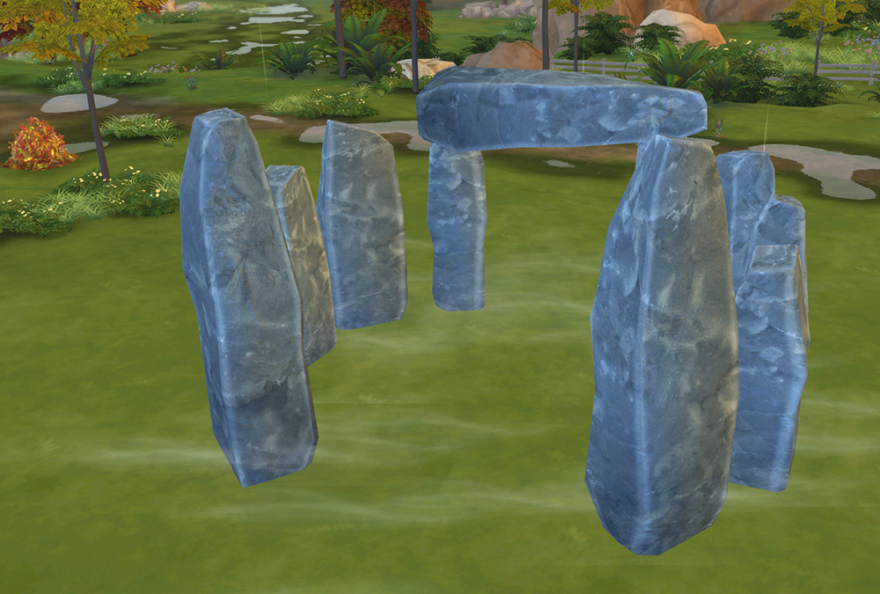 Last autumn, we got a new addition to our Sims family — the Realm of Magic game pack. With this pack, our sims got the opportunity to be mages and witches.
The beautiful portal in the new city of Glimmerbrook takes you to the mysterious world of Magic, where you can start your journey. But what if you want to have 24hour access to the magical world? We have an answer!
The new and beautiful set of Portals to the Realm will take you to another world with style.
The portal is available in two forms: a magical tree or a stone circle (Outlander vibes for sure). These portals are amazing for storytellers, Sims movie makers, etc.
5. Animated Wings Mod
Do we see something too beautiful to be true? Wonderful creator Merman Simmer made a mod that offers you to put animated wings on your sim!
You can dress your sim to be the mighty power of light or a scary tool of darkness with this mod. Or just a mischievous being, if it pleases you. The wings have a lot of recolors to choose from, and they definitely will fit the feel you are looking for.
4. Draenei Horns Set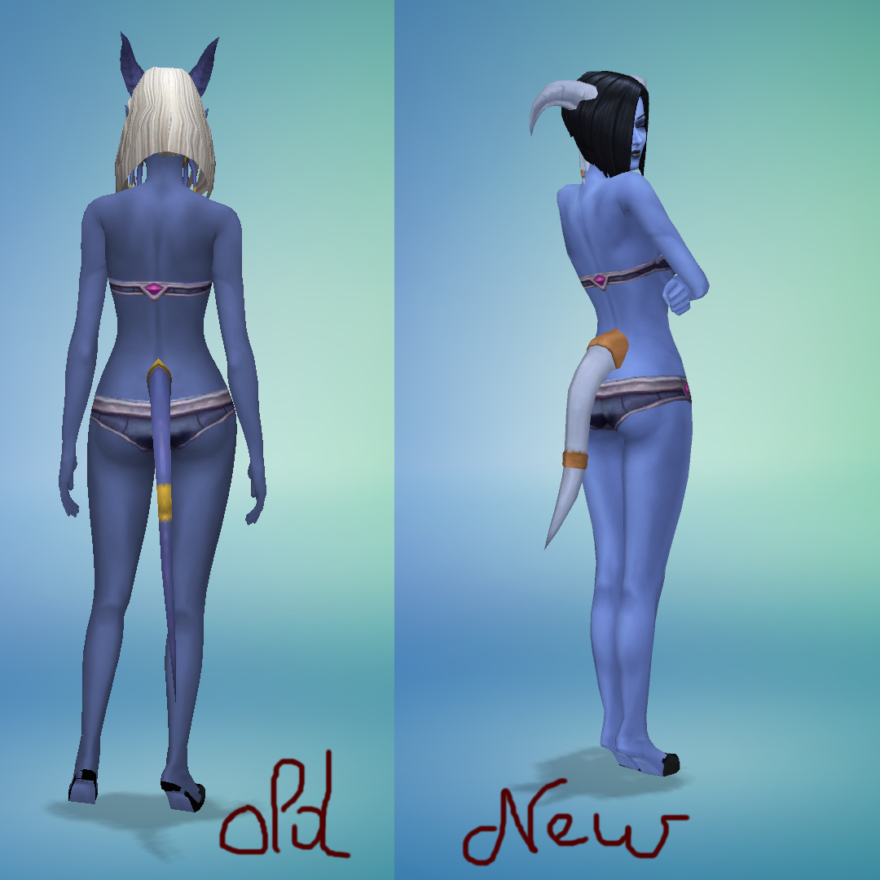 Wearing horns is a perfect way to emphasize the unusual nature of mythical or fairytale characters. This Draenei set of horns provides you with many beautiful and realistic options (well, if horns were a real thing) for female sims.
The set also includes a tail, tendrils, hoofs, a couple of eye swatches, and a skin overlay. With this set, you can create many unique characters to fill up your magical sims' world.
3. Fantasy Skin Set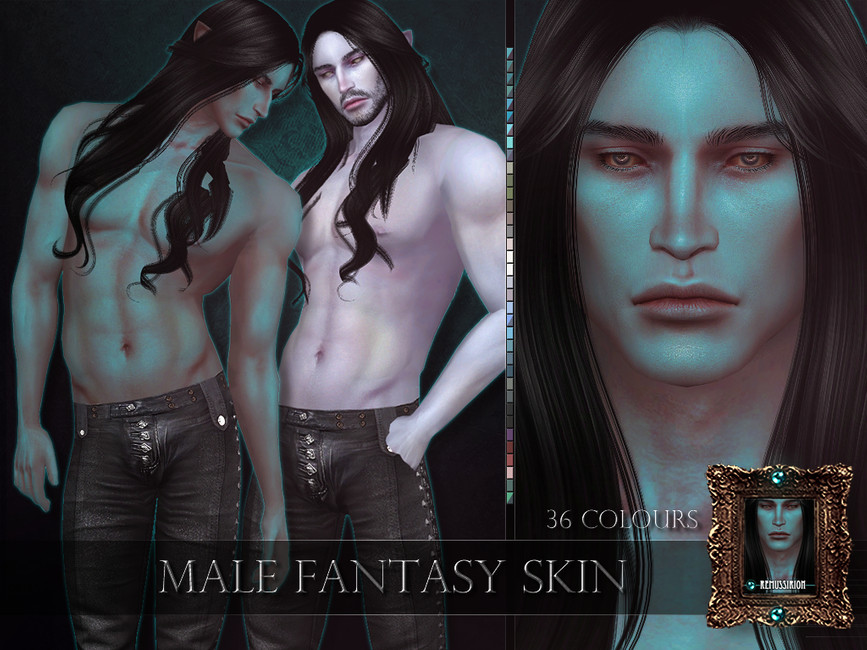 These incredible fantasy skin tones are the only ones you will need to create your occult sims. Glowy and radiant, those skin tones can be the last needed touch for your dark siren, mermaid, vampire, elf, or wizard appearance.
The skin tones in this set look enchanting with soft swatches in a wide variety of shades. Seriously, they are just perfect. You can download fantasy skin tones for males and females separately.
2. Fantasy Forest Set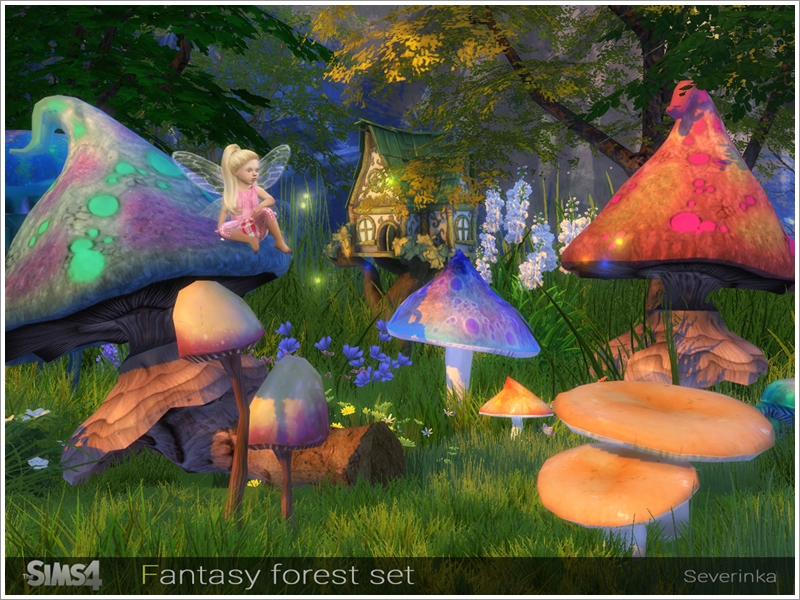 Your favorite occult sim deserves to live in the most enchanted place. Gorgeous Fantasy Forest set from Russian creator Severinka is like a present to all fantasy simmers.
Beautiful grass and shrooms entice you to visit their home and get lost among them. This set will be suitable for the home of a kind witch, sweet fairy, or magical siren.
The fairytale set consists of eleven objects (seven kinds of mushrooms and four kinds of grass) with a decent number of swatches to choose from.
1. Fantasy Ears Set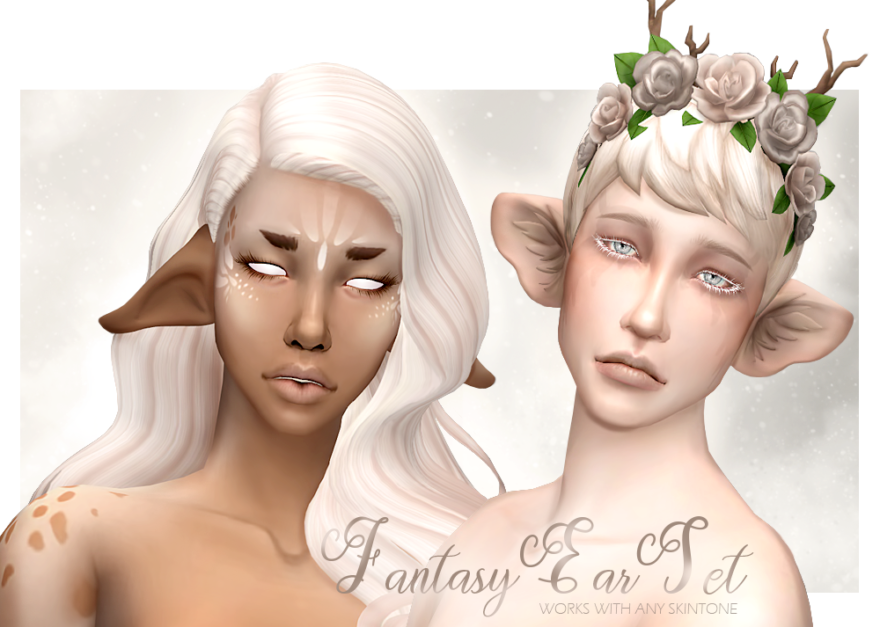 Without beautiful fairytale ears, your fantasy sim can look very boring. Well, that`s is indeed not right, so you should get this impressive set of the most fantastical ears for your sims.
In this set, you will find several options of ears to create an elf, satyr, fairy, or whoever you want.
Those ears work like accessories, so if your ward decides to quit his fantasy life, you can easily remove them. The set adds a dash of magic to your regular gameplay without ruining everything: the creator removed them from Random, so your townies will not look crazy.
In addition, the ears perfectly blend with hair and work perfectly with all skin tones!
You might also be interested in: