Every Sim wants to get done up and cute once in a while. Most of us know that a lot of the makeup styles that the Sims 4 base game has to offer are either outdated, boring, or straight up ugly. We need something else that will keep up with current day makeup trends and make our Sims look on-trend.
Everything from lashes to eyeshadow looks, to lip looks- we've got you covered.
Whether your Sim is headed out on a fancy occasion, or they're a makeup junkie that can't go a day without a full face, we'll be going over the best Sims 4 makeup custom content and mods so they'll be able to change their look whenever they want and always look their best, nothing less.
Best Sims 4 Makeup CC and Mods
35. Nymph Skin Detail

Introducing Nymph Skin Detail, the Sims 4 makeup mod that will let you adorn your Sims' skin with beautiful green, plant-like tendrils!
This unique mod is perfect for creating an otherworldly look for your Sims, and it's sure to add some fantasy-inspired flare to your game.
With this Sims 4 makeup CC, your Sims will stand out from the crowd, even if that crowd is supernatural.
The skin tones in this CC pack include a dozen different shades for the winding vegetation; your mystical forest woman can have green, blue, or brown branches, among other colors.
There's no single way to play with the life of your digital fantasy family.
34. Joker Eyeshadow
If you're looking for a fun and festive way to dress up your Sims for Halloween or just want to add a touch of color to their everyday look, the HQ-compatible Joker Eyeshadow palette is the perfect solution!
This makeup CC gives your lady Sims a bright and colorful clown-inspired eye look that is sure to turn heads at the haunted carnival or DC movie screening.
Whether you're going for a cute and playful look or something a little more beautifully sinister, the selection of colors that come with Joker Eyeshadow offers enough eye makeup options for even the most discerning spooky gal.
33. Freckles N33

Freckles N33 is for players who want to add a little bit of detail and distinction to their Sims.
There's just something about freckles. They're cute. They're unique but also kind of universal. They're the perfect imperfection. And we just can't get enough of them.
With 14 different colors of facial freckles to choose from, you can mix and match to create the perfect look for your Sim.
Freckles have become quite stylish, and this Sims 4 CC can make a look more realistic and soft or over-the-top and gorgeous, depending on how you use them.
32. Liner N23

Get the perfect winged eyeliner look with Liner N23!
Colorful winged eyeliner looks are a finishing touch for an expressive, feminine Sims style. With a broad color palette to choose from, there's a look to suit any venue, time of day, or personal style.
And when applied correctly, colorful winged eyeliner can really make the eyes pop.
From subtle and chic to bold and dramatic, there's a colorful winged eyeliner look for everyone.
This simple and subtle eyeliner comes in 24 colors, so you can find the best shade for your Sims.
With an easy download, you'll be able to create a flawless winged eyeliner look instantly.
31. Celeste Chin Cleft

The Celeste Chin Cleft mod is a subtle way to add some extra dimension to your Sims' faces.
This simple mod gives your Sims a soft cleft chin, adding just a touch of extra interest to their facial features.
Women with strong cleft chins are often considered to be beautiful.
There is something about a defined chin that is both unique and alluring. It is also a little bit uncommon, which makes it even more interesting.
30. Spiderweb Lip Gloss

This is the ideal lip gloss for those Sims families with equal parts edginess and fashion.
The Spiderweb Lip Gloss CC design is Halloween-inspired and totally pretty.
Dark, edgy, but pretty looks are the new normal. Celebrities like Rihanna and Lady Gaga are known for their darker and versatile sense of style, and more and more everyday people (and Sims) are embracing their inner weirdo.
After all, who wants their life simulation family to blend in when they can stand out?
Since The Sims 4 is just a simulation game, there's no reason not to experiment with out-there looks.
So go ahead and be a spooky fashionista.
29. Doll Eyes

Doll Eyes gives your Sims an arresting, big, doll-eyed appearance.
With Doll Eyes installed, you can choose from a variety of 15 eye colors and styles to give your Sims that perfect doll-like appearance.
Plus, they work with the in-game adjustment sliders. Whether you want them to look sweet and innocent or sultry and seductive, Doll Eyes can make that happen.
So why not give your Sims 4 females the doll eyes they've always wanted? Install Doll Eyes today and let them achieve the look of their dreams!
28. Blush N14

Get that just-pinched look with Blush N14, the Sims 4 makeup CC that gives you natural-looking rosy cheeks with a whimsical white speckle added for good measure.
Whether you're trying to add a touch of color to your complexion or give yourself a little flush, Blush N14 is perfect for giving your female Sims a prettier look.
Just a few dabs of this rosy product on the apples of your cheeks will give you a beautiful, healthy glow.
27. Nose Mask Z16

Your Sims are about to get a whole lot more glamorous!
Nose Mask Z16 is a Sims 4 makeup mod that adds a sleek and shiny nose contour makeup look to your female Sims.
Now they can really stand out from the masses and show off their best features.
Nose Mask Z16 is simple and gives your Sims a natural, polished look that will make them feel more confident than ever. They've got a gorgeous nose contour that will make all the latest Sims jealous.
26. Viper Eyes

Give your Sims a fierce new look with Viper Eyes!
This downloadable mod for the Sims 4 gives your female Sims scary, reptilian snake eyes that are sure to impress as much as they intimidate.
These freaky-chic eyes are an avant-garde dash of beauty CC that you won't find anywhere else.
Halloween is the perfect time to get your freak on, but that can be every day, too. And what better way to do that than by donning some seriously epic monster couture? Go ahead and get creative!
Mixing with the Nymph Skin or Joker Eyeshadow makeup mods from this list is a recipe for a one-of-a-kind look. Don't forget the details!
It's all about being both alluring and terrifying. So have fun with it and let your Sims' freak flags fly!
25. April Eyebrow Pack

Eyebrows can often be an overlooked feature when creating sims, but they can be the piece that pulls a look together!
With the April Eyebrow pack, you get five sets of eyebrows, which all are similar in shape but differ in thickness. But what makes this CC pack interesting is the 52 colors that you can choose from, including a range of blondes, browns, blacks, and even purples and blues.
All of these eyebrows can be used for toddler to elder sims, both male and female. Also, don't underestimate the power of customized sliders in-game; adjusting the arches and placement can make a huge difference in appearance and crazy colors!
24. Glitter Stars Blush N3

This is a fun CC to have in your makeup section of character creation because this blush adds sparkly stars to the cheeks of your sim! The Glitter Stars Blush N3 CC comes in eight colors, adding a bit of bedazzle to your sim's face.
The base shading is all the same for each color, but the shading contours the cheek area of the sim face nicely. A few of the colors include pink, gold, blue, and purple.
This CC is definitely fit for players who love to create out-of-this-world sims and is also perfect for sims with pastel or alien aesthetics.
23. The Angel Collection

The Angel collection comes equipped with both highlight and blush in a variety of shades. You can never have too many shades to choose from when every sim skin tone is unique!
The Angel highlight comes in 20 different shades, ranging drastically to help provide the right shade for your sim, for every skin tone. Meanwhile, the Angel Cloud blush comes in 30 shades, ranging from pink to neutral tones.
These CC can be found in character creation's face paint, tattoo, and skin detail sections. This collection is a great option for those who want more natural makeup options in their highlight and blush.
22. Sailor Moon Palette

In the name of the moon, this makeup CC is here for all Sailor Moon fans! This eyeshadow CC comes with 15 shades, each based on a character in Sailor Moon. Of course, this CC includes shades inspired by the Sailor Scouts and Luna, Artemis, and Tuxedo Mask.
The Sailor Moon Palette pack includes blues, pinks, greens, and a good mix of vibrant and dark colors. You can easily achieve any inspired look paired with other Sailor Moon CC based on your favorite Sailor Scout or character.
14 of the eyeshadow colors featured in this CC are combination shades, with the last color being a shimmery gold.
21. Juicy Fruit Lip Gloss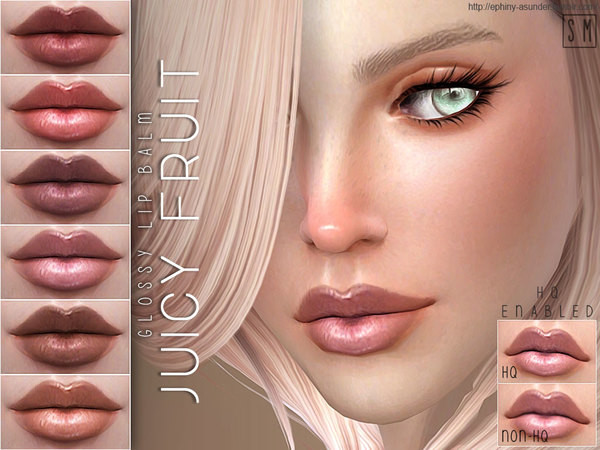 Lipstick is a pretty big commitment that not everyone is super into. On the other hand, just wearing lip balm can suffice for a short amount of time, but it doesn't give that shiny, plump look that a lot of us are chasing after. The best solution? Lip gloss.
Making a pretty big comeback after years of benign slept on, lip glosses have made their way back into the scene, and it's something to get excited about.
If you want your Sims to achieve that same glossy, shiny, full lip look without looking too done up, then the Juicy Fruit Lip Gloss might be just what you're looking for. It's only got a hint of color, but a whole lot of shine!
20. Sonya Eyebrows

Every good makeup look needs to start with the basics, and the eyebrows can make or break the final product. Not too blocky, not too thick, just right.
The Sonya Eyebrows keep things natural, they look like they don't have too much pomade or gel in them- honestly, these are even perfect for no-makeup makeup looks or when your Sim isn't wearing any at all.
You can keep your shape, your definition, and not worry about them looking out of place or overdone. Who could ask for more out of their brows?
19. Eyeliner 01

Eyeliner 01 by creator Kita-Rite gives you 6 options to choose from when you're deciding what eyeliner best suits the rest of the vibe going on in your Sims eye look for the day.
While all of these choices have the classic cat-eye that we've all come to love, they vary in size, thickness, and length, so you can switch it up for dramatic or natural styles– it's up to you!
If you're feeling a little daring, there's even a style that comes with eyeliner drawn every so carefully on top of the lid, adding some extra detail to your Sims face without making it stand out too much.
18. Eyelash Pack 07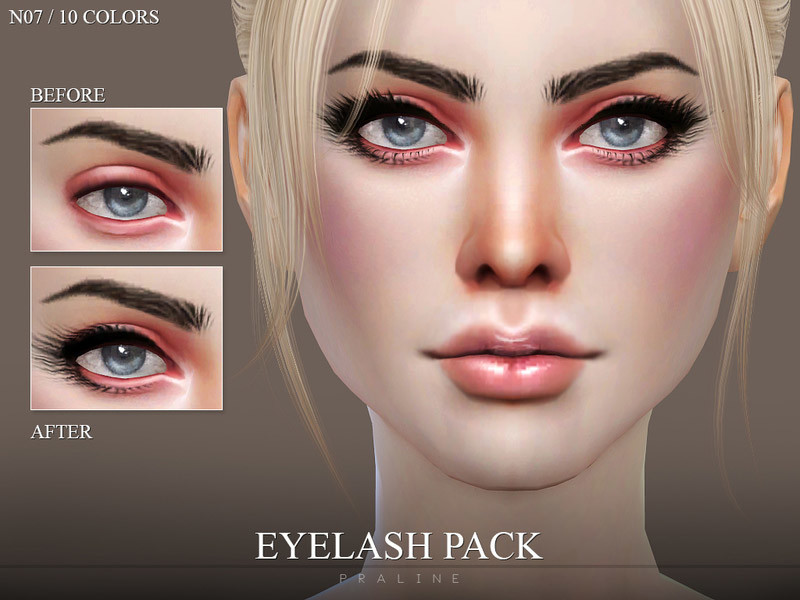 Is anyone else tired of their Sims lashes looking like blocks? I mean, really, who has little rectangles where their wispy lashes are supposed to be? It bothers me to the core of my being. Thankfully, I can always rely on custom content to save my Sims from living lives of horrible, geometric eyelashes.
What's great about Eyelash Pack 07 is that they're not too dramatic. They could pass as being regular lashes with one or two coats of mascara, max- basically, your Sim won't be able to take flight because of their incredibly dramatic lashes.
A great option for Sims that don't wear a ton of makeup, or even if you're just trying to make the characters you create look a little more realistic.
17. Highlighter N2 (Boho)

Listen, highlighter can be intimidating. Personally, it's not really my thing to look like the light reflecting off of my cheekbones could blind someone, but I would also rather not look dead and add a little bit of life back into my face.
The same goes for my Sims. I've always been a huge fan of highlight looks that make it seem like the sun is naturally bouncing off of your face, even if the weather is gloomy.
That's exactly why I love Highlighter N2 (Boho). It's the perfect amount of shine for a natural, wearable highlight and could complement just about any Sim, regardless of what the rest of their makeup looks like.
16. Cute Face Stickers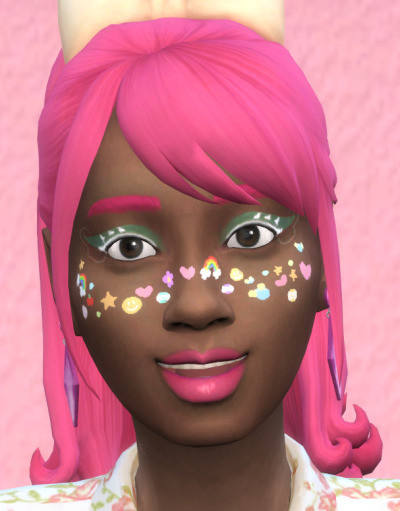 Face stickers and little patterns on your face have become pretty popular- you can even buy eyeliner with stamps on them! There's no reason your Sims can't get in on the fun too.
These Cute Face Stickers are perfect for youthful, cute looks and would go perfect with any Sim who would describe their overall aesthetic as being kawaii.
These stickers come as both blush and facepaint so that all of your Sims, even the youngest ones, can get in on having the fun of rainbows, similies, and stars running across their cheeks.
15. Eyeshadow Dream Palette

Speaking of kawaii aesthetics, let's take a look at this Eyeshadow Dream Palette.
These eyeshadows come with 7 swatches, including a pretty pastel yellow, light green, and blue. Think of how cute this would be with a subtle eyeliner and those face stickers from before, it would be so adorable!
With each color comes a slightly different style of eyeshadow application, so you can have plenty of fun playing around with the unique combinations you can make with this palette!
14. Plush Blush

Plush Blush is the perfect choice when you really want to get those super rosy cheeks.
The best thing about using blush in The Sims is that it's a great tool to make your Sims of all ages look a little more lively, whether it's the children in your household that have just had their cheeks pinched or the older generation that doesn't look like they're on their death bed.
Other than being incredibly versatile, this blush comes with 17 total swatches, each having 3 opacity levels to choose from.
Switch things up from a really dramatic, dark blush for one Sim and a natural, light look on the next. This is definitely a staple when it comes to making Sims look their best.
13. Summer Blushes

Even though when we think of blush, we usually think of pinks and reds that brush over our cheeks, there's always room for a creative spin if we've learned anything from the world of makeup.
Our cheeks are a wide, open spot on our faces that are begging for us to make the best out of them and let our imaginations run wild.
Summer Blushes is reminiscent of the face stickers- they use cute shapes to add something exciting to our Sims makeup looks.
But this time, we're talking fruits, hearts, and faces, big enough to cover up where our blush would typically go. They also incorporate using actual blush, so your Sims can keep the color and design their liking.
12. Beyond the Highlighter Powder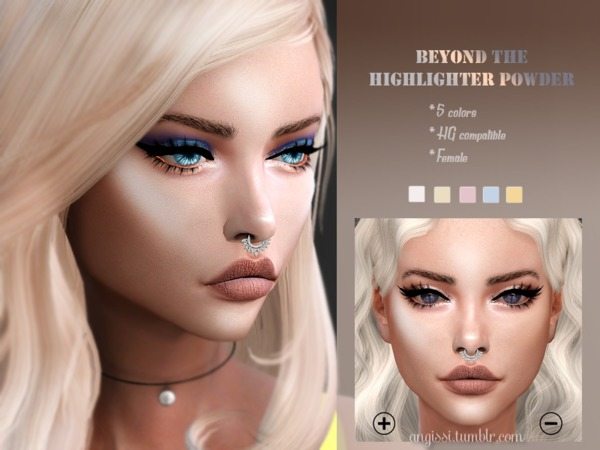 Beyond the Highlighter Powder takes natural blush to a whole new level. We're talking pinks, golds, and even blues to mix things up a bit when we're adding shimmer and light to our Sims focal points.
These highlights are much bolder than what we've seen so far in this list. They make themselves known to everyone around that they're there, and they want to be seen!
Perfect for Sims who would consider themselves MUA's and aren't afraid to take risks with what they put on their faces.
11. Dreamgirl Lash Recolor

These lashes are long, wispy, and delicate- perfect for when you don't want your Sims lashes to take over, but they should at least be noticed.
The Dreamgirl Lash Recolor comes with 5 sets of lashes for varying lengths and mood, from flirty to more dramatic, and can be used on any Sim of yours that needs a fresh look for their eyes.
10. Cotton Candy Lipstick
Not all custom content makeup has to actually look like makeup. Like with the eyelashes, it can be hard to make your Sims really look realistic, especially with what little we're given in the game to play with.
Cotton Candy Lipstick is a great way to give your Sims lips a realistic feel for all of your Sims regardless of age, gender, or complexion.
These have 10 swatches, so you can play around and see what works best for your Sims natural look- or even choose a color that doesn't look too natural for a subtle lip color. These lip looks really can't be beaten with texture and color like this.
9. Cuteness Overload Blush
From the same creator that brought us Cotton Candy Lipstick, we have Cuteness Overload Blush! With the same tone as before, this blush will add some color back into your Sims face without going too over the top- if you choose to go that route anyway.
If you're looking for something that will stand out a little more, these blushes will also do the trick.
They may not give off that super flushed look that some of us would like to go for, but it will flatter your Sims faces in a way that will make them look stunning, no matter the occasion.
8. Blue Honey Collection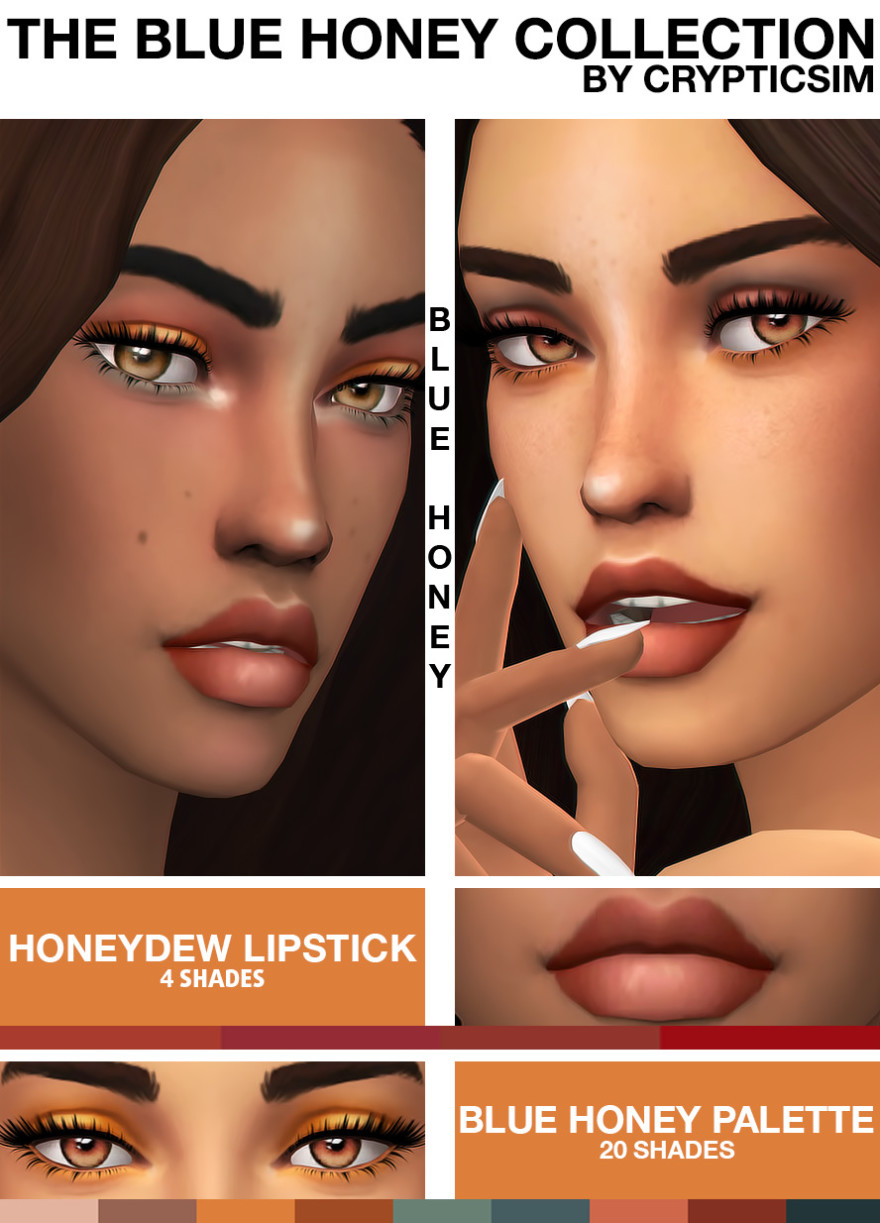 I've always said that when you can find a collection of custom content and look great, you should go with it. After all, it makes your search for the perfect a lot easier with all you need found in one place.
With that being said, the Blue Honey Collection comes with 20 eyeshadow shades and 4 lipstick shades, so you can get the basics for your Sims makeup look without scouring the internet for the perfect thing.
Inspired by Kylie Cosmetics, Blue Honey comes with mostly neutral options, so they're wearable for pretty much anything you have in mind. However, there are some blue and green shades if you want something a little more exciting.
7. Falling Stars

When we think of stars, we think shiny, dainty, and beautiful- and all of these words apply to Falling Stars.
Another collection of makeup custom content, you can choose from face makeup and eye makeup, which come in multiple swatches for each category.
Face is described as being like a blush that adds stars all over your Sims face, an eyeliner that comes in both gold and silver, and a unique crease design! So what will it be, a face that's covered in stars, or using it as a stand out design for your Sims makeup?
6. Risky Moves

Finally, an eyeliner that isn't black! Instead of going for a bold eyeshadow look, why not play around with what colored eyeliner can bring to your Sims?
The Risky Moves eyeliner comes with three thickness options, as well as 20 swatches, including neon green and hot pink.
5. Retro Future

Inspired by 70's style makeup, Retro Future is a collection of makeup that will help your Sim look as vintage as possible.
One of my personal favorite features of the collection is that you can choose eye looks with or without eyeliner, which happens to be white liner on the lower lash line.
There's a lot of fun to be had here in terms of eyeshadow. I like this collection because the gradient options, like baby blue to baby pink. With warms, cools, and neutrals, this is a must-have for your collection of custom content.
4. Soloriya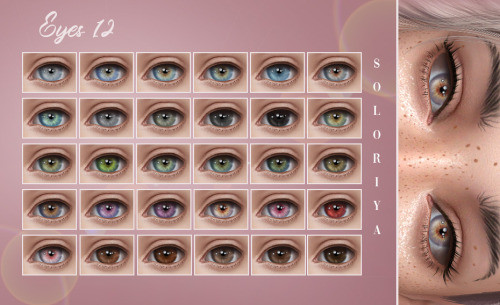 Soloriya gets down to the smallest features in your Sims face. Play around with shimmer under their eyes, nose highlight, eyebrows, eye color, and even mouth corners to completely transform your Sims appearance!
This collection covers a lot of ground, and better yet, each section has an incredible amount of swatches to choose from. You won't even recognize them when you're done with what this collection has to offer.
3. Cloud Dream Palette

If you wanted to play around with the fun colors and shimmer eyeshadows, then you're in luck.
The Cloud Dream Palette comes with 23 swatches that are sure to satisfy your colorful needs because you can't go every single day wearing the same neutral eye look.
2. 3D Lashes

Your go-to place to find the perfect eyelashes for all of your Sims. 3D Lashes gives you everything you need, from super dramatic lashes to ones that are more on the laid back side of things. No matter the mood or the Sim, you'll find a pair that best suits them!
There are 30 lashes for you to choose from in this collection- but before you get too ahead of yourself, remember to download the mesh for these, or you'll be a little disappointed in what you get.
1. Spicy Girl Collection

For all of your hot girl needs, the Spicy Girl Collection has got your back. 12 shades of eyeshadows, 2 highlighters, and even 20 shades of lip glosses, all with a very girly yet glamorous feel to them.
What's so special about these eyeshadows, you may ask? They don't just cover your Sims lids, but they come down past the lower lash line too! Perfectly blended in some of the most beautiful colors out there, they're definitely a girl's best friend.
You might also be interested in: