Many TS4 players take great pride in the design of their Sims, while others find their pride lies in their lot builds.
From houses to businesses, Sims players take interior design to the next level in their games. So, we've compiled a list of staircases for you to use in your next build!
10. Attic Stairs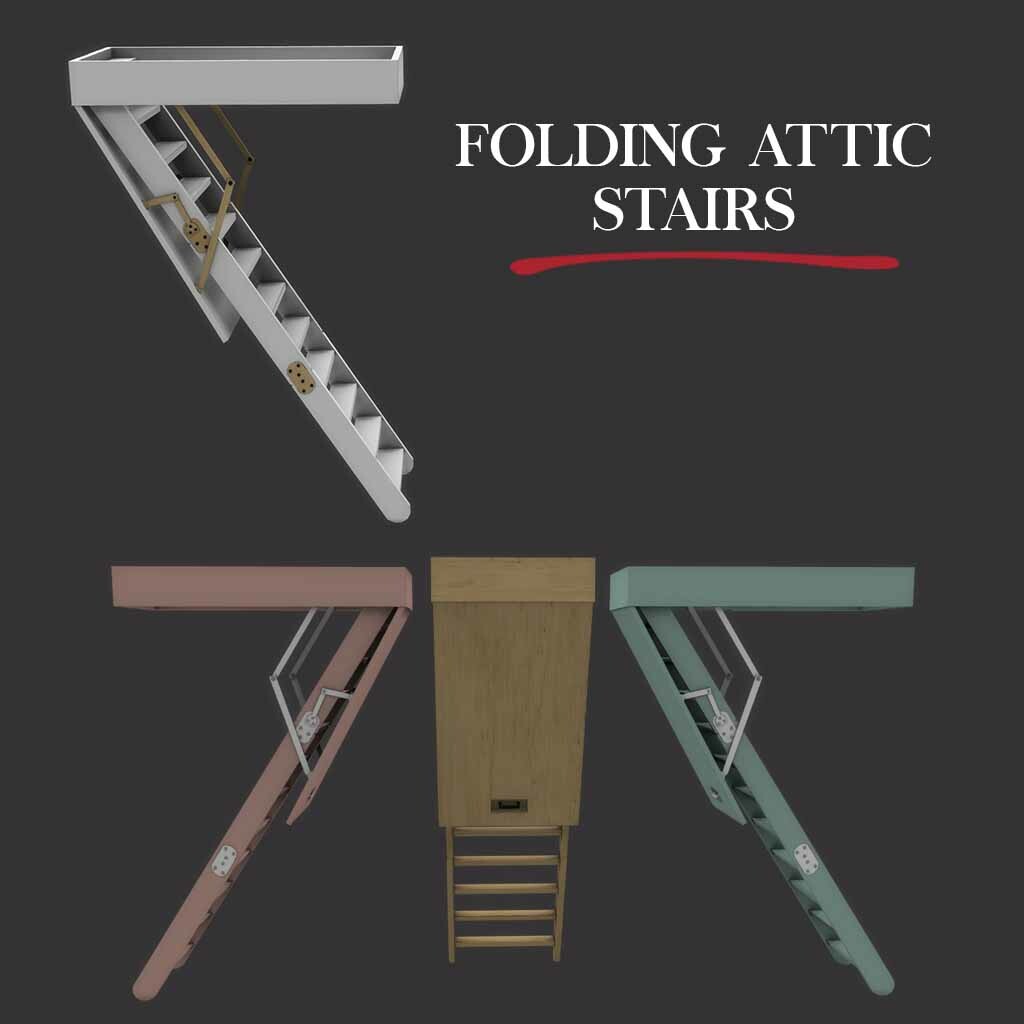 Most homes have some type of storage area, whether that be a basement, shed, attic, etc.
Well, if you're looking to create the atmosphere of easily accessible attic space, the Attic Stairs by leosims are the perfect option!
The Attic Stairs is a decor-only set of collapsible stairs that lead to your Sims lattice space.
This staircase CC comes in ten color swatches, including light brown, green, pink, and white, as shown in the promo photos.
The Attic Stairs fit well in the country and modern interior designs, based on the color options and overall design, making this a versatile staircase to download!
9. Gosik Ciama Princess Stairs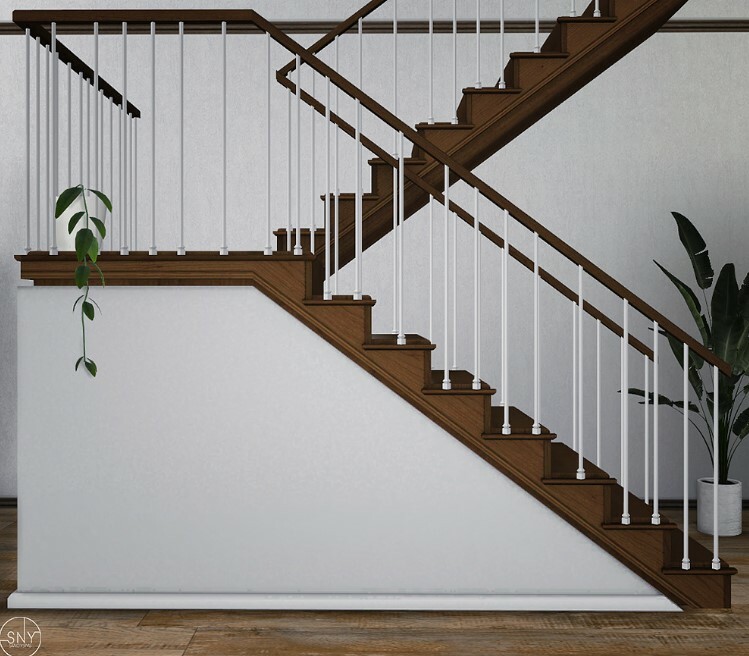 Open-concept staircases have always come back as a trending style of staircases, and with modern design, it's no exception.
With an open concept, you can see everything as soon as you start walking downstairs.
So, the Gosik Ciama Princess Stairs help to make this concept a reality for your Sim. This wide staircase is lined with a railing that has simple columns which are widely spaced apart.
The simplicity of this staircase helps to make it a versatile option for any lot build.
The brown and white color scheme also means that this staircase CC is perfect for any modern home builds.
8. Wood Stairs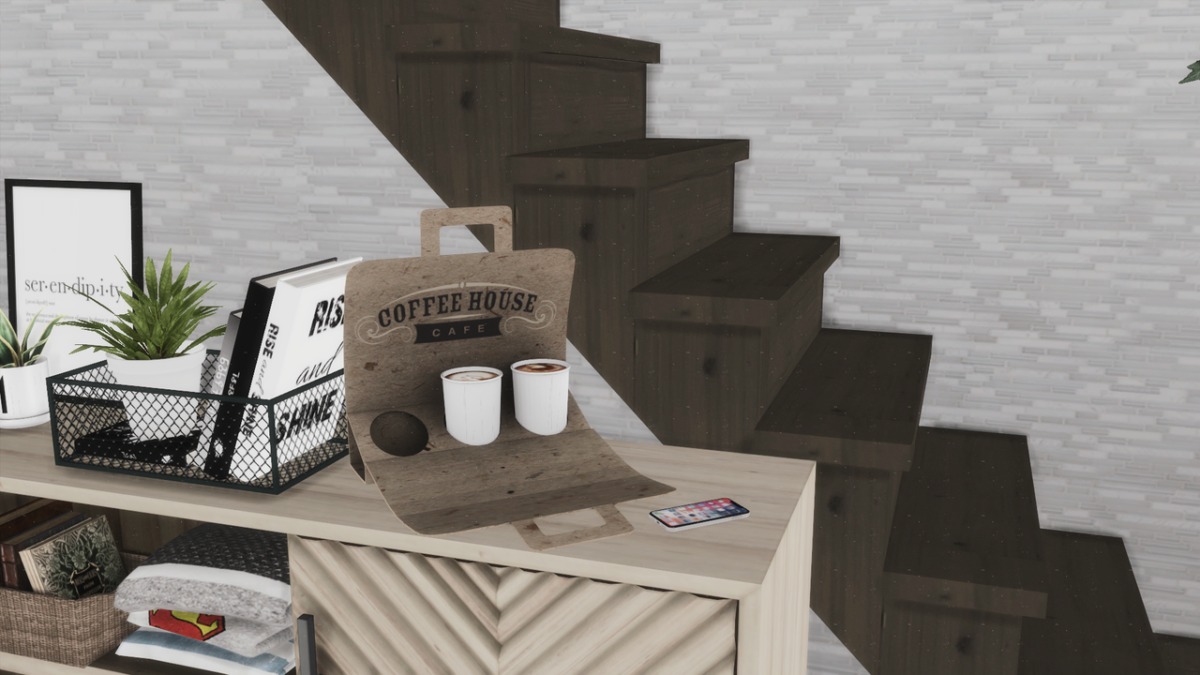 The Wood Stairs by VAMP are one of the first sets of functional stairs on this list, featuring a simplistic set of wood stairs.
One of the first features of this staircase CC that makes it stunning is the wood grain detailing.
You can easily spot the wood grain and the knots in the wood, especially in the lighter color options.
This set of stairs comes in five color swatches, including white and brown, as shown in the promo photos.
The simple natural state of these stairs makes it easy to include them in almost any lot build!
7. Industrial U Stairs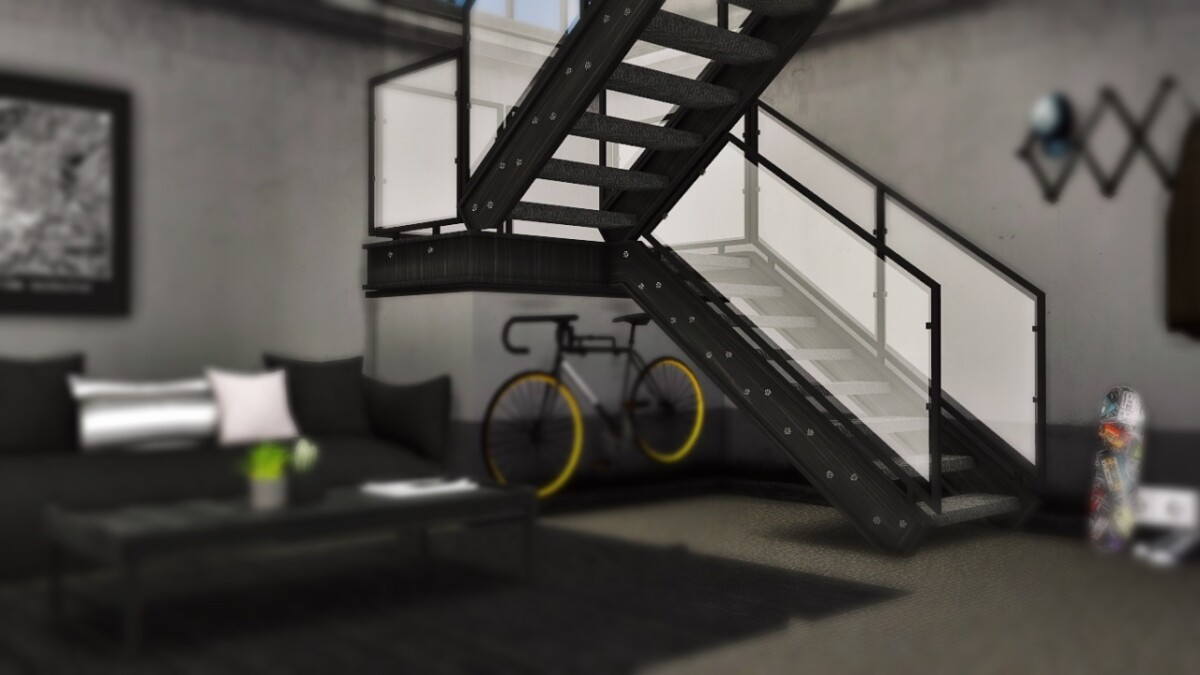 Industrial homes have become increasingly popular with their inventive use of metals and glass.
The Industrial U Stairs is a stunning set of industrial stairs that feature metal railings, steps, and glass paneling.
This set of decorative staircase CC comes in 11 color swatches, including rustic metal, rustic wood, and more.
There are also two meshes included in this set, including both a right staircase and a left staircase.
For warehouses and industrial home builds, the Industrial U Stairs are a perfect choice!
6. Under the Stairs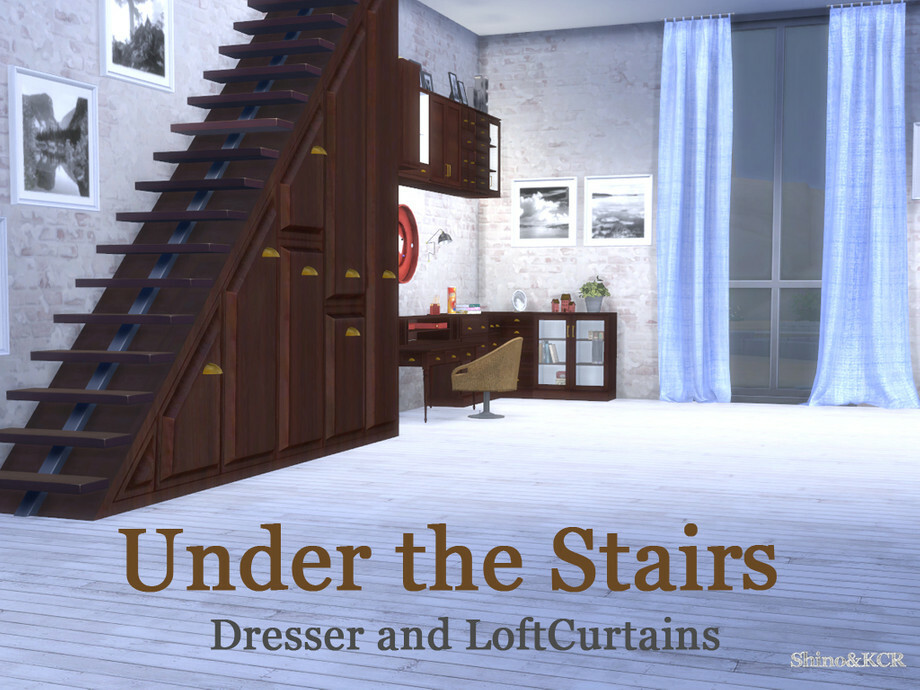 For smaller Sim homes, finding ways to incorporate storage while being able to fit all of your sim's belongings can be a struggle.
Storage underneath staircases is handy in situations such as your Sim living in a tiny home.
The Under The Stairs staircase CC is the perfect solution for your Sim's living and storage situations. This staircase does operate as a dresser and includes three wall sizes.
This CC comes in a set, including multiple versions of the staircase and curtains to match the height of the windows next to the staircase.
5. Staircase Deco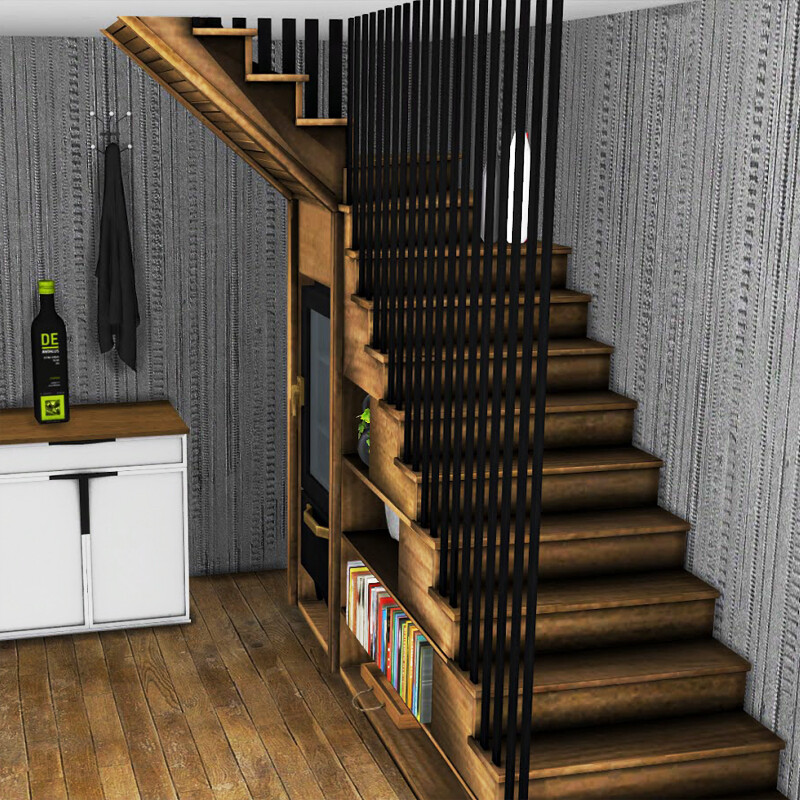 The Staircase Deco CC is another simple yet beautifully designed staircase. This staircase is a simple L-turn, including tall railings that connect the steps to the ceiling.
There is decorative storage space underneath the stairs as well.
As shown in the promo photos, you can even fit a refrigerator underneath part of this staircase, making this a great staircase option for kitchens.
In total, there are three swatches available for this staircase CC.
When downloaded, you can find this staircase in the Misc Surfaces section in the Build & Buy menu.
4. Elevare Triangle Step Stairs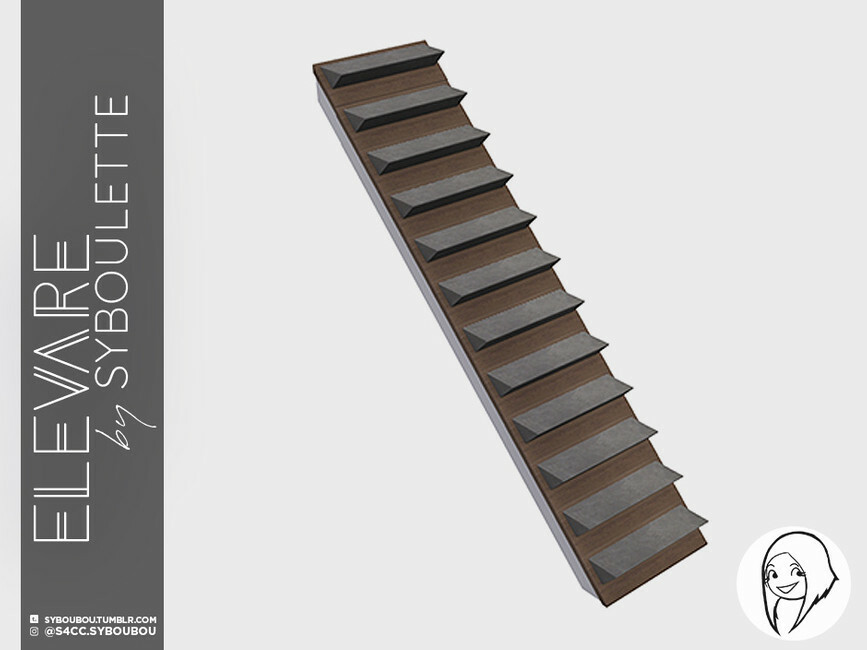 The Elevare Triangle Step Stairs are another great modern yet industrial staircase CC option.
This staircase features smaller steps that resemble the appearance of concrete with a simple wooden background.
There are no gaps between each step, either, which is uncommon for this style of staircase.
The Triangle Step Stairs are a part of the Elevare set, which includes three other types of staircases and railings.
The staircases in the set provide you with more color and style options, as the Triangle Step Stairs only come in the shown colorway of grey steps and dark brown wood.
3. Punchet Misc Deco Stairs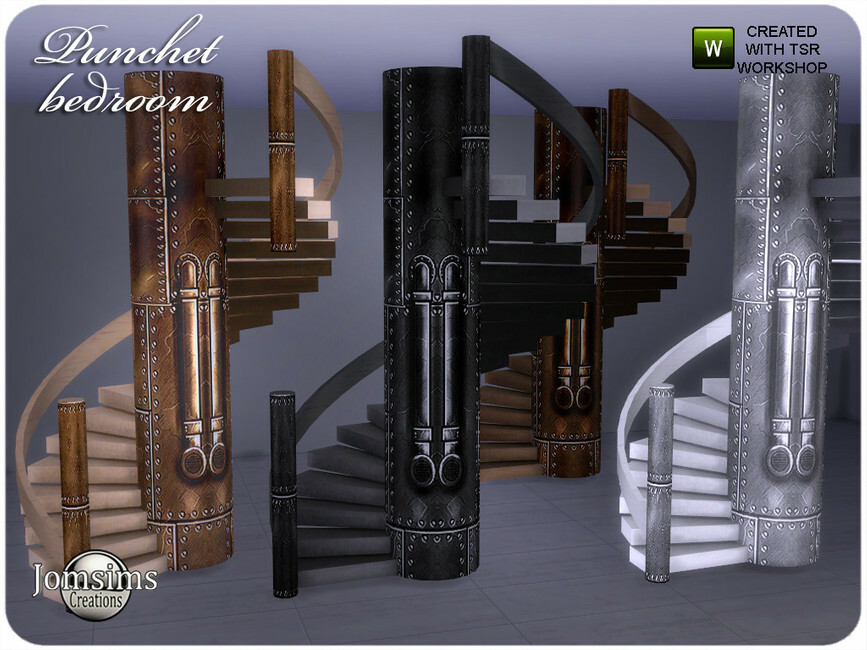 We can't forget to include at least one spiral staircase! These Punchet Misc Deco Stairs are quite the stunning set, designed with steampunk room decor in mind.
This set of CC stairs is part of a larger set called the Punchet Bedroom, which is steampunk themed, including lots of metal features, gears, and metallic colors.
This staircase CC comes in bronze, black metal, and silver colorways. The spiral is quite wide, which makes this spiral staircase look more realistic and accessible as a staircase.
Metal panel details truly add to the aesthetic as well!
2. Elevare Industrial Stairs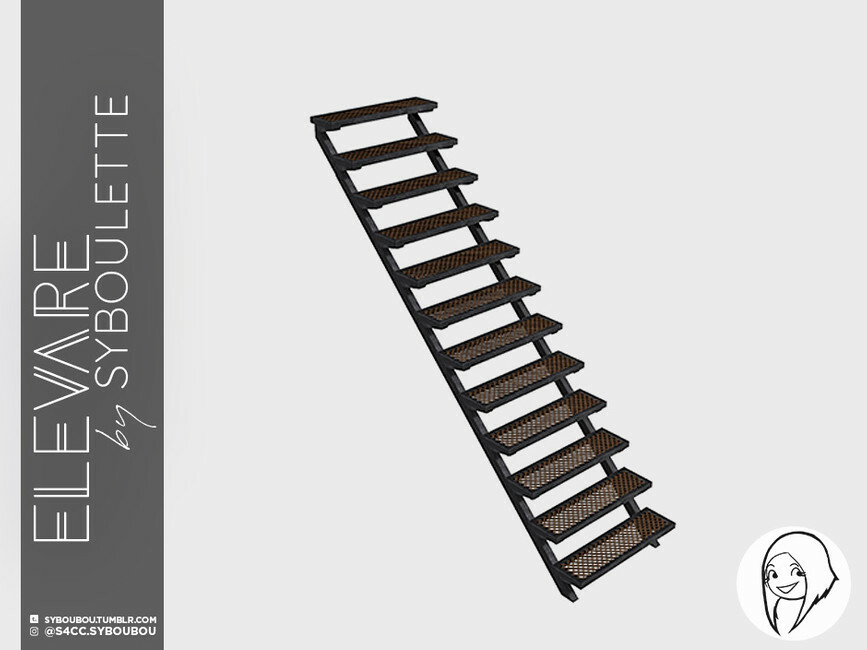 Another great set of industrial stairs is the Elevare Industrial Stairs. This staircase CC is also a part of the Elevare staircase CC set, made by Syboubou.
This set of stairs is quite simple, featuring a solid color metal framework. The steps are made from metal grating.
Stairs like this are common in warehouses and places that have industrial uses.
Since this staircase CC can be downloaded with its designated set, you can choose to include a railing or not as well.
Whether for an industrial-style home or business lot, this is a must-have staircase CC!
1. Raymoka Rounded Staircase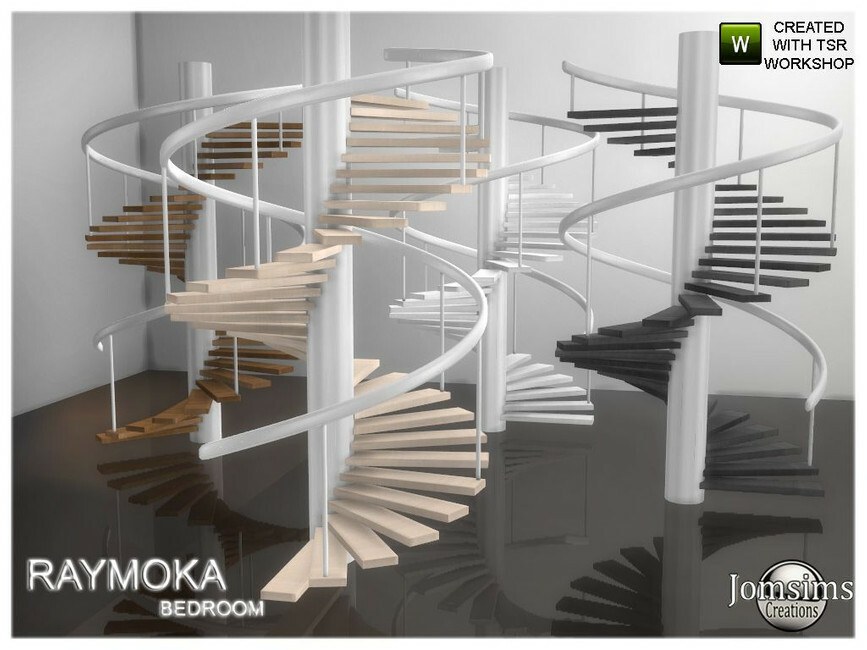 Another spiral staircase option that is perfect for modern and minimalist fans is the Raymoka Rounded Staircase.
This staircase CC features a sleek white railing with simple wooden steps that are evenly spread out for realistic accessibility.
This spiral staircase is part of a larger CC set called the Raymoka Bedroom set.
The staircase comes in four colors: white, light brown, dark brown, and black.
The entire collection is chic and focuses on minimalism, which makes it easy to integrate this staircase into other designs.
Although this staircase is nonfunctional, it can truly make a difference in a room's design.
You might also be interested in the following: