There are many ways to achieve the classic "kawaii" aesthetic.
Through their clothing or how they decorate their home, your Sim can reach their highest cute goals with the help of the CC in this list!
From clothing to home décor items, we've compiled a list of some of the most kawaii CC out there!
Best Sims 4 Kawaii CC
10. Otome Tattoos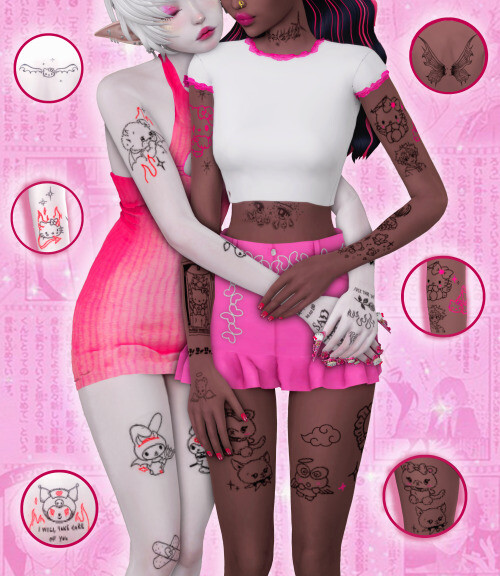 Your Sim can always have a piece of their cuteness represented with these Otome Tattoos! The Otome Tattoos add a touch of cuteness and edginess to your Sim's appearance.
There are several tattoos included in this CC set, many of which include Hello Kitty and Sanrio characters in them.
What gives these tattoos their edge is the use of fire and devil horns in combination with these familiar cute characters.
Most of the ink is only available in black, but some details can be seen in red and hot pink.
9. Kawaii Stuff Cosmetics Set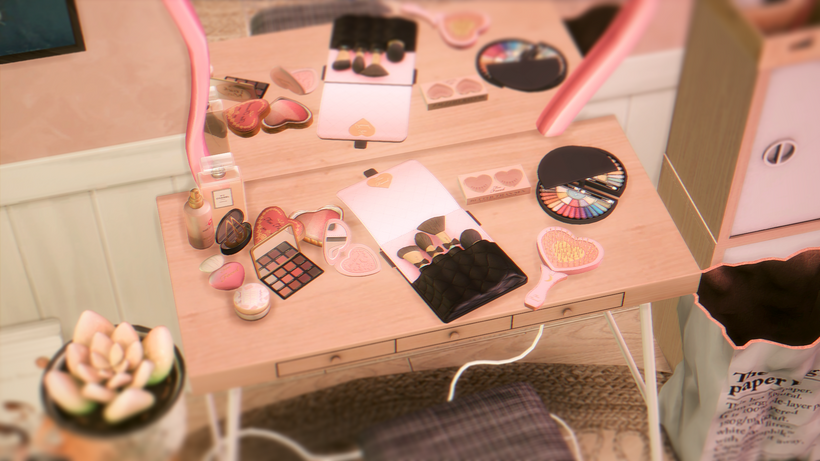 Ever look at an influencer's cosmetic fridge and want to recreate it in real life? Well, you can give your Sim the cutest cosmetic collection of their dreams with the Kawaii Stuff Cosmetics Set!
This set is part 2 in a full Kawaii Stuff CC collection, and this part includes hand creams, headbands, pimple patches, and several small bottles to scatter on your Sim's bedroom vanity and bathroom counter.
Some items in this CC set are also stackable, perfect for storing in the cosmetic fridge CC you can also download!
8. Heart Dining Set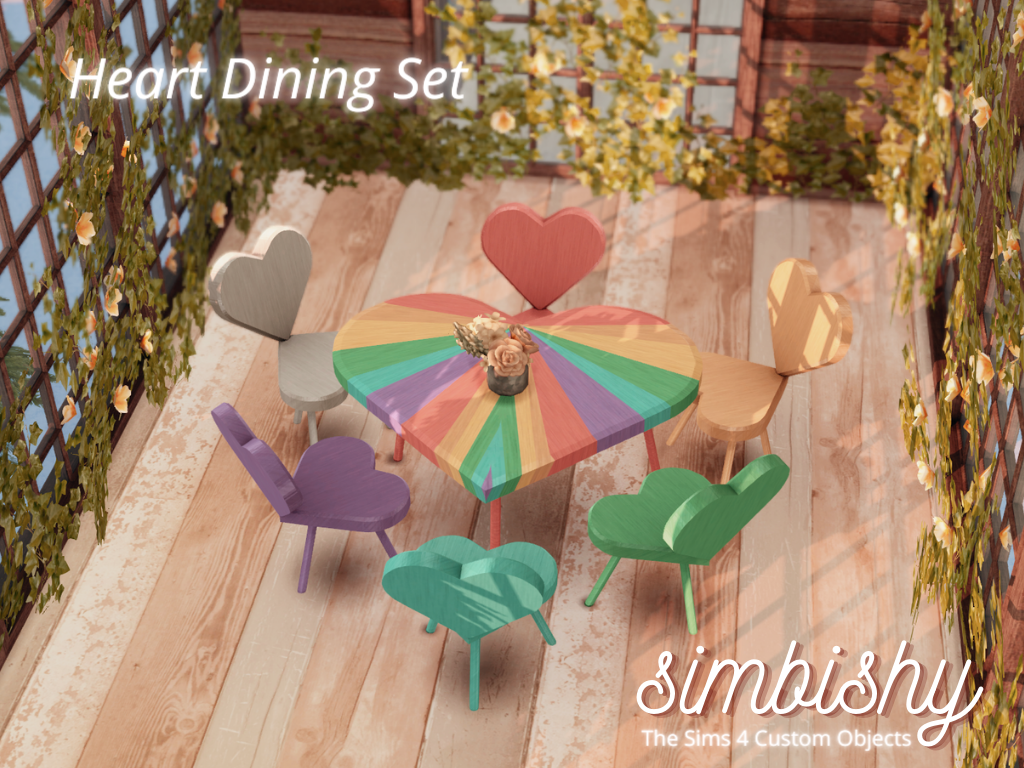 What about the perfect cute dining set? This Heart Dining Set has got you covered!
Nothing is cuter and more fitting for a kawaii Sim home than a rainbow heart-shaped dining table with matching heart-shaped chairs!
The table can fit up to six chairs and six Sims and comes in seven colors. The table can be selected in rainbow or in six solid color options.
The chair comes in six solid colors, including red, orange, green, blue, and white.
This table is perfect for both indoor and outdoor eating, adding a burst of color no matter where you place it!
7. Decoration Dress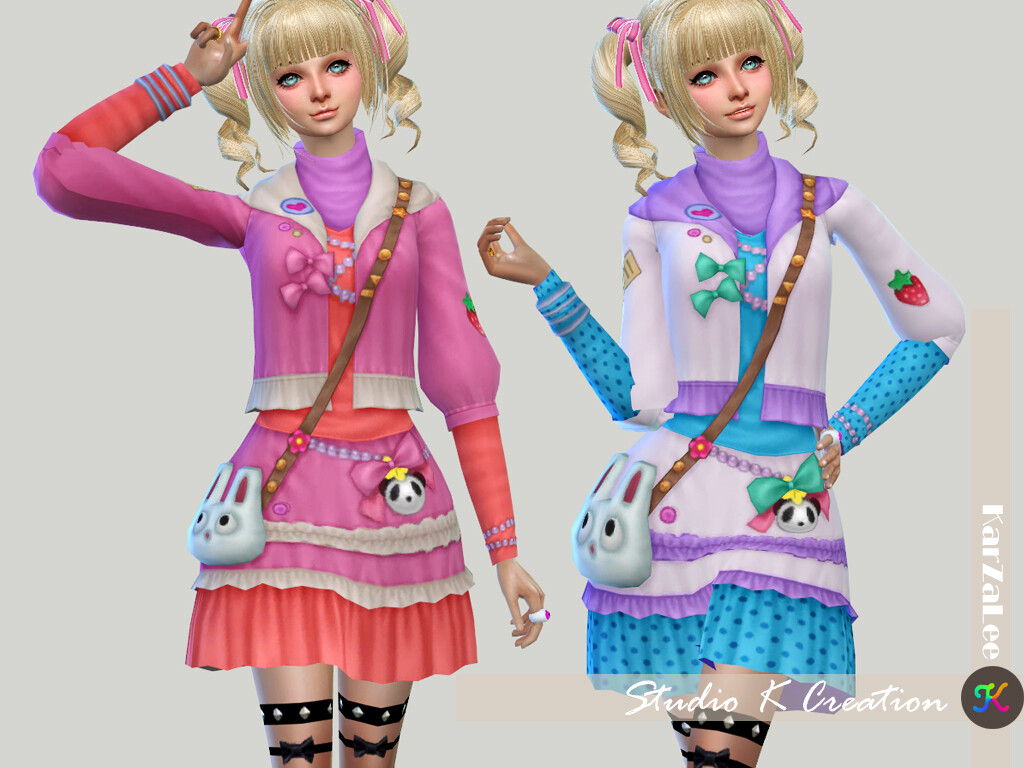 Decora fashion is known as one of the cutest streets fashions in Japan, and you can dress your Sim in it easily with the Decoration Dress!
The Decoration Dress is an outfit CC that includes many adorable items and details, such as a bunny shoulder bag, panda bear charm belt, and multiple bows decorating the hoodie and skirt.
The Decoration Dress comes in 15 color swatches, including bold and dark colors. This full-body outfit would pair well with the shoes featured on this list or any base game flats!
Don't forget about an equally fun hairstyle, which you can find on this list, too!
6. Chunky Boots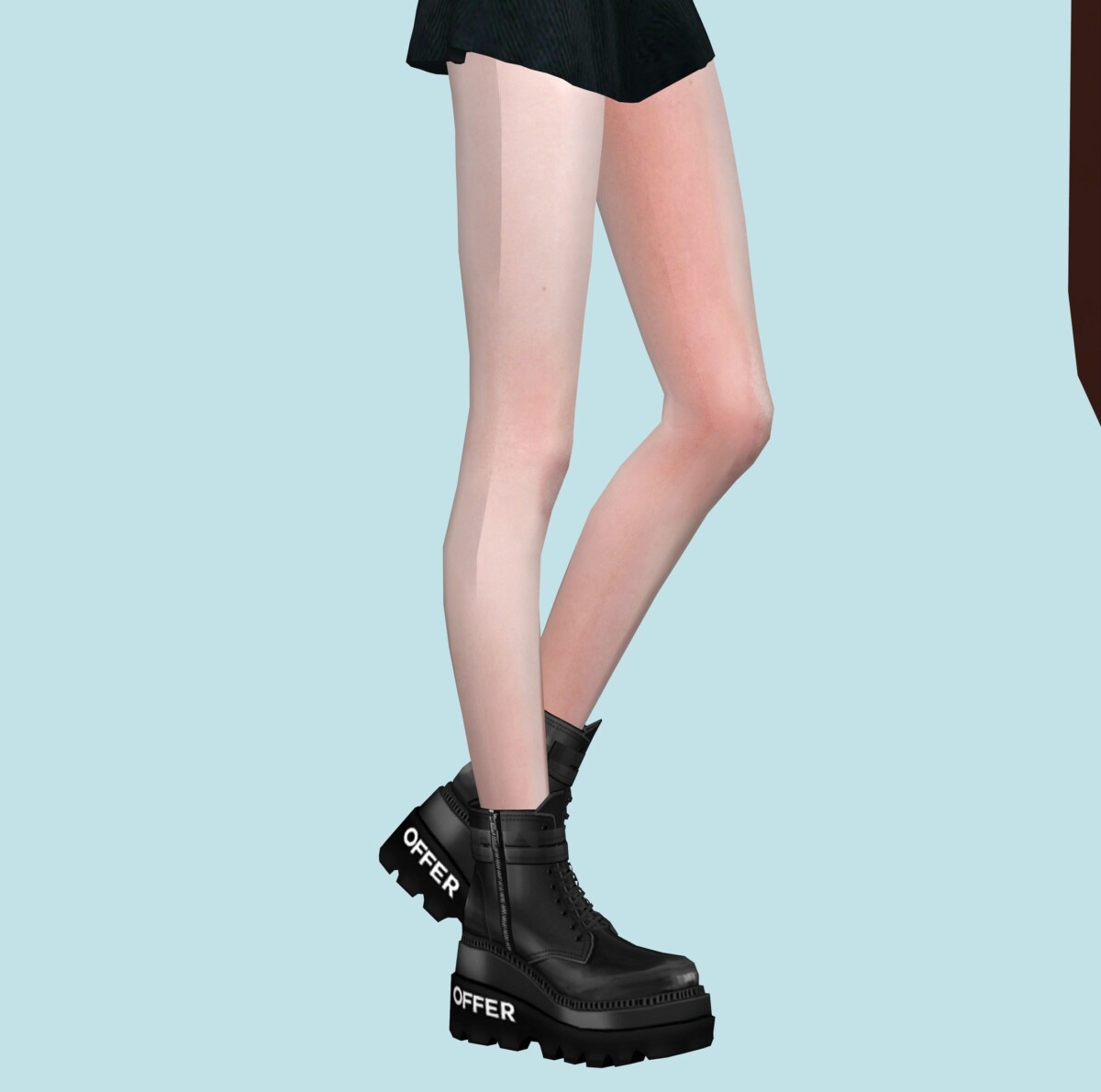 Just because your outfit is cute doesn't mean you can't add a little stomp to it!
These Chunky Boots are a perfect addition to any Sim's wardrobe because of how many colors and patterns they come in.
To fit your Sim's kawaii aesthetic, these CC boots come in hot pink, multiple shades of pastel pink with strawberries and rainbows, and a bold rainbow multi-color option!
For any time that your Sim isn't in full-on cute mode, though, you can choose from the other 11 solid colors or 6 patterned options.
5. Angelic Pretty Strawberry Dress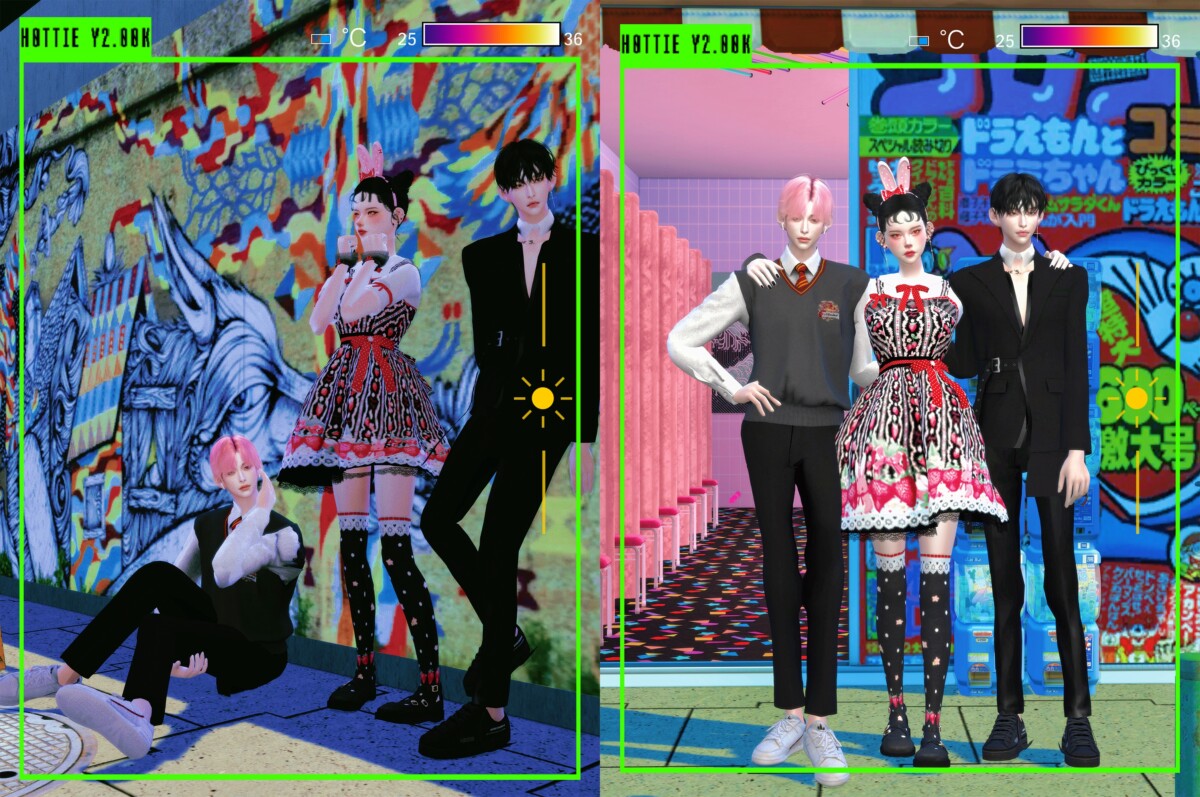 Angelic Pretty is one of the most well-known Lolita fashion brands in Japan, making dresses with incredibly intricate and adorable prints on them.
This adorable CC set includes the Strawberry Bunny dress, wrist cuffs, matching socks, and an adorable set of matching bunny ears.
Similar to the real-life dress, this dress comes in four colorways, including yellow, white, pink, and black.
The Angelic Pretty Strawberry Dress is base game compatible and pairs well with flat shoes, including ballet flats and Mary Janes.
4. Kawaii Stuff Food & Drinks Set
Have you seen the cute aesthetic drink and snack carts before? You can load your Sim's kitchen, pantry, and snack area in their room with the Kawaii Stuff Food & Drink Set!
Included in this CC set are glass bottle drinks, bottles of water canned beverages, bags of chips, and trays of food.
This CC stuff set is perfect for when you are staging photos with your Sims and need adorable food items to decorate the area.
While these items are not functioning items, they can make a room feel more complete.
3. Vanilla Puff Hair Pink Space Buns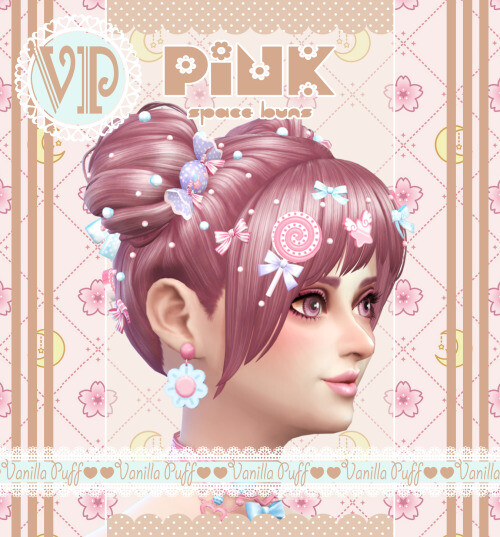 The key to dressing in kawaii outfits is having the hair, too! The Vanilla Puff Hair Pink Space Buns is an adorable up-do that includes bangs and two buns on the top of the Sim's head.
This hairstyle comes equipped with the multiple accessories pictured in the promo photos.
This hairstyle is hat compatible and comes in 24 EA colors, plus an additional 72 colors provided by the creator.
In order to use this CC hairstyle, you will need the Eco Lifestyle DLC pack. Sims from the ages of Teen to Elder can use this hairstyle, too!
2. Kawaii Bear Overalls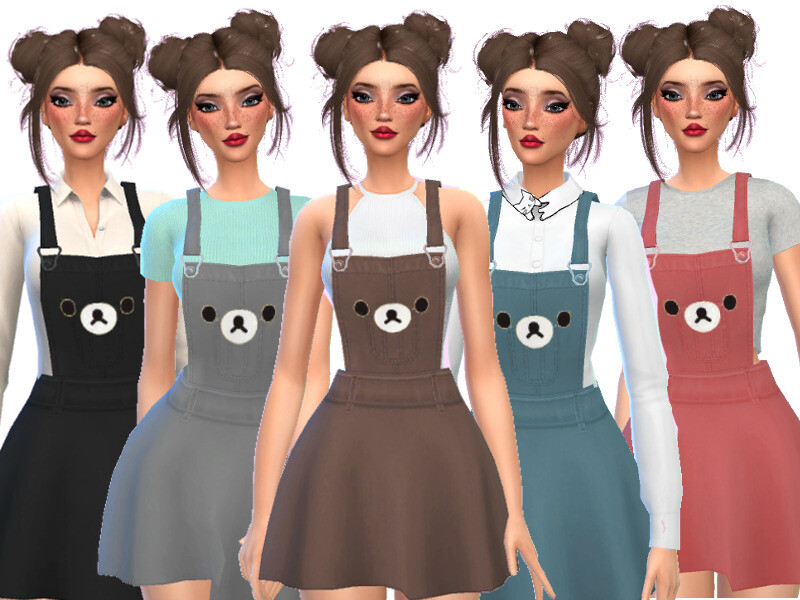 Having that one go-to sweater or pair of jeans that make an outfit is nice, but every Sim should have that one piece of clothing that makes any outfit cute!
These Kawaii Bear Overalls are a great addition to your Sim's closet, as they add the right about of cuteness with any shirt paired underneath.
These overalls come in six colors, including black, grey, blue, red, purple, and brown.
They would look great paired with the Vanilla Space Buns Hairstyle included on this list!
1. Otaku Set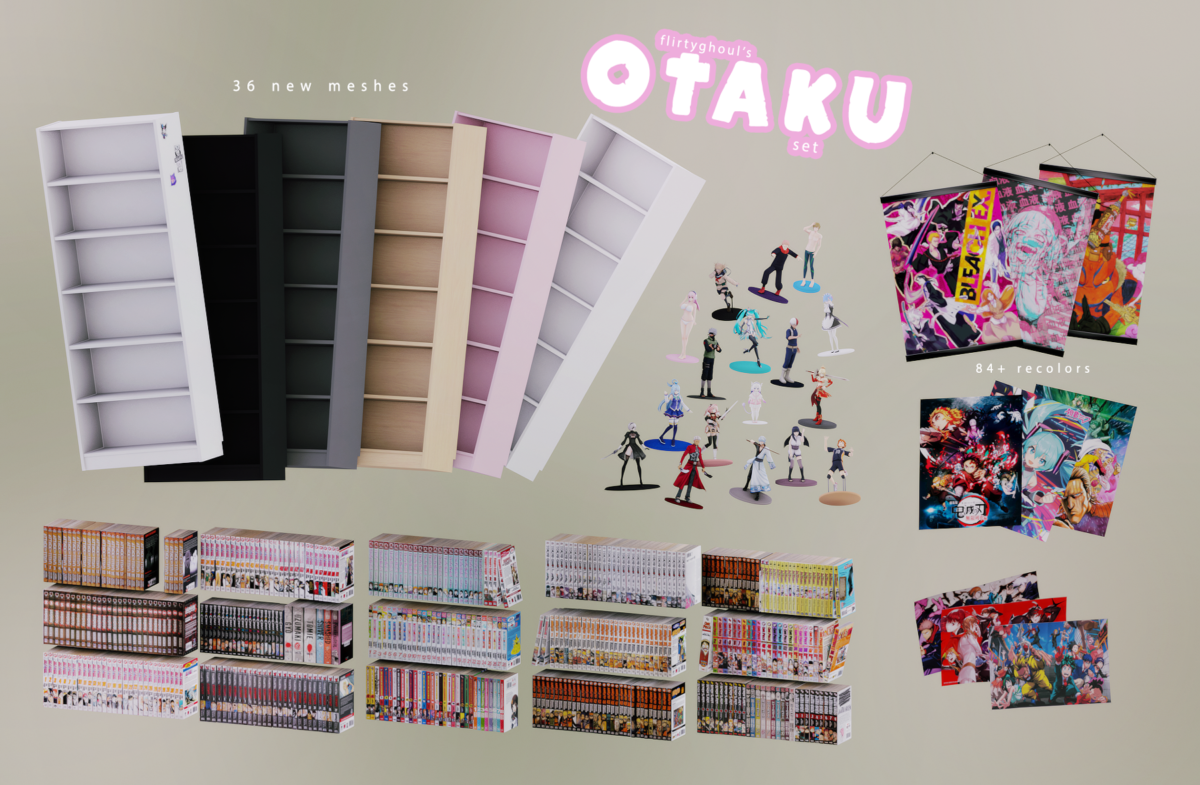 Combined with the Kawaii Stuff CC packs on this list, the Otaku Set is one of the best CC sets to instantly transform any room into your Sim's adorable media room!
The Otaku Set comes with bookshelves perfect for manga and light novels, and the set also comes with a plethora of choices of.
You can also decorate your Sim's room with the anime figures and posters included in this set!
Combined with gaming items, you can easily create a kawaii gaming setup and media room for your Sim.
You might also be interested in the following: