The space where your Sims hang out, bond, eat, relax, and more, their living room should be a comfortable place they can immediately unwind in.
This list includes a variety of living room items and CC sets for every Sim player.
Best Sims 4 Living Room CC
10. Frezizt Modern Living Room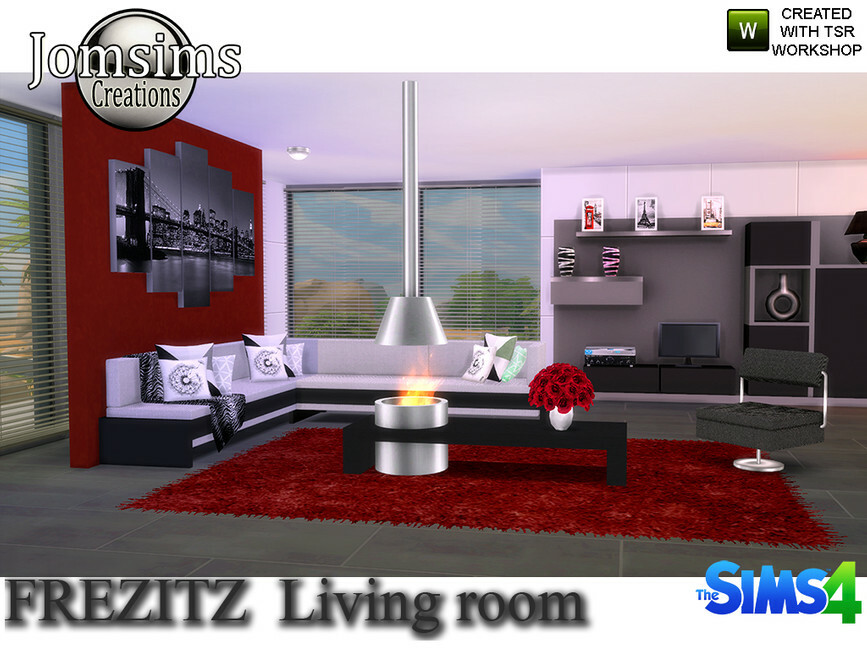 The Frezizt Modern Living Room provides all the comfy sleek, and shiny features one could want in a 21st-century living room!
This living room CC set includes a couch, chair, a fireplace and coffee table combination, multiple pieces of décor, and wall art.
The couch can fit up to six Sims on it, too, making this set a perfect choice for hosting!
This set also comes in multiple color schemes, including purple and tan, red and black, purple and black, and multi-shades of brown.
This is a living room choice perfect for the sophisticated Sim!
9. Vitra Living Room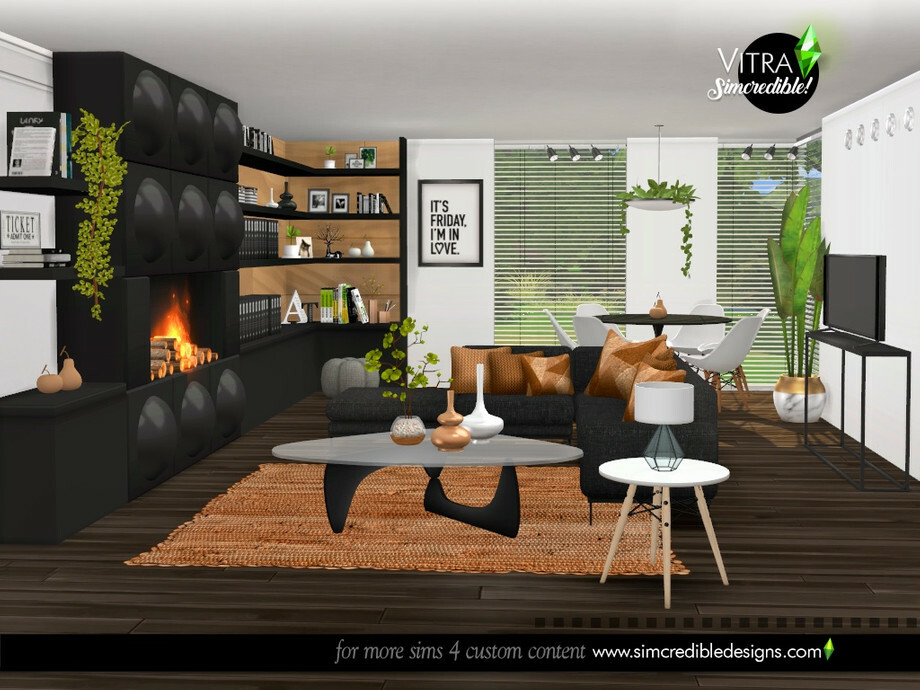 This next living room set is a combination of modern with Scandinavian features, making for a truly interesting style.
The Vitra Living Room CC set includes everything you need for your Sim to be comfortable and then some!
This set includes four couch pieces to make one long L-shaped couch, a stunning fireplace, shelving, and a TV with a stand.
There is also a matching dining set you can download separately, which makes for a great set for an open-concept Sim home!
The color swatches for every piece in this set include light wood, light blue, red, green, and white.
8. Bismuth Living Room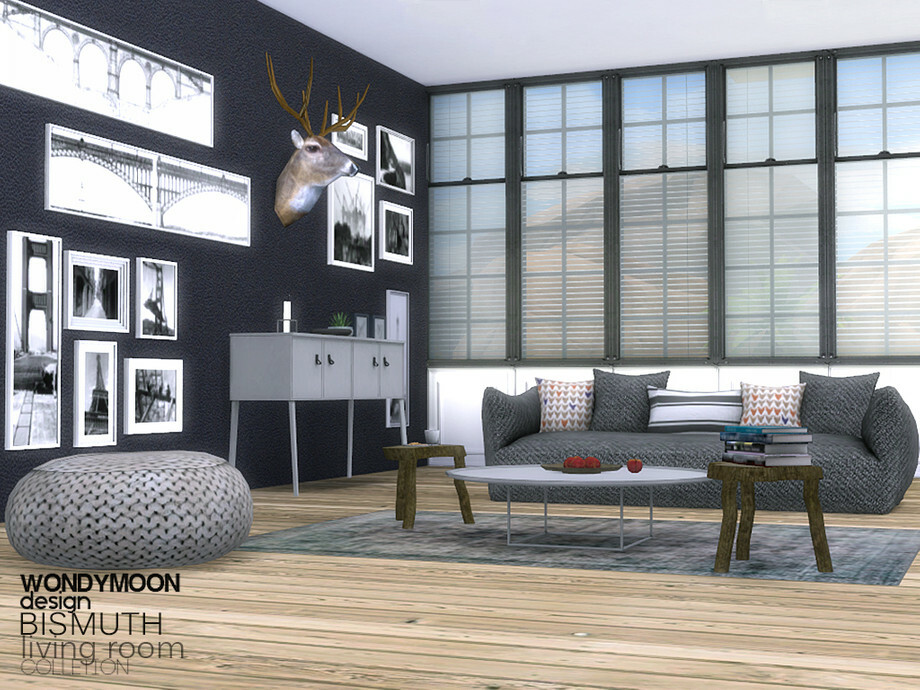 The Bismuth Living Room CC set is a simplistic one that has a strong focus on texture.
This living room CC set includes 12 items, including a couch, living chair, coffee table, cushions, pouf, end table, console table, and more.
The pouf and couch share a similar appearance in texture, appearing as if they are made of thick, woven materials. You can also see the texture details in the couch cushions, as well.
The décor and color swatches in this set share a masculine air to them, making for a striking yet relaxing living room in any Sim home.
7. Nikadema My First Apartment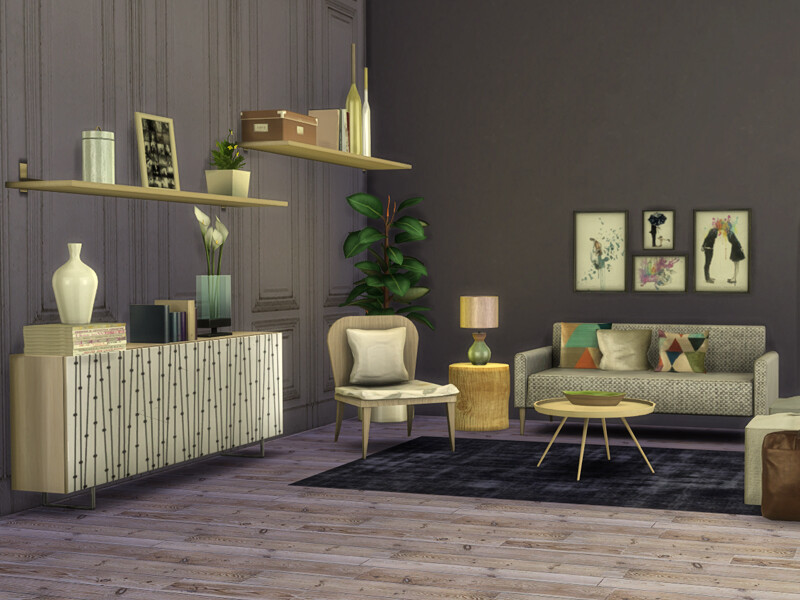 Almost no first apartment is set up with furniture that all matches and compliments each other. That's what the Nikadema My First Apartment CC set is meant to achieve!
This CC furniture set includes 14 items, including a couch, chair, table, poufs, shelving, and multiple pieces of décor.
The pieces all share a neutral, woodsy aesthetic with pops of color found in the couch cushions and wall art.
The MY First Apartment set is truly a great set to download because it can also be paired with other base game items that would be your Sim's first purchases!
6. Ambracio Living Room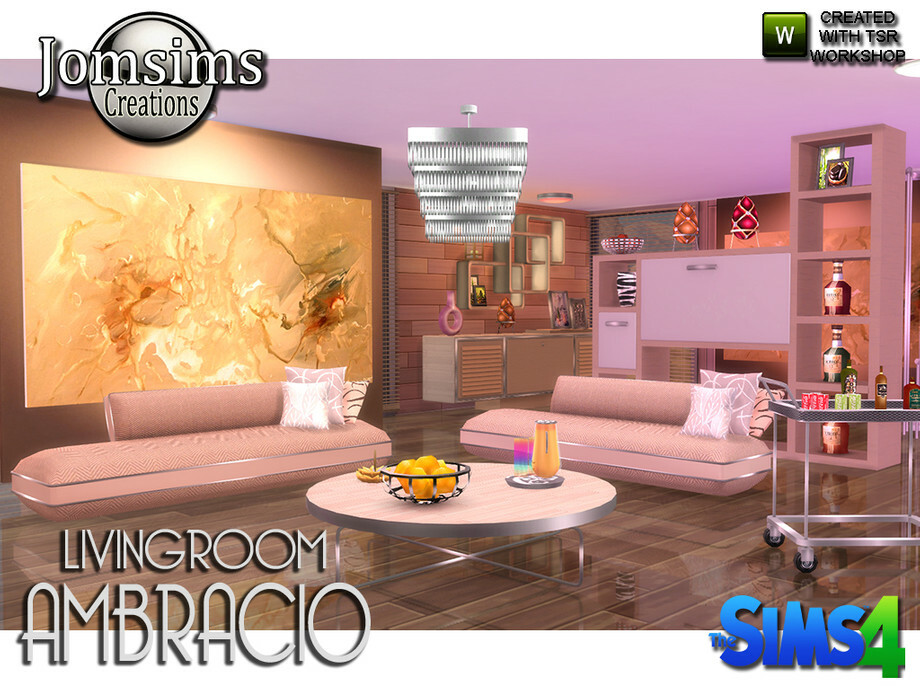 The Ambracio Living Room is an effortlessly luxurious living room CC set to download.
This living room set combines metallic detailing, textures, and rich colors, providing every eye-catching detail you could want for your Sim's home.
This CC set comes with eight items, including a coffee table, sofa, wall art, and multiple pieces of décor, such as a drink cart.
This set is the perfect choice for any Sim that loves to host events in their home, as it provides the right atmosphere for hanging out with friends and coworkers and is perfect for showing off your Sim's Mixology skill!
5. Monaco Living Room
Maybe your Sim isn't into standing out, even in their own home, and they would prefer a living room that doesn't have a lot of metal details like other modern sets.
The Monaca Living Room CC set includes pieces that come in three color swatches: grey, black, and red.
In total, this set comes with 17 items, including a couch, love seat, armchair, tables, bookshelf, TV stand, and more.
The simplistic and complimentary color choices in this set make it easy to mix and match with other sets and base game pieces, too!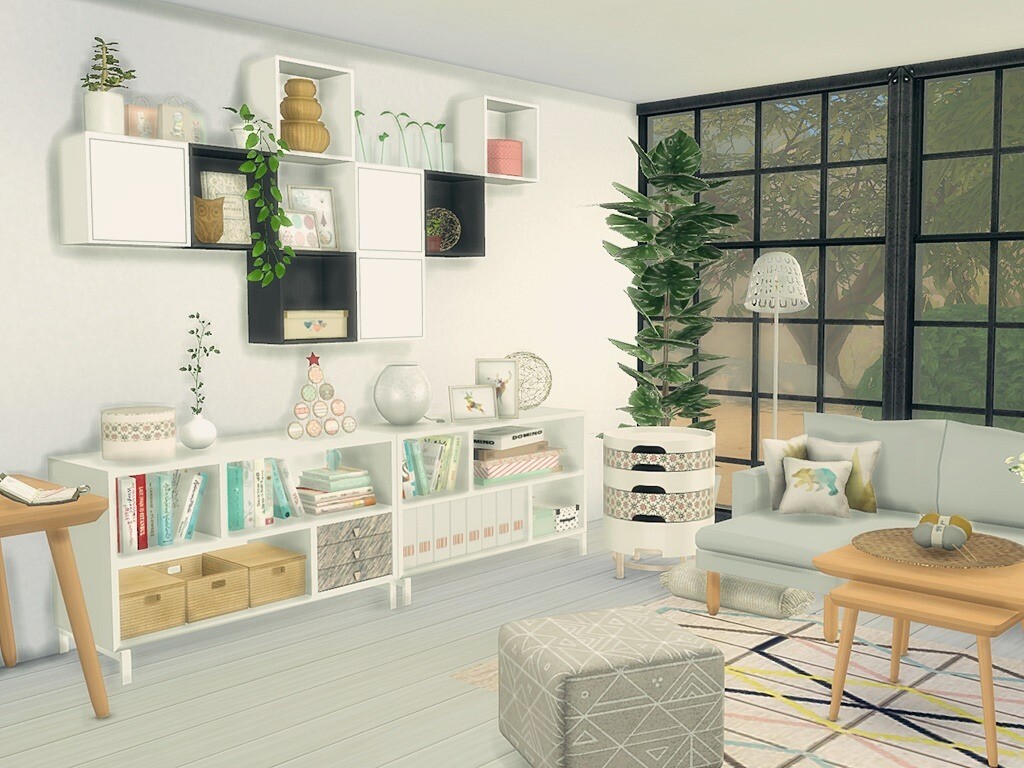 On the other end of the spectrum, if you want a brighter, simplistic living room for your Sim, there's the Lina Modern Scandinavian Living Room!
Unlike other CC sets featured on this list, this living room set doesn't come with décor items, but the simplicity of the colors and designs of the furniture makes it easy to decorate!
This set comes with 16 items, including your basic living room items, but also includes a desk and office chair so that your Sim can work and play on their computer in the comfort of their living room!
3. Prinzen Strasse Villa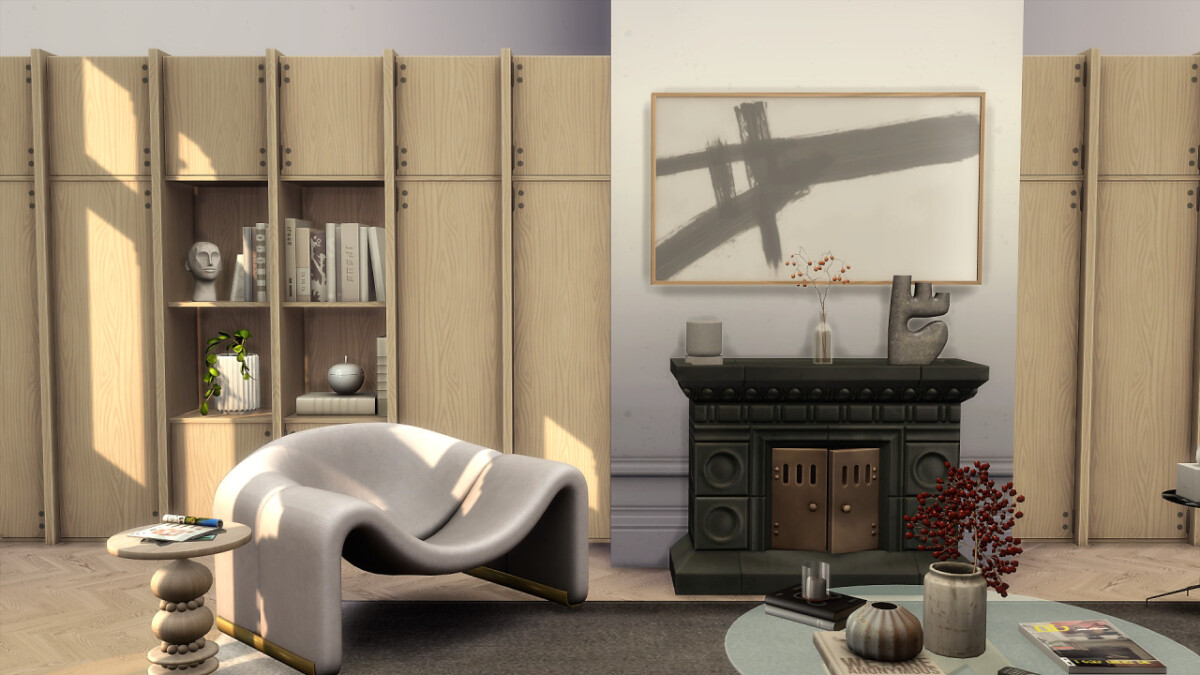 Taking a step away from simplicity, the Prinzen Strasse Villa living room is full of rich details and pieces that are often found in high-end interior design magazines!
The Prinzen Strasse Villa is actually an entire house you can download for your Sim to live in artsy luxury and includes a stunning dark academic living room.
The rounded couches, wooden storage compartments, and touches of metal detailing are only a few examples of what makes this large living room and Sim house one that you will want to have!
2. Galet Living Room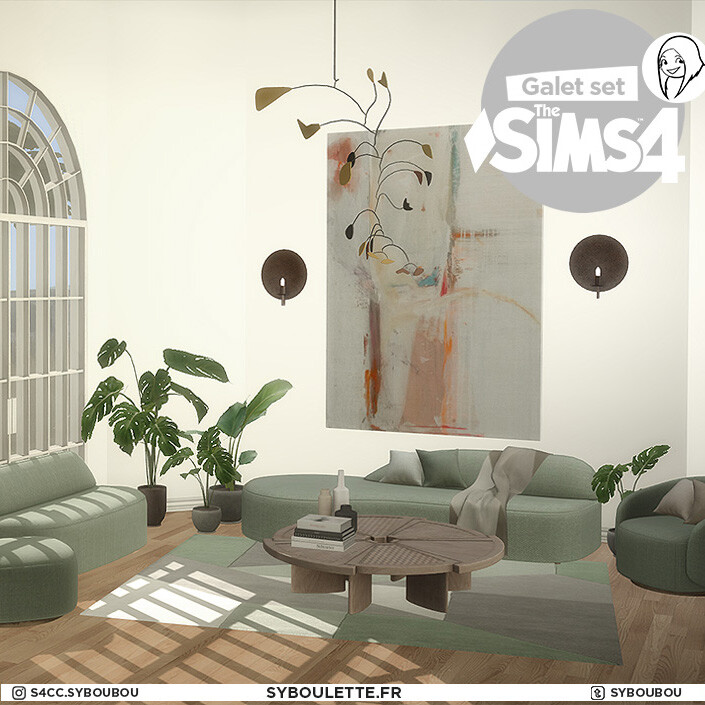 Want a combination of calming neutrals and modern design? The Galet Living Room provides both with rounded couches, wooden details, and earthy color tones!
The Galet Living Room includes a couch, coffee table, rug, plants, some décor pieces, and more for a total of 18 items.
There are eight color swatches in total for you to pick from, including black, grey, white, sage green, mustard yellow, and shades of blue.
This is an effortlessly modern and earthy set that would make any Sim's living room feel like a personal sanctuary.
1. Mid-century Modern Living Room Set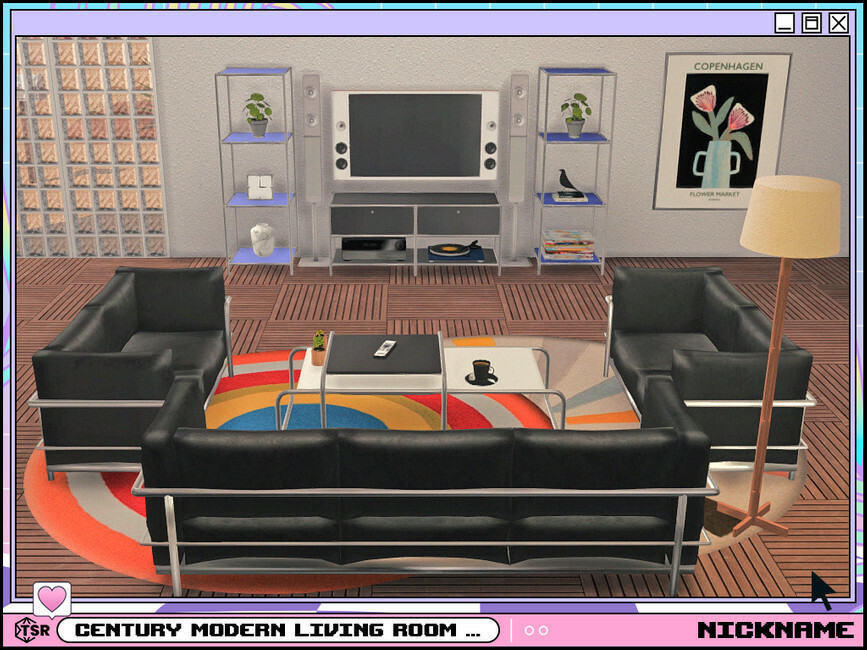 For Sim players who want their Sim to have a classic Rockstar-Esque living space, the Mid-Century Modern Living Room Set is the CC set to download.
This set includes a great mix of leather, metal, and bold colors for an inviting yet slightly edgy space.
This living room set includes a couch, armchair, rugs, coffee table, TV stand, and more.
Pairing this set with a dark color scheme and surrounding it with musical instruments can turn your Sim's living room into a musician's paradise!
Alternatively, you could combine this set with softer colors for a "sugar and spice" aesthetic.
You might also be interested in the following: