Create a royal family in The Sims 4 with this list of royalty CC! Every royal person needs to look and live the part to truly feel like royalty, so we've compiled a list that includes house CC builds and clothing CC items!
Best Sims 4 Royalty CC
10. Princess Margaret Pack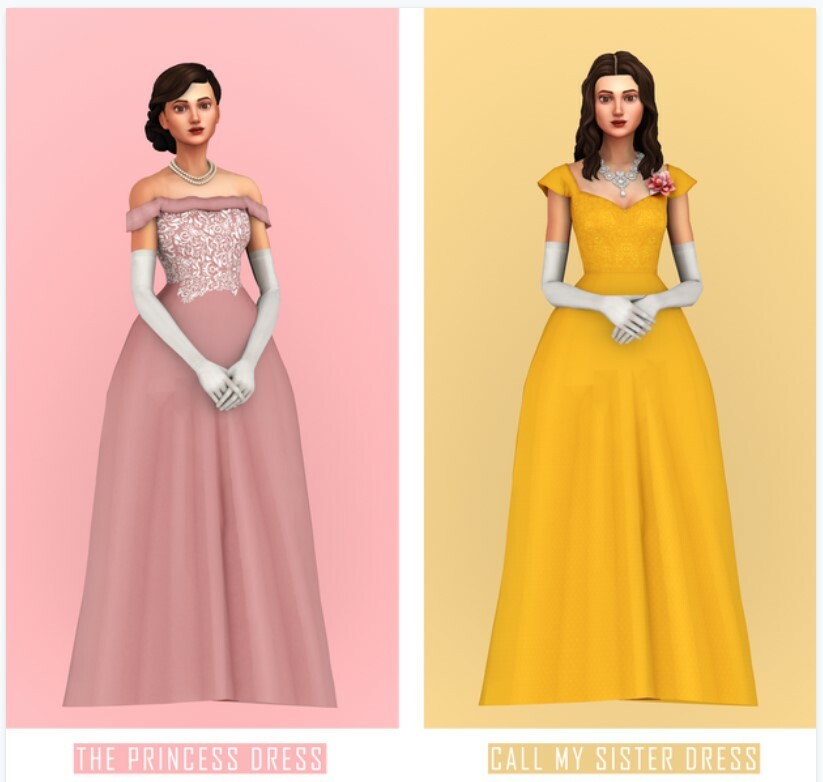 The first step in becoming a royal is to look like a royal, and that's what the Princess Margaret Pack is meant to achieve!
The Princess Margaret Pack is a CC pack made by BatsFromWesteros and includes two dresses and a necklace.
The first dress is the Princess Dress, which is off-the-shoulder, floor length, and comes in 17 color swatches.
The other dress is called the Call My Sister Dress which is also a floor-length gown, but with the gown straps actually sitting on the shoulders with a flattering neckline. This dress comes in 16 color swatches.
9. Ceremonial King Outfit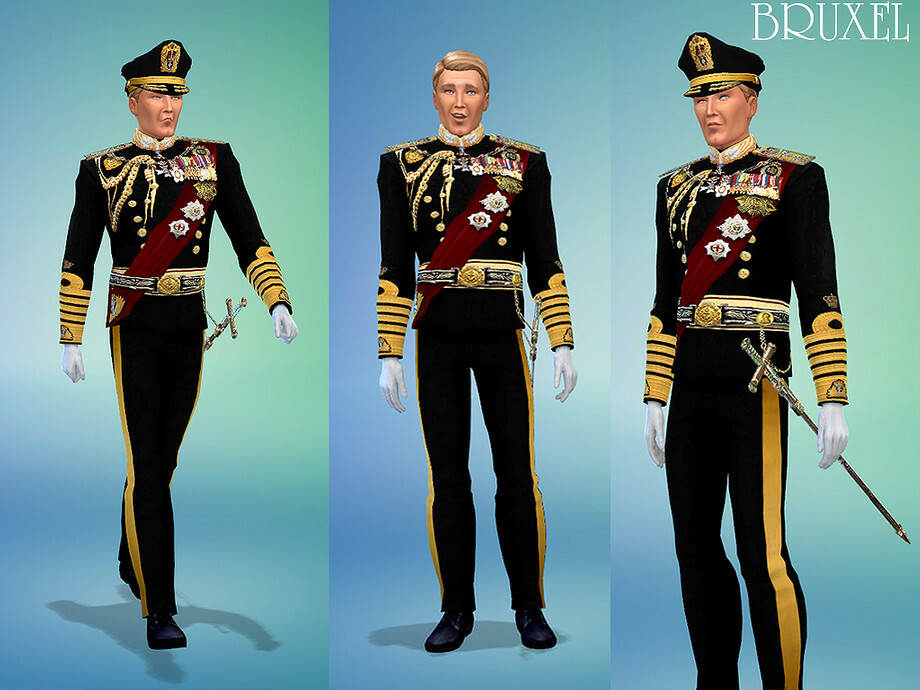 Being royalty doesn't mean you need to dress the part every day, but for some Sims, showing off their wealth, status, and power is one of the perks!
The Ceremonial King Outfit is a flashy suit, complete with a sword strapped to the hip and a matching military-style hat.
The whole outfit is quite formal, but who could resist showing off all the medals and symbols of honor attached the collar and lapel of this suit?
The golden accents featured in this outfit are just as stunning, too!
8. King George Collection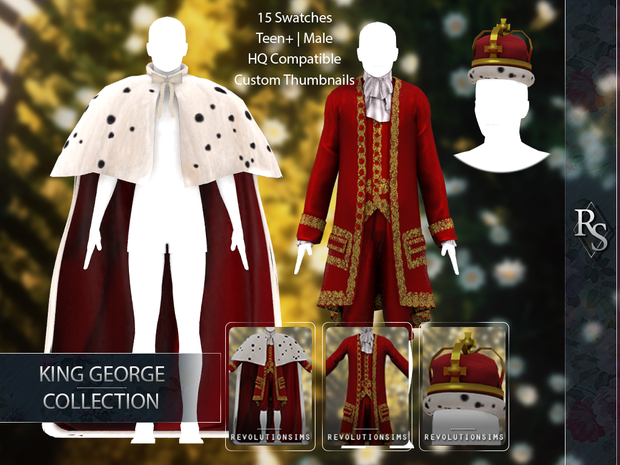 Looking for flashy but not military style? The TS4 King George Collection is a great set to have for your royal Sim.
The King George Collection includes several pieces that are trademarked to King George's reign as king.
This CC set includes a cloak, a full-body outfit, and a crown, all inspired by the real outfit that King George was known to wear.
The cloak features a large fur-lined collar and is floor-length, coming in 15 colors swatches. The outfit includes pants, a shirt, and a jacket, and it also comes in 15 color swatches.
The crown shares the same fur lining as the cloak and comes in 15 color swatches.
7. 2000 Followers Gift Pack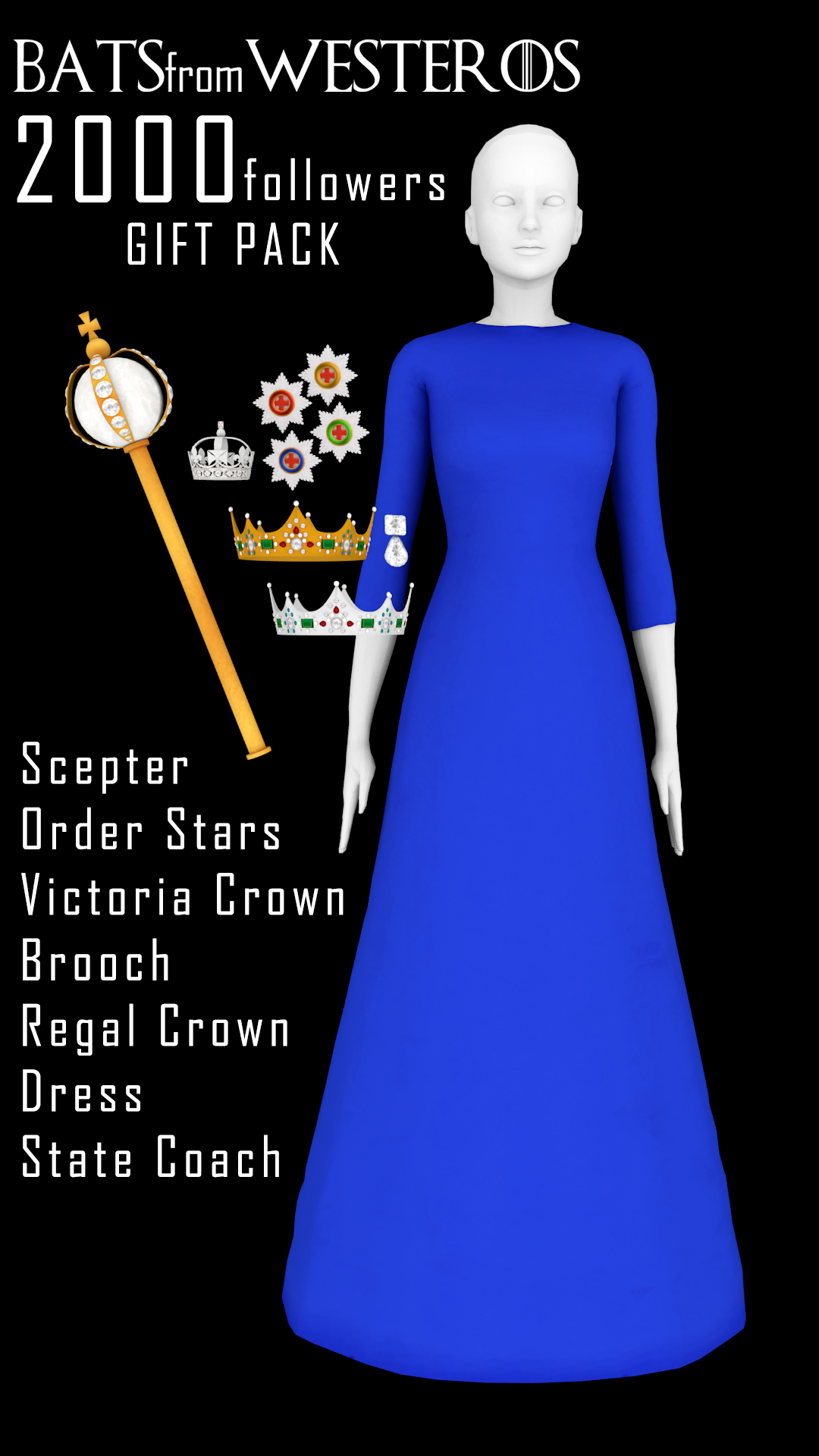 Need a coronation set for your Sim's special day? The 2000 Followers Gift Pack is a full outfit set.
Complete with a crown, ceremonial scepter and jewels, and a stunning gown, your Sim will be instantly ready to smile and wave to the public as they are crowned royalty.
The best part of this set is that it also comes with a Coach, so your Sim can travel in true royal fashion. This set is also heavily inspired by England's crown jewels.
6. Imperial Sim Crown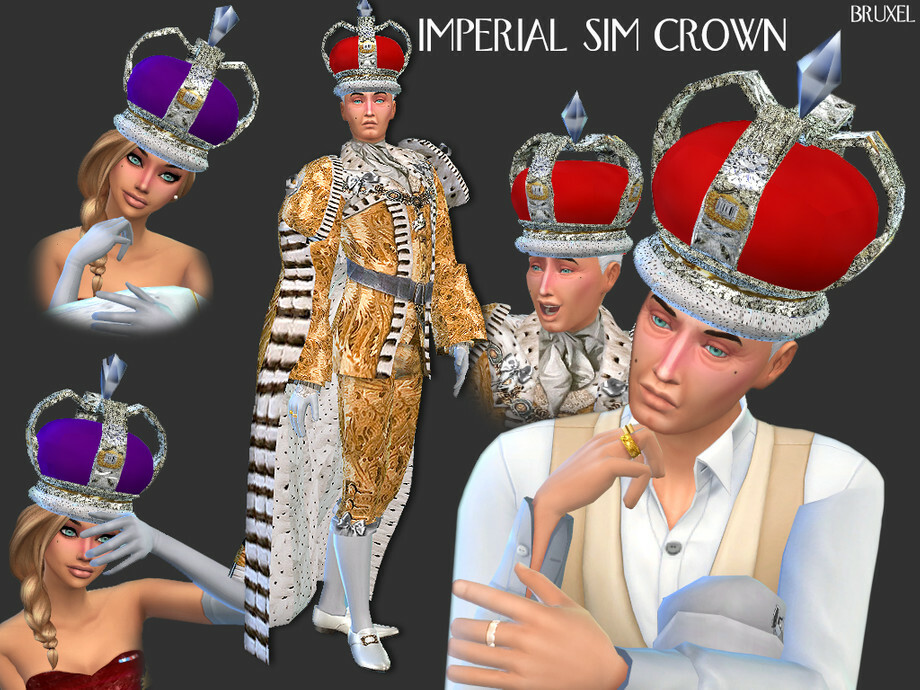 Want a crown that packs more of a visual punch when other Sims see your Sim? The Imperial Sim Crown is the crown CC to download, then!
The Imperial Sim Crown is heavily inspired by the royal crown, worn only for special occasions by the English monarchy.
This crown is quite large as it sits right on top of your Sims head. It's shown in both purple and red, with silver detailing and a silver PlumBob on top.
In order for this crown to work, though, you will need the Get to Work DLC pack.
5. S-club Swan Tiara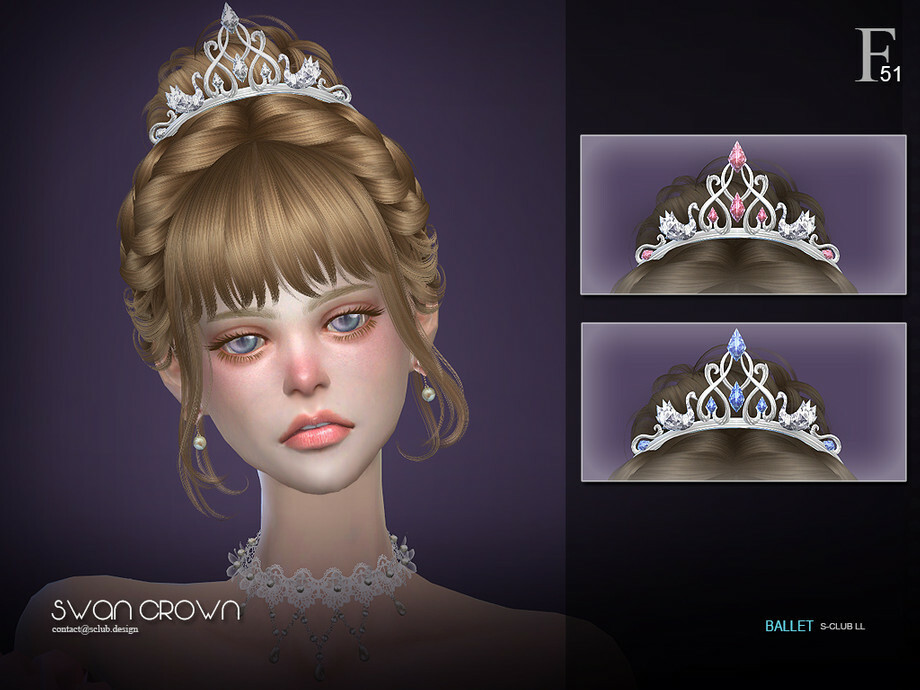 If a crown that covers the entire top of your Sim's head isn't exactly the image you want them to have, then maybe this S-Club Swan Tiara will do the trick!
The S-Club Swan Tiara is a beautiful small crown that sits on the top of your Sim's head, towards the back slightly.
It looks especially beautiful when your Sim has an up-do hairstyle equipped.
The Swan Tiara comes in three colors, white, pink, and blue. Each color swatch has the same silver crown but with different crystal colors.
4. Cinderella's Castle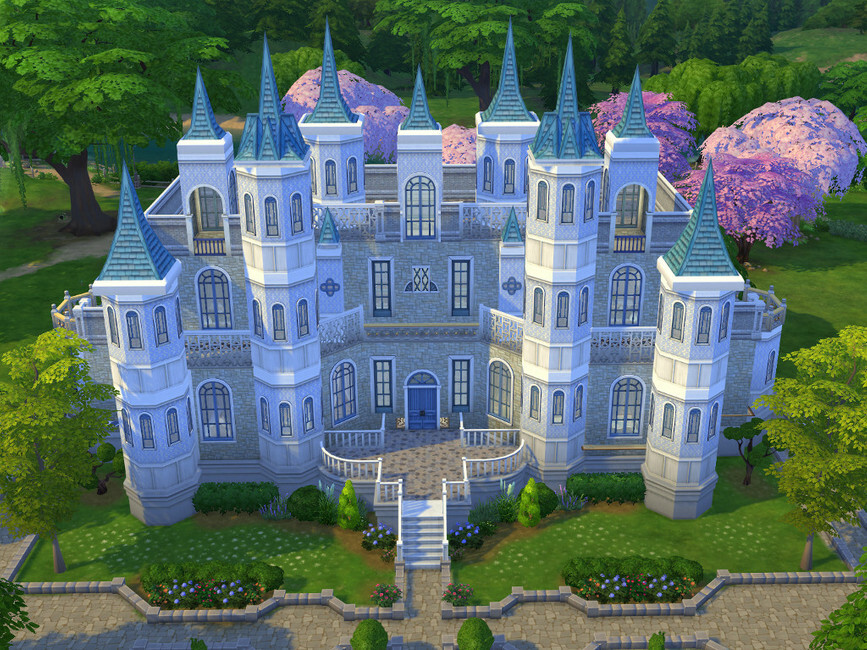 Fairytale castles have been a long-standing standard for what everyone imagines a royal castle to look like.
Whether you were a fan of the original movie or story, this Cinderella's Castle CC build is a must-have!
Cinderella's Castle is a three-floor castle-like home with five bedrooms, three kitchens, a formal dining room, among many other designated rooms throughout the build on the 50×50 lot.
Most of the castle is designed using blue-colored objects, with most of the exterior being blue as well. Your Sim can buy and live in this stunning castle for 271,000 Simoleons.
3. Beauty & the Beast Castle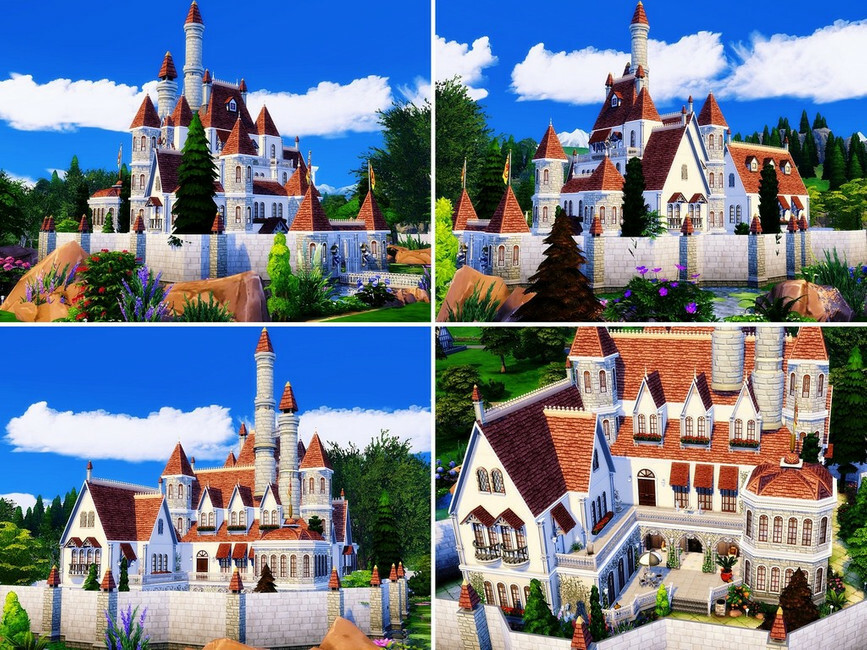 If Cinderella isn't your preferred fairytale, maybe Beauty & The Beast is! The Beauty & The Beast Castle CC build is another stunning castle option for your royal Sims to live in.
This castle build is built on a 64×64 lot and is placed in Windenburg. It has 4 bedrooms, 3 bathrooms, 2 living rooms, and a large kitchen with a dining area included.
The exterior is built to look like the same castle featured in Beauty & The Beast, including a wall surrounding the castle and multiple towers.
Fully furnished, this beautiful castle costs 630,733 Simoleons
2. Pearl Palace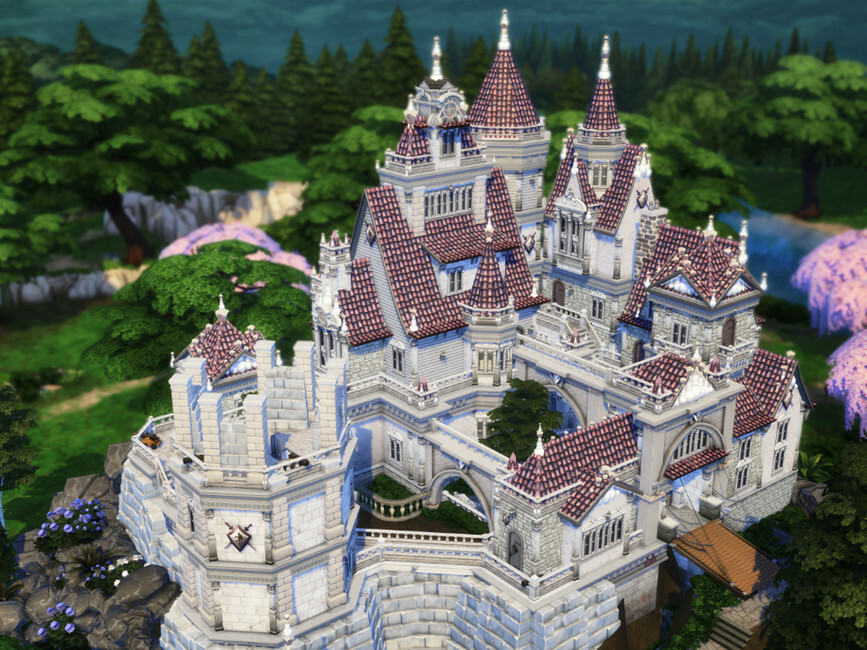 This wonderfully crafted palace doesn't actually use CC! The Pearl Palace is a gigantic build that looks angelic in the daylight and delightfully mysterious in the nighttime.
There are several rooms throughout this build, including multiple bedrooms, dining rooms, a kitchen, lounge and recreational rooms, and more.
The creator has noted that they left some rooms empty so that you could easily create specific rooms.
A lot of the rooms featured in the promo photos use a green color scheme with lots of hardwood details. The Pearl Palace truly captures a classic royal aura!
1. Royalty Mod
Dressing the part and living in a castle is a great start to acting like royalty, but your Sim can become legit royalty with the Royalty Mod!
With this mod, you can assign royal roles to Sims, including various traits.
Some of the traits include Crown Royal, Despised Royal, Lady In-Waiting, Illegitimate Heir, and more.
The mod also assigns classes to Sims automatically, based on various conditions, including their lot value, household cash, or a combination of the two.
You can download whichever version of the mod based on how you want to the classes assigned.
You might also be interested in the following: