The "Simulator" genre has been getting a lot more traction in recent years. It's still not what one would consider "mainstream," but many of the best ones have been carving out their niches with their devoted followings.
One of these is American Truck Simulator, developed by the Czech company SCS Software, known for their Truck Simulator series.
This one takes players across the United States delivering cargo in American-style trucks and landscapes.
Since its release, the game has sold over 2 million copies, this has lent to the creation of a very solid modding community around ATS, with around 5,000 mods for it on the Steam Workshop alone.
Best Ats Mods
33. Los Angeles Ferry Port

Imagine cruising down the open highway with your semi-truck, heading to an exciting new destination.
You 've got a full load of cargo to deliver, and you can t wait to get there.
As you approach the coastline, you spot something that instantly sets your heart racing: a bustling port bustling with ships and other trucks like yourself.
This is no ordinary port; it's the Los Angeles Ferry mod for American Truck Simulator, which allows you to easily access other custom maps you have installed, like Honolulu, Havana, and Hilo.
32. Seattle Seahawks Truck Skin

This is definitely the best ATS mod for any big Seattle fans!
Boasting one of the toughest defenses in the league and an MVP-caliber quarterback, they're definitely a team to watch out for this season.
So if your truck could use some serious gridiron swagger, then check out this awesome mod for American Truck Simulator.
It adds a Seahawks-themed skin that features both the team colors and logo, letting you ride in style while kicking some serious tail on the road.
31. Montana Expansion

There's just something about driving across the vast, rugged landscape of the American West that really draws us in.
This mod adds tons of new detail to the already gorgeous Montana countryside.
With Montana Expansion, you can more fully explore every little nook and cranny of this amazing state. The mountains feel even more majestic, and you can see for miles across the valley below you.
Plus, with all those rivers and streams flowing through the gorgeous forests, there are so many beautiful scenes to take in as you drive along your route.
30. Fontaine Phantom Trailer

Hey truckers, looking for a sleek and stylish addition to your rigs? Look no further than the Fontaine Phantom trailer!
This state-of-the-art trailer features a vibrant neon green color that makes it hard to miss on the highway.
Not only does it look cool, but it can haul just about any type of cargo. So what are you waiting for?
Add this eye-catching trailer to your already formidable fleet and hit the open road with confidence!
29. Real Emergency AI Pack

When it comes to gaming, realism is one of the most important factors for us. After all, what's the point of playing if it doesn't feel real?
That's why we absolutely love mods like the Real Emergency AI Pack for American Truck Simulator.
This American Truck Simulator mod adds computer-controlled emergency vehicles to the flow of traffic, adding an extra layer of realism and excitement to the driving experience.
Whether weaving through heavy traffic or navigating along back roads in search of something different, these carefully designed emergency vehicles are an exciting addition that helps make every drive a memorable one.
28. Peterbilt 389 Cabin

When it comes to customizing your truck in ATS, we can't get enough!
Whether it's swapping out different parts or adding a new trailer, there's always something to try out and make your truck feel more like your own.
The hard edges and classic styling of this retro truck instantly drew us in, and we knew right away that this was going to be one of our new favorite mods.
With its shiny black paint job, winged details, and two stunning interior finish options, this mod really takes your driving experience up a notch.
If you're looking for an awesome way to personalize your ride in ATS, then look no further than this amazing Peterbilt 289 cabin mod!
27. Frosty Winter Weather

Frosty Winter Weather does exactly what it says on the tin; it simulates winter.
This mod works by transforming regular roads and highways into icy, snowy streets with low visibility, creating a challenging driving experience that really tests your trucking skills.
With judicious use of brakes and gas, you can carve endless arcs through the icy terrain and feel your heart racing with excitement as you skim along on a smooth layer of ice.
When the weather gets cold and things get slippery and white, trucking gets hard. Experience the tough winter conditions that truckers face every year.
So buckle up, hold on tight, and get ready for the long haul of your life!
26. Spain Radio Stations

This mod adds more than 50 different radio stations from Spain to the game, making it easier than ever to listen to some of your favorite Spanish music as you travel the US.
Whether you prefer fast-paced pop songs, traditional flamenco tunes, or anything in between, this mod is sure to have all your musical needs covered.
Hit the open road and start truckin' with some truly world-class Spanish music fueling your trip! You won't regret it. After all, when it comes to trucking mods, this one's definitely a keeper!
25. Real Companies, Gas Stations, and Billboards

Due to legal reasons, the developers of ATS couldn't have included actual brands and company logos, but mod-makers aren't required to follow such rules!
With the Real Companies, Gas Stations, and Billboards mod, you can increase the level of immersion and realism in your ATS game file.
This mod will change all brands and logos in the base ATS game and switch them out for real names, including Walmart, Amazon, NAPA, and many others. You will notice real billboards and gas stations as you drive.
This mod also changes road signs and other smaller details, making this a great mod for realism.
24. Smarty's Wheel Pack

This mod provides a wider variety of wheels and tires for enhanced customization and upgrade possibilities.
Each type also affects performance of your truck, which can affect how well you drive in different weather patterns and overall performance on the freeway.
The tires and wheels included in this Smart's Wheel Pack mod is based on real-life brands, including Goodyear, Michelin, Continental, Accuride, and Alcoa.
The creator has also included a note stating that you will need to keep this mod at a higher priority than the others mods listed on the Steam Workshop page.
23. Misguided's Realistic Weather

This is a mod that pairs well with other realistic mods, such as the Actual Day/Nighttime mod. Misguided's Realistic Weather mod provides exactly as the name states: realistic weather patterns to make the game more of a challenge.
This mod increases the amount of rain spatter that appears on your truck's windshield, making it more difficult to see in times of severe storms.
The creator paid special attention to also making the rain spatter more detailed, including trickling special effects.
This mod is a perfect addition for players who want the truly immersive experience of challenges that all truck drivers experience in America.
22. Actual Day/Nighttime Mod

As the name states, the Actual Day/Nighttime mod changes the way time flows in ATS, making for more realistic days and nights.
This is also according to how long days and nights last according to the time of year, so summer months will have longer days, whereas winter months will have longer nights. But don't worry, this isn't always the case based on what your location is in-game.
The creator makes a point to mention that the game works based on permanent daylight savings time and recommends disabling this setting for the best immersion effect.
For reference, the longest in-game day lasts 14 hours, and the shortest day lasts about 10 hours.
21. Dowl's High-resolution Skyboxes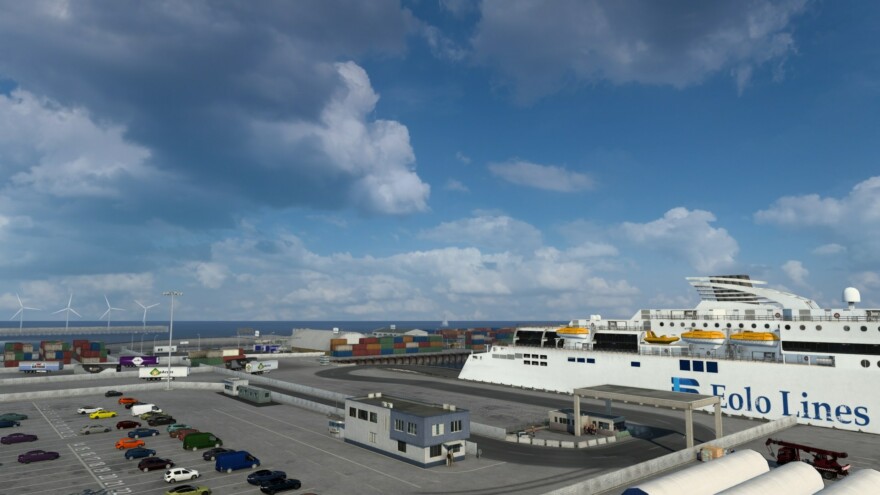 In line with making the game look prettier through visual enhancement mods, DOWL's High-Resolution Skyboxes upscale the base game skybox textures making them four times larger.
It contains 6 new skybox textures, which help to improve the visual clarity of the sky.
The modmakes your travels just a bit more aesthetically pleasing as the sky takes up quite a bit of your vision while driving. No more tearing and pixelated skies as you drive through the country in your wheels of choice.
20. High-quality Construction Props

High-Quality Construction Props is a mod that replaces some of the default construction props (that were more in a European style) with high-quality props that have custom models and textures that are more appropriate to the roads of the United States.
The mod is great in giving a feel of traveling around the US countryside with its old-fashioned construction props.
Yep, you're going to be learning what signs look like in the US if you're not from there.
19. New Mountain Textures

We've covered visual enhancements of the sky and the flora, now let's move on to improving the terrain itself. New Mountain Textures is a mod that replaces the mountain and terrain textures in your game.
This mod has a good diverse amount of retextures from the sandy deserts of the west coast to the rolling fields of the midwest.
You won't get bored in your truck adventures across the countryside as no two mountains are the same!
18. Enhanced Vegetation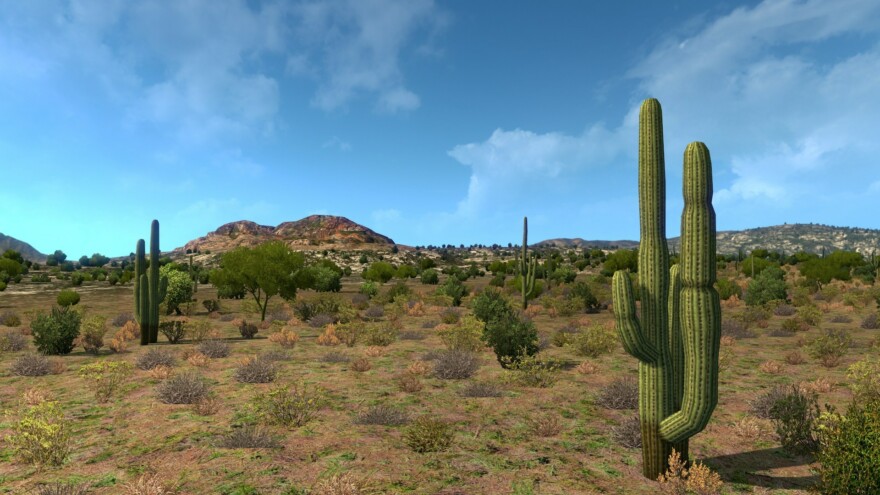 Part of the appeal of driving cross-country in American Truck Simulator is appreciating the beautiful landscapes as you zip through the highways that cut through the United States, which has some of the most varied landscapes in the world.
Enhanced vegetation looks to replace the vanilla vegetation textures with higher quality ones with more saturated colors and some new vegetation models and textures.
Peep out the window to snap a couple of cool pictures with different and fresh natural elements on the map.
17. Easy Weather Mod

For all the other weather effects other than rain, you can check out the Easy Weather Mod. This mod adds more weather types to the game giving more variety to your gameplay as you traverse the open road.
Some of the weather types added include cloudy weather, windy bad, and nice, foggy weather, and much darker nights, making it a bit more realistic.
16. Assorted Cargo

Variety is the spice of life, and Assorted Cargo spices up your game by adding, wait for it, Assorted Cargo. This mod includes a large range of different items in the cargo market for you to ship around.
The mod comes with 140 new cargo items, all with different weights, just waiting for you to haul them. The items added can be hauled by curtainsiders, dry vans, or reefers.
15. Municipal Police Traffic Pack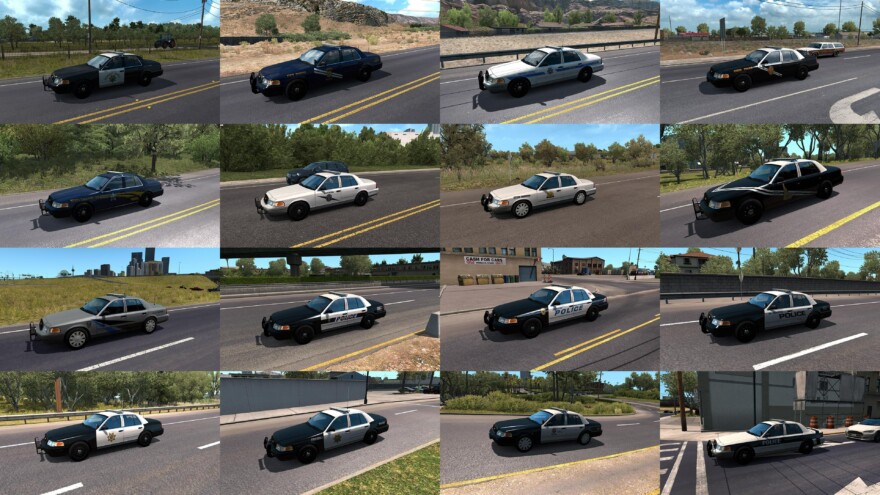 More on the topic of representing the real world in-game, the mod Municipal Police Traffic Pack does that by representing the police liveries and patrol car colors and designs of several state and city Police Departments in the USA.
The states affected by this mod include Arizona, California, Colorado, Idaho, Oregon, New Mexico, and Utah.
This also affects police cars added by the Special Transport DLC, although the base game Taurus can still spread in the random event accident. This should also work with any traffic density mods.
14. Complete North American Background Map

Besides the outdoors, there is quite a bit of improvement that can be made to the UI of the game. For example, one of the things you'll be looking at a lot is your map, and Complete North American Background Map can make that look a bit nicer.
It is a mod that adds a high-quality background map to the game that covers all of North America. The map is a great visual aid to help you locate yourself and track your destination.
13. Cold Rain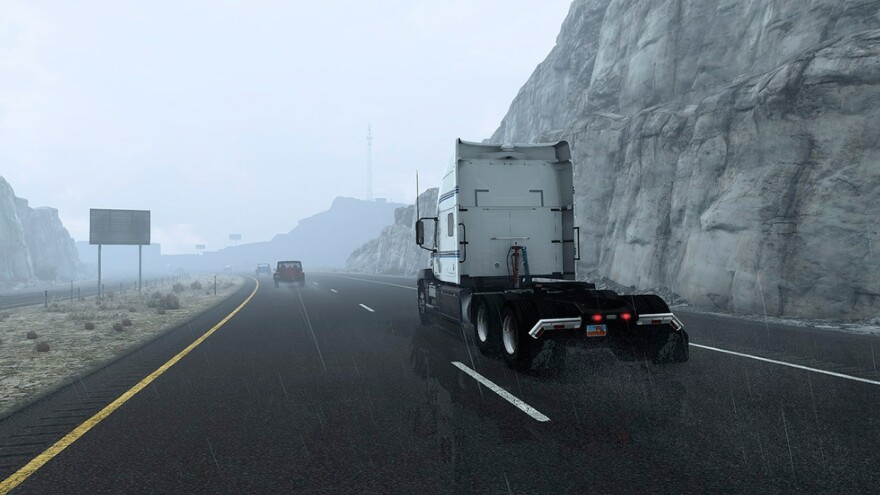 Weather effects can do a lot to set the mood. Cold Rain does that by modifying the rain effects and intensity.
Some of the features of this mod include better raindrop textures, effects of rain on windshields, wet effects on vehicles and roads, better rain sounds, better thunder sounds, and increased raindrops inside the cabin.
There are a few add-on mods with this that you can get if you're looking to increase the rain's intensity and its density. Cold rain gives you a realistic feel of how rain usually is in real life inside the game.
12. Real USA Diesel Gas Prices

Providing a realistic experience is a huge part of the appeal of simulator games (at least in the ones that are not parodies).
Sometimes this applies to things that we consider inconveniences in the real world because it makes it just that bit more realistic. If that's your thing, then you should check out Real USA Diesel gas prices so you can complain about gas prices in-game too.
This mod changes the diesel prices in-game to be the same as the real average prices per state in the USA. Note this may not be exactly like they are in real life (sorry, realism fans) as these are based on stats and not real-time information.
However, it is a great improvement from the random old prices within the game.
11. Realistic Headlighting

Another realism mod that affects your truck is Realistic Headlighting. This mod reworks headlighting to make it more realistic. It does this by rebalancing the brightness, color, and pattern of the lighting.
This supports the 9 SCS truck models in the game and only applies to the light while you are driving.
With this mod, you can be sure that your long night drives will look and feel much more realistic and atmospheric.
10. Container Plus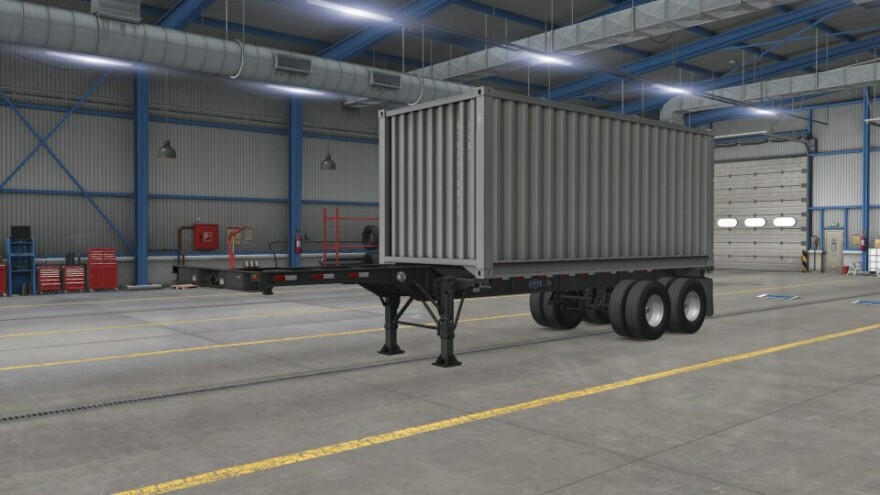 Container Plus is a mod that offers a more realistic feelwhen handling containers.
The mod was created by a mod author that has experience in hauling containers, so you can be sure that it is just like real-life! Or close, at least.
This mod does this by adding additional container subsets, which allows you to choose your container as an add-on.
9. Sisl's Trailer Pack USA

SiSL's Trailer Pack USA is a mod that adds over 100 trailer skins to the vehicles in traffic.
These high-quality skins represent the most prolific Logistics and Freight companies in the United States, giving you a feel of driving on the roads of the country.
Here's a challenge. See how many companies you recognize while driving around.

Google Maps Navigation brings another real-world element to the game, namely Google Maps.
This mod simulates Google Maps navigation in the in-game navigation screen, making it feel a little closer to real life with the ubiquitous navigation interface of google.
The mod also changes the arrow and map icons to fit more with the google maps look.
7. Barn Find K100e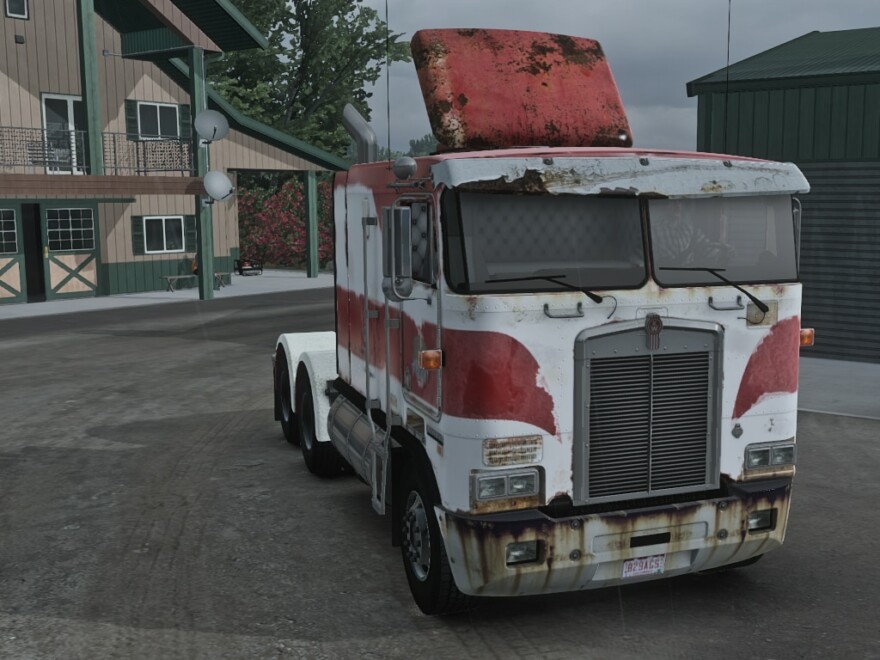 The Barn Find K100E adds a paint job for the K100E to make it look like a "Barn Find." Just like the Barn Find Mack R mod, this makes your trusty K100E look rusty, dirty, and well used, which is just how an old truck find would look like.
This might not be a style for everybody, but we really like the feel of an old relic still plying the good 'ol USA roads. Match this with them rusty wheels and rusty trailer mods!
6. Dynamic Suspension & Realistic Steering With Keyboard

Dynamic Suspension & Realistic Steering with Keyboard is a bit of a mouthful, but it brings a lot of significant realism changes to your gameplay.
In addition, this mod improves the driving experience by bringing improvements to the suspension, brake, seat, and trailer systems.
This mod aims to implement realistic suspension, realistic braking, bumpier feeling roads, and better steering to the game.
5. Accessory Parts for Scs Trucks.

Each player's truck is their own, and they make them their own by customizing them to be unique, whether this is with the vanilla bits or community-made mods. You can never have too many choices with ATS.
Accessory Parts for SCS Trucks give you a lot of choices. The mod adds multiple accessory parts to customize most SCS trucks.
There are many different parts and paint jobs added by this mod, giving players the power to pimp their ride however they want it.
4. Dp's Realistic Traffic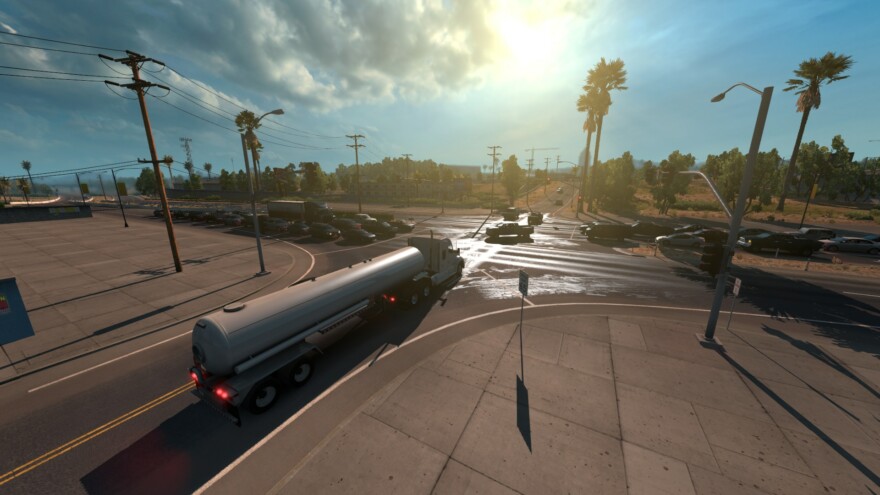 DP's Realistic Traffic brings another aspect of the road in real life to the game. Traffic. This mod brings realistic density and behavior to the traffic in-game.
The specific changes it makes include density based on day, more realistic proportions of vehicles (cars, trucks, buses), and more realistic traffic merging.
This not only increases the density of the traffic but also the overall feel and flow of it.
3. Barn Find Mack R

Barn Find Mack R is a mod that adds a Mack R paint job that makes it look like an old "Barn Find," which, if you didn't know, means a classic vehicle that has been rediscovered often in a somewhat derelict condition.
Although it makes the truck look a little worse due to the wear and tear, we think it gives it many personalities and overall just looks cool.
If you want to get a matte texture on your paint job, that's also available!
2. Truck & Trailer Super Mega-pak

If you weren't spoilt for choice before, you would be with the Truck & Trailer Super Mega-Pak. This mod is a content pack that adds skins for all the default trucks and some modded ones.
The modded trucks that can be customized include the K100E and the Freightliner FLB. So be sure to check it out to really make your truck your own.
They say you're comfortable in your own skin, but we prefer to spice things up every day with a different skin.
1. Unleash the Beast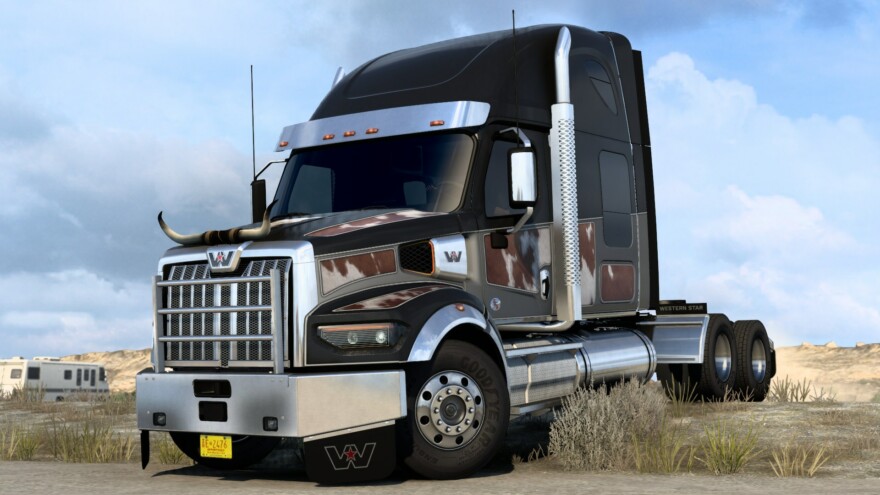 Another accessory of a truck that can add a lot of character is a hood ornament! Unleash the beast adds some horn hood ornaments available for your truck giving your truck a nice rural American feel.
The hood ornaments included in this mod are American Milking Devon horns, Ankole-Watusi horns, Texas Longhorn horns, Texas Longhorn chrome horns, and the Texas Longhorn gold horns.
Spread fear among other drivers as you plow through the roads of the US, honking around and showing off your shiny hood ornament.