Aesthetics like cottagecore and living a simple, honest life have become quite popular recently! So, why not give your Sims the chance to enjoy the simple life with the best farm CC?
From harvesting fresh fruits and veggies to raising bees and chickens, your Sim needs a lot to truly make their home and self into the ideal picture of farm living.
This list includes all the best farm CC currently available so that your Sim can kickstart their dreams of living the farmer's life as soon as they move in!
Best Sims 4 Farm CC
10. Garden Crops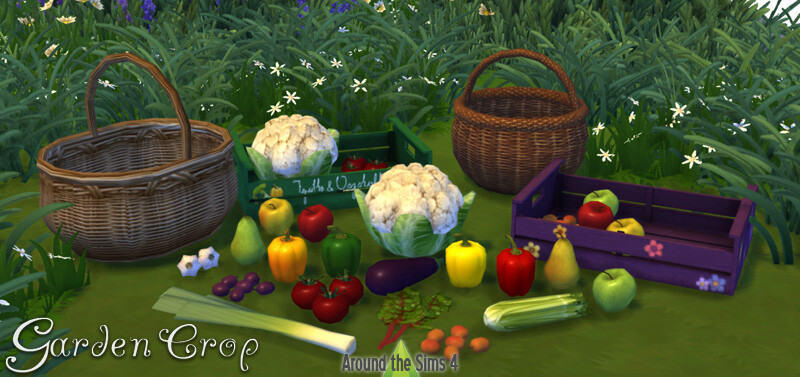 No farm is complete without fresh product to put out for sale! The Garden Crops CC pack includes not only plenty of decorative produce but display crates and baskets as well.
In this CC pack, there are two types of backets, one crate with four color variations and a bundle of veggies and fruits.
In the vegetable bundle, you will find leeks, bell peppers, cauliflower, tomatoes, eggplant, garlic, and other dark greens.
In the fruit bundle, you will be able to download apples, drupes, and pears. When put together, this CC pack is the perfect way to spice up any farmer's stand!
9. Farmer's Crates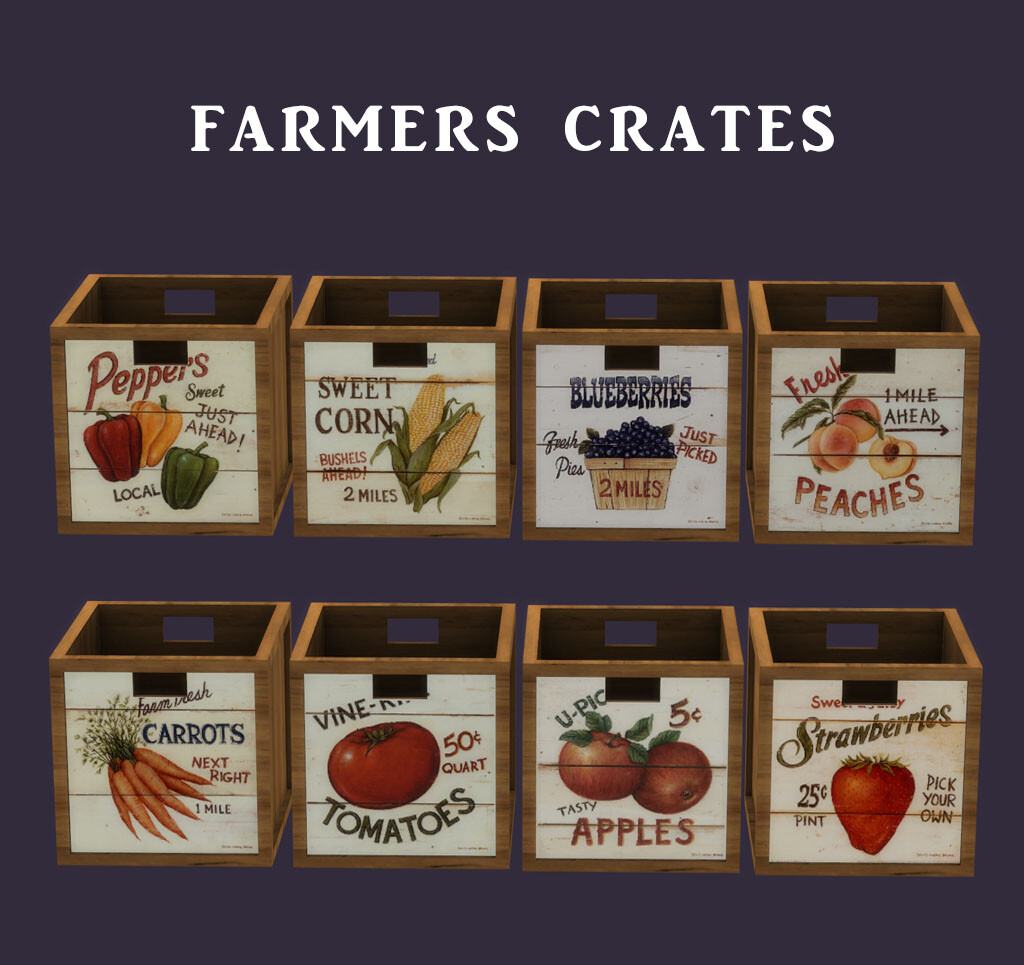 Speaking of farmer's stands, what else does the perfect produce stand need to look legitimate? Properly themed crates for storing your fruits and vegetables!
These beautifully rustic Farmer's Crates are the perfect addition to your produce stand, flea market stand, or just for your Sims kitchen.
In this set, there are eight crate variations, each with a picture and label of a type of fruit or veggie.
Among the eight designs, the images include bell peppers, sweet corn, blueberries, peaches, carrots, tomatoes, apples, and strawberries. The crate designs are reminiscent of crates from the 1940s or 1950s.
8. Farmhouse Furniture Set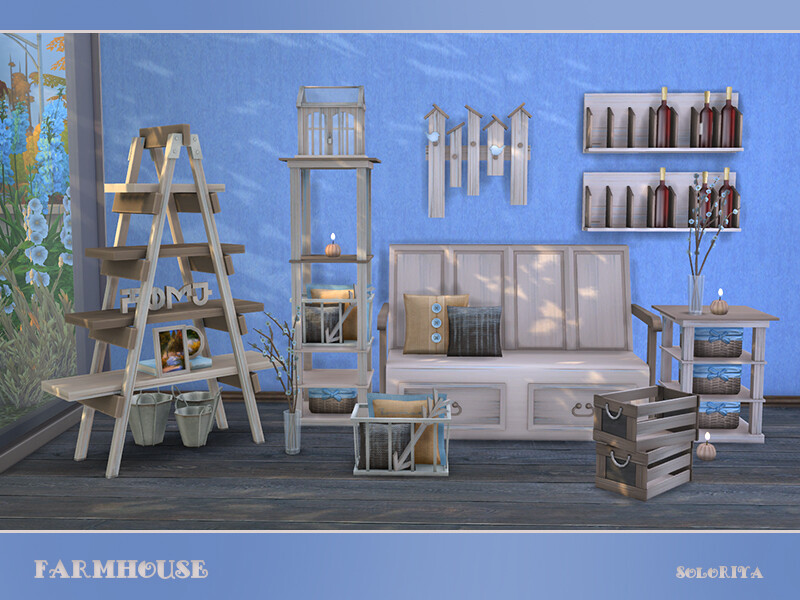 Ready to spruce up your farmer Sims living space? The Farmhouse Furniture Set is the perfect way to add some rustic features around the old farmhouse!
In this CC set, there are 14 pieces that come with it, including a loveseat, tables, wall décor, buckets and crates, pillows, and more.
This set utilizes a lot of natural wood tones and metal to give your Sims home a very simplistic feeling while maintaining a stylish method about it.
With this set, you can stash your gardening and herb books on the shelves, place the crates in the laundry room, and hang the wall décor throughout the hallways to make the home feel cohesive.
7. Vintage Farmhouse Mini Set
Need more rustic farmhouse décor and furniture? Look no further with the Vintage Farmhouse Mini Set CC pack!
This CC pack includes three items: a lamp, couch pillows, and an area rug.
Although this is a smaller set, the detailing in these items is comparable to the real-life versions you can purchase in-store!
The lamp has a cream color lamp shade, and the base comes in 14 color variations. The couch pillow comes in 28 color and pattern variations, including a textured braided sweater material.
Lastly, the rug comes in ten pattern variations, and all have that worn look to them.
6. Trio of Veggies Mod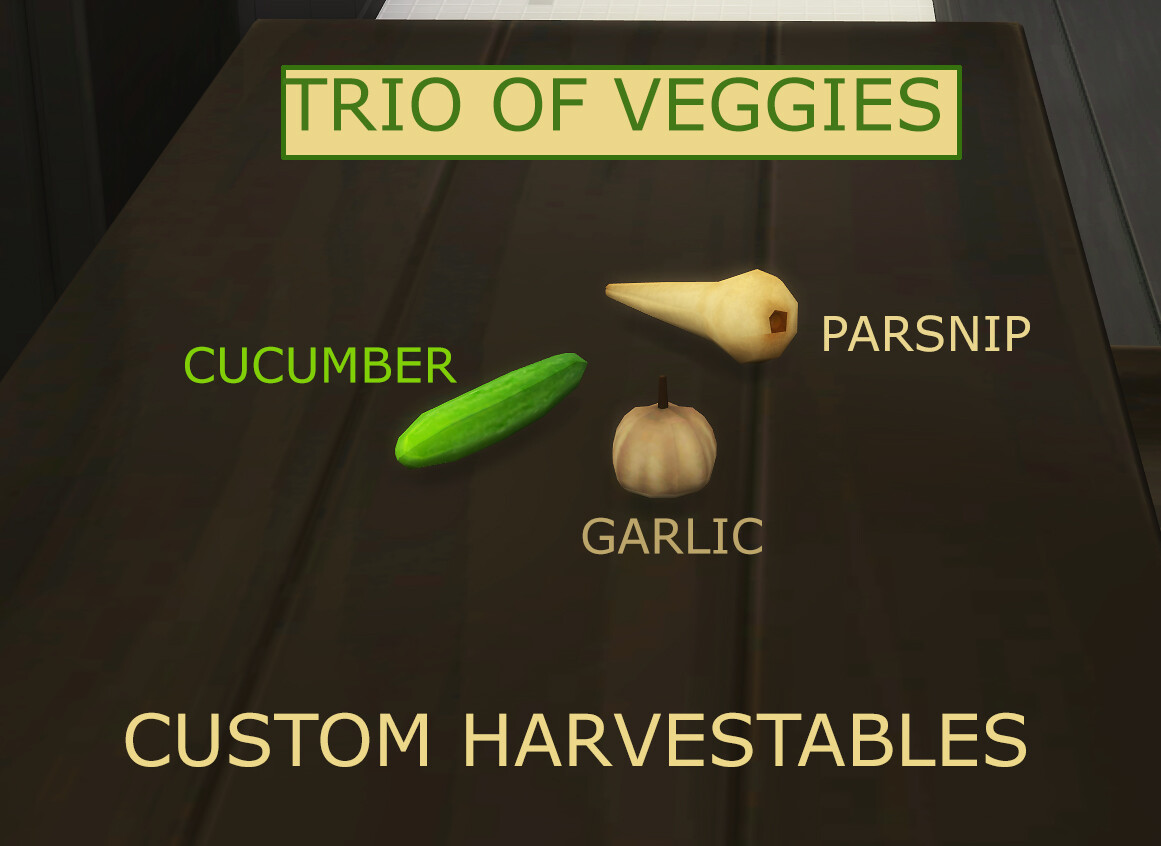 The Sims 4 CC creator, icemunmun, is well known for their farm and harvestable CC creations, and the Trio of Veggies Mod is one of them!
The Trio of Veggies Mod includes three new harvestables to add to your Sims 4 game, including garlic, parsnip, and cucumber.
According to the photos the creator provided, a normal quality cucumber sells for two Simoleons.
A normal parsnip sells for four Simoleons. A normal bulb of garlic also sells for two Simoleons.
None of these plants can be planted in freezing temperatures, but all can be grown in the summer.
5. Chickens CC Set 1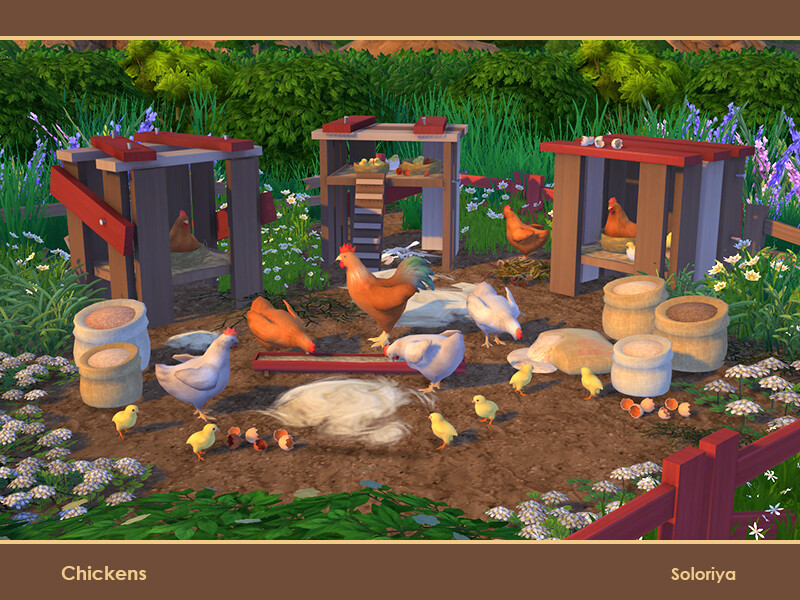 Everyone who has ever thought of having their own farm or homestead has thought about having chickens. But if you want the aesthetic without the work, then this CC set is perfect for you!
The Chickens CC Set 1 offers the joyous look of chickens and chicken coops without the need to take care of them because this CC pack is all décor.
This set comes with 10 items, including three types of chickens, a rooster, two types of chicks, three nests, and eggshells.
With this set, you can easily create a portion of your yard that looks taken over with chickens, baby chicks, and lots of eggs for sale or keep!
4. Rustic Potting Bench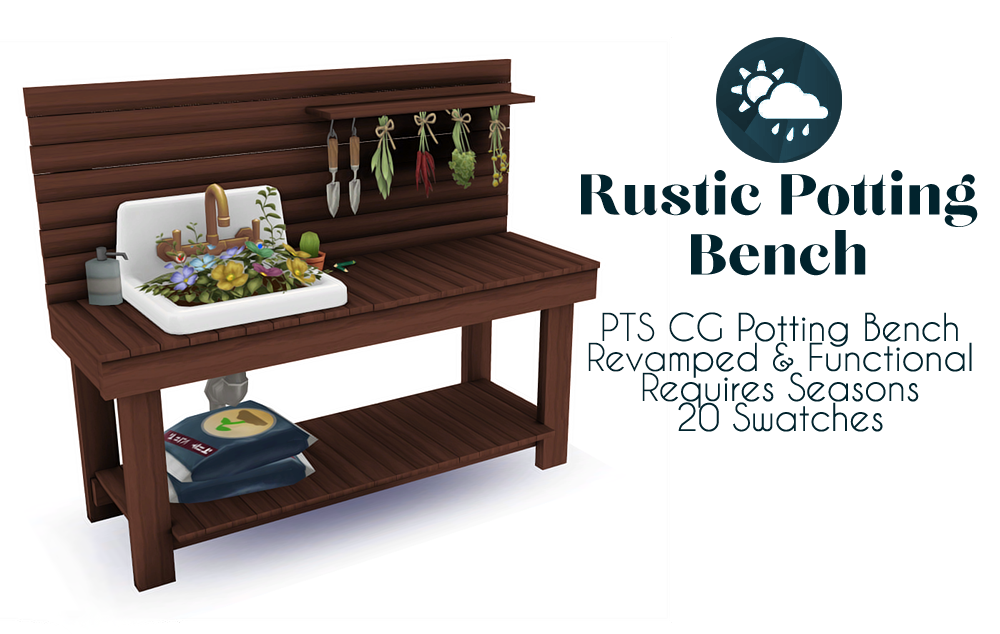 Whether your Sim is a full-blown farmer or just a hobbyist gardener, they will definitely need this Rustic Potting Bench!
The Rustic Potting Bench is a simple bench made out of wood, including a shelf at the bottom to place bags of soil, pots, and tools.
There is also a small shelf where tools and herbs can hang. A sink is built into the bench as well for washing your hands and watering plants.
There are 20 swatches available for this usable item, but it requires the Seasons expansion pack to work.
3. Dusk Till Dawn Clothing CC Collection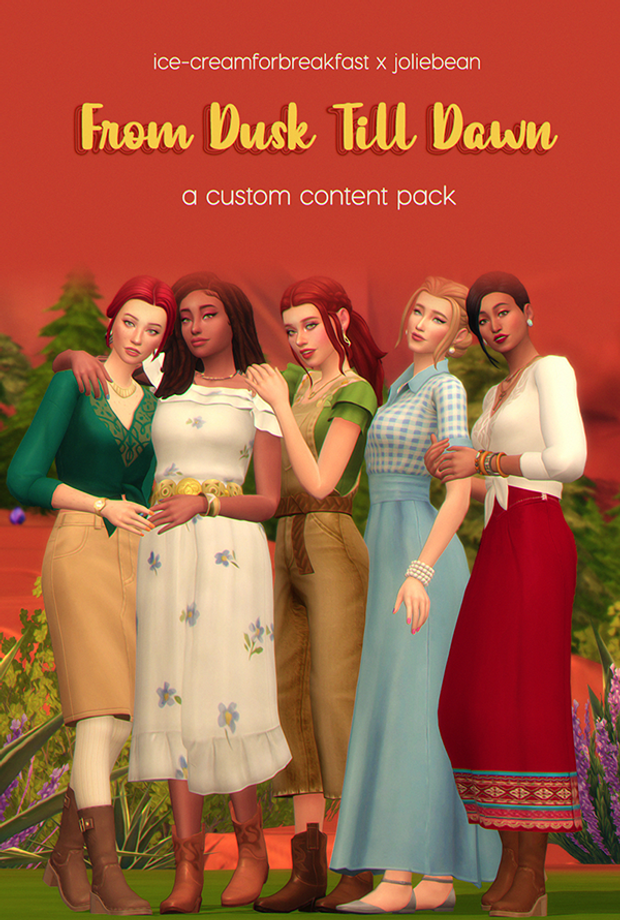 If your Sim lives in the strange town of Strangerville or just is fond of Western-style clothing, then this is the CC clothing pack to download.
The Dusk Till Dawn Clothing CC Collection offers Western and farm chic clothing options for female Sims.
This collection is split into two parts and includes jeans, boots, dresses, and two beautiful hairstyles. There is even a darling pair of overalls!
Every item is base game compatible, and there are 14 pieces in total between both parts. You can download the other half of this collection here!
2. Functional Chicken Coop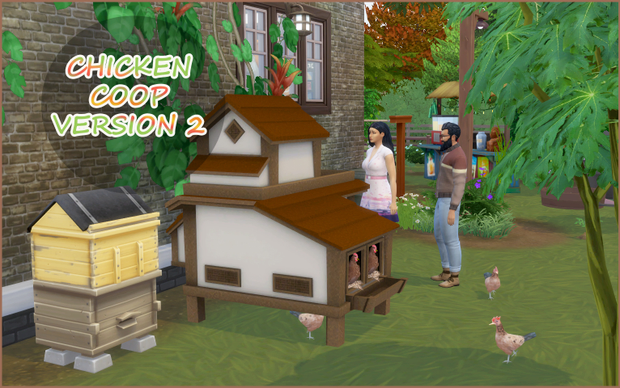 Okay, we know that the first set of chicken CC was décor only, but this CC allows you to have a functional chicken coop this time!
The Functional Chicken Coop is a CC recently updated for the Cottage Living expansion pack, so this is the second version of the item.
Sims can harvest eggs from the chicken coop, and once they do, they cannot feed the chickens for two hours.
Cartons of eggs can be placed in the fridge as well, so your Sim will always have fresh eggs to cook and bake with!
1. Canning Station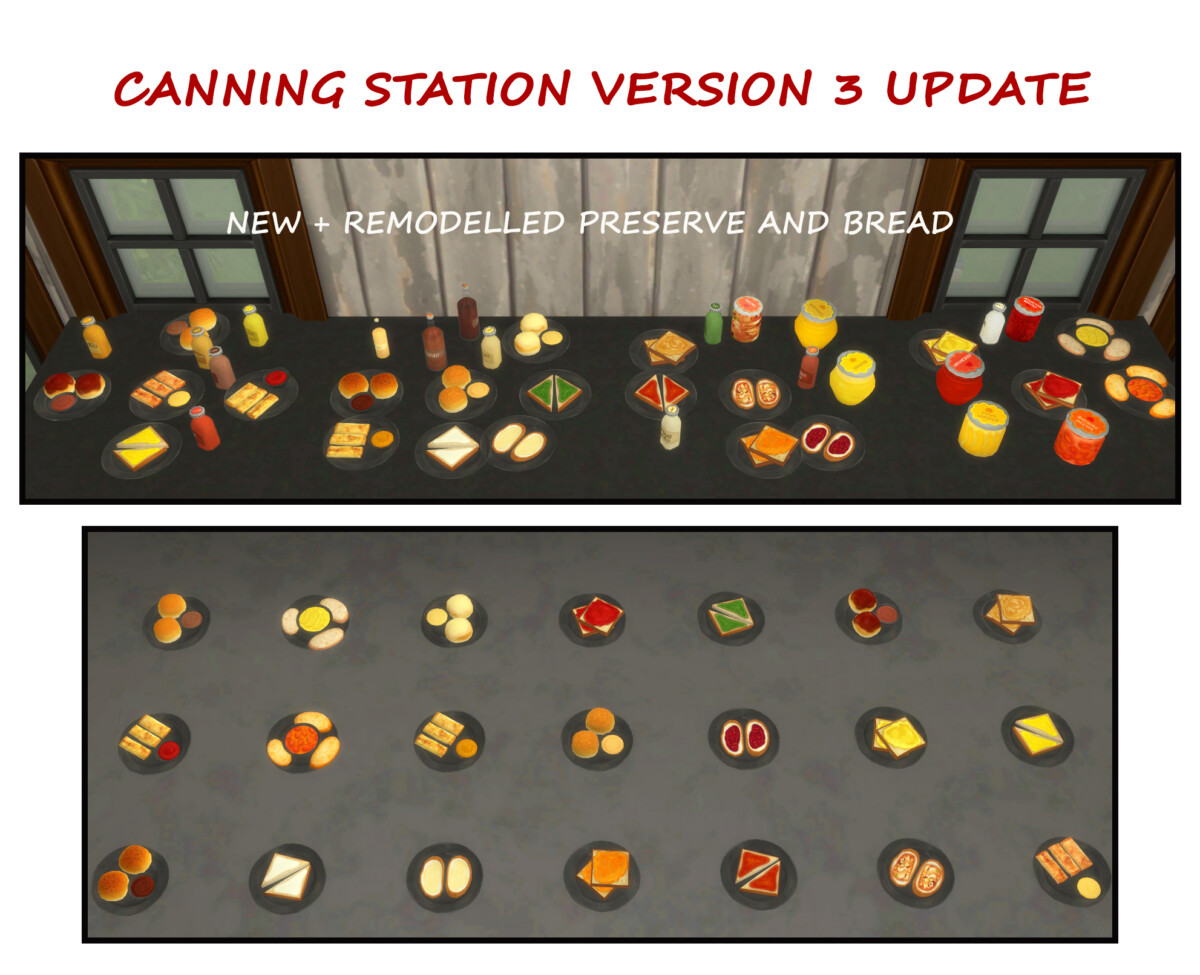 Remember icemunmun? Well, you should now because they also created this incredible Canning Station mod!
The Canning Station is a must-have for every homesteading Sim out there because now they can make their own jams, jellies, wines, and pickled goods!
Nothing gets more farm life than being able to crack open a jar of fresh jelly and spread it on some freshly baked bread that your Sim made themselves.
This CC pack also includes newly remodeled preserves and bread, as this is the third and newly updated version of the Canning Station!