When creating Sims, sometimes the lips never look just right. Character creation can be frustrating when issues like this happen, so that's where CC comes to the rescue!
We've compiled a list of the best lips CC for The Sims 4, so you can easily find the perfect set of lips that your Sim needs and fast.
Best Sims 4 Lips CC
10. Pouty Lip Slider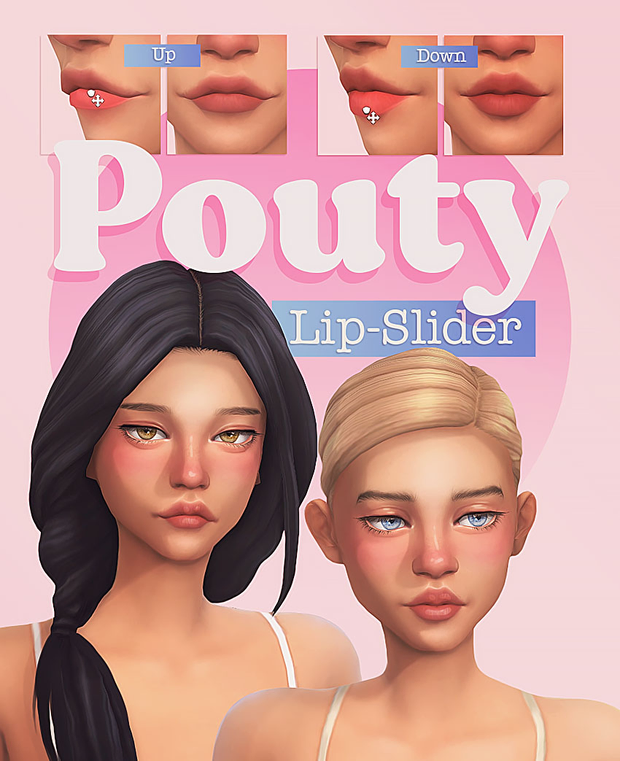 Nothing helps to make the character creation process more customized than having sliders for everything, including lips!
The Pouty Lip Slider gives you the option to give your Sim a pouty lip style, then the ability to alter it to the right shape of pout you want.
This slider captures a dramatic pouty lip or can be ranged down to offer a less dramatic version, but both sides of the slider offer a cute pouty lip that captures an innocent and sassy appearance.
This slider mod works with most other lip sliders and works for Sims of all ages and genders, too.
9. Three Lips Presets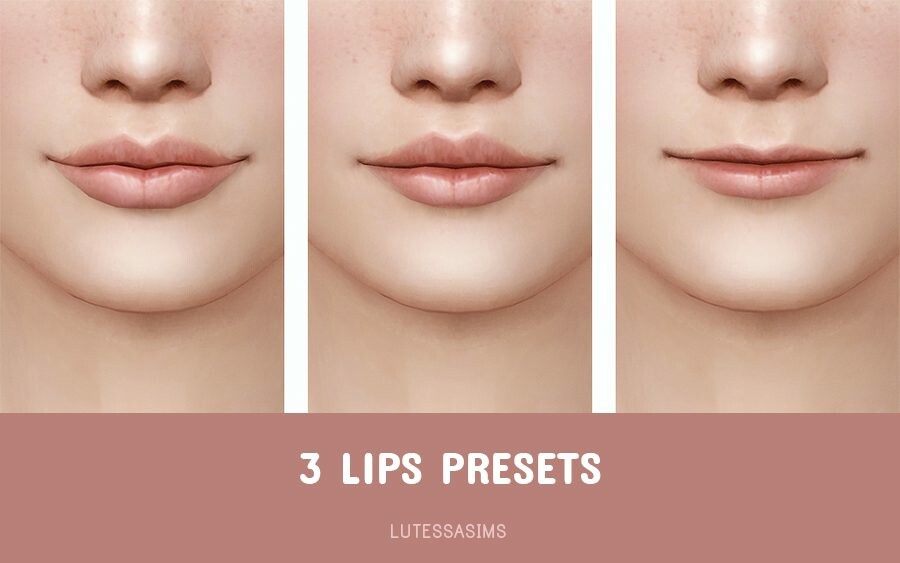 While the base game provides a decent array of lip options in the character creation menu, there is always room for more options!
So, the Three Lips Presets CC pack includes three amazing thin lip options. Not everyone has a natural pout or thick lips, so this CC pack is the perfect addition to represent those with thinner lips.
The first set of lips offers a plumper bottom lip with a thin top lip. The second set offers a beautiful medium, where both the top and bottom are similar thicknesses.
The last set is the thinnest, particularly with a thin upper lip.
8. Locking Lips Preset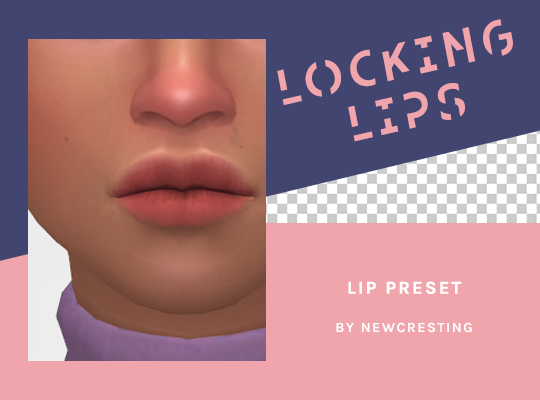 Another great natural lip preset to download is the Locking Lips Preset. This natural lip preset offers a thicker lip with a soft cupids bow.
This lip preset also features a thicker upper lip that is slightly larger than the bottom lip.
The lining around the lips is also quite soft, which allow the lips to blend seamlessly into the rest of the face.
This lip preset is also equipped for a slight randomization chance and is usable for vampire and alien Sims as well. However, this lip preset is designated for female Sims from teen to elder only.
7. Lip-kit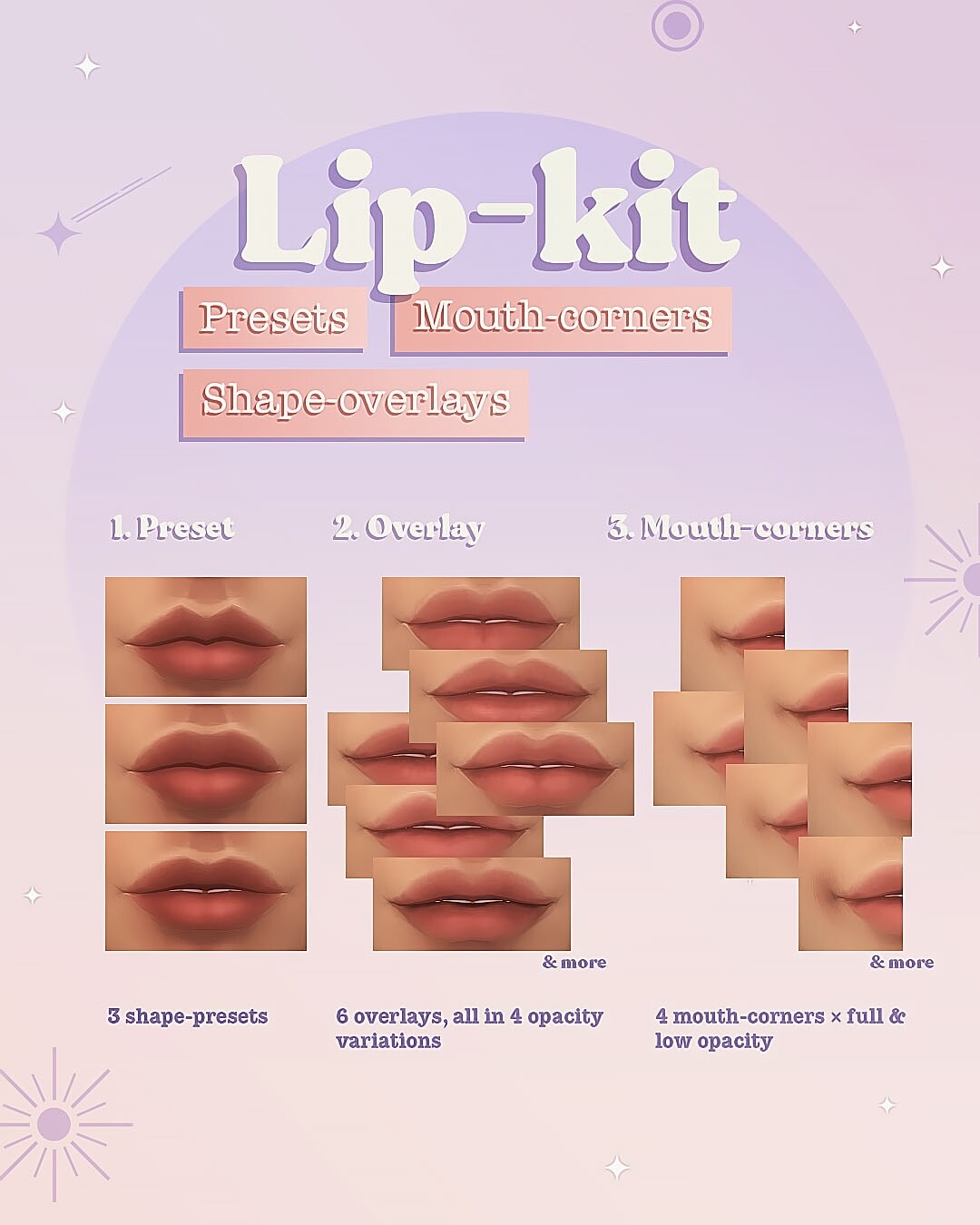 From the creator of the pouty lip preset comes this Lip-Kit CC! The Lip-Kit CC includes three new presets, as well as shape overlays and mouth corners to highlight the depth of the lip presets.
This lip preset CC pack is made for Sims of all ages and genders to use and is also compatible with all skin colors.
The Lip-Kit will also work with other overlay skins you use unless they go on top of other skin details.
You can find the overlays and mouth corners by clicking on the lips in Skin Details.
6. Natural Kiss Lipstick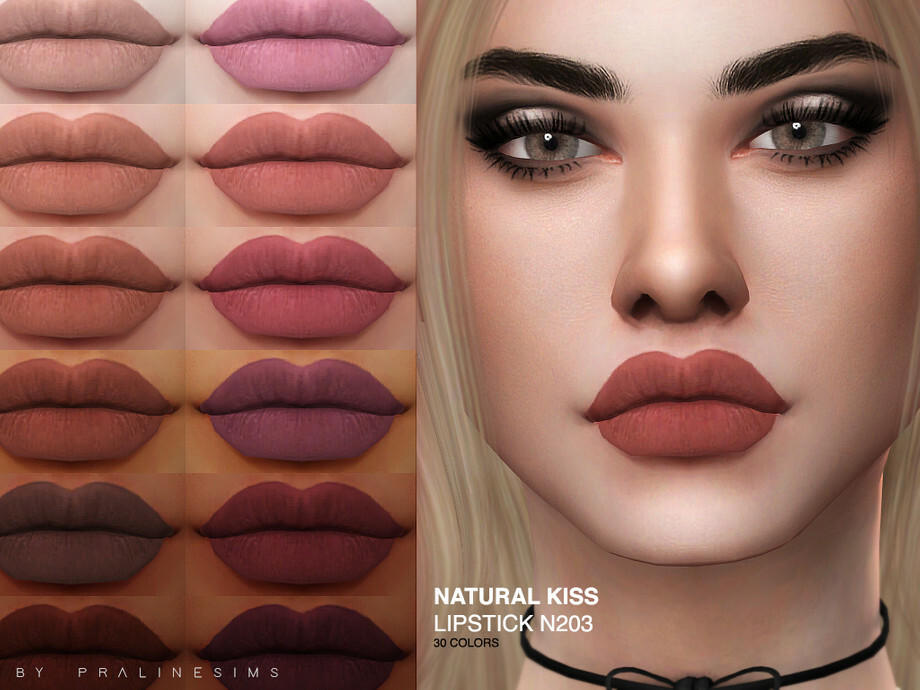 You can't download a bunch of new lip presets and not have new lipstick shades at the ready!
The Natural Kiss Lipstick includes 30 new shades of a hyperrealistic lipstick that captures the detail of what real lips look like.
The Natural Kiss Lipstick includes nude colors to compliment all skin colors but also includes a wide array of pinks, reds, and purples for a truly one-stop-shop experience!
With each shade, you can clearly see the wrinkle lines that real lips naturally have, and each shade looks as if it has been slightly overlined for a fuller effect.
5. Lip Preset Pack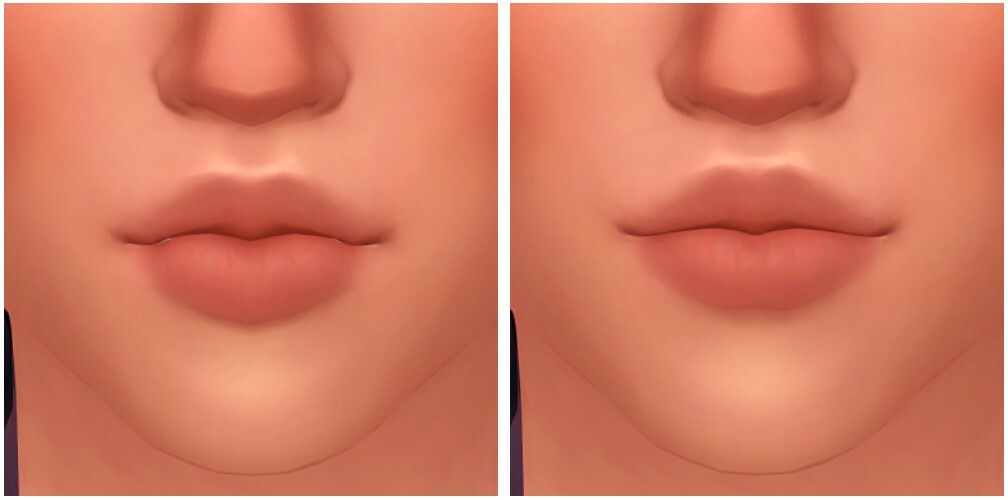 For another great lip preset pack, the Lip Preset Pack by SqueamishSims offers another three great yet simple lip presets!
This lip preset pack includes three fuller sets of lips. The first option includes a wider cupids bow with a deeper peak and a large dip under the bottom lip.
The second set has a slightly thinner upper lip with a complimentary thicker bottom lip for a gentle pout.
The third and last lip preset offers a slight natural smile within the curves of the mouth, and a thin cupids bow, and thinner lips.
4. Cleft Lip Pack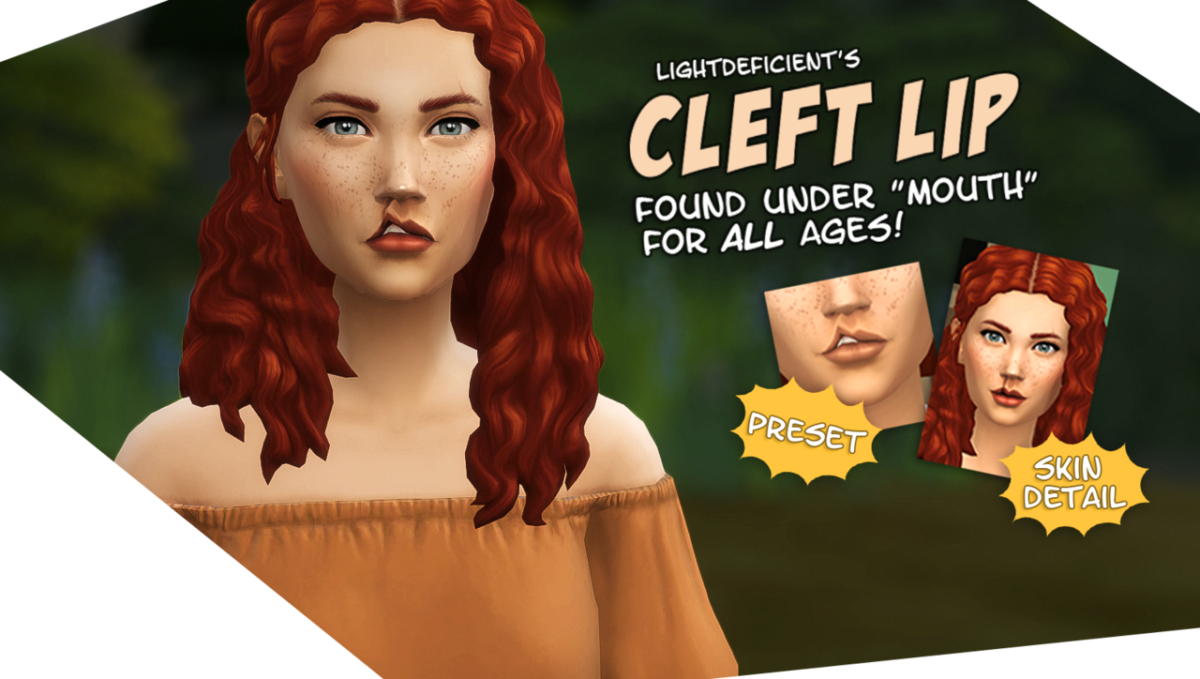 Similar to skin and hair, lips also need some diversity in The Sims 4. This Cleft Lip Pack gladly offers more room for appearance diversity, as there are many people born with cleft lips every year.
This Cleft Lip Pack is a great way to diversify your game, as well as build awareness in game. This lip preset can be found under the Mouth category in the character customization menu and is available for Sims of all ages!
You can also use this preset instead as a skin detail, which can be useful in avoiding clashes with skin or other lip presets.
3. Asymmetrical Lips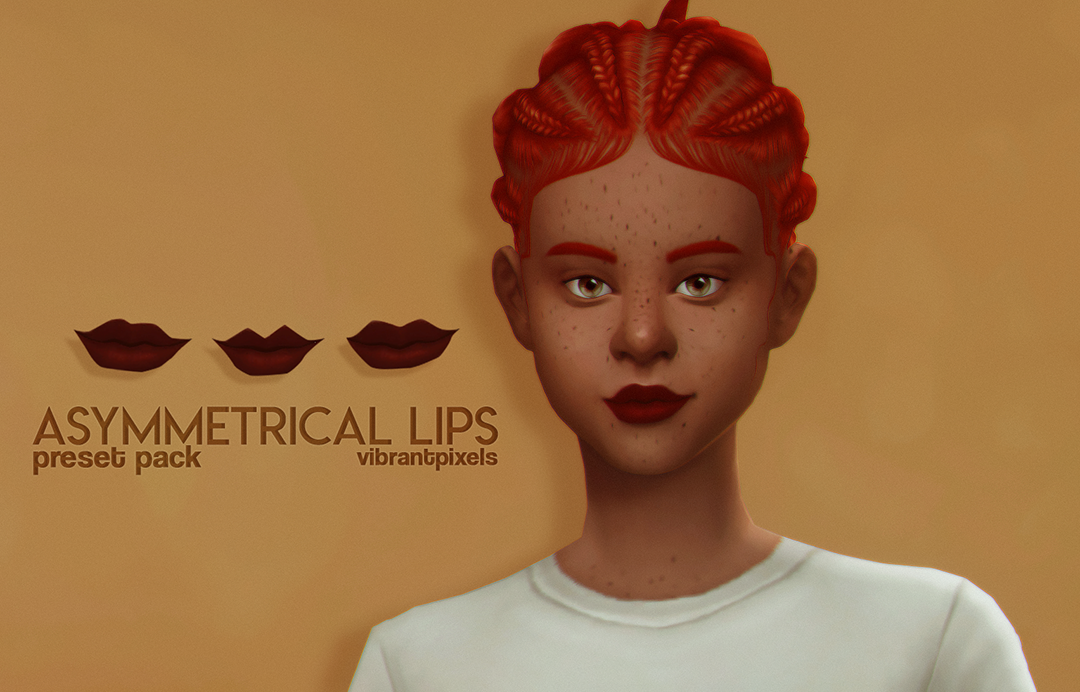 Carrying on the same theme of inclusivity and diversity, these Asymmetrical Lips preset pack offers more lips that are less conventional.
The Asymmetrical Lips pack includes three tip presets that are all slightly different from one another. All three also work with sliders so that you customize them further.
The first preset offers a thicker set of lips that are narrower on one side. The second set featured a drastic cupids bow dip with a thick bottom lip.
The third preset offers a wider mouth with thick lips that dip slightly on one side.
2. Realistic Lips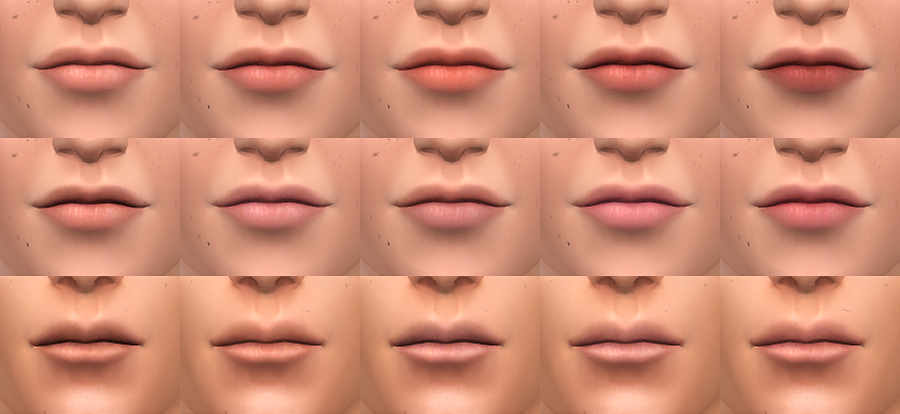 You can never have too many realistic-looking lip presets! This Realistic Lips CC pack maintains the texture of the base game lips but alters the color of the lips!
The creator mentions that EA base game lips are missing a crucial detail to looking realistic, and that is the lack of pink coloring!
So, the creator took it upon himself to add the pink coloring to the lips and offer them in 30 different tones.
This CC pack is compatible with Toddler Sims, too! One catch to this preset CC pack, though, is that it is technically a lipstick, so it doesn't work with most other lipsticks.
1. Redefined Nat Lips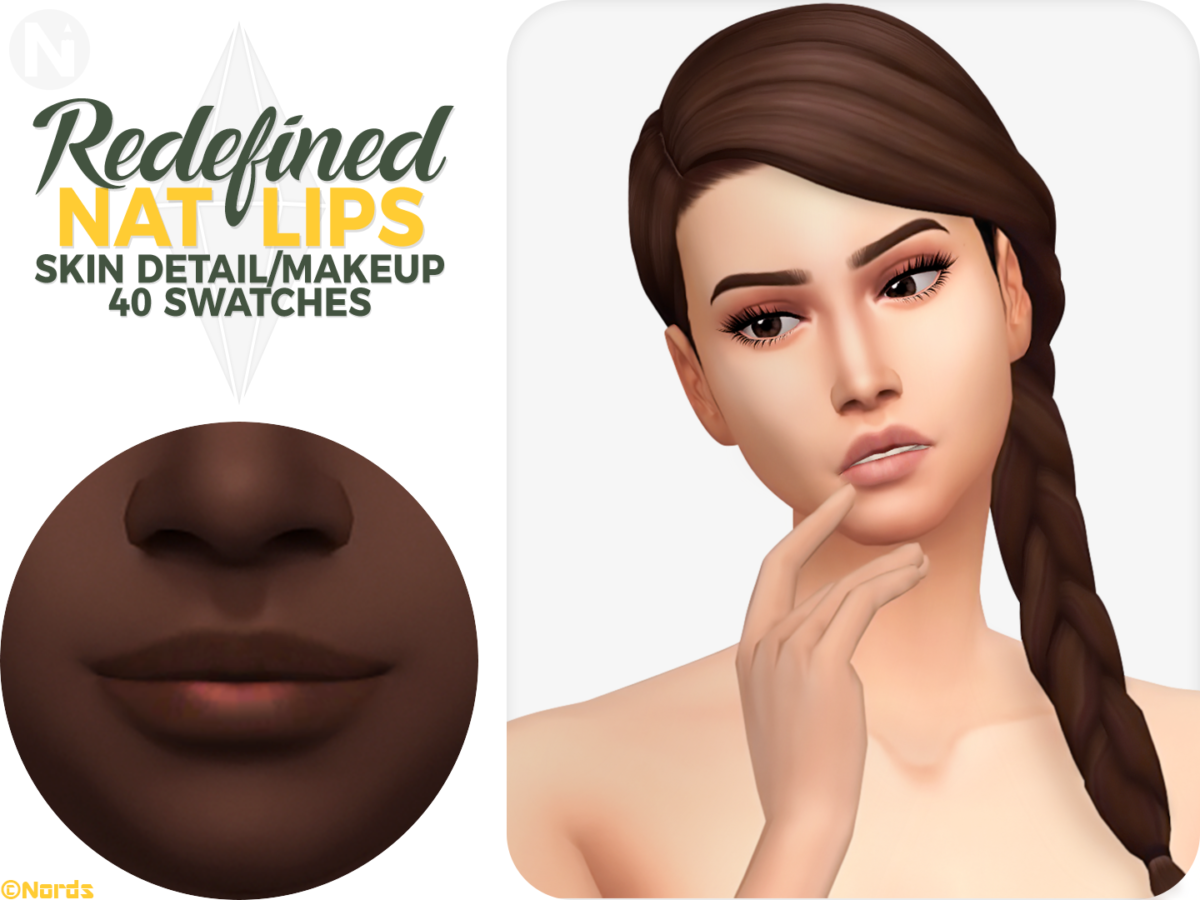 EA lips are great because they match the rest of the style of The Sims 4, but in terms of how realistic they are, they don't quite add up.
So, these Redefined Nat Lips are the perfect solution because this CC pack includes subtle differences that truly make lips look more natural and real.
This CC pack includes 40 detail swatches that replace the harsh shadow shading that EA puts on their base lips and instead replaces it with more natural shading.
The shading and lighting are moved to the center of the lips, including for both the top and bottom lips.
You might also be interested in the following: