The ability to furnish your house in the Sims 4 is one of the biggest appeals of the game. In this list, we gathered the best CC objects from the internet to help you create an interior that you want in a matter of seconds.
Best Sims 4 Furniture CC
33. Country Collection by Harrie

This collection provides every piece of furniture your Sim could need to create the perfect country house.
The Country Collection by Harrie provides 45 new items for the living room, dining room, bedroom, and kitchen. With a wide range of tables, couches and chairs, and bed options, you have anything imaginable to make a home comfortable.
The color scheme of this collection is definitely muted, with lots of browns and greys combined with whites, greens, and yellows. A perfect collection as autumn slowly approaches too!
32. Cozy Knits Bedding by Peacemaker

Nothing beats a comfy kitted throw blanket, especially during the fall and winter seasons!
The Cozy Knits Bedding provides your Sim's bedrooms with a luxurious textured bed spread that is ready to be jumped into for perfect comfort.
There are two versions available: one with a blanket draped over the foot of the bed and the second without the extra blanket.
This bedding works for all beds and comes in 30 colors, ranging from muted neutrals to brighter colors, including a rich yellow and calming green.
This CC is also base game compatible, so no DLC packs are needed!
31. Eco Kitchen by Little Dica

Along with your Eco Living Room, you can have a complimenting Eco Kitchen!
The Eco Kitchen CC pack includes all of the necessary pieces to complete a kitchen, such as a fridge, countertops, and other appliances and cabinetry. This collection also provides additional features to these objects.
Now, your fridge will have eco-footprint boosting, and some appliances will have reduced power consumption. Counters are also slotted to allow some stackable items!
The color scheme is retro chic, with neutrals paired with a bright yellow, muted green, and blue.
30. Basic Bunk Bed

It is just a dream that came true! Many Sims-lovers beg developers of the game to add a bunk bed to the game for years.
Simple bunk beds are really important for the Rags to Riches challenges, tiny living experience, and in general, for family gameplay.
This beautiful creation by PandaSama has very decent animation and can be used by all ages, starting from children.
Lovely wooden recolors will complement any style that you choose for your bedroom. The bed is available in two variants: a traditional one and the version with a place for a table underneath the bed.
29. Storybook Bathroom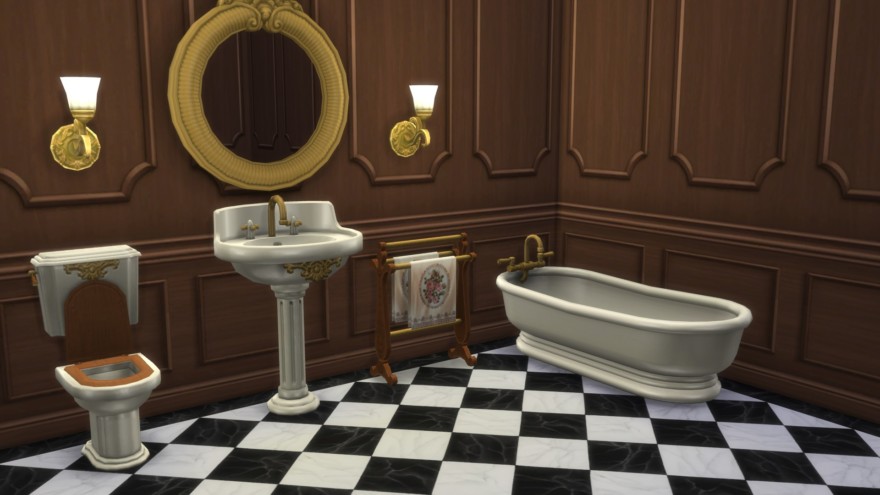 The ultimate elegance was embodied in this CC creation. Converted from the Sims 3, the Storybook Bathroom set sends us to the simpler times of classy houses with country charm.
The creation has four objects in a Greek style, that will perfectly fit into any house design.
The gorgeous golden decor on the sink and toilet gives a luxury feel that cannot be achieved in any other way. The wooden details on the towel stand, and the toilet makes the set cozier and homier.
28. Zorane Bedroom

Very modern and highly fashionable Zorane furniture set for a bedroom offers a respectable simmers eleven creations in fours recolors.
The simple nordic design looks equally great in cold and warm swatches and could be placed into a charming apartment or a huge mansion.
The set will blend beautifully with the Eco Lifestyle expansion pack since wood, metal, and natural fabric textures were used in the creation process.
27. Wardrobe With Seat

The Sims 4 has a beautiful and vibrant style, so the most desirable CC creations are always simple ones.
This gorgeous wardrobe has a laconic design that will be a perfect addition to every room.
This piece is ideal for hallways, bedrooms, boudoirs, or just big closets. The wardrobe will be an organic addition to your gameplay and will make your sim happy.
26. Goldis Bathroom
This set immediately caught our eye when we were looking for the best CC creations.
The Goldis bathroom set adds to the game, something that you never knew you needed. One word — round bathtub.
This piece of CC looks so impressive and grand that you cannot imagine it in something other than in a luxurious mansion.
The set has a lot of decorations along with modern appliances. We heard that Don Lothario asked about getting it in his place, you know.
25. Carina TV Cabinet

It is not easy to say, but the game lacks high-quality TV cabinets and units. This is why Illogical Sims creates this very elegant Carina TV Cabinet for our enjoyment.
Five recolors, including true black and white, are just dreamy. Several clutter slots allow you to fit any decorations your soul feels right and proper there.
You can fit any small or medium-sized TV from the game into the cabinet niche, and place it in almost every position you want.
24. The Halcyon Kitchen

Harrie's CC creations are legendary among the simmers. He made so much high-quality Sims stuff for us that his name just has to appear on this list.
Halcyon Kitchen is a modern set of kitchen furniture with granite countertops, wooden counters, cabinets, and islands.
It looks like it was brought from a page of a fashion magazine. Classy recolors and a huge variety of variations offer you to dive in the designing and creating something a lot more special than a simple kitchen.
23. Berkelium Outdoor Living

Stylish Berkelium Outdoor Set is a tasteful fusion between simple modern lines and retro textures.
The vibe of the '50s with a modern twist feels in every piece of this set. Huge stripy umbrella ties up the cute couch, table, and armchair trio.
The creator worked really well on the textures, so the set looks like it is almost real. The final touch and color accent of this set is its decorative pillows with green leaves on it.
Those pillows turn this set from simple and boring grey furniture into a modern and lovely outdoor collection.
22. Danberry Hallway
Hallway furniture deserves a lot more recognition in the game than it has now. The Danberry Hallway is a beautiful example of its type and deserves to be in every Sims save.
Stunning texture and quite simple design transfer us to the '30s era and art-deco style.
The set has twelve pieces, including various decorations, plants, and lightning. Simple wood recolors have different patterns, so every part of this CC content is unique.
21. Kids' House Bed

Let your kids finally be kids in the game. This cute Kids` House Bed was made for your shy and sweet sim child.
Vibrant colors, pretty decorations, and high-quality details of the bed make it an ideal piece of furniture for every kid's room.
This CC set star is a cool roof that makes a bed look a lot more comfortable, cozy, and perfect for a child. Imagine your momma-sim reads bedtime stories for her kid on this bed. Why you still waiting to download it?
20. The Luxurious Sinking Device

This modular sofa is a fantastic piece for builders! The Luxurious Sinking Device sofa (cool name, eh?) can be whatever you want.
Many options and custom details make the creation perfect for elegant modern living rooms, high-end restaurants, or movie theaters.
The sofa comes in 12 great recolors: green, grey, white, red, tan, black, etc. You can choose handles or pillows: this sofa has more options than you can possibly imagine!
19. Ember Dining Room Furniture

Remember when you were young, and you went to your grandma's house? Think about simple yet beautiful wooden furniture, your granny used to have. The Ember Dining Room set is a perfect sample of this particular style.
Cozy looking pieces with warm style and sweet decorations bring you a lot of nostalgia.
By no means unstylish, it has an old-fashioned feel that will blend perfectly with Nifty Knitting Stuff Pack.
Whether you are building grandma's cottage or French-style villa, this set will be an excellent addition to your house.
18. Sling Sun Set
There's no such thing as enough outdoor furniture pieces. Sling Sun Set offers a new kind of country or beach outdoor furniture.
Simple design with colorful textile patterns will be perfect on a sunny beach in the Sulani.
We can feel a little '50s or '60s vibe in this set, so placing it by the pool will be a good option too!
Just make your sim grab a cocktail, sit on this bright chair, and enjoy an awesome Sulani Sunset. Make their life as perfect as it can be with Sling Sun Set.
17. French Country Kitchen

Counters! Counters! Counters! That is everything we, simmers, dream about.
Adorable French Country Kitchen is so elegant and unique, yet a very classy CC content, that it's just unreal. A lot of decorations perfectly complement the style of this set.
Nice cabinets with various design options, high stools on metal legs, and unusual oval island are just a small part of this set. Recolors of this set are simply stunning.
This set is stable in many gamers Mods folder, and we encourage you to try it in your game too.
16. Lennox Kitchen and Dining Set

Another fabulous kitchen and dining set that will make you forget all the others. Lennox Kitchen and Dining Set is a true CC masterpiece.
An ultra-modern and astonishing look of the counters and cabinets helps you make your sim's home as cool as possible. The kitchen island has shelves on the side, so the decoration storm is coming!
The set has tons of swatches and cabinet variations. You can customize every piece of this side according to your taste and do not lose a cohesive look of the room.
It is a very well-made piece of CC creation made by a highly talented creator.
15. Eloise Camelback Seating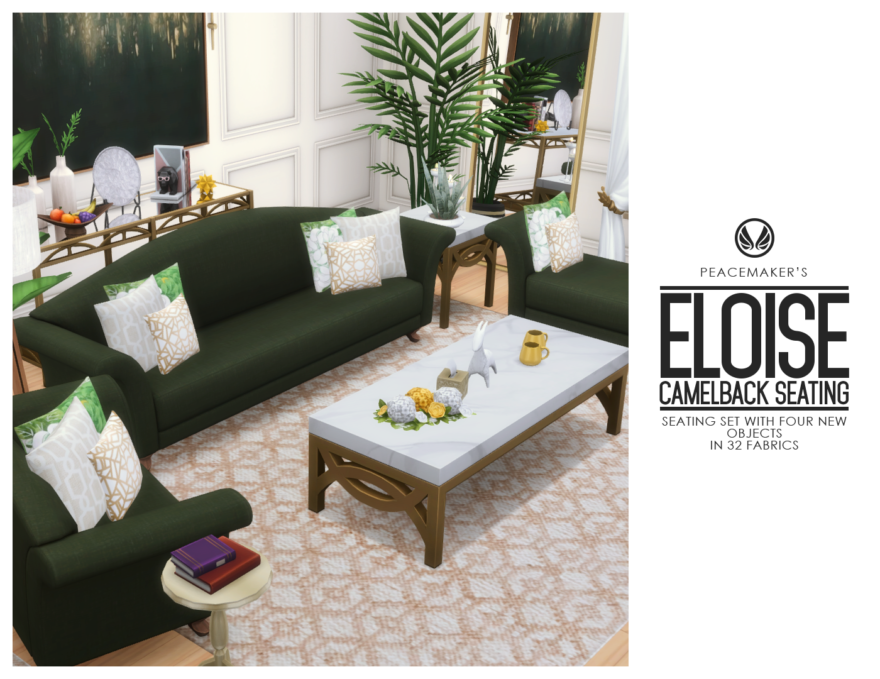 This is a very exciting example of CC content. Eloise Camelback Seating is classical, with the Victorian feel and yet modern set of couches and chairs.
You can easily fit it into the dark Victorian drawing room or fashionable 21-century living room.
This is a very versatile set that will find fair use in your Sims save. But wait for the best part!
The Eloise Camelback Seating set available in the astonishing thirty-two fabric recolors! This is a true universal furniture set that will please every simmer.
14. Eco Living Room

The Sims developers can make an abundance of furniture for every expansion pack, but yet it is always not enough. In this case, we have our CC creators.
This gorgeous Eco Living Room set was created to expand the world of Eco Lifestyle in The Sims 4.
Natural fabric and wooden textures, recycled materials, and metal details complement the expansion's overall style, creating more options for you to decorate your house.
This set is not Eco Lifestyle exclusive, but it surely adds a lot to the gameplay feel.
13. Loft Life Set
Loft style is not enough represented in The Sims 4, despite its huge popularity.
This Loft Life Set for the bedroom adds many new things in the game dedicated to this fashionable style. Each object, seven fabulous wooden recolors.
The great thing about this set is that you can choose a fully functional mattress and bed frame separately. You get full freedom to create the best room for your sim.
12. Walk-in Closets

If you seek a dash of realism in your The Sims 4 game, you would love this Walk-In Closet from the Alial Sim.
Yes, it looks very grand and luxurious, but it was created to be in a mansion, you know. The closet has four recolors: black, white, brown wood, and fun purple.
This object has a lot of details, including shoes, purses, hanging clothes, and a mirror back wall. Just add some decorations, and you will have a fabulous closet, suitable even for the Goth family.
11. Barclay Office

Your sim deserves a great office space! No more boring tables, office chairs, and ugly decorations. We present to you the Barclay Office set!
It is a luxurious, fashionable set with a cool steampunk style. The collection has brass details of the furniture, heavy oak decorative elements, and a gorgeous futon in a purple velvet color.
This is the office for an important sim. It is the beauty of lux and richness embodied in the furniture set.
10. Books and Stuff Bookstore Set
It looks like it is just a set of bookcases, but it is a very special one. This amazing creation was specifically made for simmers who always dreamed about opening the book store.
The bookcases' style will perfectly fit with the vibe of the Antique store or Sims style Barnes and Noble shop.
The set requires base game and Get To Work Expansion Pack to work properly.
9. Apothecary Cabinet

We think this is truly the most unique CC furniture piece we have ever seen.
The Apothecary Cabinet is so cool and complex that it can be the only furniture in the room, and it will still look full. The Cabinet has an abundance of slots suitable for any decor you want.
If you enjoy playing with witches from the Realm of Magic, the Cabinet can be a great object to decorate your secret magical room.
8. Davinaojeda Dragon Age Avvarbed

This is a bit unusual object, but its quality speaks for itself. The DavinaOjeda Dragon Age AvvarBed has a fully made, extremely detailed bear on it! This is the great piece if you are into the Game of Thrones fandom.
This furniture piece can be easily placed in some medieval castle (talking about the Dynasty Challenge!) or in the cave if you want to pretend that it is ancient times.
The bed is perfect for off-the-grid living and surely will become your favorite.
7. Gold Living

It is the coziest set on this list. Gold Living can fit into every interior. Beautiful golden details pared with green and grey furniture create an elegant look.
This living room set can be a perfect addition to the classic English cottage, superb Country House, or fancy Southern Mansion.
The Gold Living set also includes various lamps, coffee tables, end table, and many decorations. Do not hesitate: you will love this set!
6. Augusta Set

This set caught our breath the moment we saw it. Augusta Set represents a luxury on the highest level. Modern round chairs with a leather seat trim have a beautiful and realistic texture.
They perfectly complement another star of this set — a marble/wooden table.
Luxurious swatches of the table start with simple and classic wood or marble patterns, and unique stone swatches accompany them.
The table has a beautiful glass detail that takes the set to another level.
5. Antique Wicker

There's never a new fashion, but it's old. The Antique Wicker set was converted from the good old The Sims 3 and retextured to get a new and fabulous life in the Sims 4.
This amazing patio or outdoor furniture set will complement your house's design.
The set has three recolors of the objects and ten swatches of the cushions. The Antique Wicker has all the charm that you need to create a perfect patio in your house.
4. Mares Kitchen

The most fashion-forward kitchen set in this list. The Mares Kitchen has a loft-style vibe with black metal detailing and light wooden beams.
The set creates a perfect atmosphere for the best chef kitchen. Your sim will create his most delicious meals in this kitchen.
This set has many different cabinets and counters that will help you achieve the exact look that you want.
3. Back To Retro Dining

Retro is very in style among the simmers recently. This wonderful Retro Dining Set includes two types of dining tables with marble tabletops, green dining chairs with fabric trim, and some decorations to finish the look.
This set is perfect for retro '50s or '60s interiors and can will be perfect for the Dynasty Challenge.
2. Historical Living Set

The masterpiece. Yes, it is the true masterpiece. Put your sims into the Marie Antoinette period luxury set with the Historical Living furniture.
Gorgeous patterns and more than the luxury golden decor of the furniture is just breathtaking.
The set is made in Rococo style, and it is only suitable for the queen's and king's palace.
The set includes a frame, a couch, a love seat, a side table, and two consoles.
1. Ether Curved Seating

This is one of our favorite pieces. The Ether Curved Seating has a magical charm of high-end furniture.
The amazing rounded form of the couch, love seat, ottoman, and two kinds of chairs looks like something that we have never seen in this game before.
Impressive thirty-two swatches only add to the appeal of this set. It is another level of living room sitting furniture for sure.
You might also be interested in: