Few sim racing games provide the deep racing experience that Assetto Corsa does.
This game is for real car and racing enthusiasts who love the finer details of the vehicles, tracks, and the art of driving. To that end, there are tons of high-quality mods for Assetto Corsa all over the internet.
Best Assetto Corsa Mods
Many, if not all, mods on this list will require this content manager. If you are a serious player, you likely already have it. There are cars and tracks available for download at no cost.
15. Orion VII NG + Drift

Starting off our list, we have the Orion VII bus. Yes, really.
This baby may not be a powerful F1 car, but it's one of the most fun. Drift this huge rectangular prism around any track's tight corners; watch as its body takes up the entire width of the track as it squeals sideways.
The Orion satisfies the urge to steal a bus and see what she can do in the hands of a real driver.
One of two entries on this list you might take as a joke, rest assured, we are not kidding when we suggest you get behind the wheel of this marvel of machinery.
14. Top Gear Test Track

Straight from the BBC to your PC, it's the Top Gear Test Track mod.
As far as tracks go, there are more intricate gauntlets to burn through. This course is a solid, open space to try out new cars or tricks before taking them to more complex tracks.
Put on your best British accent and pretend you're reviewing the car for the show; it's fun.
For the most realistic Top Gear experience in Assetto Corsa, hop into a French-built car and proceed to make fun of it for an hour straight. That's true authenticity.
13. Toyota GT86 Rozaliya and Liliya Skin

The Vodka Girls car skin is for all of you gacha game fans that also love the heart-pounding thrill of a good racing sim.
This pattern feature two characters from Honkai Impact 3rd emblazoned across a sleek Toyota GT86. It has everything: bright colors, waifus, and speed. We don't know what else you could ask for.
This livery is impeccably designed by a dedicated player and fan. Even if you don't care for Honkai, pink and blue look cool together on a sick car.
Be sure to give him a thumbs up or a compliment if you choose to download the skin.
12. Fuji Speedway

Fuji Speedway is located in Shizuoka prefecture of Japan and hosts numerous major racing events in the country.
Few track mods offer the serenity and focus one can glean from this environment. Featuring views of Japan's mountains in the distance, Fuji Speedway is a treat for the eyes as you whip around the asphalt at breakneck speeds.
It's the perfect length for racing with just enough visual details to entertain but not distract.
Grab your car, ornamented with our #13 mod, and you'll feel right at home as an otaku racer. (This course is equally spectacular at night, too.)
11. ACFL F1 2022 Tires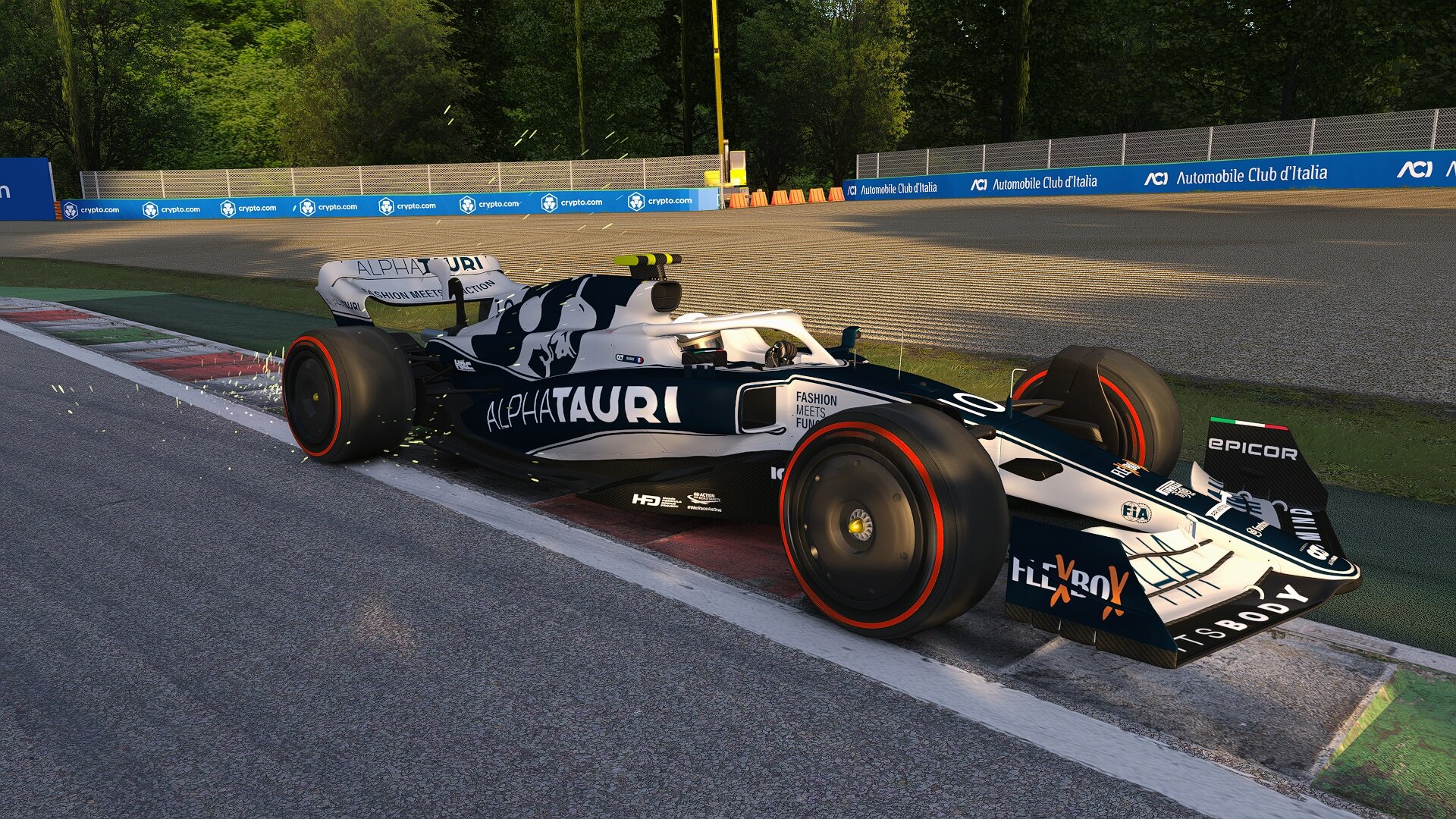 These ACFL Tires are updated to their 2022 models, keeping your Assetto equipment up-to-date. (Without the cost.)
They feature the hallmark thick, high-profile look of all F1 tires (plus a little extra) and the branded markings that come in yellow, red, and white.
Stick these on any of your favorite existing F1 zoomers for a valuable upgrade. Some of the new ACFL F1s aren't worth the few pounds they cost; this is the next best thing.
10. Forza Horizon Dashboard

Get the Forza Horizon Dashboard in Assetto Corsa!
Bring your two favorite racing games together. The Forza HUD is efficient and familiar. We personally prefer it, too. This newer mod lets you bring the heads-up display from Forza to Assetto Corsa.
Now working with all vehicles, this mod is great for freshening up the feel of Assetto.
9. Honda Racing Lawn Mower

We had to include this Honda Racing Lawn Mower on the list.
While it won't keep up with a GT86 or a Koenigsegg, this little wonder deserves some recognition. Drifting sportscars, F1s, and supercars is fun, but sometimes you need a change of pace; why not make that change a heavy piece of landscaping hardware?
After drifting a bus around the Top Gear track, hop on this beauty and trim the grass.
If racing sim players have one thing, it's a sense of humor. This Honda mower might outdrive our #3 pick.
8. Lake Louise

Lake Louise is one of the most beautiful scenic track mods you can download for Assetto Corsa.
Round tight corners while the sun reflects off the bright blue waters. Appreciate nature while you floor it around a completely deserted, stunning road.
Lake Louise is great for relaxing and letting yourself get immersed in what Assetto Corsa has to offer.
This is a community favorite, for sure. We love tracks like this for a chill hour or two of driving, forgetting the real world for a bit.
7. Exquisite – Realistic PP Filter

Exquisite is a visual upgrade for Assetto Corsa.
Post-processing (PP) filters are a critical aspect of getting the most out of your racing sim visuals. These realistic PP Filters from zr0w are some of the best in the player mod community.
They've taken special care to ensure the filters still look good in different light levels and weather conditions.
Taking screenshots and clips is a huge part of modern racing sims; this mod is excellent.
6. Circuit 24H Lemans

Lemans is a fan-favorite track that has been around for years.
This mod's real-life reference is one of the longest circuits on earth at nearly 8.5 miles. Set in France, this course is perfect for hours-long immersive drives.
Pick your most comfortable ride and let yourself travel to Maine, France. We recommend taking #3 on this list. (Spoiler: It's French, too!)
This track, plus shaders and a custom rain script, make for an incredible time.
5. Driving Through the Decades – 70 Years of F1

The 1975 Formula One season inspired this custom championship mod for Assetto Corsa.
This mod features cars, tracks, and weather scripting designed to provide an experience with the same spirit as that of 1975 F1 racing.
1975 is lauded by F1 historians and enthusiasts, as noted by the mod creator. The included courses have you racing around North America, South America, and Europe.
Shout out to Cozy61 for the love and hard work that went into this. Modders like them keep the community thriving, even though they barely ask for anything in return.
4. LA Canyons

LA Canyons is based on the lands of the San Gabriel mountain range in the western United States.
The design of this track is so detailed it's unbelievable. Driving through the mountains, you'll find places to pull over and admire the view, picnic areas, turns, and hideouts if that's what you need.
All in all, LA Canyons totals 47 kilometers which ensures endless hours of exploration and driving.
The optional VIP extras expand what is already a perfect landscape. Available in the creator's online shop, they add dozens more kilometers of content and fresh areas of LA and the surrounding region not present in the base pack.
The non-VIP version offers plenty, though.
3. Ligier JS8

You won't find a vehicle with looser turns or boxier construction than the Ligier JS8.
This car is the true zenith of French automotive achievement. What it lacks in roominess, it makes up for in a buzzy engine and turns that will make you say, "Am I going to roll?"
The Ligier even features a freshly baked baguette on the dash in case you forget who built the fine machine or if you forget your lunch.
Vive la France! (Oui, oui!)
2. Sol
Sol brings the game to life, according to thousands of AC players.
As the definitive dynamic weather and environmental effects mod, Sol lends a level of realism that is almost unbelievable. Experience a wide range of weather and climate events that will make you forget you're playing a sim, especially in VR.
The lighting and fine details bring Assetto Corsa's immersive experience together.
Note: Rain effects require CSP in addition to Sol for maximum realism.
1. Custom Shaders Pack

This AC Custom Shaders Pack is mandatory.
With custom physics enhancements, enhanced and scriptable weather effects, particle effects, and so much more, the Custom Shaders Pack takes Assetto Corsa to the next graphical level.
This pack can be found in the content manager; most players use it. It is under constant development. The masterful work made this a no-brainer for our #1 spot on this list.
Be sure to check out their YouTube and GitHub for more info and content.