Horizon Zero Dawn became iconic quickly, considering its short life compared to other game franchises.
Giving technologic sci-fi Monster Hunter vibes and expansive world-building, this game is loved by so many for good reason.
Its captivating sense of adventure and weighty combat system make for a challenging, immersive experience.
Please read below for our ten favorite mods for enhancing Horizon Zero Dawn to its absolute best.
Best Horizon Zero Dawn Mods
From visual changes to gameplay overhauls, community-made mods for Horizon Zero Dawn and its DLC elevate the game from great to greatest.
10. Powerful Aloy 1.11

This mod is the successor to 10X More Inventory Space, an older popular mod.
Powerful Aloy 1.11 increases the size of the in-game inventory for all types of items.
According to the mod author, having to pause the action to manage your inventory/sell items can be immersion-breaking; we tend to agree.
It does not feel good being on a roll, downing that one prized enemy, only to find you have no space left for the spoils.
9. Natural Clover Reshade

Natural Clover Reshade is a graphical retooling mod that makes the game look better.
Mods like this one are perfect for games with stunning open worlds. The vast hunting grounds and tiny details of the environment look stunning with Natural Clover Reshade installed.
Visual tweaks include reduced fog, enhanced brightness and contrast, and hue adjustments to give Horizon Zero Dawn a more natural look.
8. Casual Outfit for Aloy

This is the only outfit mod for Aloy on our list. We like the chill realism this outfit adds; it makes for a unique vibe with the fantastical world of Horizon Zero Dawn and Horizon Forbidden West.
Aloy's casual outfit consists of a simple white tank top, light wash jean shorts, and plain brown tennis shoes.
Why should our protagonist be uncomfortable when she picks up her hunter's bow and sets out into the post-apocalyptic world full of hunting targets and bandit camps?
7. Remove Fall Damage

Many Horizon players, this mod's author included, think that the game's fall damage is too punishing.
We agree; overly harsh fall damage makes players think twice about traversing a small cliff or a short drop. It can break immersion in a game like this.
Remove Fall Damage mod allows the player to fall from any height without taking damage.
This is a quick quality of life improvement worth grabbing as soon as possible. In the grander scheme of possibilities, it's not a big cheat.
6. Save Game Plus (Face Paint Available)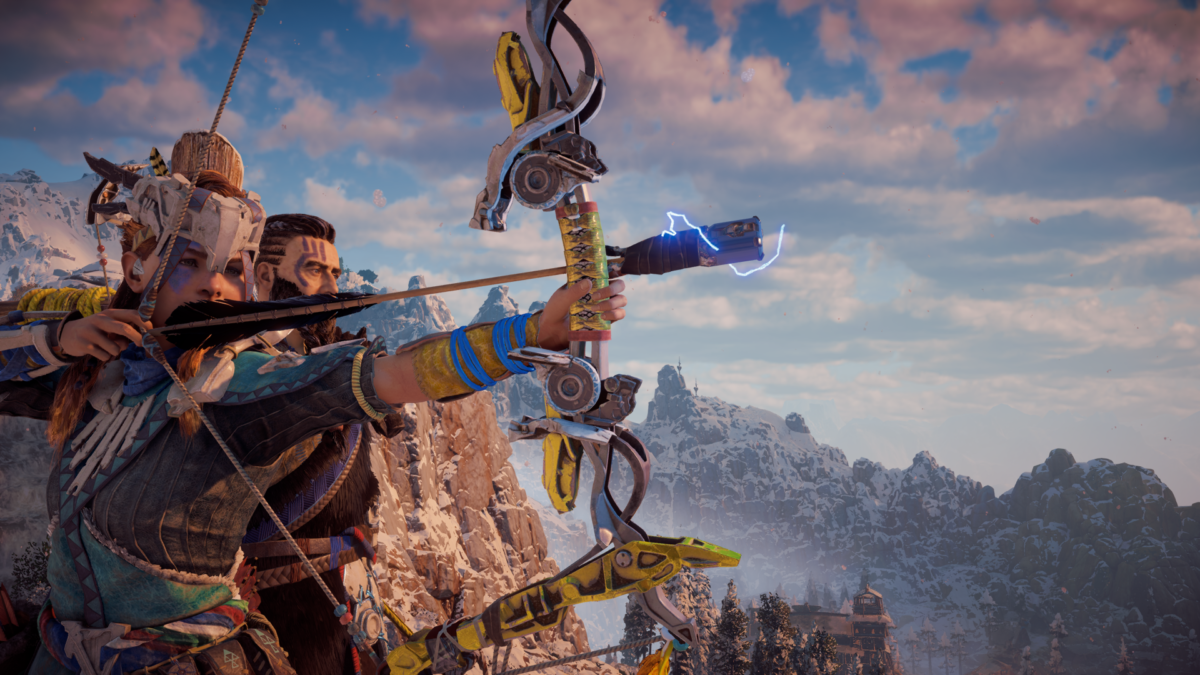 This save file immediately gives the player access to the newish Ultra Hard difficulty. It also contains face paints, new focus effects, and poses.
With this mod, you can skip having to beat the game twice just to unlock the harder difficulty. It also gives the shield-weaver special armor, Sylas spear, and all purple weapons and armor.
If you want to start a new game without any resources, the author recommends dropping all of the equipment at the start of the game before continuing your playthrough; this way, you get Ultra Hard mode with face paints and focus effects, but no free items.
5. Natural Rain

The rain effects in Horizon Zero Dawn look OK, but if you focus on them, they resemble long white streaks of similar length falling from the sky. That's not really how rain looks.
This Natural Rain mod makes the raining weather effects more realistic. Raindrops will vary in visual length and appear translucent rather than white.
In addition to improved aesthetics, these changes make it easier to see in dark areas while it's raining.
You have to see the difference this mod makes to understand it; screenshots do not do it justice.
4. Aloy – Hair Colors

This is the last cosmetic mod for Aloy on the list.
Aloy – Hair Colors adds a variety of new hues to the leading lady's hair. There are plenty of other tweaks for Aloy's model, but we think hair color is the most worthwhile thing to play around with.
People don't change their faces as often as they change their hair, right?
This mod includes a couple of unnatural colors like purple and platinum, plus familiar tones like blonde and black. We are partial to blonde or blue hair on Aloy; it makes the braids and layers in her hair pop.
Disclaimer: Of course, her original hair color looks great, too.
3. Increase Elemental Effect Durations

Similar to fall damage, the duration of the elemental effects that Aloy can inflict are thought to be less generous than they ought to be.
Increase Elemental Effect Durations multiplies the duration of elemental effects by five when players apply them to the highly advanced machines that reside in the wilds.
This allows more time between reapplications to focus on taking the target down.
Note: The shock state will last 5x the regular length, but the target will stay downed for the same amount of time.
2. Better Quality Drops

We love a drop-enhancing mod in our epic single-player games. It doesn't make sense that side quests and farming should be MMO-level of demanding.
Better Quality Drops boosts the rarity, quality, and quantity of items dropped from all sources: machines, animals, etc.
This mod works in all DLC content. The drop rate of uncommon and rare items grows by approximately 60%.
1. Gameplay Tweaks and Cheat Menu

Cheat tables and other huge advantages are too powerful not to top our mod lists; Horizon Zero Dawn's iteration is no exception.
Gameplay Tweaks and Cheat Menu introduces a wide assortment of improvements and new options for controlling the game environment.
Players can enjoy new godlike powers such as monster spawning, weather control, editing game entities, and enabling common cheats such as noclip and infinite ammo.
Godmode'ing it up in your favorite game is a tried and true pastime for most video game fans.