Fallout 3 is a post-apocalyptic role-playing action video game developed by Bethesda Game Studios. It is the third edition of the fallout series and promised fans of the series something new.
The game takes place in 2277, 200 hundred years after the Great War, which annihilated the whole world thanks to the atomic capabilities of nations.
Receiving many awards in 2008 for the story, mechanics, and 3D visuals, the game has seen many mods since then to further improve the fallout experience. We bring to you the best of the best here.
Best Fallout 3 Mods
28. There's No Such Thing as Bad Publicity Quest Mod

Ready to dive into an entirely new side quest? The There's No Such Thing as Bad Publicity quest mod offers a brand new side quest into the world of Fallout 3.
In this new side quest, you go off to crack the case of a pre-War secret that was buried long ago.
Of course, the treasure has been the promised reward to anyone who uncovers this secret, but every adventurer before you have gone empty-handed.
This mod side quest is also entirely voice-acted! So, on your next playthrough, download this new side quest and explore the 300 lines of new dialog and new interiors.
27. Video Intercoms

Intercoms throughout Fallout 3 are typically packed full of information and add to the immersion of the game.
However, these intercoms have a screen that doesn't work in the vanilla game.
The Video Intercoms mod presents a new level of immersion to these devices by including some video feed to certain intercoms.
These video intercom moments also include a lip sync animation, so you feel as if your character is talking to the person talking through the intercom.
While this mod made seem small, it's a great addition to have if immersion is the most important factor when playing for you.
26. Fallout Heap Replacer

One common struggle and frustration of gamers everywhere is lag and waiting. Loading screens often take far longer than they should, and Fallout 3 is no exception.
The Fallout Heap Replacer mod helps to decrease the amount of time waiting and increase the amount of playtime by optimizing the in-game heap.
This mod overall decreases load times but also removes some of the stutters and also improves the frame rate a bit.
Overall, this mod is a great one to have, especially since Fallout 3 is an older title. There's also a New Vegas version of this mod, too!
25. Sydney Follower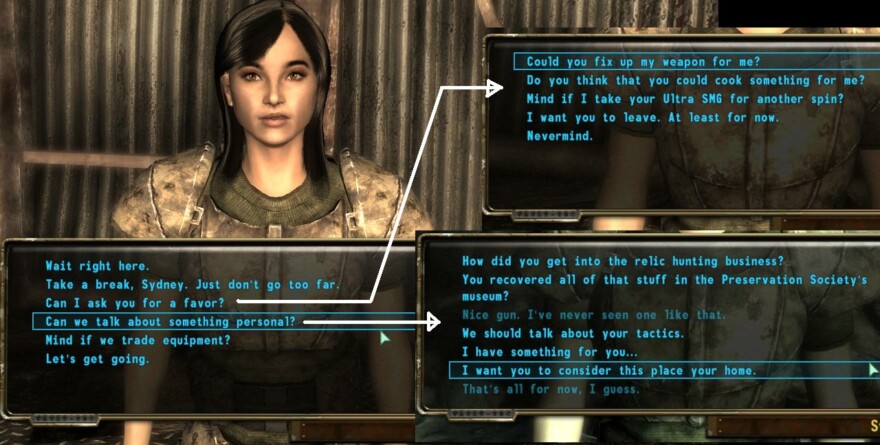 Sydney is a companion of yours at the start of the game, which is specialized in relic hunting in the year 2277.
Apart from being an attractive woman, she holds a high profile for performing dangerous and risky jobs. However, in the base mod, she is a temporary companion and stays for a short time.
Sydney follower allows games to enjoy the female companion for longer by making her your follower.
The mod brings in a set of new dialogues- fully voiced- and introduces many different side quests. You can call her for your aid in case of any need or emergency as well.
It's a great mod for us, Otaku, even though we know she isn't real.
24. Weapon Mod Kits
Making your weapons look unique sounds fascinating, doesn't it? Well, the role-playing games that involve action do contain a lot of weapons.
Weapon Mod Kits allows you to modify your weapons by adding lasers, silencers, scope, extended magazines, and auto-fire mechanisms to your weaponry.
It not only enhances the look of your weapons but also allows you to upgrade their capabilities.
You can modify any weapon from a 10mm pistol to combat shotgun, rifles, and more. Have a go at the workbench and create something spectacular. If you're a fan of advanced weaponry, you must try this mod and enjoy it.
23. Ultimate Perk Pack

Those who have played the game before would be familiar with the start of the game, where there is a limited option of perks available to choose from.
As you advance in the game, more and more options get unlocked for you, giving you a set of experiences. However, by enabling the ultimate perk pack, you will be able to unlock most of your perks in the initial stage.
This will give you more options at the start of the game and different new combinations of perks to experience.
This pack contains a collection of more than 70 new perks, which are all innovative and fun to use. Moreover, you will have special icons along with them.
22. Enhanced Weather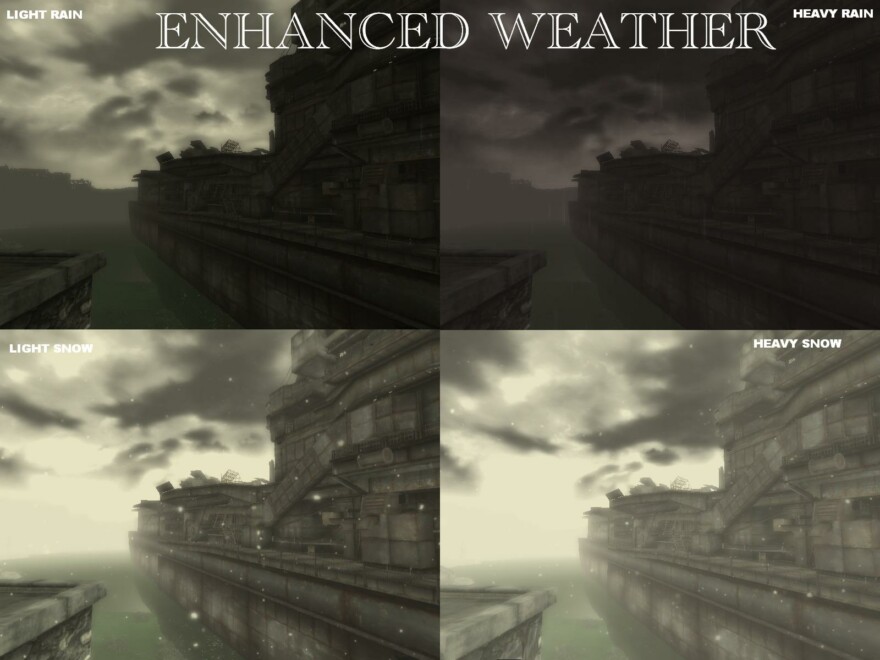 What is it with post-apocalyptic game settings and unfriendly weather? Can't a gamer enjoy a beautiful weather in the dystopic future?
The poor weather remains static throughout your journey on the fallout making the visuals depressing and grave.
Enhanced Weather fixes this problem by introducing a bundle of weather options for you. It introduces radioactive rain and snowfall to the game to make it more realistic and graphically sound.
Not only that, but you can also enjoy the auditory explosions from different weather settings. Moreover, it also gives you chances to win special bonuses during the storm, making the game even more exciting.
21. Fallout

Though Fallout 3 is a very popular and critically acclaimed game, it is easy to say that the graphics of the game are not up to today's standards.
There is a lot of awful green tinge that can be seen everywhere in the game. You will also find green fog everywhere in the game atmosphere, which negatively impacts the graphics.
Introducing Fallout, a mod that fixes this problem. The mod removes all the green tinge and green fog in the game and creates a visual masterpiece as you feel like you're roaming around in a silent vast Sahara Desert.
This work for both indoor and outdoor environments. With additional mods in place, you can even have rain pour down on this nuclear wasteland and ramping up the visuals considerably.
20. Combat Overhaul

Are you fed up with playing Fallout 3 because it is too easy? The might be the case for pro gamers. However, you can fix this issue by using the Combat Overhaul mod.
Combat Overhaul is specially designed to increase the game's difficulty and make it a little challenging for pro gamers.
This mod introduces a bundle of new combat challenges with the aim to make the game a little more hardcore.
Although there are new weapons introduced with this mod, it adds recoil control, crosshair accuracy, and much more to give you a feel of a first-person shooter game.
Be more careful with shooting otherwise, your bullets may never connect with the enemies.
19. Eve- Energy Visuals Enhanced

If you played this game before, you would be familiar that there are a lot of energy weapons used in it, and it's really fun to have such technologies.
However, on one argument is that despite the effectiveness of these weapons, they really lack the visuals effects and animation.
EVE- Energy Visuals Enhanced gives the real visual effects and animation to the usage of energy weapons.
Moreover, along with the enhanced visuals, there are many new weapons, new muzzle flashes, and new projectiles brought to the game, making the gameplay a tad more electrifying.
18. Mart's Mutant Mod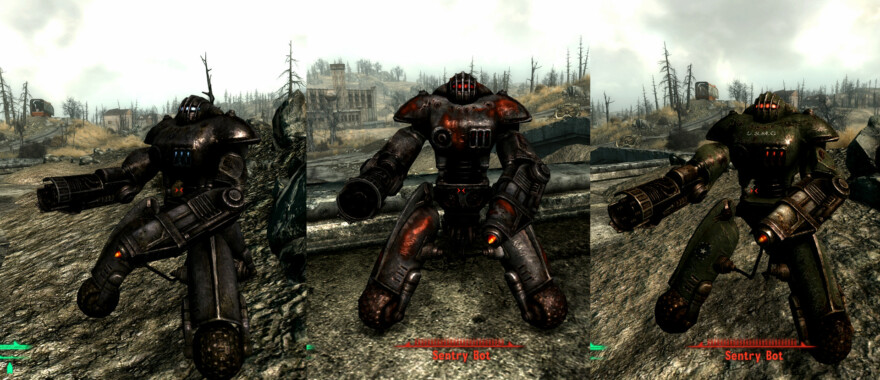 Fallout 3 depicts a scenario of post-apocalyptic in the ear 2277. So there are a lot of weird developed in this game but nothing weirder than this.
The NPCs and creatures in the game start to get weary after a while, which may have gamers lose interest, not anymore with Mart's mutant mod.
The mod adds a new level of diversity to the game by introducing different and unique creatures to the post-apocalyptic world. There are new NPCs added to the game as well, making the experience feel brand new and exhilarating.
17. Updated Unofficial Fallout 3 Patch

Fallout 3 was initially released in 2008; however, the base version of the game came with many bugs and errors. Nobody likes a games with bugs and unscheduled crashes, it can definitely ruin the gaming experience.
Updated Unofficial Fallout 3 Patch resolves all the errors of the vanilla base game with a single plug-in and a variety of different unique community fixes.
In addition to that, this patch gives a lot more experiences and improves your playthrough on a variety of different levels.
16. D.C. Interior's Project

As you wander around the ruined city of Washington known as wasteland capital, you will see a lot of buildings around you, but you can't visit them. However, this query can be addressed by installing D.C. Interior's Project mod.
The mod allows you to enter into different buildings, which includes Floyd's Barbershop, Majority Whip's Ice Cream, and many more.
Not only that, but you will also be able to enter into many abandoned houses that were initially made for aesthetics.
This mod really expands the scope of the game and adds a lot of interior designing to the buildings that couldn't be once visiting.
15. Fallout 3 Redesigned – Formerly Project Beauty H.D.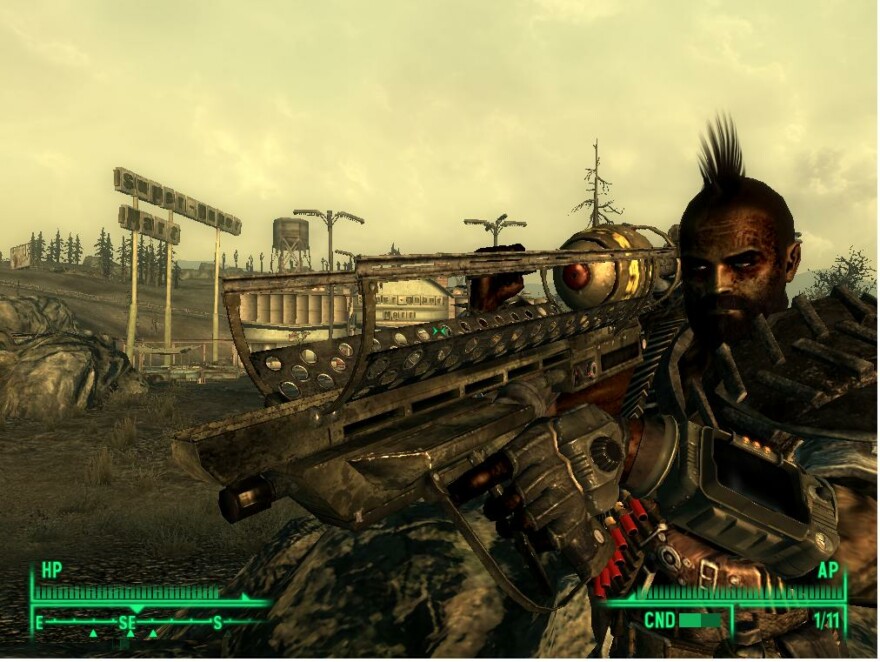 One of the biggest issues among the gaming community about Fallout 3 is the poor and muddy faces of the non-playable characters in the game.
That's true. The faces are very bad and look out of sync with the personality of the NPCs in the game. But this issue has been countered by the release of Fallout 3 Redesigned- Formerly Project Beauty H.D.
This mod enhances the facial features of NPC characters by making them sharper, more realistic, and these new facial outlooks really reflect the personality of the characters.
Say goodbye to the rough skin tone and weird facial structure and enjoy a more realistic look pleasing to the eyes.
14. Enhanced Camera

As the name of the mod can guess it, it really enhances the quality of the camera in the game. In the vanilla mod game, there are certain limitations with respect to the first-person camera view.
Moreover, you are also forced to go into the third-person view while sitting or dying in the game.
However, by enabling the enhanced camera, you will be able to have a better view of your own body, shiny boots, and crusty hands in the first-person camera view. It makes the game more enjoyable and interesting as you witness the same things from a different point of view. How cool is that?!
13. Iron Sights Mod

Fallout 3 was never famous because of its action in the game. Well, as we know, it was released in 2008 the action play is quite bad in the game.
It keeps on getting worse with the period of time. This mod is useful in fixing the action appeal of the game.
Iron Sights Mod allows you to add down sights on the guns, which makes the game's action play tighter and more responsive.
This mod adds a lot of convenience for you while using any weapon as you're able to take the perfect shots to paralyze your enemies and stop them dead.
12. Real-time Settler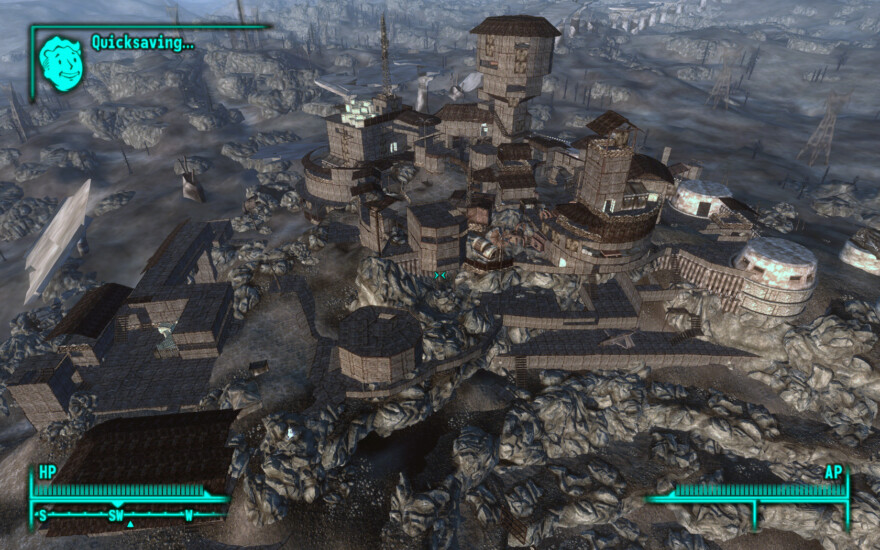 If any of you have ever played Fallout 4, you must be familiar with building different settlements and destroying the already built buildings. You can enjoy this feature in Fallout 3 by using real-time settler mod.
The mod allows to make settlements anywhere around the map and decorate them with furniture and trinkets. Gamers can now manufacture weapons, armor and sell them to make profits.
In addition to that, you can recruit as many NPCs as you want to live with you in the village. If you're looking to settle and stay away from the action, the mod is perfect to enjoy a new settled life in the village far away from any distractions.
11. A Note Easily Missed

If you are interested in reading series lore, then this mod is definitely for you.
A note easily missed mod allows you to read stories of different individuals before the nuclear attack. However, it does not really affect much of the gameplay.
It really gives you many insights into various individuals encapsulating you into a story that is worth giving a few seconds to. The mod contains a lot of reading and puzzle-solving and is made for those looking for adventure and a stellar storytelling.
10. 20th Century Weapons

Fallout 3 is a difficult game to play because of the enemies you will face during your journey. The conventional weapons that come with the base mod may not be enough for you to tackle your enemies.
20th Century Weapons is a collection of old-fashioned weapons that includes AK 47, Desert Eagle, Remington M-24, and many more.
These old-style weapons will be sufficient to knock out any enemy that comes in your way during your missions. Play with style while having a bit more old-fashioned power packed in your guns. It's the wild wild west down here.
9. Nmc's Texture Pack

As we have discussed earlier, one of the biggest flaws in the base game is the comparatively poor graphics and visuals, this mod looks to turn all that.
NMC's Texture Pack ups the visual graphics on trees, landscapes, vehicles, buildings, and interiors with high resolution making it look crisp and H.D.
It gives sharpness to the look of D.C. Wasteland and also changes the outlook of paper scraps, litter roads, and many other objects that you can witness after enabling this mod.
Please your eyes and satisfy your visual cravings while still playing Fallout 3. Many thought it wasn't possible, but here we are.
8. Tenpenny Tower Reborn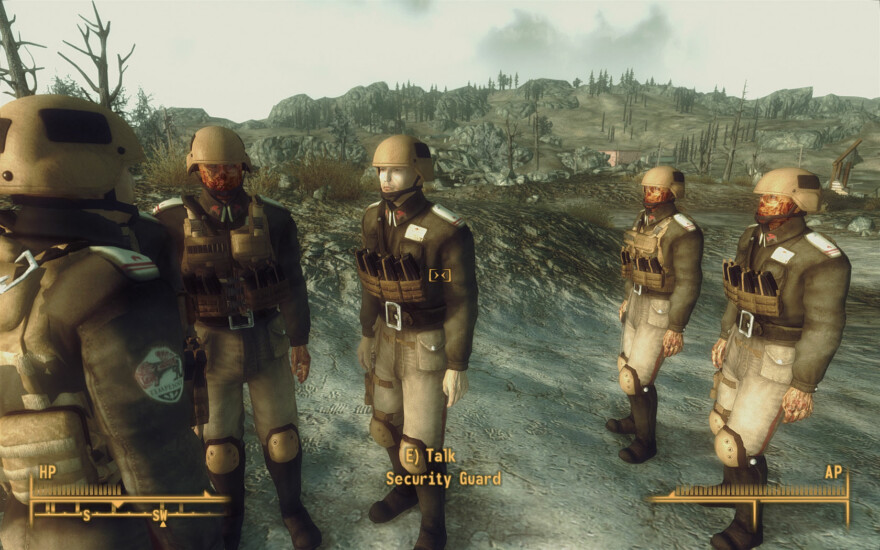 If you are not familiar with the Tenpenny tower, you're missing out on a lot of mojo here. It is a very important building in the D.C. Wasteland, and many major decisions that shape your journey are taken here.
You can say it's a town hall meeting without too many unnecessary citizens gawking at the leader.
Tenpenny Tower Reborn allows you to resolve Tenpenny quests by having to defeat the main villain of the story.
The tower shows a spurring life of people or ghouls roaming around enjoying their day-to-day activity.
It adds a new layer of adventure to the game as now you feel responsible for helping these people get out of the clutches of the villain and live a free life. The tower comes heavily guarded too!
7. Underground Hideout

The DC Wasteland in the year 2277 is a dangerous place for players to live in. You have a lot of different enemies in different shapes that want to hurt you and kill you.
With the Underground Hideout mod, you will be able to create a special spot for yourself to hide in case of any such emergency.
It is important to note that no one in any circumstances will be able to find you in that spot, and you can hide there as long as you want until you feel that the danger is over.
The spot also comes equipped with a vault with all the goodies you need to equip yourself against any danger, from guns to armor and more, you will feel a bit safer.
6. Ewe- Energy Weapons Enhanced

Energy weapons are very important in the game because of the damage it delivers to the enemies.
Using EWE, you can couple the damage that energy weapons can cause without affecting the balance of the game.
This mod allows you to increase the capabilities of energy weapons to inflict damage, hit critical targets, fire rate, and many more things.
Moreover, it brings back a bundle of weapons that were used in the first 2 editions but taken away in the base game of Fallout 3. This is a perfect mod for those seeking strong weapons and a variety of weapons.
5. Fwe Weapon Pack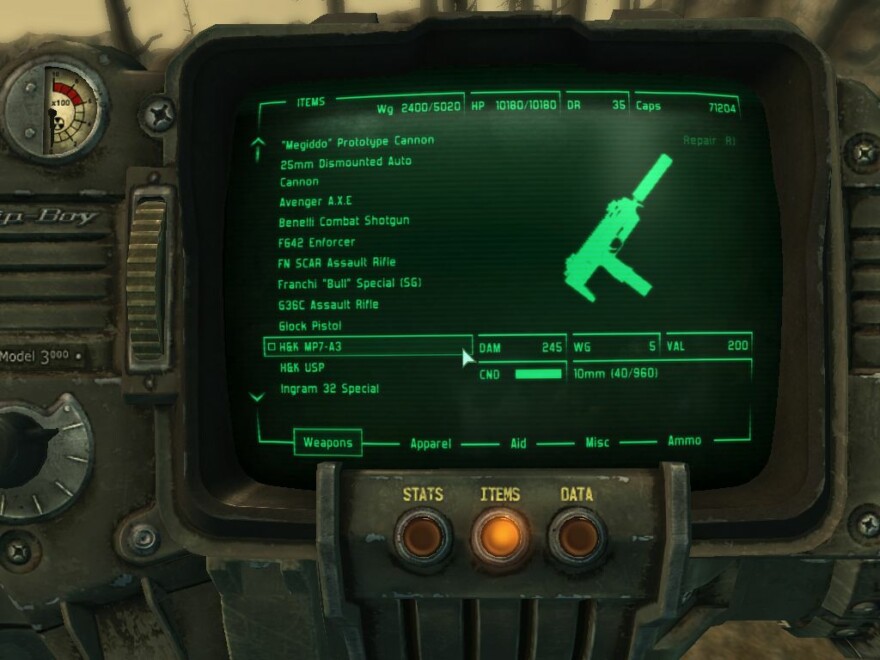 Another mod to enhance the capabilities of the weapons in the game, FWE Weapon Pack, introduces gamers to a bundle of new weapons in the game.
It is a compilation of 30 different weapons which means it the most extensive collection of weapons one can have using any mod in the game.
These new weapons also have some new capabilities, such as the use of different fire modes or different types of ammo. If you're into total destruction without giving a flying care in the world, this mod is for you!
4. Flora Overhaul

It is one of the best graphical mods available for Fallout 3. Flora Overhaul mod provides you with four different versions of the mod, and you can select one that you enjoy the most.
It has a forested version which will replace many of the trees in the game.
You can also have the luscious version, which will make the landscape more colorful for you. The other two versions are the dead and total devastation versions.
Have a bit more scenery to enjoy after the nuclear destruction while you stroll around forests and lush green lands or enjoy a bit of hot crusted barren land, whichever floats your boat.
3. Fallout 3 Wanderers Edition

It is a collection of many mods of Fallout 3, and enabling it can give a totally new experience of the game.
Fallout 3 Wanderers Edition is a major gameplay haul, includes a variety of changes, whether it is FPS enhancement, alternative character start options, depth of gameplay, and many more.
It also emphasizes fun, role-plays, and choices while still maintaining gameplay balance allowing gamers to enjoy the series without too much going on.
2. Better High Detail Map and Icons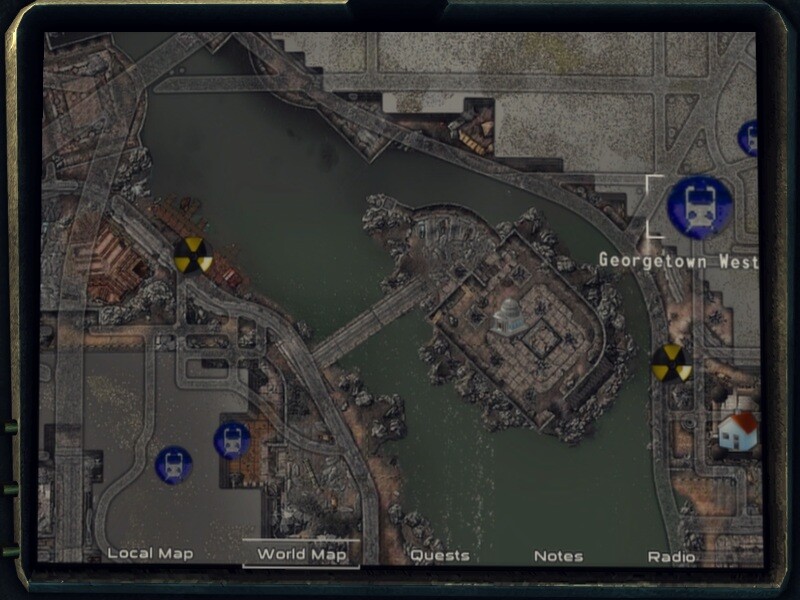 Just like how the gameplay looks vintage in today's times, the maps and icons on the game look washed out.
If you've gotten graphical improvement mods for the game, then you should also consider getting Better High Detail Map and Icons.
The mod brings a new and fresh version of a map of Fallout 3, which is more detailed and easy to use.
It also adds new icons on the map along with a new place maker, quest maker ad P.C. maker.
It gives you a bigger map with brightness settings and visibility tags, making the game easier to digest. Also, you'll be squinting less with this one.
1. Existence 2.0 Robot Radio

Fallout series is famous for its collection of 20th and 21st-century music collection.
We all know that fantastic music, along with great gameplay, gives you a unique experience no matter which game you are playing. This is also true with Fallout 3.
Existence 2.0 Robot Radio provides you with an entirely new collection of music that you can enjoy while moving around in the game.
It comes with 64 new tracks of music along with the original broadcast from the radio. So keep dappin' your head while you're pappin' your guns.